Fantasy Suite week is here! They've been teasing this since the beginning of the season, and I can't wait to chat about it with all of you and see what you think. Did everything happen how you expected it? Did Madison give Peter an ultimatum? Let's jump right in!
Madison Pulling Peter Post Rose Ceremony
Heck yes Madison! I know a lot of people are probably going to say that she knew what she was signing up for and are not okay with how she approached Peter after the rose ceremony. But I couldn't be more proud of her! And she didn't give him an ultimatum. She knows in her heart that she couldn't get engaged to someone that slept with somebody else a couple days before and she let him know that. She didn't say "or else", she didn't even say I 100% won't move forward. She said she didn't know if she'd be able to move forward and she said that actions speak louder than words. Her values are that sex is between a man and a woman when they are married. And she's simply telling him that she truly cares about him and wants it to work, but if he thinks it's okay to have sex a few days before proposing to her, that's not cool with her. And hell-freaking-yeah for a woman finally standing up and saying that! Or man! It's just never said on the show.
Don't get me wrong, I get why people have sex with more than one person on the show. I did it because I don't think you fall in love on the show and you're trying to decide who you want to propose to even when you're not really in love. What's the next best thing to gauge it by? Your sexual chemistry. I'm not even kidding! You guys might think I'm crazy, but I guarantee people are torn at the end of the season and make the decision based on how things went in the bedroom. And quite honestly, sexual chemistry is important. Some people choose to wait to have sex until they're married to find out. I have never been that person. To me it was important to find out beforehand. Ha! But I totally respect Madison. Not only for her beliefs and the things she's chosen for her life, but for speaking up about it and letting Peter know where she stands without being forceful. I think she did it the best way she possibly could. And I applaud her for it!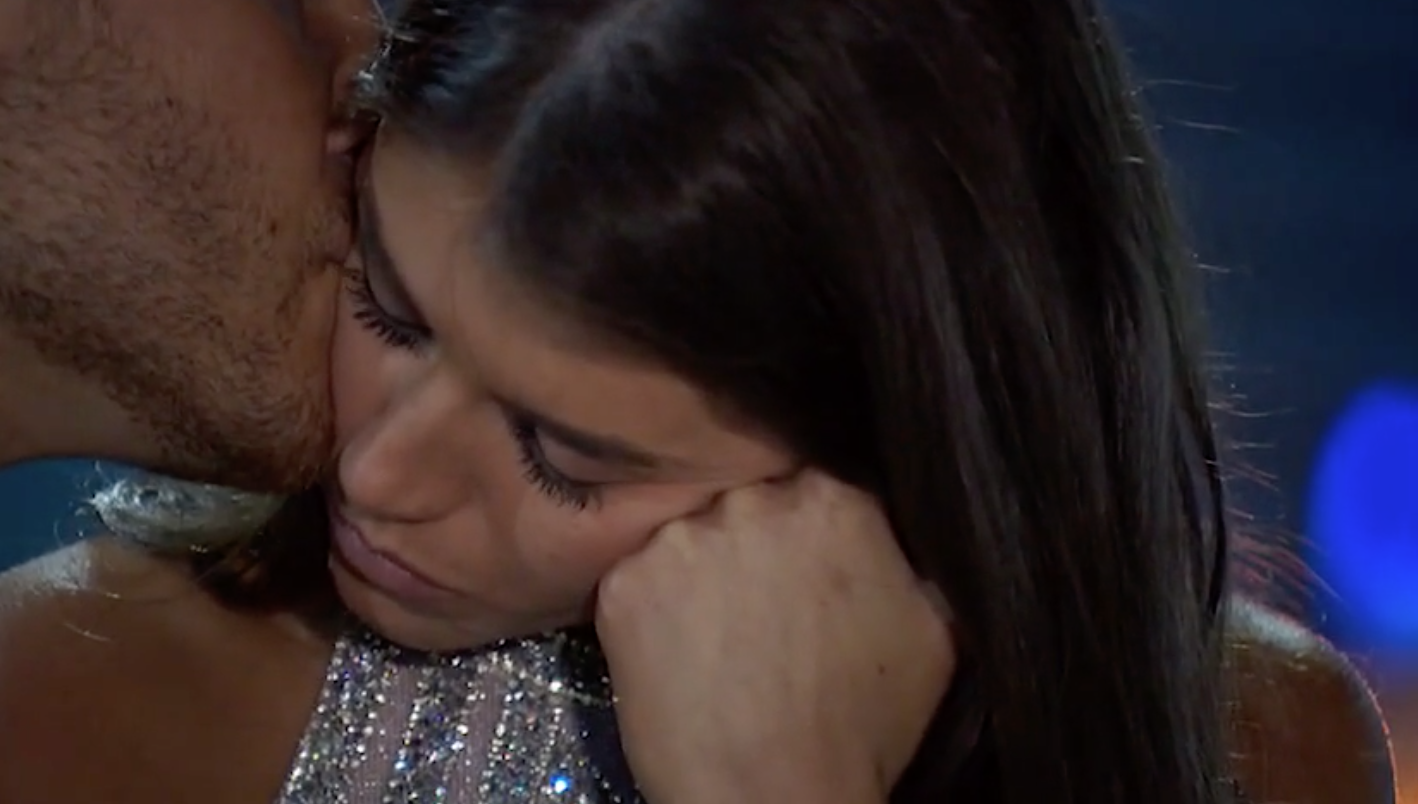 And the more I think about this, did you think she gave him an ultimatum? Well yeah, by definition she did. But ultimatum has such a negative connotation to it. Like would you think it was a strange ultimatum for me to ask Kevin not to sleep with someone else days before we got engaged? Of course not! And look, I realize this is the Bachelor and things are different, but the people are still the same! They are real people with real feelings and real expectations about relationships. I'm sure when Madison signed up she did it for the experience, never realizing she would get this far or it could possibly turn into a real relationship. This happens to every single person in the history of the show. You go in not realizing how much you can fall, and then are blown away when it actually turns into love. You know that there's a good chance she could end up with Peter in the end, and it seems to me like that's something she really wants, she has to speak her truth. I'm proud of her for saying it before the fantasy suites rather than waiting until after.
Also, I feel like this is going to be a hot topic in the sense of this being compared to Luke P on Hannah's season, and how people are treating this as a double standard. Let me just say this, the difference here was the delivery. It was okay for Luke to ask Hannah about it, but it was how he went about it that was the issue. It seemed like he was publicing shaming Hannah. I just looked back at my post about Luke and Hannah's discussion, and I still feel the same way. He had every right to ask about it, because it doesn't happen in the real world like it does on the Bachelor. BUT the biggest thing was that it just felt like another huge manipulation that we had seen him trying to do again and again. Madison hasn't ever made us feel that way. She was very very careful about what she said, and emphasized that she wasn't telling him what to do or not to do, but rather that it would be really hard for her to move forward. Which to me is a perfect normal response to being in that sort of situation!
The Living Situation
It is absolutely disgusting to me that the girls are forced to live together at this point. Every single season for the last 10 years, and possibly before that but I didn't watch before that, the top three is separated. And that's because of fantasy suites. It's extremely awkward for the girls to spend time together at this point. The relationships are so serious, and yes physical, and sexual intimacy plays a huge role this week. I feel terrible for the girls. It so so so so wrong.
And they are making it seem like one girl comes home from her date And then the next girl goes on the date. Making them back to back to back. Unless things of changed, on my season, the fantasy suites were at least 48 hours apart. So there is always a day in between. I don't know I guess it doesn't make it that much better, but I feel like having at least a night in between makes it feel a little bit better to me.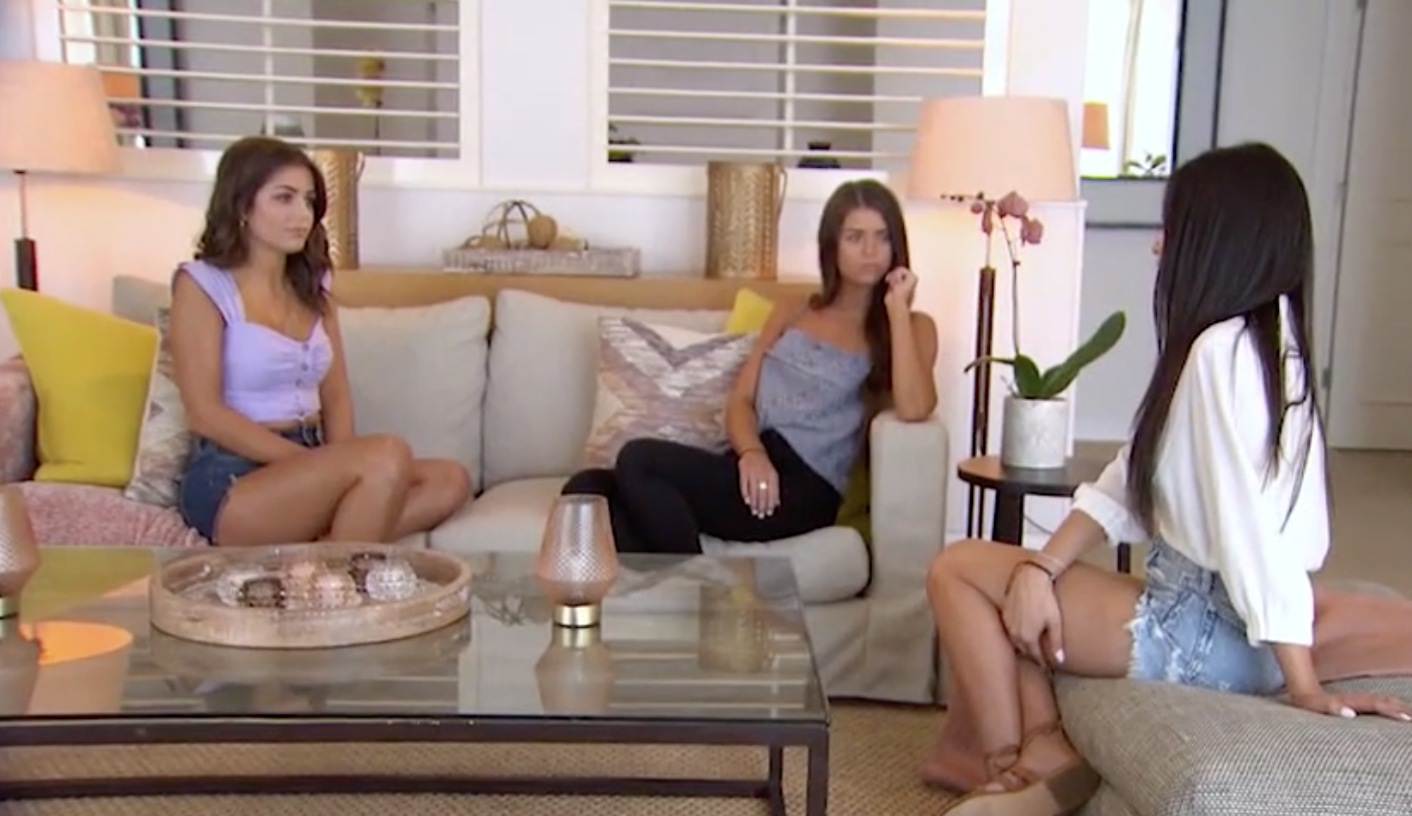 Hannah Ann's Fantasy Suite Date
I still can't get over how young Hannah Ann looks. Watching them make out just made me so uncomfortable. Anyway, if he doesn't end up with her in the end, there are things that are very upsetting to me about the date. The first thing is that Hannah Ann's Dad didn't mean "don't say you're falling in love with her unless you are". He meant don't lead her on. Meaning that if he's not gonna pick her in the end, don't tell her you love her. And yes we could argue him saying I'm falling in love with you and I love you are two different things. Yes, they are. But leading someone on is the same. And if Peter doesn't pick Hannah in the end, which I honestly don't think he will, then I'm really disappointed with him for this.
He also said "I don't want you to worry about us," and I just feel like that's so unfair to say unless he's 100% positive he's picking her in the end. We shall see. Again, I don't think he is. I think it's pretty obvious from the cliffhangers what's going to happen here. Which I'll get you in a minute.
Victoria's Date
A quote from Peter: "There's obviously fire there. Some people might think there's too much of it there, but for me, I'm actually really attracted to that. It's never going to be a boring relationship" What?!?!?! Somebody please tell me he's not referring to the fighting. Trust me, Peter. As someone who is married with two small children there will be plenty to fight about with your spouse one day. Ha! Every person I've ever known that has been in a relationship that fights before kids is extremely tumultuous after kids. That's definitely something you do not want in a relationship before you're married.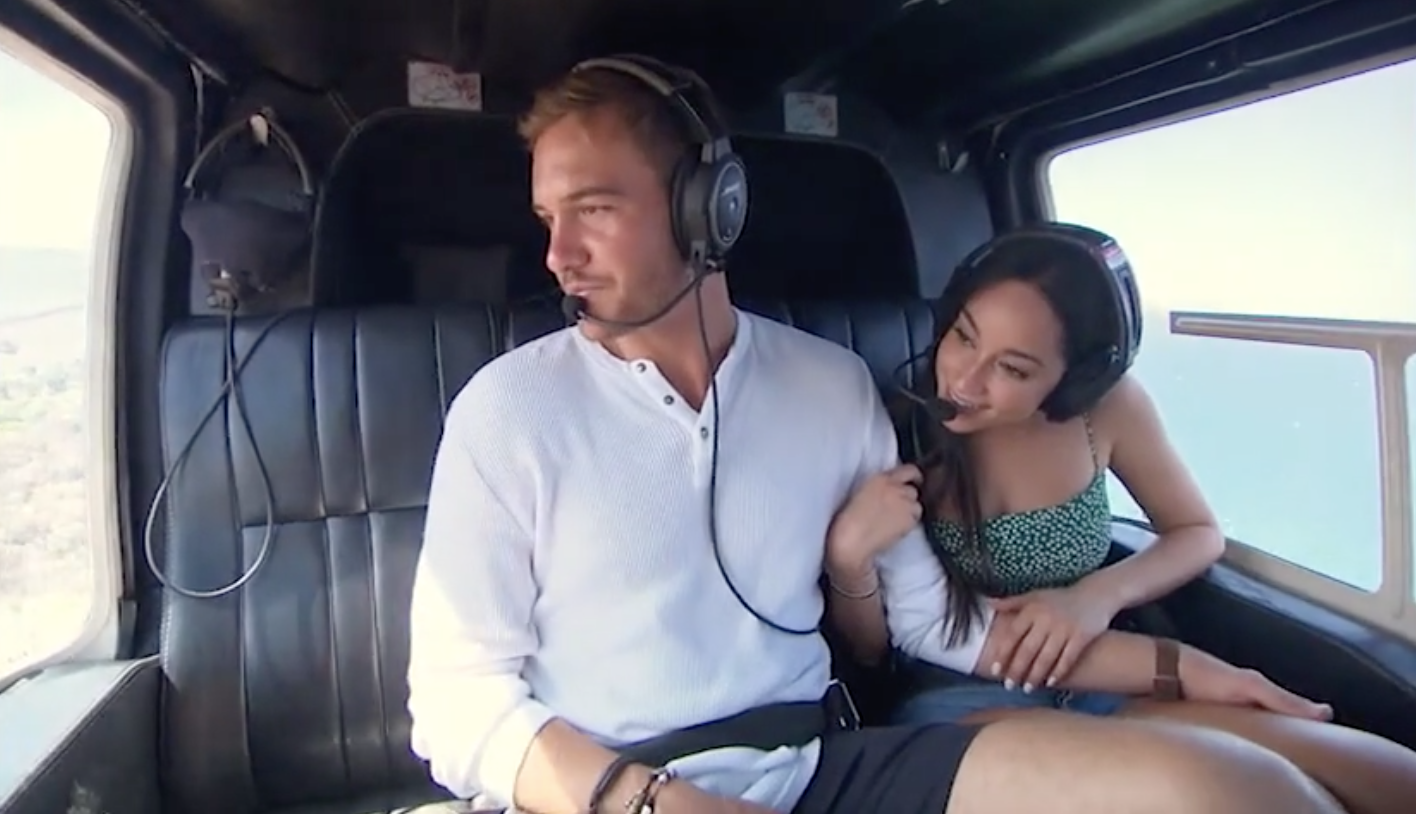 We also hear him tell her that he doesn't want a monotone relationship, he wants a relationship that challenges him. I think he misunderstands how that phrase is used when it comes to relationships. Kevin challenges me. He challenges me to be better because he is there to lift me up when I'm feeling down about myself. If I'm afraid to try something because I think I'll fail, he's there to hold my hand along the way, even if I do. Someone who challenges you is someone that makes you better, not someone who pulls you down. I feel like when people in unhealthy relationships say things like that, it's their way of justifying the fighting in the relationship. I'm curious to hear what you guys think. Maybe I'm a bad person to ask about this because I have always had a very stable relationship with my husband. But I just don't think a healthy marriage can be based on a shaky foundation.
Madison's Date
Let me start by posing this question to you guys. Should Madison not have gone in the show, even if she thought Peter was a match for her, just because she's not okay with the guy she loves sleeping with other women the week he proposes to her? Really think about that. She shouldn't go on the show, shouldn't meet the potential love of her life, because she has standards? I just think that's crazy. Yes, she knew what she signed up for, but I say this every season, you never truly know because you don't realize that you could really develop feelings for someone. You think it's just a TV show… until you're on it.
And I know the show makes it seem like she wasn't clear about not wanting him to sleep with the other girls the week before. But it was obviously very clear to him. He said the intimacy thing was on his mind all week. That it would really hurt her and something she wouldn't be okay with. But now all of a sudden it matters to him when she says it would be enough for her to go home and be a dealbreaker. Well that's pretty much what she said the week before. So he's okay with crushing her, but not okay with her leaving him? I'm just not cool with that. I think he's known it's been Madison all along and I think he should've made the decision not to sleep with the other girls.
To put it in perspective for you. I didn't sleep with anybody but the person I chose in the end. Granted, one of my top three guys sent himself home. So I don't know what would've happened with him. I think there's probably a good chance I would've slept with him to be honest. Sorry to my husband if you're reading this at some point. Ha! But the second guy, who I had a fantasy suite date with, I made it a point to have a producer call the room an hour into our fantasy suite date to say something came up and I was needed. So I left the room. I didn't want to sleep with anybody else. I didn't want to do that to the person I was about to get engaged too. So do I think it's okay to sleep with more than one person during fantasy suites? I do. I do because I think it's important for a relationship and it seems like it's important to Peter. But what I'm not okay with is that I truly believe that he's known it was Madison all along. I think he just should've had the self-control not to move forward with the other girls sexually. Assuming it was both. It might have been one.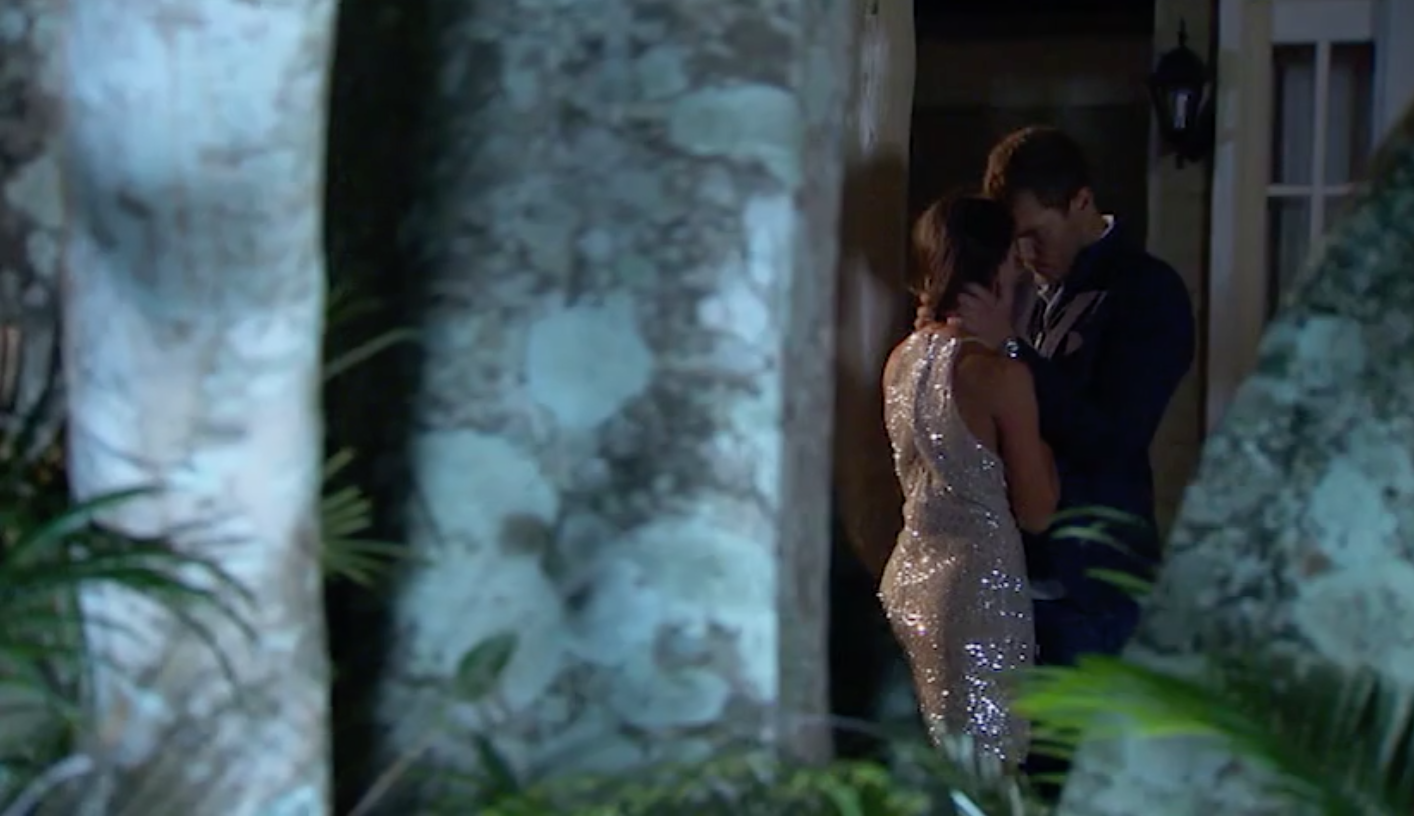 I don't even think Maddie was crying after he told her necessarily because he slept with the other girls. It's not the act of sleep with the other girls that she can't get past I think it's that the expectation she has for her future husband would be not to sleep with other girls when he says he's falling in love with her. And I think that's a totally fine expectation to have. I think she was crying so hard because she knew she had to walk away from this relationship that she wanted to work so badly. It is heartbreaking. My heart was breaking for her.
When Maddie walks away and we see Peter watching her go I guarantee that wasn't them saying goodbye for the night. I feel like she was going to talk to a producer or something because Peter would've been way more emotional. What do you think happens from here? I think without a doubt he goes after her right?! So so so much to discuss! Let's talk in the comments below.
Last Week's Looks!
I'm actually wrote this post a few days early because our family is in Hawaii!!! This past week, I shared a few looks that I am going to be bringing with me on the trip! I am going to recap two of my favorite looks here that still have great stock! Also, make sure to check out my post from today that has pics from our trip, my thoughts on our hotel, and I linked some of the outfits that we have worn so far! Here's a sneak peek 😉

  1. MY DRESS | 2. MOLLY'S DRESS
White Lace Dress
Let's start with this absolutely gorgeous dress/cover-up/sexy sleepwear look! I'm not even sure if this is considered a cover-up. Maybe it's more considered lingerie? I think it could be worn as a dress, a sexy nightgown, or a cover-up at the beach! I feel like it's versatile! All I know for sure is that when I put it on, I felt absolutely beautiful. I feel like this would be really pretty for a bride to wear to bed the night of her honeymoon! But it also comes in a bunch of other colors so you could even wear this as a dress to the beach during the summer. The one thing I will say about the white is that it is slightly sheer so you would have to wear a slip under the white if you decide to wear it as a dress. But from what I understand based on the reviews the darker colors are not as sheer. One person in the reviews described it as an instant boob job! Ha! And I kind of have to say I agree. I felt like my boobs look so good in this dress!


 1. WHITE DRESS
After I posted, I found that the white dress I am wearing below also comes in a maxi dress in a bunch of colors. It is a great option for people that want to be a little more covered, but still wear this gorgeous dress!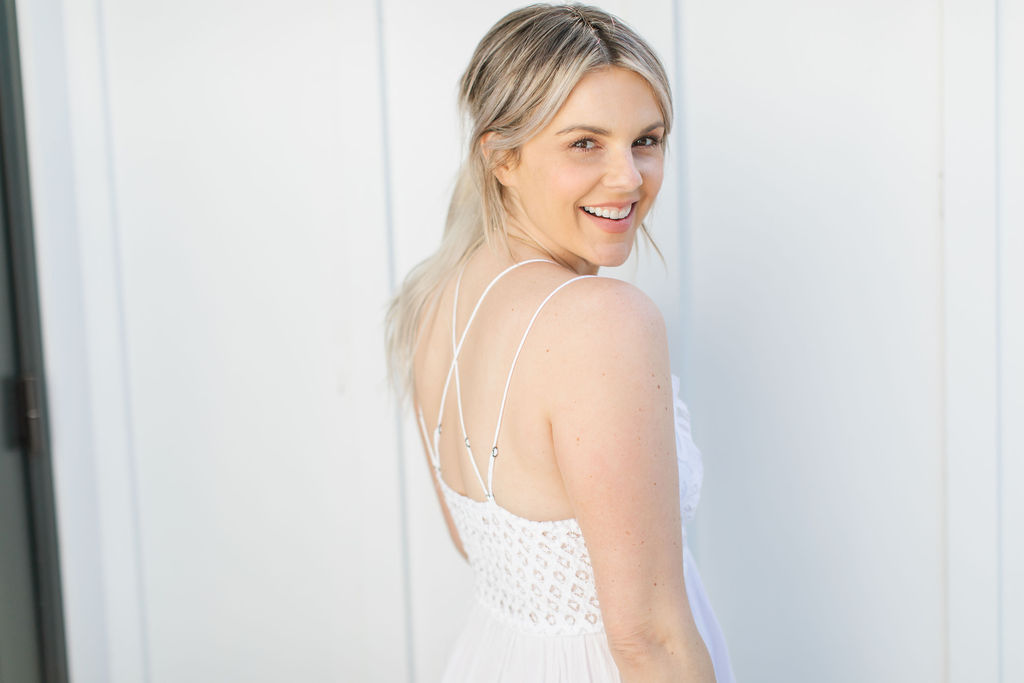 1. WHITE DRESS
I could totally see myself putting a slip under this and wearing it to the beach with sandals and a jean jacket over it. But if you just want to get it as really cute and sexy PJs to wear to bed I say go for it! My point is I just felt incredible in it and I think many of you will too! The reviews are pretty amazing! And if you're reading this, I'm guessing you trust my review and my review of it is I feel insanely beautiful in it. It's TTS size FYI. I'm wearing a medium.
Brunch by the Ocean Look!
I love the white and neutral tones in this last look! One day on our trip, I'm hoping me and Kevin can do a nice bottomless mimosa brunch while our moms watch the kiddos! This is definitely what I'd be wearing. I don't know if I mentioned this, but my mom and Kevin's mom are with us on the trip so we can have some time to relax and have alone time while they watch the kiddos. It has been so amazing having them here!
You might recognize this cream colored cami because I blogged about it in this post before. I love how versatile it is. I can wear it with a pair of dress pants to the office, then out to drinks with girlfriends. But I can also dress it down with a pair of white linen pants for a vacation look.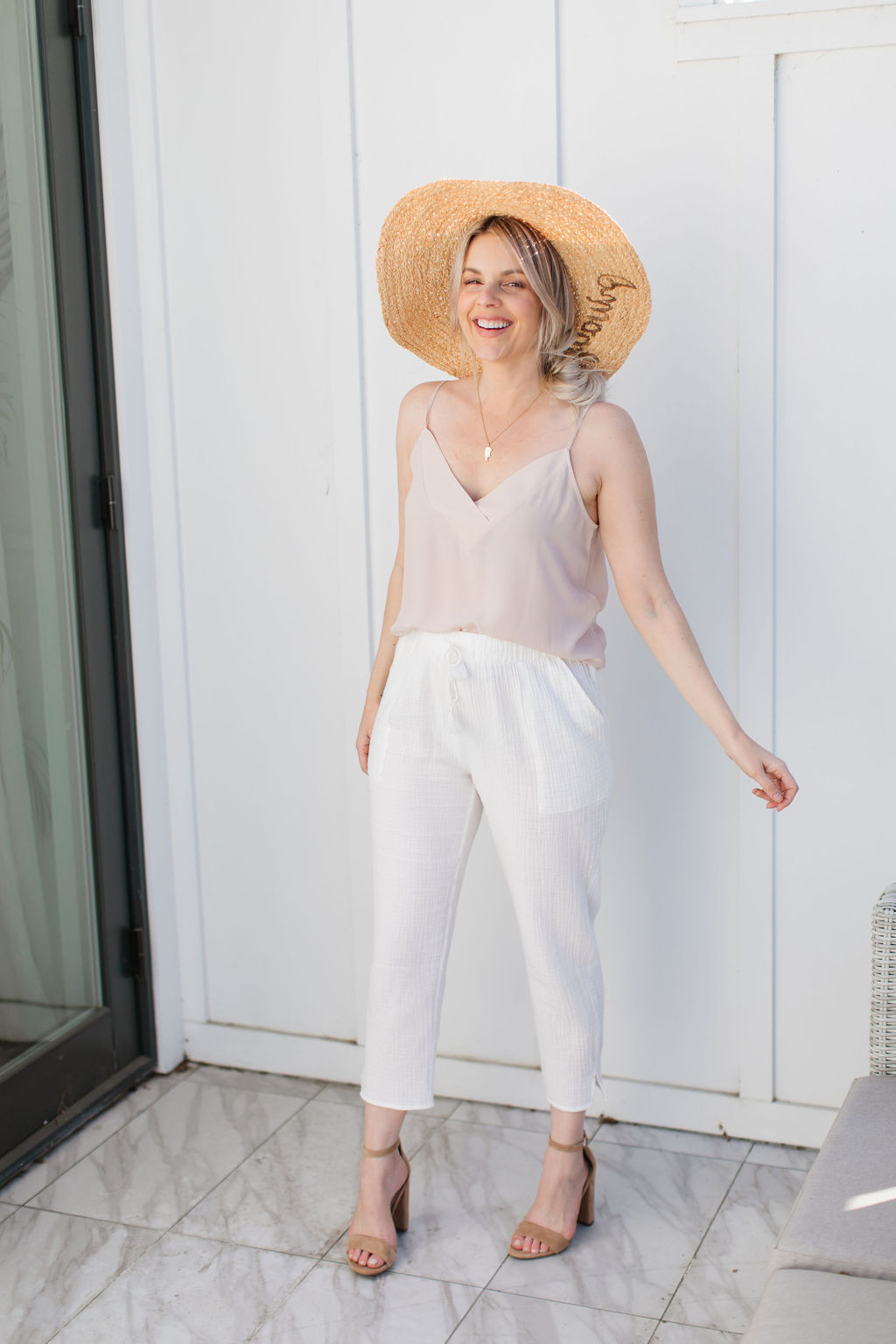 1. CREAM CAMI | 2. WHITE LINEN PANTS | 3. SIMILAR PRIVACY PLEASE HAT | 4. HEELS
By the way, I feel like nobody can go on vacation without a pair of white linen pants. You can dress them up and down. I'm wearing them with nude heels here. On the trip I've  mostly been wearing sneakers and sandals. And occasionally my new wedges here and there. By the way, I asked you guys for help the other day finding a great pair of wedges, and I just wanna say thank you so much for all of you that commented on my little blog post with ideas! I was able to find a couple great pairs that I ordered for my trip!
It looks like stock is getting low on them, so I am going to link a few similar pairs here at a few price points.

And last but not least my big floppy hat. You will rarely see me outside in the sun without a hat these days. So I'm brought multiple to Hawaii with me. Sun protection is one of the most important things in my life now and I love that I can take care of my skin and wear a cute fashionable accessory all at the same time. Check out my post from earlier today for pics of me and Molly with Mommy and Me hats. They are so cute!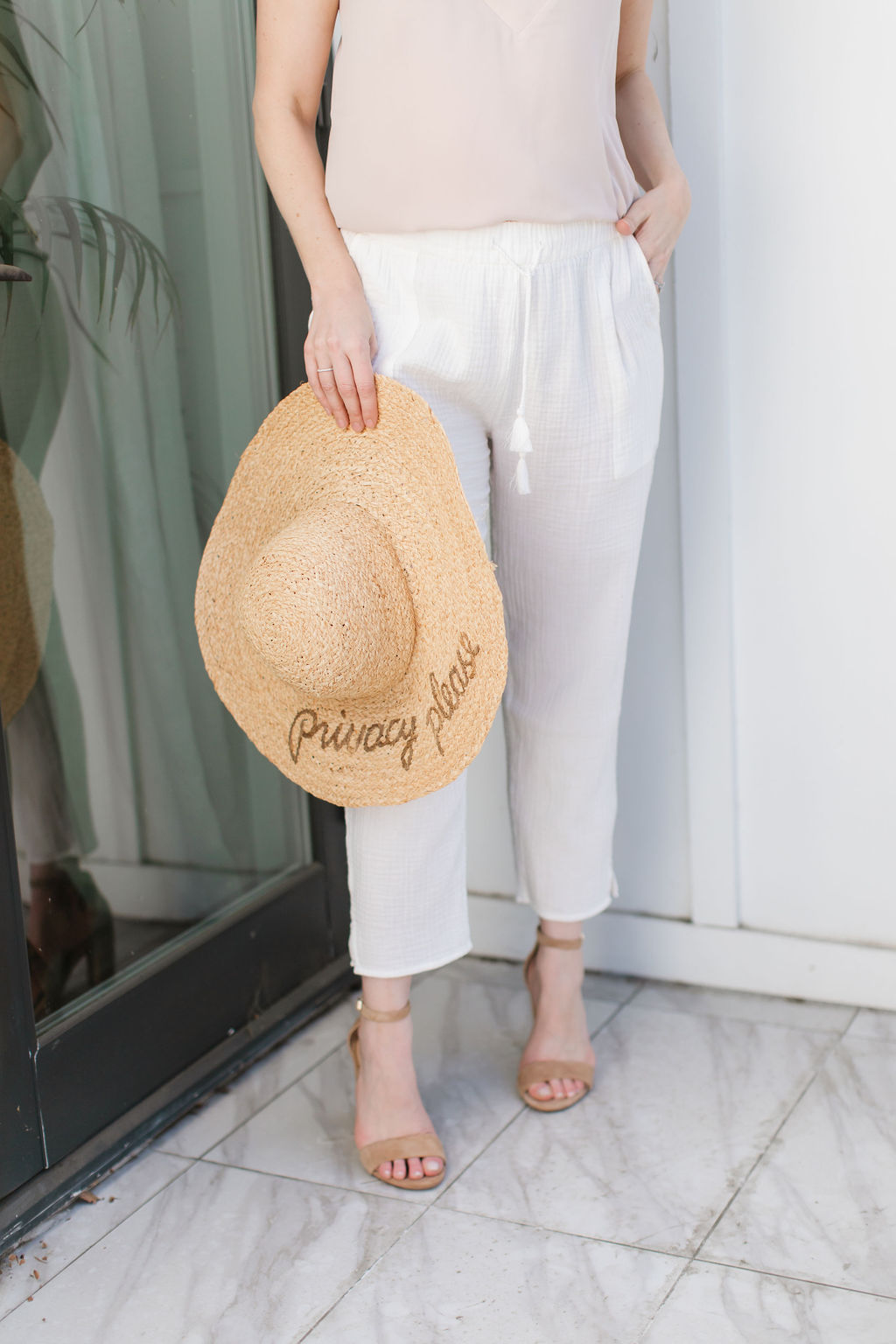 Hope you all had a great start to your week! Now to chat about the Bachelor… I'm going to try to comment back as much as I can since we are in a different time zone right now!!! What do you think, did Madison give him an ultimatum?