Hey guys! Thanks for swinging over to the blog. I know what many of you may be thinking. I'm on vacation in Hawaii so why am I blogging? Well, thanks to talk to text and my amazing assistant Madi, I'm able to quickly write this blog while talking into my phone sitting in a lounge chair by the pool sipping a piña colada. And thank you, Madi for editing all this and adding the links.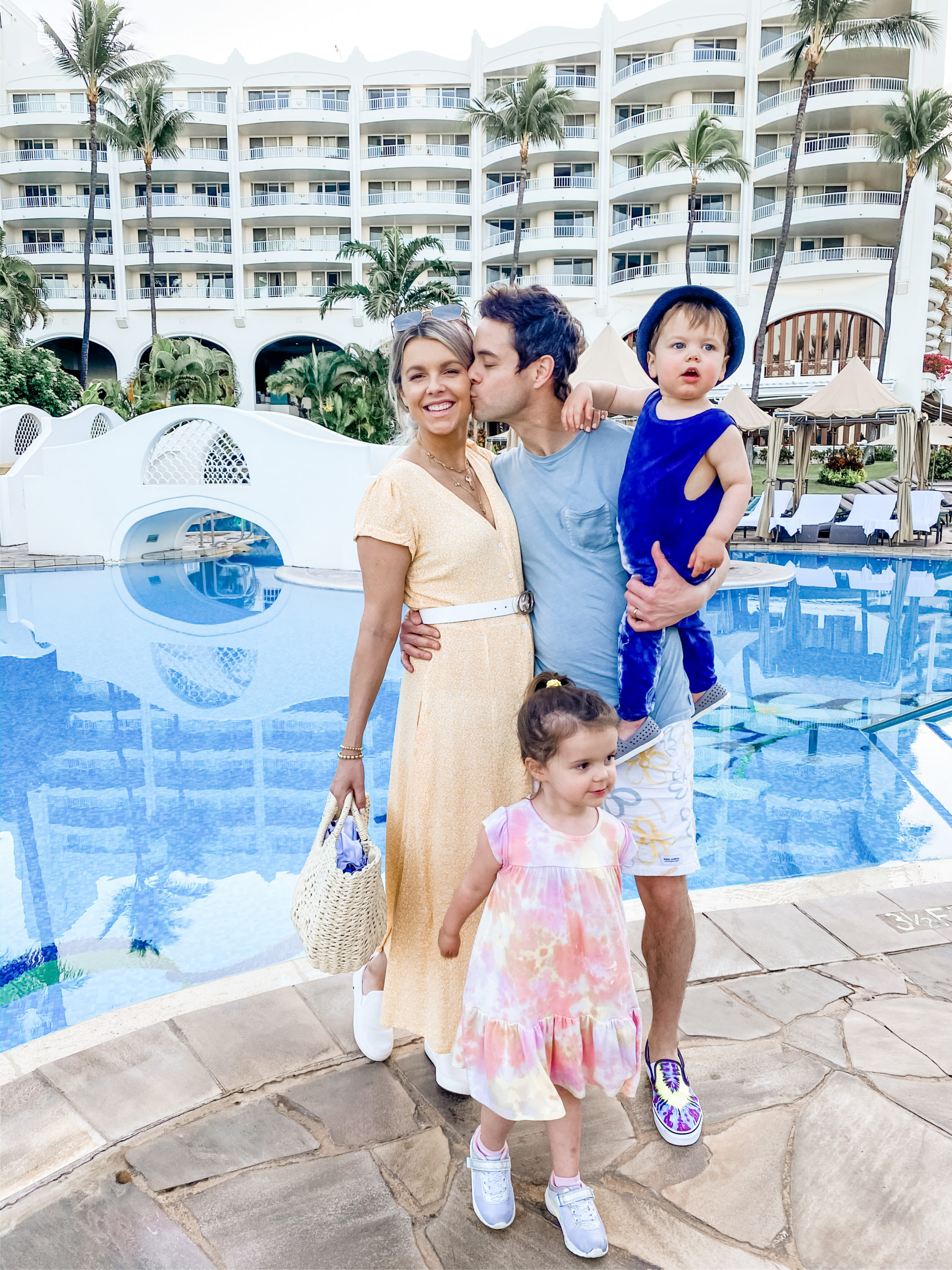 1. YELLOW DRESS | 2. PURSE | 3. WHITE SNEAKERS | 4. BELT
Maui Time!
As many of you know we are in Maui, Hawaii for our vacation. Or is the proper way to say it on Maui? I'm not really sure. Regardless it is absolutely gorgeous here! We kind of booked this trip last minute a couple weeks ago and I'm so glad we did. I'm not gonna lie, our trip started out a little bit rough. I've had a cold that I haven't been able to kick, I wore a mask on the plane the whole way over here. And no, not because of the coronavirus. You're way more likely to catch the flu than the coronavirus. But more so because I didn't want to spread my cold germs to other people. And poor Molly threw up on our trip here. But we made it and we are having the best time!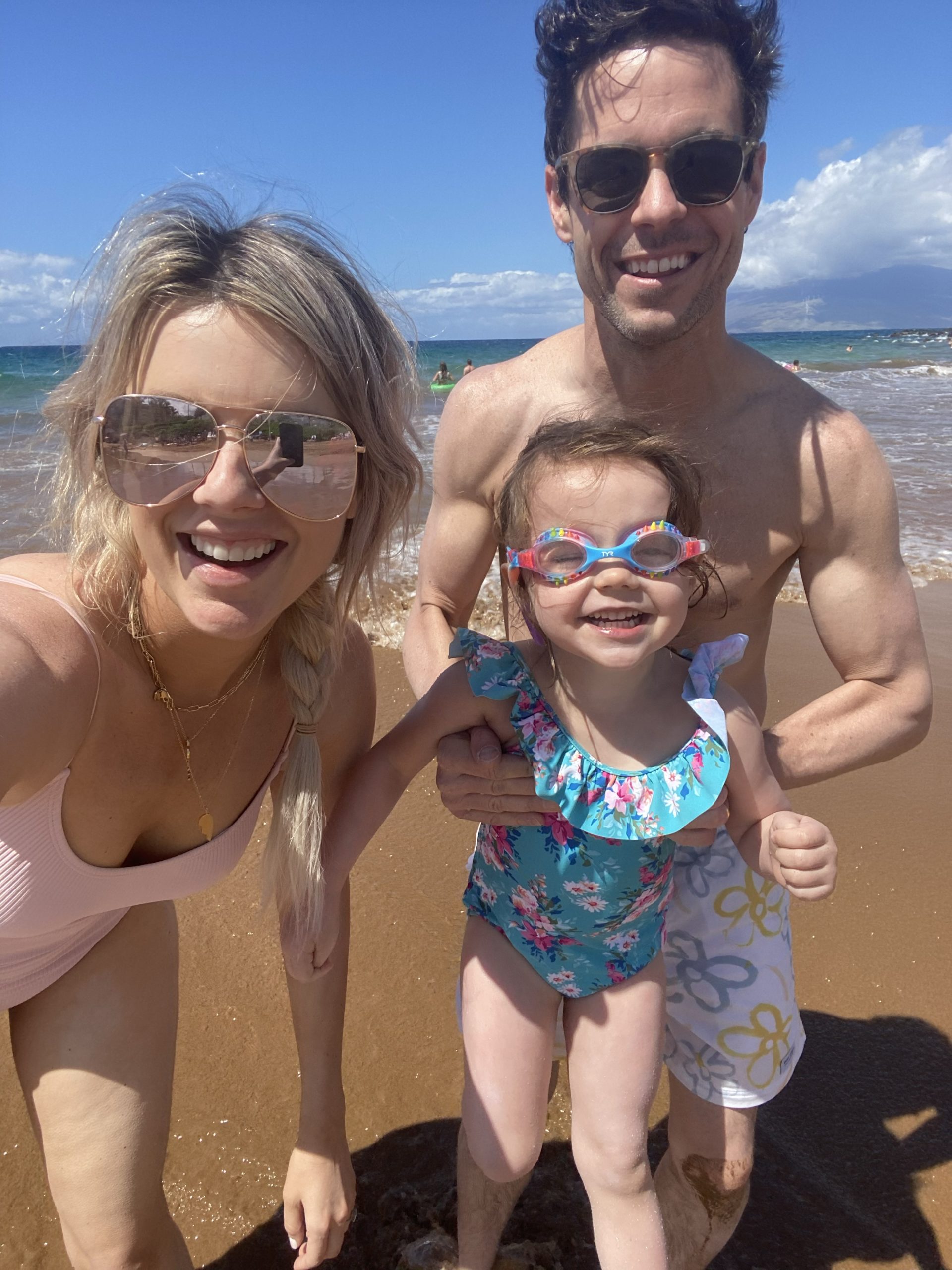 1. MY SWIMSUIT – USE CODE ALI15 FOR 15% OFF | 2. MOLLY'S SWIMSUIT
We are staying at the Fairmont Kea Lani and it's an absolute dream. I learned about this hotel because Jillian Harris stays here a lot so I knew it had to be magical. And funny enough Jillian and her family just happen to be here while we are here! It's been so fun! Yesterday we all got together by the pool and Jillian and I drink mai-tais while our kiddos swam and enjoyed a milkshake together. And yes, within five minutes of meeting each other they were in a hot tub together. True Bachelorette babies!
The Resort
We're staying in a two-bedroom villa, which is the absolute perfect setup for a family traveling. Both Kevin's mom and my mom are with us so they have a room with two beds in it and then Kevin and I have a room. Riley sleeps with the grandmas and Molly sleeps in bed with me and Kevin. There's also a little kitchenette which is key on vacation when you have kids. We can make them little food and snacks that kids require throughout the day, rather than having to do a sit down meal at a restaurant every time. But I will say, the food here is incredible! I feel like sometimes when you go to a resort you don't know what to expect in terms of the food. I feel like sometimes it can be subpar because they know you're going to eat there anyway. But the food at the Fairmont Kea Lani is INCREDIBLE.
Plus they have poolside service, a waterslide, a little plunge pool off our villa, plus there's a little kiddie pool that is about 12 inches deep that is a game changer! I didn't know what it was gonna be like with Riley here always wanting to be in the deep water, but we just put them in the little kiddie pool and sit back and relax chairs and watch him and he is happy as can be! Oh, and if you don't have kids, there is an adult only pool too!
Vacation Looks!
While I've been here I've been getting a ton of questions about my outfit, so I wanted to put everything in this post so you guys have access to it all instead of me trying to comment back to everybody or direct everyone to the shop page on the site. First, I have to share our matching hats! I got them from Amazon for a  ridiculously good price and I just think of the cutest things ever! In fact everything Molly and I have worn that are mommy and me matching, we've gotten so many compliments from people around the resort. Or people just walked by us and say "awwwwwww". I love the hats because the adult version is adjustable depending on how big your head is. And I have a massive head, so I wear mine at the absolute biggest setting.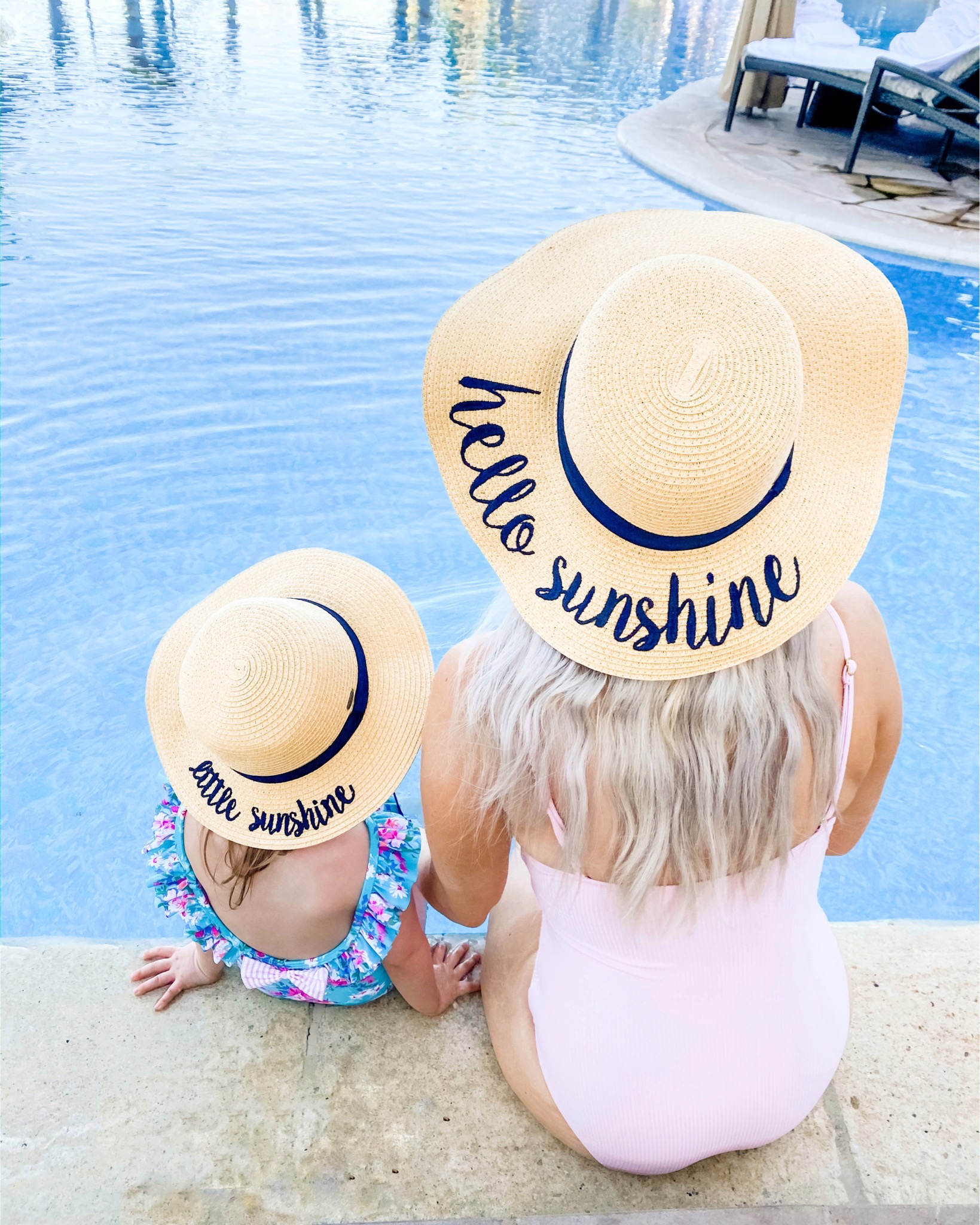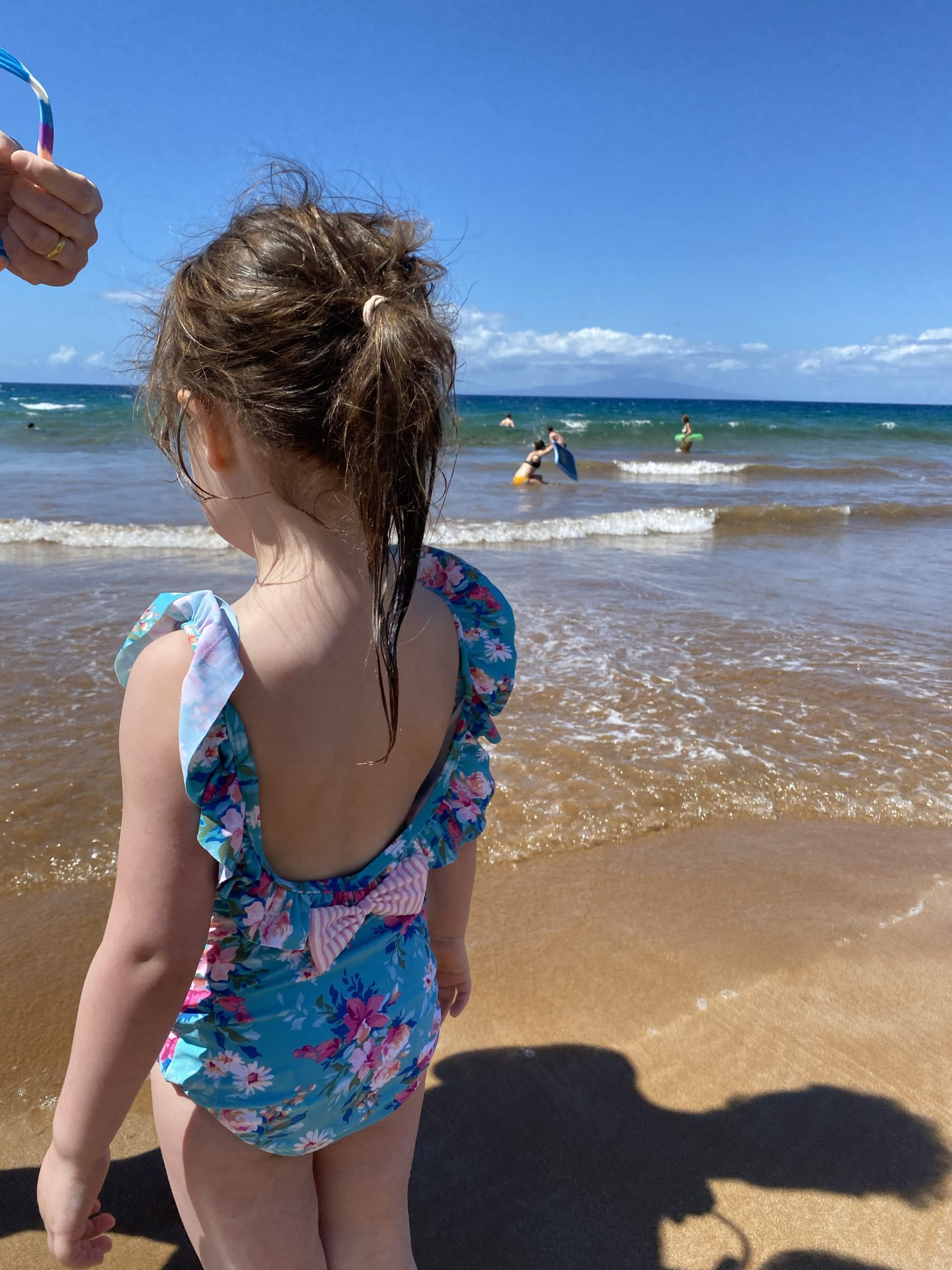 1. MOMMY AND ME HATS | 2. MY SWIMSUIT – USE CODE ALI15 FOR 15% OFF | 3. MOLLY'S SWIMSUIT
And her little suit with a bow on the back is just darling. There is nothing cuter clothing wise than little girls swimsuits! I had so much fun picking out swimsuits for Molly for this trip.
Oh and for my suit, I found my suit online, but when I posted myself wearing it at the beginning of the trip, Andie Swim reached out to me and offered a 15% off code for all of you. So head to their site, and use code ALI15 for the discount!
Speaking of suits. These animal print matching bathing suits are just too darling! They're ridiculously affordable so I honestly didn't know what to expect when I ordered them. I didn't know if the material would be thin, but the quality is absolutely amazing! The material is very thick and sturdy and you would never have guessed the price if you saw them in a store.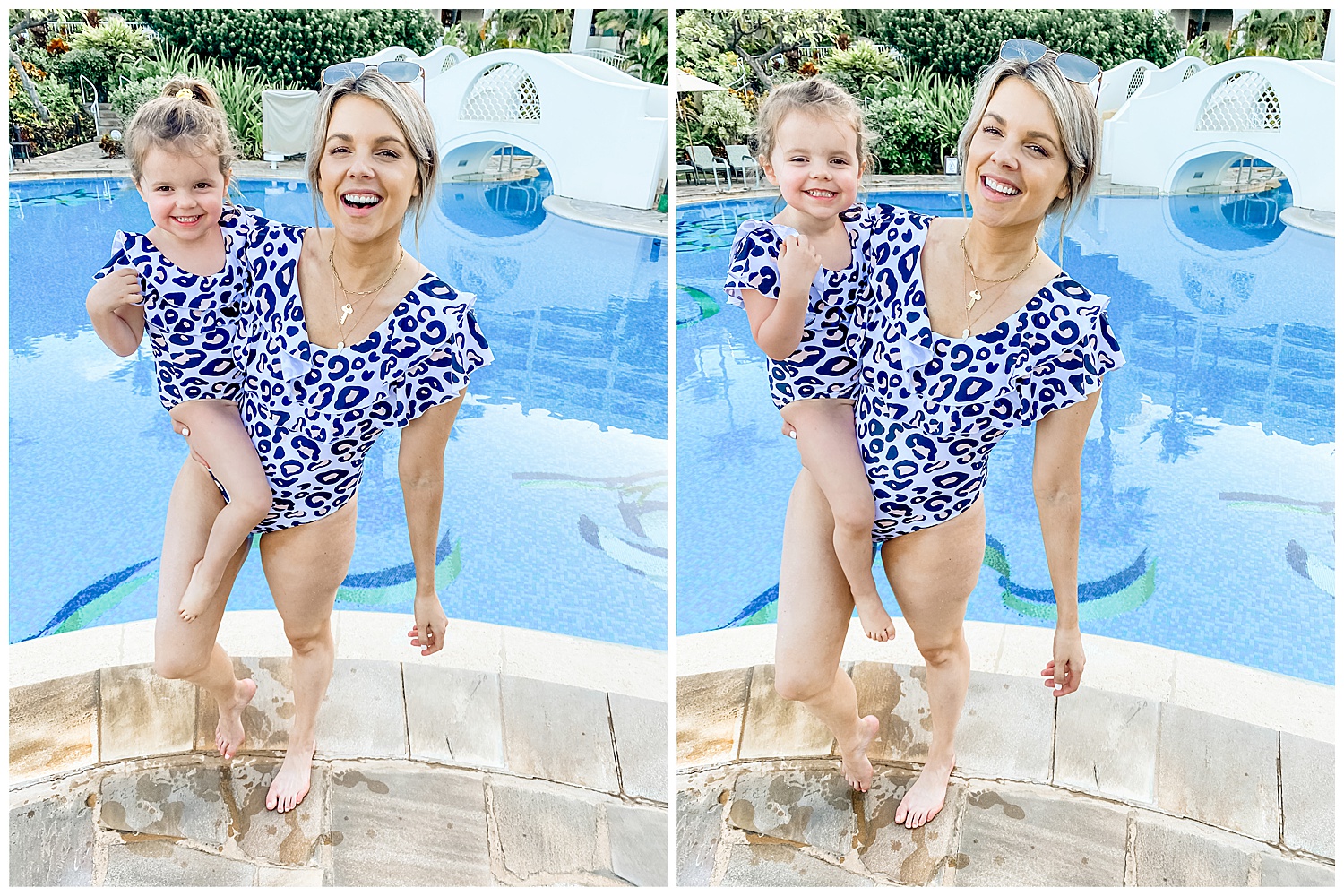 1. MY SWIMSUIT | 2. MOLLY'S SWIMSUIT
Molly is wearing a 3-4T size and I'm wearing a size medium. So as you can already tell, I highly recommend these suits if you're looking for cute mommy and me matching suits!
Our mommy and me matching did not stop there. We had the absolute most magical time yesterday watching the sunset on the beach running in and out of the waves while wearing these dresses. Sure the dresses are beautiful, but the memory is what's really going to stick with me forever. I can't even tell you how much Molly loves the ocean.  When she eventually figures out that we live a 30-minute drive from the beach, she will be so upset with us for not taking her more. But really we need to start taking her more. I think we just get so caught up in life that we don't even remember that we live so close to the beach to take advantage of it more. Plus, now that Riley's or older, making the trek out to the beach doesn't seem so daunting. He's passed the "baby eating sand" stage, so I feel like it gets much more manageable at that point. Ha!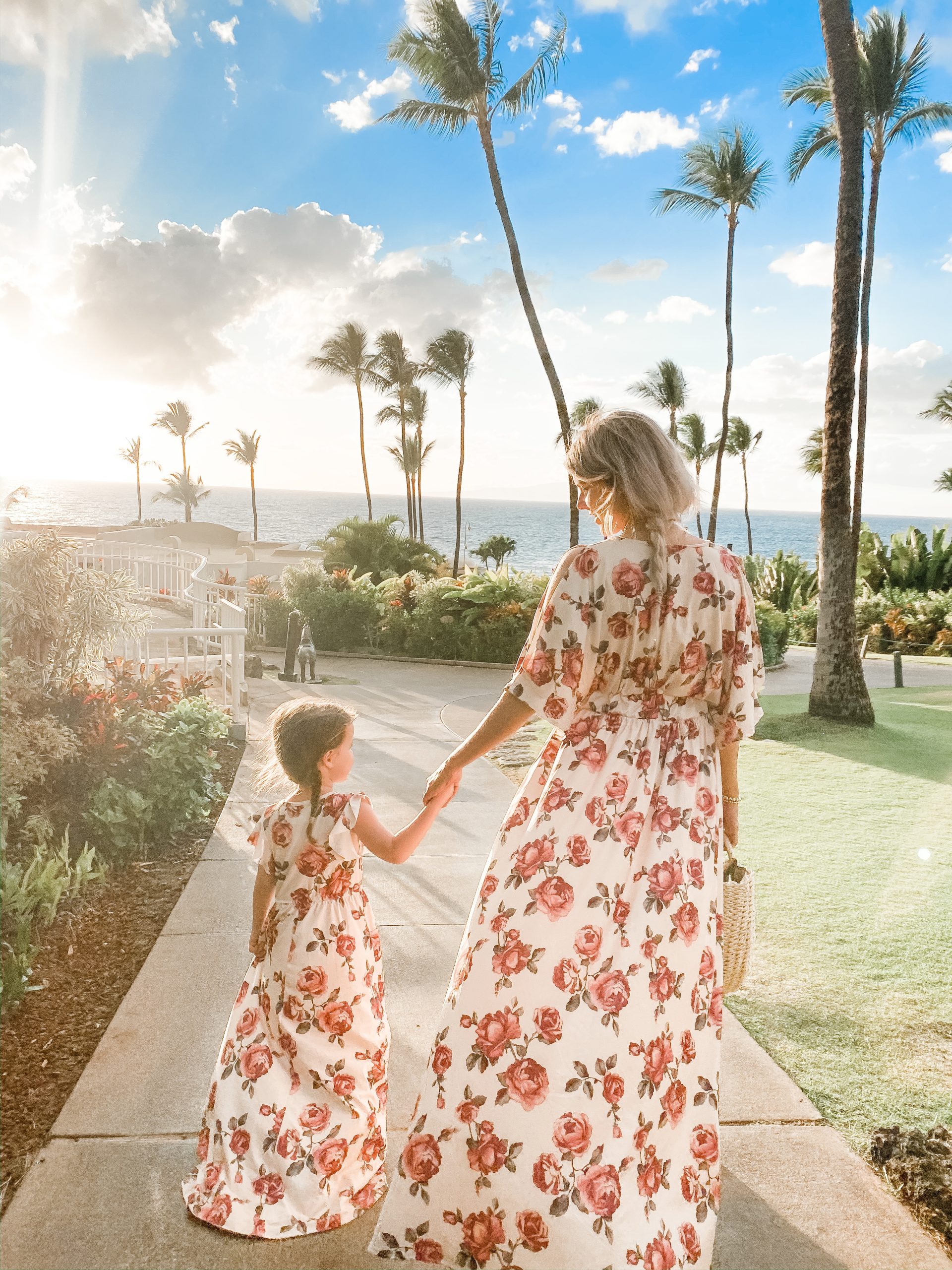 1. MY DRESS | 2. MOLLY'S DRESS | 3. PURSE
Anyway, these dresses are incredibly made the material is so high-quality and Molly felt like a princess strutting around the hotel dressed up like her mommy. She loved watching her little dress catch the wind. She kept saying it was her cape.
Another dress I want to tell you guys about real quick is this white dress with blue and blush flowers on it. I got it for $25 on Amazon! And I love it! It's the absolute perfect vacation dress. The ruffle detail on it is stunning and you would think it was so much more expensive because of all the delicate details.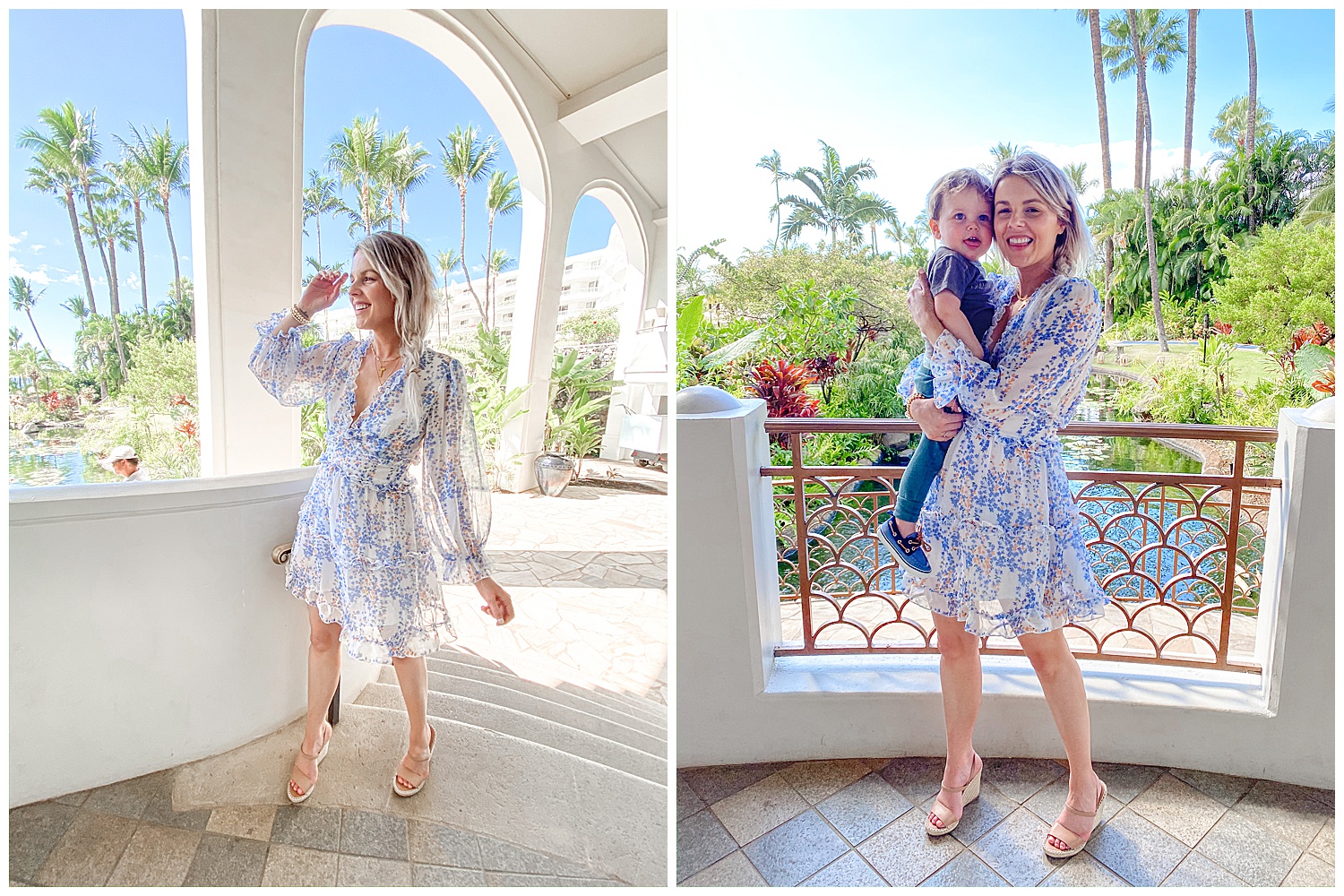 1. FLORAL DRESS | 2. WEDGES
I'm wearing a pair of Steve Madden wedges that are the perfect vacation wedge if you're looking for a good new vacation shoe. The other day via Instagram story I asked you guys to help me find a good nude wedge with not too high of a heel and thank you guys so much for helping me find this pair! Sometimes with wedges because they have a platform at the toe of your foot it makes the heel so much higher. Believe it or not most platform wedges are over 4 inches, which is just way too tall for me! I'm a tall person as it is so I don't like that much of a heel height not only for comfort, but because I don't want to be that tall.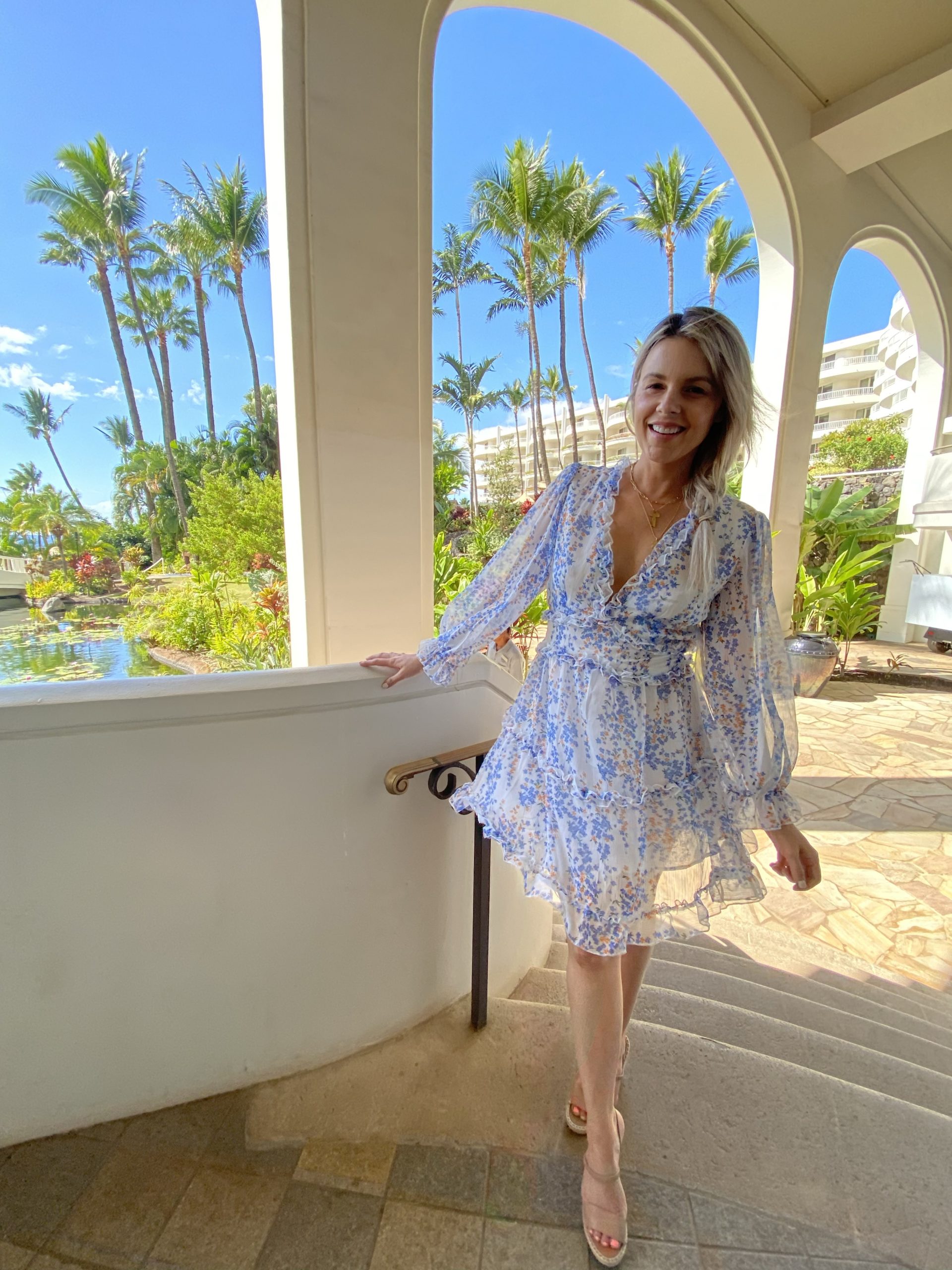 1. FLORAL DRESS | 2. WEDGES
I've also been getting so many questions about my necklaces. They are by The Giving Keys which is my friend Caitlin's company. I love her company so much because she employs people experiencing homelessness and helps them get back on their feet. It's a beautiful organization and you should feel really good about buying her products and giving them as gifts because of the good work that she does. FRIENDS25 will get you 25% off too.
My other accessories, like my oversized sunglasses, among other things, I will link below if you guys are curious.

And last but not least, I just wanna mention this yellow dress that I got from Red Dress Boutique. This is one of the most stunning dresses ever! I ended up getting a size large, which is bigger than the normal size that I get which is a medium. And I'm really glad I sized up. I feel like Red Dress Boutique sizes tend to run a tad small in general so this worked out perfectly. The model was wearing it with this white belt,  so I ended up getting the belt as well. It just ties look together and I feel like gives it a very sophisticated, Pretty Woman vibe. Do you feel like this kind of resembles something she would wear in the movie?
I almost wore my wedges with this dress, but decided on these white Steve madden sneakers instead. And I think it looks super cute! Anytime I can wear sneakers with the dress I am all for it! I've been wearing these white loafers the majority of our trip. They're so cute, have a vacation vibe, and are really comfortable for walking all over the resort.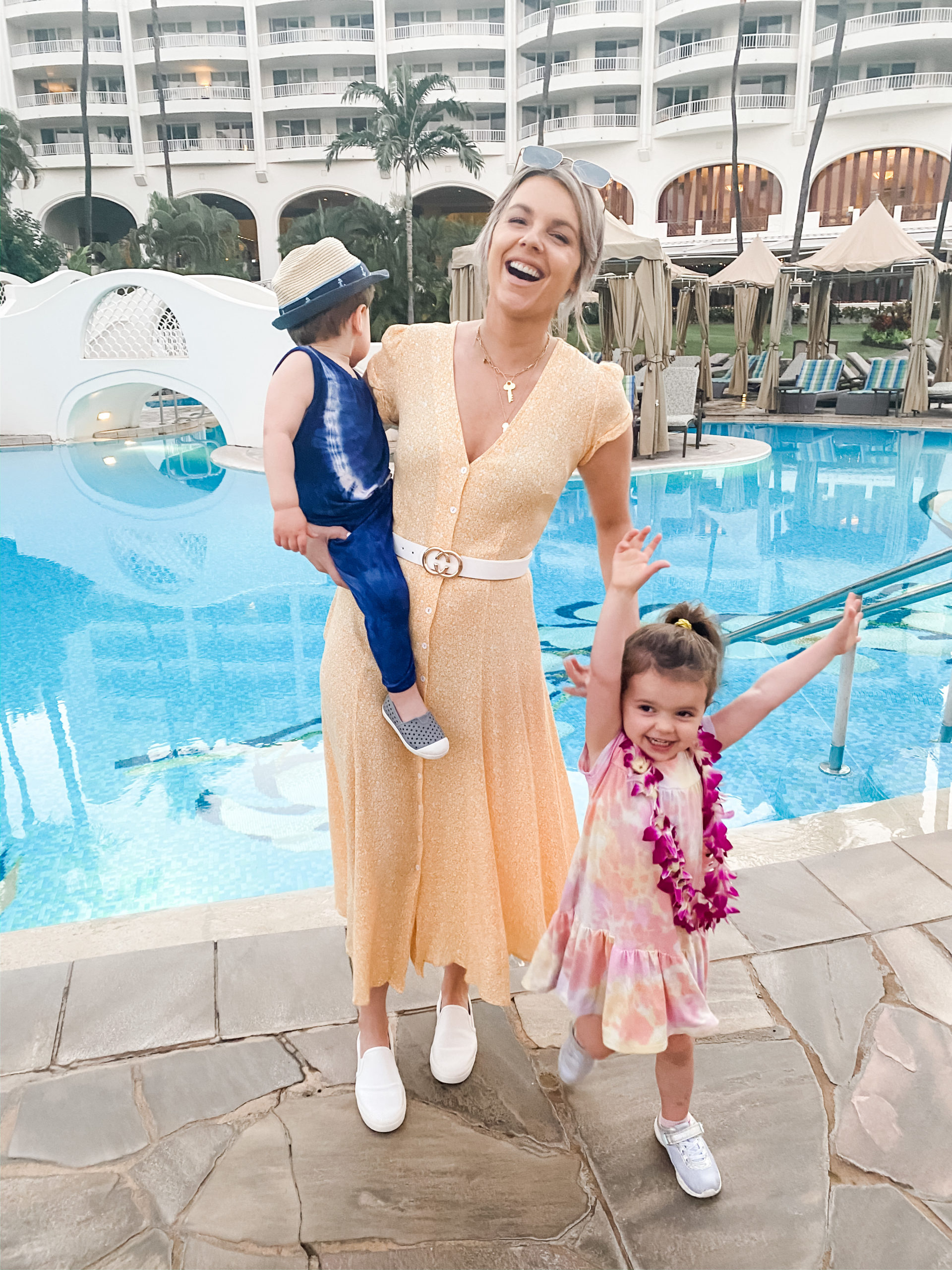 1. YELLOW DRESS | 2. PURSE | 3. WHITE SNEAKERS | 4. BELT
OK well that's it for now, if I didn't mention something that you have a question about feel free to ask me in the comments below! Or just send us some good vibes for the rest of our vacay in Hawaii! Or just say hi! Ha! Love you guys I hope you're having an incredible start to your week, I know we are!
Oh and definitely come back to the blog later because I will have my Bachelor blog up! I watched the episode and blogged about it before we left for our trip. It's a really good episode and there is going to be so much to discuss tonight! Since the kiddos go to bed really early her,  I'll have some time sitting in bed while Molly sleeps to answer some of the comments.