Happy Valentine's Day everyone! The funny thing about Valentine's Day is that when I was single and did not have a Valentine, Valentine's Day was such a big deal to me. I cared so much about meeting that perfect guy that would give me flowers on Valentine's Day one day! But the ironic thing is, now that I have that perfect guy for me, I could care less about getting flowers on Valentine's Day. I am still so grateful that Kevin got some for me, but I don't know why I put so much emphasis on that when I was single.
So I guess what I'm trying to say is if you're reading this and you're single, try not to read so much into this day. In my mind it's not about your significant other necessarily, but celebrating all the love in your life! That's love for your parents, your siblings, your friends, and most importantly for yourself!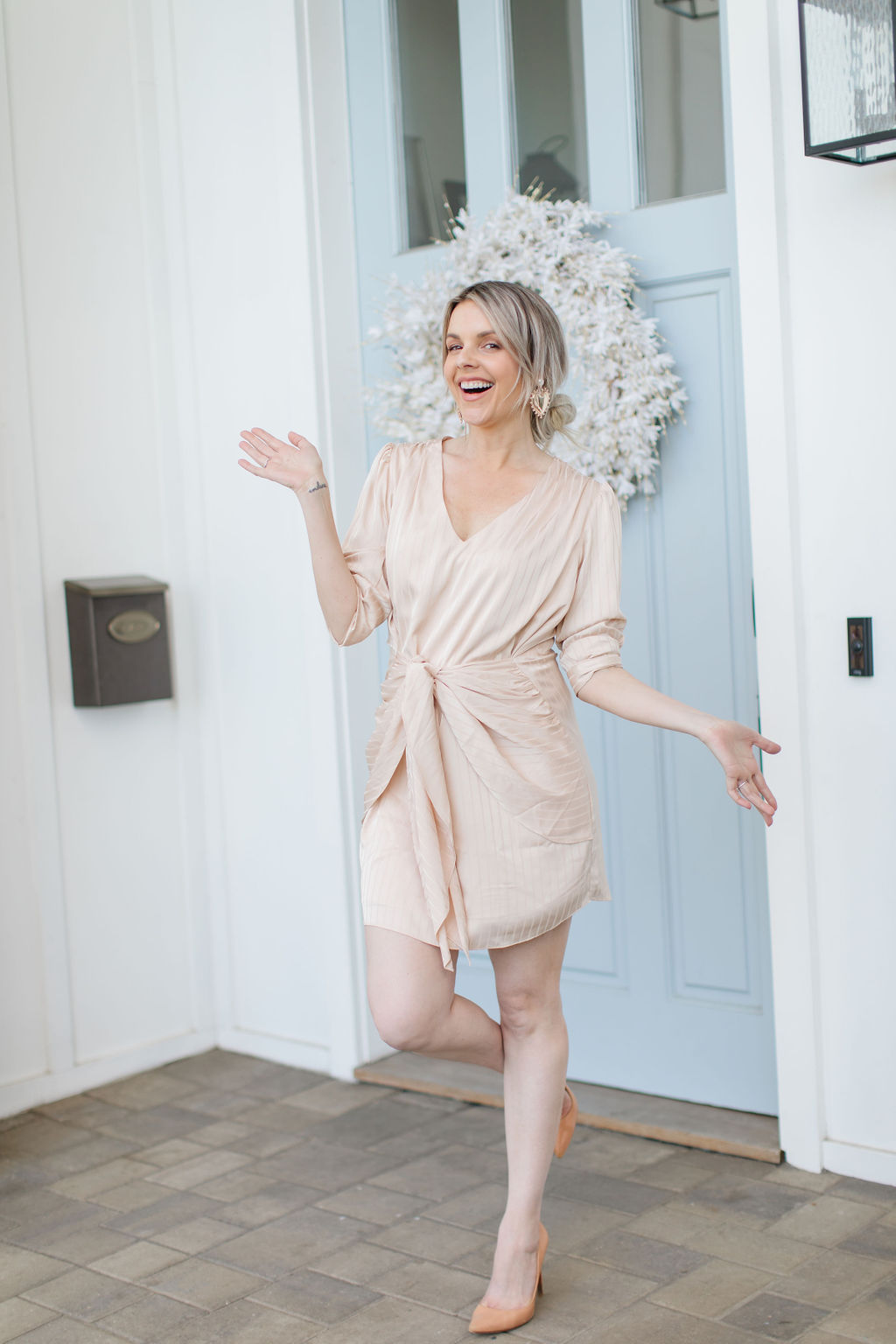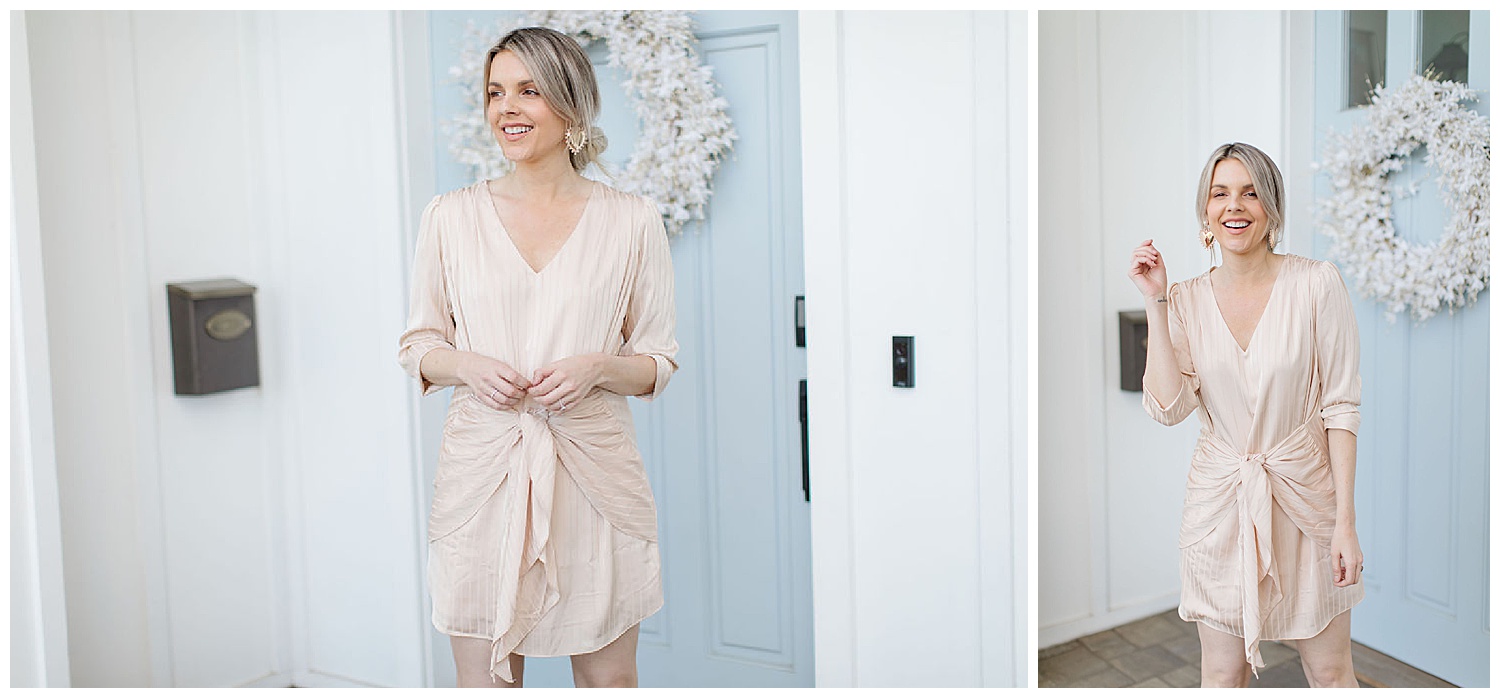 1. EARRINGS | 2. DRESS | 3. NUDE PUMPS | 4. SUNLESS TANNER
Anyway, I wanted to wear something festive today, so I went with this beautiful blush dress that I got recently. To be completely honest with you, the company sent me this dress as a gift. With no expectation that I would write about it or even wear it for that matter. So I looked it up online to see the price and was very happy to see that it was affordable! But shocked to see the photo of it on Macy's website. It looks awful on the model! And I feel bad even saying that because I don't know if they put her in a size too big or if they didn't tie it properly. But the photos on the website just do not do this gorgeous blush dress justice. And neither do my pics really because I didn't steam it before taking them!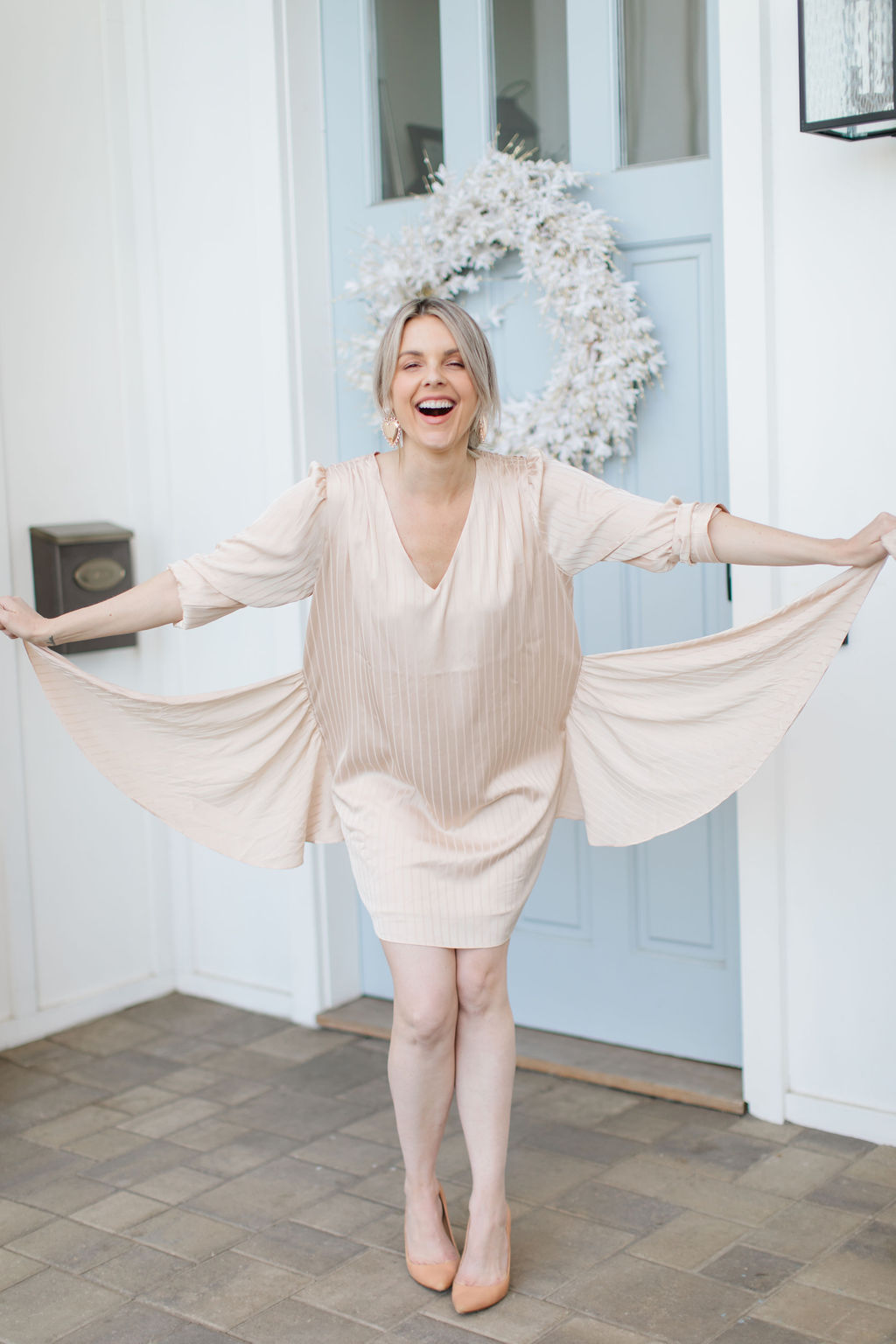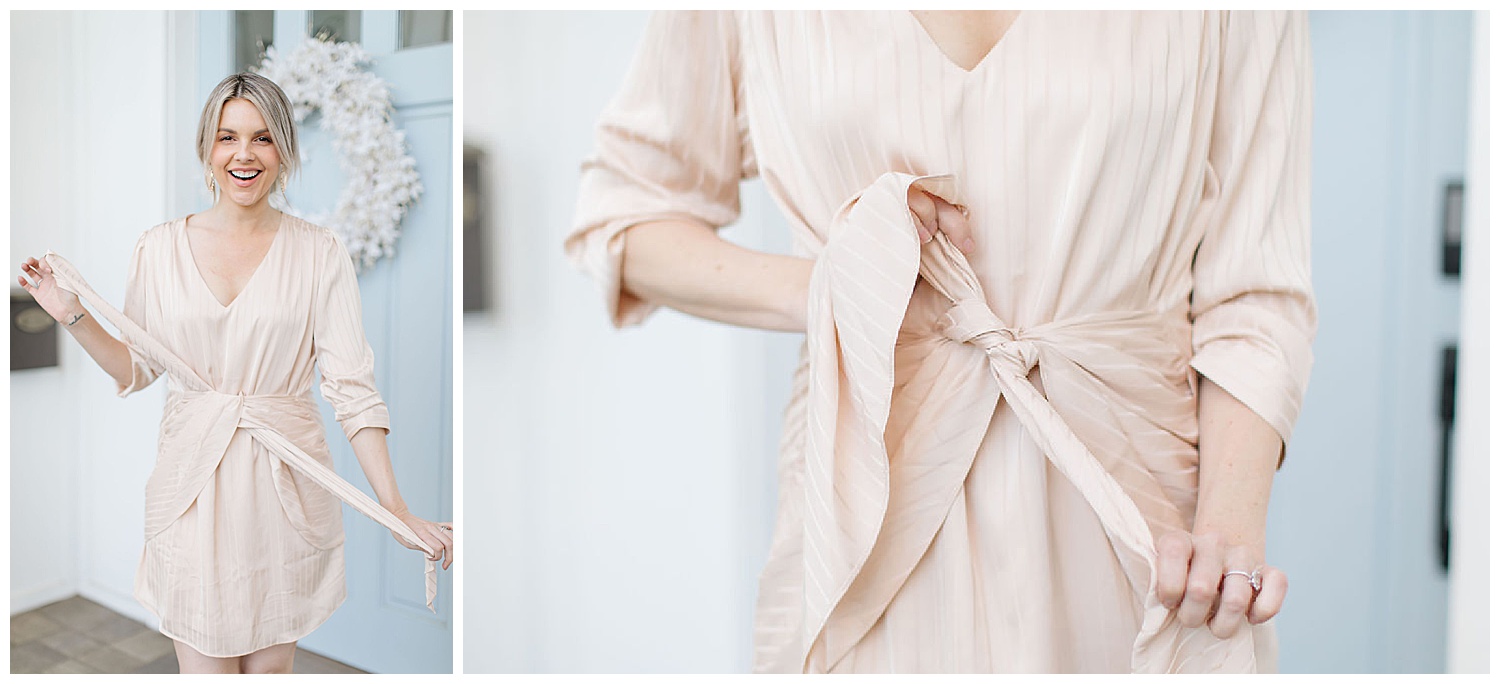 1. EARRINGS | 2. DRESS | 3. NUDE PUMPS | 4. SUNLESS TANNER
When I first put it on before I tied it in the front, I was concerned. Ha! Just cause it looks pretty funny before it's tied. As you can see in the photo above. But once I put that tire in the front I feel like it instantly looked super chic and expensive! I'm wearing a size medium which is my normal size, so I definitely would say it's true to size. And of course I'm wearing it today for Valentine's Day, but this blush dress would be beautiful all throughout spring and summer. If you have any spring weddings coming out this is actually be a pretty dress to wear to a spring wedding.
I wanted to mention my earrings really quick, because I know you've seen me wear them a bunch over the last year or so. They aren't available anymore, but I thought I would link a few other beautiful statement earrings that you could wear with the blush dress – and tons of other looks in your closet. And I am giving you a variety of looks here, because I know we all have slightly different style – these are all gorgeous!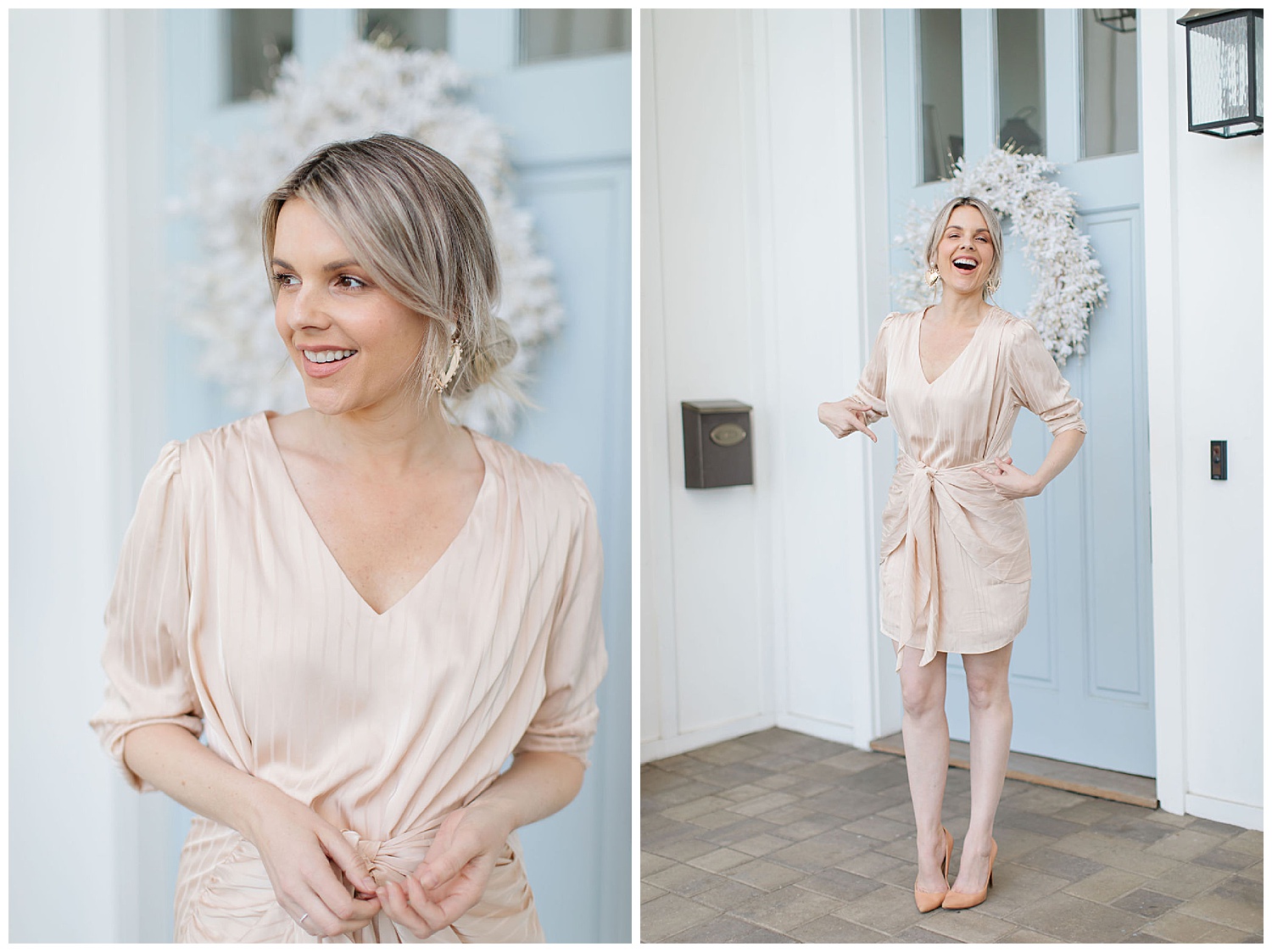 1. EARRINGS | 2. DRESS | 3. NUDE PUMPS | 4. SUNLESS TANNER
Anyway, I'm wearing this dress to work today and I usually get a few people asking me questions about what I'm wearing at work so I figured I would throw a blog post quick this morning to let you all know about it! Let me know if you have any questions and I hope you all have a beautiful Valentine's Day full of love! Especially love for yourself!