Hi guys! Welcome to the blog today! I feel like whenever I do a post I always have some sort of direction about a topic or style. But today honestly I just wanna share these looks because they're my absolute favorites things and I want to tell you guys about them. Each one of these items makes me feel really good when I'm wearing it and I want you guys to be able to feel the same way. And I don't even know if feeling good is the right way to describe it. In each one of these looks I feel beautiful, confident, and sexy! And yes, that even goes for the pajama look! So I thought I would do a post today about my absolute favorite things from Nordstrom in my closet right now that make me feel confident!
Nordy's Girl
If you've been reading my blog for any amount of time, it's no secret that I'm a huge fan of Nordstrom. For a ton of reasons – I love that you can get everything from designer items to affordable items. And I love that they have one of the best return policies, I would argue the absolute best return policy, out there. And the reason I love this so much is that I'm a busy mom of two and I just don't have a ton of time to go to the mall to go shopping. So I love that I can feel good about ordering clothes on their website, try them on at home, and then being able to return anything that doesn't work.
The items I'm talking about in this post I can be almost certain you won't be returning if you order them. In fact, if you like anything in this post I would urge you to order it ASAP because I've literally been hustling to get this blog post up as soon as possible because I'm so afraid that these things are going to sell out super quickly! So I don't wanna waste anymore time, let's get into it.
Chic Pant Look
Do I look super confident in these photos? I think I do! And that's because when I put on this outfit I felt insanely confident in it! I felt beautiful, I felt strong, and I felt sexy. And I rarely feel that way! I don't know, I guess I just always feel like the girl next-door. I've never really looked at myself as someone who is sexy. I always smile ear to ear in photos and I think that's great! But I don't know, and some of you might think this is weird, but sometimes I see photos of girls that have the sultry look in their photos and I think to myself, I would look like an idiot if I try to look sexy in a photo! Ha! But then I put on an outfit like this and I felt like I could strut my stuff down a catwalk!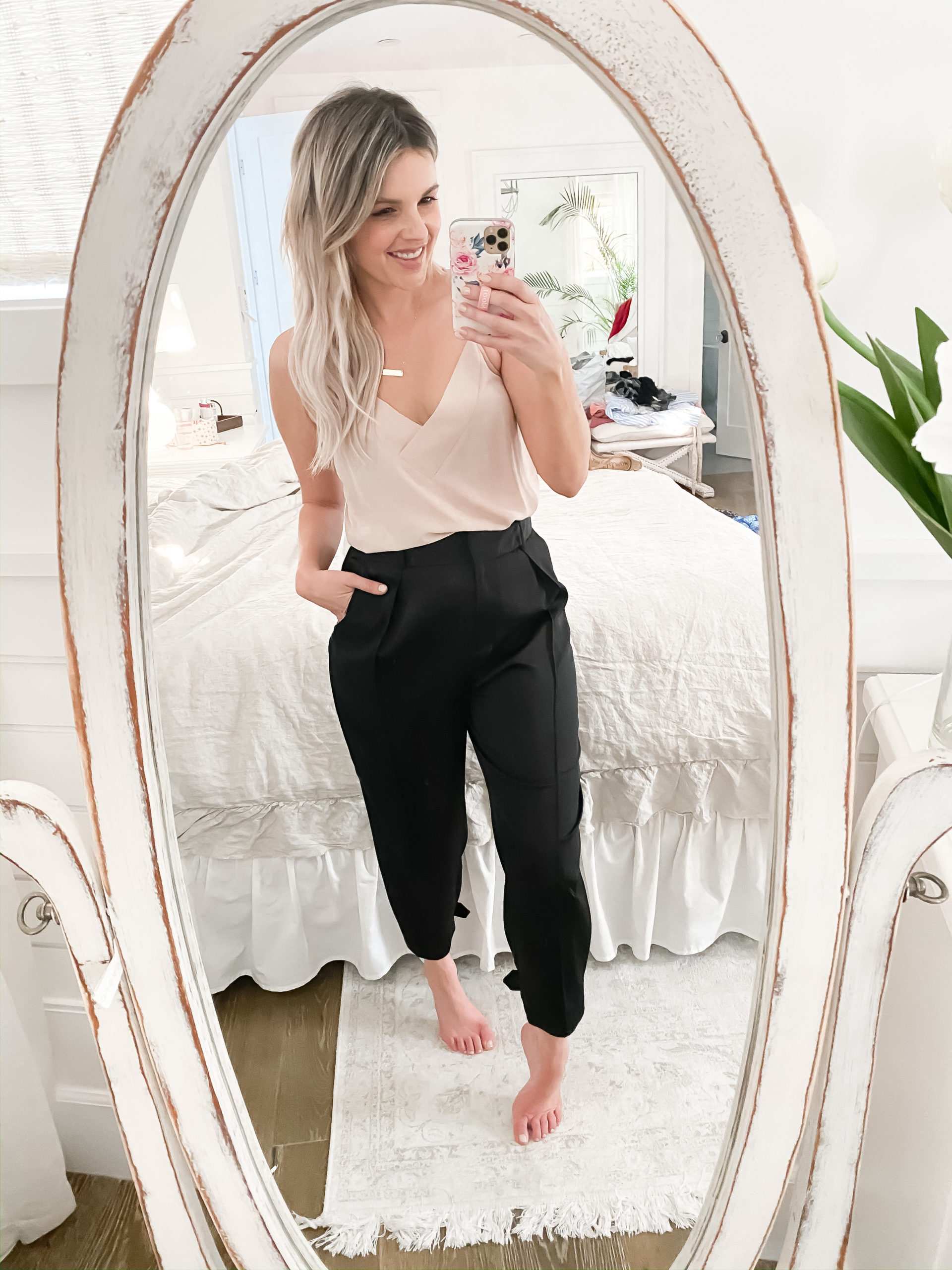 1. NUDE LIP | 2. CREAM CAMI | 3. SATIN PANTS | 4. SUNLESS TANNER | 5. NUDE PUMP
What I love about this so much is that even though I feel cute and sexy in it, it's also very conservative and chic. This outfit would look amazing to wear to the office or any business meeting. If you don't want your arms and shoulders exposed, just put a black blazer over it and you'll have a power pant suit look! I'll link some of my favorite black blazers below, at different price points. The first one below I actually own and love, plus it's very affordable for a good blazer!

So let me talk a little bit about the two main items of this look. Some might think a cami is a cami. And they're not that different from one another. But let me tell you the soft cream color of this cami is delicious! I don't normally use that word to describe clothes, but that's the word that immediately comes to mind when I put on this top. It just looks so rich and creamy and expensive. I have a ton of camis in my closet. They're really the perfect piece, especially in neutrals, to tie together different outfits. But I didn't have this color. I have white, black, blush, tan, but this light cream is such a unique color and so expensive looking that I had to have it and I'm so glad that I got it! I can't tell you enough how much I love this top and I think you'll love it too!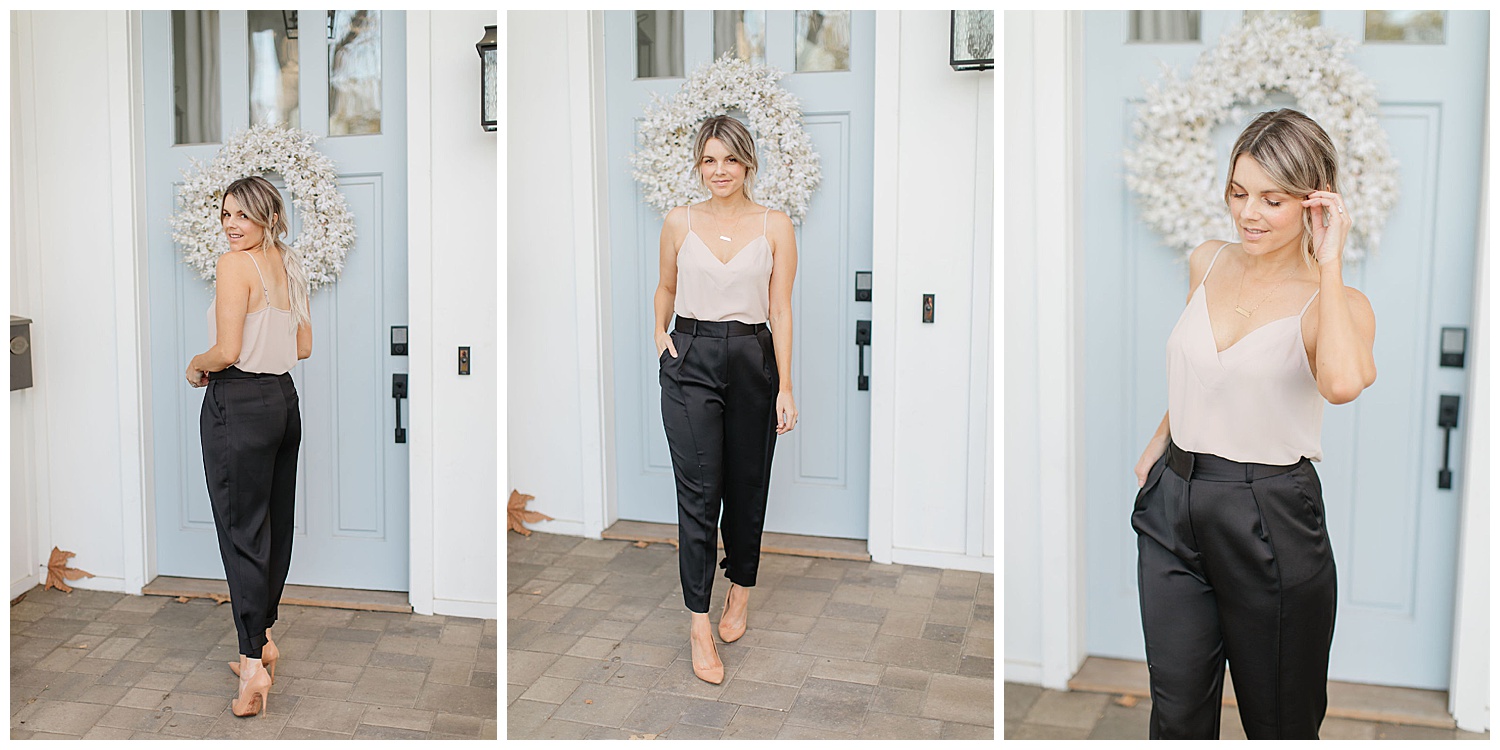 1. NUDE LIP | 2. CREAM CAMI | 3. SATIN PANTS | 4. SUNLESS TANNER | 5. NUDE PUMP
Which brings me to the pants. I truly did not know what to think of these pants when I ordered them from Nordstrom's website. I either thought they were going to be super chic and cool or an absolute disaster! And I'm so glad that it was the former rather than the latter. I got a size 8 US which fits like a size 6-8, which is my normal size. So I would say they're true to size. Just make sure you pay attention to the Top Shop sizing because it's different then our normal American sizing. But when you click into the size options it tells you what each size fits like.
I love the high waist. You guys know I'm a sucker for high-waisted pants. And the detail on the ankle on the back of the pants really makes these pants look Uber expensive! I also find that the backside of them is so flattering on my booty. I have a big butt and in satin pants I tend to think it does not look good. But these are a good thickness so they don't show anything underneath and are super flattering. There's only one review of them on Nordstrom's website, and that review is so-so. It's not good but it's not bad. But I honestly don't know why! The person said that they thought the fit was huge but I'm guessing they just didn't order the right size for them. I'm normally a size 6 and I got the US-8 and they fit perfect.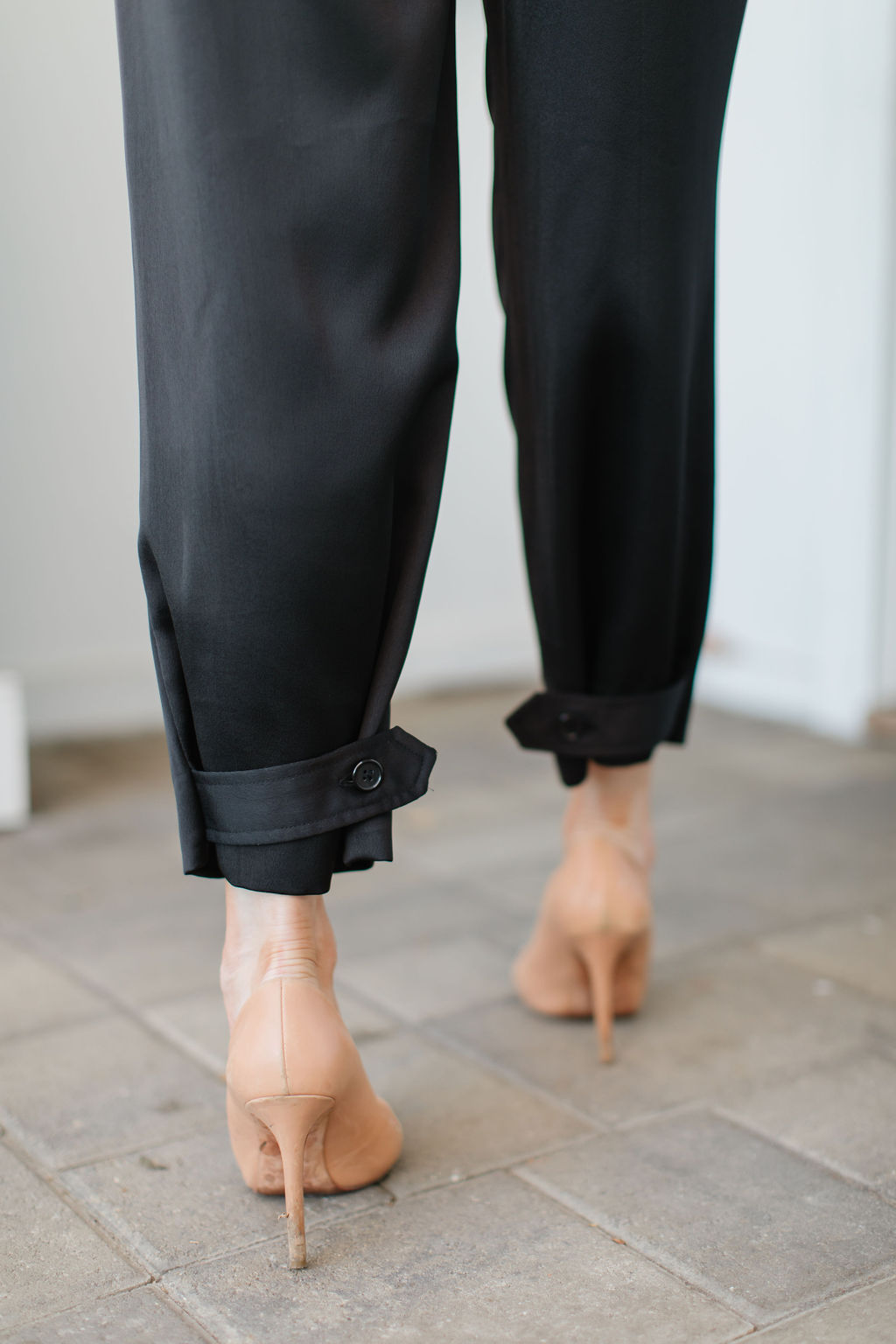 1. NUDE LIP | 2. CREAM CAMI | 3. SATIN PANTS | 4. SUNLESS TANNER | 5. NUDE PUMP
I think you guys, especially if you've been reading my blog for a while, know when I truly truly love something opposed to just kind of like it or like it a lot. And that's usually because I'm more wordy with my review of the item. And looking back on my review of this, you can tell I'm obsessed! Snag these pants now before they're gone! And for $75 I truly think they're an absolute steal! I get that that's on the expensive side for many people, but the quality is just insane! I plan on wearing this outfit all the time! Out to drinks with girlfriends, on TV shows for appearances, to work or even cocktail parties. That's another thing about it, I just think it's so versatile that you could wear it to so many different occasions. What do you guys think?! Are you guys in love with this look as I am?!
Floral Perfection to Transition to Spring
You know when sometimes you put on a dress and you instantly feel 10 times more beautiful!? That's how I feel when I put on this floral dress. It's ridiculously flattering and it flows in all the right places. Again, it's one of those outfits that I put on and I feel classy, feminine, but also very sexy. I don't know what it is about it. It's not too short because trust me, I can't wear mini dresses. I'm just way too uncomfortable in them because I'm not totally comfortable with my legs. But this one is just short enough that it covers me in a way that I feel comfortable, but also shows enough skin that it makes me feel very sexy.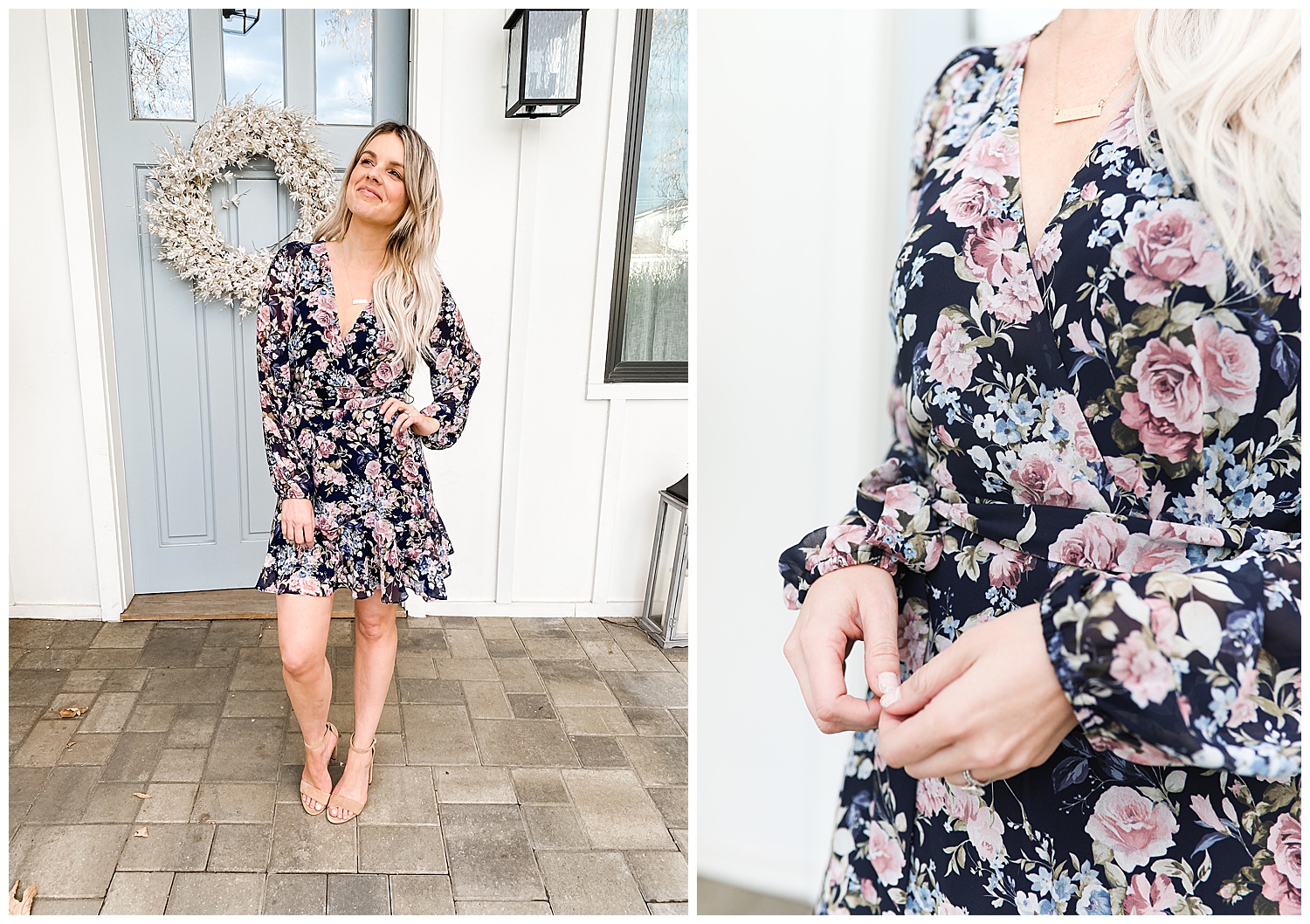 1. FLORAL DRESS | 2. NUDE HEELS
I love the mirror selfie I took with my kids playing in the background on the bed. And the reason I love it is because I feel like it shows my pre-child self re-emerging after having kids. What I mean by that is that before I had kids, I thought I could wear the cutest outfits. Then after having kids, my style changed. I started wearing more long skirts and things that covered up most of my body. I'm not completely sure why the change happened. I think some of the reason might be for practicality. It's not very easy to wear a pretty short dress like this will chasing around a toddler and breastfeeding infant. Ha! But I also think part of it is because my body changed so much after having kids.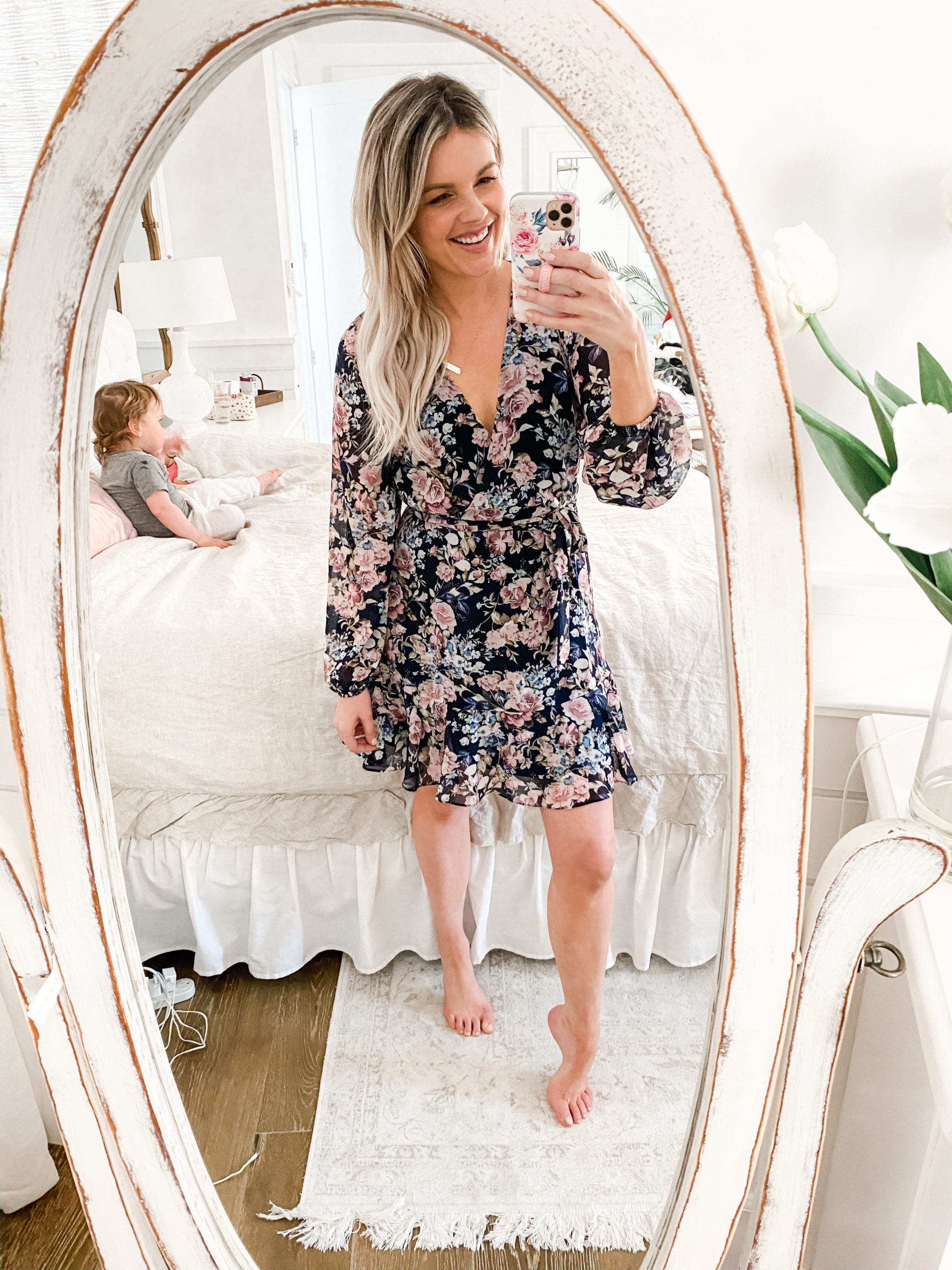 Whatever the reason, I just love this photo because I feel like I finally see my pre-baby self again when I look in the mirror. And even though I don't know exactly why I feel that way, I definitely credit the dress in some way. So I wanted to include it as part of today's blog post because I want other women to have a chance to check it out because hopefully I could do the same for them! It's amazing what putting on a little make up and a cute outfit can do for your self-esteem. I would say that the dress is pretty true to size, I'm wearing my normal size which is a 6.
I'll try to post about it to an Instagram story so you guys can see how it flows. But I love this dress because I feel like it's the perfect dress to transition to spring because of the long sleeves. And if you want to wear it right now in the winter where it's still cold around most of the country, you could just hear it with a pair of black tights and it would be perfect to wear right now. This will sell out fast, I'm sure of it. I also think it would be a great dress to wear to a winter/spring wedding.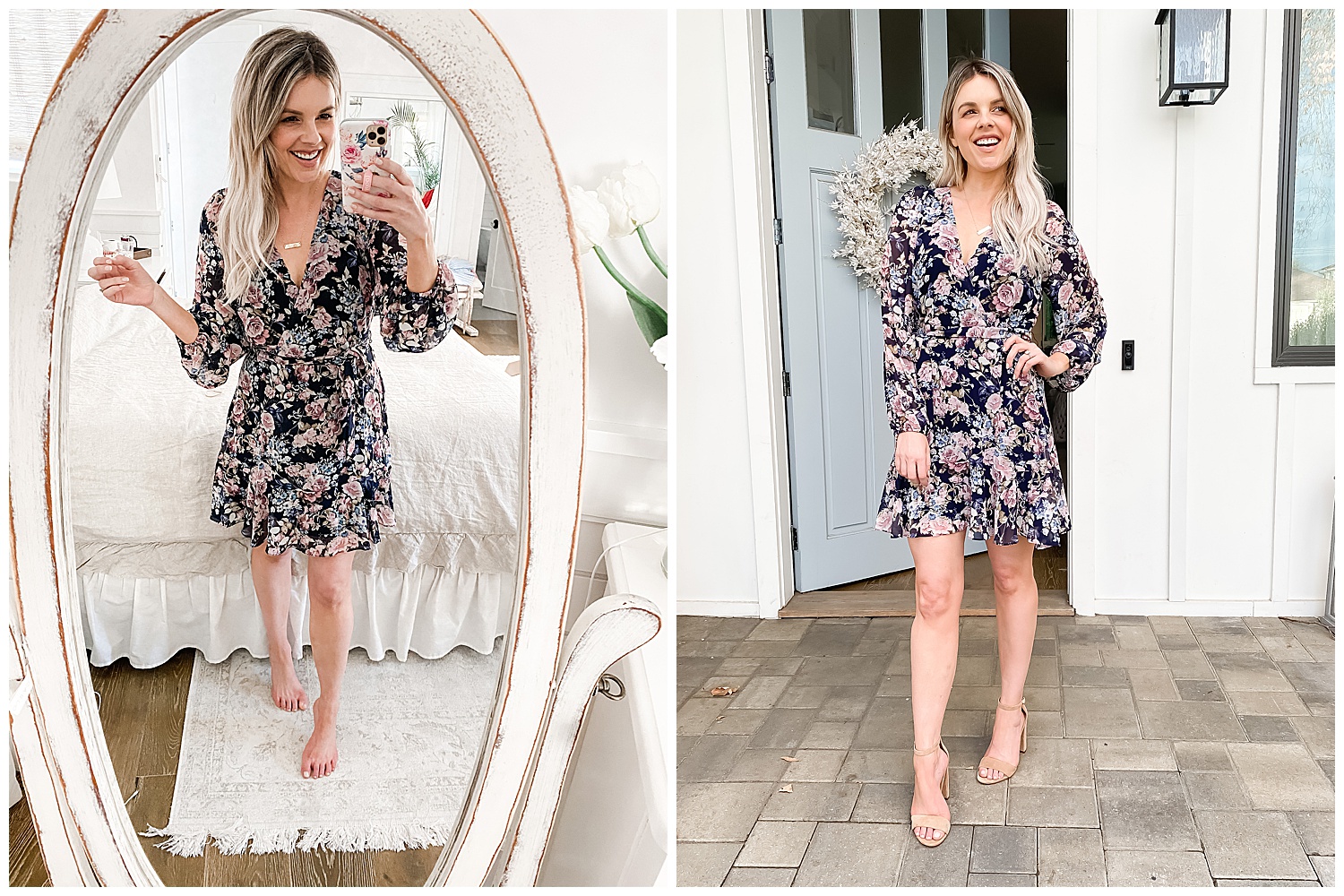 1. FLORAL DRESS | 2. NUDE HEELS
Cozy Star PJ's
Okay, okay. It might be a stretch to say I feel sexy in these. But I will say that I've stopped going to bed in old busted up pajamas. I guess I just always thought that it doesn't matter what I wear to bed. But about six months ago or so one of my girlfriends, Valishia, told me that she made a change in her life where she started investing in really nice comfy pajamas and that it just made her morning start off on such a better foot. She said she started it because the average human spends a third of their life in bed, so why not be wearing something super comfy and cute for that 1/3 of your life! After she told me this, I thought about how I always wear old stained t-shirts and busted up PJ bottoms to bed. And I never feel cute. So over the last six months I've made a change right started investing more in pajamas. And I don't know what it is about it but I love it!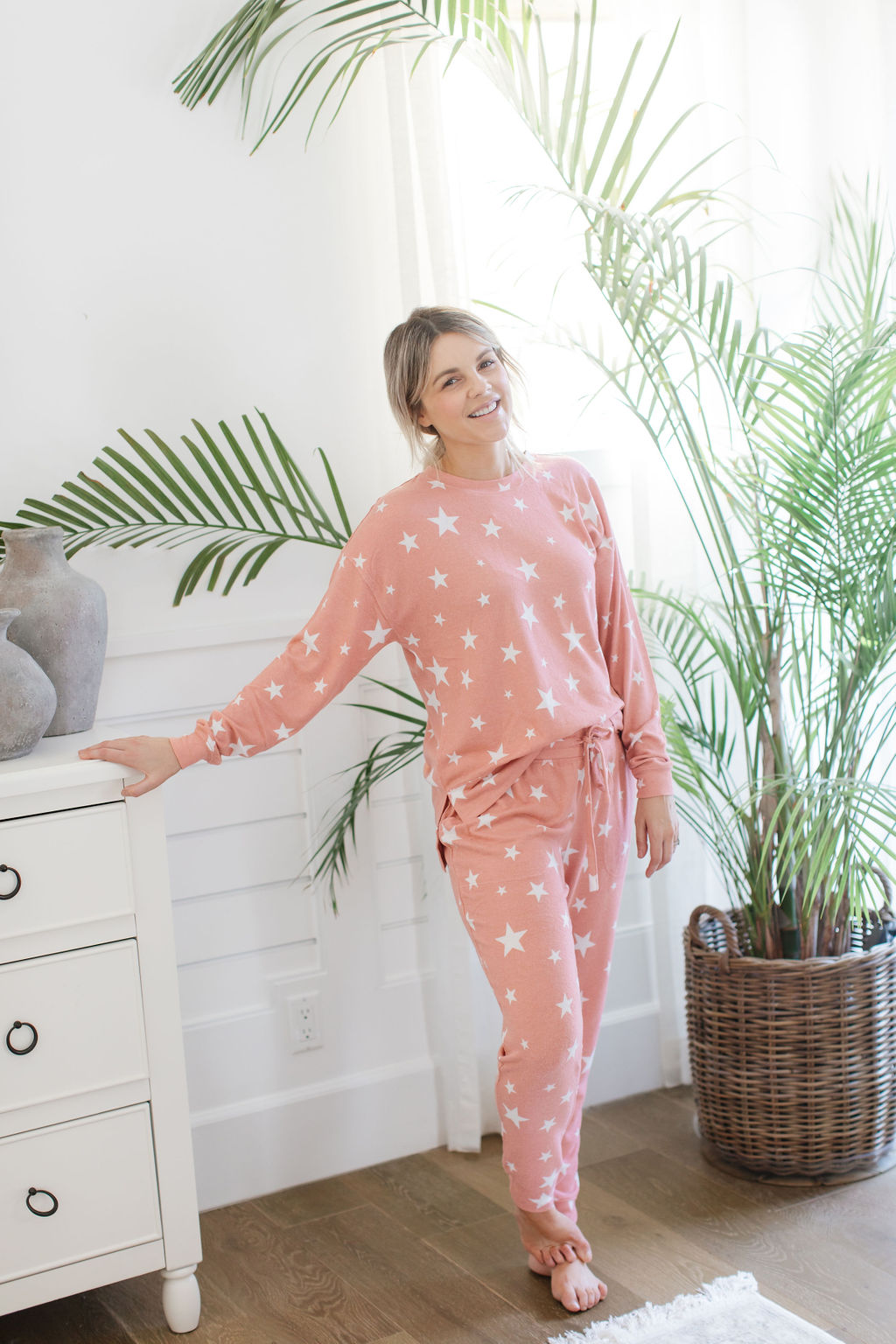 1. STAR PAJAMA TOP | 2. STAR PAJAMA BOTTOMS 
I like going to bed at night feeling cute and cozy and even more so I love waking up in the morning and looking in the mirror and feeling good about how I luck. So might call that vein. But I, for one, feel like waking up in the morning and looking in the mirror and liking what you see is important for your overall mental health. Part of that is loving who you are as you are, but then part of that is taking care of yourself. Whether that's exercise, diet, or just taking care of your wardrobe so you feel good.

 1. STAR PAJAMA TOP | 2. STAR PAJAMA BOTTOMS 
Anyway, when I bought these pajamas last week it was $39 for the top and $39 for the bottoms. But they're on sale right now for $23 each and I just think that's such a steal! I love the fit. The way they lay is super flattering.
And I also love that they're sold a separate because I got a size large in the bottoms and a size medium in the top. I haven't washed the bottoms yet. So they feel a little bit big right now. But my problem with PJs is that I always by my size medium in the bottoms and then once I wash them they feel a little too small. So after wash if these shrink a little bit they will be perfect! But that's a cool thing about buying PJs and separates. If you have a bigger booty and hips, like I do, you can get a bigger size in the bottoms and a smaller size and the tops. Or vice versa. If you're busty on top and have a small butt and hips, then you can get a smaller size for the bottom in a bigger size for the top. Is there a certain type of pajama that you love? What are your favorite things in your closet?
Sneak Peak at an Upcoming Look
Whenever I take photos for my blog with my photographer and there's a an incredible outfit, I always worry about holding onto the photos for a future blog post out of fear that it's going to sell out before I can show you, so I want to give you guys a quick sneak peek at two dresses I'm going to be writing about later this week in case you want to snatch them up now so your size doesn't sell out!
Red Carpet Ready!
The first is this absolutely stunning pink sequins dress! It's pricey! But there's a reason for it. The detail and quality of this dress is just insane! And when I put it on I felt like I belonged on the red carpet with the best of the best dressed celebrities out there! Ha! I actually got it because I was supposed to go to a big event this past weekend, but that event ended up getting canceled. Normally I would send a dress back if the event got canceled, but I'm so obsessed with this one that I'm holding onto it for a future event! This would be absolutely stunning to wear to a black tie wedding. Or any formal event that you have.
This dress literally sold out within a few days!!! People are loving it! A little birdie told me that there is going to be a restock of it, so when it's back in stock I will do the full blog post for all of you!!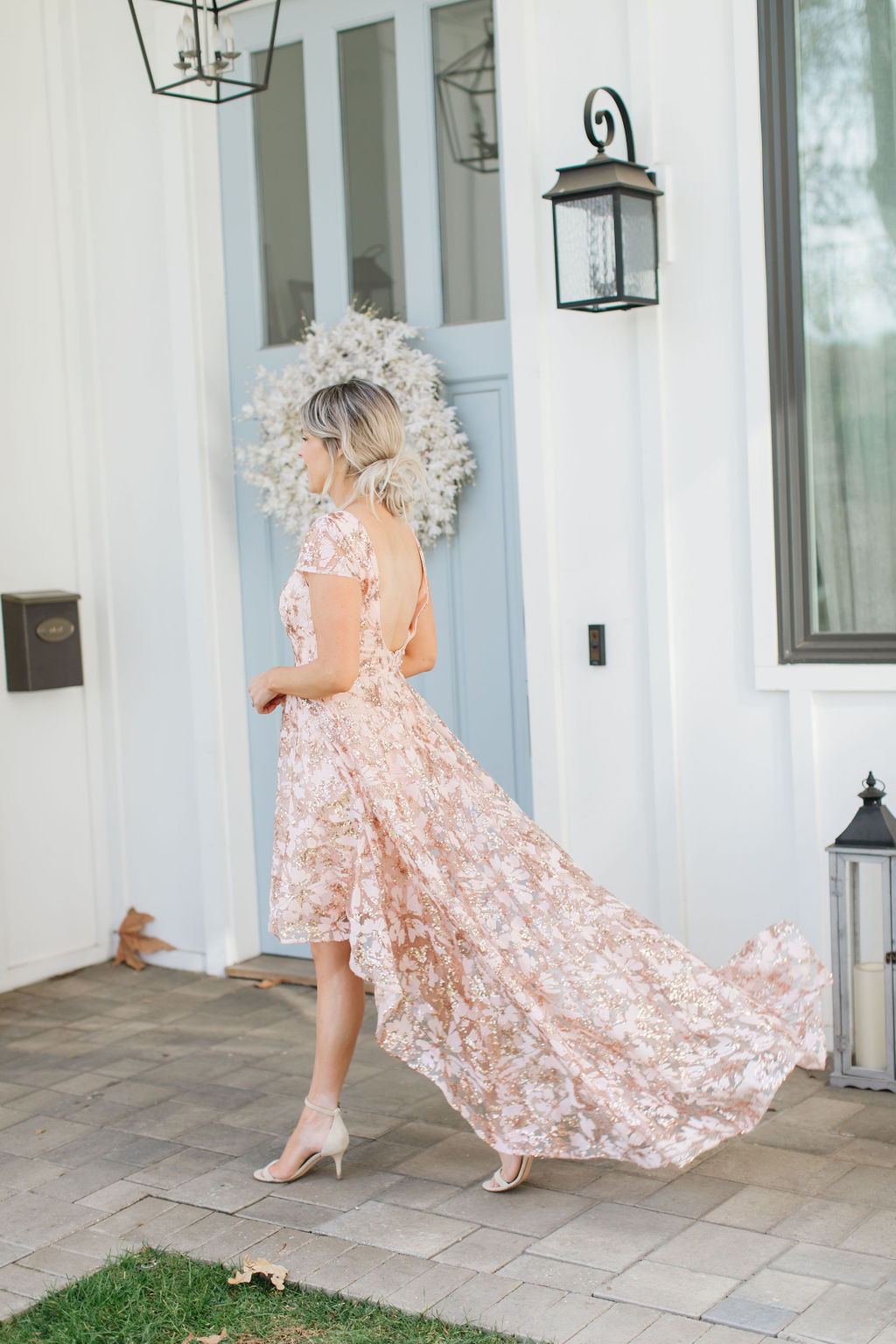 My absolute favorite thing about the dress is the high cut in the front and the low cut in the back. When I walk and a gust of wind hits it, it looks straight out of a perfume commercial. Ha! I just love it so much and stay tuned for a future blog post with more details on it and tons more adorable pictures of me and Riley with this dress!
Bonus!
Sexy Maxi Dress
I love this dress so much that I had actually planned on it being a main look for this post. Sadly, the stock has been going in and out for it! Sometimes that happens on Nordstrom and something will sell out and then they get full stock back in, so make sure to check and see if your size is available! I HAD to show it to you because I love it so much. So I really hope you can get it in your size!!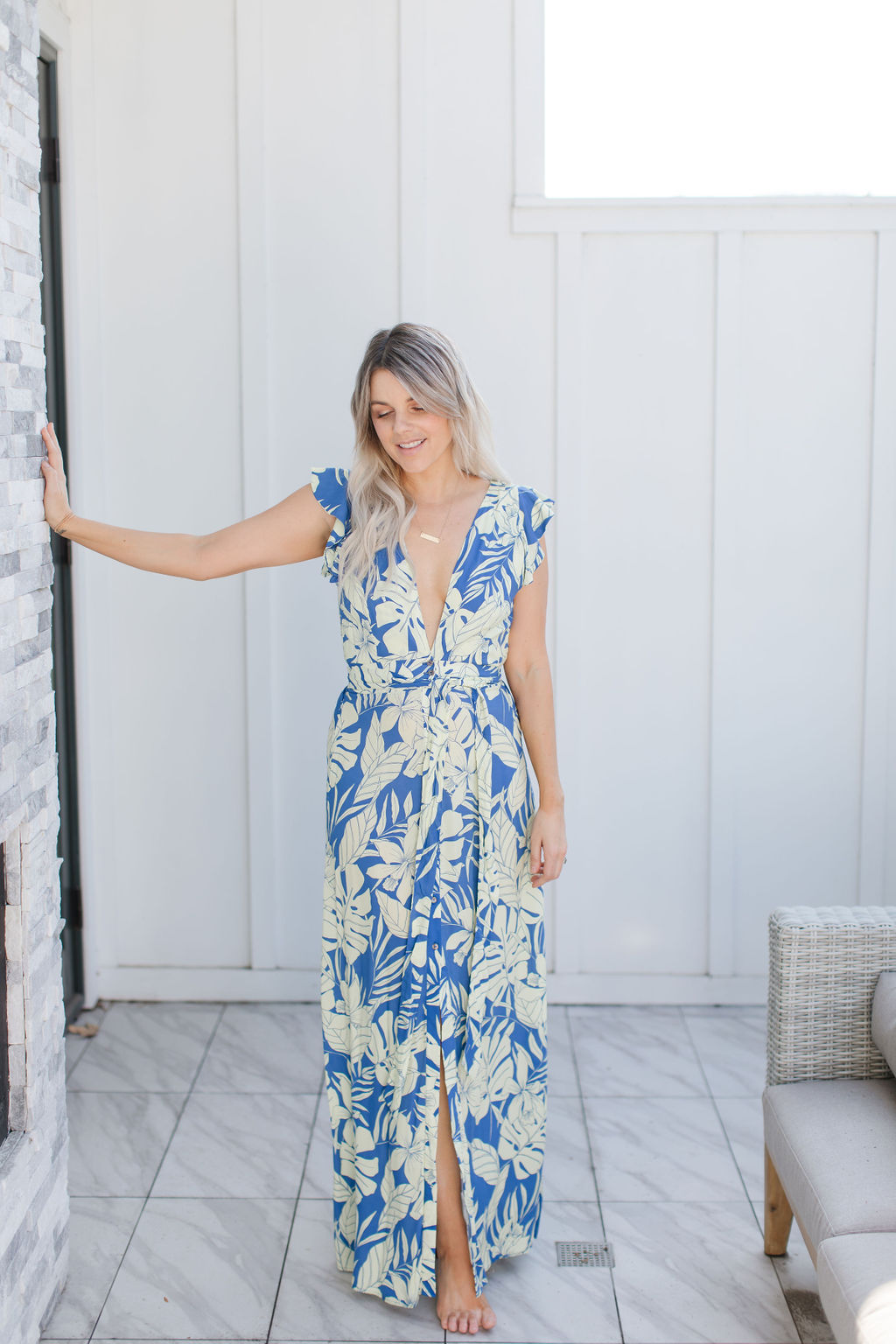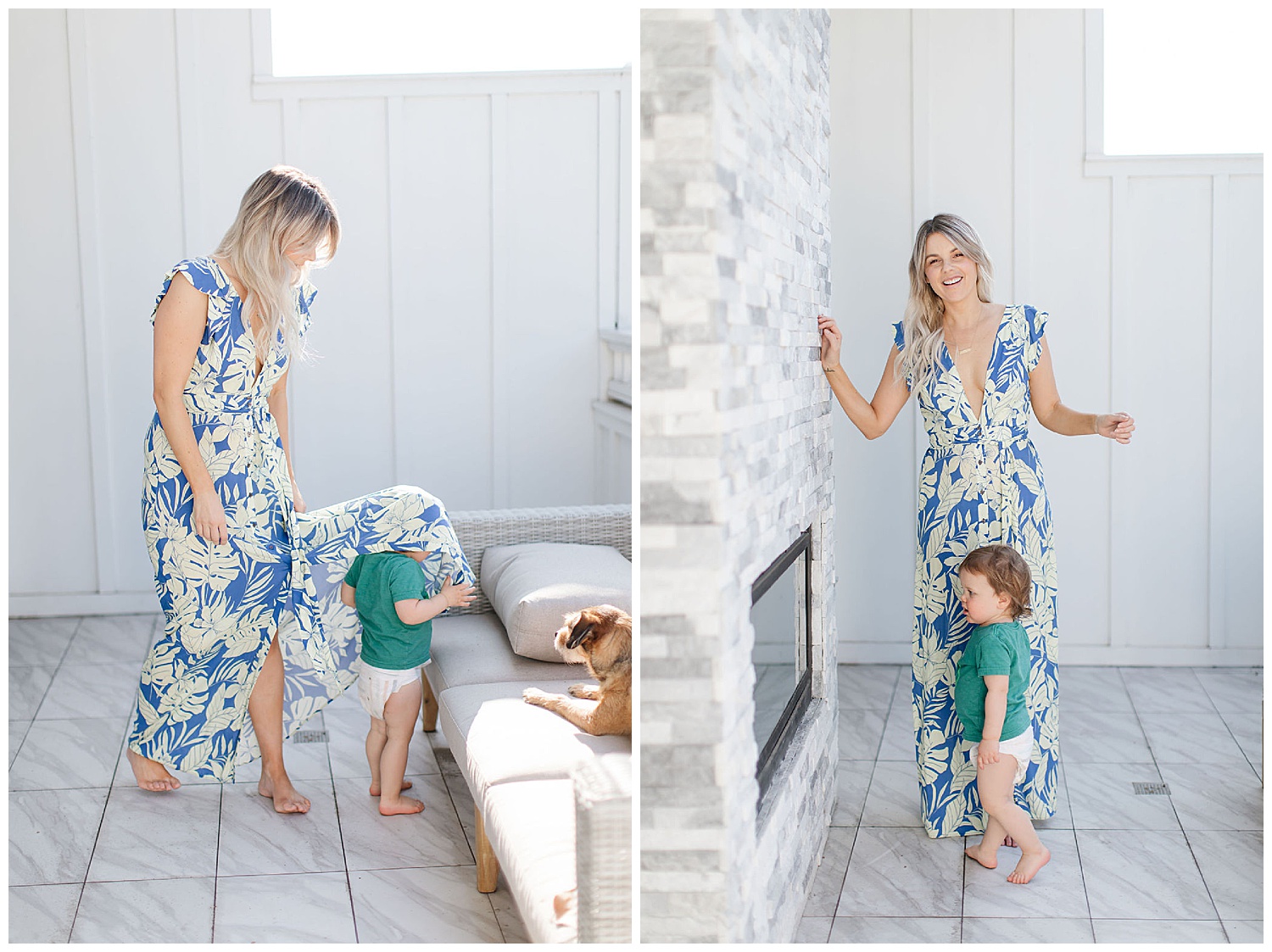 1. FLORAL MAXI DRESS | 2. BAR NECKLACE
This is another look that you can just tell how confident I felt in it by looking at these pictures. Is that not a sassy look or what?! Ha! And you guys know me! I'm always smiling in all my photos! But when I put on this dress, I feel like a goddess. It is so flattering and just the right amount of revealing for any vacation you may be going on. I'm trying to book a flight for us to Hawaii soon and when I saw this dress on Nordstrom site, I snatched it up quick for that trip.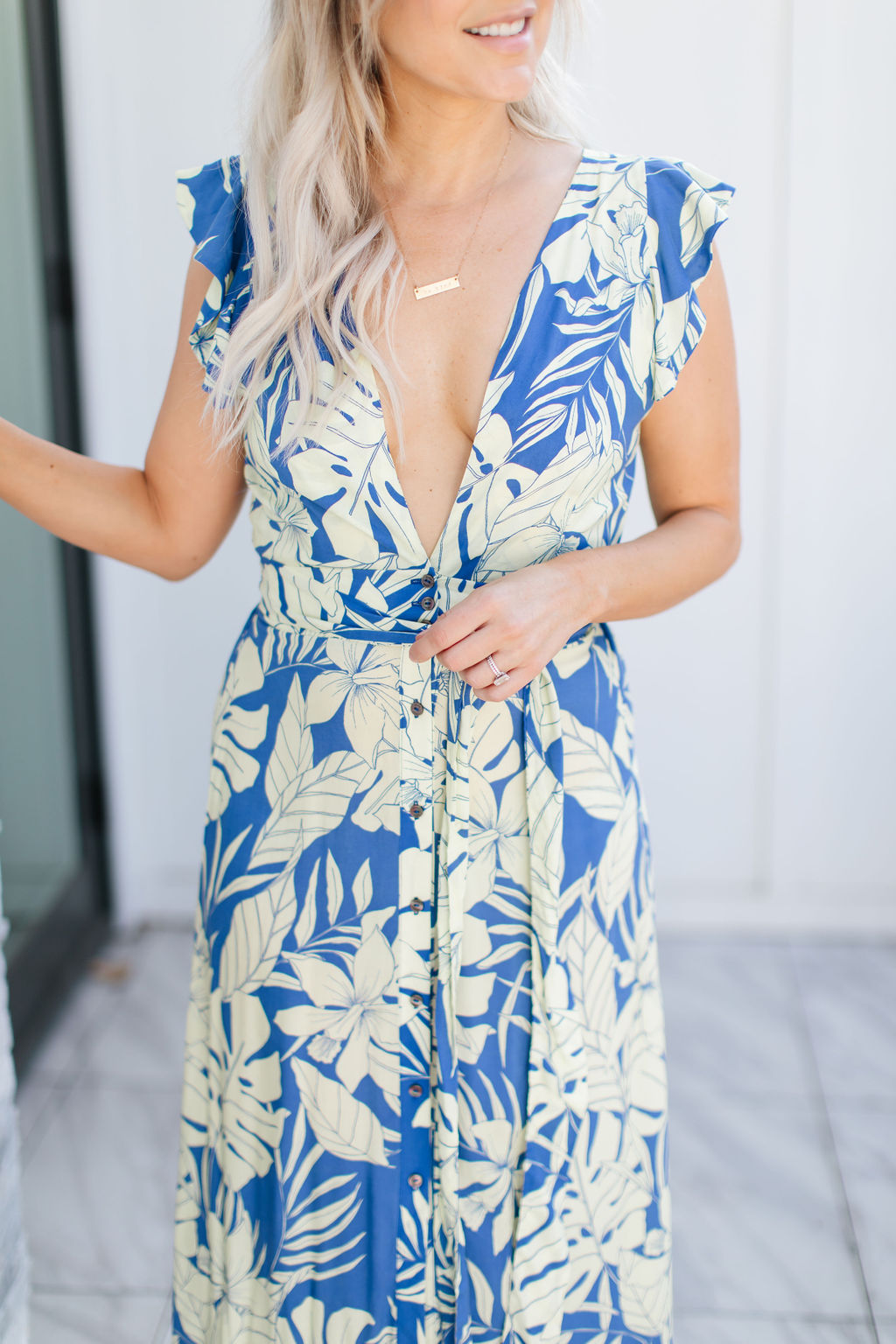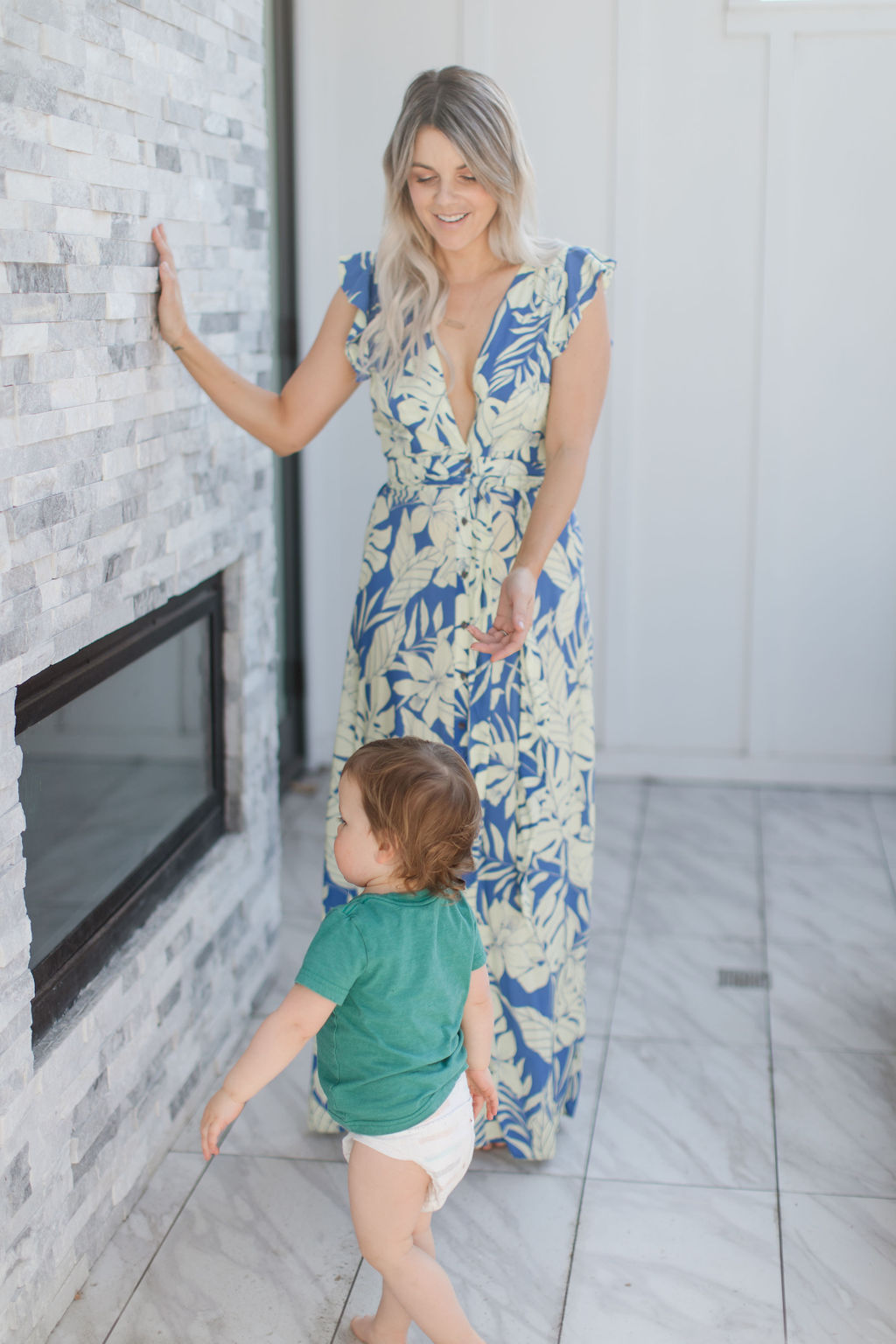 1. FLORAL MAXI DRESS | 2. BAR NECKLACE
You will want to size up in this one, however. I'm normally a size medium and I read the reviews say it was tight around the waist band so I decided to size up and I'm so glad I did because the large fits me perfectly! For reference I'm 5'7 and about 145 pounds. And I always wear a size medium or size 6. So if you love it you've got to go check the availability and get it now because it is going to sell out any minute. Especially after I post this and all of you see how amazing it is. As I am writing this, the Medium is in stock!
And also if you check out the reviews, everyone says that it's beautiful but runs small. And I agree with that. That's why you need to size up!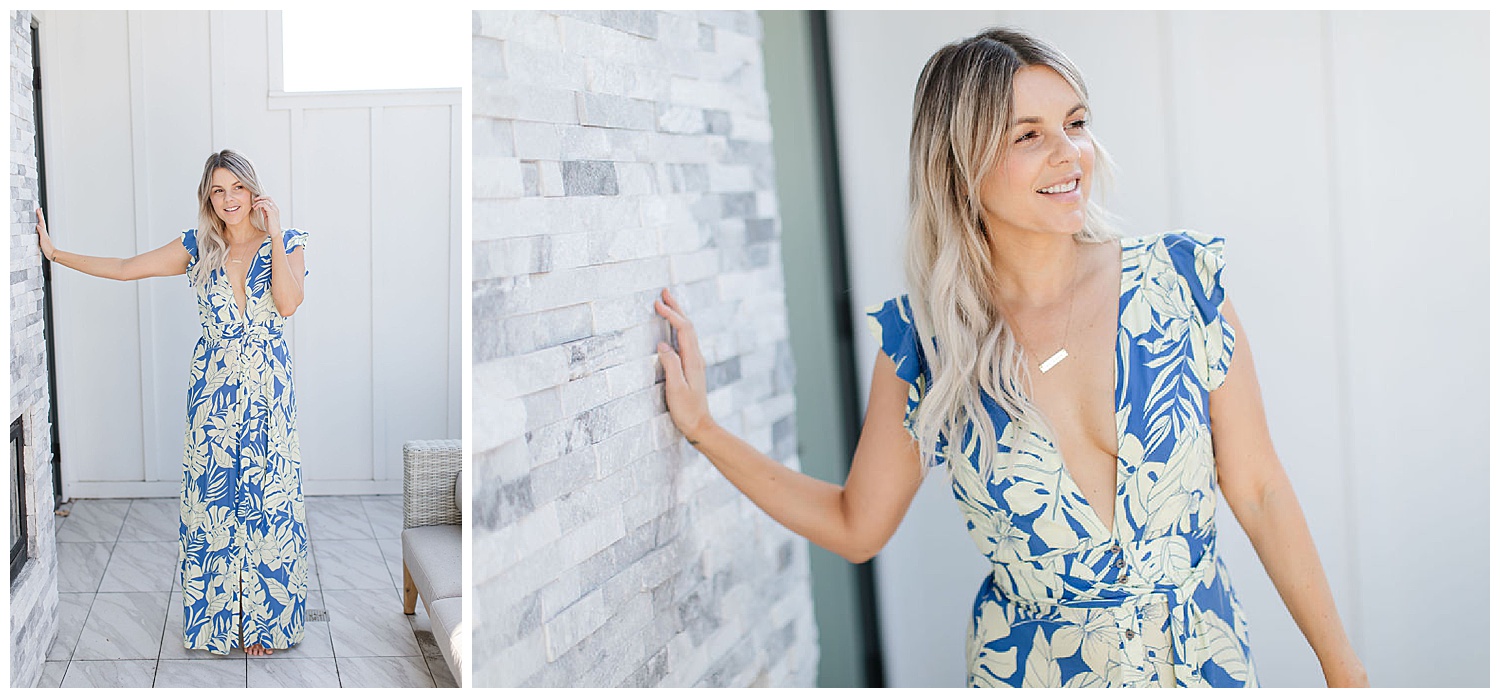 1. FLORAL MAXI DRESS | 2. BAR NECKLACE
Well that's it for me! I hope you guys love all of these looks – they truly are my favorite things in my closet right now! If you have any questions whatsoever just ask me in the comments below and I'll do my best to respond to every single one!
Oh, and before you go, if you need any more inspiration on items from Nordstrom that I love, I did a huge post on their cyber sale and it looks like a good amount of the items are back in stock!
And thank you to Nordstrom for being a sponsor of AliManno.com!!!!