UPDATE: I just found that the white dress I am wearing below also comes in a maxi dress in a bunch of colors. It is a great option for people that want to be a little more covered, but still wear this gorgeous dress!

I can't believe we are only a few days away from going to Hawaii! I've mentioned this you guys before but this will be our first, hopefully non-rainy, vacation since before Molly was born! I say non-rainy because we did go to Hawaii once when I was pregnant with Riley but it rained the entire time so at seven months pregnant it was kind of miserable. Normally if it would rain in Hawaii I would make the best of it. Had some drinks in the hot tub and well, just make the best of it! But since I was pregnant I couldn't drink or go in the hot tub so neither of those options are available. Ha! Anyway, you get the idea.
Who Needs Some Vacation Inspiration?
White Dress
This time not only can I have a cocktail or two. Which means it will be my first drink ever in Hawaii since both times I've gone in the past I was pregnant. But I could also enjoy who the hot tub so even if it rains I'm enjoying this vacation! Anyway, I started packing and I just love some of the options that I'm bringing with me so I wanted to share them with you guys. Just because I know March and April are really big travel months for people because of spring breaks and school being out so if any of you guys are going on vacation I thought you might want to snatch up some of these options as well! Let's start with this absolutely gorgeous dress/cover-up/sexy sleepwear look!


 1. WHITE DRESS
I'm not even sure if this is considered a cover-up. Maybe it's more considered lingerie? I think it could be worn as a dress, a sexy nightgown, or a cover-up at the beach! I feel like it's versatile! All I know for sure is that when I put it on, I felt absolutely beautiful. I feel like this would be really pretty for a bride to wear to bed the night of her honeymoon! But it also comes in a bunch of other colors so you could even wear this as a dress to the beach during the summer. The one thing I will say about the white is that it is slightly sheer so you would have to wear a slip under the white if you decide to wear it as a dress. But from what I understand based on the reviews the darker colors are not as sheer. One person in the reviews described it as an instant boob job! Ha! And I kind of have to say I agree. I felt like my boobs look so good in this dress!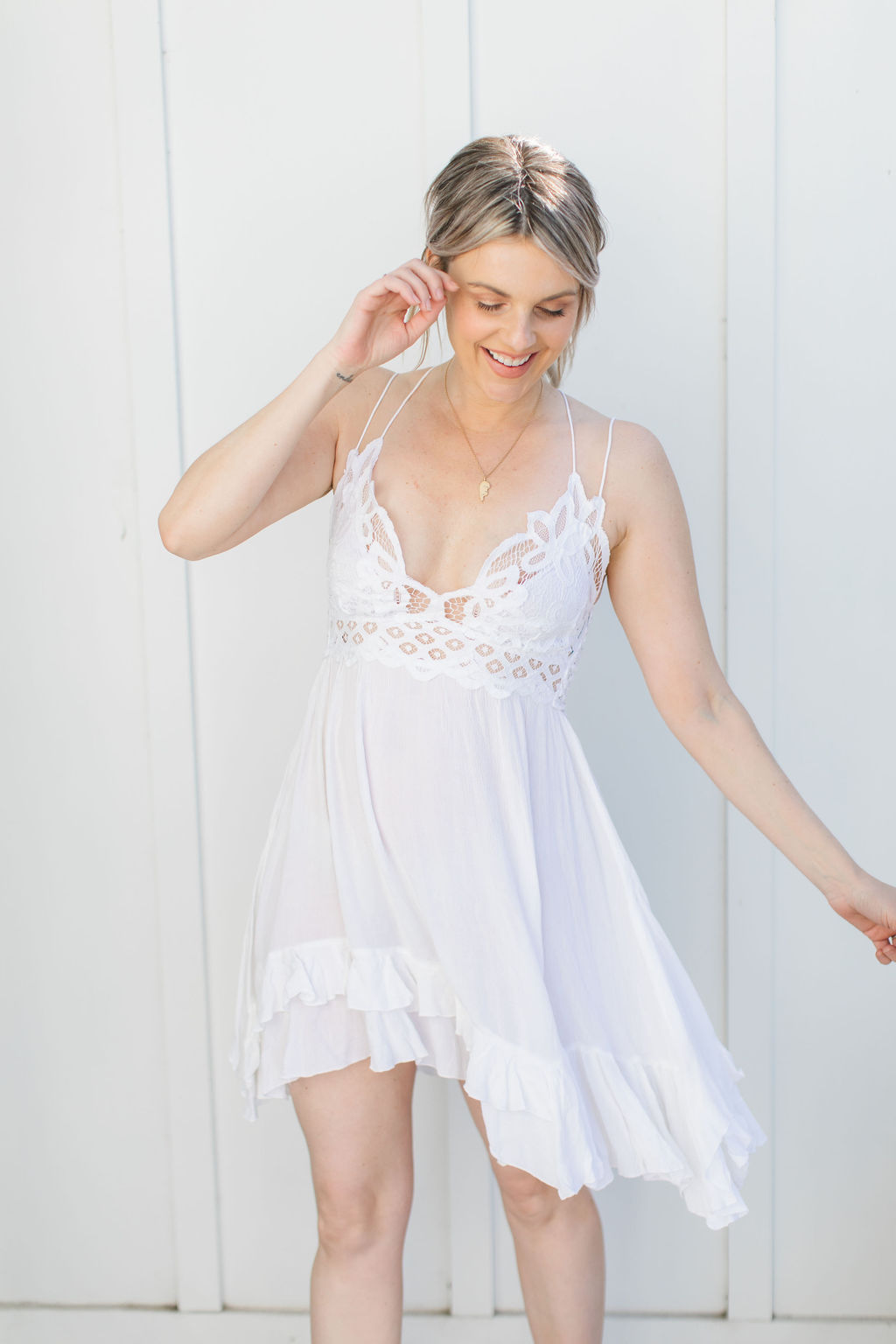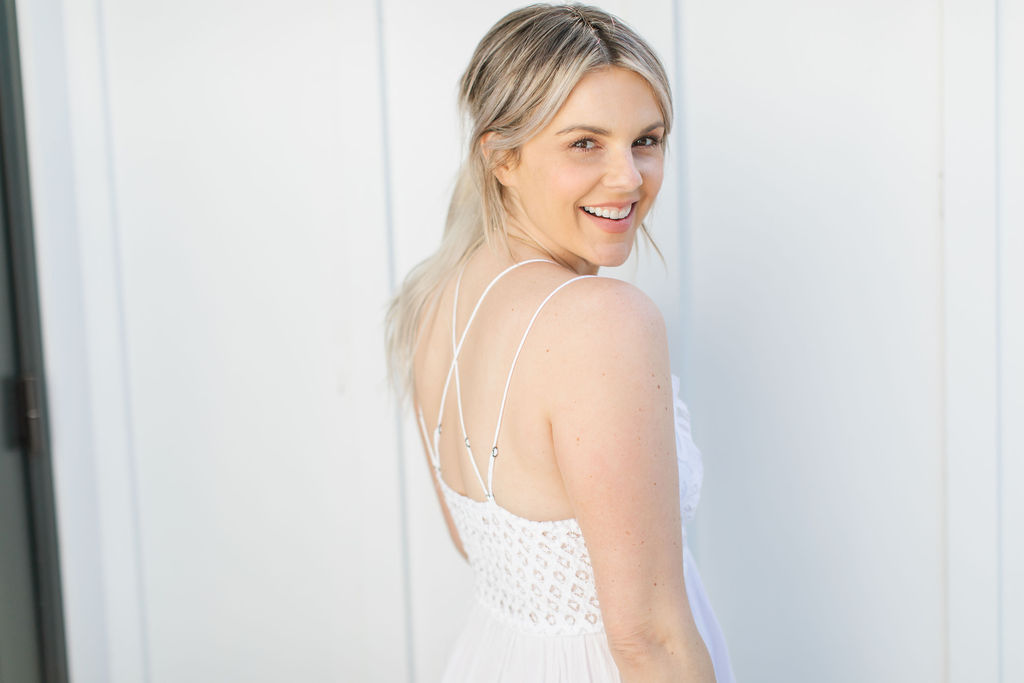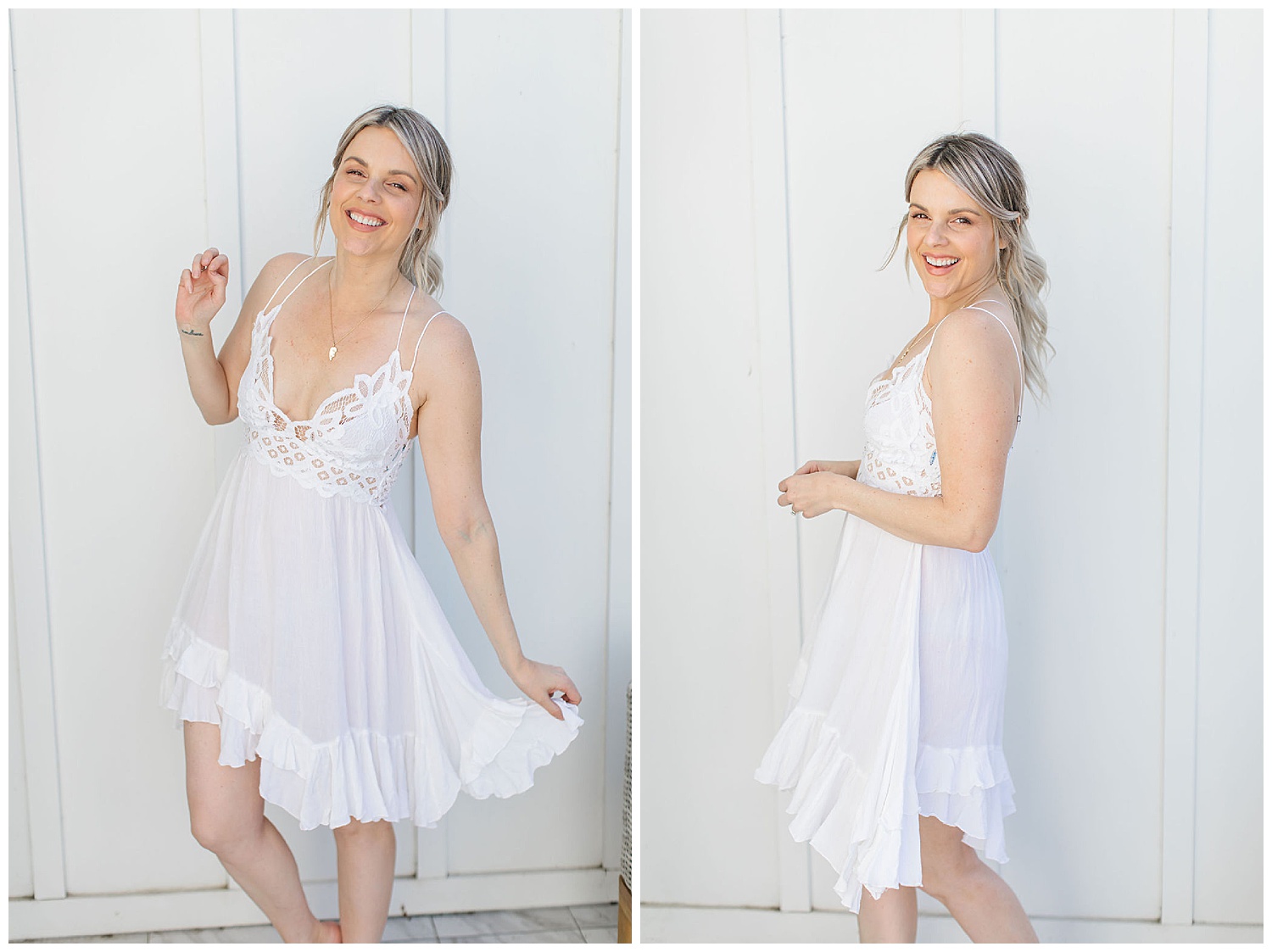 1. WHITE DRESS
I could totally see myself putting a slip under this and wearing it to the beach with sandals and a jean jacket over it. But if you just want to get it as really cute and sexy PJs to wear to bed I say go for it! My point is I just felt incredible in it and I think many of you will too! The reviews are pretty amazing! And if you're reading this, I'm guessing you trust my review and my review of it is I feel insanely beautiful in it. It's TTS size FYI. I'm wearing a medium.
Button-Up Blouse
I didn't know what I was going to think about this blouse when I bought it but I just love it. It's totally got a chill vacation vibe and I can't wait to wear it with a pair of linen pants in Hawaii. I actually think the sage green linen pants that I'm wearing below would go perfectly with this top. I'm bummed I didn't think to photograph them together for this post. I see myself wearing those pants in this top with a piña colada in my hand! Ha!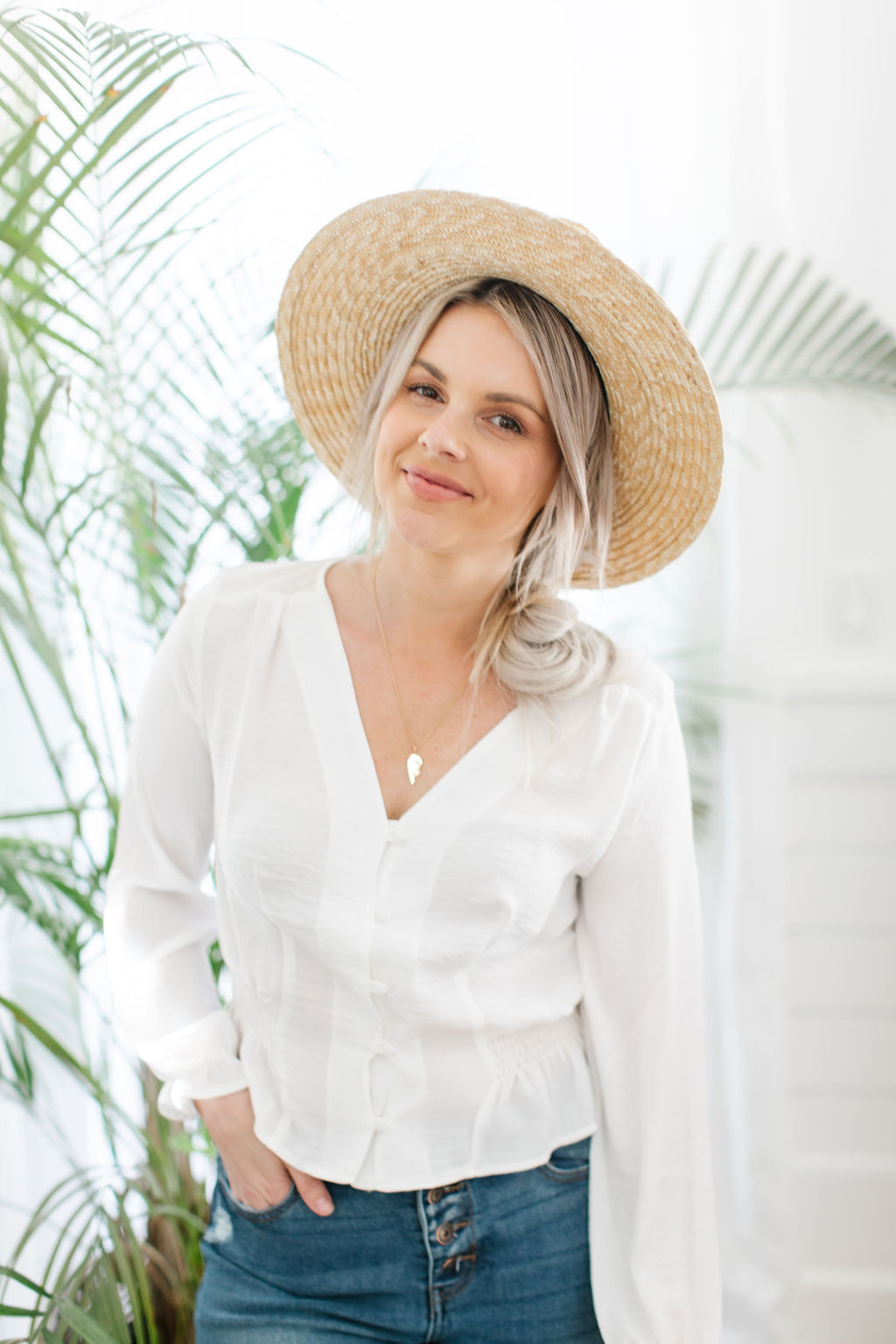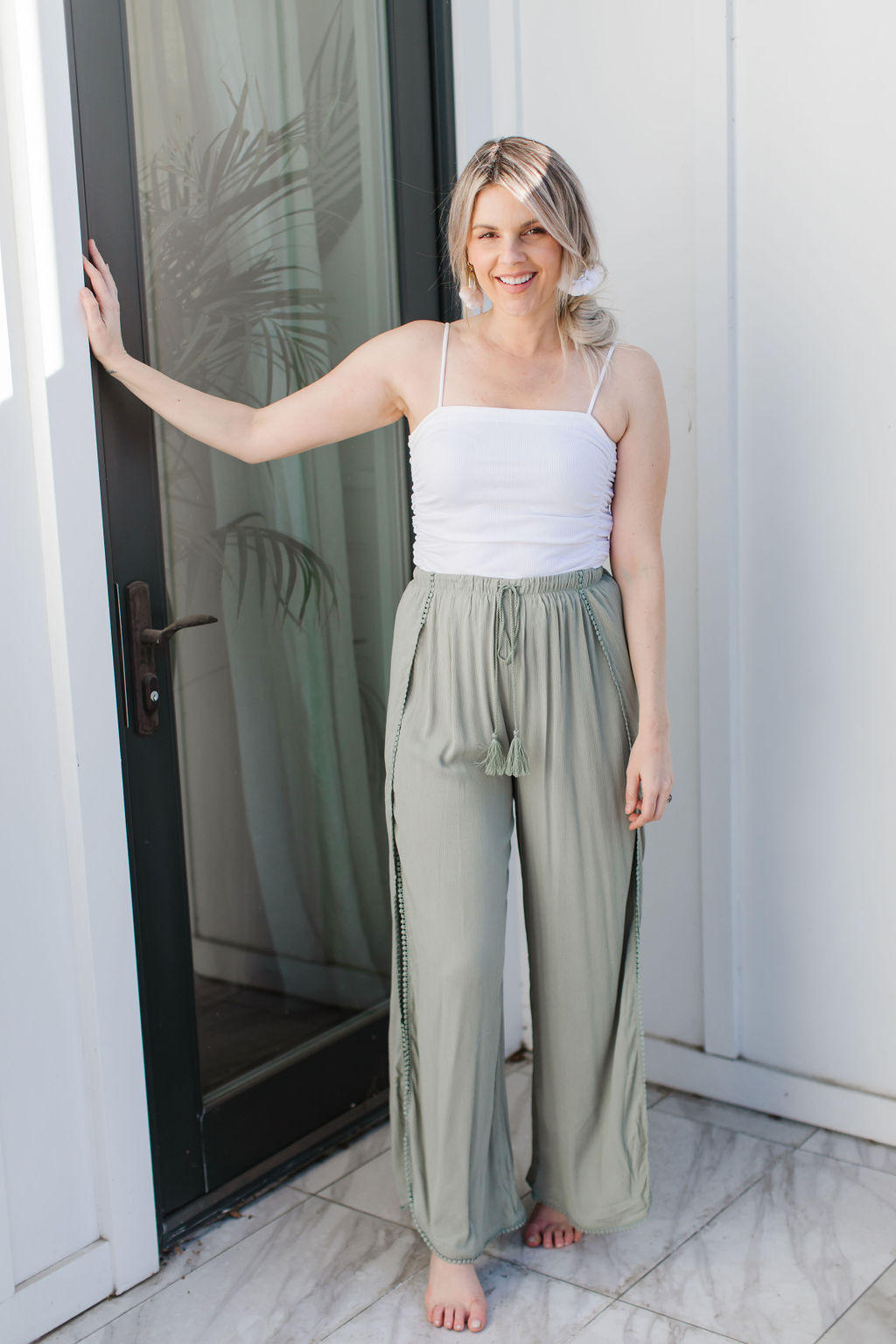 1. WHITE BLOUSE | 2. RUCHED TANK | 3. JEANS | 4. GREEN PANT | 5. HAT
Also, without a doubt, I will be bringing the below hat with me to Hawaii. Keeping my skin safe from sun damage is extremely important to me! As many of you know I just had basal cells removed, which is a form of skin cancer. What I love so much about this hat is that it's not only really cute, but you can also pick your size. Whenever I buy a hat that is one size fits all, it never fits my huge head. That's right, my head is massive. So I'm wearing a size large in this hat.
When I wear a one-size-fits-all hat, I have to wear on the way back of my head and it doesn't even cover my face from the sun. What I like about this one is I can actually wear it fully on top of my head to keep the sun off my face. You probably won't see me without this hat in Hawaii. Or without the hat that I will show you in the next look!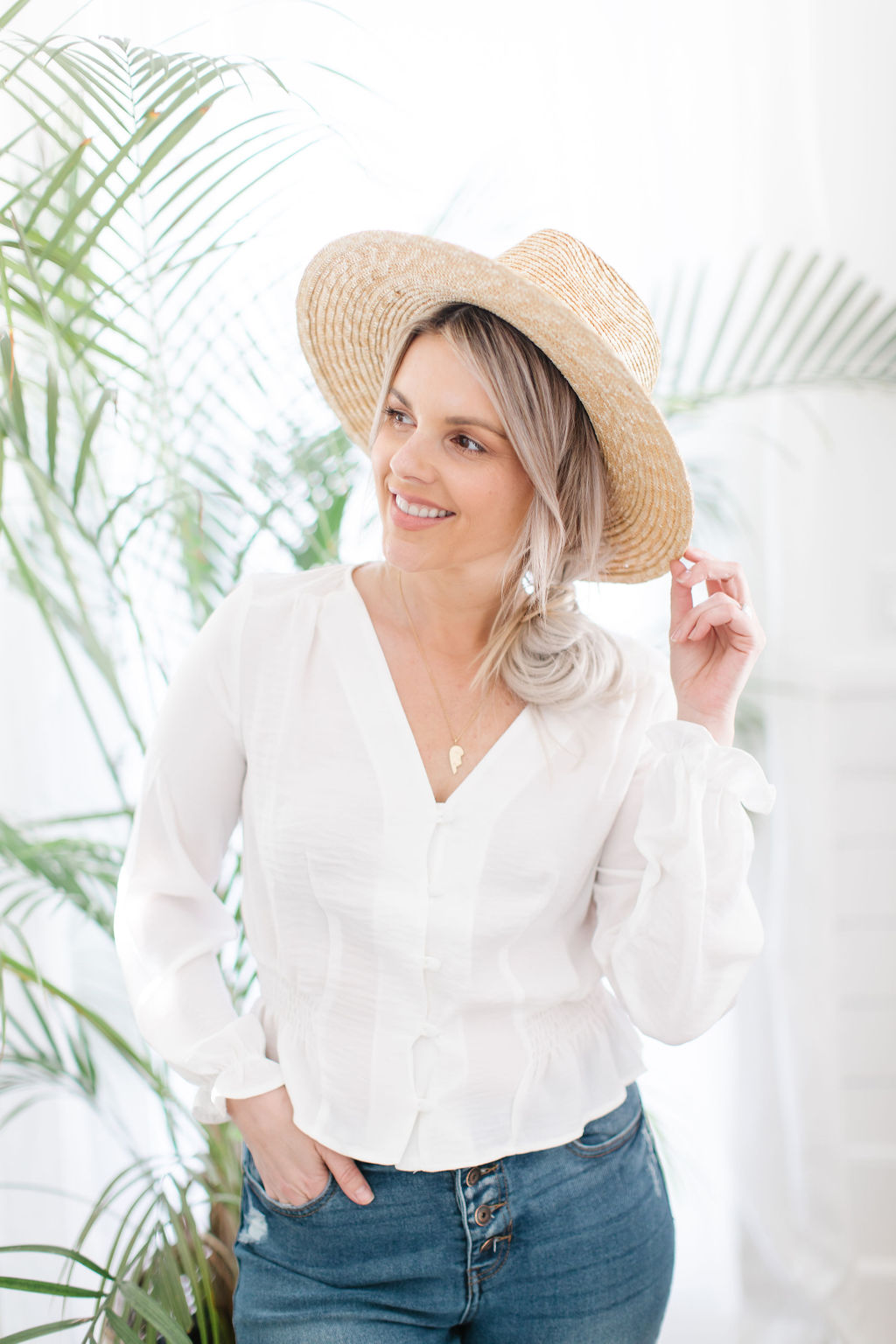 1. WHITE BLOUSE | 2. RUCHED TANK | 3. JEANS | 4. GREEN PANT | 5. HAT
Brunch by the Ocean Outfit
I love the white and neutral tones in this last look! One day on our trip, I'm hoping me and Kevin can do a nice bottomless mimosa brunch while our moms watch the kiddos! This is definitely what I'd be wearing. I don't know if I mentioned this, but my mom and Kevin's mom are coming with us on the trip so we can have some time to relax and have alone time while they watch the kiddos. I am so so so excited about it!
You might recognize this cream colored cami because I blogged about it in this post before. I love how versatile it is. I can wear it with a pair of dress pants to the office, then out to drinks with girlfriends. But I can also dress it down with a pair of white linen pants for a vacation look.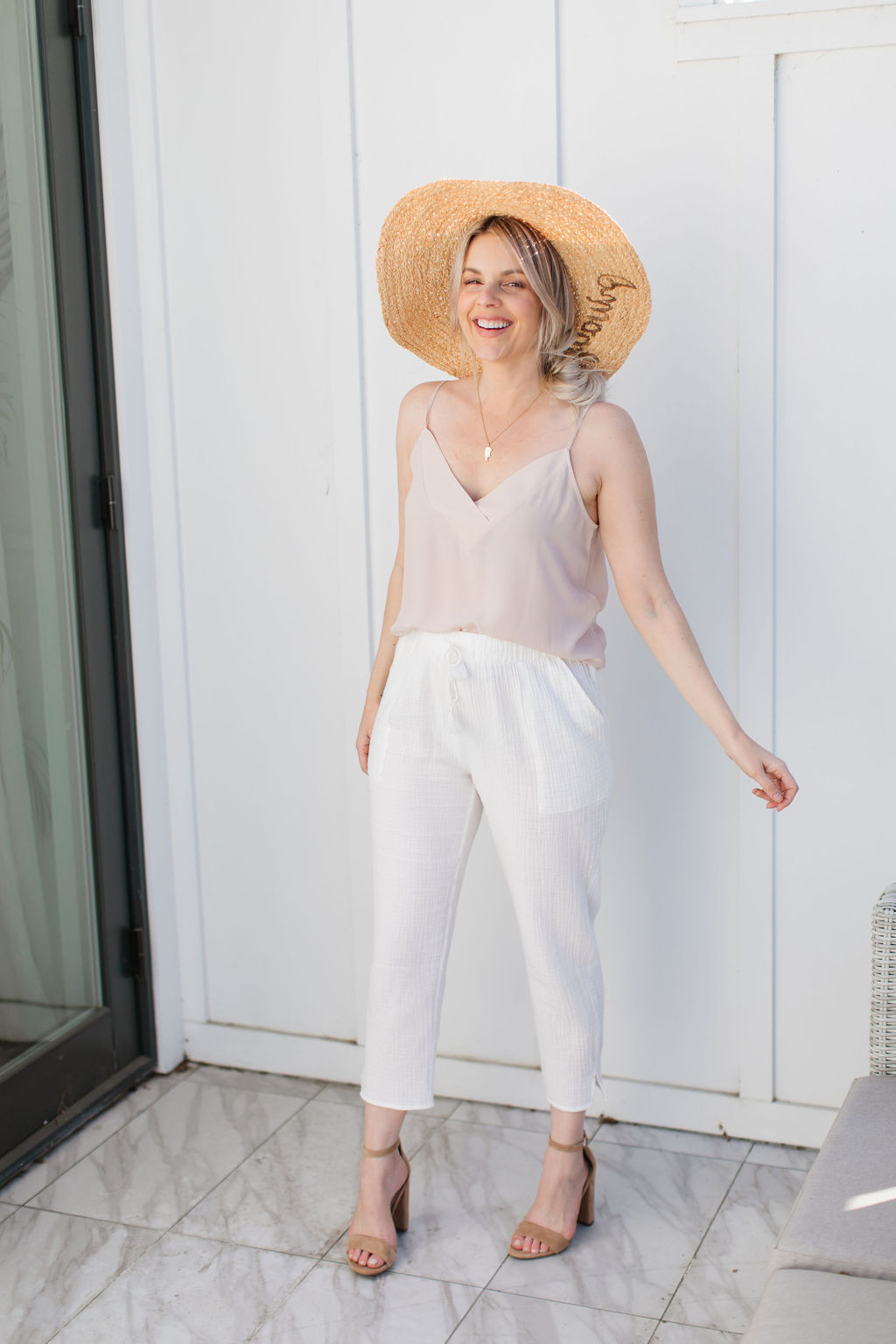 1. CREAM CAMI | 2. WHITE LINEN PANTS | 3. SIMILAR PRIVACY PLEASE HAT | 4. HEELS
By the way, I feel like nobody can go on vacation without a pair of white linen pants. You can dress them up and down. I'm wearing them with nude heels here. On the trip I'll probably mostly be wearing them with sneakers and sandals. Maybe a pair of wedges here and there. By the way, I asked you guys for help the other day finding a great pair of wedges, and I just wanna say thank you so much for all of you that commented on my little blog post with ideas! I was able to find a couple great pairs that I ordered for my trip!
It looks like stock is getting low on them, so I am going to link a few similar pairs here at a few price points.

And last but not least my big floppy hat. You will rarely see me outside in the sun without a hat these days. So I'm bringing multiple to Hawaii with me. Sun protection is one of the most important things in my life now and I love that I can take care of my skin and wear a cute fashionable accessory all at the same time.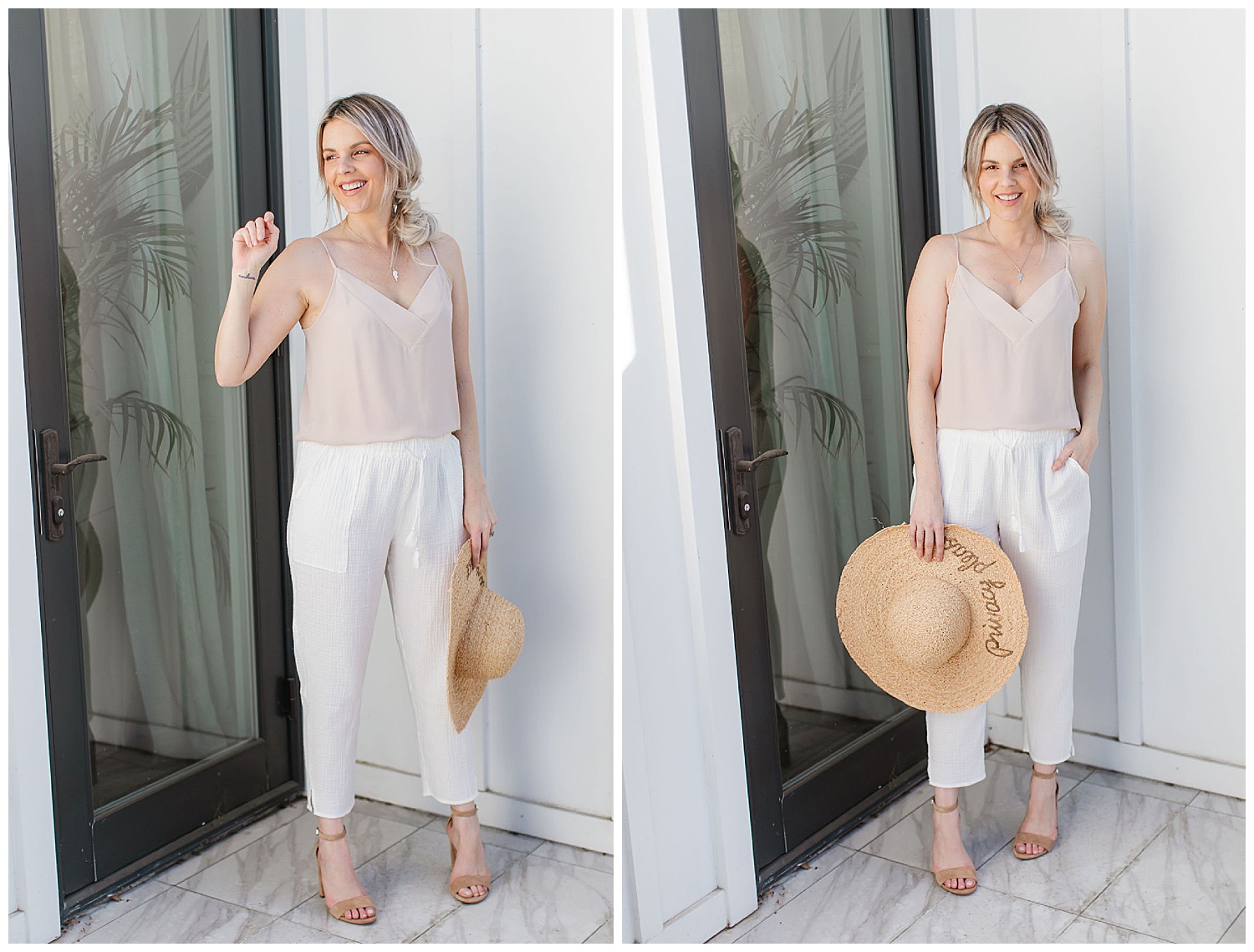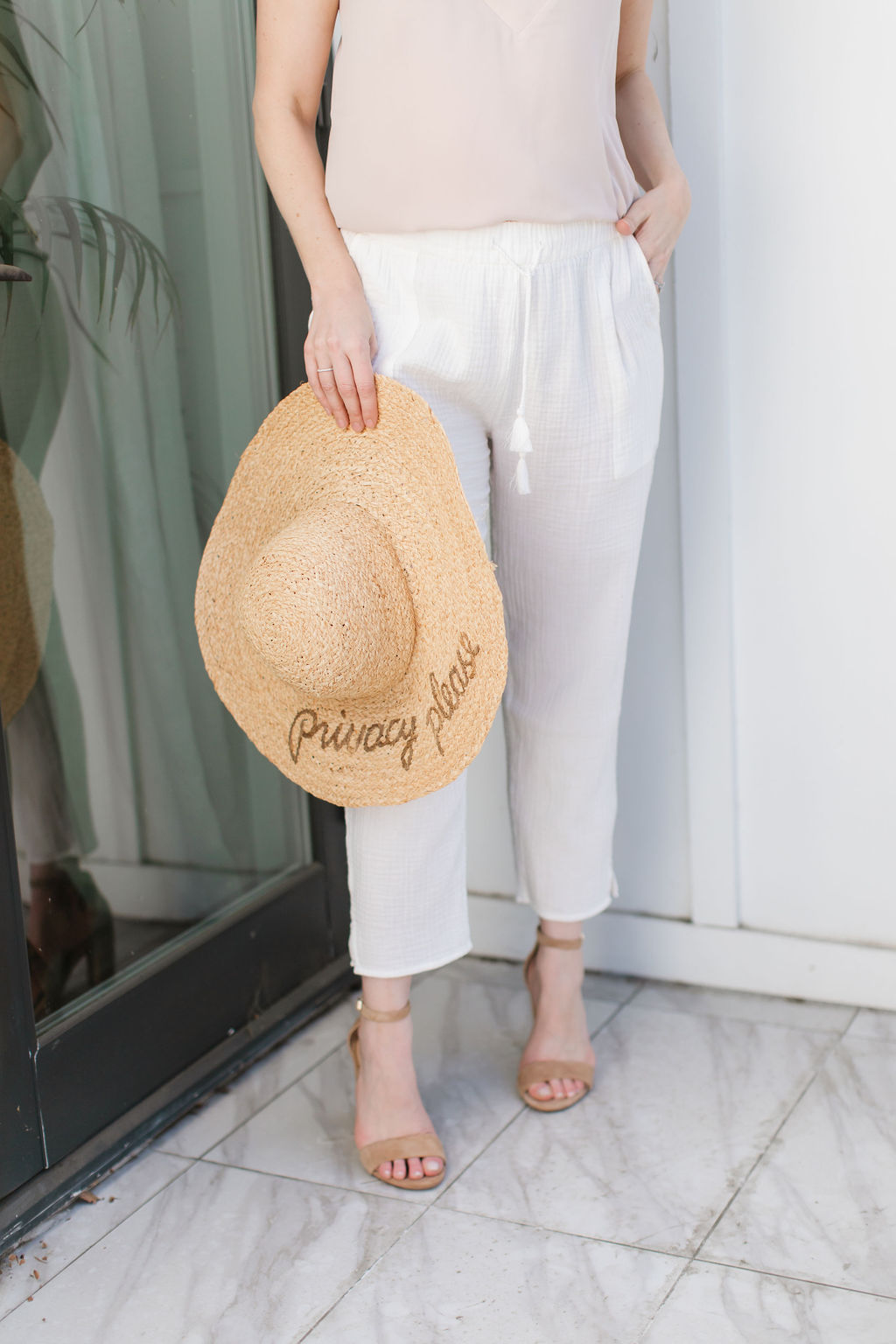 1. CAMI | 2. WHITE LINEN PANTS | 3. SIMILAR PRIVACY PLEASE HAT | 4. HEELS
Well that's it for me. I am so so so excited to go to Hawaii on Saturday! My soul needs this trip! I feel like I've been working so hard and so much without a break for years now, and I really just need to let myself sit back and enjoy this time with my family and especially the alone time with my husband. If you guys have any links to items you love for vacation, let me know! The last two times I was on vacation I was pregnant, so I really have a little to no vacation clothes that aren't maternity so I'm basically buying an entire new suitcase full of clothes for this trip. I still need to grab a few things. So let me know if you have any great options!