Can you believe that after tonight we are down to only 3 women left? It seems like we just had so many, and that's kinda because we did. I have a lot to say about tonight's episode and I really think that you will too! Let's chat!
Hometown Dates
Hannah Ann Hometown
Let's just cut to the important stuff. When Hannah Ann's dad asked Peter where his relationship with Hannah stood compared to his relationship with the other girls, he completely dodged the question. Peter said "what I can tell you is that there is something real here" and said absolutely nothing about his relationships with the other girls. I'm honestly a little bit surprised that her dad didn't call him out on that. But I think he was sensing a little bit of bullshit.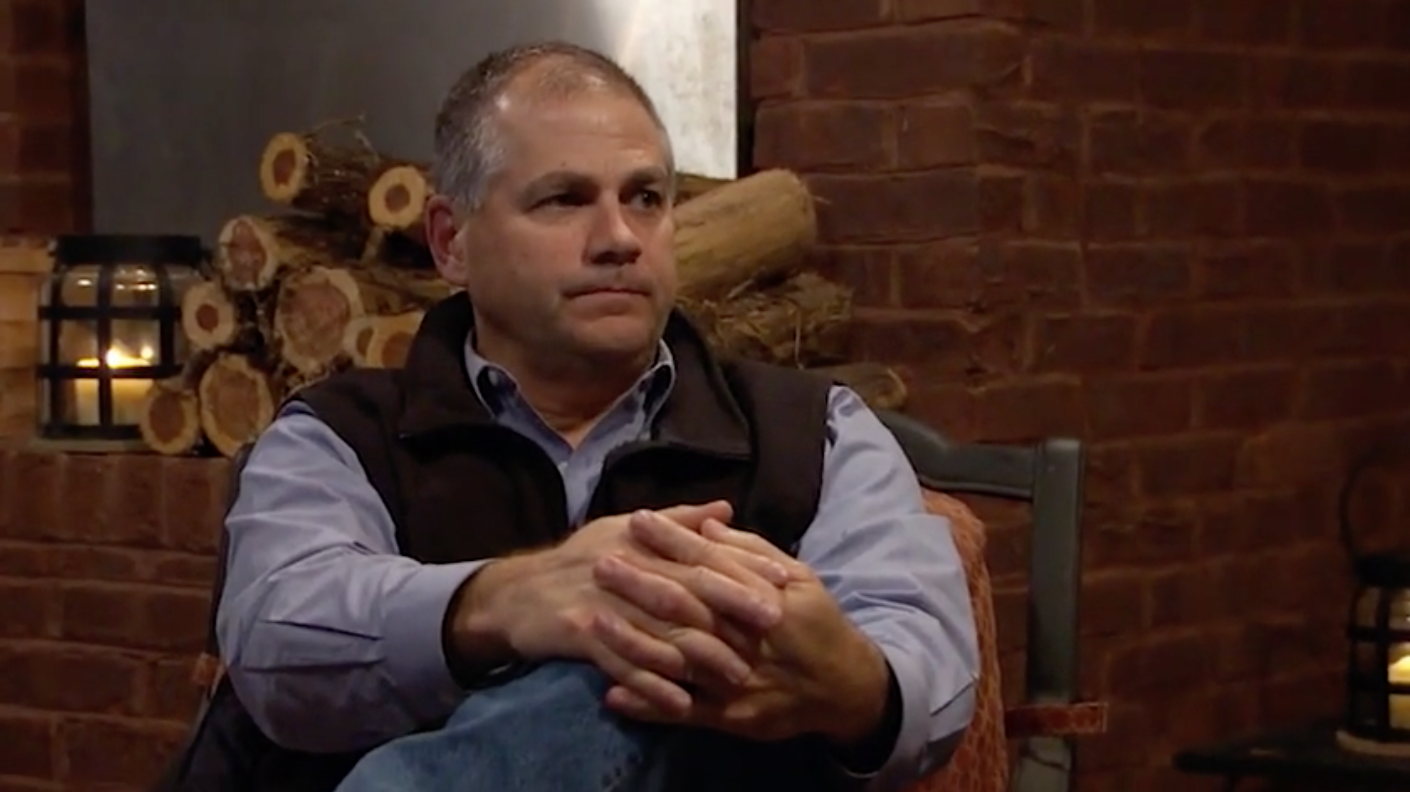 I can't believe I'm using those words to describe something Peter is doing because I don't feel like Peter is misleading whatsoever. But I definitely think that his hopeless romantic side is getting the best of him. Or on the flipside he totally is falling in love with her and we just have not seen any of that on camera. I just feel like on their last one, it he went from kind of questioning her to all of a sudden falling in love with her?
And I say this every season but the forced "I'm in love with you" or "I'm falling in love with you" is just getting older and older to me. I remember this part of both seasons I was on and it's just so forced on both sides. A lot of it has to do with the fact that it's all that you've thought about or has consumed your mind for two months now so you have to say the words to yourself over and over to believe them rather than actually feeling them. It's hard to explain.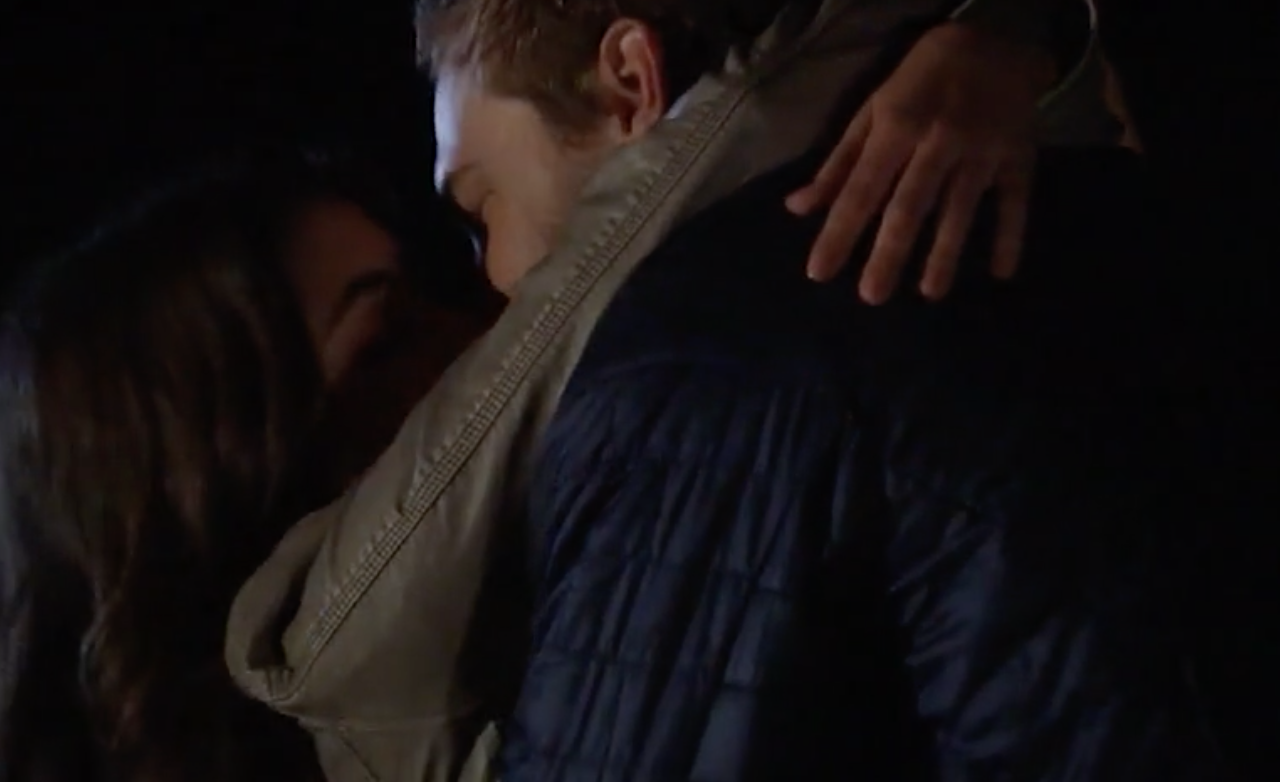 Kelsey's Hometown
There isn't a ton to say about the date. But I am honestly surprised that he didn't keep her over Victoria. Especially when she told him that she loved him, and he responded that he could "definitely see a future" with her and how meeting her family was a "huge step in them growing together". Just because I don't understand how he could really think him and Victoria have a future after what happened in their hometown day. What do you think?
Madison
I just adore Madison. I love that she's a little basketball star and I thought her taking Peter to play was ridiculously cute! Girl has some skills!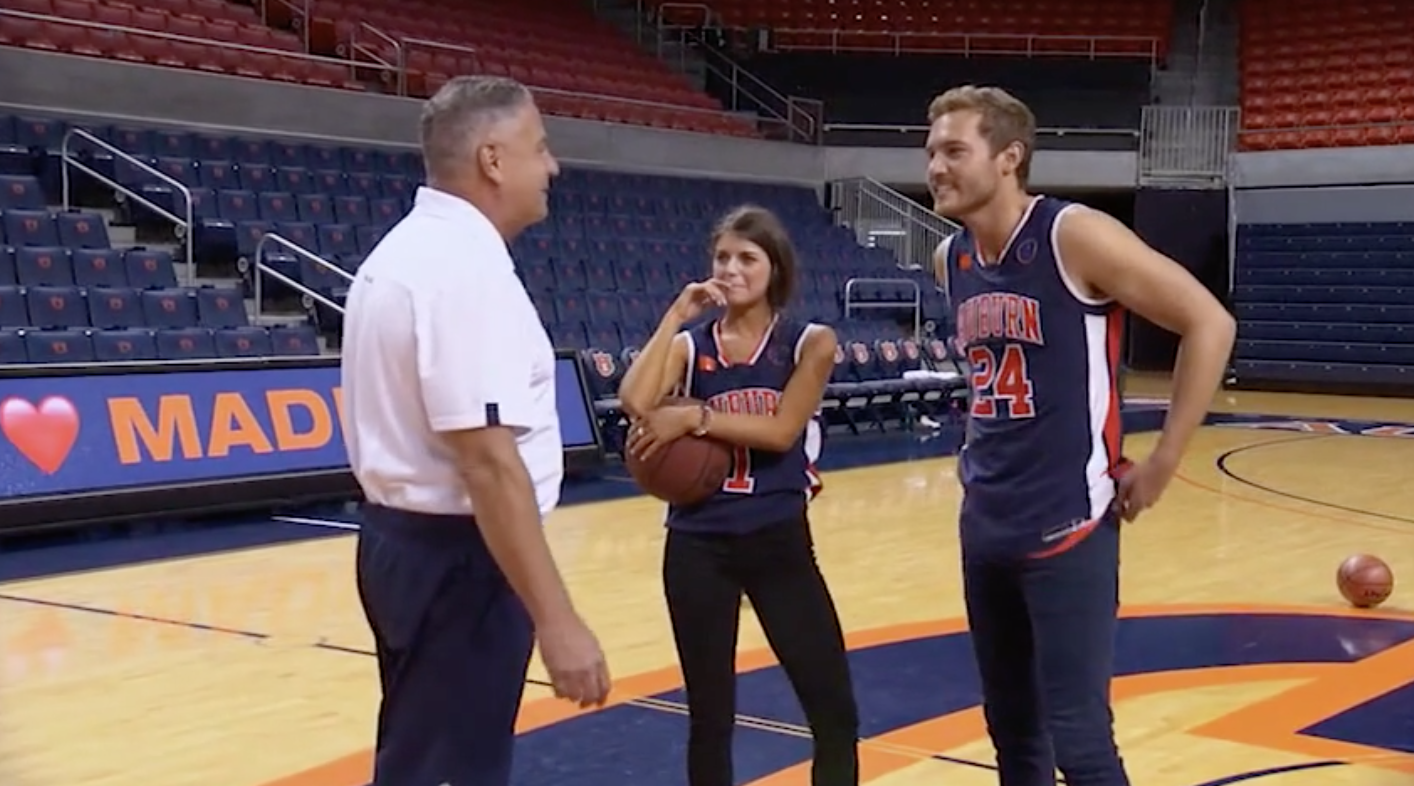 That said, much as I want to see Peter and Madison together I'm just not so sure it will work. When you are someone that is as committed to your faith as Madison is, I think you need a partner that is equally as committed. I mean we heard her question it over and over and her parents as well – they want to make sure Peter's values line up with hers. Peter is not exactly a born-again virgin Sean Lowe. For anyone new to watching the show, Sean Lowe is the Bachelor a few years back.
Anyway, my point is that Peter is known as the contestant who had sex in a windmill four times in one night. I'm sure Madison's family is aware of that and I'm sure that really bothers them because of how they view sex before marriage. Do I think it would bother them in general? I don't know, maybe not. But I definitely think it's a concern when it involves the guy potentially proposing to their daughter who's saving herself for marriage. At least I know it would to me if I were them and it was my daughter.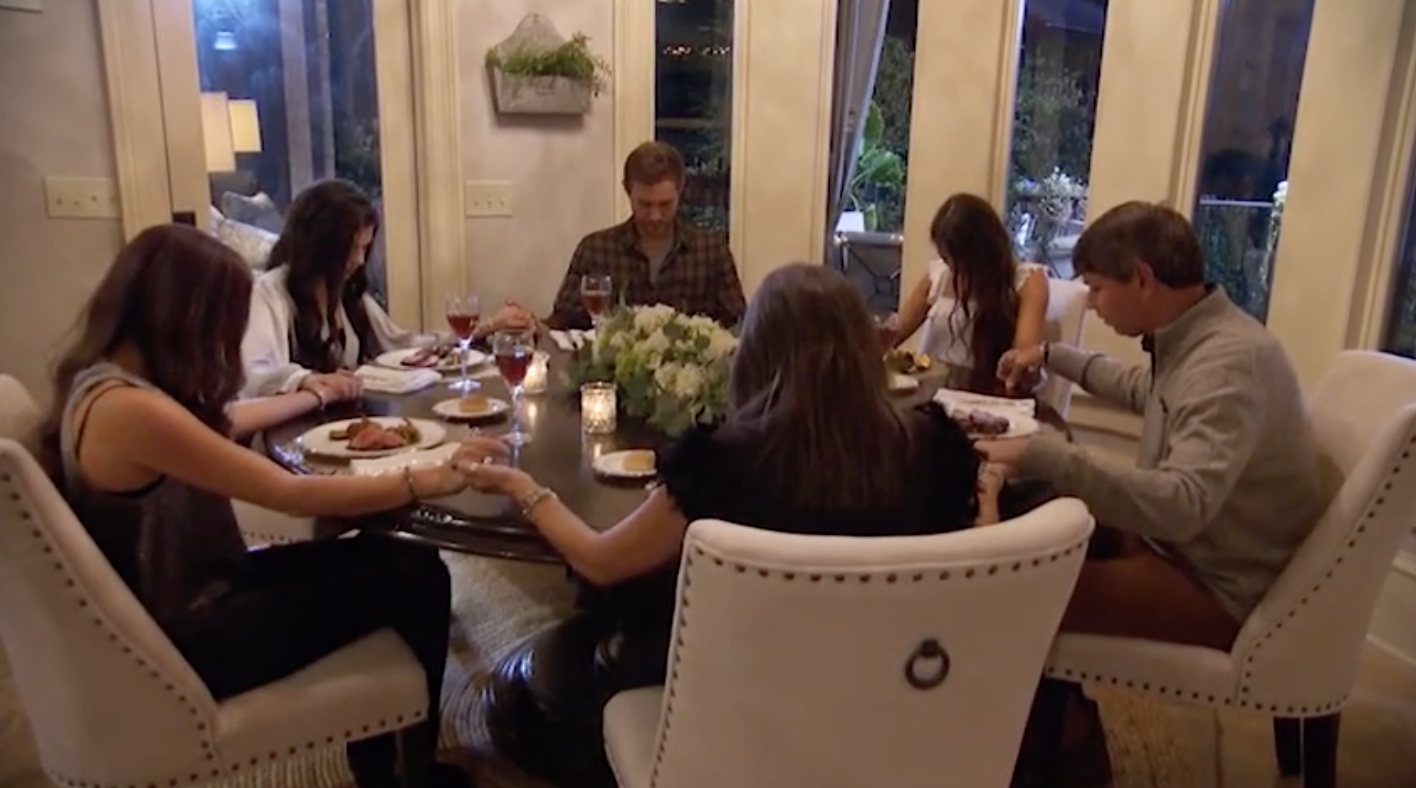 So I just don't know with them. What I do know is that being on the same page in terms of religion is extremely important in a relationship. While I do think Peter is the type of guy that would do everything in his power to make Madison feel comfortable in terms of where she is in her faith and where he is in his…I just don't think that's enough. What do you guys think?
Victoria F's Not Really Hometown
Where do we even begin with the Victoria stuff. I guess I'll start with the fact that I think Peter couldn't have handled it better. Well let me backup, I think when he got that information from his ex, Marisa, I think that he brought it to Victoria in the best possible way. I understand Victoria's initial reaction of being pissed about it. But if she had just spent two seconds to be humble and listen to what Peter was saying they could've worked through it so easily and continued with the hometown date. He even said to her something like "are you hearing my words?" I think this conversation really showed Victoria's age. Because when I was her age this is probably how I would have reacted to the situation as well. And honestly, at 35, I think if I was in the situation I'd be hurt at first but then seeing how understanding and non-accusatory Peter was being, I would've been able to have the conversation. With age and maturity that's something Victoria will learn to do.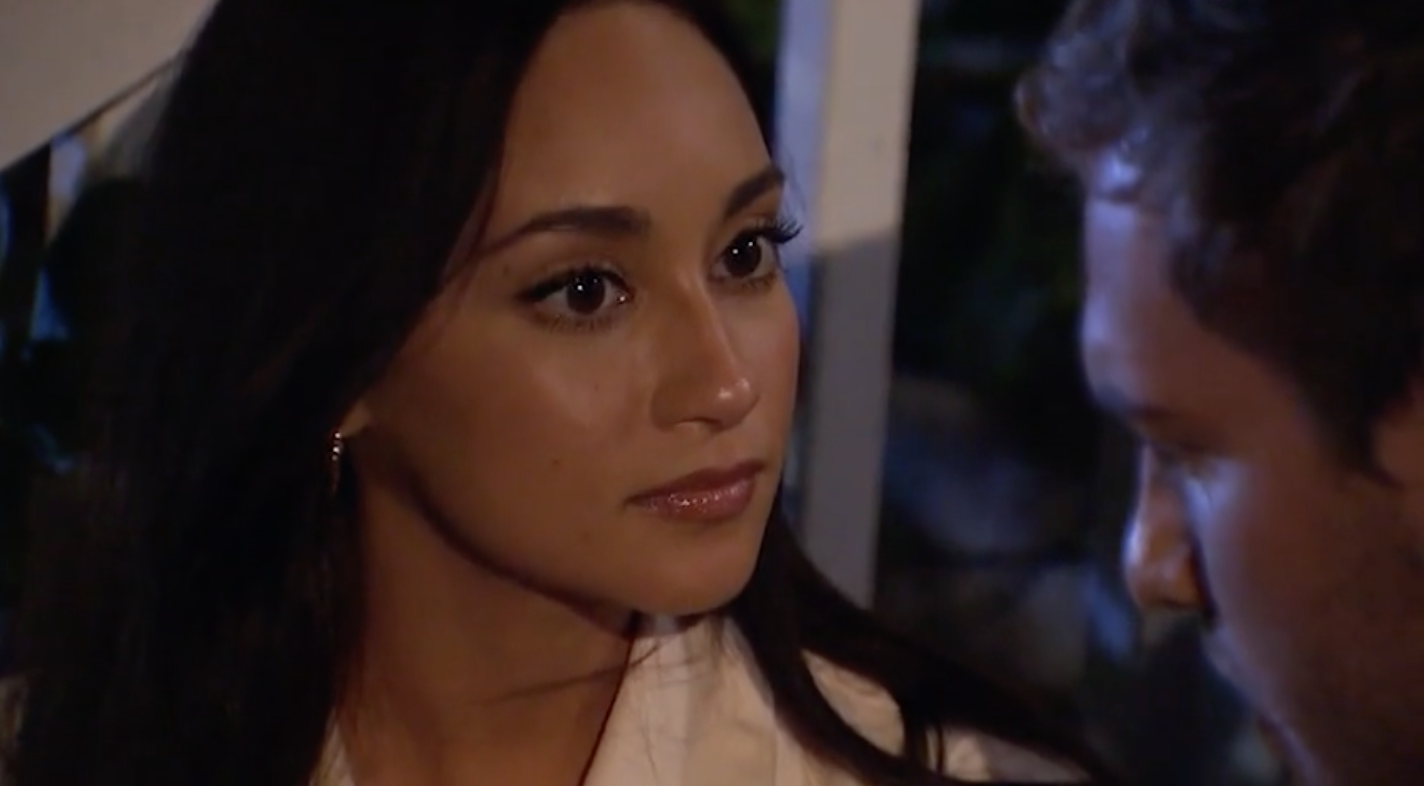 As for Victoria showing up at the hotel room, I am glad she apologized for how it was handled. However her telling him shes falling in love with him at that time seemed even more forced than normal. And how it's interesting that he says 99% of the time together he sees it and how it feels amazing, but only 1% terrifies him. Maybe they have more chemistry off screen that we aren't seeing, since they are mostly only showing the arguments/breakdowns. I do feel like if she didn't come to the hotel room that she probably would have been sent home.
Rose Ceremony
First, I was completely shocked when he gave Victoria a rose. She's got to be the next want to go. But I guess who knows at this point. I feel like he gave her a rose really just for lack of options. I mean, it was obvious that he didn't really have a great connection with Kelsey. I was SHOCKED she lasted this long.
I don't know if Peter just didn't have compatible girls for him from the get-go or if he let go of girls that maybe he was more compatible with, but I just don't think the final four left are right for him necessarily. I would say Hannah Ann is probably his closest match compatibility wise. But I just think she's too young for him. I don't know. I kind of feel like the season is a wash. If I was a gambling man, which I am, Ha! I would bet that none of these relationships will work out in the long term. And I absolutely hate seeing that! Because I adore Peter and I think these are great girls. I just don't see a match. And I wanted so so so badly for this to work out for Peter. Probably more than any season yet. I don't know what it is about him, but I just feel protective of him. Like he's my brother or something. What do you guys think?
My gut says he'll end up with Madison, but I don't know that it will work out long-term because they're on such different pages faith-wise. Put it this way, at After the Final Rose from Hannah's Bachelorette season, when they were talking about Peter having sex with Hannah four times his parents cheered him on! And I thought that was awesome! But I don't know that Madison's parents would've thought that was awesome. So I just don't know with them. OK I said enough. I have to know what all of you think!
Outfit Recap!
As you guys know, I love ending Bachelor posts with my outfits from the past week! This week was extra special because one of the posts was written and posted by my sweet husband, Kevin. Check out the entire thing here if you haven't already. I seriously was tearing up not only reading his post and thinking about the incredible gesture that he did, but all of your sweet comments. We really love you all so much. Thank you for being apart of our story.
Gorgeous Green Dress
I think what I like the most about this gorgeous dress is that it is really flattering and flowy! It cinches at the waist in the perfect spot, and isn't too tight, so it allows for movement while you are wearing it. This is definitely a dress that Molly would refer to as a "twirling dress" – something about it just makes you want to spin around! The chiffon-like material feels so delicate and expensive. It has a geometric patterning on it, which I really think makes the dress pop. Oh, and did I mention that this beautiful green dress is under $60 from Nordstrom?! Such a bargain!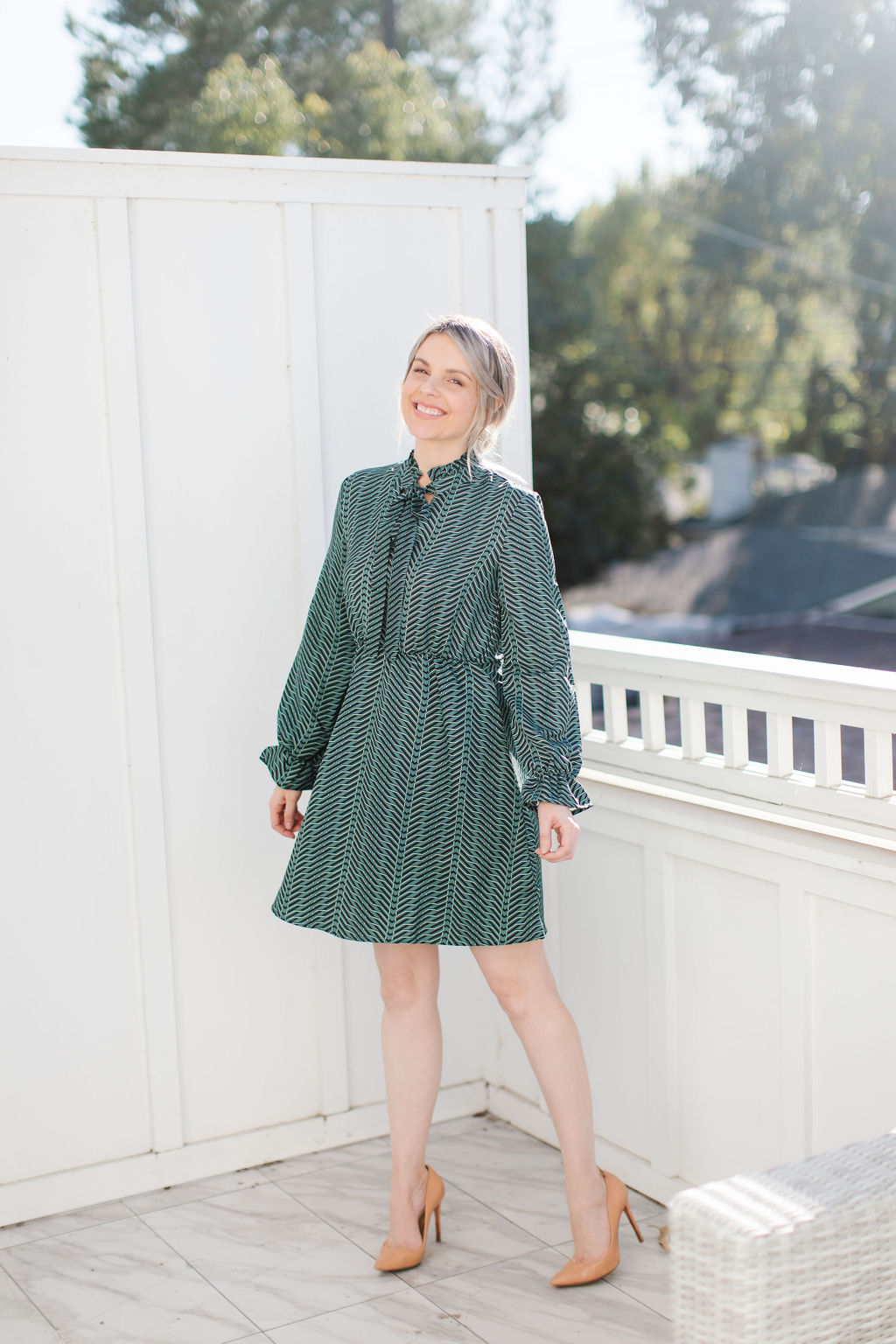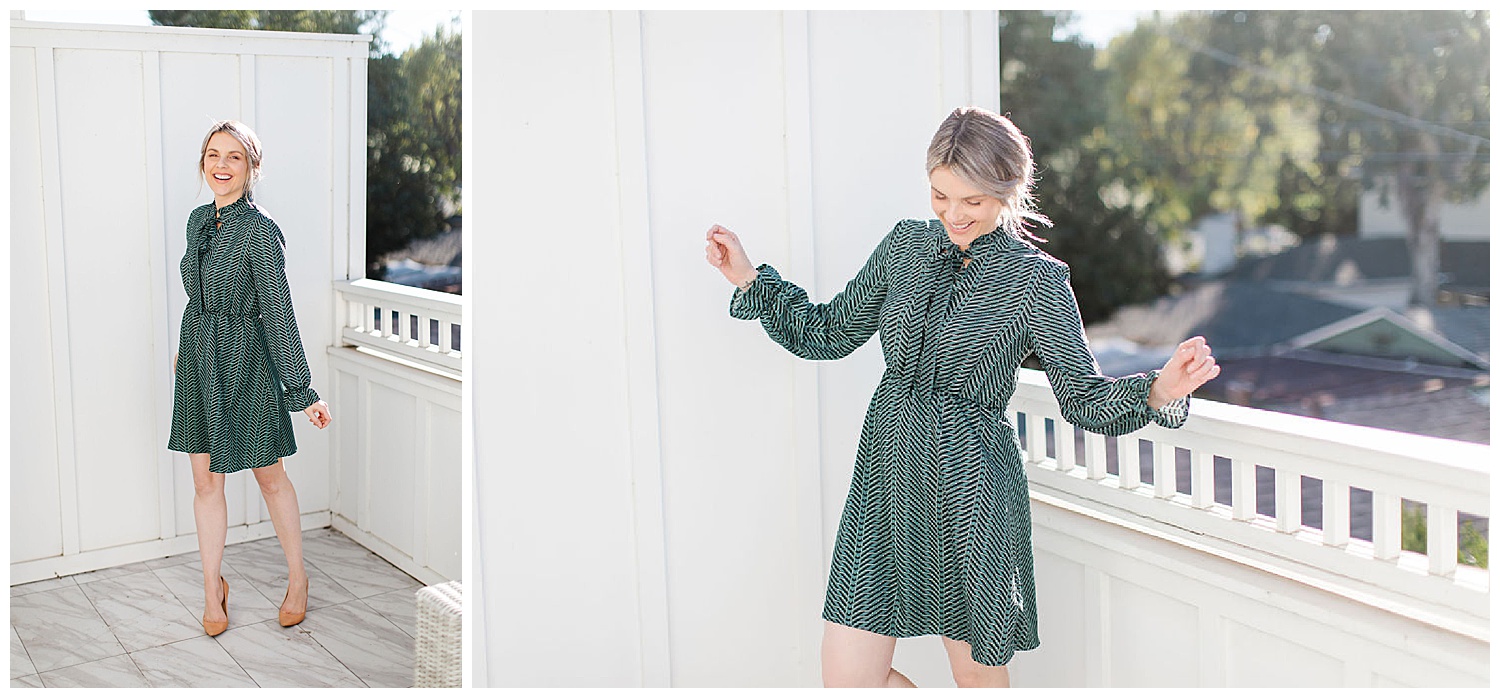 1. DRESS | 2. NUDE PUMPS
I want to say that the dress is pretty true to size. I am a medium, and that's what I am wearing in these photos! I'd recommend ordering your true size. Because the dress has a bit of structure, you don't want to end up with too much fabric, or have it be too tight in the shoulders. If your sizing is no longer available, I would say definitely size up though!
Pink Sweater (and Kevin's Sweet Valentine's Message)
Like I said, I am just so blown away that Kevin always knows just how to say and do the right things for me. You have to head over to the post to see it, because it doesn't really even do any sort of justice for me to paraphrase it. But I really love that he talked about how Valentine's day isn't about the gifts, and how it should be focused on your love ones and self-love!
But I did want to tell you about my outfit, which is why I shot some of these photos in the first place! Ha! But Kevin using them for this is WAAAAY better 😉 I just think this outfit is sooooo cute (and comfy!), not only for Valentine's Day, which is obviously over after today, but just in general. You might recognize this pink cowl neck sweater because I also have it in a cream color, a rust color, and a blush. And if you saw me write about it before than you know it's my one of my absolute favorite sweaters ever! It's still available in four colors. But honestly I think this is going to sell out fast because legit last week when I ordered the sweater it was available in like 10 colors. So it's going fast! I absolutely love how the cuff of the sweater is so long and it is the softest and most flattering thing ever! Some people say in the reviews to size down, but I get my normal size, which is a medium, and I love how it fits.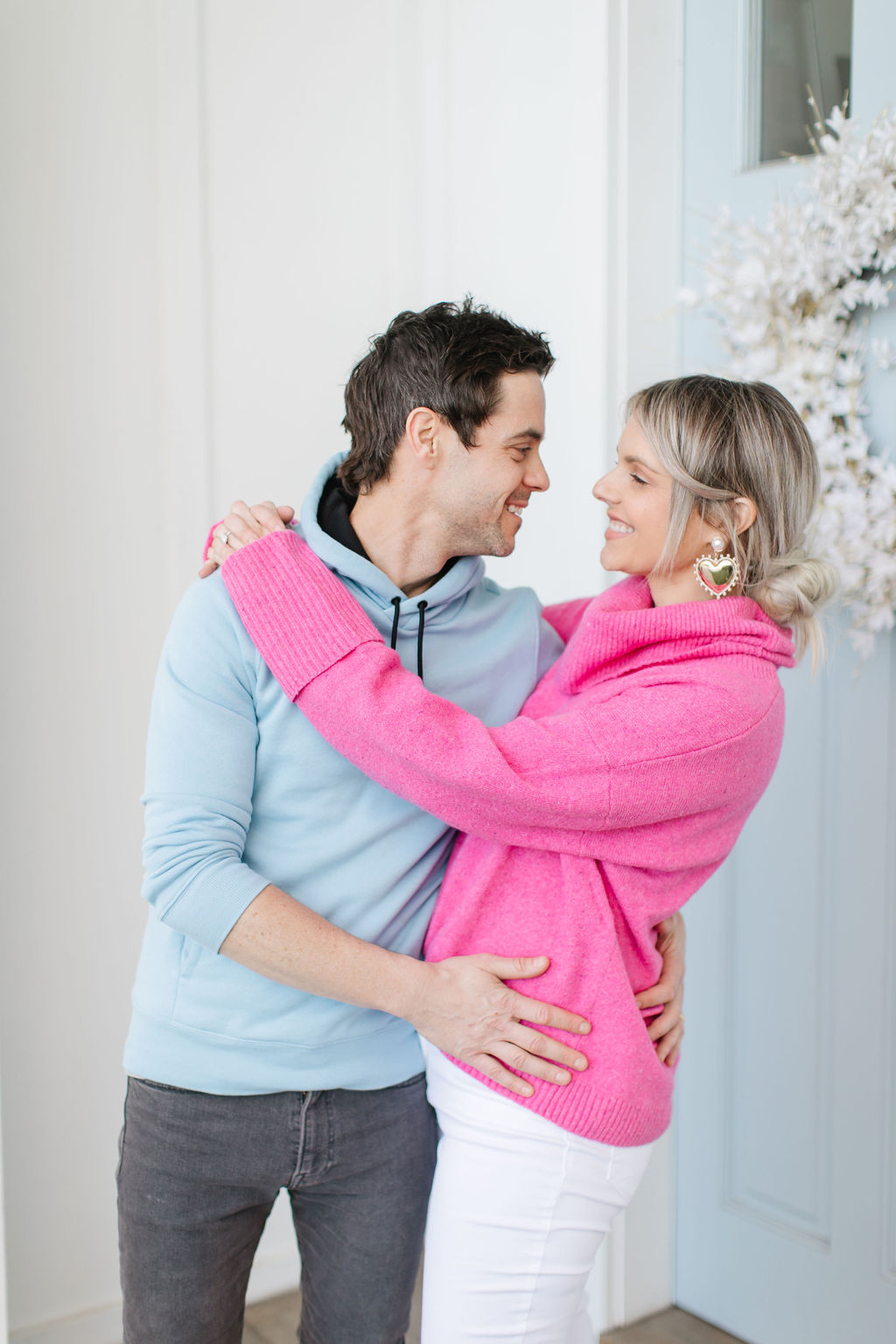 1. SWEATSHIRT | 2. SWEATER | 3. WHITE PANTS | 4. CONVERSE
Affordable Blush Dress
I wanted to wear something festive for Valentine's Day, so I went with this beautiful blush dress that I got recently. To be completely honest with you, the company sent me this dress as a gift. With no expectation that I would write about it or even wear it for that matter. So I looked it up online to see the price and was very happy to see that it was affordable! But shocked to see the photo of it on Macy's website. It looks awful on the model! And I feel bad even saying that because I don't know if they put her in a size too big or if they didn't tie it properly. But the photos on the website just do not do this gorgeous blush dress justice. And neither do my pics really because I didn't steam it before taking them!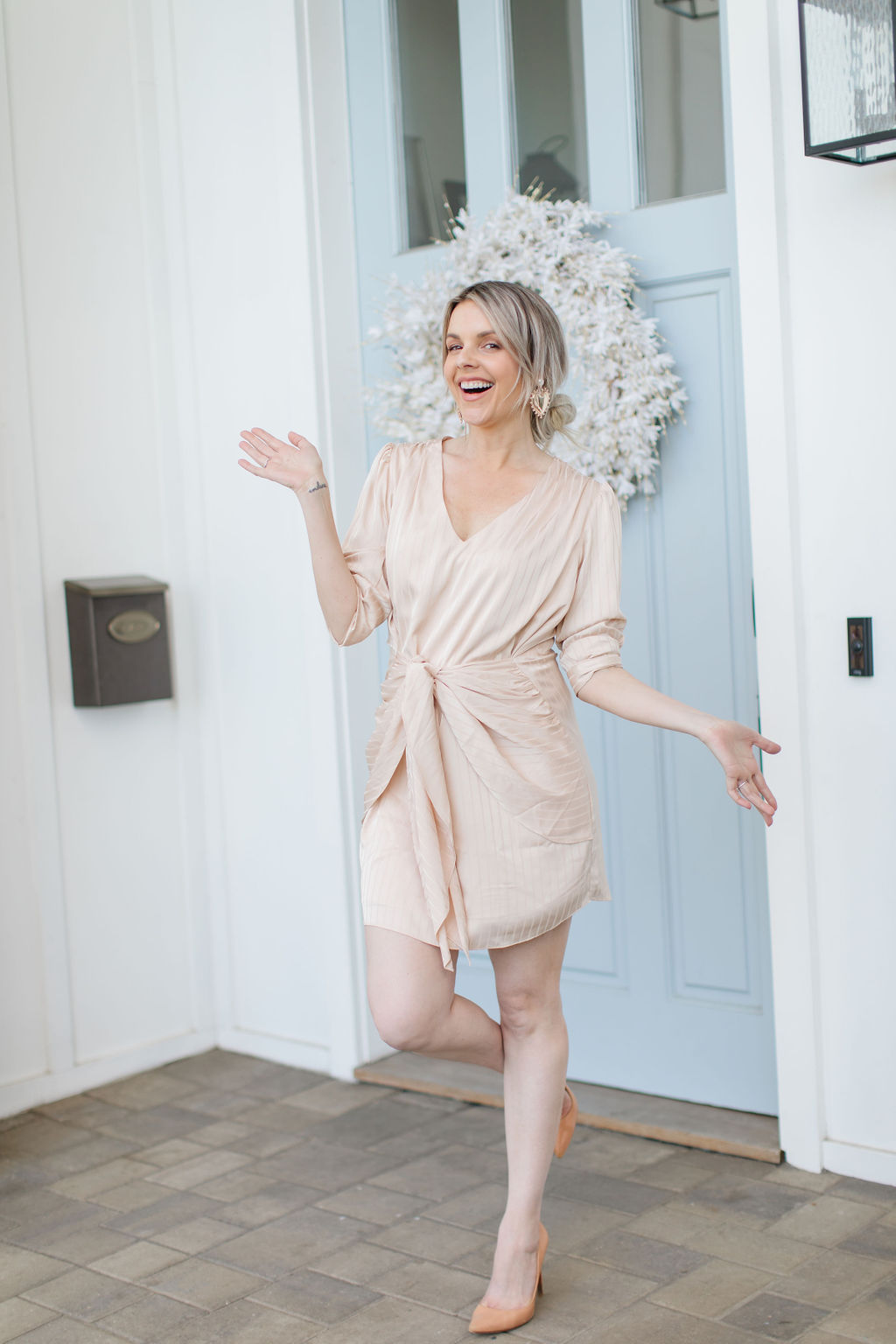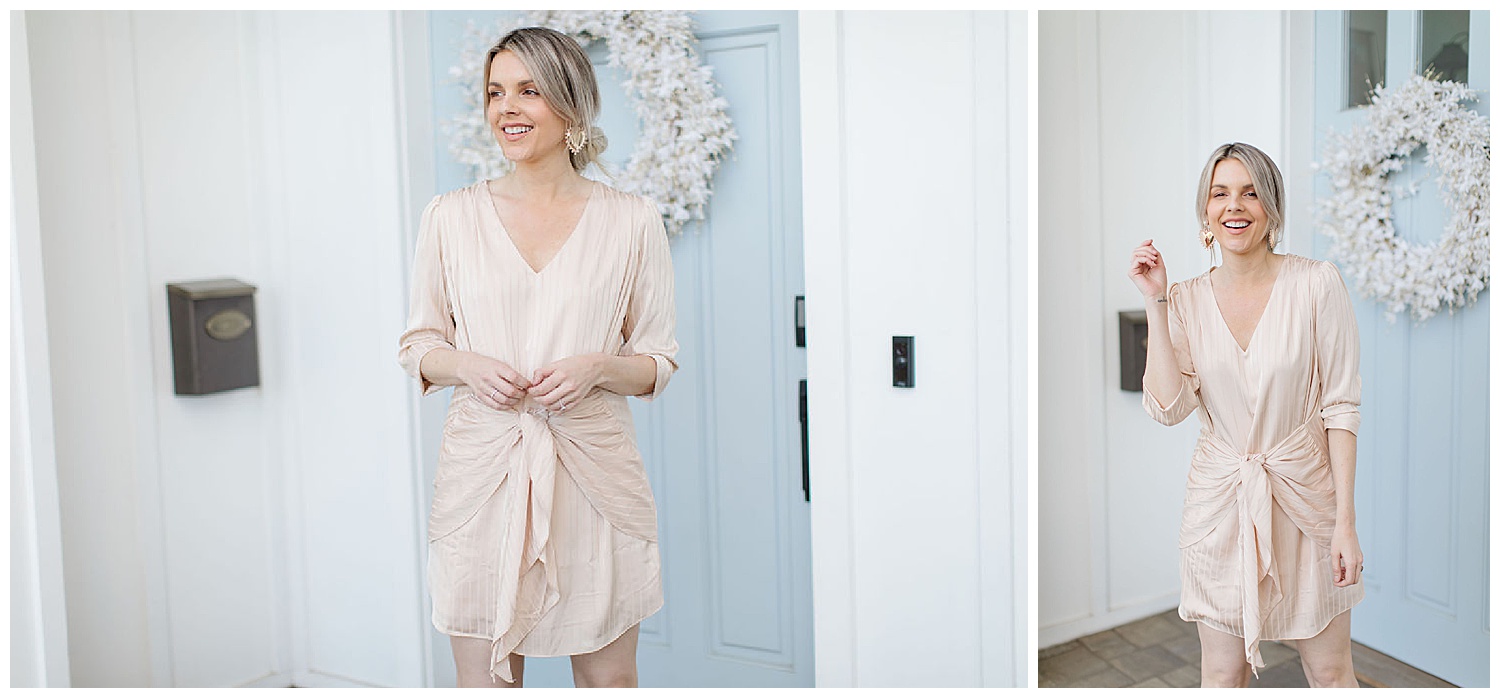 1. EARRINGS | 2. DRESS | 3. NUDE PUMPS | 4. SUNLESS TANNER
When I first put it on before I tied it in the front, I was concerned. Ha! Just cause it looks pretty funny before it's tied. As you can see in the photo above. But once I put that tire in the front I feel like it instantly looked super chic and expensive! I'm wearing a size medium which is my normal size, so I definitely would say it's true to size. And of course I'm wearing it today for Valentine's Day, but this blush dress would be beautiful all throughout spring and summer. If you have any spring weddings coming out this is actually be a pretty dress to wear to a spring wedding. For more details on this dress, head to the entire post here.
That's all for today!!! I hope you have an amazing week, can't wait to talk about the hometown dates with you all!
I just came across this while shopping for my upcoming family vacation… do you think this is Hannah Ann? I feel like it might be!