Hi, folks! Happy Valentine's Day, well almost! This is Kevin writing this. Every so often, I "hack" into Ali's blog and write a post in an effort to alleviate some of her stress. I certainly wouldn't know how to link outfits or anything like that, so I once again enlisted the help of Ali's assistant, Madi. Thanks, Madi!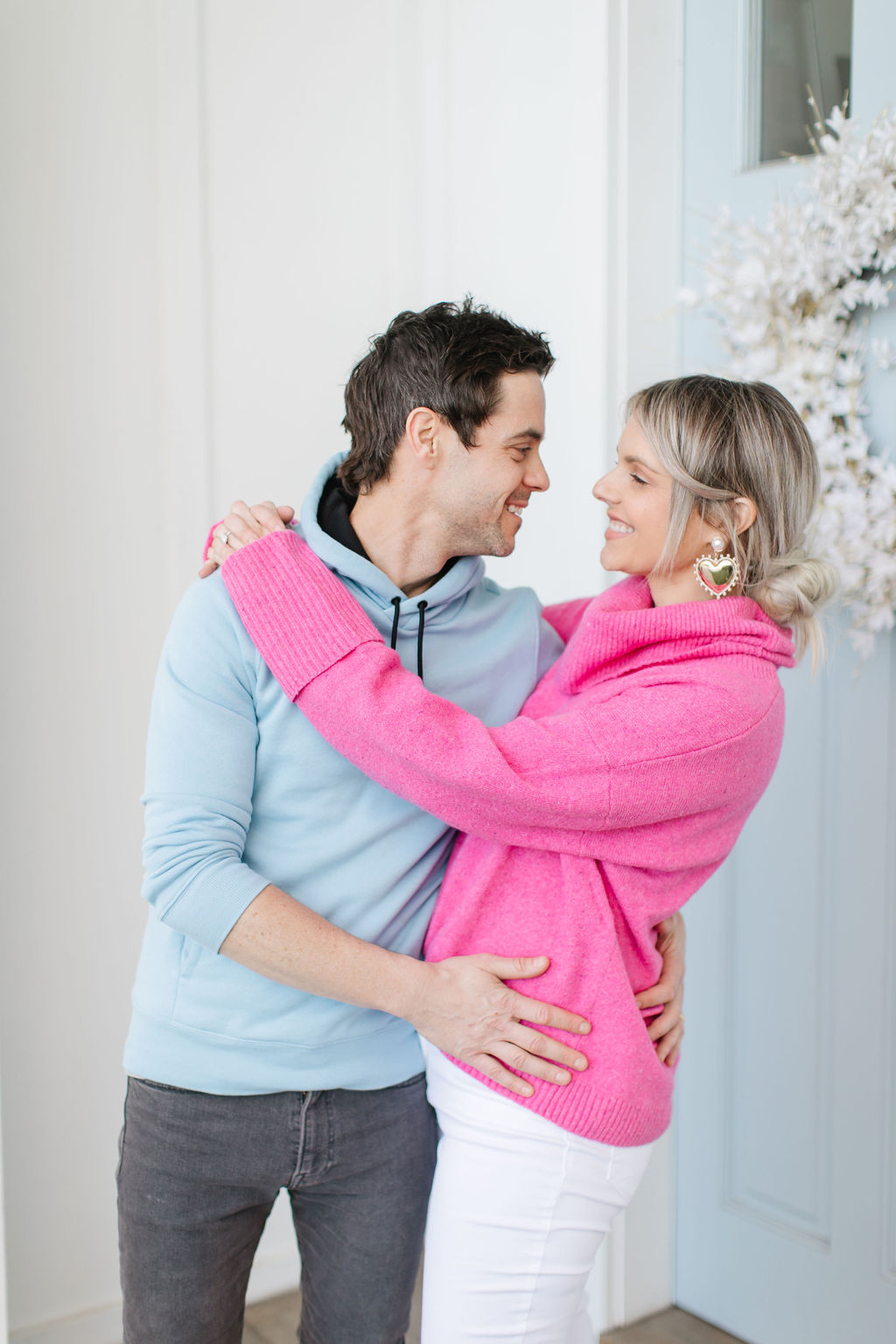 1. SWEATSHIRT | 2. SWEATER | 3. WHITE PANTS | 4. CONVERSE
First off, let's talk about Valentine's Day. People have strong opinions about this holiday. If you see it as a nice opportunity to celebrate love, good for you! It's always nice to acknowledge love. Whether that's romantic love or platonic love, I don't think it matters. People seem to stress about this day, and I really hope you're not currently dealing with any of that anxiety! It's supposed to be a fun day. Don't put too much pressure on yourself or anyone else. And I give this advice regularly, but don't compare yourself to other people on social media!
Everyone is going to be posting pictures of huge floral arrangements and expensive, romantic dinners and that can easily lead to negative thoughts and feelings. Don't let it! People only post their best content, it's not typically reflective of real life. Do you think I pick Ali up on our front porch when there isn't a camera around? I don't! I hear occasionally that we are "couples goals" and it makes my skin crawl a little bit every time I hear it. We're not perfect! Nobody is perfect! We argue, we make relationship mistakes and we make parenting mistakes. My point is, for your own sanity, don't compare yourself to others. Especially if you're already a little depressed about this "holiday of love."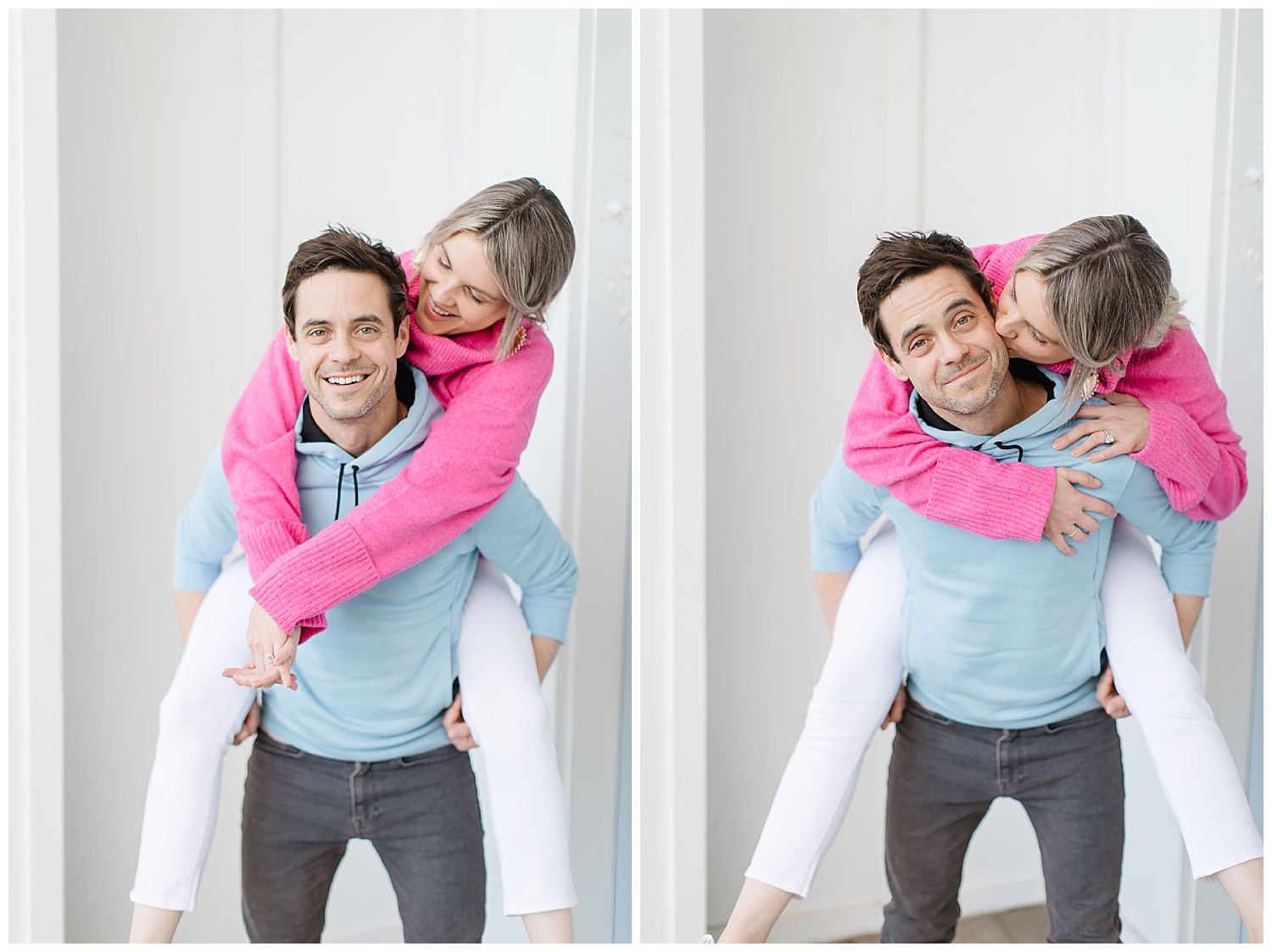 Speaking of these pictures, we took these a couple weeks ago and they really reminded me of some photos we took a little over 2 years ago when we first moved into this house. Ali was pregnant and Molly was Riley's age! Unbelievable. Having small children around really helps you see the passing of time. It's crazy how quickly they grow and learn and mature at this age. I love that we have documented every step of their lives. I think those photos and videos will be invaluable, as we get older. If you're a new parent or a soon-to-be parent, that's definitely a piece of advice I would give. Document everything! I know it can be a pain to always whip out that camera (phone), but it's totally worth it. Ali & I have been making little movies of meaningful moments like Christmas morning & their first haircuts. I can only imagine what I will feel when I watch those in 30 years.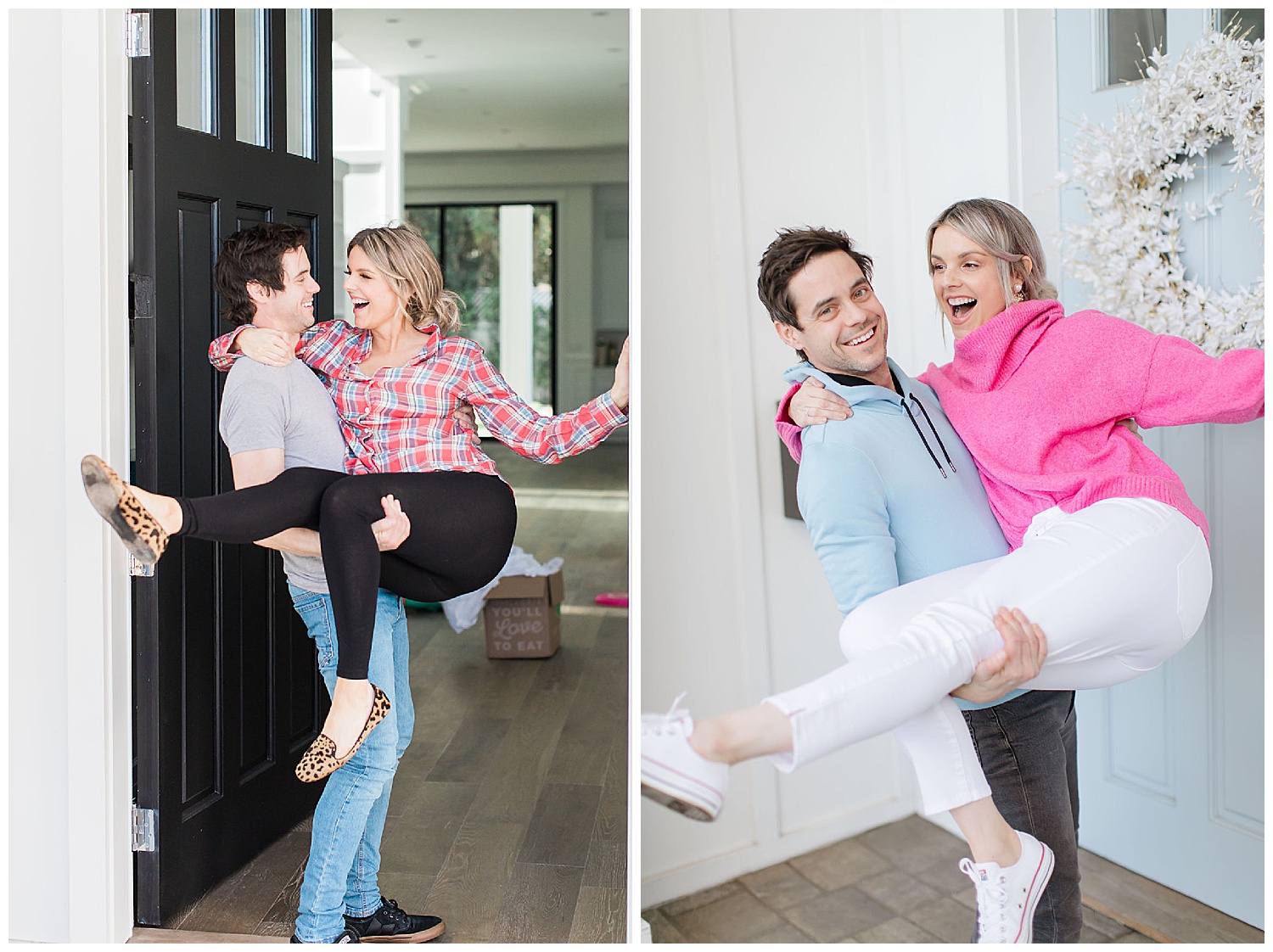 As far as us celebrating this holiday, Ali and I aren't really big gift givers. I honestly think gift giving can be way too stressful! I'm way more into experiences. For example, me writing this post to give Ali a little time away from her computer is my gift to her this year. One year I gave her a little handmade coupon book for things I would do around the house. Other years I have made her an old school "mixed tape" or write a nice long letter. That stuff is more memorable and meaningful in my opinion that something you went to the store and stressed about the cost of. I would rather hear Ali tell me that she appreciates and loves me opposed to opening a gift that I don't need.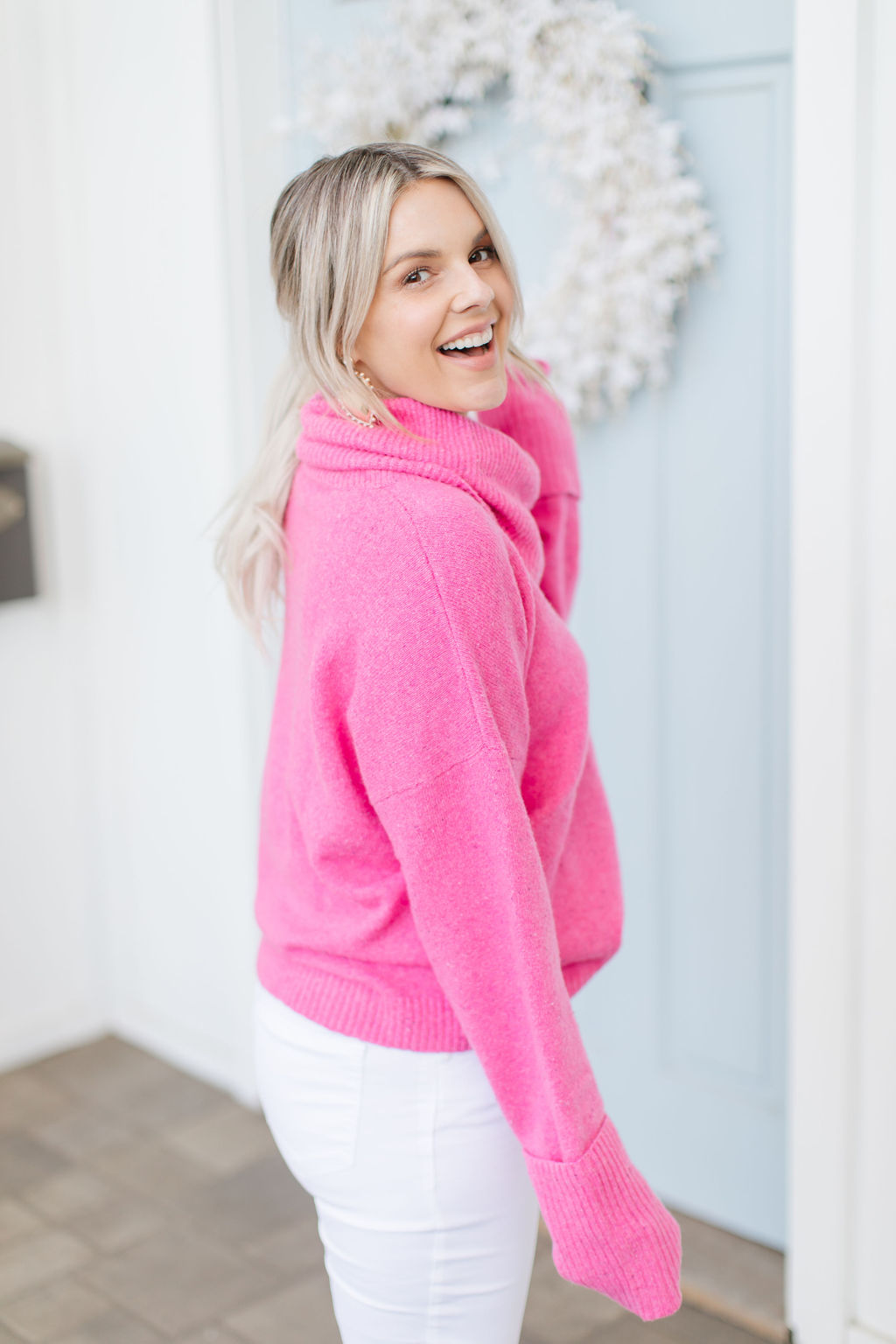 1. SWEATSHIRT | 2. SWEATER | 3. WHITE PANTS | 4. CONVERSE
I appreciate you checking out this blog post and I appreciate you spending any time at all on Ali's blog. Whether you know it or not you're supporting our family & I sincerely thank you for it. I hope you have a great, stress-free Valentine's Day! If you're not celebrating this year, I guess I hope you have a great Presidents' Day on Monday! Feel free to follow me on Instagram! It's mostly cute pics of Molly & Riley. And if you need more Kevin in your life, I do a morning radio show here in Los Angeles. It's Valentine in the Morning on 104.3 myfm. You can listen anywhere via iHeart Radio.
Thanks for reading! And Happy Valentine's Day!
_____________________________
Hi guys, Ali jumping in here! Writing this with a few tears welled up in my eyes! Kevin is so sweet. When he asked me for these photos, I just thought he wanted them to have on his computer for his background or something. I truly didn't even know he was doing this post! I'm so grateful for him. And thank you so so so much Madi for linking all the outfits above.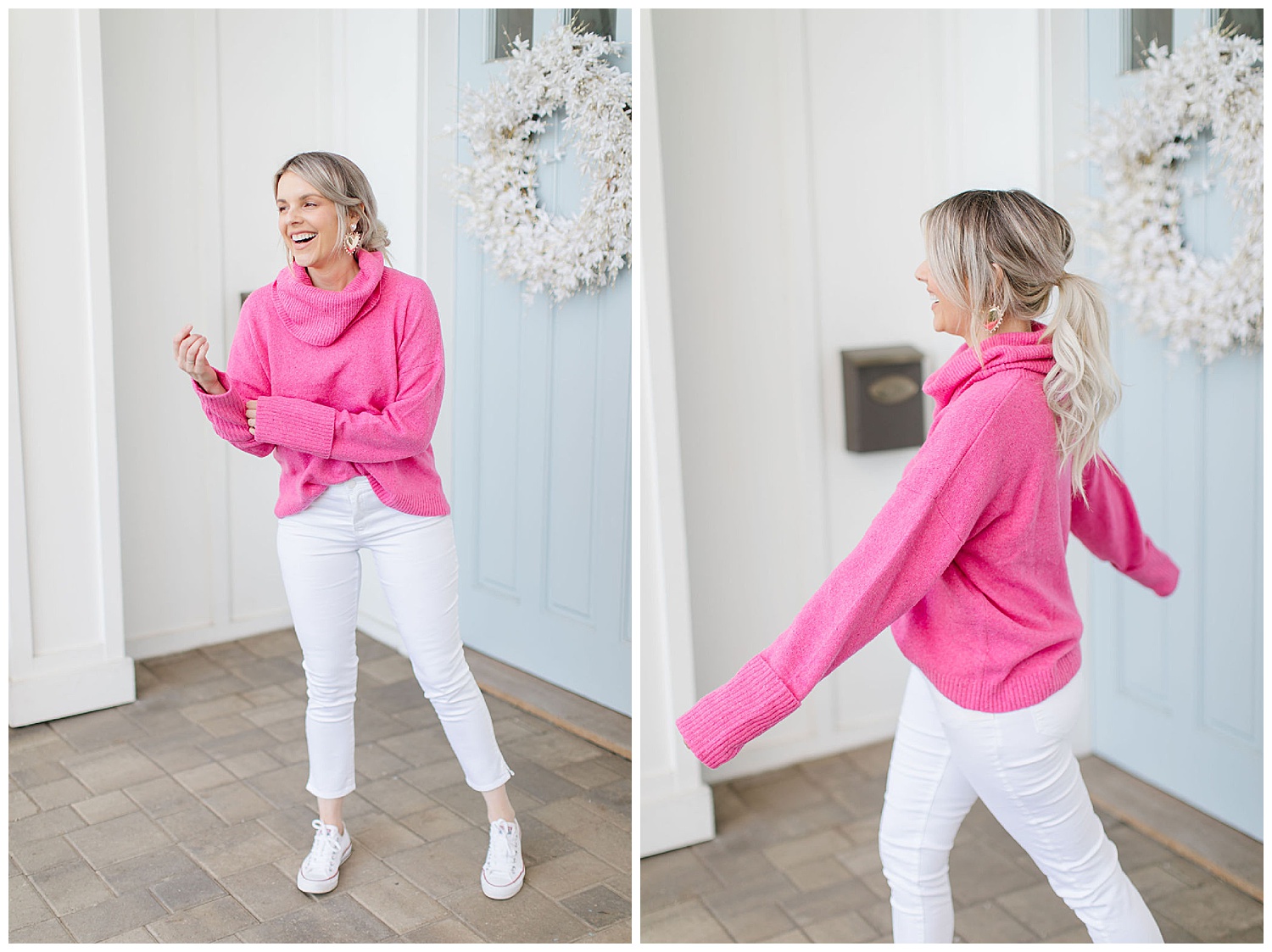 1. SWEATSHIRT | 2. SWEATER | 3. WHITE PANTS | 4. CONVERSE
But I did want to tell you about my outfit, which is why I shot some of these photos in the first place! Ha! But Kevin using them for this is WAAAAY better 😉 I just think this outfit is sooooo cute (and comfy!), not only for Valentine's Day, which is obviously over after today, but just in general. You might recognize this pink cowl neck sweater because I also have it in a cream color, a rust color, and a blush. And if you saw me write about it before than you know it's my one of my absolute favorite sweaters ever! It's still available in four colors. But honestly I think this is going to sell out fast because legit last week when I ordered the sweater it was available in like 10 colors. So it's going fast! I absolutely love how the cuff of the sweater is so long and it is the softest and most flattering thing ever! Some people say in the reviews to size down, but I get my normal size, which is a medium, and I love how it fits.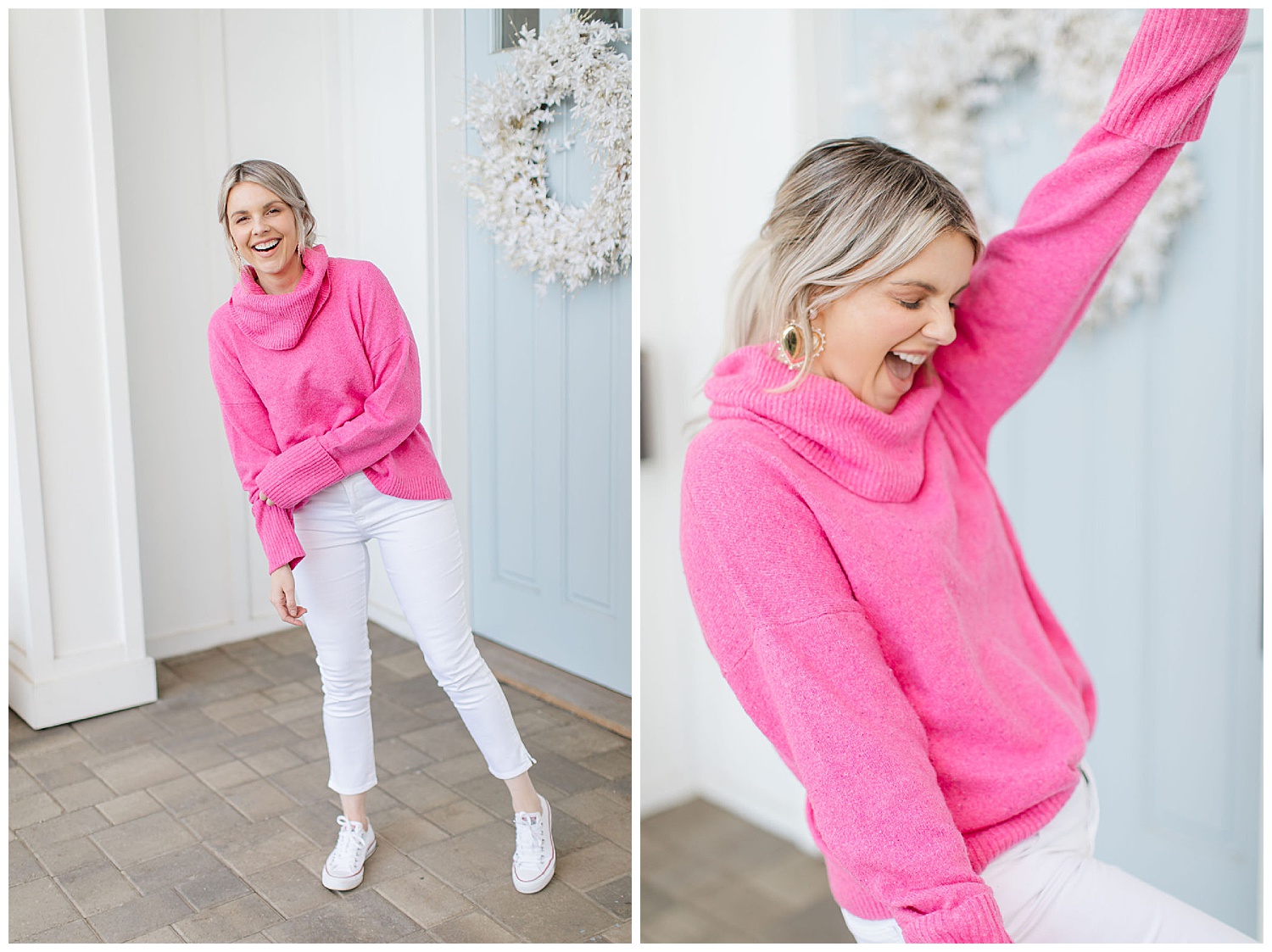 1. SWEATSHIRT | 2. SWEATER | 3. WHITE PANTS | 4. CONVERSE
And I'm so excited about these white pants. I'm wearing a size 6, which is my normal size so I would say they're true to size. And I love them because they have this "Ab-solution" technology that is incredible! They just smooth everything out and make my tummy feel nice and flat. And they're incredible priced for only $68! That is great for quality jeans. Plus, they come in seven colors! So if white isn't your thing you can get them in another color. I highly highly highly recommend them! And as you can see by the 150 reviews other people love them too.
I'll link the heart earrings too. I'm honestly not even sure if they're still in stock as I write this. But hopefully they are!
Anyway just wanted to share because I truly love this look! Hope you all have an amazing Valentine's Day tomorrow with your loved ones… or self-love day for yourself! xo