Hey guys! Welcome to the blog today! A couple things to know about the photos in today's blog post. One, they are shot by the super talented Ashley Burns of Ashley Burns Photography! And two, while we were shooting them it was about 95° in Los Angeles. Ha! However, I am getting ready for a trip to Indiana at the beginning of November, so I really wanted to get some cute looks together for my trip for the cooler weather. So I thought I would go ahead and photograph and post them to blog for you guys since I think they are so cute!
Need a Winter Jacket?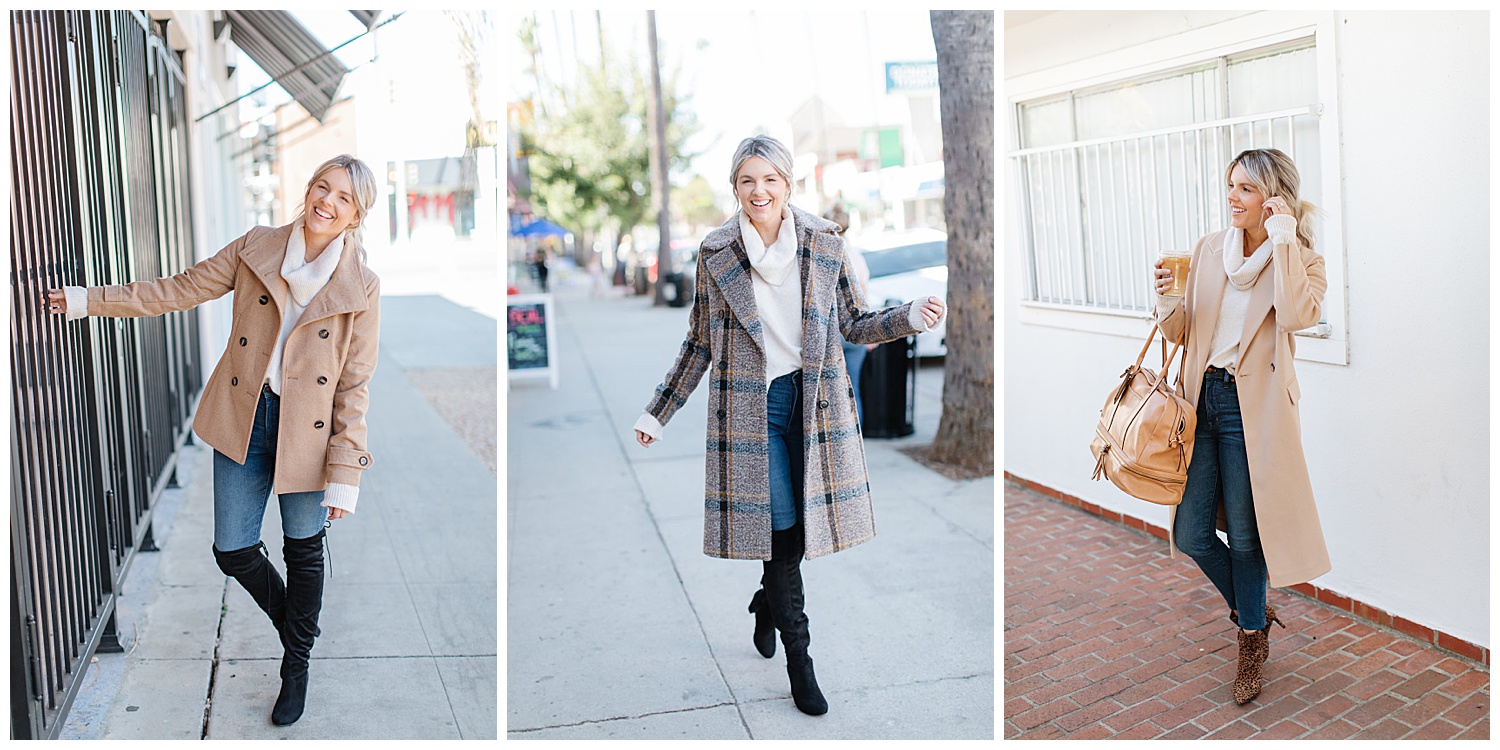 Really, all 3 looks are based around one sweater. And I decided to put all three looks into one post because it's with three different jackets that range from super affordable to more of an investment piece. And of course, ones mid-range. The reason I wanted to do that is because this blog post would offer a coat for almost everybody – no matter their budget! And they are all from Nordstrom, so you know you are getting quality no matter which one you decide to get!
Okay first, I have to talk about the base of all three of these looks and that's my cowl neck sweater. I blogged about this sweater about a week ago and you guys went crazy for it! I promise you this sweater is my favorite sweater of all time! And I'm not exaggerating when I say that. It is so ridiculously soft, the length is just perfect, and I am completely obsessed with the long cuff at the end of the sleeves that give it the coziest look ever.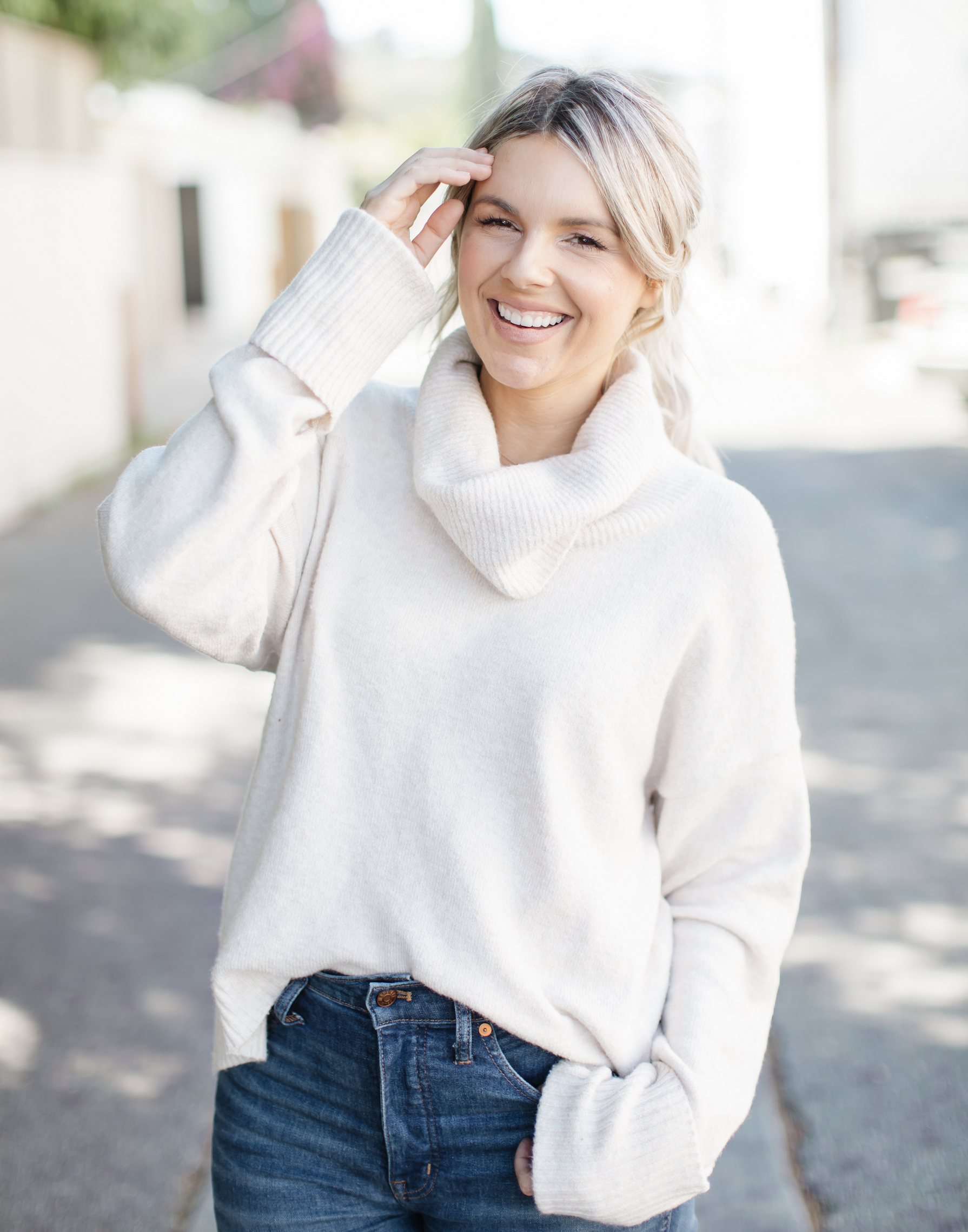 1. COWL NECK SWEATER | 2. MADEWELL JEANS
And honestly, it doesn't just look cozy –  it is cozy! I bought the sweater in the black as well, and I even have it in a rust color that's no longer available. I honestly love this sweater so much that I wish I could buy one for every single one of you! I want everybody to have the sweater because it's so good! Every single one of my girlfriends who have seen me wear it went out and bought it for themselves. And that's the truth! If you only want buy one sweater off my blog for all fall and winter long, make it this sweater!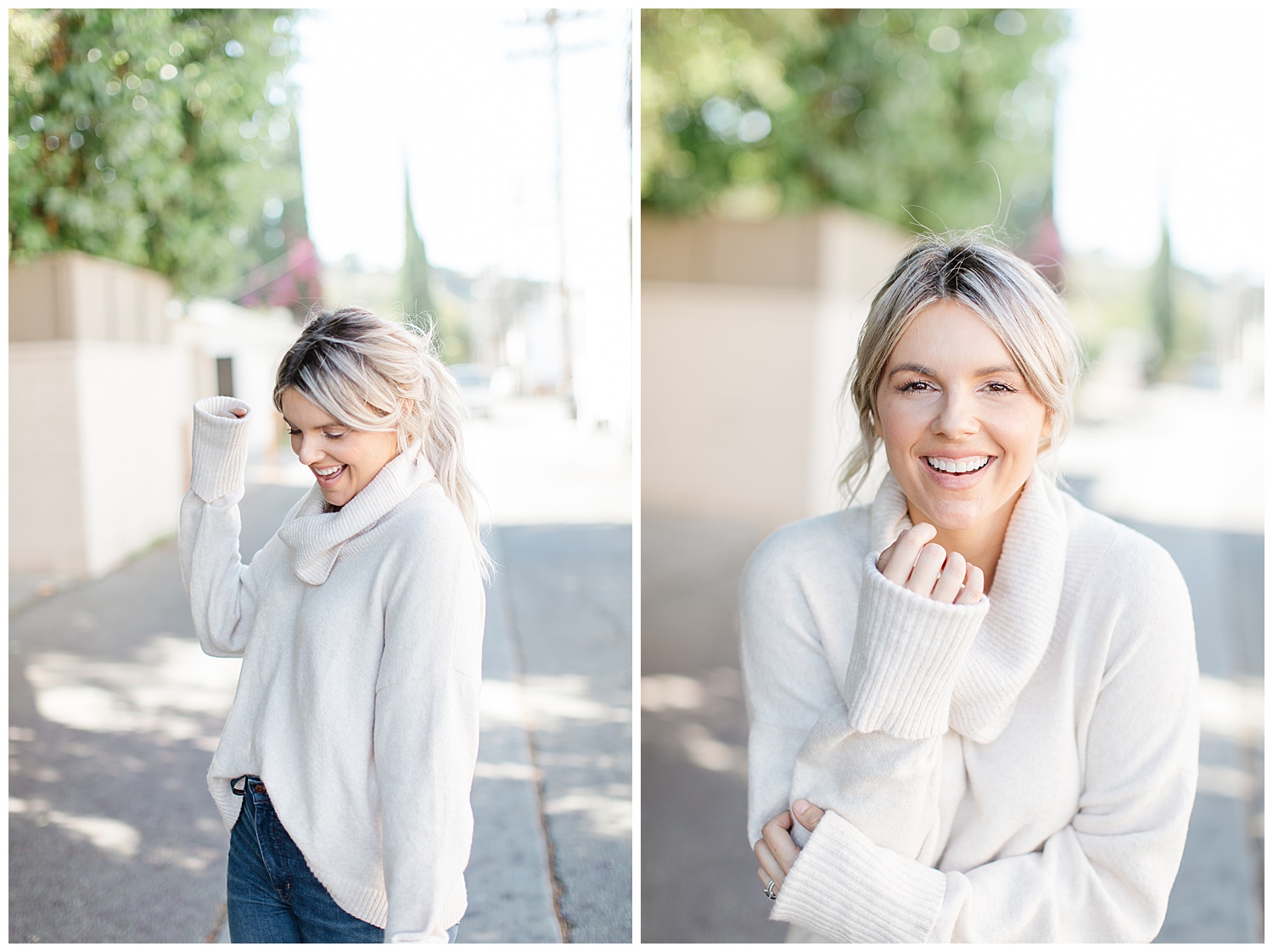 1. COWL NECK SWEATER | 2. MADEWELL JEANS
The jeans I'm wearing in all of these looks are this pair from Madewell. I pretty much buy the majority of my jeans from Nordstrom because of their return policy. I don't know about you guys, but I hate going shopping at the mall. I just don't have time for it anymore and I find it so exhausting! So I do all my shopping online.
Truly, I would say I do 99% of my shopping online. And what I love about Nordstrom, is that I'm able to try everything on at home and send anything back that doesn't work. I've found so many amazing pairs of jeans, including these jeans from Madewell. They are super flattering, have a high waist, and I love the wash on them. They also have a frayed ankle which I really like. I'm wearing a size 28 which is my normal size. So they are definitely true to size.
LOOK ONE
Okay, so let's talk about this coats! Starting with the investment jacket!!!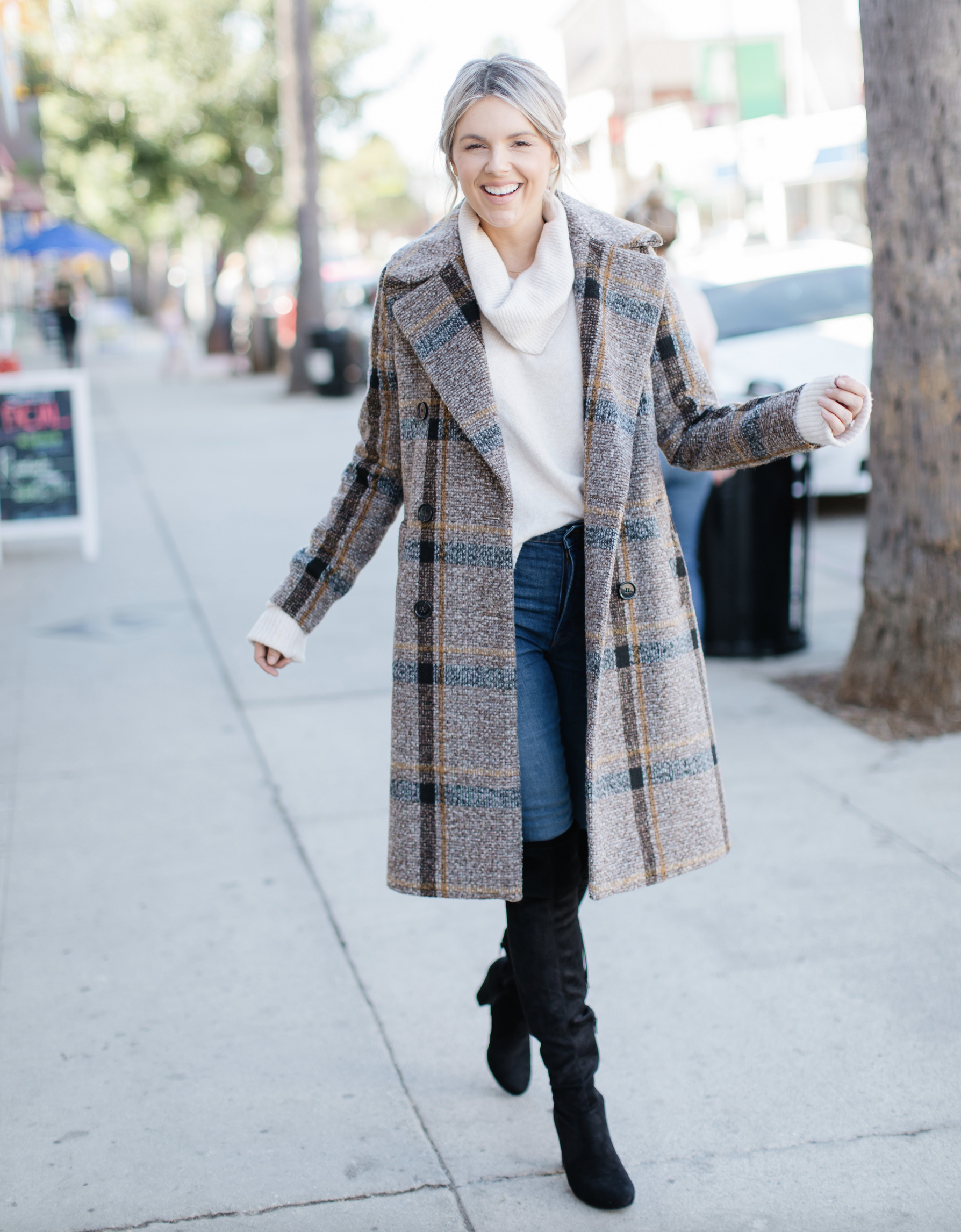 1. PLAID COAT | 2. SWEATER | 3. JEANS | 4. OTK BOOTS | 5. SUNLESS TANNER
When I saw this jacket on Nordstrom's website, I almost overlooked it because of the price. I just don't normally spend this much on clothing (I try to find more affordable options), but I just couldn't resist because it was soooo pretty. I feel like the plaid and texture of this jacket look so very expensive! And I get that it's more an investment piece. But I feel like this jacket looks like it's Burberry-level expensive!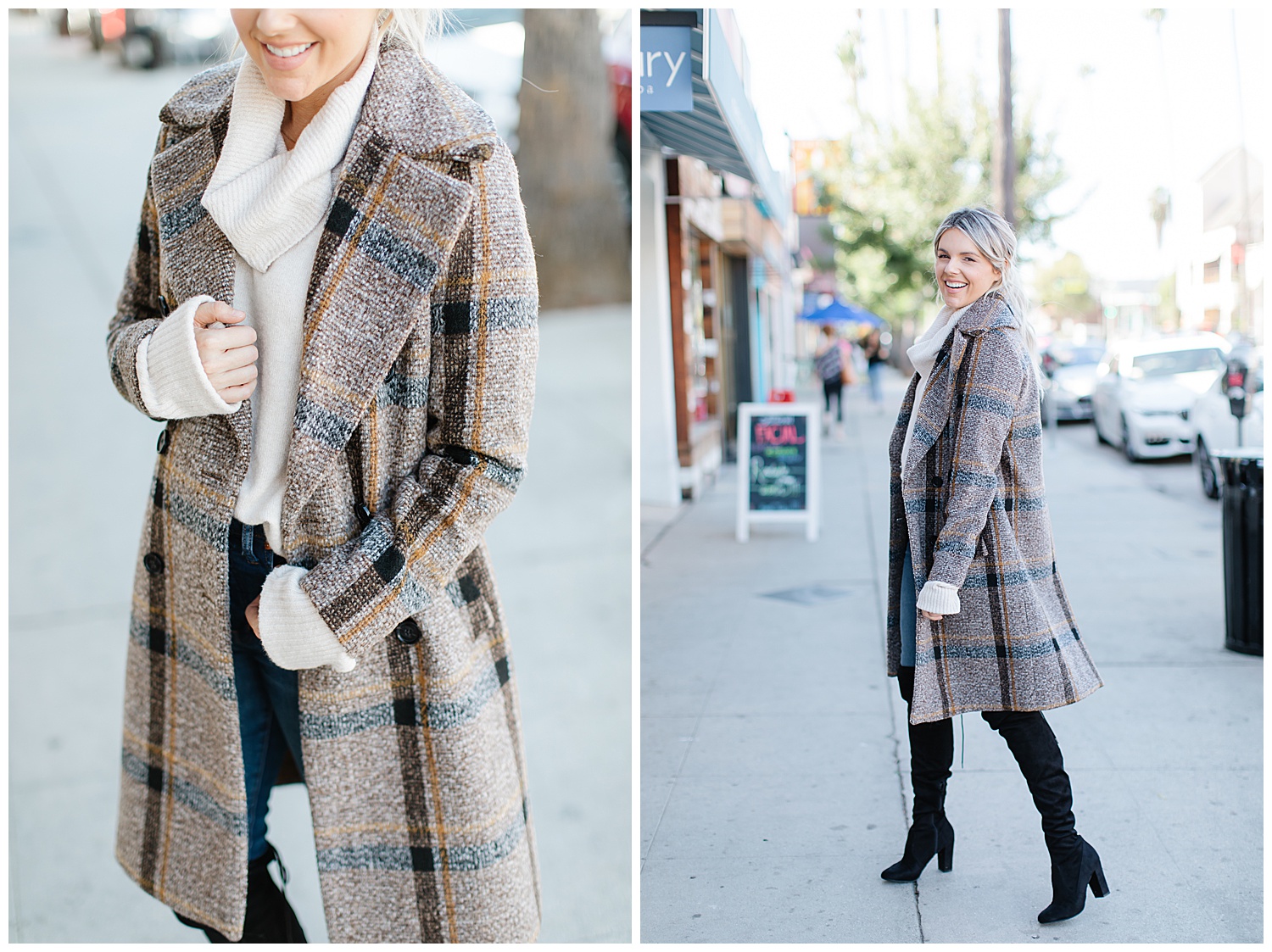 1. PLAID COAT | 2. SWEATER | 3. JEANS | 4. OTK BOOTS | 5. SUNLESS TANNER
I decided to splurge and treat myself to it because, to be quite honest with you, sometimes I feel like when I go to cooler climate I throw together outfits and end up looking so disheveled. Especially when I go to New York City. I'll walk by a woman dressed in a coat, like this, looking super stylish, put together, and expensive. And meanwhile, I'll go by in my soaked boots and weirdly put together sweater and frumpy jacket. I know some of you might find that hard to believe because I run this fashion blog, but I feel like my winter looks really suffer because I never invest a lot of money in them because I live in Los Angeles. But for this upcoming trip, I decided to get some statement pieces that I'll wear year after year. Like this jacket.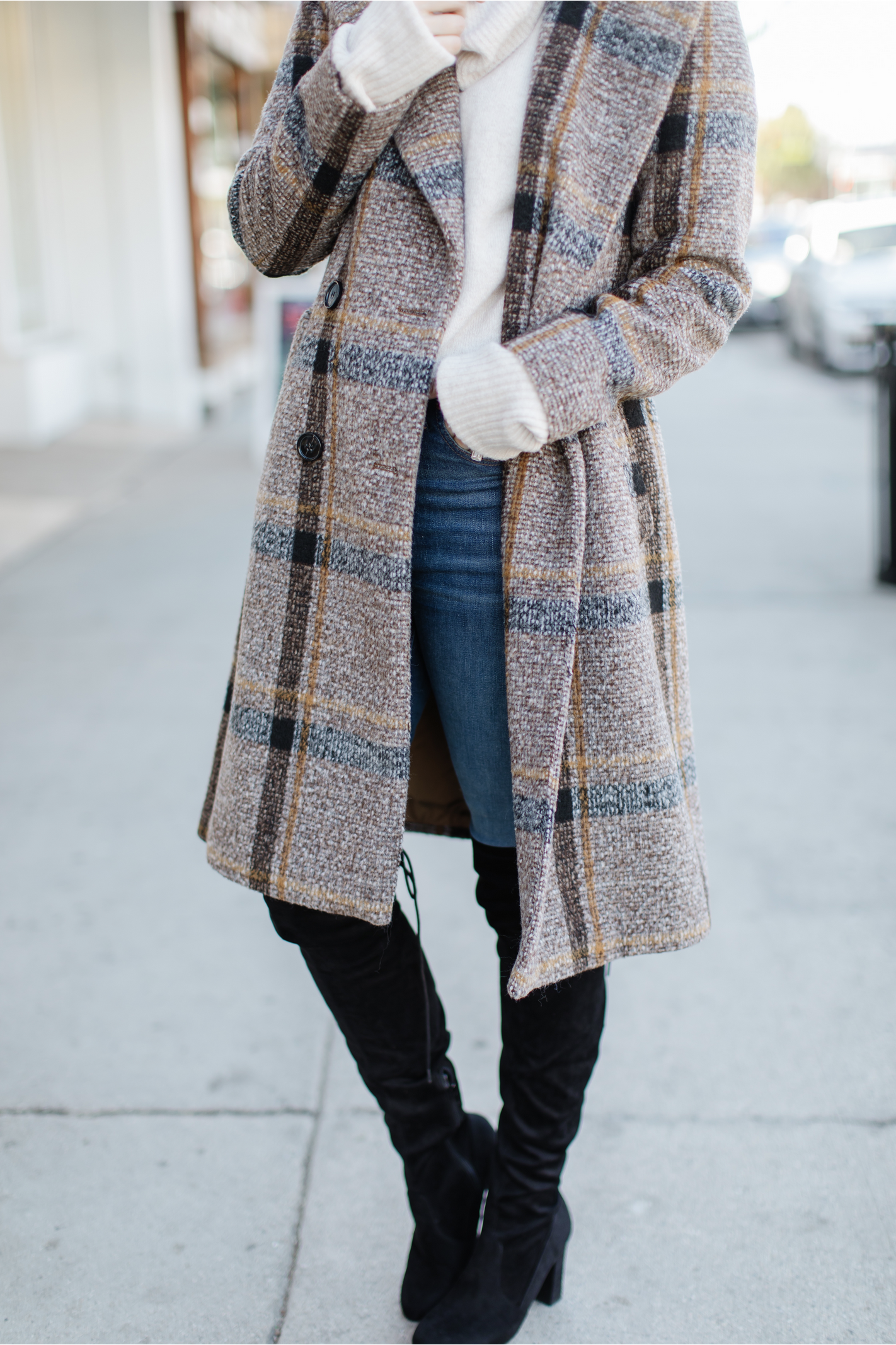 1. PLAID COAT | 2. SWEATER | 3. JEANS | 4. OTK BOOTS | 5. SUNLESS TANNER
I decided to wear this pair of black over-the-knee boots with the jacket because I just feel like it really kept the look sophisticated and expensive. I've had these boots for a few years now and they are a must get! I find myself wearing them with everything. And the heel is very comfortable. I'm not the type of girl that likes to walk around in heels, but I could walk around in these all day. You might recognize this boot because I think pretty much every blogger under the sun owns them. They're just so good! Plus, since I was wearing jeans and the cowl neck sweater under the jacket, I kind of felt like hiding some of the jean with over-the-knee boot would help look be more sophisticated and expensive looking. Don't you agree?

1. PLAID COAT | 2. SWEATER | 3. JEANS | 4. OTK BOOTS | 5. SUNLESS TANNER
LOOK TWO
I'm so so excited about this next look because this jacket is ridiculously affordable! I bought it for $58 and it was worth every penny! But I just saw that it's on sale right now for only $37?!?!?! Whatttt?!?!! Like, that is insane. You can't not get this!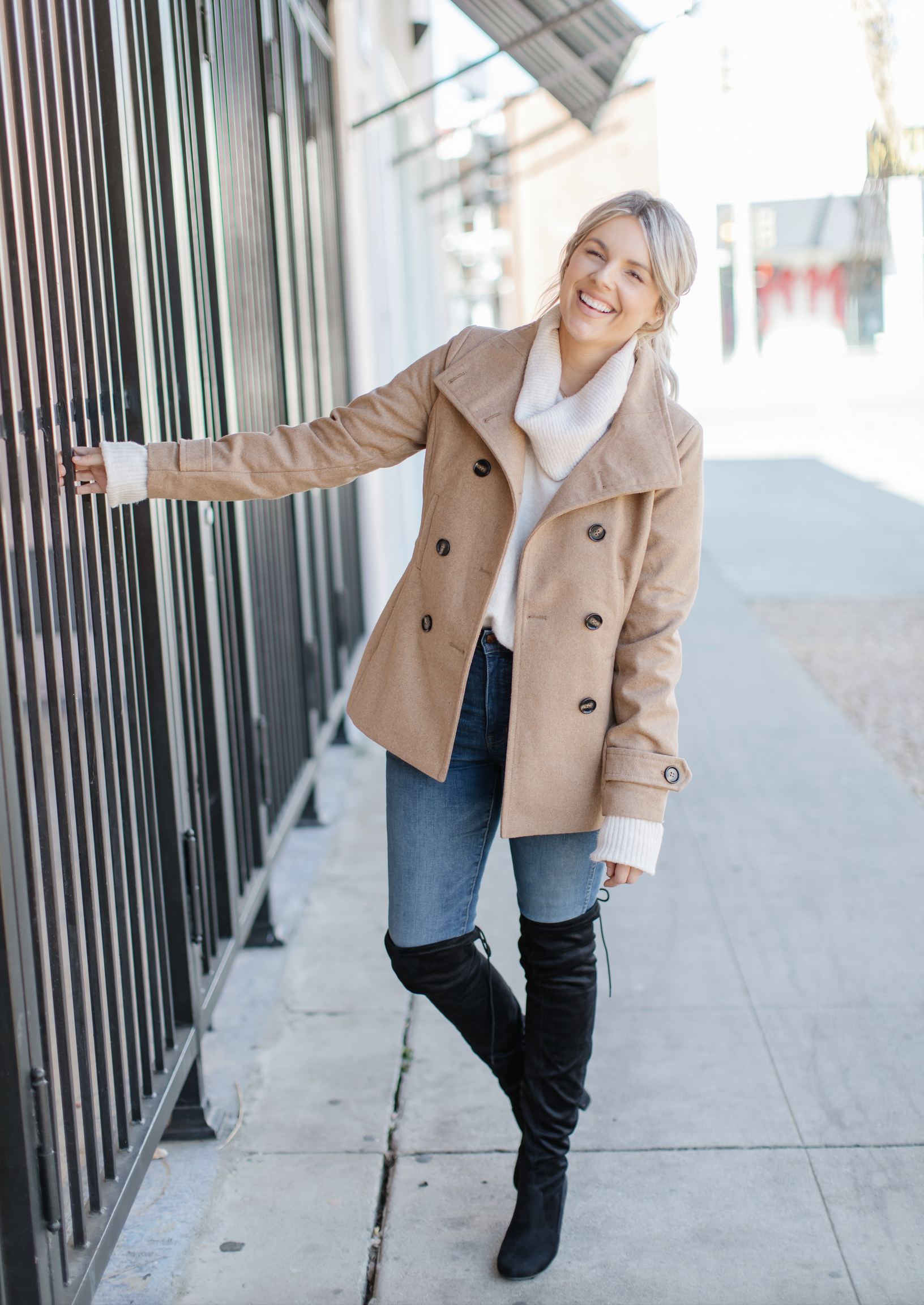 1. $37 PEACOAT | 2. SWEATER | 3. JEANS | 4. OTK BOOTS | 5. SUNLESS TANNER
I also think this jacket is so great if you live in some of the warmer areas of the country, or world really, because it's very lightweight. But it gives the illusion of being a heavier jacket. Don't get me wrong, pairing it with the cowl neck sweater underneath made it very warm! I could definitely wear it in the cooler climates! Maybe not for below zero temperatures, but definitely for freezing temperatures. But if I wear something like a bodysuit or tank top underneath, then it's absolutely perfect for the warmer climates.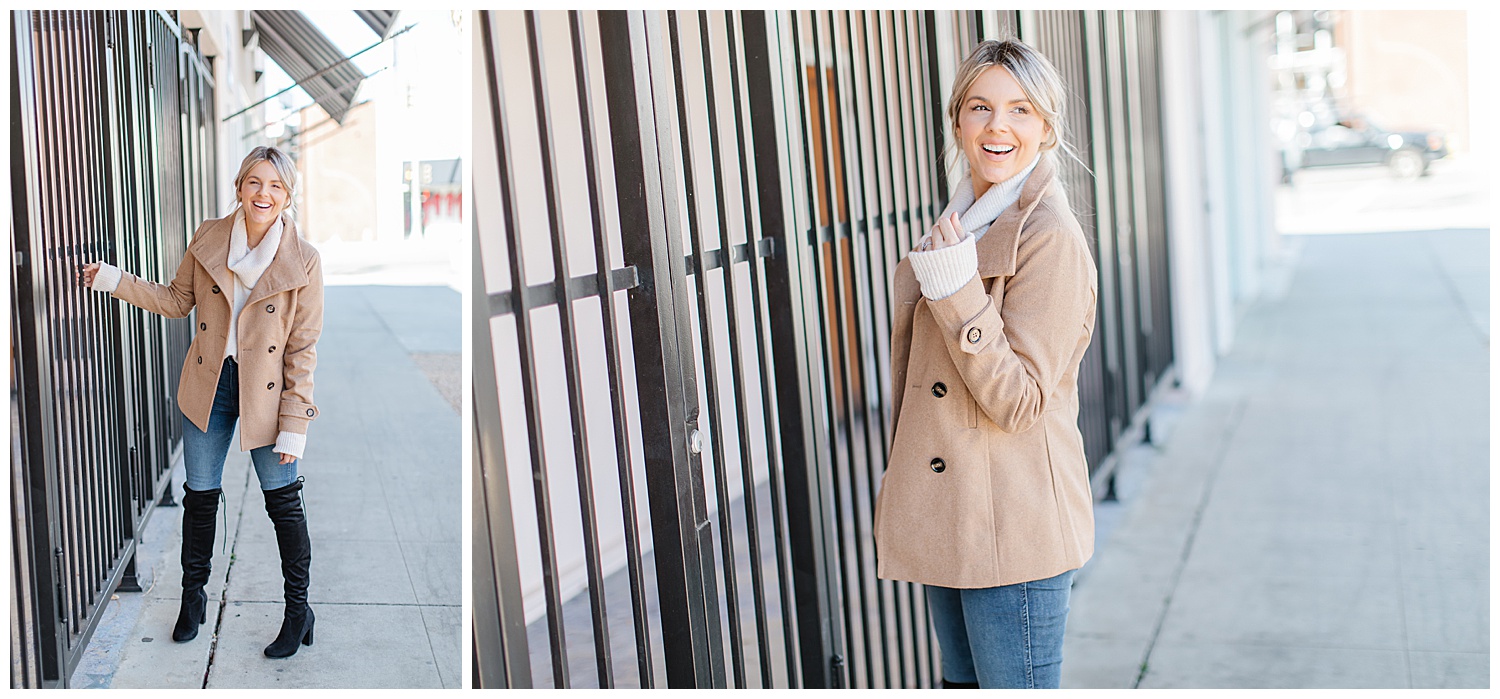 1. $37 PEACOAT | 2. SWEATER | 3. JEANS | 4. OTK BOOTS | 5. SUNLESS TANNER
I also absolutely love how my sweater cuffs/sleeves are peeking out from the bottom of the coat. Whenever I see somebody wearing a jacket where their sweater cuffs come out a few inches at the wrist, I always think it looks more stylish and expensive. That's one of the best things about the sweater. You can layer it with any jacket and the sleeves will poke out at the bottom of the jacket sleeve – making it look styled, expensive, and super cozy!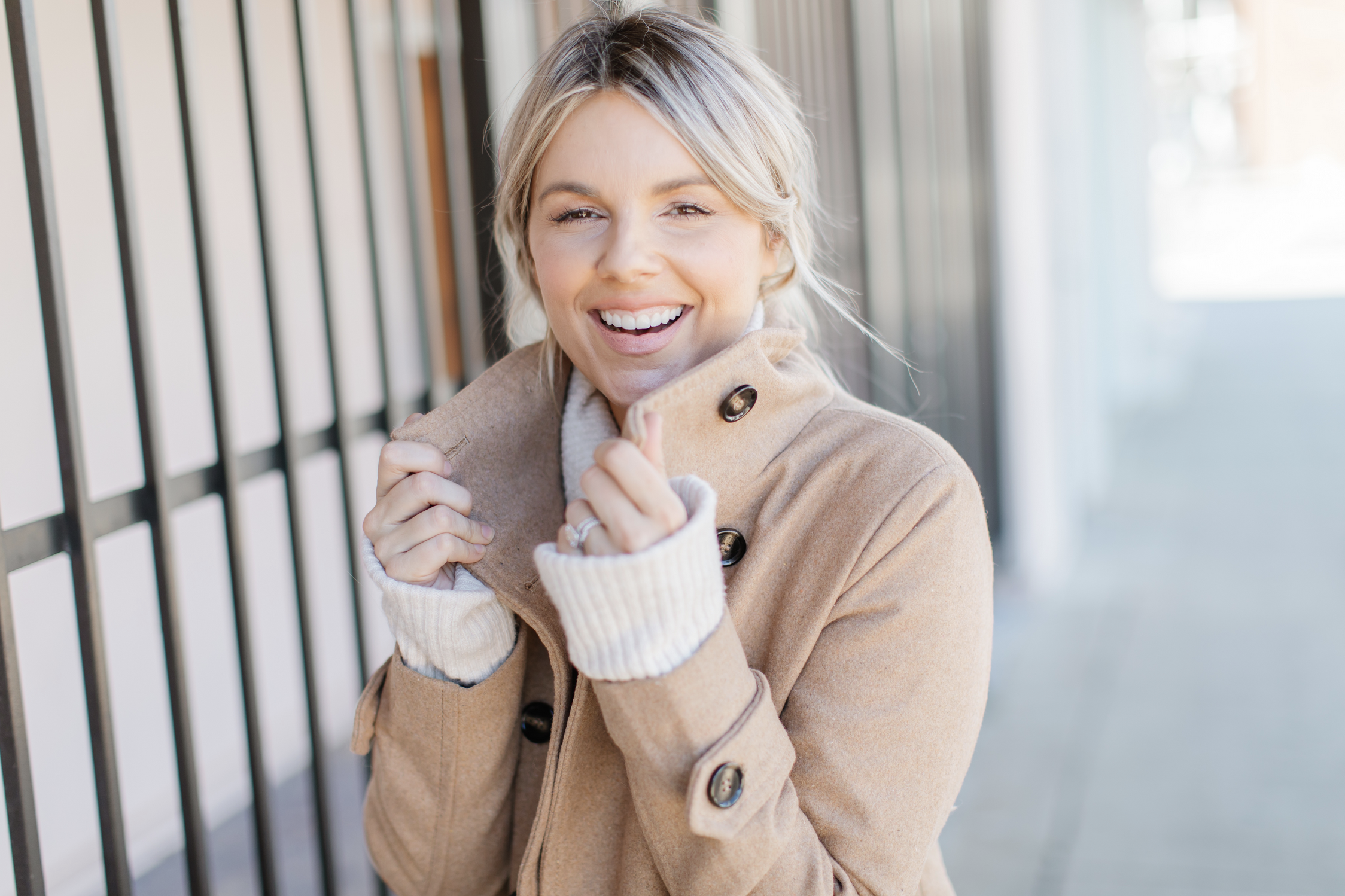 1. $37 PEACOAT | 2. SWEATER | 3. JEANS | 4. OTK BOOTS | 5. SUNLESS TANNER
I also decided to stick with the black over-the-knee boots for this look. Because this jacket is a little bit on the shorter side, I feel like a good over-the-knee boot is necessary if you have wider hips like I do. If you have really skinny legs and hips, then I think you could wear booties or anything with it. But for me, I always feel like an over-the-knee boot balances out the bottom part of my body with the upper part of my body.
LOOK THREE
This last look maybe last, but it definitely is not least! To be completely honest, this jacket is my favorite of the three. It really depends on your style for which one will be best for you, but I absolutely love this one! It has a little bit more of a boxy fit, but not too boxy so it looks flattering! It has just enough boxy-ness that it looks kind of artsy and expensive. Sometimes I don't know if the way I describe these things make sense all of you, but it makes sense in my mind. Ha! I also love the price of $130. I thought that price is really good for a mid-range jacket, especially because this one is thicker and will definitely keep you warm!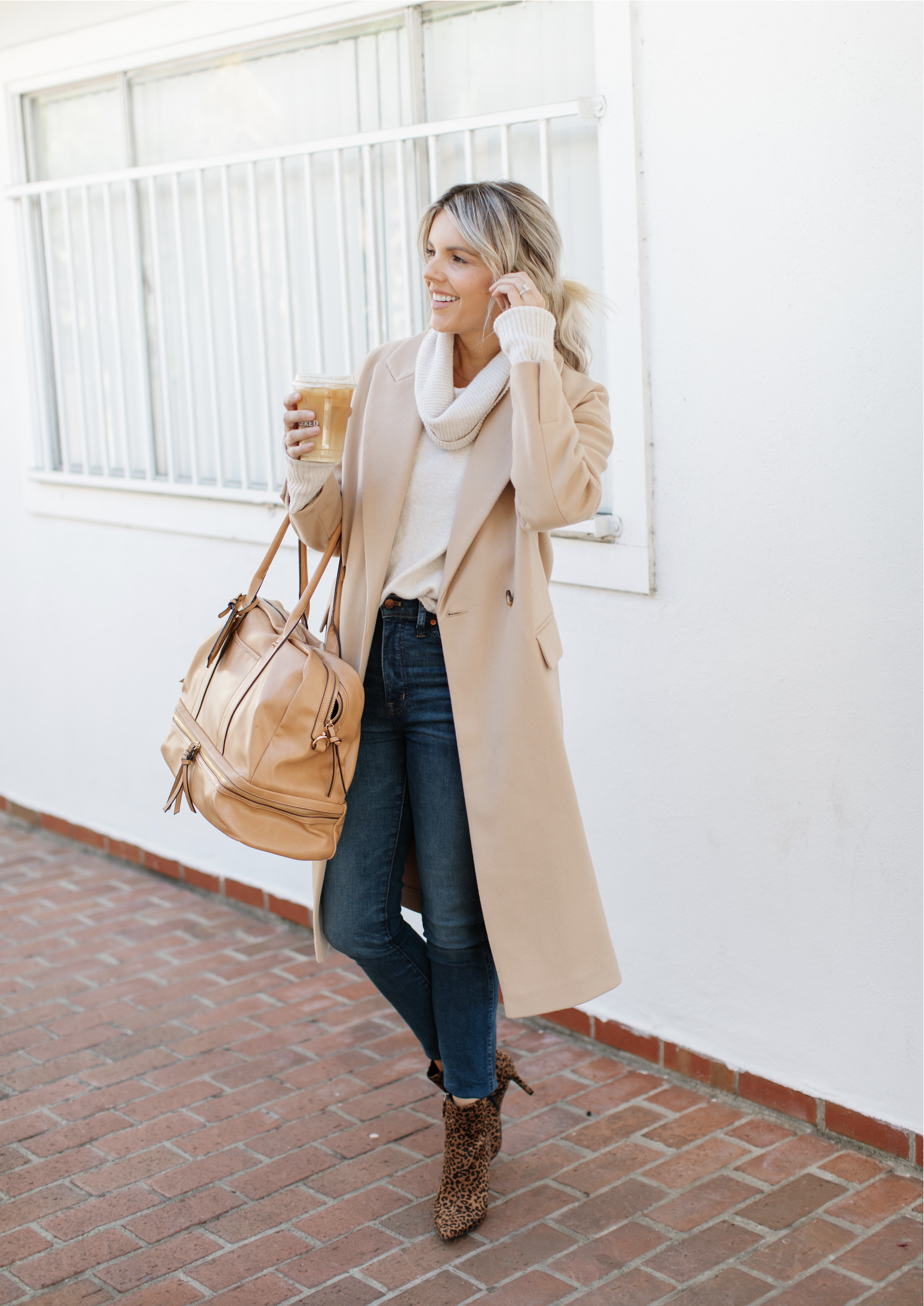 1. OVERSIZED COAT | 2. SWEATER | 3. JEANS | 4. LEOPARD BOOTIES | 5. WEEKENDER BAG
If you're wearing a normal sweater underneath, a big beautiful scarf would look gorgeous with this jacket. But because I'm wearing the cowl neck sweater underneath, I really didn't need to wear any scarf. And again, I love that the cuff of my sweater is poking out through the sleeves of my jacket. I just feel like it all looks so expensive!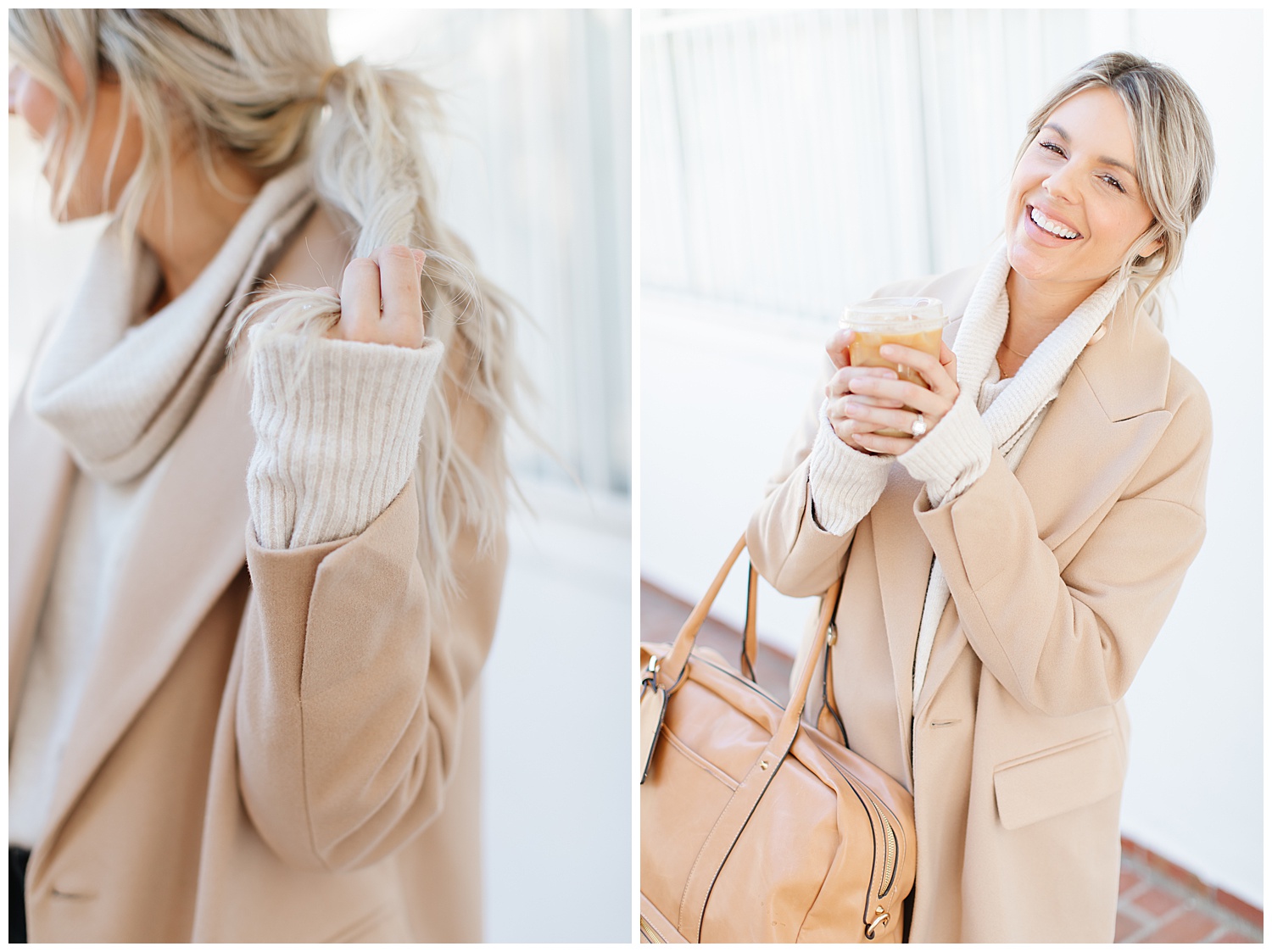 With this look, I decided to wear these leopard booties that I got from Nordstrom. I freaking love these boots! You guys know how much I love leopard. I pretty much have 6+ pairs of leopard shoes. I'm just obsessed! And I really love these because I feel like the shape of the bootie is high fashion and again looks expensive. But they're not expensive at all! They're under $80 and really great quality. So I think you guys will really love these!

1. OVERSIZED COAT | 2. SWEATER | 3. JEANS | 4. LEOPARD BOOTIES | 5. WEEKENDER BAG
Just to be completely honest, sometimes I feel like I have a hard time finding booties that work for me. I don't know if I'm not styling them right or what but something about having wider hips and buys make me a little self-conscious about wearing booties sometimes. But these ones don't feel that way to me. I really love them! I'm wearing the Madewell jeans, but I just cuffed the fringed bottom underneath to give it a more sleek look.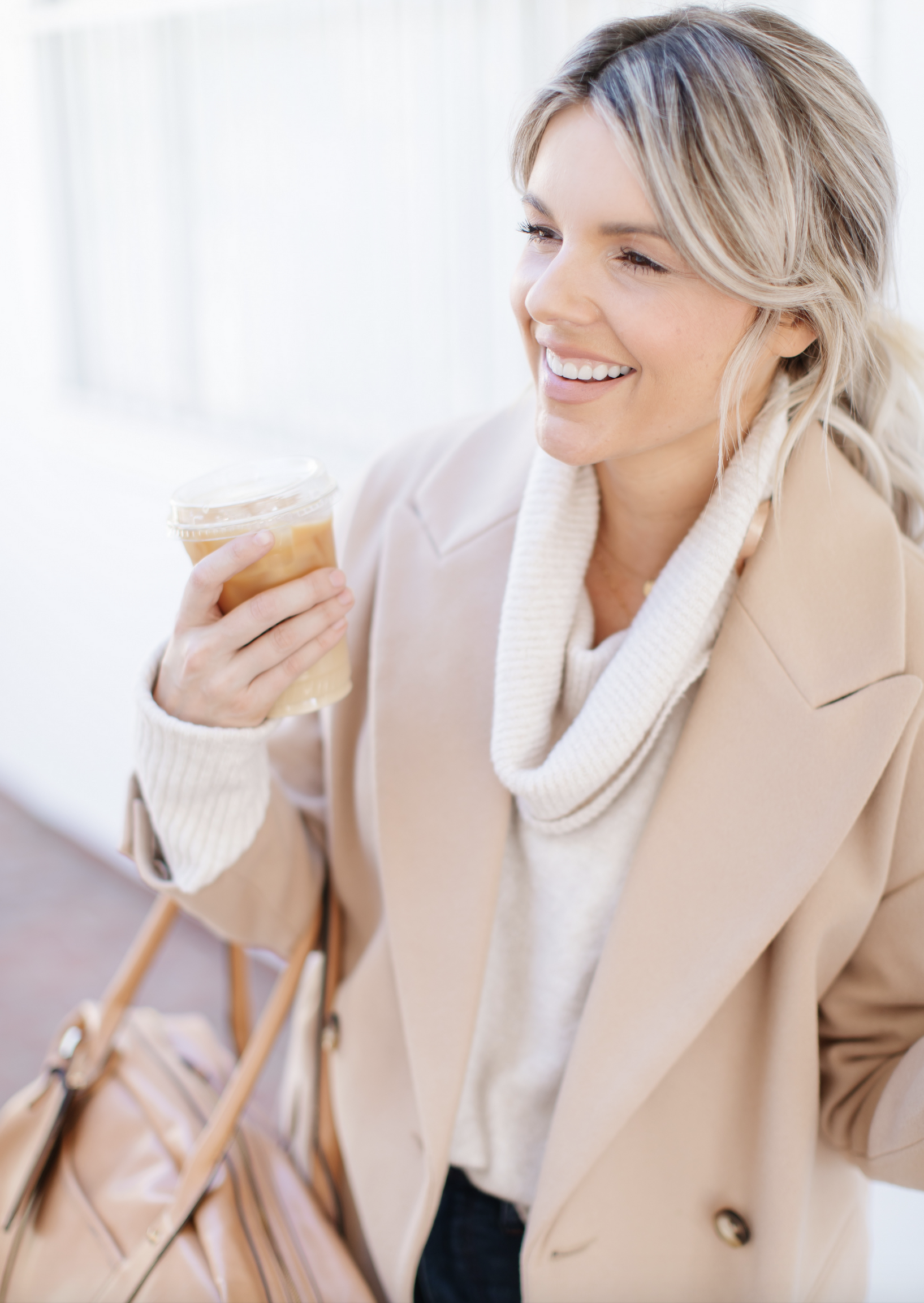 1. OVERSIZED COAT | 2. SWEATER | 3. JEANS | 4. LEOPARD BOOTIES | 5. WEEKENDER BAG
Also, you've probably noticed this weekender bag in some of my pictures above. I feel like I've been carrying it around everywhere with me lately because I've been working so much and I have to carry so much stuff around. Also, I love that it has the zipper at the bottom to put your shoes in so they're not mixed in with all your clothes, if you actually use it as a weekend bag and put clothes in it. I bring it to work a lot and put my shoes in the bottom and my clothes for the show in the bag. I never wear my set clothes to work because I am in hair and makeup for a while and then we eat food and I don't want to make a mess before I'm actually on TV. Ha!
BONUS LOOK WITH MY NEW JACKET!
I just want to quickly share these last few photos with you guys to show you another option for wearing the above jacket if you live in warmer climates. This jacket definitely is on the heavier side. But if you wear it with a tank or bodysuit underneath then it's totally doable for nighttime if you live in a warmer climate.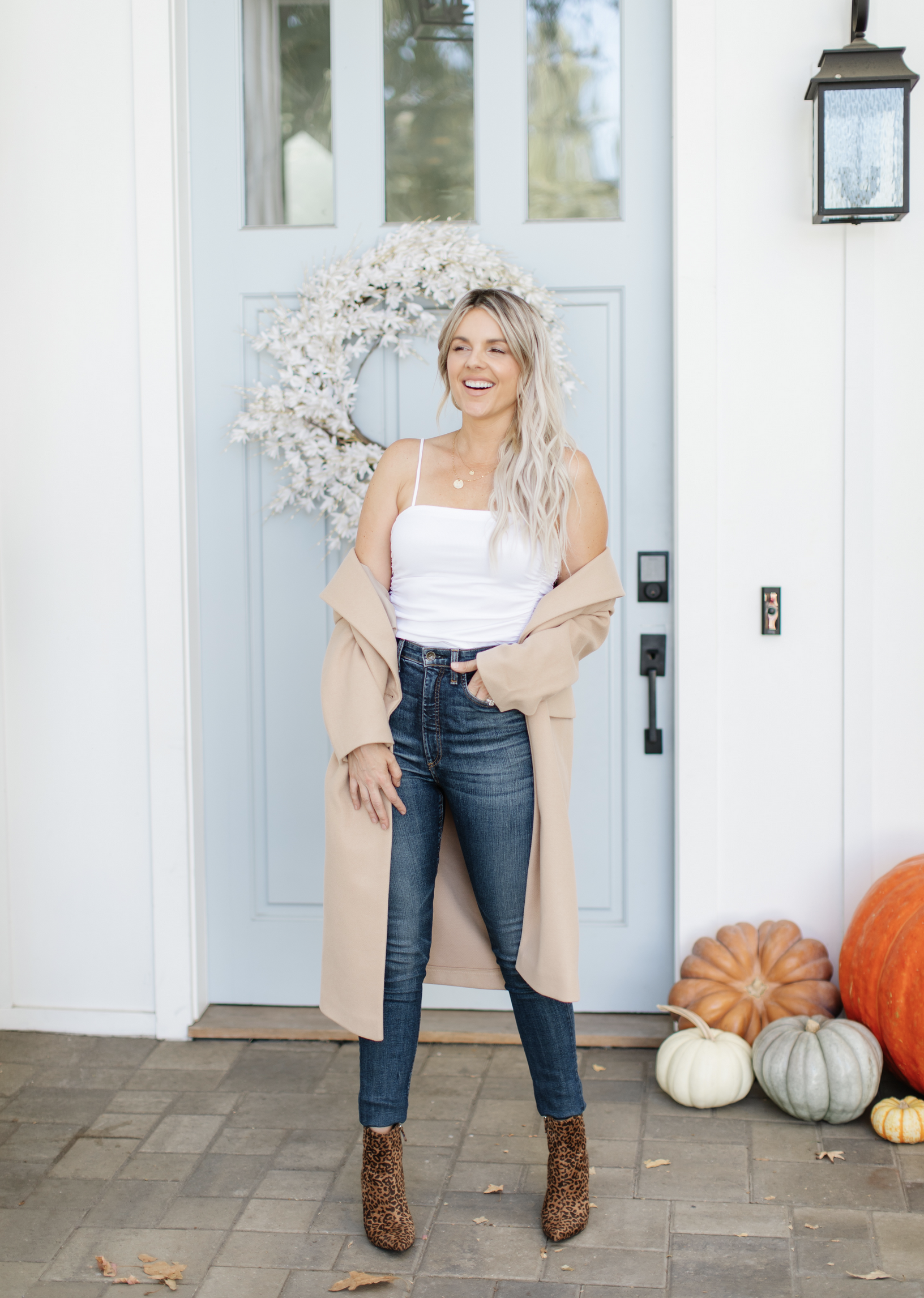 1. OVERSIZED COAT | 2. BODYSUIT | 3. JEANS | 4. LEOPARD BOOTIES | 5. SUNLESS TANNER
I live in Los Angeles and I plan on wearing it whenever possible in the evening! Or even in the cooler mornings. I just probably won't wear a sweater underneath it. Instead, I'll probably wear something like this white bodysuit that I'm wearing in these photos.
By the way, if you haven't read my blog post about this body suit yet, you have to read it! It is one of my favorite items ever! I never thought I could wear a white bodysuit in 1 million years but this one is so flattering because of the rouching in the midsection. Again, it's one of those pieces that my girlfriends constantly asked me about and they end up going and buying for themselves because it's so great! Read my full review of it here. But use the links in this post if you wanna buy it. For some reason the links on that blog post show it as sold out. But it is totally fully in stock this link!

1. OVERSIZED COAT | 2. BODYSUIT | 3. JEANS | 4. LEOPARD BOOTIES | 5. SUNLESS TANNER
Anyway, I hope you guys love today's blog post! You guys know how much I love Nordstrom and I really wanted to pick some incredible pieces that I truly love to share with all of you. So I hope you're able to get one of these amazing jackets that fits within your budget. And hopefully I was able to provide a little insight into styling them this fall and winter as well!
Thank you Nordstrom for partnering with me on this post!!!