Welcome to my next Ali Manno home tour blog! This post is all about Riley's room and photos are by Amy Demos! I just love his sweet little room. I definitely need to add some more textures and items to the room to make it feel more cozy, but so far so good!
Let's start with the focal point of the room and that's the bunkbeds! I wish I had a link to what we have, but we had our builder custom make these bunkbeds for us are they're built into the house. However I did find a few similar options on Etsy  and PB Kids for you guys if you want some thing similar for your home!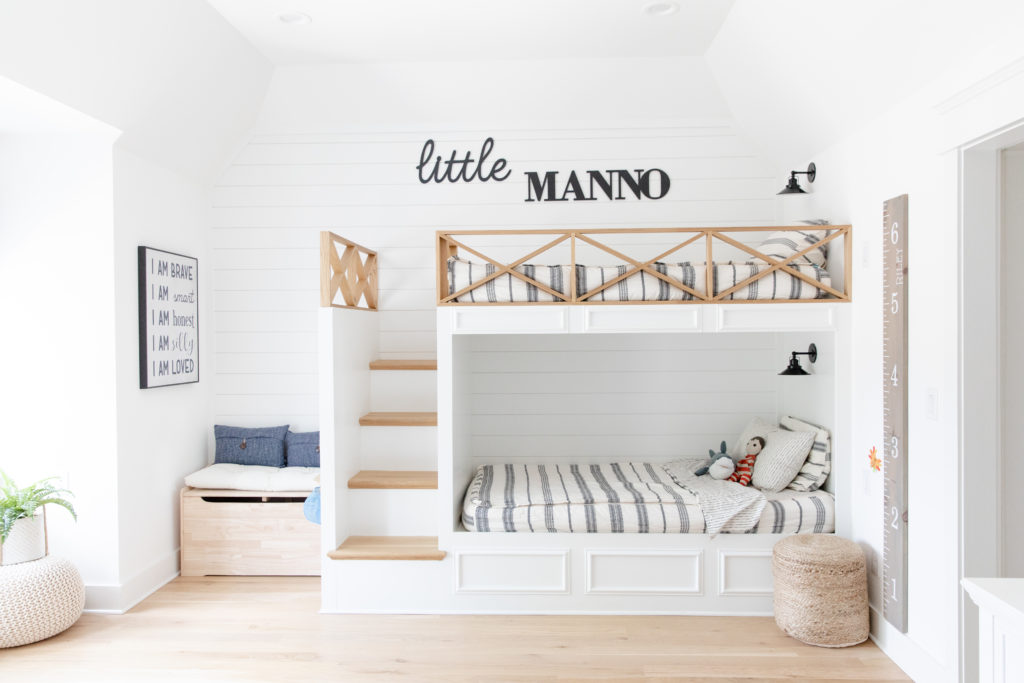 1. SIGN | 2. POUF | 3. HEIGHT CHART | 4. TRUNK | 5. 'I AM BRAVE' ART | 6. PILLOWS
If you do have bunkbeds, my goodness Beddy's bedding is essential! They have so many cute styles that it was really hard for me to settle on one, but I ended up going with the Ashton Luxe bedding. I just really like the print.
The sign above his bed is something that we got from Etsy for his first birthday party. The sign said 'Our Little Manno". So I just took the Little Manno part of it and used command strips to attach it to the wall and I think it's perfect! He is a little Manno!

1. RILEY'S SHIRT | 2. AMIGO
The little area to the left of his bed is a little reading nook that I actually blogged about ones before here. But I'll add some of those photos below. I took the photos below, but all the other photos in this blog post are by Amy Demos. She is seriously the most incredible photographer. She offers a free photography class on her site FYI. Definitely check it out if you want to learn about taking good pictures. I took it and loved it! Her and her husband are just the cutest!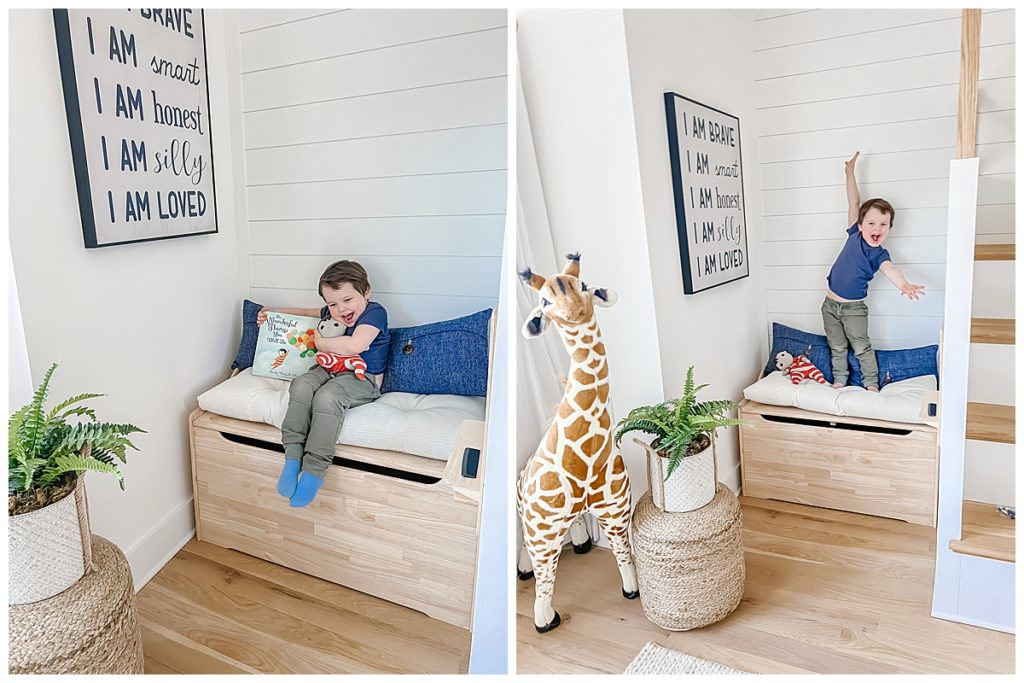 1. 'I AM BRAVE' ART | 2. WOODEN TRUNK | 3. CUSHION | 4. 'THE WONDERFUL THINGS YOU WILL BE' BOOK | 5. AMIGO DOLL | 6. GIRAFFE | 7. JUTE POUF | 8. 2-PACK LUMBAR PILLOWS 
We didn't add drapes to Riley's room, but honestly now looking at this I'm almost feeling like maybe we should. In fact, I think I'm gonna reach out to 3 Day Blinds to order them! Thankfully using this link I can get buy one get one 50% off. So if you're interested in using them, definitely use this link or just tell them you heard about it from me to get the deal. They will also be able to tell you the name of the fabric we used for Riley's blinds. How stinking cute are they?! I love the print. It goes so well with his bedding. And just adds so much character to the room. We got automatic blinds so that we can make his room super dark with the click of a button! Comes in super handy at bedtime!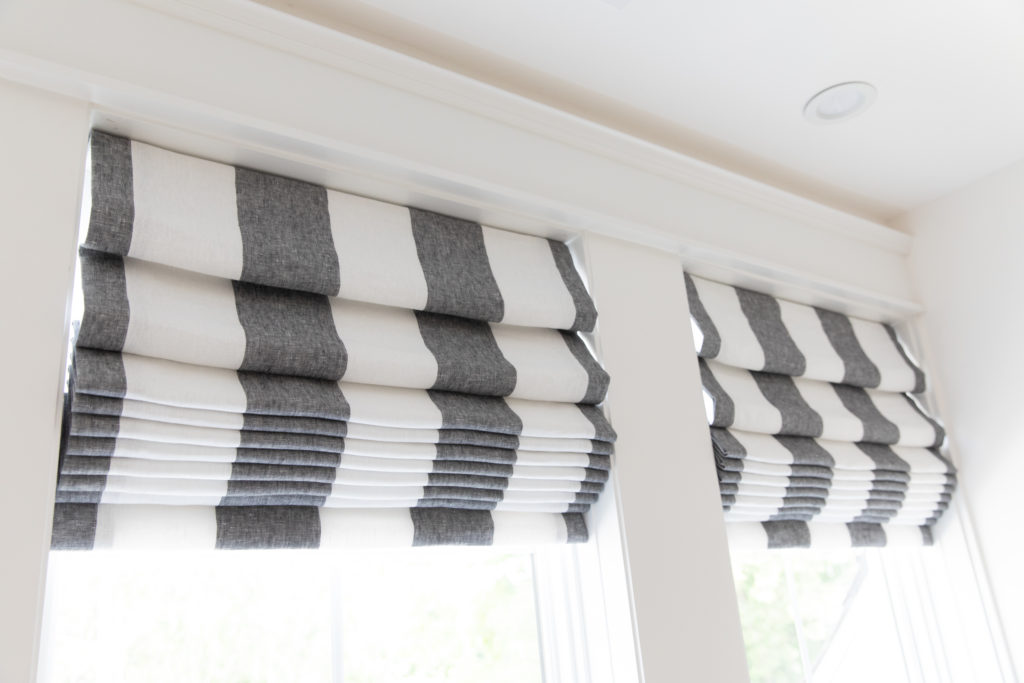 I've also shared Riley's desk space once before. But I'll share everything here again. Everything from his desk to his chair to the artwork is from Walmart and affordable! It really is such a cute little space. My only regret is not hooking up the cords properly, not only in general, but also for these pictures. It's so easy just to take them to the bottom or back of the desk to hide them and I totally didn't for these pictures and I'm kicking myself for it. Ha!

1. DESK | 2. CHAIR | 3. LAMP | 4. FAUX OLIVE TREE | . FAUX PLANT | 7. MOON LAMP
Also a lot of the artwork in our house is from Walmart believe it or not. At some point, I truly hope that I find a piece somewhere that is by an artist and I am able to save up my pennies and splurge on it! But since I had to furnish this entire house within the last year, I really need to try to save wherever I can so art is one of the places I saved! But the artwork above his desk and the giraffe in a bath to print in his bathroom are both from Walmart and linked below.

1. ABC ART | 2. GIRAFFE BATH ART | 3.  'I AM BRAVE' ART
I love the chair at his desk so much that I have these exact chairs around my dining room table in our dining room. They are super affordable and just looks so pretty and give the farm house vibe that I love.
Are you sick of seeing this faux olive tree throughout my house yet? Ha! I only have about five of them throughout the house. I just love them! They're so great for adding some visual interest to small spaces. Because it's so skinny but also has height!

1. SIGN | 2. HEIGHT CHART | 3. GIRAFFE | 4. JUTE POUF
And let's not forget about his height chart! We've had this since his first birthday and every year on his birthday we take his height! I'll also link the little pouf next to it because it's from Walmart and super affordable.
A couple other things in his room that I'll share links for are his rug that we brought with us from his room in California, and this oversized giraffe that we also brought with us. We didn't get to bring that much from California because we only had one shipping container coming to Nashville and then a small one going to Valparaiso, Indiana while we stayed there so we really had to pick and choose our most favorite items and the giraffe was Riley's favorite and the rug was mine!
Hope You Love Riley's Room as Much as He Does!
This is his perfect little space and he loves it so much – especially since I let him help choose some of the art! What room do you want to see next? Let me know in the comments below!