My goodness am I excited to share this little space in Riley's room with you guys. I love it so so so much. Truly I can't even really begin to tell you how happy I feel every time I complete another space in our house. It just gives so much more warmth to our home and therefore it makes me feel more warmth. Anyway, I'm considering today an Affordable Friday home decor post because everything that I got to complete this desk space in Riley's room is affordable! So I'm gonna go ahead and start with the desk because that is the biggest piece and it is such a great deal!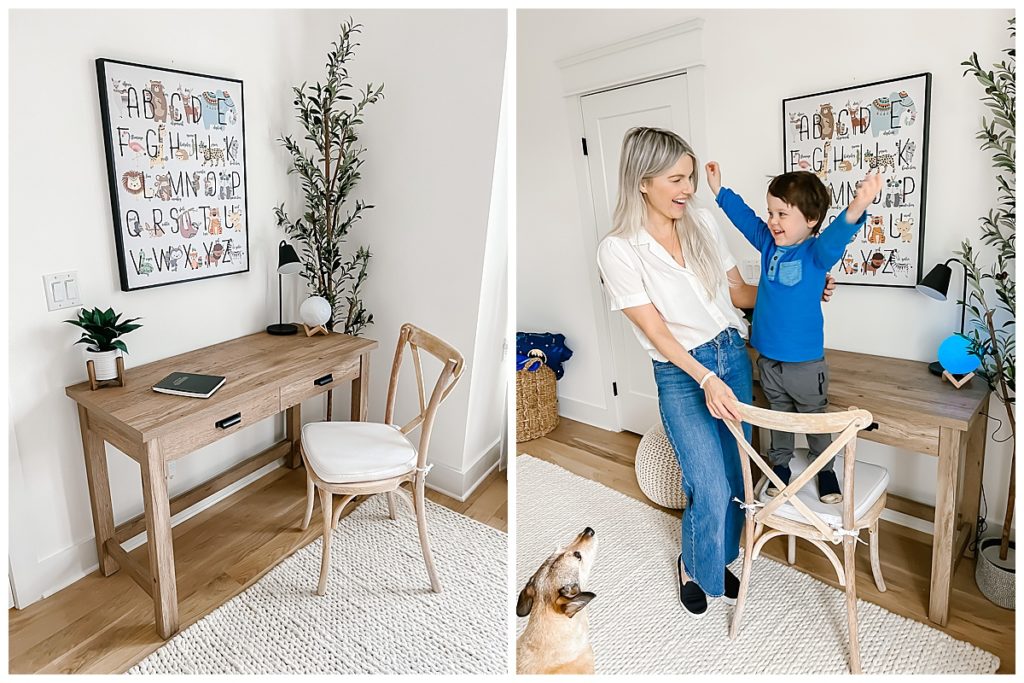 1. DESK | 2. CHAIR | 3. LAMP | 4. FAUX OLIVE TREE | 5. ABC ART | 6. FAUX PLANT | 7. MOON LAMP | 8. NOTEBOOK
Desk
I'll start with the price because I think it's incredible. I got this desk for Riley for $179! I know that isn't super super affordable, but when I take into account the gorgeous farmhouse style, the incredible quality, the fact that it has a built-in power source, and the price… altogether, I think it's a steal! It's funny because I think that I'm used to prices from furniture from like six years ago when we first bought the majority of our furniture for our first home. Prices were just so much less back then. But now that I'm furnishing our new home and realizing just how expensive furniture is, it makes me realize even more what a steal finding a beautiful desk for $179 is. Not to mention I got it within a few days of purchasing it. So the price combined with the speed in which it came is amazing! Some furniture can take months to be delivered nowadays!

1. DESK | 2. CHAIR | 3. LAMP | 4. FAUX OLIVE TREE | 5. ABC ART | 6. FAUX PLANT | 7. MOON LAMP | 8. NOTEBOOK
ABC Art
Let's talk about the art because I feel like that's the other big statement for this area. I really wanted the artwork above Riley's desk to be something that he would like to look at, but also educational. Since Riley is still learning his letters, I thought this alphabet art was perfect! I got this rather large size for just around $80 – an incredible price for artwork. But depending on what size you get, you can get this print for as low as $27. You could also get it with a gray frame or a white frame or even just on canvas depending on what size you get. Everything in this post, like most of my Affordable Friday posts, is from Walmart. I highly recommend checking them out for artwork because they have so many great prints and good prices. At the end of this post, I'm actually going to show you one more piece of art that we got for Riley's bathroom that is one of his favorite things ever!

1. DESK | 2. CHAIR | 3. LAMP | 4. FAUX OLIVE TREE | 5. ABC ART | 6. FAUX PLANT | 7. MOON LAMP | 8. NOTEBOOK
Faux Olive Tree
Also… I actually take back that there's only two focus pieces in the space. I definitely think the olive tree is the third main piece that really makes it work. I needed some height on the other side of the desk to fill in the wall space. I was gonna put more artwork there but I thought it would be a little bit too much so I decided to go with this faux olive tree. You might recognize it because I've used this olive tree in multiple places in our home. I just love it so much because I think it's beautiful, but it's also really tall and skinny so it can sit in small spaces which helps me out so much with decorating. I always feel like there's these weird little corners that I don't know what to do with so I put this olive tree there. Ha! This is the same olive tree that's in front of the mirror that we have in the front entrance of our home that people ask me about all the time.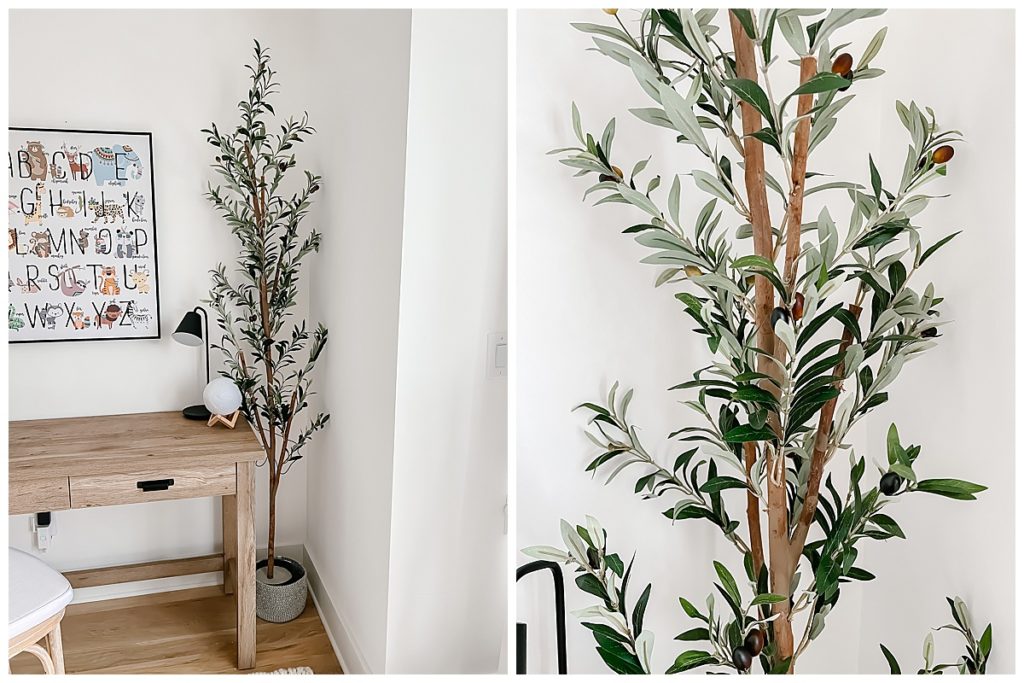 I thought about getting a real plant to put on his desk, but knowing my three year old, I knew that would be an absolute disaster in terms of making a mess so I got him this faux plant for just $14.97. It's cute and adds some detail to the desk and is affordable. Another really affordable piece that I got was this small spiral journal that again is really pretty decor wise but super affordable – it is $4.
Lamp
Every great desk needs a lamp, so I used this black table lamp that you might recognize because I also have them in our guest room. I just liked them so much in there and they're such a great price at $35 that I got another for Riley's desk. It also has a big button on the core that Riley easily can find to push to turn it on and off, which I wanted to get for him over a little thing on the side that he had to twist which would be hard for him to do.
Moon Light
Seriously get your child this little 3-D color changing moon lamp. It's only $11 so the price is so good and they will love it! Riley's never had a nightlight, but lately he's been more scared about the dark when he goes to bed so we've been leaving his door open. But now that we have this moon, we've been using it instead and he just thinks it's so much fun. It comes with a little remote that has all these different color buttons on it and depending on what color he hits the moon changes that color. It's so fun for him and functional. Plus, I absolutely love that I'm able to plug it in on the side of the desk where the built-in USB plug is. So another plus for the functionality of the desk!

1. DESK | 2. CHAIR | 3. LAMP | 4. FAUX OLIVE TREE | 5. ABC ART | 6. FAUX PLANT | 7. MOON LAMP | 8. NOTEBOOK
Chair
What are you guys thinking about this chair in the space? I grabbed this chair from our dining room table to see what it would look like cause I was so undecided on what chair to get for the space. I kinda like it, but I don't know if I love it. I love it around our dining room table. Which by the way I get asked where I got those dining room chairs from all the time, so here's the link for those of you wondering. They're so great and affordable and come in sets of two. But what do you think about it for the desk? Tell me in the comments below. I'm also going to link a few other options I was thinking would work for the desk and I would love your guys opinions in the comments below on which one would work best for the desk! Should I get one of the ones I linked? Or do you like the one I have there now?

I like all the ones I linked above, but I'd say the top two for me right now are this one and this one.
Oh and something funny about this one, it says the normal price is $10,000 (yes, ten thousand) but it is on sale for $77 – I'd say that's a major steal at more than 99% off, haha!
More Art
Last but not least, I have to circle back to the artwork I was telling you about that's in Riley's bathroom. You guys probably know that Riley has a giant giraffe that he calls T-Bob and he loves it so much. He has the big giraffe in his room (that's 'Big T-Bob')and then a little tiny one that he calls little tea Bob. So when I was online looking for artwork for his desk, Molly was sitting on my lap and she saw this piece with the giraffe sitting in the bathtub and she jumped up and down saying we had to get it for Riley because it was T-Bob taking a bath! I couldn't have agreed with her more and ordered it on the spot.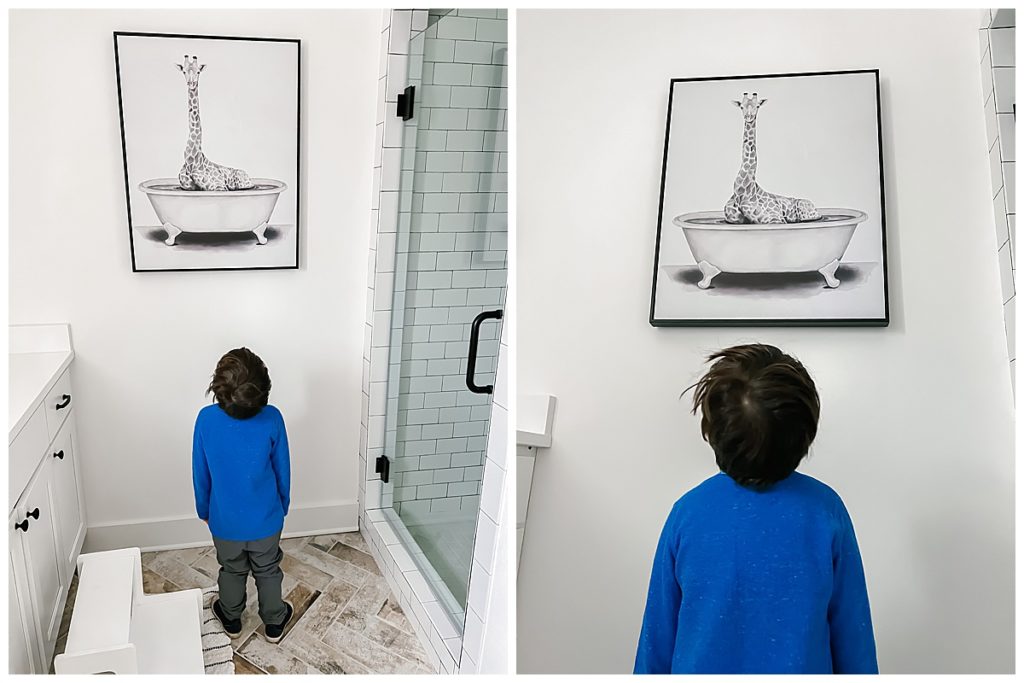 They also have a bunch of other different animals in bathtubs and I'll link some of them below but check out Walmart site to see all of them. So if your child likes any of these animals they might think this is such a fun, silly print to have as well! I put it in Riley's bathroom since he has a bathroom off of his bedroom. But it would be just as cute in a child's room. It also comes in a bunch of different sizes and great price points.

Have a Wonderful Weekend!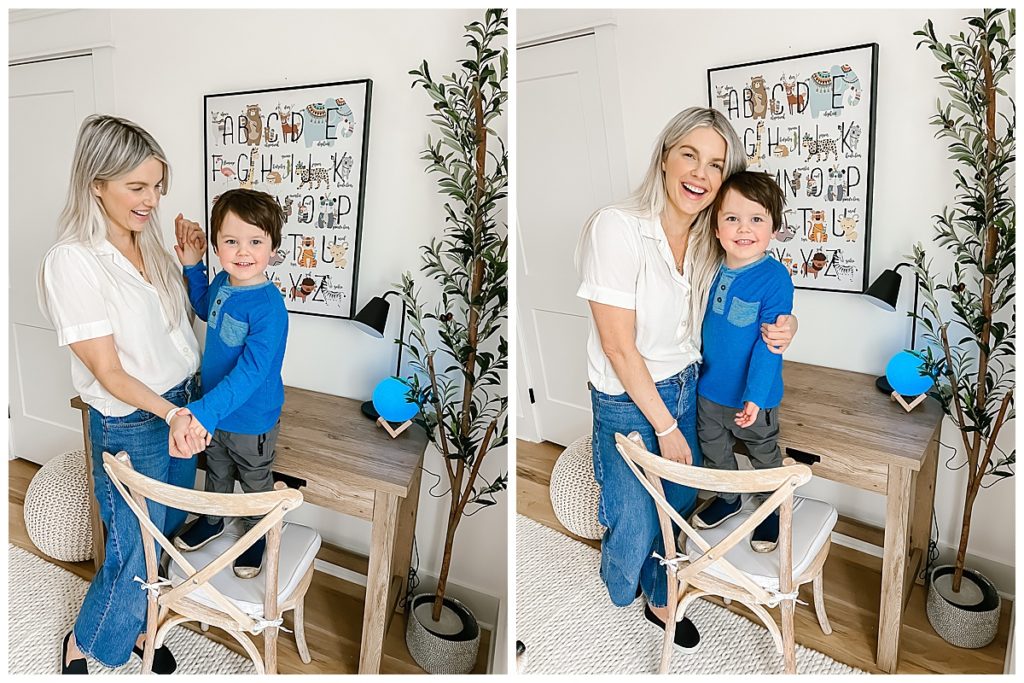 1. DESK | 2. CHAIR | 3. LAMP | 4. FAUX OLIVE TREE | 5. ABC ART | 6. FAUX PLANT | 7. MOON LAMP | 8. NOTEBOOK
Well that's all for me! Don't forget to tell me which hair you think would work best and if you have any other questions or comments leave them for me below!