So excited to share this little precious space in Riley's room with you guys because you are the ones that helped me with the idea! A few weeks back I asked you all on my Instagram story what you thought I should do with this small space next to Riley's bunkbeds, and the vast majority of people said that I should turn it into a little reading nook.  I absolutely love that idea because there's no space for me to comfortably sit with Riley in his room and read a book before bed. We normally read books in Molly's bed just because it's hard for all of us to get into the bunk bed especially with his bed rail on there. So it was the perfect idea for it so thank you guys!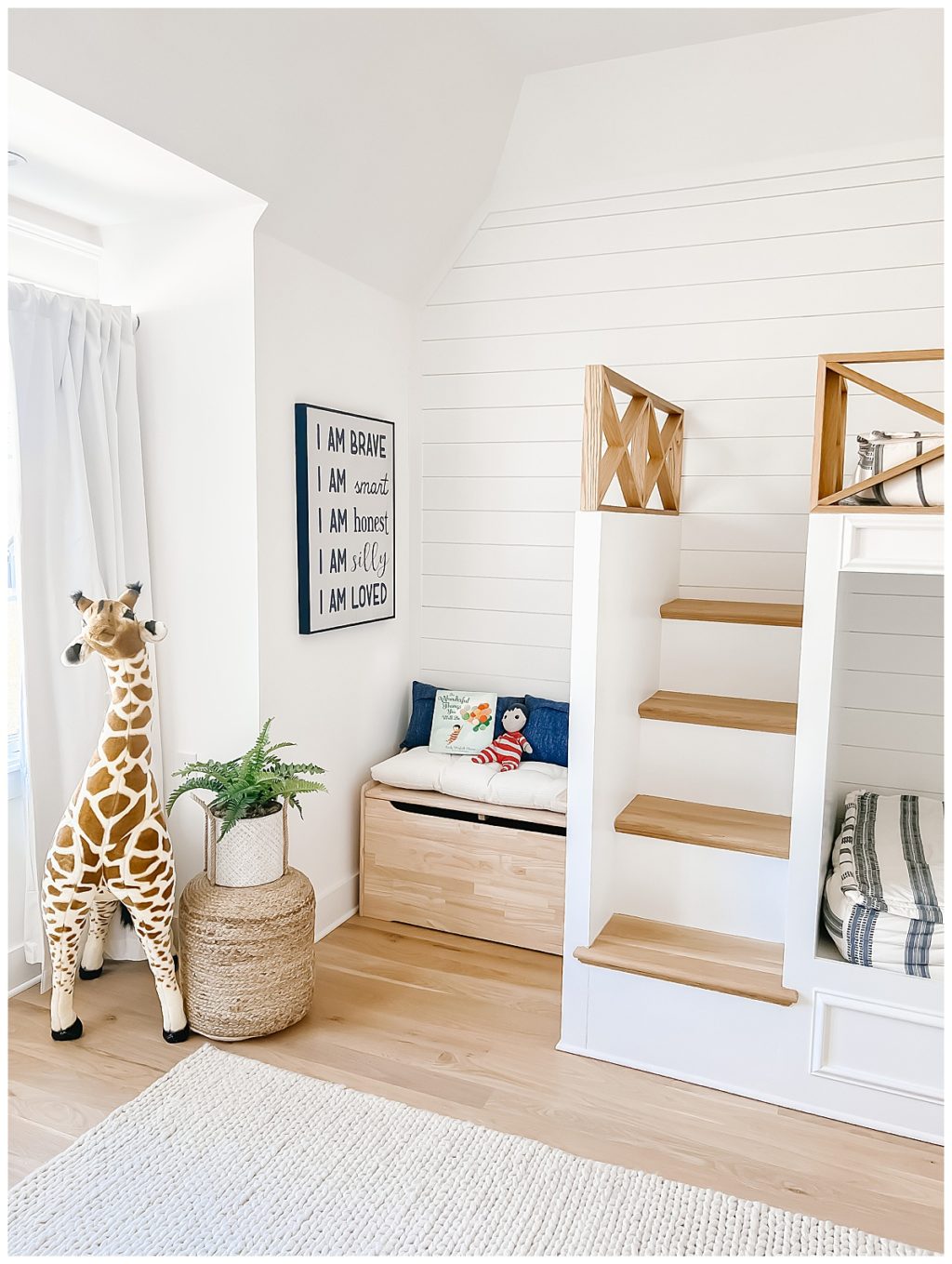 1. 'I AM BRAVE' ART | 2. WOODEN TRUNK | 3. CUSHION | 4. 'THE WONDERFUL THINGS YOU WILL BE' BOOK | 5. AMIGO DOLL | 6. GIRAFFE | 7. JUTE POUF | 8. 2-PACK LUMBAR PILLOWS 
You know me – I'm always wanting to find ways to furnish my house in an affordable way so I was determined to find great quality, but reasonably priced things to decorate the space. Starting with the artwork! I really wanted the art in his room to be some thing that looks nice, but also meant something. When I saw this piece for under $100, I am immediately fell in love with it! In fact, you can get it right around $20 if you get the smaller size. I got the size 24″ x 30″ because I really wanted to fill up the space on the wall next to his bed. But it comes in a bunch of different sizes to get the right size for your space. The framed version in that size is $83, but if you want to just get the canvas version that's half the price and only $40! Both would have an incredible impact on your wall and that's such a great price for beautiful art.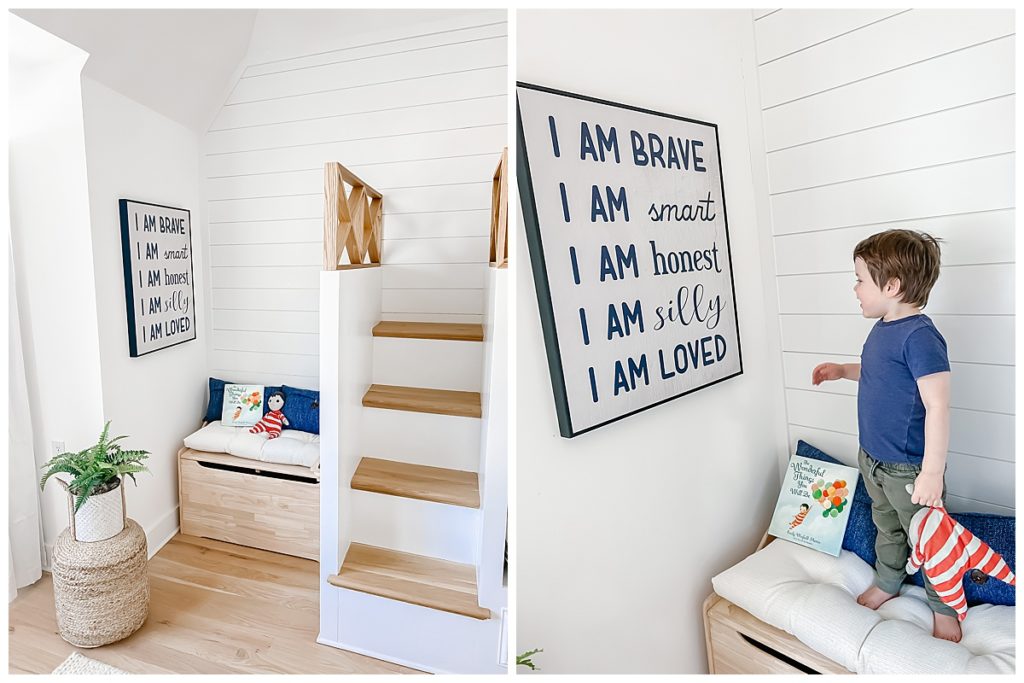 1. 'I AM BRAVE' ART | 2. WOODEN TRUNK | 3. CUSHION | 4. 'THE WONDERFUL THINGS YOU WILL BE' BOOK | 5. AMIGO DOLL | 6. GIRAFFE | 7. JUTE POUF | 8. 2-PACK LUMBAR PILLOWS 
I guess the reason I think this artwork is so beautiful is that it just tugged at my heart strings. When I saw and read it, I almost teared up thinking about Riley and how he is all of those things! Brave, smart, honest, silly, and so so so so so loved! This piece is beautiful, thoughtful, and looks really nice compared to some other kiddo artwork that maybe isn't just quite what I was looking for for my home, if you know what I mean.
Also wanted to share some other art from Walmart that I looooove! Linked below! I am going to get the ballet slippers for Molly's room.

Another piece that absolutely made the space is the wooden storage trunk. It's on sale right now for $200 and while that's a little bit more than I wanted to spend for the bench/storage shrunk, I think it's worth every penny. I paid a little bit more because the reviews were just really really really positive and that was encouraging to me. But now that I have it and see it in the space, I am more in love with it then I possibly could be!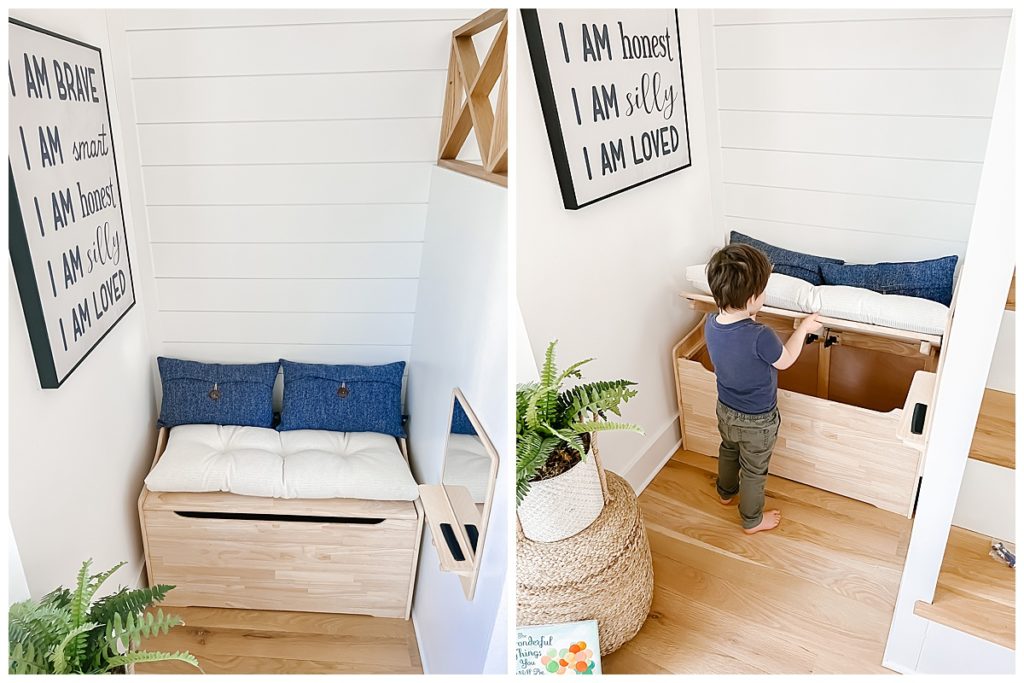 1. WOODEN TRUNK | 2. CUSHION | 3. 2-PACK LUMBAR PILLOWS 
The color is just a beautiful light natural looking wood and the quality is amazing! What's so so so great about this trunk that I'm excited to share with you guys is that it comes in three different sizes: 29″, 38″, and 47″. So you can get one that fits the space that you need. The price varies depending on what size you get. For me, the 38 inch fit the space perfectly! Plus I love the dual function that it's a seat that Riley and I can sit on to read books or he can curl up alone to read in the future, plus it doubles as toy storage!
Speaking of it being a seat. I wanted to get a cushion to put on top of it for when we were sitting on it. I could've just used pillows, but I thought the cushion would make it extra comfy for him when he's just hanging up here. I found this cushion for only $33. It's 36 inches and I love the tufted looked. It also has gripping on the bottom of it so it doesn't move around on the bench. It's by a company called The Gripper. Genius idea and it looks so cute for this toy storage box. They're the perfect pair.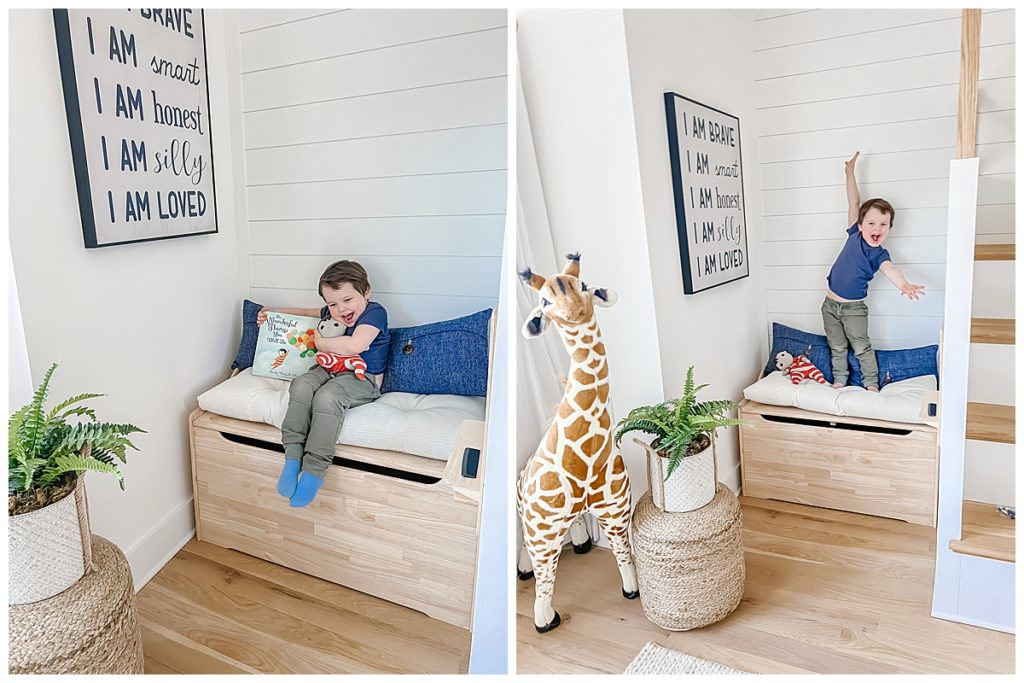 1. 'I AM BRAVE' ART | 2. WOODEN TRUNK | 3. CUSHION | 4. 'THE WONDERFUL THINGS YOU WILL BE' BOOK | 5. AMIGO DOLL | 6. GIRAFFE | 7. JUTE POUF | 8. 2-PACK LUMBAR PILLOWS 
You might notice the pillows I used here. I love these pillows and I also have them on the guest bedroom in our house. They are super affordable at only $15 for a pack of two. Back when I originally bought them they were $24 for a pack of two, so I believe they're on clearance right now for $15 so definitely snatch these up now. You'll find yourself using them in multiple places in your home. In fact, I just ordered another set because I want them for the couch in our living room.
I'm also going to link amigo and the book that amigo is a character in. You guys might've heard of the book, The Wonderful Things You Will Be. We had this book even before we had amigo. So linking both because we get questions about this little guy a lot.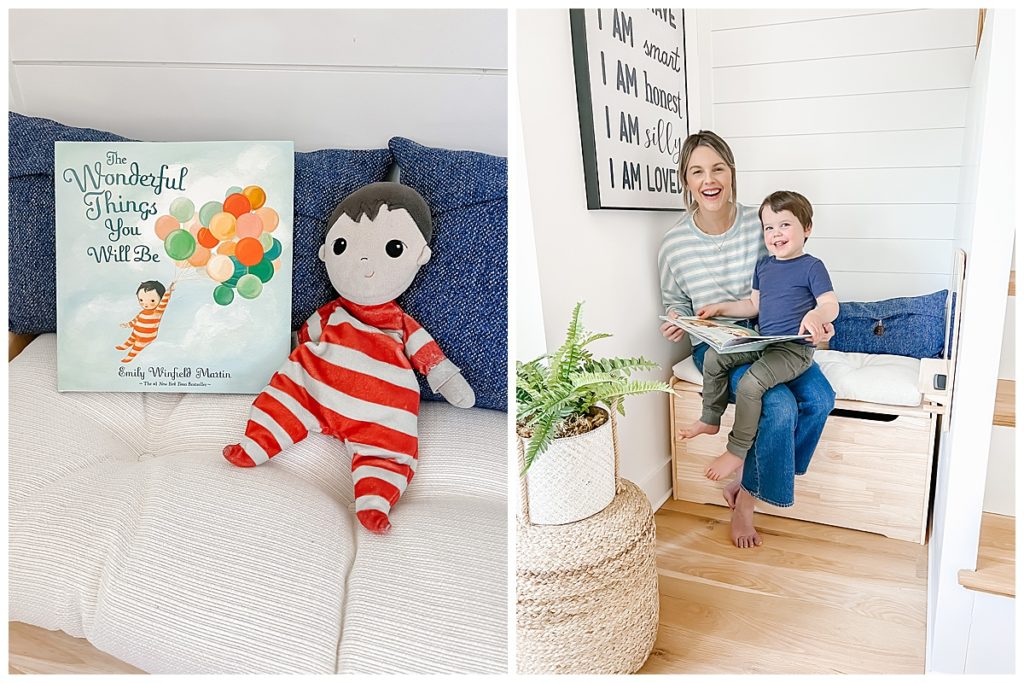 1. 'THE WONDERFUL THINGS YOU WILL BE' BOOK | 2. AMIGO DOLL | 3. MY STRIPED TOP
I also decorated the space with a jute floor pouf. This one is super affordable at only $35. Seriously poufs like this can be so expensive, so I'm super happy to find one at such an affordable price. Plus, I really love that it's lightweight so Riley's able to easily move it around. Some of those poufs can be super heavy. I thought this would be nice for extra seating in the area if he has friends over or if it's more comfortable for me to sit on the pouf and for the kids to sit on the bench. I just wanted different options. But for now, I just put a full plant on top of it to add a little greenery and I think it looks darling.
Oh, and to quickly mention my striped top above, I've shared it before but I truly think it is seriously one of my best finds! I stumbled on it thinking it could be good, but blew every expectation out of the water… and it's only $11!!! I am not kidding you, get this top!
Last but not least, I'm gonna link Riley's massive, over 4 foot tall, giraffe that he's had forever! You guys may recognize this giraffe from his nursery at our old house because we've had it ever since he was born. The kids absolutely love this thing. They named it T-Bop. So linking it for y'all if you want your very own T-Bop for your house! Ha! It's just one of those things that adds so much intrigue to a space just by placing it in the corner of your child's room. Plus, I find a lot of times when I'm trying to decorate spaces I need things with height and that's not always easy unless you put in a faux tree. I almost put this faux olive tree here because I have these all throughout my house and I love them. But I wanted to change it up so I don't have a faux olive tree in every single corner of my house. Ha!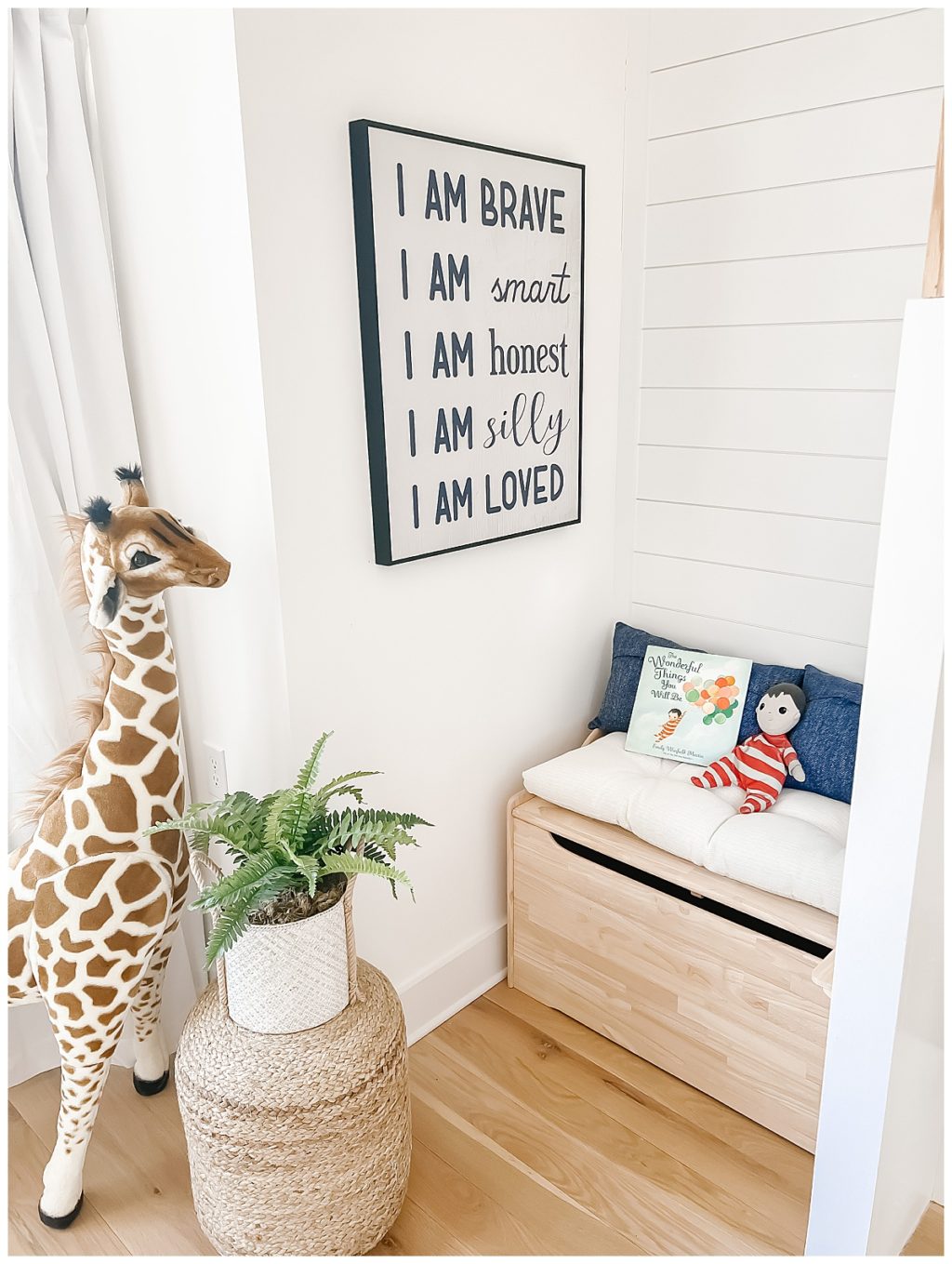 1. 'I AM BRAVE' ART | 2. WOODEN TRUNK | 3. CUSHION | 4. 'THE WONDERFUL THINGS YOU WILL BE' BOOK | 5. AMIGO DOLL | 6. GIRAFFE | 7. JUTE POUF | 8. 2-PACK LUMBAR PILLOWS 
Riley Loves His Reading Nook!
And as you can see from these pictures Riley absolutely loves the space! I decorated a few spaces in Molly's room recently. Her desk area that I wrote about here, and her bed canopy. The second time Riley came home to her second surprise in her room he started crying because I hadn't done something for his room and I felt terrible. So now Riley gets his turn for his room to come together! I'm actually putting together another space in his room next week that I'll share with you guys! Can't wait! Let me know what you think in the comments below and I love love love when you guys share design ideas or links or anything with me because I still have so much of the house to design and it helps me so much! So let me know if you think of anything!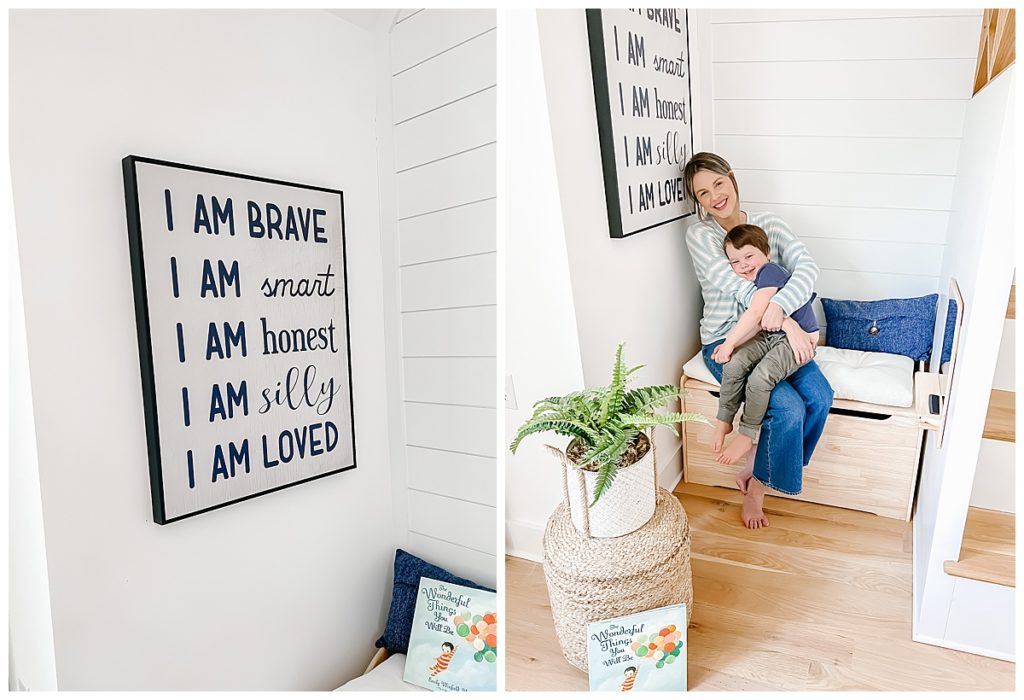 1. 'I AM BRAVE' ART | 2. WOODEN TRUNK | 3. CUSHION | 4. 'THE WONDERFUL THINGS YOU WILL BE' BOOK | 5. AMIGO DOLL | 6. GIRAFFE | 7. JUTE POUF | 8. 2-PACK LUMBAR PILLOWS  | 9. MY STRIPED TOP