Happy Black Friday guys! I know Black Friday can be super overwhelming because you're probably completely inundated with sales in your inbox, from influencers you follow as well as people you know sharing their favorite sales, so I get it if you're feeling overwhelmed. Honestly I am too!
Every year I usually do this big long black Friday list with all my favorite sales for my favorite stores. If you want to check out the list I did last year, a lot of the sales are pretty much the same this year so feel free to check out this blog post. There really are some incredible sales going on. That said, I just didn't wanna bombard you with a long list of a bunch of different stores so I thought this year I would do things a little bit differently by focusing on a few brands that I truly love that have incredible sales going on right now!
Give the Gift that Changed My Life
I'm gonna start with Equilibria because, without sounding over the top or corny, it really has changed my life. I didn't understand or know what CBD was for the longest time. Sure, I heard people talking about it and how amazing it is and I saw a gazillion ads for different CBD brands, but it wasn't until someone told me about Equilibria that I became super intrigued. Now is the perfect time to try Equilibria products and treat yourself or anyone on your list! Before I go any further, I have to tell you about their insane deal right now! You can receive 20% off on all products sitewide AND if you use my code CBDAF15 all new customers will get an extra 15% off ! I think their gift sets would be the most incredible gift because you could give somebody something that could change their life. This amazing offer ends on Cyber Monday!
BTW ignore my "Molly Manicured" nails below 😉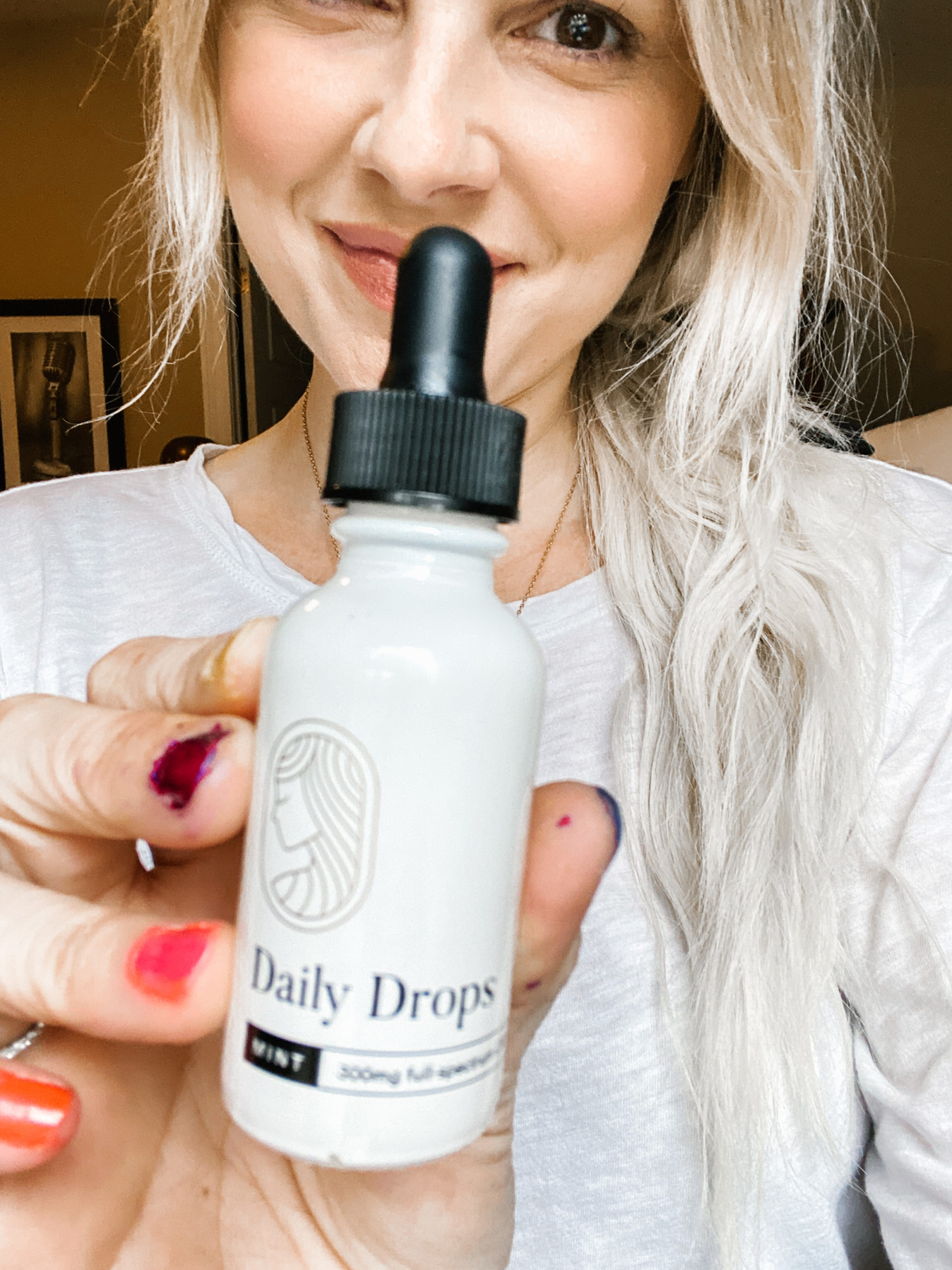 Okay, back to why I was intrigued. The main reason I was on board is because when you first buy a product from Equilibria they automatically set you up with a dosage specialist to help you understand CBD and figure out how to use it best in your life. I thought this was incredible! Finally I could try it and have somebody walk me through how to actually use it to give me the results I'm looking for. Like there were so many things I didn't understand. If CBD helps you sleep, how does it also help feel less tired during the day? That made no sense to me. But my CBD specialist explained it all to me and the science behind it is incredible!
She also walked me through how much I should be taking and what times I should be taking it based on my lifestyle and when I experience my afternoon slump. It's just all so interesting and she set me up on a plan that really truly has helped change my life. Also, I know so many of us are super stressed around the holidays. Not only have I been stressed because of the holidays, but our move has been a big source of stress and now trying to buy a new house all while living with my in-laws. It can all be pretty overwhelming! So I've heavily relied on my CBD to help manage my stress levels. So I think if you could give this as a gift to somebody this holiday season it would just truly be one of the most incredible gifts they will ever receive! So again right now all of their holiday sets are buy one get one 50% off plus an extra 15% off if you're a new customer with the code CBDAF15.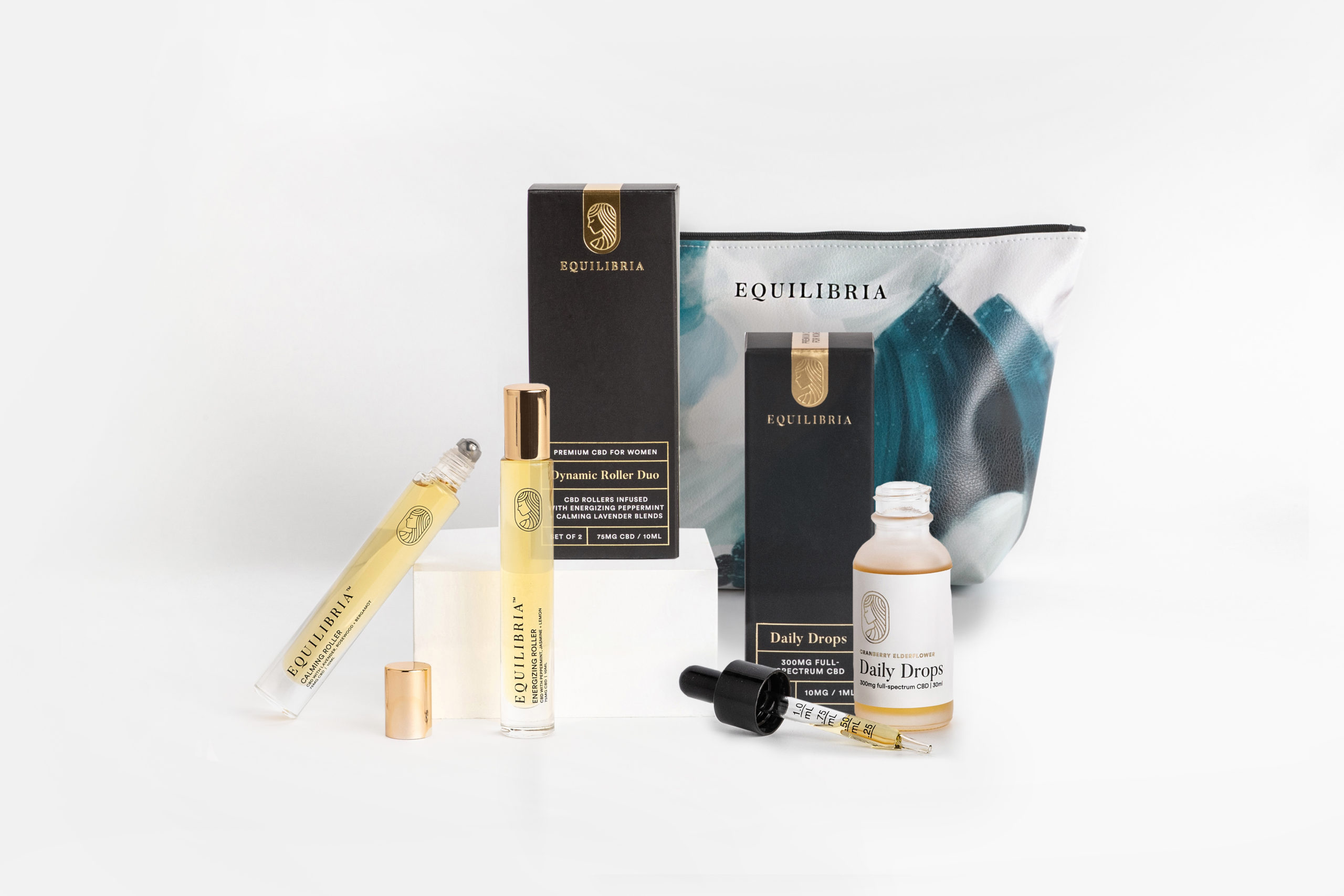 And I highly highly highly recommend the gift that that has the CBD rollers. The nighttime roller is one that I buy more than any of the other products because I go through it the fastest! It just helps me fall asleep so fast if I ever wake up in the middle of the night. Those times when I just can't fall back asleep, I put this on and I'm out! It's like magic.
The Gift of Learning
I'm sharing this next one because I know so many kids are going to get so many toys this holiday season! If you're a parent, you know that sometimes it can be overwhelming with how many toys your kids end up with by the end of December. What I love about this gift is it's a way to give kids something that they will absolutely love, but also something that's going to help them learn and really help develop their little brains. You guys know about Kiwico. I've talked about it in my Instagram stories so many times and I've worked with them many times. They're an incredible company! And I know you guys have also seen my Instagram stories how absolutely over the moon excited the kids get when their Kiwico boxes arrive each month!
So what is it? Well, it's a monthly subscription box made for kids ages zero all the way up to 16. Molly and Riley are at different levels right now so he gets one for his age group and she gets one for hers. Each box comes with several activities with easy to follow instructions that are written in a way that's meant to be really easy for kids to read and follow on their own if they're at a reading level. And if they're not reading yet, the activities are designed to be really easy so that the parents don't have to hover over them to help them do the project. Riley still needs a bit of help, but Molly is definitely getting to the age where she can start doing these all on her own to give mom a much needed break.
Every single box is rigorously tested by experts and kids and they all follow the STEAM model of learning. STEAM model stands for science, technology, engineering, arts and mathematics. Anyway, I truly can't say enough good things about this company and about this box. In fact, it was founded by a mom of three who really wanted her kids to have something fun that they love to do, but would also be educational. Man did she nail it with this one! I always say I'm always looking for my Shark Tank idea, and this was her Shark Tank idea! Ha!
Anyway, they have the most incredible sale going on right now for 50% off your first month with code ALI. Normally the code they give me for first timers is 30% off, so the fact that you can get 50% off your first box is really an incredible sale and so worth it to give as a gift to somebody. So if you're a grandma out there looking for a gift for your grandkids, or a mom looking for something great for your children (that isn't the typical toy) definitely consider this one! Code ALI for 50% off your first month!
Dime
If you follow me on Instagram you know what a fan I am of Dime and today you get 35% off site wide with code SUPER35! Such a great discount!!!! I've been using their eyelash serum for maybe six months now and I swear by it! Of course I love that it works, but I also love that it's super affordable! I'm telling you get a few tubes of this eyelash serum because you'll never wanna run out!
But the key to the eyelash serum is really consistency! I wasn't able to use it for two weeks when I got that intense skin laser treatment, and no joke, I noticed a difference a few weeks afterwards. I went back to religiously using it every single day after that and my eyelashes are starting to look super full and long again which I'm so thankful for! So don't miss days. I put it on every night before bed and even sometimes in the mornings.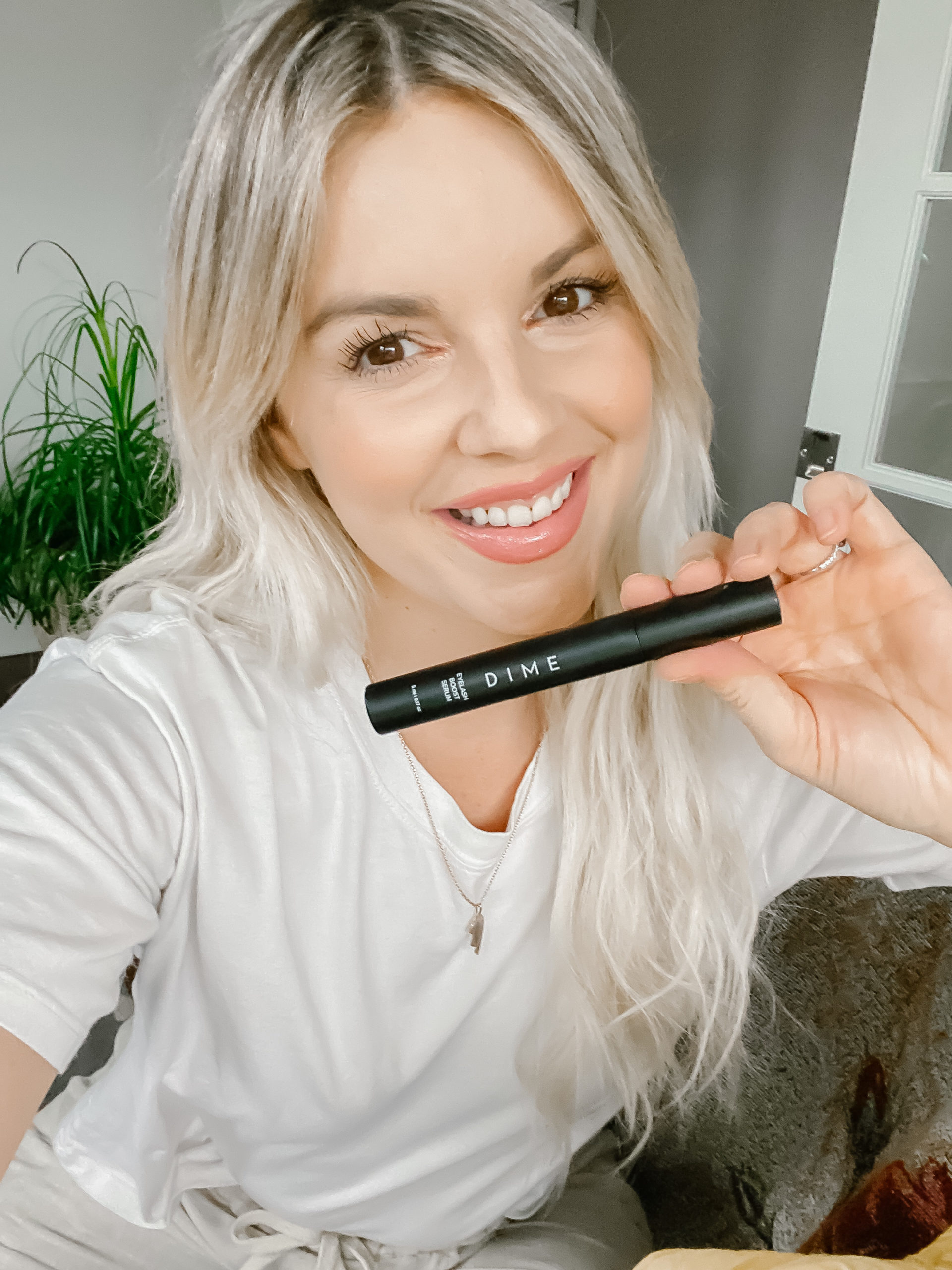 I also wanted to share that Dime has fragrances now and the reason this is so great is because they are clean fragrances! To be honest with you guys I kind of sort of stopped wearing perfume when I got pregnant with Molly. And especially after I gave birth to her. I just didn't feel right putting chemicals on my skin when she would be nursing so close to where I would put perfume. So I just stopped wearing it because most of the clean perfumes smelled a little too natural for me if you know what I mean. Ha! And since then I've started using other perfumes, but I absolutely love that Dime came out with a clean perfume that smells amazing! Malibu Nights is my favorite! But honestly it was really hard for me to pick a favorite because they're all so good! If you want, you can get this $15 sampler pack (and with the discount it's even less) and figure out which scent you like the most. But if you just wanna go for it I highly recommend Malibu nights! And don't forget the code is SUPER35!!!!
Bondi Boost
Okay, I have to mention Bondi Boost because this thing never goes on sale! I'm not even kidding I have told you guys about this wave wand and I have worked with the company to tell you about it, but as much as I've begged, they've never given me a discount code to give to you guys. And that's because honestly the wave wand is so popular  they didn't need to get a discount code because people buy it anyway. It just truly gives the most incredibly beautiful beachy waves and it is such a timesaver. I feel like I can do my hair in a quarter of the time with this thing opposed to a curling iron which is always hit or miss with how the waves look. This is fool proof! And I know I have long hair but honestly it works amazing on short hair! My makeup artist in LA, Emma, did a whole tutorial on her Instagram page once of how she uses it with her short hair and I almost chopped off all my hair that day because it looked so good! Anyway, the code is Cyber25 for 25% off their site starting today. I have no idea how long this code is going to be good for, but my guess is not very long. So if you've been wanting to get one but never pulled the trigger because it wasn't on sale, I'd say now is your time!
One of my FAVORITE Clothing Brands
I want to share Aerie's Sale of 40% off site wide because this is a brand that I not only love their clothes, but I love everything they stand for! They're committed to sustainability, they care about women, and they're always giving back! I love that when you're on their site you will see women of all shapes and sizes and all different races rocking their clothes! That's not something to go unnoticed. This is a brand we should all support! I have a few things from them that I'm obsessed with like these flannel PJs and Owen's fleece is a PERFECT gift for your pet or any pet lover. It says "A little naughty" on the back and "A little nice" on the front.

Also I can't get over my matching jacket with Owen! Soooooo cute! I'm telling you if you've never shopped from them before get yourself a gift this year because this is a brand you'll come back to over and over and over again!

Furbo
Speaking of pet lovers, the Furbo is whopping 46% off today!!!! Needed to give this one an honorable mention because it would be the most AMAZING gift for any pet owner.
Tarte
I also have to mention Tarte's sale right now! Their Black Friday sale has been going on since Monday and they're offering 30% off their entire site +50% off holiday steals. Check out some of the holiday steals here like this blush palette and their lights camera action waterproof mascara that's 50% off. Both are 50% off! EVERY year on Black Friday I stock up on products form their sale.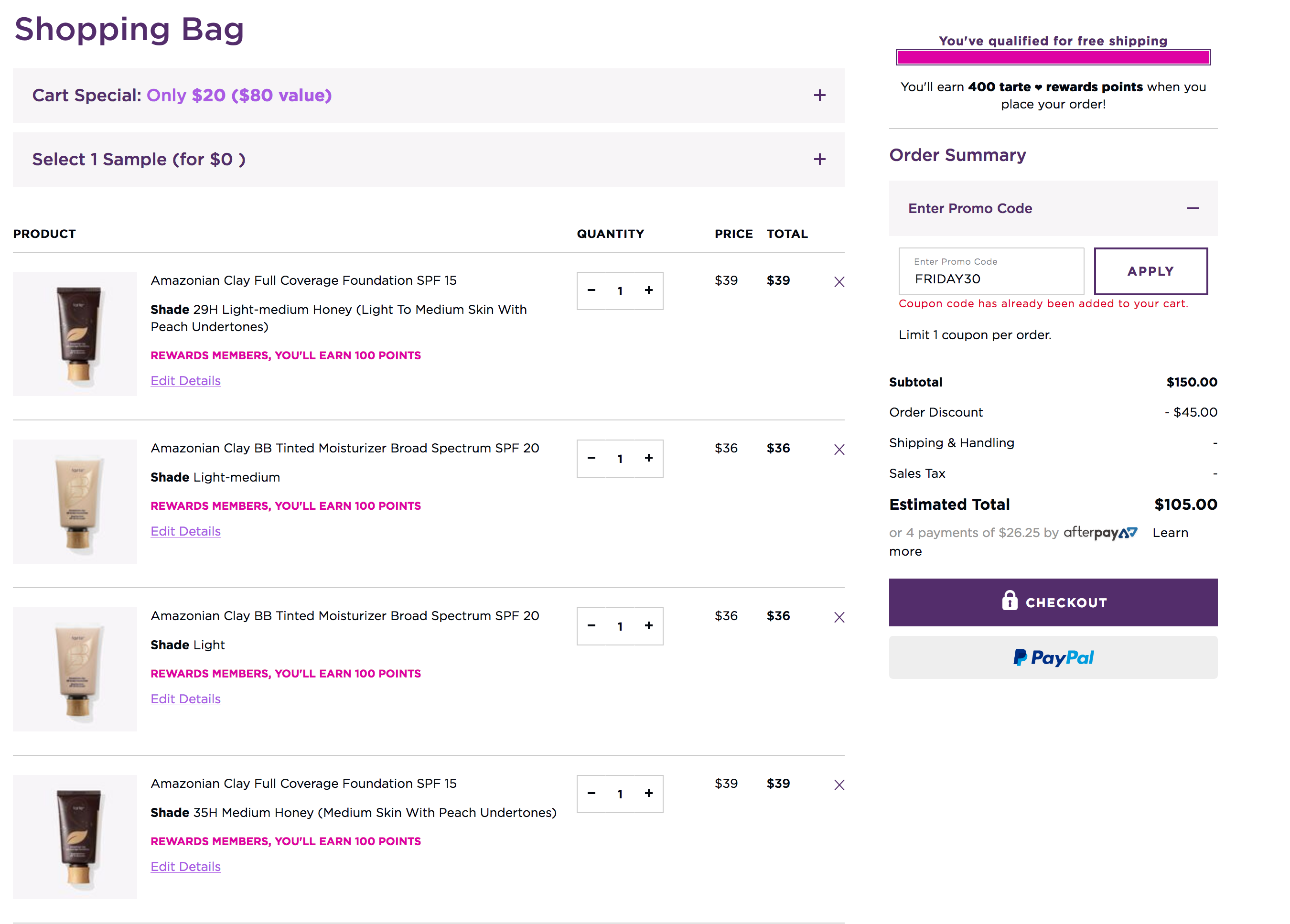 Tarte makes my favorite makeup of all time! Well at least when it comes to foundation and under eye concealer. I swear by their foundation and Shape Tape under eye concealer and I believe I will wear it for the rest of my life because I think it's the best ever! I first discovered Tarte when I got pregnant with Molly five years ago. At the time I believe I was using Mac foundation and when I got pregnant it made me realize that I really just wanted to start using natural products on my skin. I switched my deodorant (BTW the deodorant I use, Each & Every, is having a MAJOR sale today too), my body wash, and so many other things… so why was I still using makeup with a ton of chemicals in it? That's when I decided to give Tarte a try because a friend recommended it to me. And oh my gosh I was blown away that not only was the natural makeup good, but it was better than all the other makeups I had tried, including the ones with all the chemicals in them!

And then Shape Tape, oh my gosh don't even get me started! Seriously research Shape Tape and you will see that beauty bloggers across-the-board call it the Holy Grail of makeup products. It will give you the most beautiful brightening under your eyes to give you that Instagram filter look without the filter! If I had to choose two makeup products I absolutely couldn't live without it would likely be this under eye concealer and then probably my eyebrow pencil. Which by the way I'm gonna talk about my AMAZING eyebrow pencil in an Amazon Live coming up on Dec 4th so stay tuned for that! In fact make sure you're following me on my Amazon page and you'll be alerted when I go live so you can see all of the beauty products that I actually swear buy from a bunch of different brands. You'll be getting my all-time favorite products. And of course I'll be talking about the chart foundation and shape tape concealer on there.
My Presets!
And I have to finish withmy favorite product on this list that is my very own presets! I didn't think we were going to get the functionality on my website done in time to be able to do the sale but literally I woke up this morning on Black Friday to a text message from my website editor Madi telling me that the functionality was live and ready to go! So I'm so excited to say that my presets are 40% off today with the code GIVETHANKS
And if you have ANY issues downloading. Email us at presets@alimanno.com. It usually takes 24-48 hours for us to respond to everyone so hang tight! It might take a little longer because of the weekend and all the purchases due to the sale. But we WILL get you get up and in the meantime, check out all the troubleshooting tips we have on the site.
A few mentions that have AMAZING sales:
It's worth sharing  that there are a few stores have really great sales every year that I tend to always buy a few things from. Express is 50% off site wide, Pottery Barn is 20% off site wide plus free shipping if you spend $79, Williams Sonoma has a pretty great sale worth checking out, and Gap and Old Navy have 50% off site wide.
Just wanted to share with you guys. These are a few of the brands that I truly use and love. So I hope you guys enjoy them as much as I do or feel good about gifting them to the ones you love! Happy Black Friday and happy holidays everybody!!