Hey Guys! Happy Black Friday!   And oh my gosh there are sooooo many good sales right now I can hardly contain my excitement. I am breaking them all down for you below and including pics of many items I own and love that are on sale. Just click the name of the store below and it will take you exactly where you need to go to shop the sale!
This year I did an entire category on my blog dedicated to Gift Guides!! And a lot of the items are on sale so I definitely recommend pursuing through the posts! There are a gifts for everyone, a handful of posts for kids, one for gifts under $25, holiday decor, and even a big master list post with a ton of my favorites! Make sure to check them out for all your shopping inspiration needs!
Gift Card Giveaway for your Holiday Shopping AND Clothes Giveaway!!!!
Last year, I gave away a $50 cash giveaway or TWO lucky followers to shop with. It was such a hit that I definitely had to do it again this year!!!! Be sure to check for the details at the bottom of this post! And I want to announce that @Gorkestra and @TamaraGreer won my clothing giveaway!!!! I about to send you guys a DM in insta to get your address so I can mail the boxes of clothes out to you! If you didn't win, don't worry! You can still win my $50 gift card giveaway on THIS post – keep reading til the end.
And I am still giving away 3 huge prizes for my monthly giveaway at the end of November. Each prize is filled with tons of goodies plus $150 cash each! To enter that giveaway (so many giveaways! Yay!) just make sure you like all my pics each month and that's all you do to enter)
2019 Black Friday Sales
UPDATE: ADDING TARTE: Everything is 30% off today with code FRiday30. I get my tinted moisturizer and clay foundation here! They are the BEST!!!!!!! Truly! And natural. Below is what I JUST ordered for anyone wondering.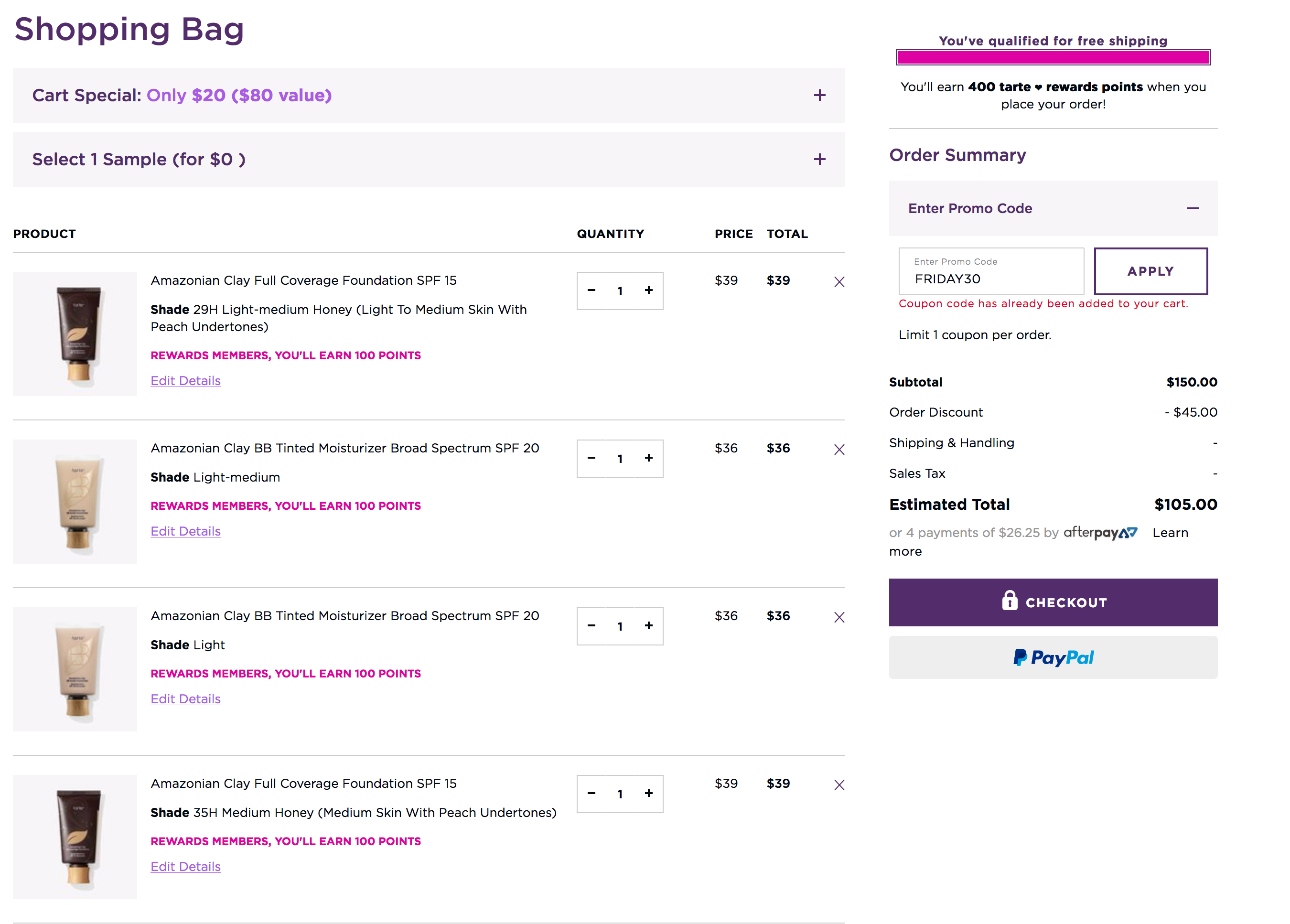 AMAZON – Amazon is always my first stop on Black Friday. Ever since they started doing Prime Day in the summer, their deals for the holidays keep getting better and better!
I got some questions about the necklace I am wearing. I am linking it here but it's sold out. So I found one that looks JUST like it but it 75% less in price! Yay!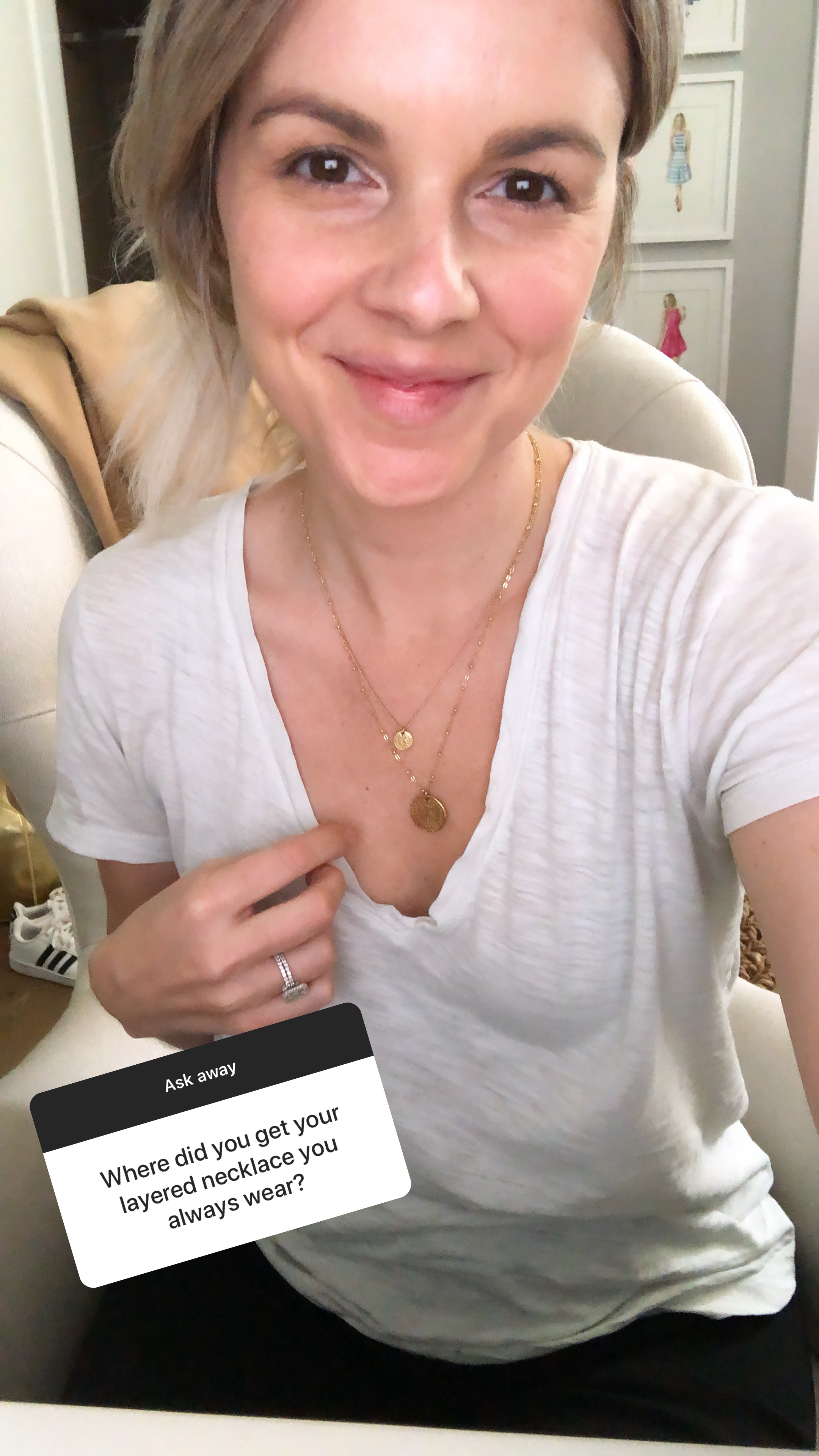 AERIE – 40% off everything PLUS free shipping! The PJ's bottoms I am wearing in this pic are on sale for 49% off and are only $20!!!!!! They are TTS and DON'T shrink in the wash. They also come in short and long sizes to fit every height perfectly! Plus I just love this brand because of their body positivity message.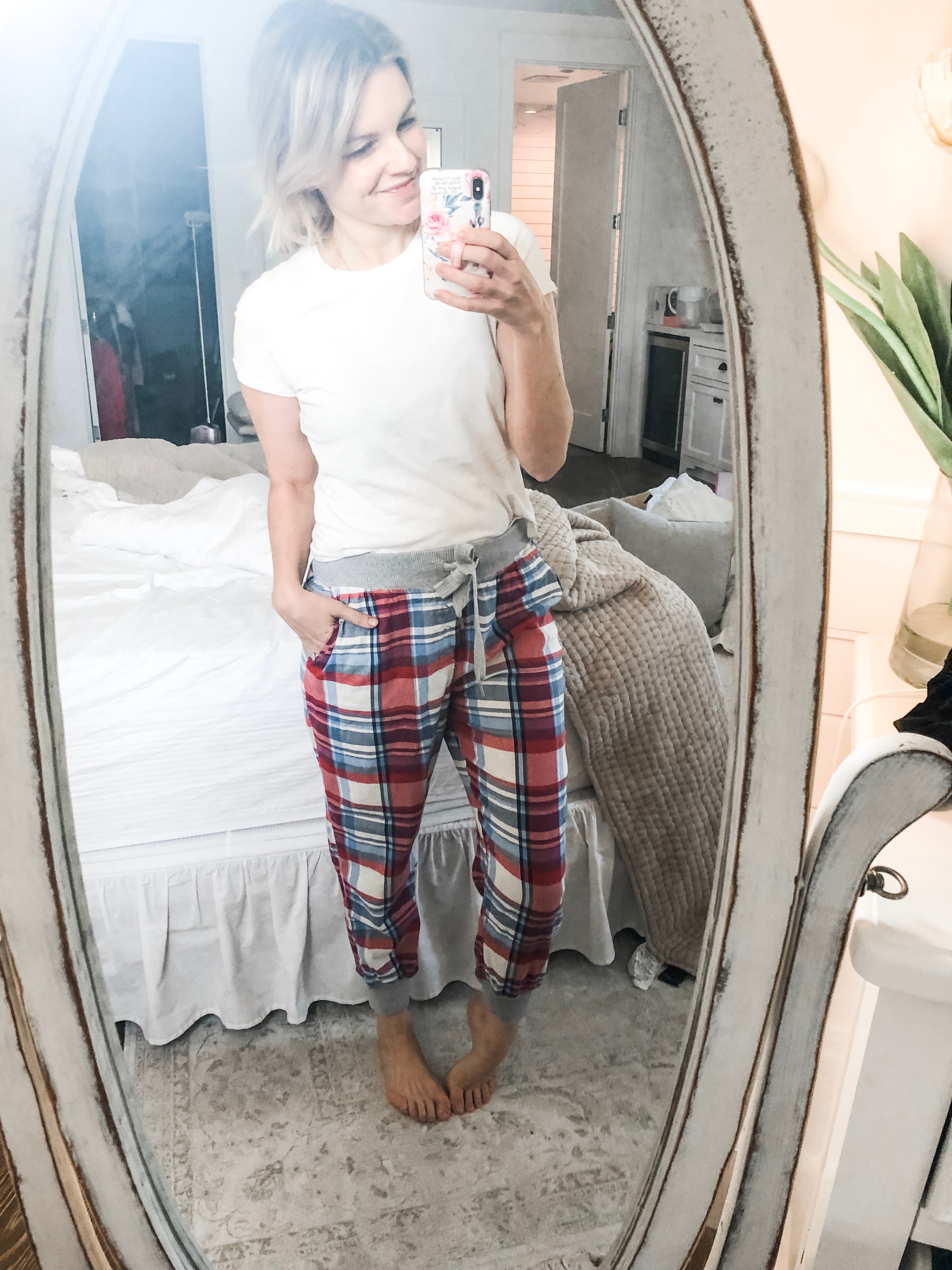 AMERICAN EAGLE – 40% off the entire store! The slouchy sweater that I am wearing in the photo below is from there! It is legit one of my favorite sweaters ever! It's on sale for just over $20, which I can't believe!!! In the photo, I am also wearing these amazing, comfortable and flattering high-waisted black pants from Nordstrom. They are such a good price! And a $9 pair of flats from Walmart!!!!!! Yup,$9!!!!!

ANN TAYLOR – 50% off everything on the site with code BLACKFRIDAY
ANTHROPOLOGIE – Extra 25% off their entire sale section! There are so many fun gifts you can get from there. I love these adorable monogram mugs! You can see a little sneak peek of my mug in this pic of me and my poochie!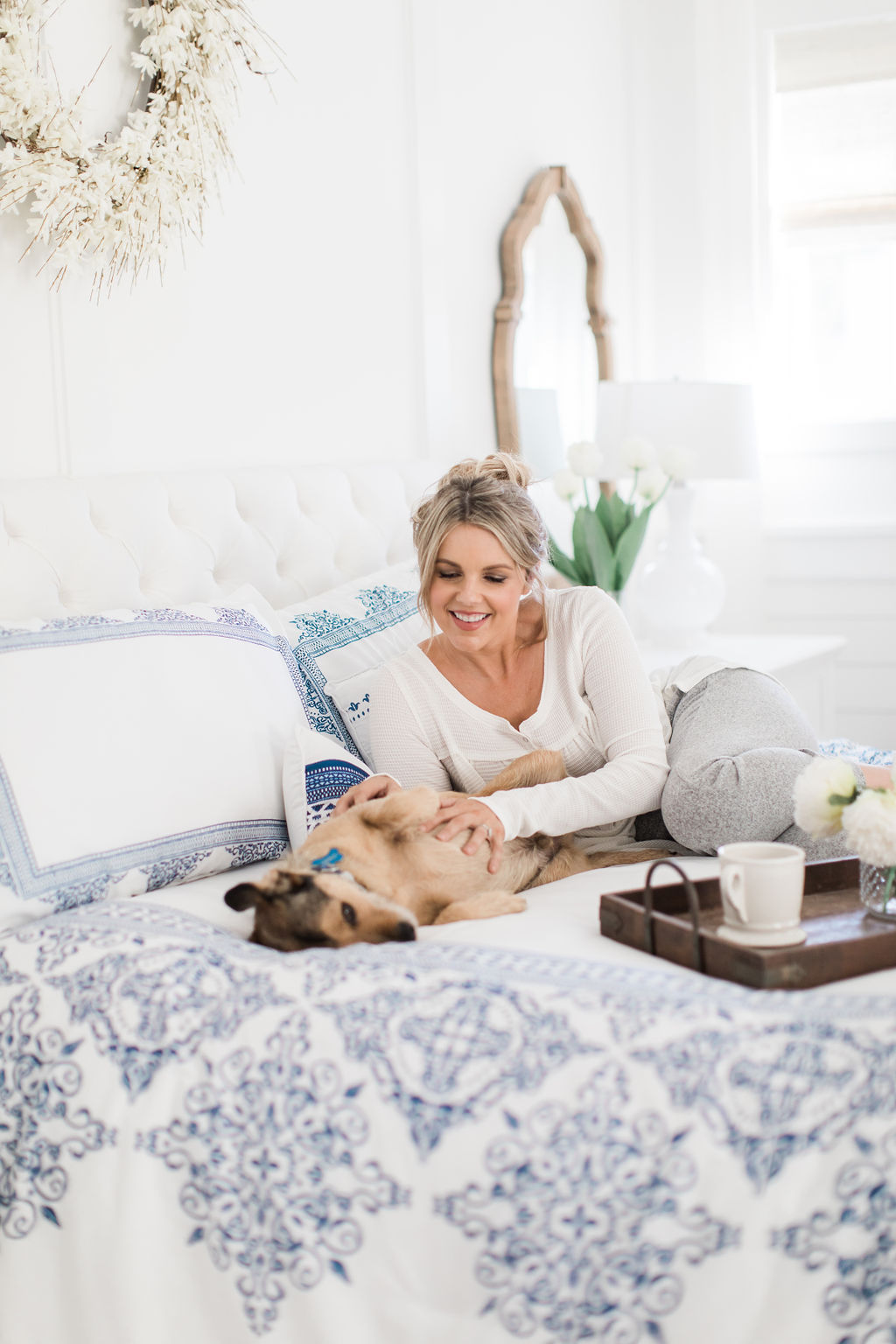 1. BEDSPREAD SET | 2. SERVING TRAY | 3. WHITE TOP | 4. JOGGER BOTTOMS | 5. MONOGRAM MUG| 6. FAUX TULIPS
ASOS – 30% off everything with code BIG30.
BANANA REPUBLIC – Sooo many things are 50% off!
BAUBLEBAR –  35% off everything! I truly get so much of my jewelry from them! How DARLING are these holiday light earrings?!?!. They also have a bunch of other cute holiday jewelry this year! They also are offering 15% off custom pieces, and their Doorbuster are there best-selling Alidia Rings for only $12! Expires 12/3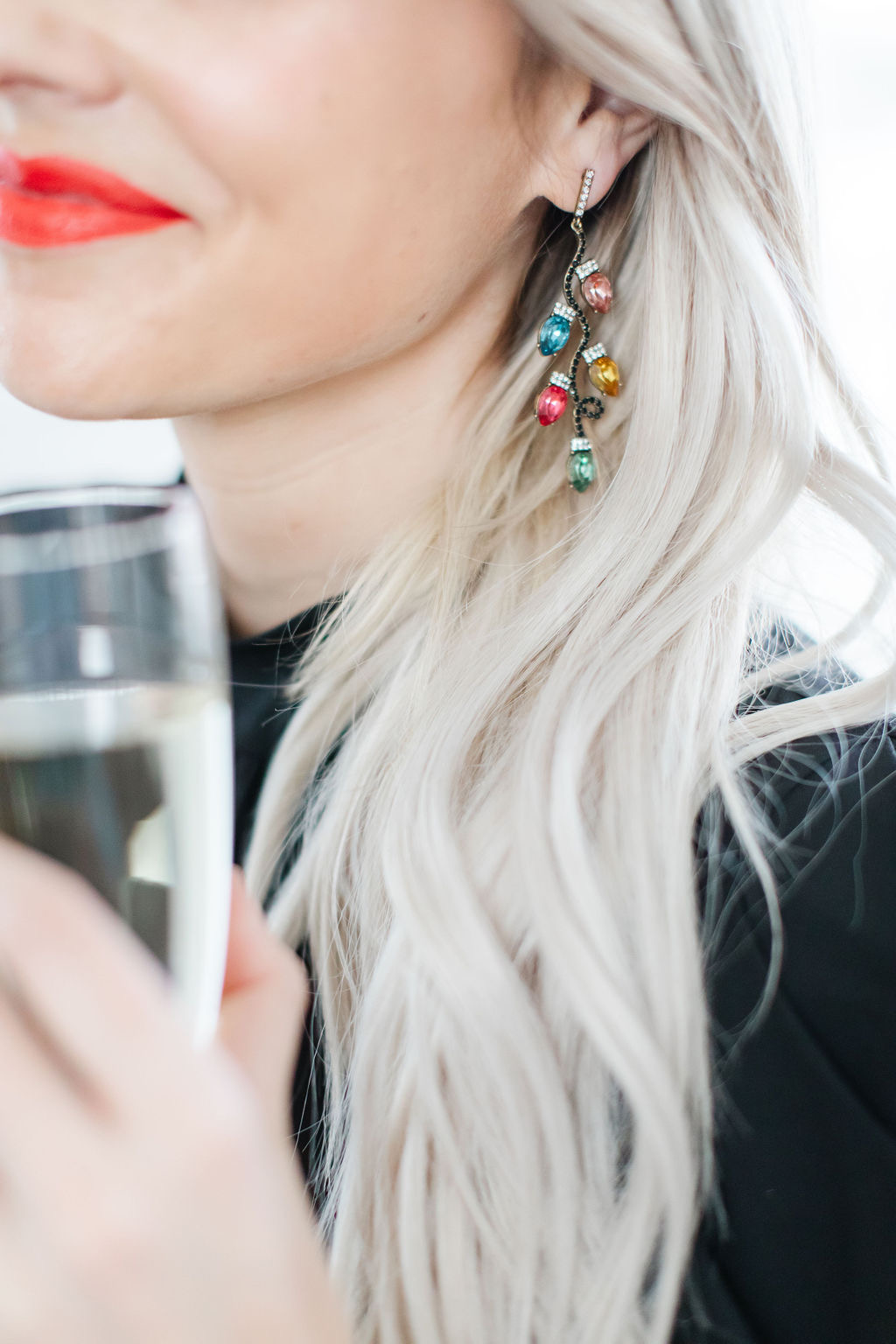 BOOHOO – They have the cutest clothes and everything is 30% off right now. Such great holiday and NYE dresses!
CRATE & BARREL – My wine glasses are on sale!!!!! Yay! Had to update this blog post and share!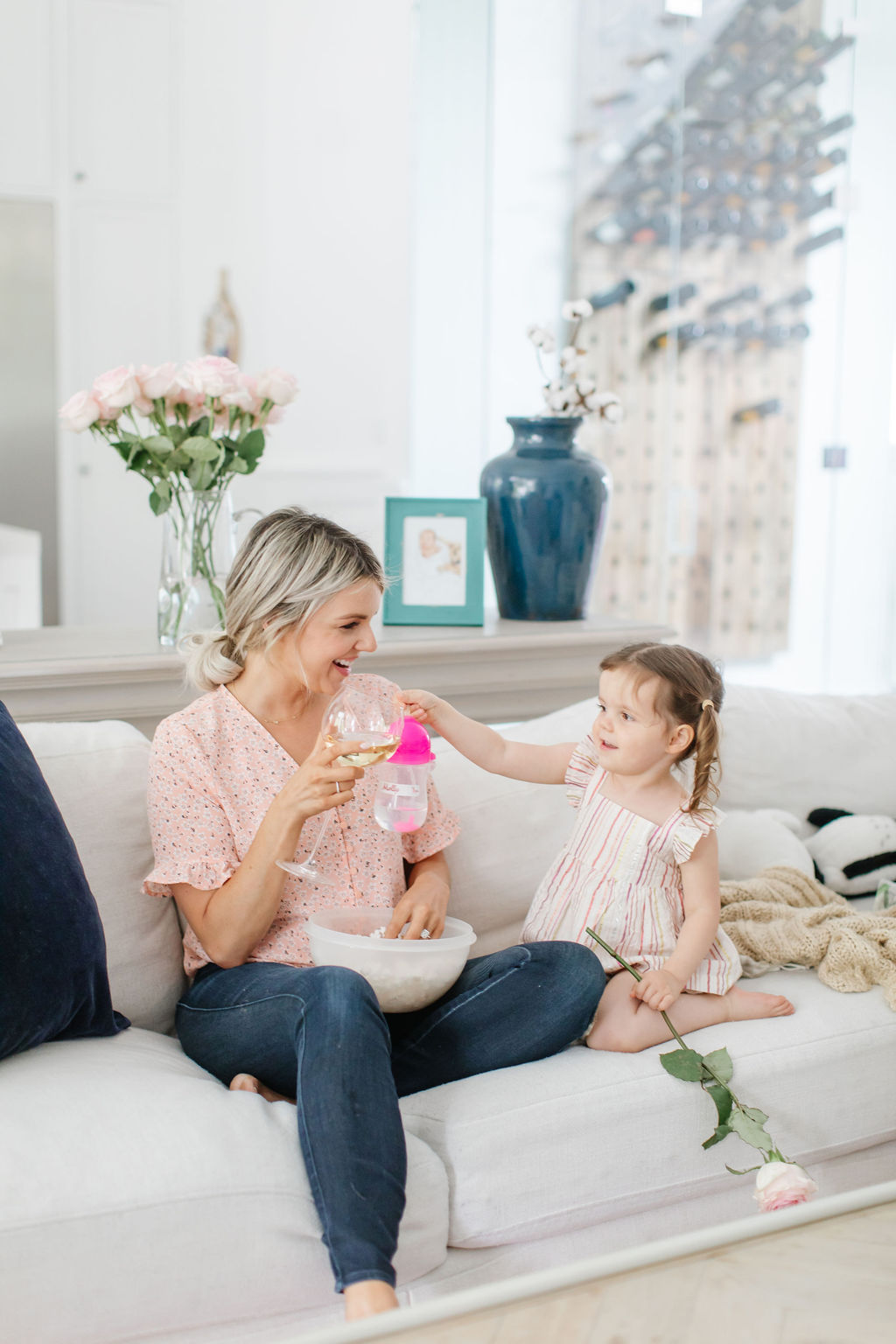 1. FLORAL TOP | 2. MOLLY'S TOP | 3. LONG STEM WINE GLASS | 4. COUCH | 5. GLASS WATER PITCHER/VASE | 6. PILLOW
DSW – 30% off EVERYTHING and a freee tote!!!!

EBAY – You guys know that I am obsessed with eBay. Their prices are insane! Definitely check out their deals,

EXPRESS – Entire site is 50% off plus free shipping! You've been seeing me wear these amazing oversized sunglasses so they are %50 off!!! I know on the website the appear to be clear lenses but I promise you they aren't. They sunglasses I linked are the EXACT pair I bought with mirrored lenses. I feel like the website picture is confusing.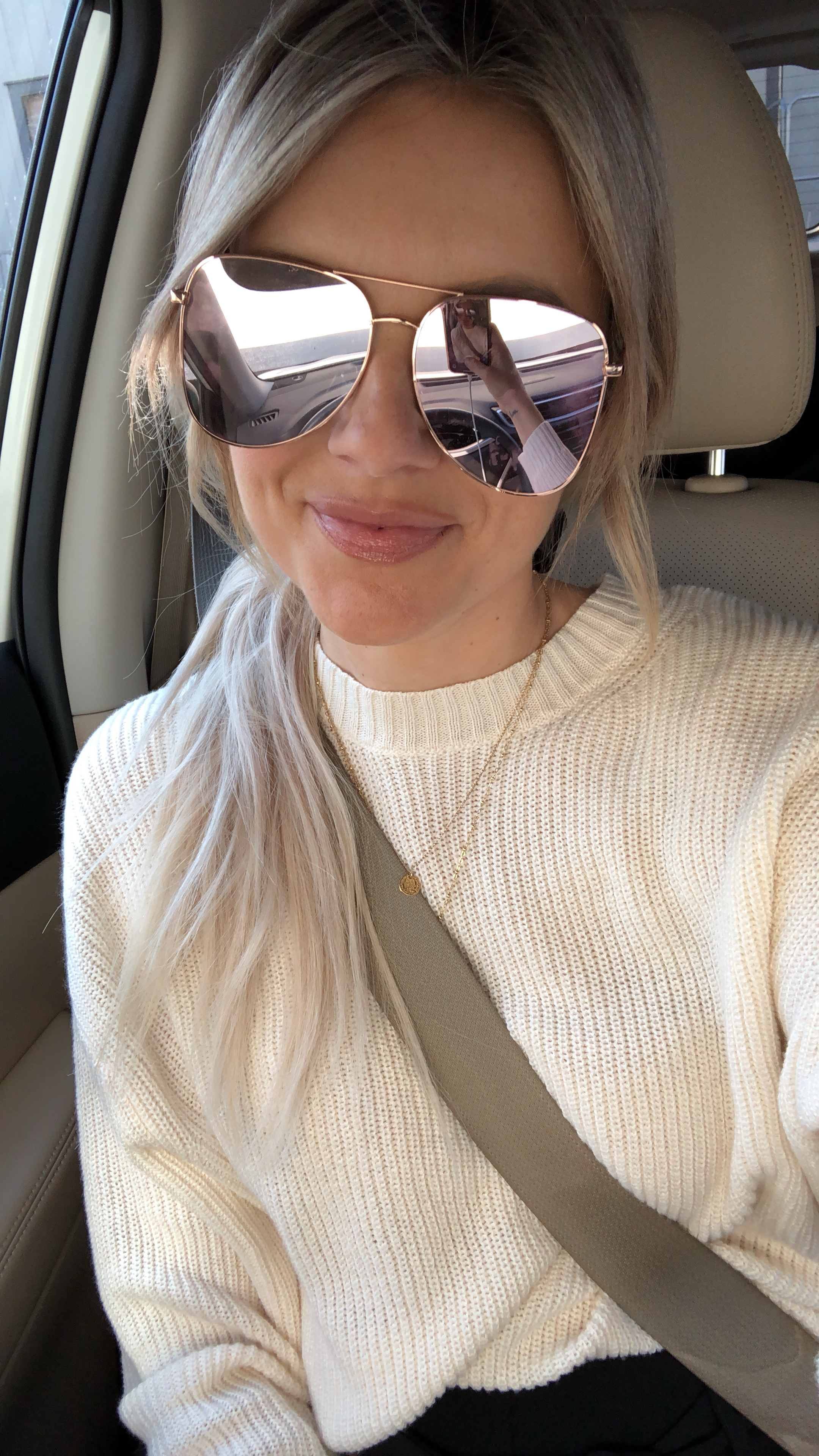 FOREVER 21 –  50% off hundreds of select styles! They already have such affordable clothing and right now it's even more affordable!!!
GAP – Entire site is 50% off, plus an additional 10% off! They seriously have such great clothes for any member of your family. Molly and Riley's closets are filled with clothes from them! Molly's outfit below is entirely from GAP. Use code BLKFRIDAY and code BESTEVER
GOODNIGHT MACAROON – 30% off the entire site with code GIVING30, and if you spend more you will save more with codes GIVING40 ($250+) and GIVING50 ($450+)
H&M – 30% off everything plus free shipping!!!!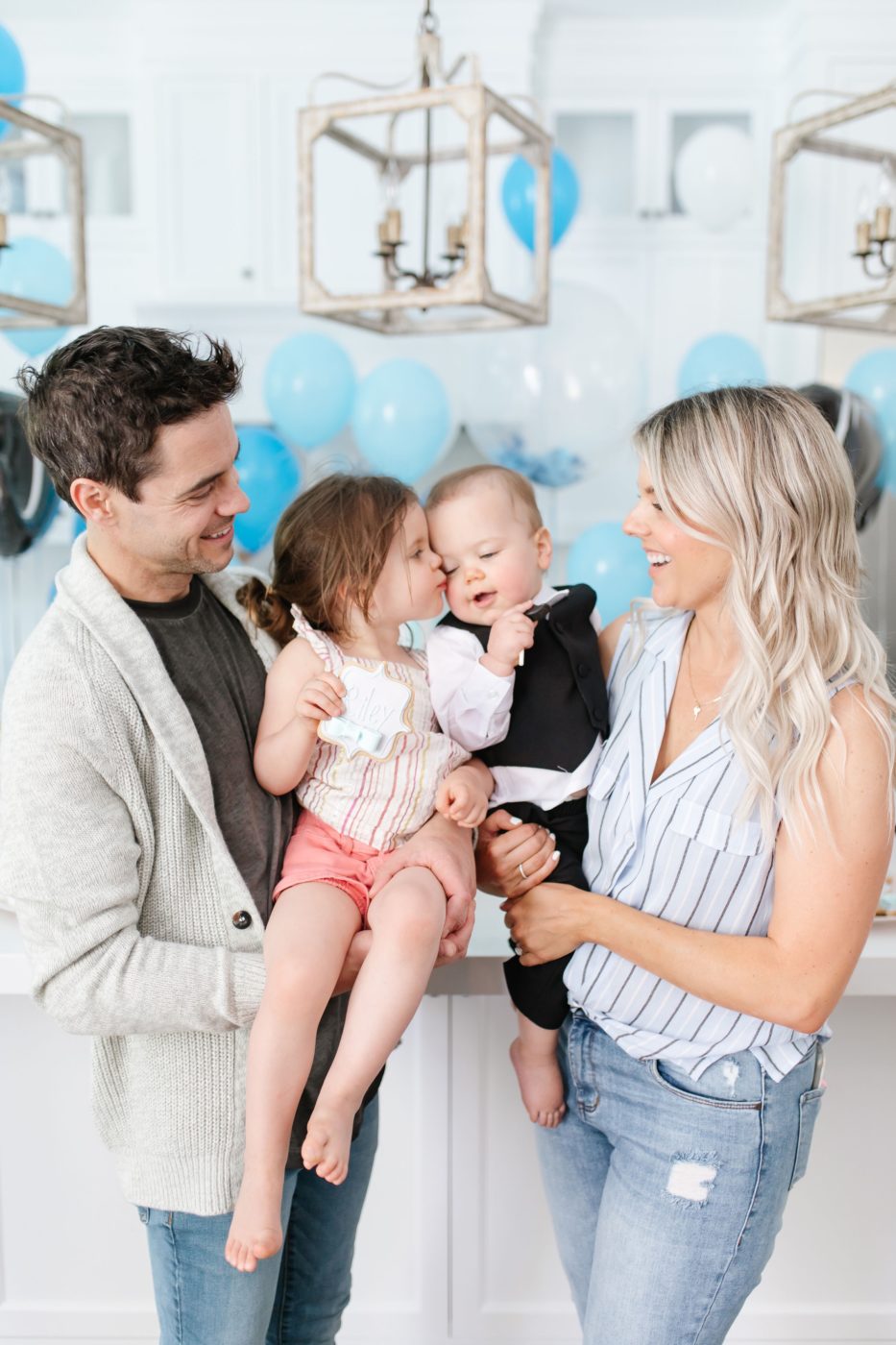 JCREW – 40% off the entire store, both in-store and online. Use code WHYWAIT
JOSS & MAIN – Up to 80% off. I love this site! They are sub-company of Wayfair and have great pieces for your home!
KOHL'S – Molly and Riley's learning tower is on sale! If you have a really little one then you want the one with the removable sides (it's a little more expensive) if you child is over 18 months I think the one without sides is perfect! It's on sale but use code GOSHOP20 for an additional 20% off!!!! Best deal I've ever seen on these! This is by far my #1 favorite kids item we have! It's so help for them to join us at the kitchen island. Otherwise RIley would just cry and want me to hold him the whole time.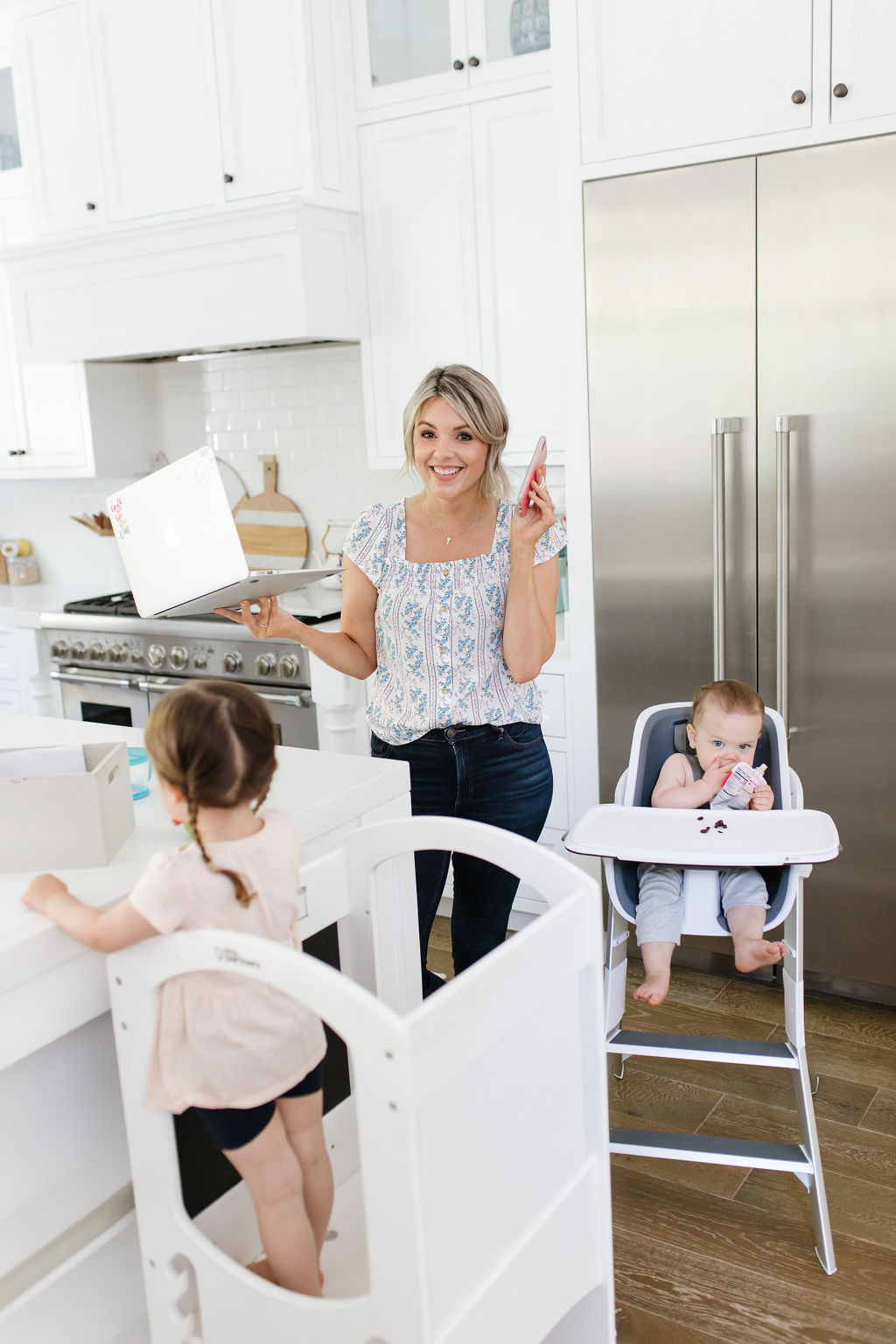 LEVI'S – 40% off their entire website with code INDIGO. I love their jeans, they are so comfortable and seriously last forever. I think some of the pairs in my closet are over 10 years old!
MACYS – A ton of door buster to check out.
MADEWELL – You know those white tees I love that I'm always raving about – like in this blog post. Well they are 30% off right now! So you can now get them for only $15. The ENTIRE site is 30% off! I also am obsessed with their jeans, especially these high waisted ones!

NORDSTROM – You guys know Nordstrom is my favorite and they have SUCH great sales right now!!! Check out all the sales HERE. The spanx faux leather leggings below that I have styles two different way are part of the sale!

And the jackets we are wearing below are only $37!!!!!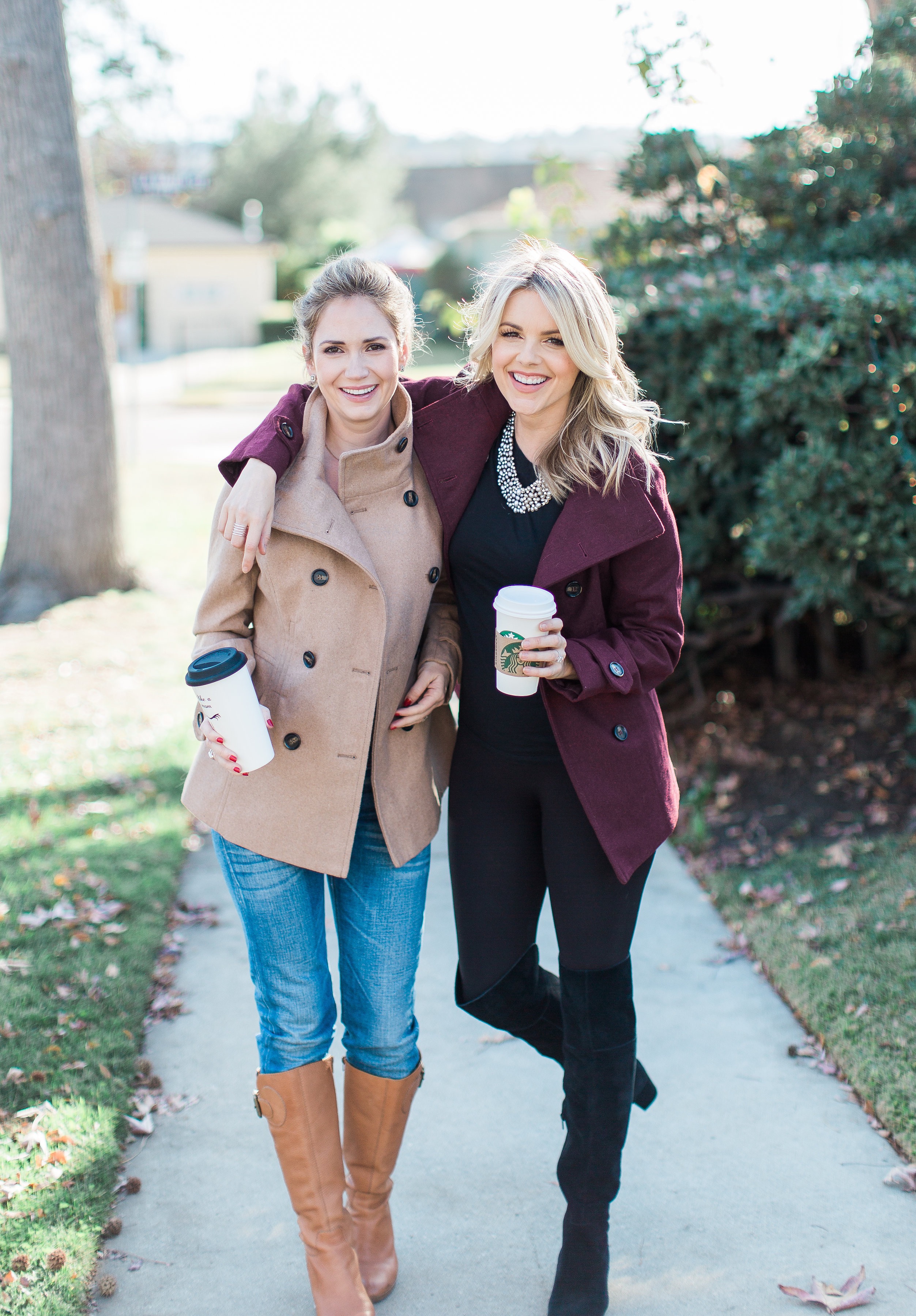 OLD NAVY – 50% off EVERYTHING!!
POTTERY BARN – 25% off everything!!! I just bought these linen shams and comforter in flax for our bed. So pretty!!!!!! Im putting this in big print because I LOOOOVE them and want you guys to see they are on sale!!!!

POTTERY BARN KIDS – 25% off everything with code UNWRAP. We just bought Molly's big girl bed from here! In fact, I am kicking myself that I didn't think it wait to buy it until Black Friday. Ha! Oh well. The most important thing it's on major sale now if YOU GUYS want to buy it. I don't have good pics yet (only the messy bed pic below) because I am waited for her bedding to come in. I just bought these ruffle sheet from PB Teen. What comforter should I get? Put link below in the comments of ones you love and help me choose! I also bought the universal guardrail.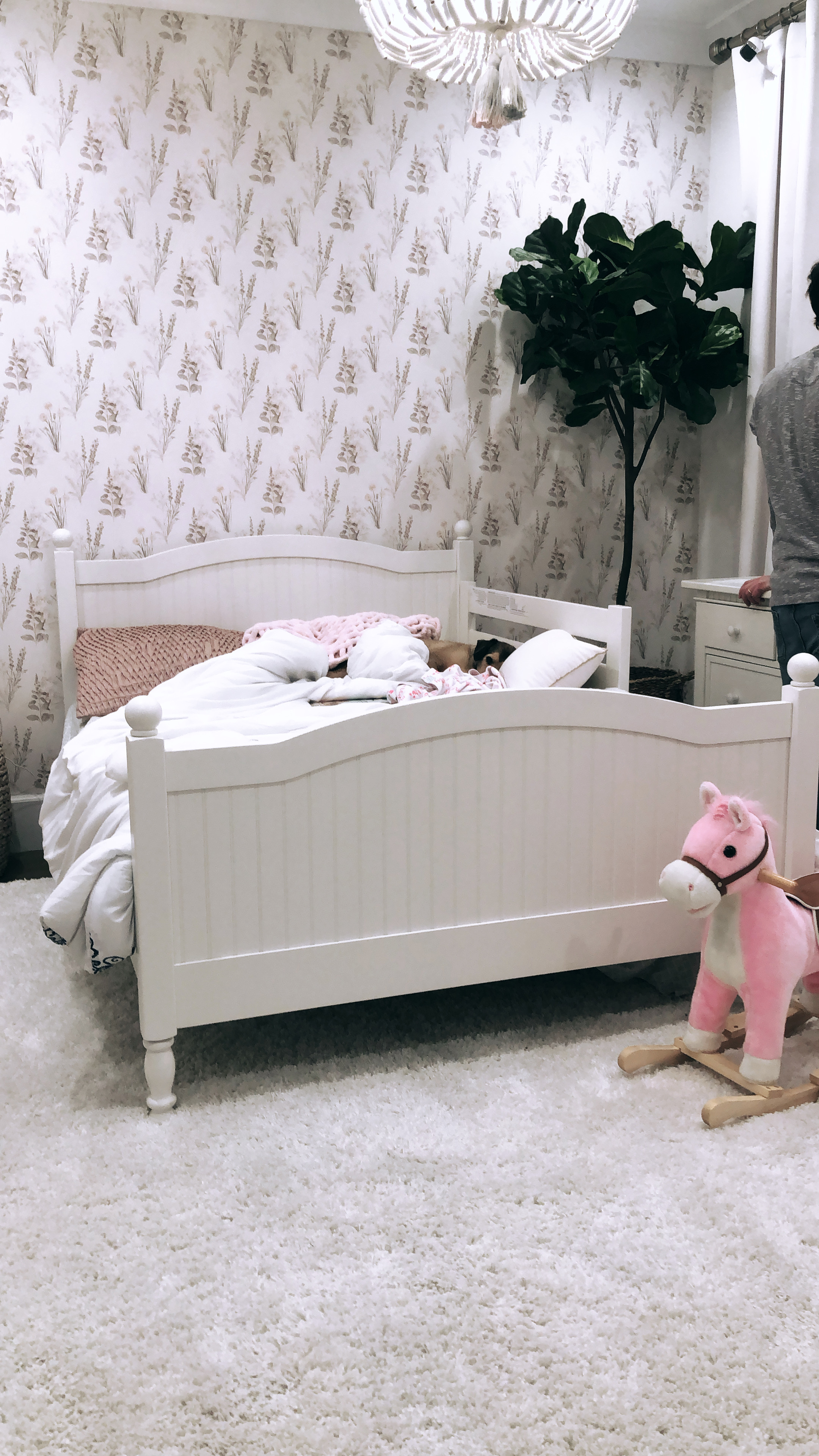 RACHEL PALLY – I LOVE her stuff. I got all my dresses for my maternity shoots from Rachel Pally, and recently came out with the most gorgeous dresses ever! Everything on the site is now 25% off with code ENJOY25

SEPHORA – Need to restock your makeup? Sephora has 40%-50% off a ton of makeup!!! Shop all sale items HERE.
SHUTTERFLY – Get 50% off photo books and 40% off EVERYTHING else. Personalized photo books are such a great gift idea. We have created one for Kevin's parents the past few years and they love it!
SOLE SOCIETY – 30% off everything

VICTORIA'S SECRET – A bunch of buy one get one free stuff!

WALMART – You guys know that I love love love Walmart for so many things from toys to clothes to furniture. There are so many great deals!! Many items are 50% off!
WAYFAIR – Up to 80% off! Seriously almost our entire house is from Wayfair. Check out my "HOME" category to see a post about each room. Here's a pic of our bedroom!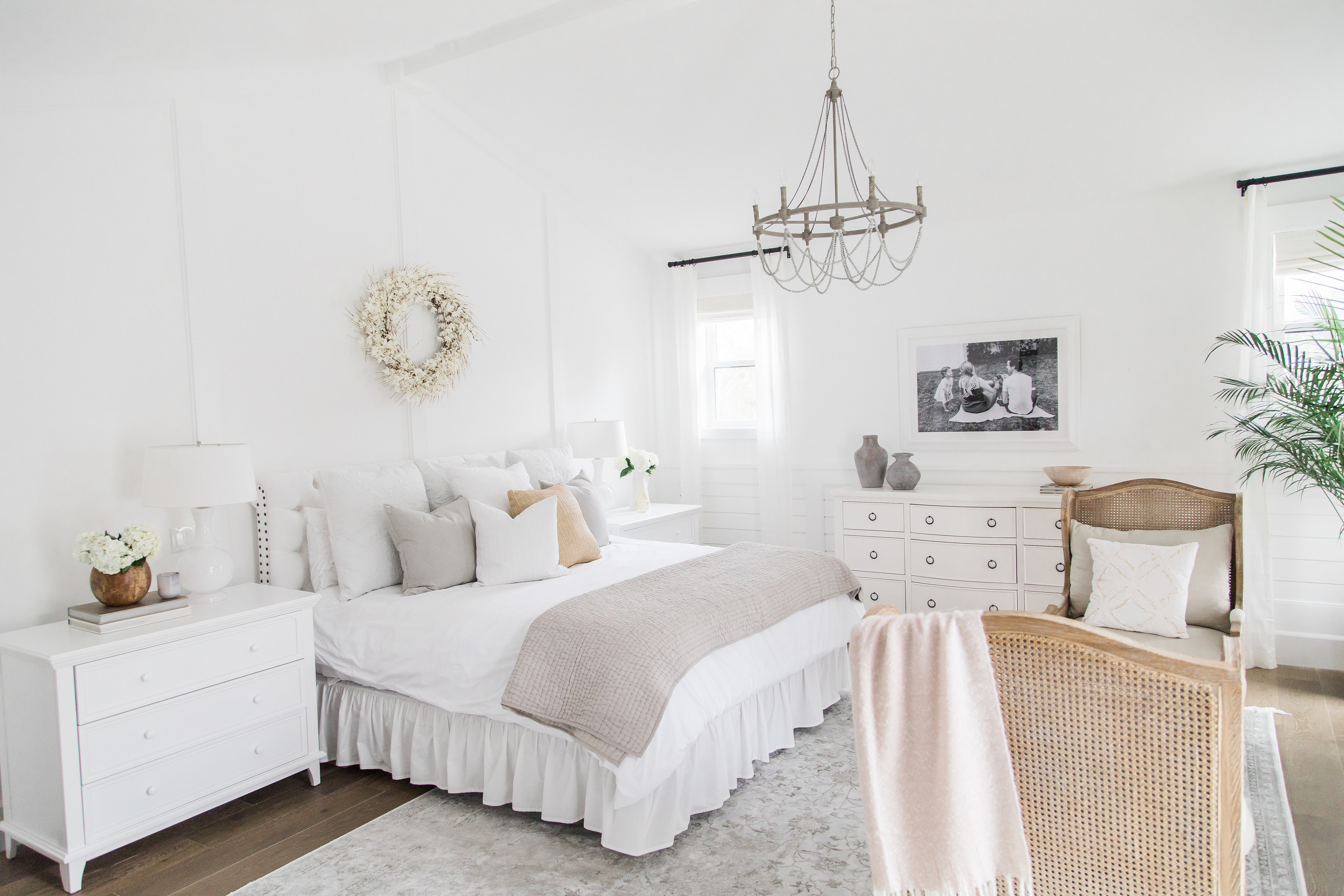 WEST ELM – Buy more and save more. So the more you spend, the bigger discount you get. Their stuff is so sophisticated and nice! I have had my eye on a few things on their site for a while now and now is the time to get them!
WILLIAMS SONOMA – They have some great sales like $150 off a Vitamix (we use ours EVERY day). Check out all their deals HERE. Other electrics are up to 50% off!
WORLD MARKET – 40% off all furniture and clothing! Buy one get one free kid's toys and beauty! And so much more!
Ok now time for the TWO $50 gift card giveaway! All you have to do is the following:
Follow me on Instagram
"Like" AND tag a friend in my most recent insta post (You both win if you are both following me!)
Comment on this blog post (with your instagram name/handle and your friends so I can find you both on Insta) and tell me what you are Thankful for this year!
I will be announcing the winner on Monday!
Happy Black Friday Shopping!!! If you know of any other great sales you think I should check out, please let me know!!!!! Be sure to come by my blog tomorrow, I'll be doing a gift round-up for him, her, and kiddos from Nordstrom!