Holy smokes! The Bachelor Premiere was so good tonight and the teaser for the upcoming season st the very beginning of the episode was unreal! I was on the edge of my seat and if the Bachelor was on Netflix and available to binge watch right now, I would stay up all night long just to watch every single episode! To be completely honest with you guys, I almost didn't want to watch this season. Not because of Peter. I love Peter and I know (and knew before seeing the teaser) that it would be an incredible season with him as the lead! I got to chat with him a couple of times and I was just blown away with how sweet and adorable he is!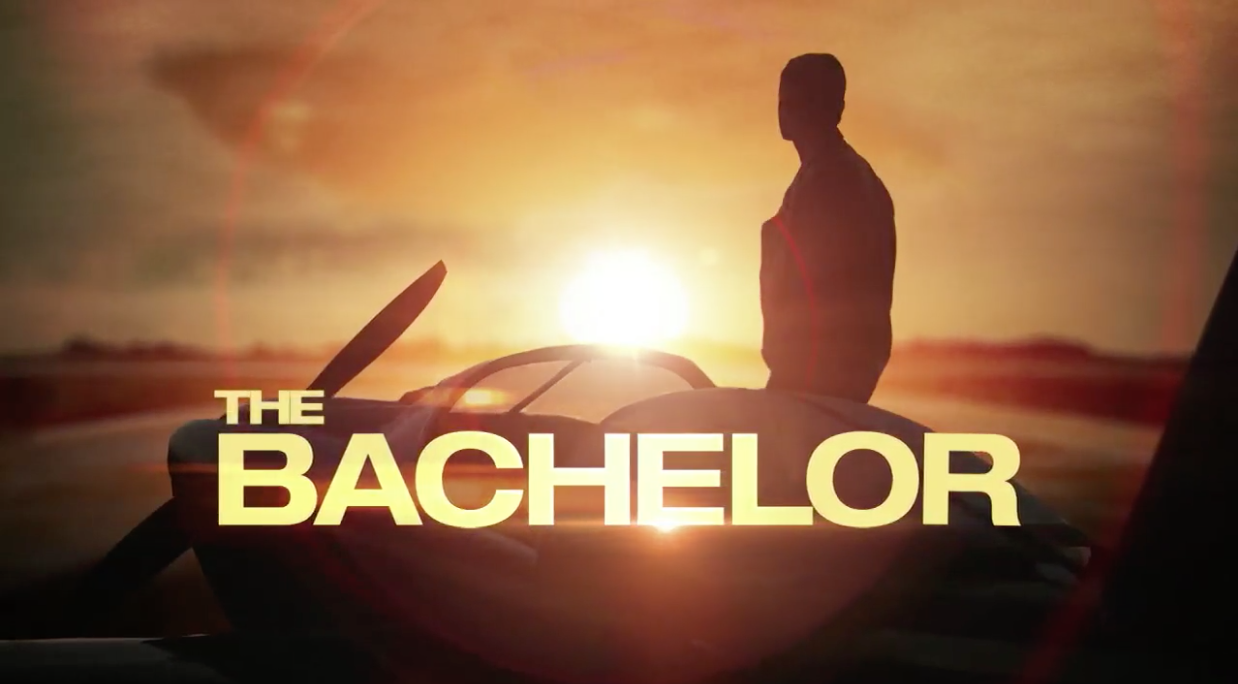 The reason I didn't think I was going to watch, is honestly just cause I'm super busy! A two-hour TV show every week plus blogging about it is just a lot. And you guys know me, I can't watch and not blog about it! I have to share my thoughts with all of you and hear what all do you have to say to! So it's either watch and blog or don't watch it at all. Ha! Anyway, I'm so excited for the season and I'm going to be an edge of my seat, along with all of you, every episode!
Let's talk about the girls that stood out (at least to me):
The Ladies from The Bachelor Premiere
Alexa (the waxer) – I can't even put my finger on what I like about her so much. I guess in my mind it just takes a very confident person to be able to wax somebody else's genitals. Ha! And I liked her sense of humor and confidence about it. But she said "I'm ok" when Peter asked her how she was when she came out of the limo.  Just OK?!?! I feel like it came out the wrong way. I'm guessing she was just nervous!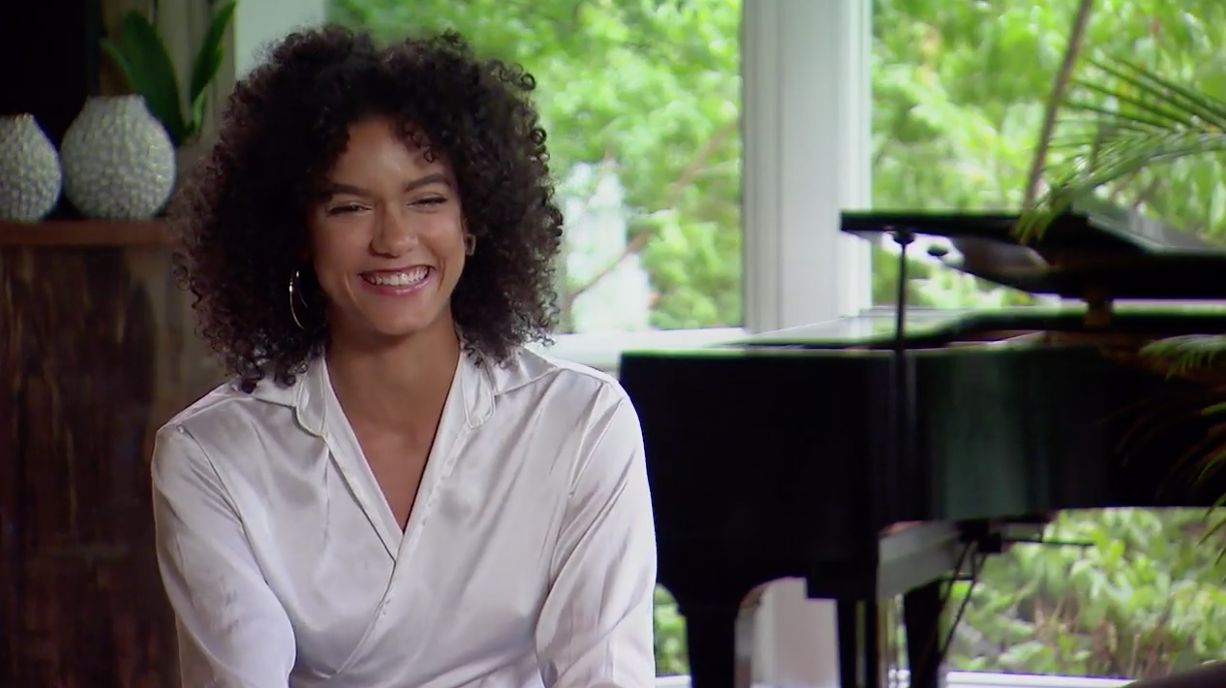 Hannah Ann (a model)- She is so stunning it seems unreal. It actually kind of feels unfair. Ha. Without a doubt she'll make it really far – top 3 for sure. Especially after seeing how Peter reacted to her coming out of the limo and giving her the first kiss. And who knows, maybe Peter is destined to end up with a Hannah! And btw, doesn't she look SO MUCH the Jenna Dewan? Let's discuss in the comments below
Victoria Paul (a nurse) – When she broke down in tears because she was so emotional about meeting Peter I just thought it was so sweet. And you can just tell she is a sweet soul which is exactly what Peter said he's looking for. A kind heart.
Madison (A basketball champ)- SUCH a cutie!!! Peter's poker face when he met her was so bad! Ha! It was so obvious that he was drawn to her at first sight. I will get to their date in a minute.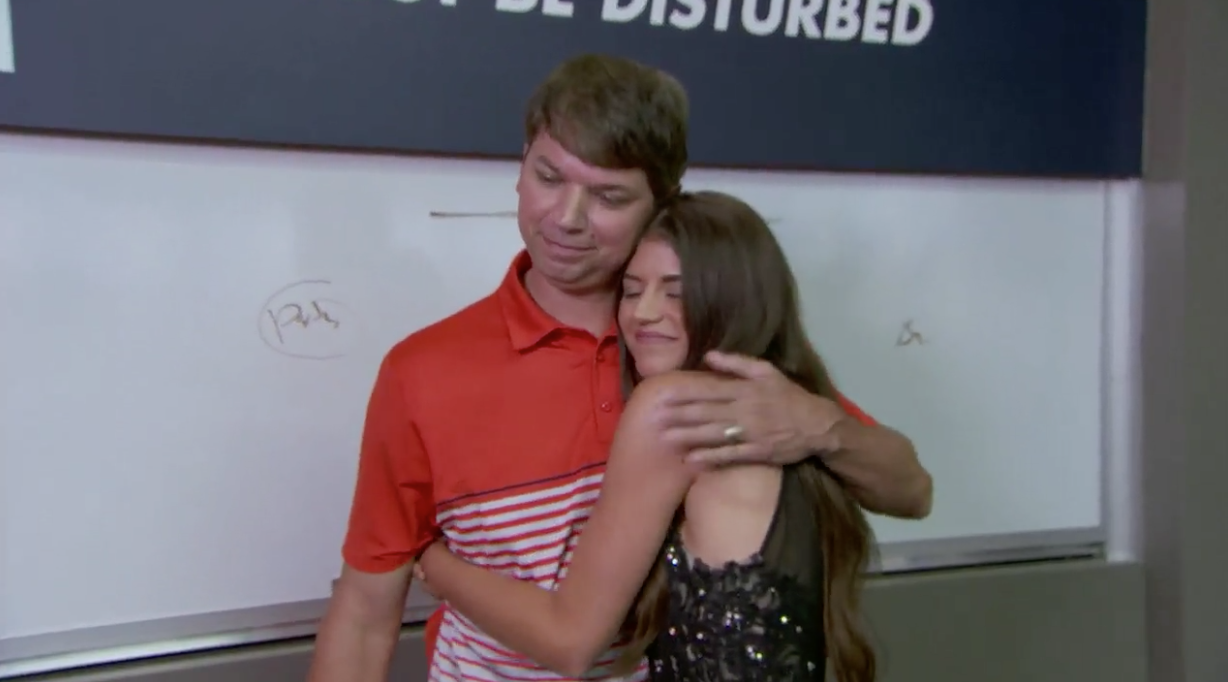 Maurissa (works for a plastic surgeon) – I LOVED her. I was SO sad to see her go. Honestly it seemed EXTREMELY obvious to me that Peter kept some of the other girls because the producers wanted him to. Don't you think? Which I'm not faulting him for whatsoever. When I was the Bachelorette, I picked the handful of guys I really liked night one and then honestly I was so exhausted at the end of the night (It's 8 in the morning and you've been up all night), so I kind of let the producers pick the rest for me. I remember when we were going through the guy night one, if I could remember somebody's face or name we kept them. Ha! That's how delirious you are at the end of the night.
A few things I didn't care for:
The dirty jokes out of the limo. Yeah we get that he had sex four times in a windmill but I just don't feel like that's something I would want to bring up the first time I meet my future husband. I guess everybody's different but that's just not something that I cared for much.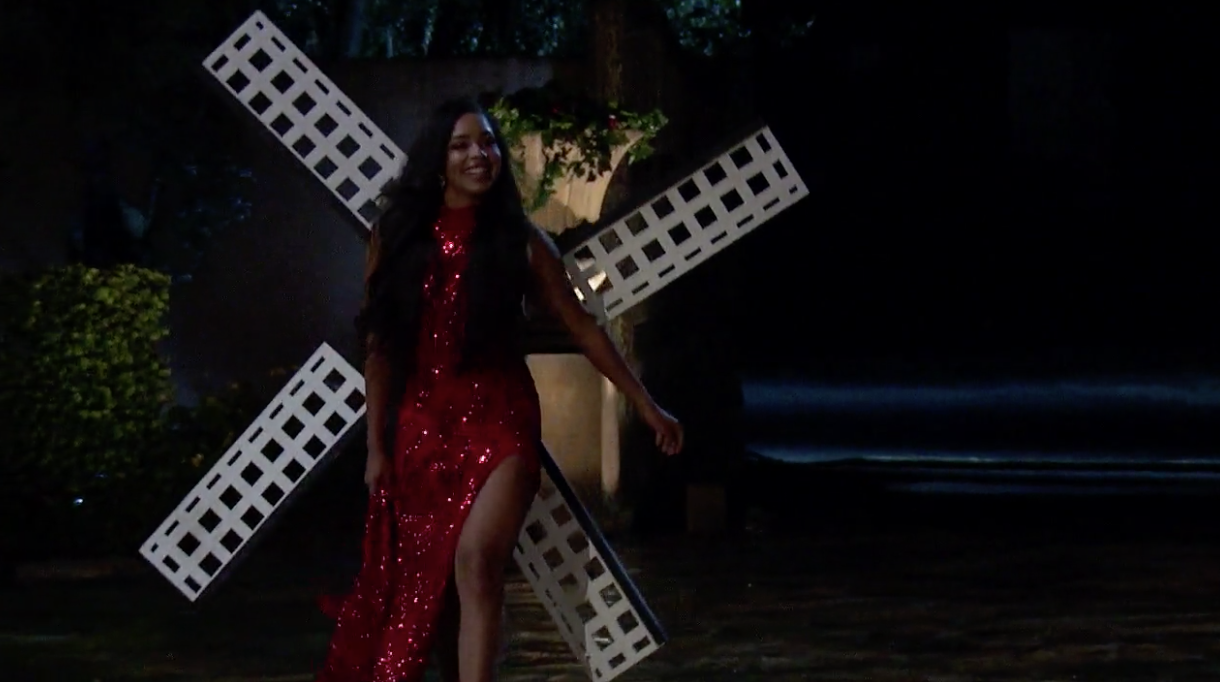 I also felt like it was not the greatest move for Savannah to kiss him the way she did right out of the limo. Yes, he kissed her back but I think he was just trying to be nice honestly.
And the group date with Hannah. More on that in a minute. Let's talk about the other dates first.
The First Group Date
Given that this first group date was at the airport where he learned to fly made me realize that this entire first week, and really the entire time they're in Los Angeles before they leave, is like one big long hometown date for him and all the girls! Obviously the Madison date with his parents renewing their vows was the ultimate hometown date. And Peter's not kidding when he says he lives right down the road from the mansion. He does! The hotel that all the Bachelor and Bachelorette stay in now while filming is in Westlake village (I say "now" because back when I was a Bachelorette I stayed at a house up the street from the mansion – not at a hotel). I don't know if you guys remember but Peter is from Westlake Village. So this is literally all happening on his stopping grounds! I just think that's really cool.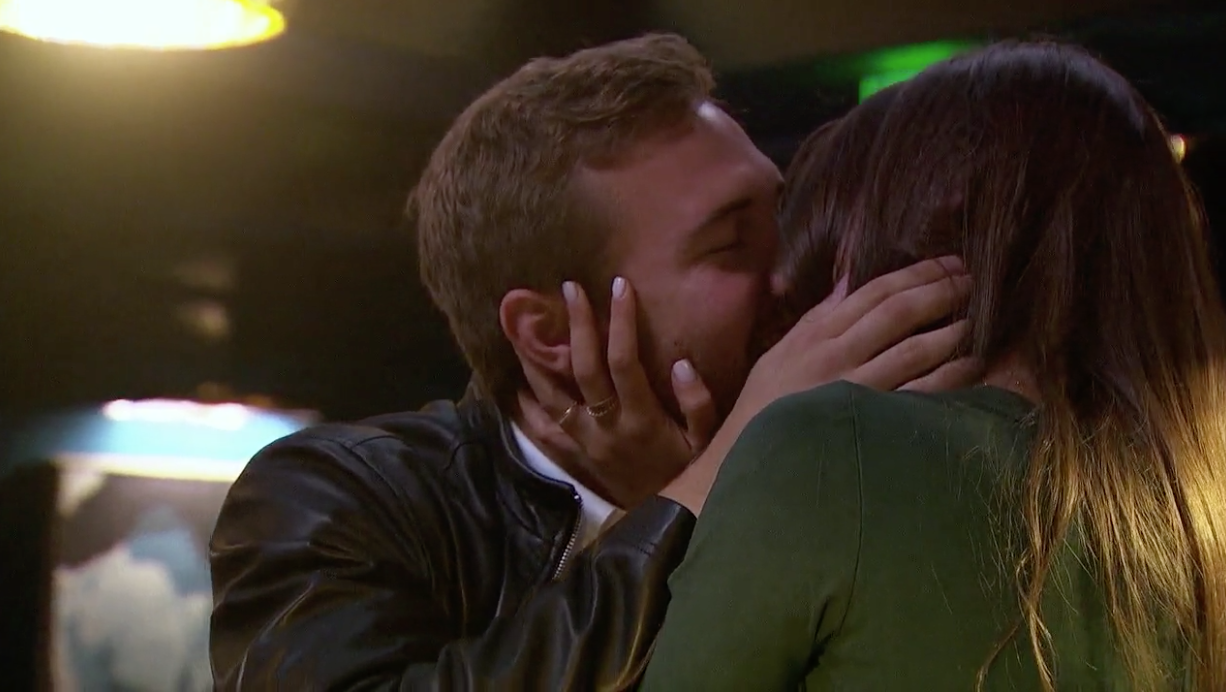 All the kissing that Peter is doing in front of the other women is not cool. But let me say this for anybody else who's thinking the same thing, I've met Peter and talked to him multiple times. He is such a sweet guy! Honestly so much of him reminds me of my little brother. And I honestly think sometimes he kisses out of nervousness, and then sometimes he does it just because it's what he thinks is the nice thing to do.
I think the same thing happens with how he talks to women in front of other women! He is trying to be nice and say what he thinks that person wants to hear, but not necessarily what the other girls want to hear. Like when he gave Kelley the group date rose and said how special is was that is was in the place they had their first spark. And then telling Madison how stunning she looks and how special their date was going to be. I do hope he tones it down a little bit and realizes how hurtful it's going to be by doing it in front of the other girls especially as things progress.
(Speaking of Kelley, I found her dress from the limo entrances in black)
Madison Date
Wow wow wow. Madison will be in the top 2 no question. And I will go as far to say that she will be the one. I was glued to the TV for every SECOND of their date. I was smiling, crying, laughing, heck I was going through every good emotion I can think of. I guarantee you when the producers asked him who he wanted to take on the date, they asked him to choose someone that he really thought he could end up with at the end of this. And I'm sure that's just what he wanted to do because of the personal nature of the date. So in my mind right now Madison is the girl he's going to end up with at the end of this no question. Well Madison or Hannah Ann. The first impression rose wins in the end by more than 50% of the time or something like that. Maybe even more than 75% of the time.
Group Date with Hannah –
The first thing I wanna say about the group date is it was in such poor taste. We all get that they had sex four times in a windmill. But that is just not something that needs to be recited in front of all the other girls. And I don't blame Hannah. It wasn't her decision to have the date be sex stories and then tell her story. The producers did all that. But she did go along with it. The only thing I will say is that it's so hard not to go along with it when you're on the show. And honestly, I think part of her wanted to go along with it because she wanted Peter to remember and she wanted to be with him. I mean obviously we know she wants to be with him at this point. But I'm just over the windmill – I don't want to hear about the windmill anymore.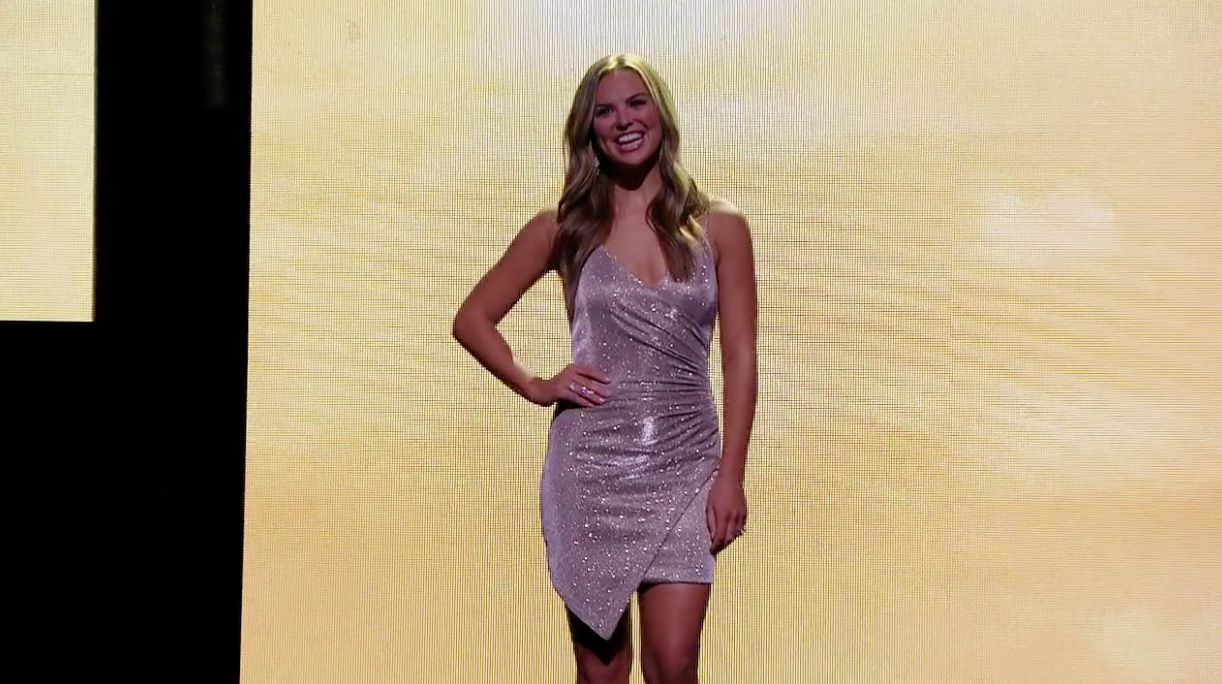 In terms of Peter and Hannah, I think it's safe to say that she doesn't stay in the house after this conversation. If you think about her time on Dancing with the Stars it just wouldn't add up unless the show never travels anywhere and stays in Los Angeles the entire time, which I highly doubt happens. At one point in the teaser at the end of the show, we see one of the girls say something about how he should just end up with Hannah. I honestly think they're talking about Hannah Ann in that clip. I think Hannah Brown will leave at the beginning of next week's episode.
I want to talk about the situation delicately because I think it's a really tricky situation. Do I think Hannah should be there professing her love for Peter? No. I don't. It's not really fair of her. But I also know that sometimes with love you can't control it. How you feel is how you feel and sometimes it can be literally impossible to hold back your emotions. I don't think she went there to try to get Peter. But I'm sure it's been in the back of her mind as a possibility. And I'm sure she was just hoping she could hold it together.
At the end of the day, after what happened to her with Jed and then watching Tyler jet set around the world dating Gigi Hadid for a hot minute, the girl has got to be an emotional wreck! I mean poor thing! She has been through the ringer. But at the end of the day, Peter is just her back-up plan. And we can't even say Peter was her second choice cause really he's her third choice. But I sooooo feel for her. I don't think Peter should have even suggested she come in the house because it's time for her to move on. She's going to meet someone that's right for her, but Peter's just is not it.
I remember after I was the Bachelorette and Roberto and I ended our engagement there was some rumors that he was potentially going to be the next Bachelor. (BTW, I heard he just got engaged! Someone posted it to my FB group! So happy for him!) I remember I was sick to my stomach at the thought of it! For someone I cared about so much for so long to then go on to be the Bachelor was something I could not stomach. Especially someone I was once engaged to! So with Hannah, I'm guessing that she was so heartbroken about the Jed situation and then equally emotionally messed up from asking Tyler out on a date and then him going off and dating Gigi Hadid. I can only imagine that she second-guessed all of her past actions and of course now wants to be with a guy as wonderful as Peter.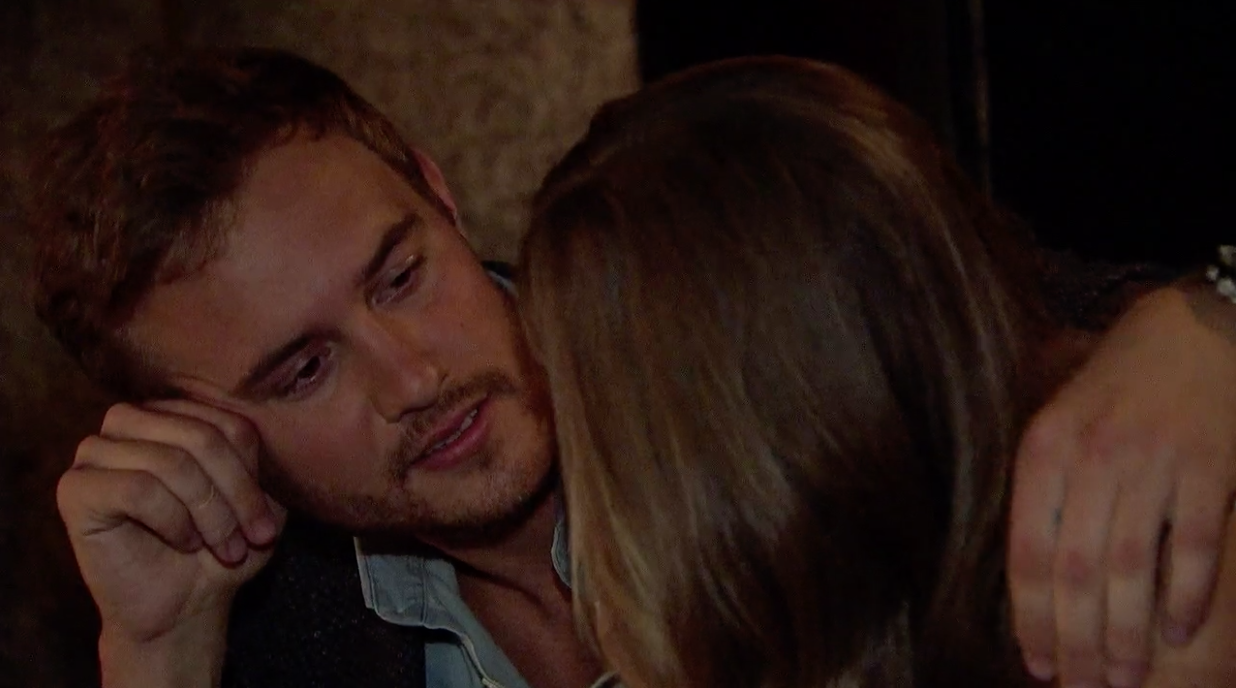 I don't blame her for one second for any of it! I just think it's a sad situation and I think she needs to move on as best she can and find the man of her dreams and Peter needs to move forward with the girls in the house. But at the end of the day, it's their lives and the only thing that really matters is that they both end up in a loving relationship. Even if that relationship ends up being the relationship they have with them self (I'm all about self love). And that's the truth.
But if you want my take on it, and I'm guessing you do and that's why you're reading this blog, I definitely don't think Hannah is staying around nor do I think she should stay around. What do you guys think? I MUST discuss in the comments below!!!
A Last Thought…
And last but not least, I just wanna say that one of my biggest takeaways from the Bachelor Premiere tonight was just how incredible Peter's family is. He said it multiple times throughout the show and it was so obvious when we saw him spend time with his parents at the beginning, but he is so lucky to have such an incredible family. And I mean, the vow renewal, I was weeping like a baby. To grow up surrounded by all of that love is such a gift. Because most people don't have that. I didn't.
I never really talk about it because I feel like I don't want to make my parents feel bad or something, but they had a terrible marriage. They fought violently when I was young. Thankfully they got a divorce when I was 12, but it was really hard those years prior. So many people have children who aren't in the right relationships. I don't know, I'm rambling now because this blog is supposed to be about the bachelor premiere. But I took so much more from the episode then just the entertainment I normally do. I hope so badly that Kevin and I are that example to our children for the rest of our lives.
Fashion Updates!
Okay, I can't go without talking a little fashion! I love sharing some of my favorite looks with you guys at the end of my Bachelor blogs. So here a few of my favorite outfits that are still in stock that I've written about since my last Bachelorette blog! I'll start with this top it's only $39 and the comfiest thing ever that you will never want to take off this winter! Keep reading for my FAVE $17 sweater!!!!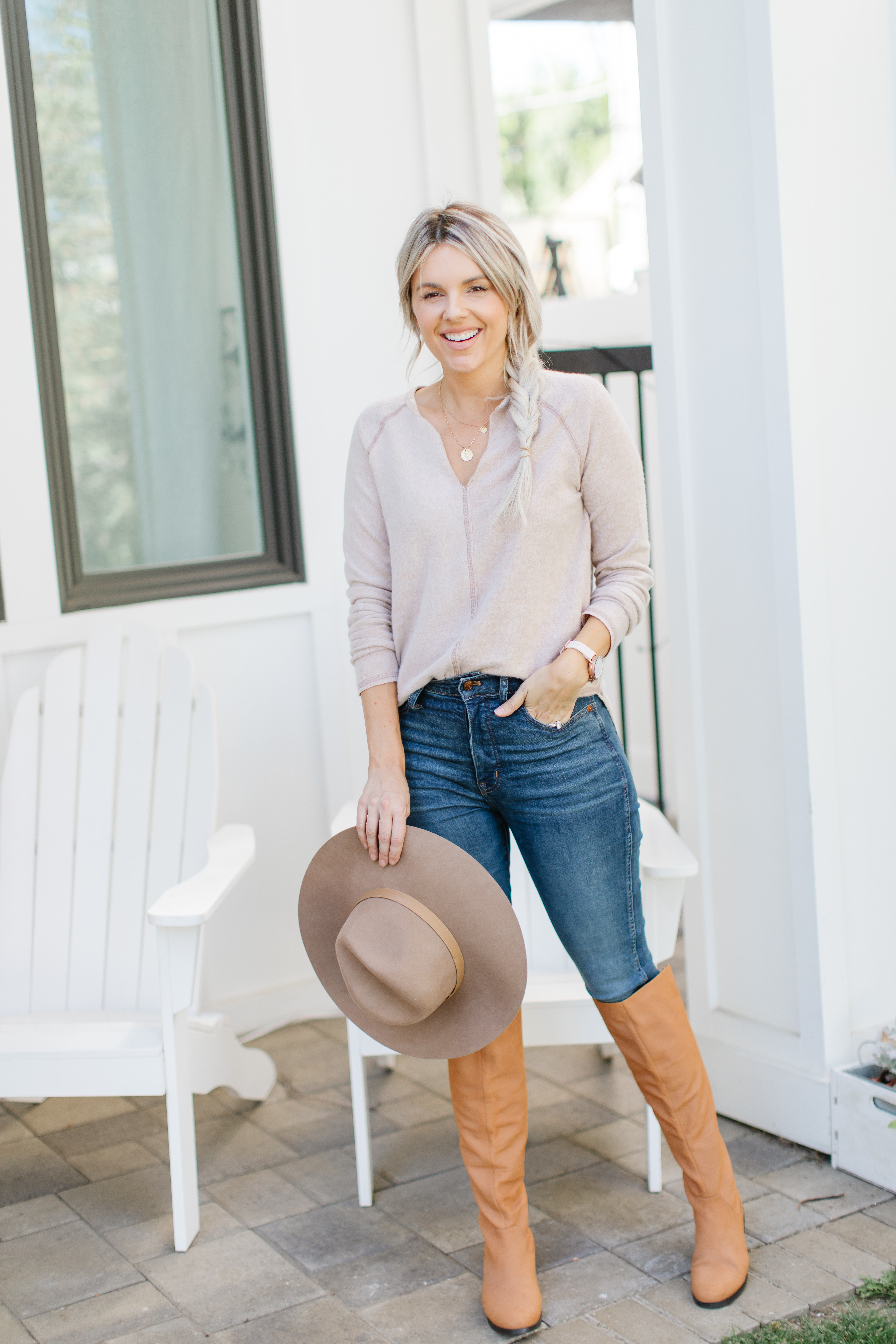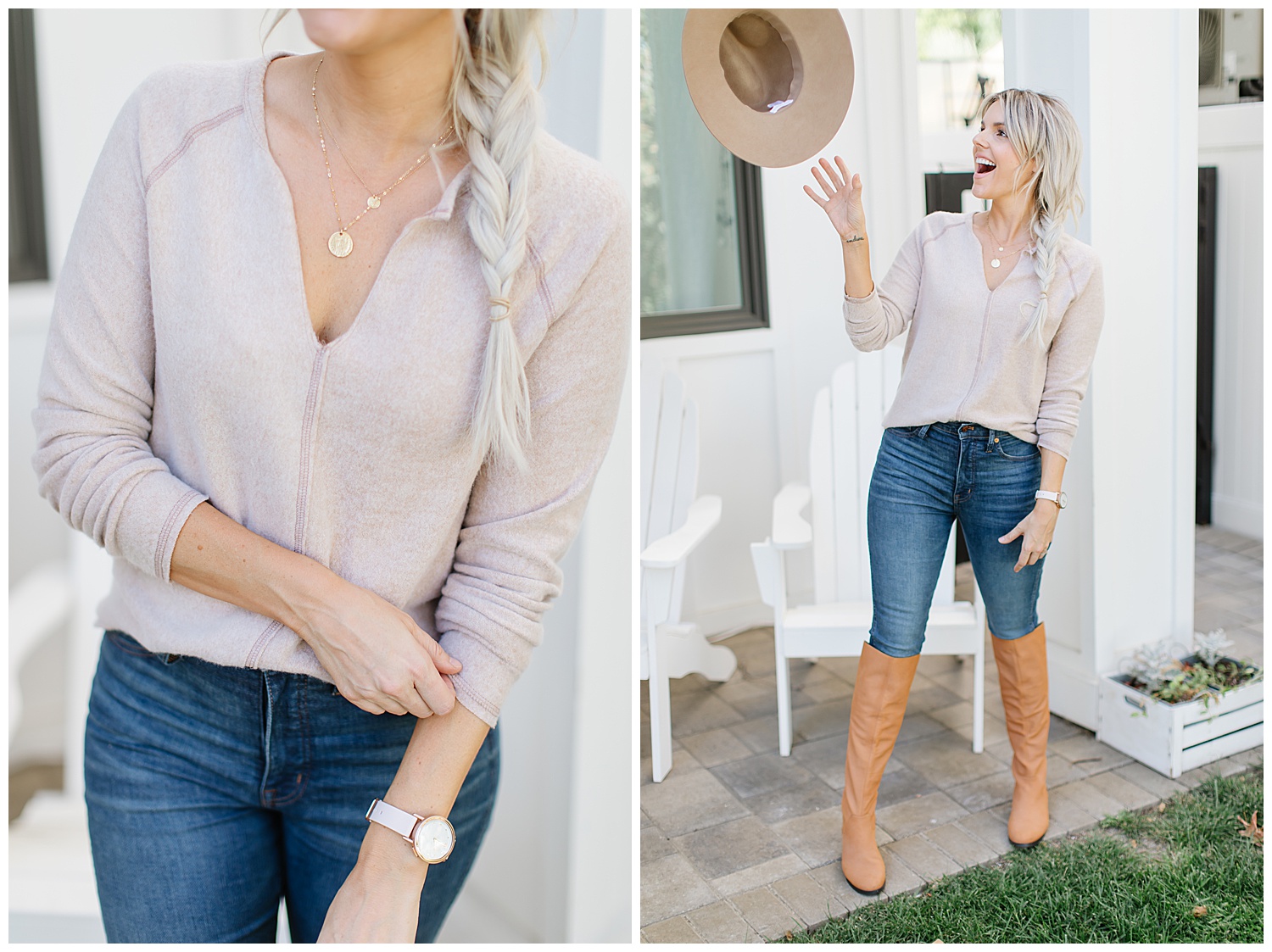 1. SOFT RAGLAN TOP | 2. JEANS | 3. HAT | 4. SIMILAR BOOTS | 5. NECKLACE
It is seriously SO soft and a great neutral color. The best part is that it is under $40 – and it really looks and feels like it could be worth over $100. It comes in three colors, the beige that I am wearing here, a purple and heather gray! (I also own the purple one FYI) You really can't go wrong with any of them. I would say that it is pretty true to size. I am a medium and I am wearing a medium in this photo.  It's great for cooler winter days because the texture of the top is soft and almost like a light fleece which makes it super cozy. You can read more about this top and outfit here.
Believe it or not, some of my friends are still attending holiday parties this month! Which is so crazy to me, but I also love that people are still having a reason to dress up and get creative with their outfits. One of my favorite dresses from this holiday season was under $130, and it is so colorful and pretty. I'm wearing a size medium in it which is my normal size. So I would definitely say it's true to size. I love the exaggerated sleeves on it. Not only the puff sleeves, but it has these incredible built-in details down the lower third portion of the sleeve. It has a vintage feel with a modern twist.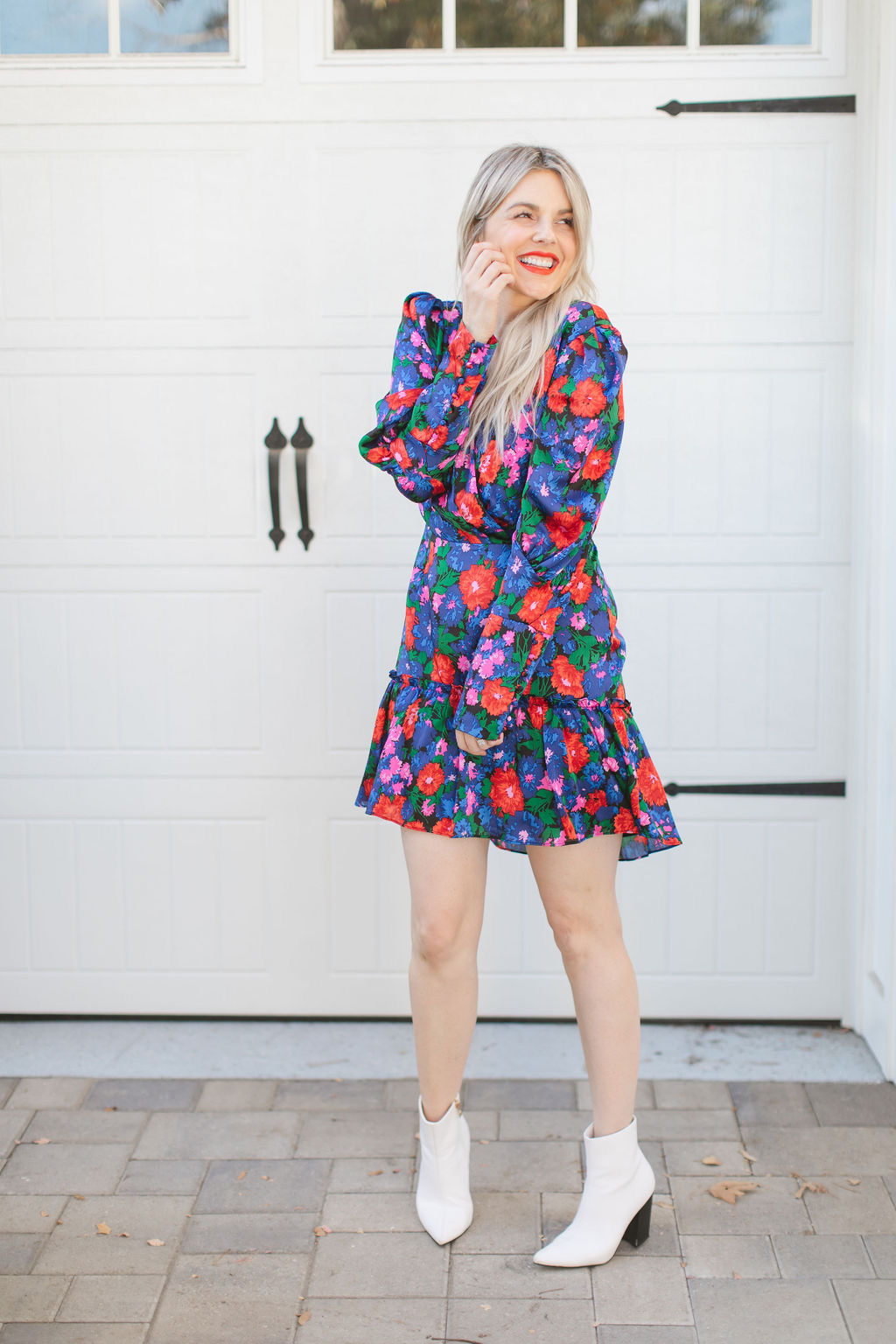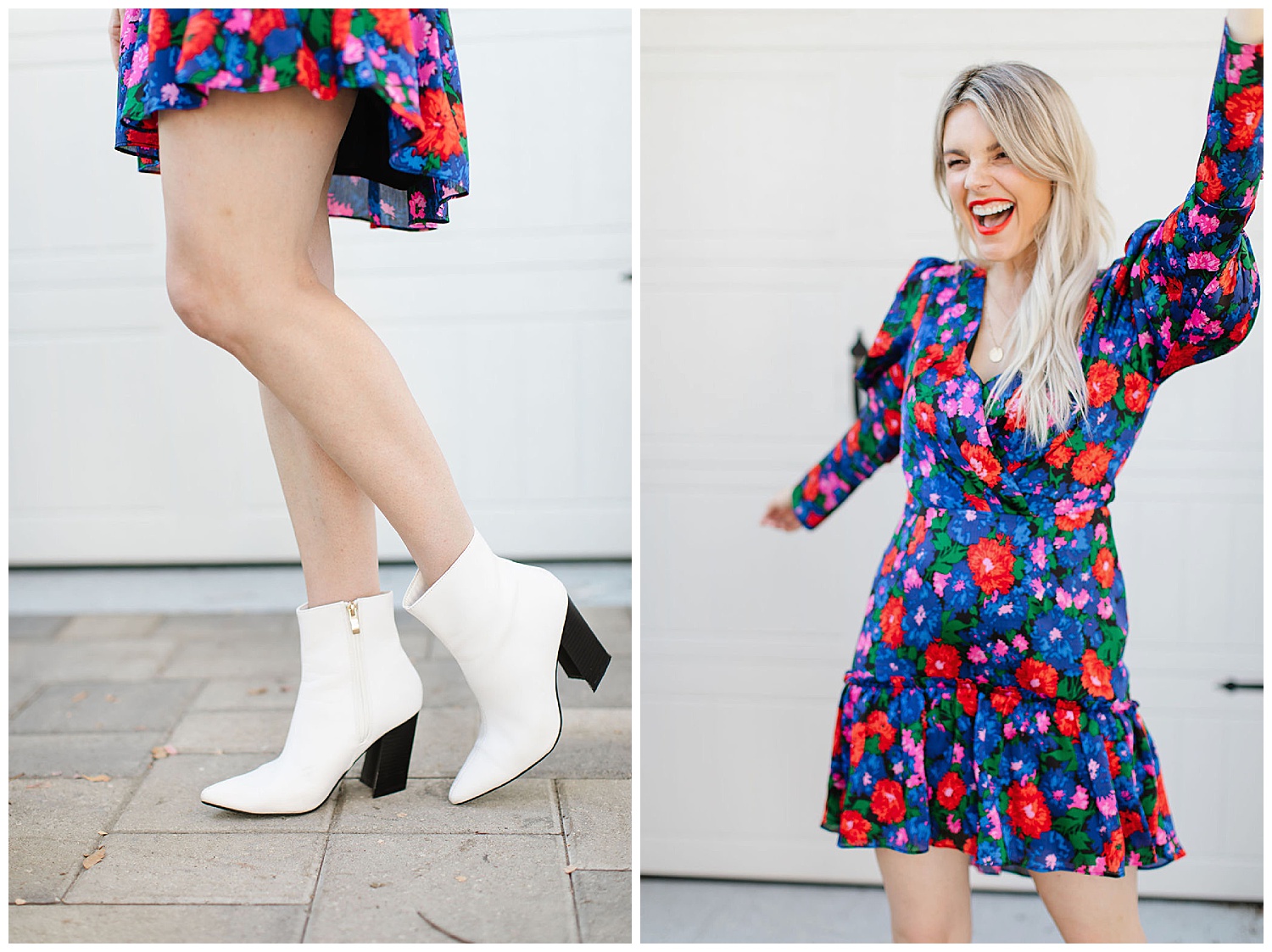 1. FLORAL DRESS | 2. RED LIP | 3. WHITE BOOTIE | 4. SUNLESS TANNER
The colors are so vibrant! I almost wore pair of black pumps with this but I thought because of the super fun vibrant colors a white bootie just made it so much more fun! But you could totally do a black pump with us and it would still be such a showstopper! It's definitely a little bit more of an investment than I normally spend on clothes but is just over $100. I still think it's a steal because it's just so so so beautiful!
And the lip I am wearing in this is a Nars Lip Pencil in the color Red Square FYI.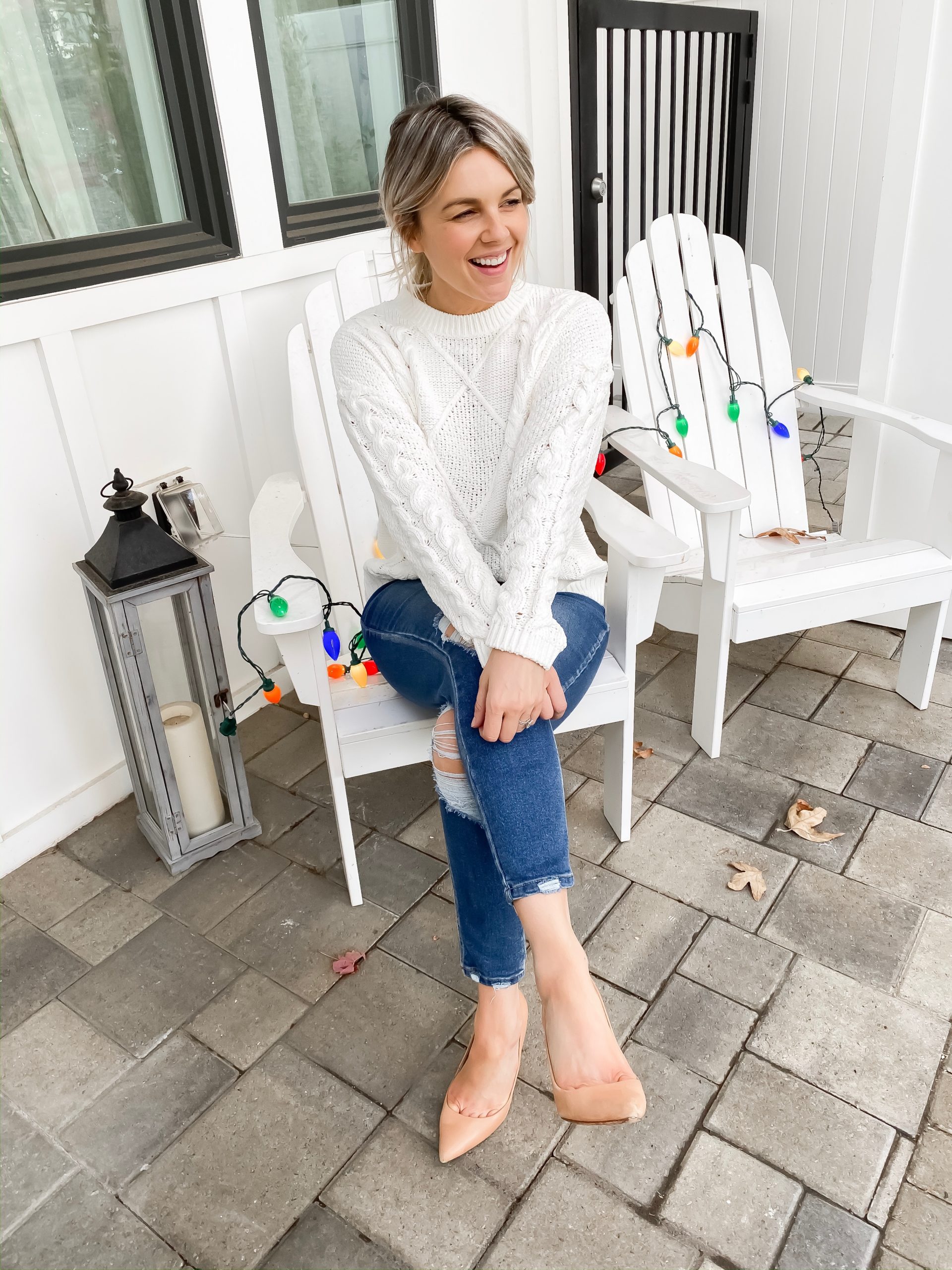 1. KNIT SWEATER | 2. $16 JEANS | 3. NUDE HEELS
I also recently did a post where I compiled a list of 3 sweaters that are all under $17… yes, $17! You read that right. I will show you my favorite of the three here, but you definitely should head over to the blog to check out the rest. 3 sweaters for under $55 is unheard of!! At least I've never seen deals that good!
This knit sweater is another one of the sweaters that I just didn't know what to expect when I got in the mail. But as soon as I took out of the packaging I was absolutely blown away by the quality! It's again only $17 and it's absolutely stunning! It comes in seven colors total. It's funny because it actually doesn't have the best reviews on the Walmart site which I am shocked by. I really highly recommend picking up the sweater and seeing for yourself. I think it's absolutely gorgeous! Honestly, I feel like if I saw this on somebody out and
about, I would think it was $100+ sweater — if not $200! I'm wearing a medium which is my normal size.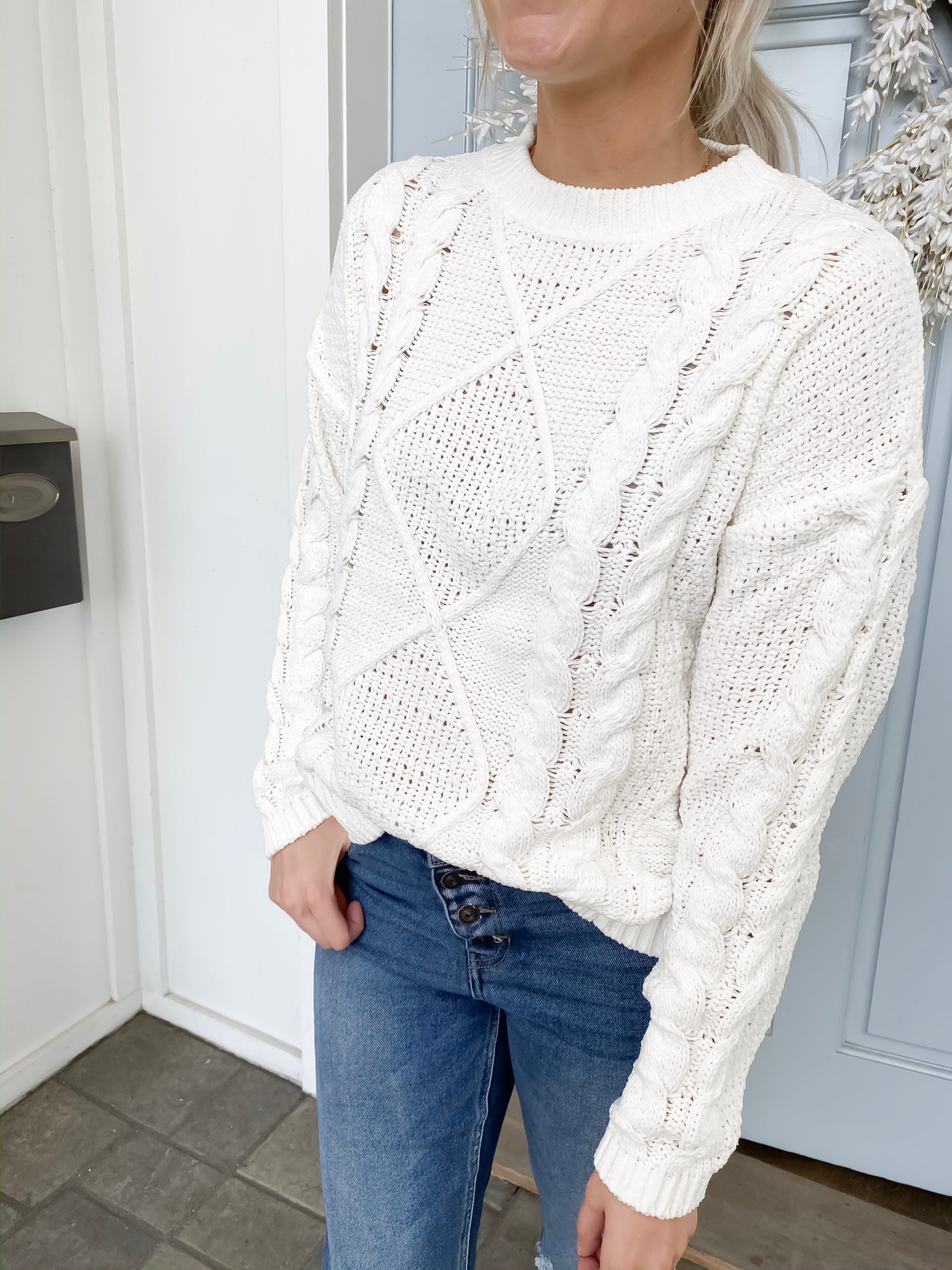 1. KNIT SWEATER | 2. $16 JEANS | 3. NUDE HEELS
I have my $16 pair of jeans on in these pics too! If you bought these jeans when I blogged about them in the past, let me know your thoughts in the comments!
Can't wait to see what's in store for Peter this season, now let's talk about the Bachelor Premiere!