Hey guys! I hope you're having a great day! Today I wanted to share with you my casual outfit that may have sen me wearing recently! Plus I haven't blogged in like 2 weeks! Crazy. SO I want to get going again! Plus The Bachelor starts on Monday so I will definitely be blogging about that! Who will be watching?!?! Ok let's talk about this look…
Let me start off by talking about this ridiculously soft top!! It is seriously SO soft and a great neutral color. The best part is that it is under $40. I find that so incredible, because it really looks and feels like it could be worth over $100. It comes in three colors, the beige that I am wearing here, a purple and heather gray! (I also own the purple one FYI) You really can't go wrong with any of them. I would say that it is pretty true to size. I am a medium and I am wearing a medium in this photo.  It's great for cooler winter days because the texture of the top is soft and almost like a light fleece which makes it super cozy.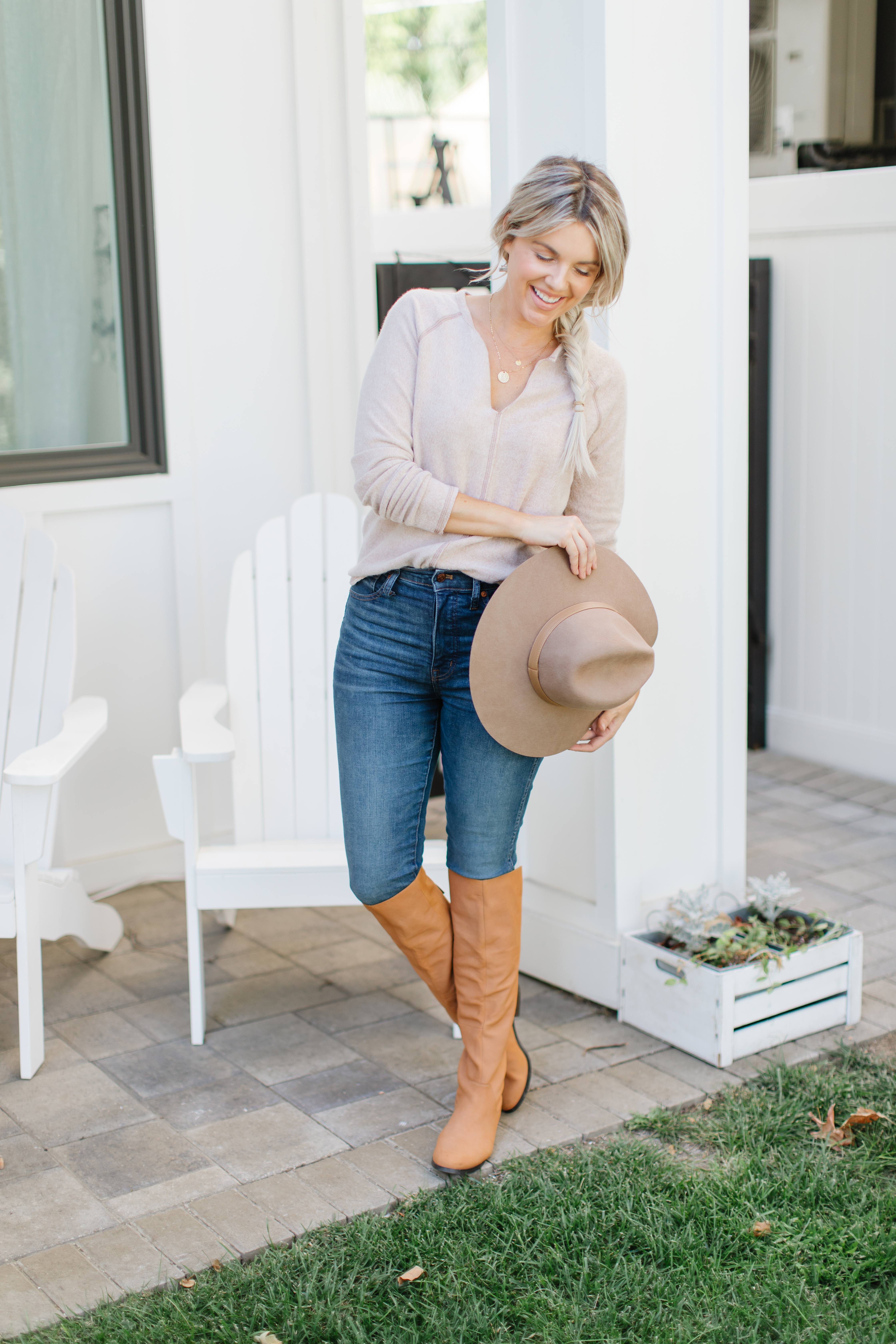 1. SOFT RAGLAN TOP | 2. JEANS | 3. HAT | 4. SIMILAR BOOTS | 5. NECKLACE
I love it because it can be paired with jeans, joggers, or even a skirt! Now that I'm thinking about it, this top would be super cute with a skirt and some sneakers or boots! Recently, I've been trying to wear a lot more sneakers when I am trying to be productive. You are able to get so much more done in your day when you are dressed for success!
I've hunted high and low for boots that are exact to these ones (I've had them for a few years) and am completely striking out! I'll link a few somewhat similar pairs here that would look nice with this look!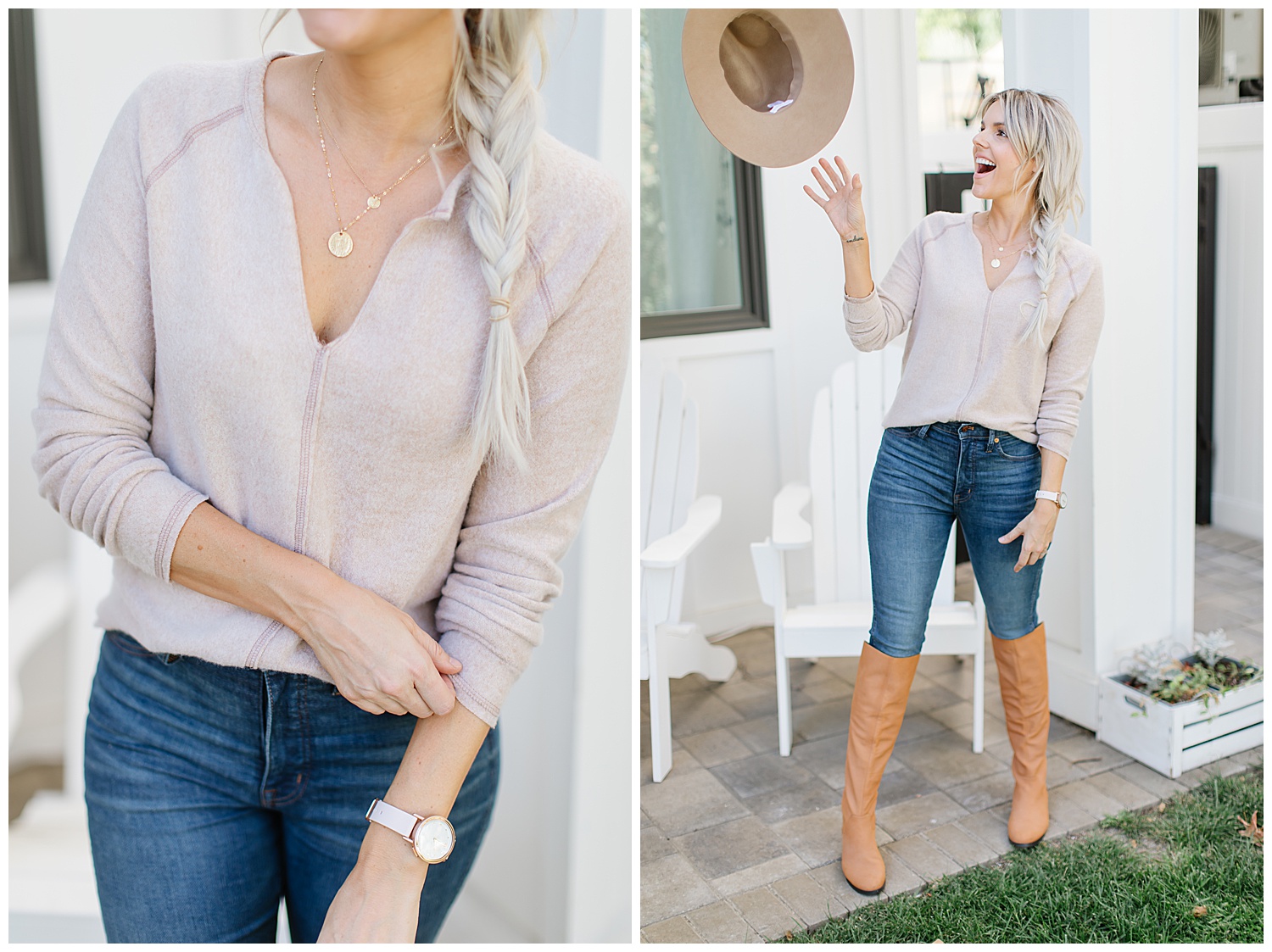 1. SOFT RAGLAN TOP | 2. JEANS | 3. HAT | 4. SIMILAR BOOTS | 5. NECKLACE
Isn't this hat so darling? I love that it is a flat brim fedora! I have a handful of them, but this color has to be one of my favorites! It is made out of wool felt and is the type of color that could be worn all year round! I love to pair it with outfits like this when I am running errands, or it would be super cute to wear with a dress to a brunch! It actually comes in a neutral brown color and a maroon which would be great for the holiday season.
The exact necklace that I'm wearing here is sold out, but I found one that is so similar and actually much more affordable than the one that I am wearing. The layered look is so cute and this one is very simple and could be worn with pretty much any outfit! You will notice that I wear my coin necklace all of the time! It's 25% off right now as well, making it only $36.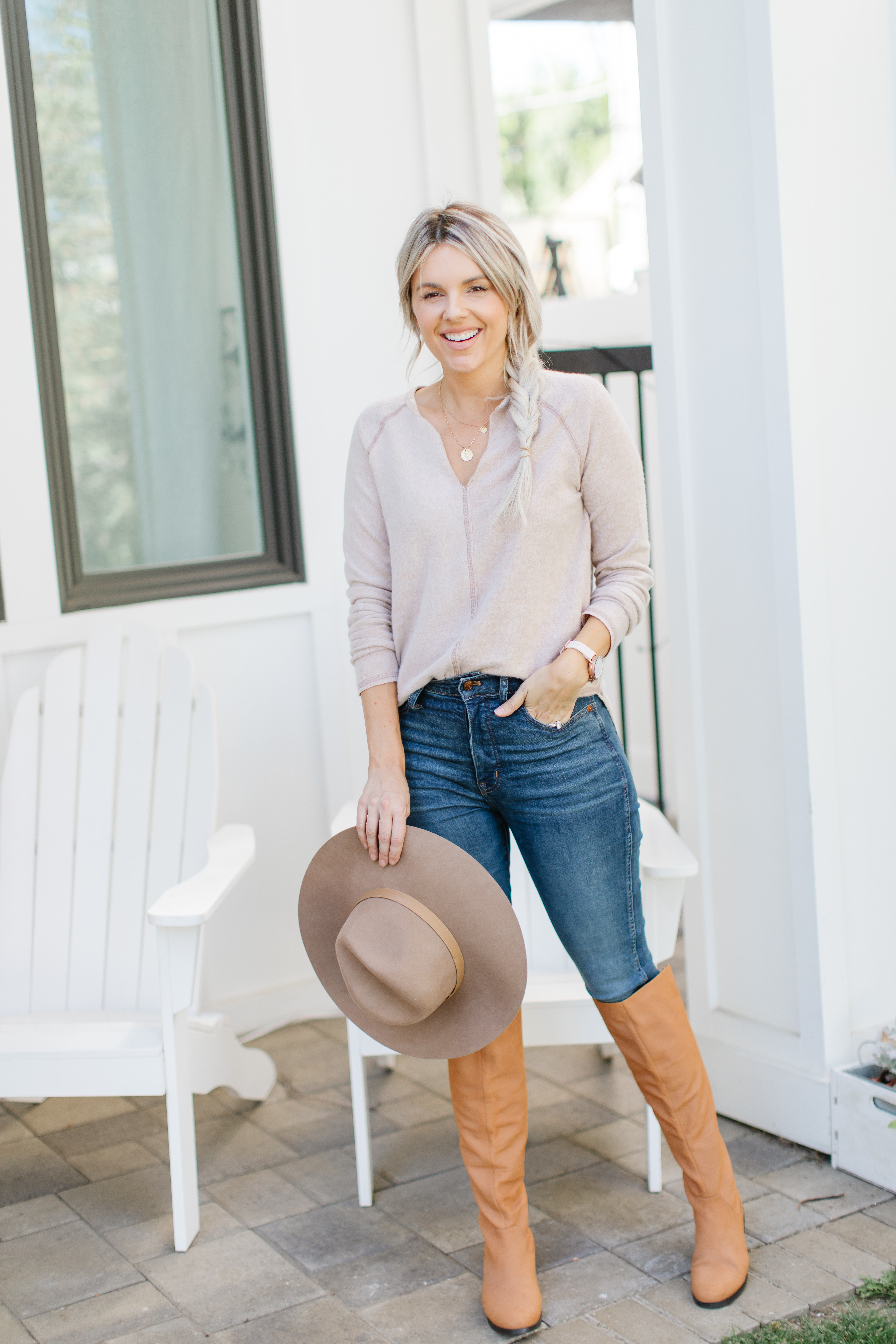 1. SOFT RAGLAN TOP | 2. JEANS | 3. HAT | 4. SIMILAR BOOTS | 5. NECKLACE
Okay that's it for today! I know it's been a bit colder lately, (it has been cold here too!) and you could totally throw a peacoat over this raglan top for extra warmth! That would look beautiful. Here's one that I love – I did a post about it here! I hope you liked this look! Do you have any go-to faux leather boots I should try? I'd love some ideas from all of you!!