Hey guys welcome today's Affordable Friday post! I feel like it's been a few weeks since I've done one, so I'm so excited to do this one today! I tried to make everything I'm wearing from a few different retailers so it wouldn't be too hard to order if you wanted to pick something up yourself! I just think these are three really cute sweaters that are all soft, comfy, stylish, and under $20. Actually, even better, they are all under $17 each! So I want to start with this first sweater because it's my favorite of the three!
Sweaters Under $17!
Long Tunic Sweater (In 8 colors!)
Okay, so the reason I like this first sweater so much is because I really feel like it's going to be super flattering on so many different body types. It's got a really nice shape to it and it's super long, so it will cover your booty and your hips. And it's just ridiculously soft! When I ordered it, I had high expectations because there's over 70 – 4.5 to 5 star reviews on the website. So I knew it was going to be good but I really didn't think it was going to be this good! And it's available in eight colors total so if you really love it you can get in multiple colors! And it's $17 you just can't beat the price. I got a medium, my normal a size.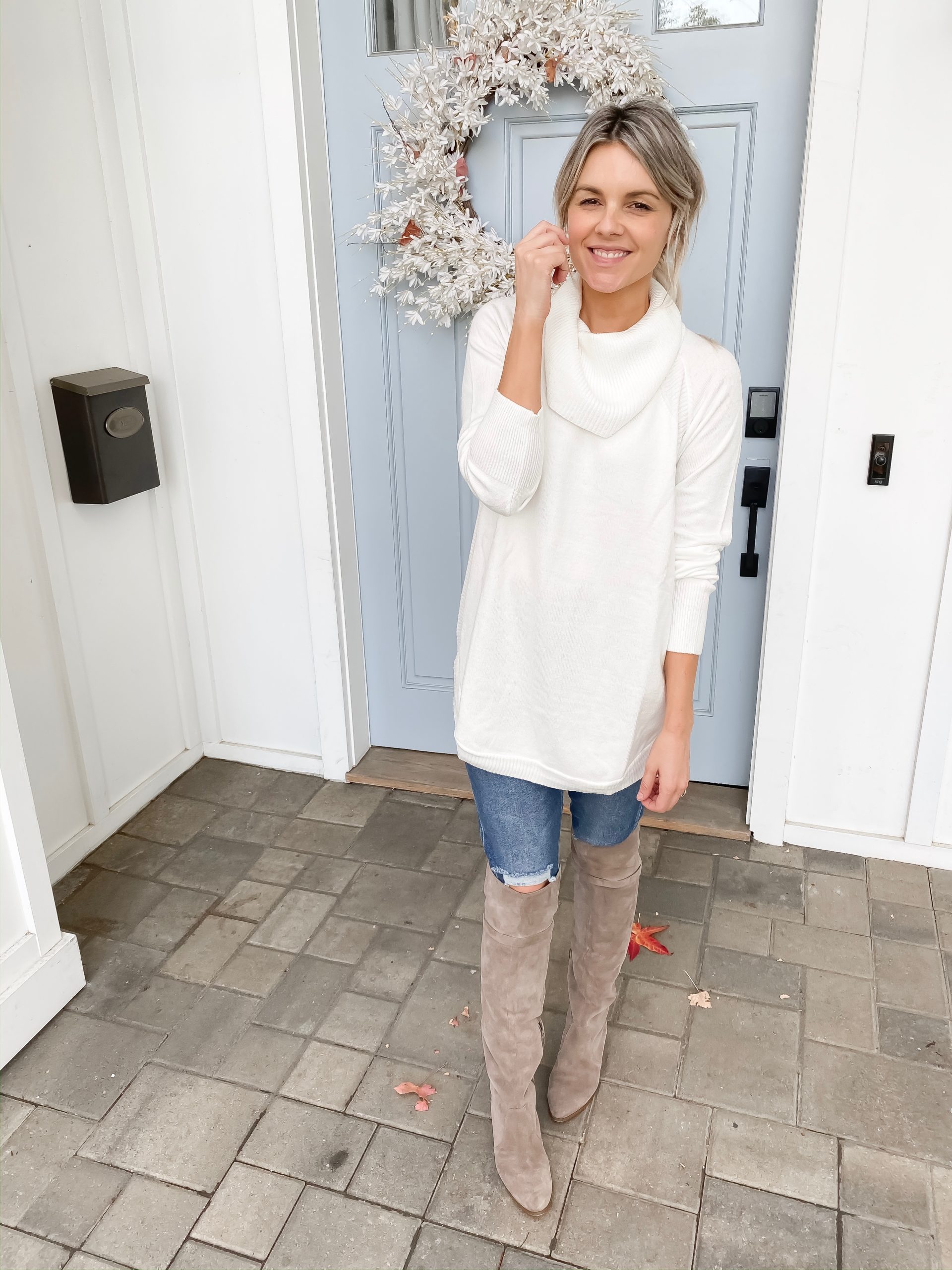 1. TUNIC SWEATER | 2. $16 JEANS | 3. SIMILAR BOOTS
I'm wearing it with my $16 jeans that you guys know that love! I love them not only because they're cute and super stylish, but also because they're made from recycled water bottles which I just think is so awesome! And again at $16 you absolutely can't beat the price of these jeans. In this post, I talked more about my love of these jeans and even had someone else review them! Check it out if you want more outfit ideas as well.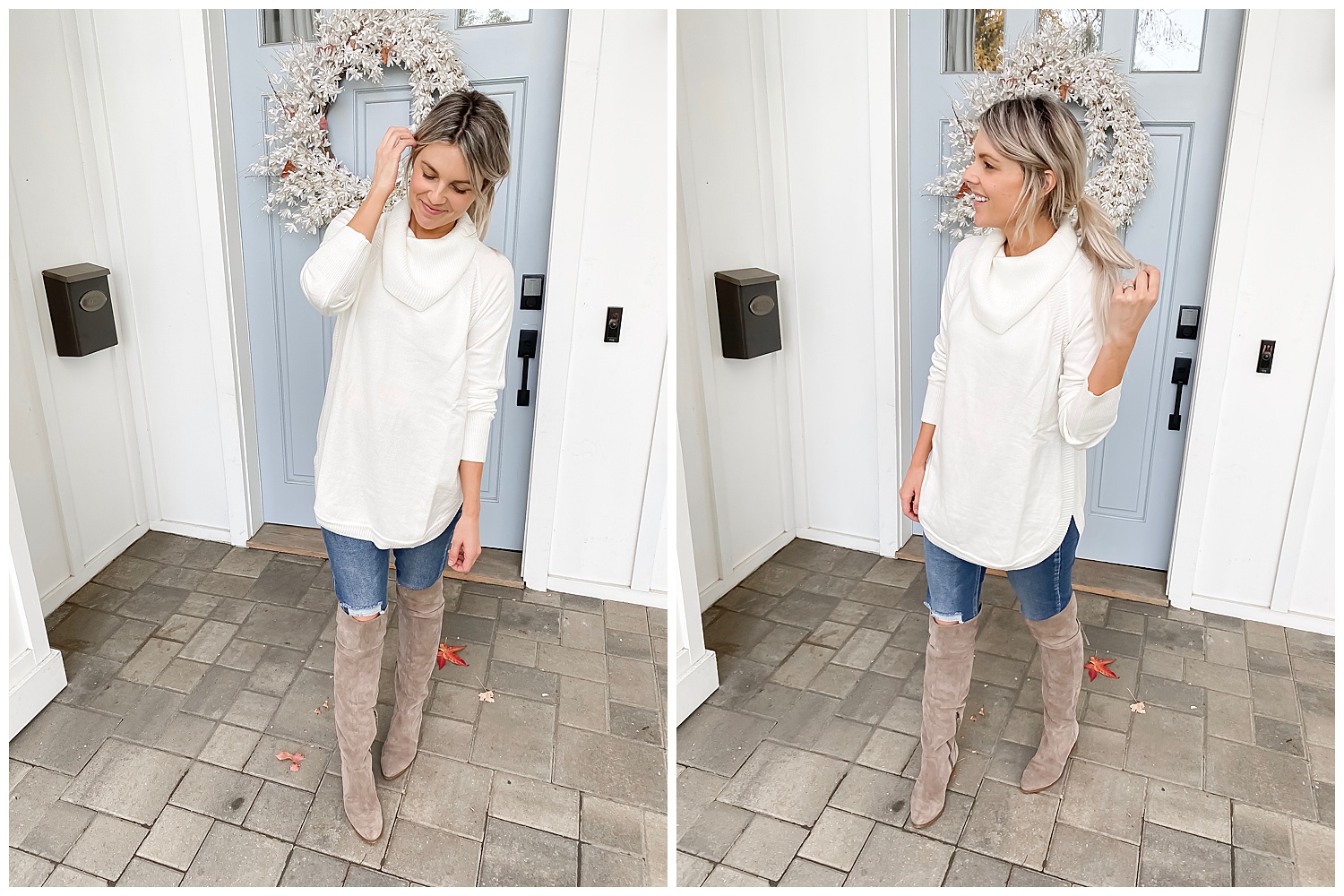 1. TUNIC SWEATER | 2. $16 JEANS | 3. SIMILAR BOOTS
The boots I'm wearing our Sole Society and there from last year so they're sold out. So I'm linking a similar pair here at a more affordable price!
Zebra Print Sweater
Okay so animal print has been really in this year! You'll see leopard print on pretty much everything these days. And this tiger/zebra print is also really in. The sweater is only $10 and really cute! I think you could wear it with pretty much anything but I decided to wear with my faux leather leggings. I have two pairs of the leather leggings. One is more expensive around $100 but these much less and soooo good.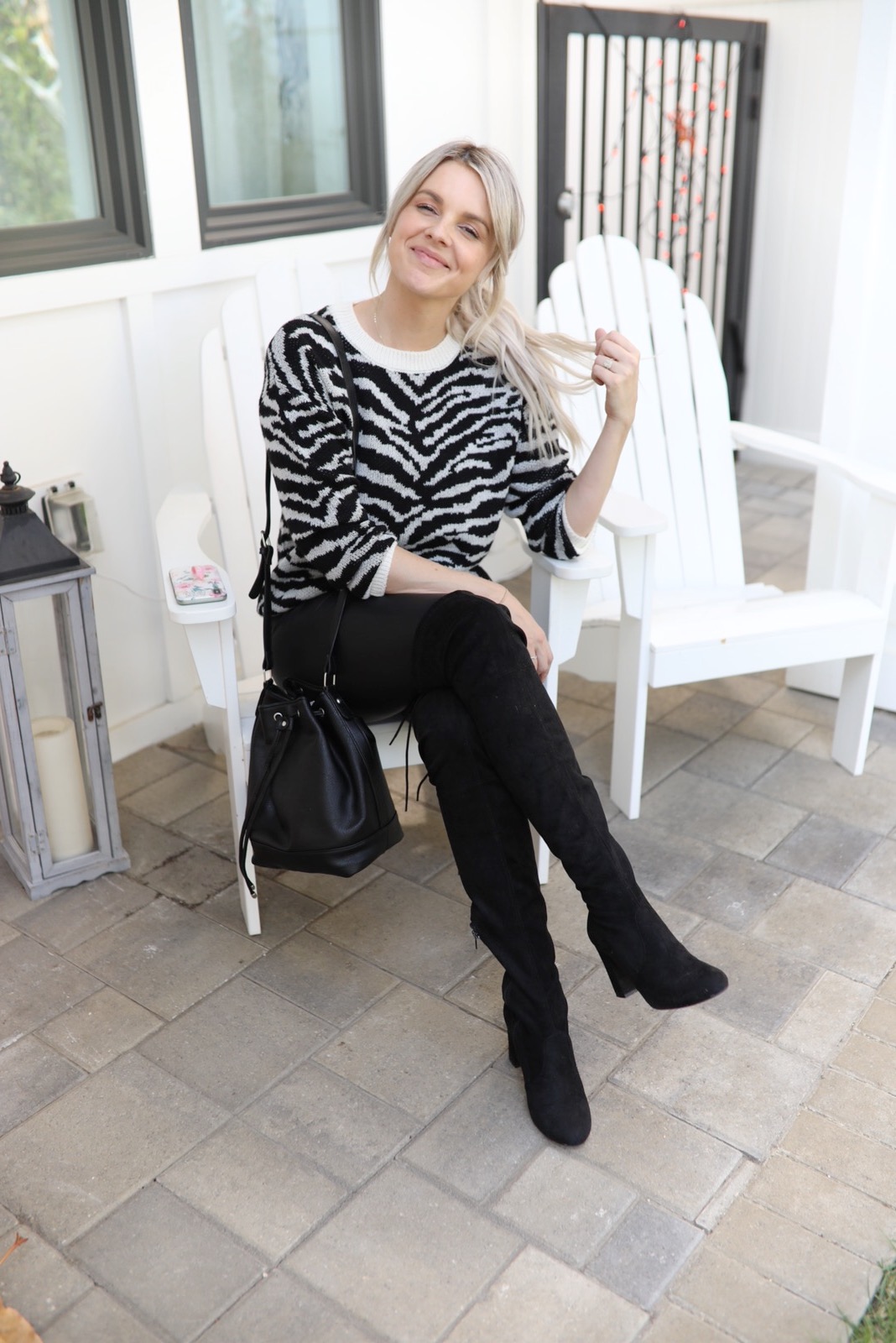 1. TIGER SWEATER | 2. FAUX LEATHER LEGGINGS | 3. OTK BOOTS (ON SALE!)
I'm wearing these Chinese Laundry over-the-knee boots with the look. And they are on major sale right now! You'll see every fashion blogger under the sun wearing these boots. They're really cute to wear with sweater dresses too! And really any type of leggings!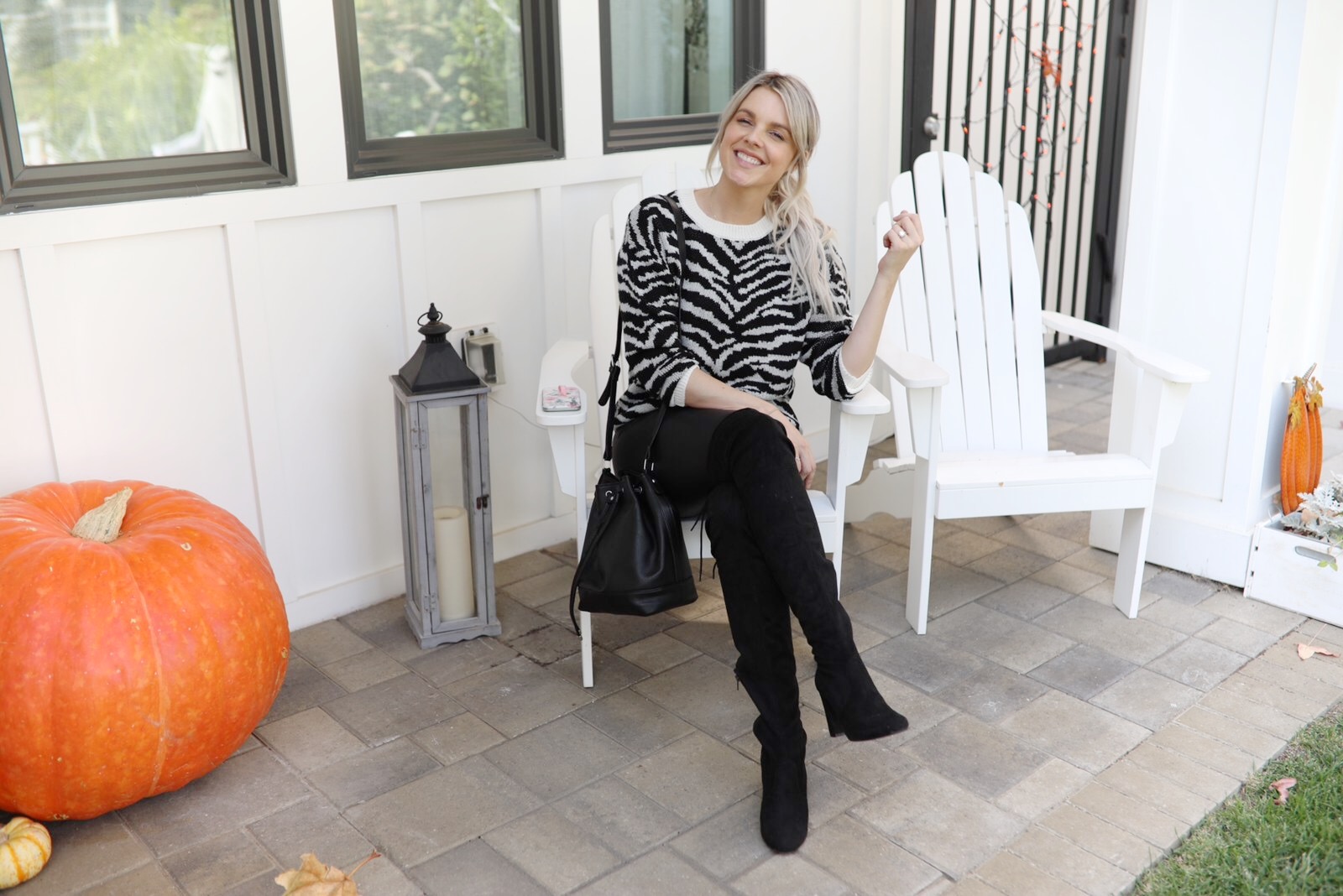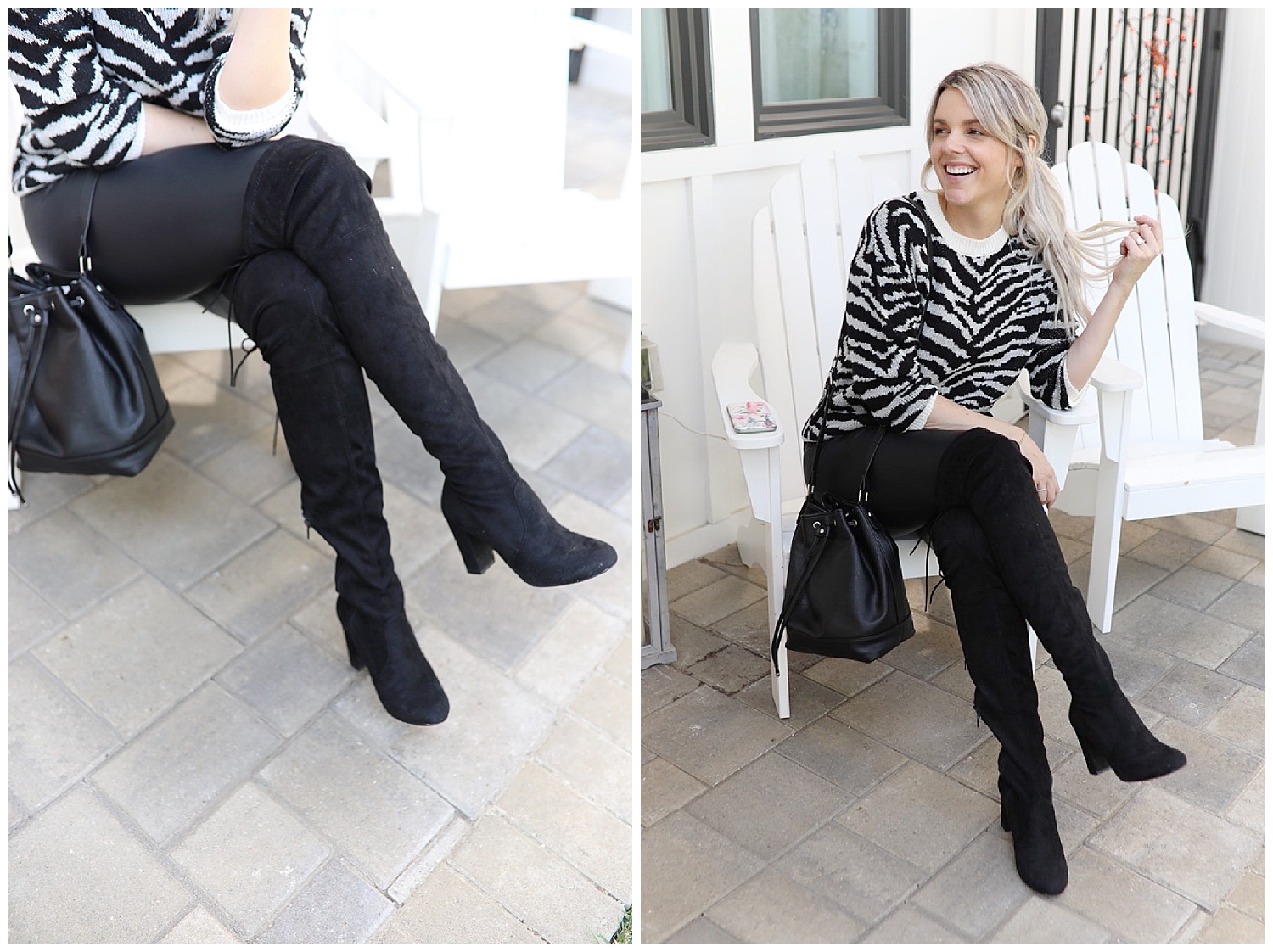 1. TIGER SWEATER | 2. FAUX LEATHER LEGGINGS | 3. OTK BOOTS (ON SALE!)
White Knit Sweater
This knit sweater is another one of the sweaters that I just didn't know what to expect when I got in the mail. But as soon as I took out of the packaging I was absolutely blown away by the quality! It's again only $17 and it's absolutely stunning! It comes in seven colors total. It's funny because it actually doesn't have the best reviews on the Walmart site which I am shocked by. I really highly recommend picking up the sweater and seeing for yourself. I think it's absolutely gorgeous! Honestly, I feel like if I saw this on somebody out and about, I would think it was $100+ sweater — if not $200! I'm wearing a medium which is my normal size.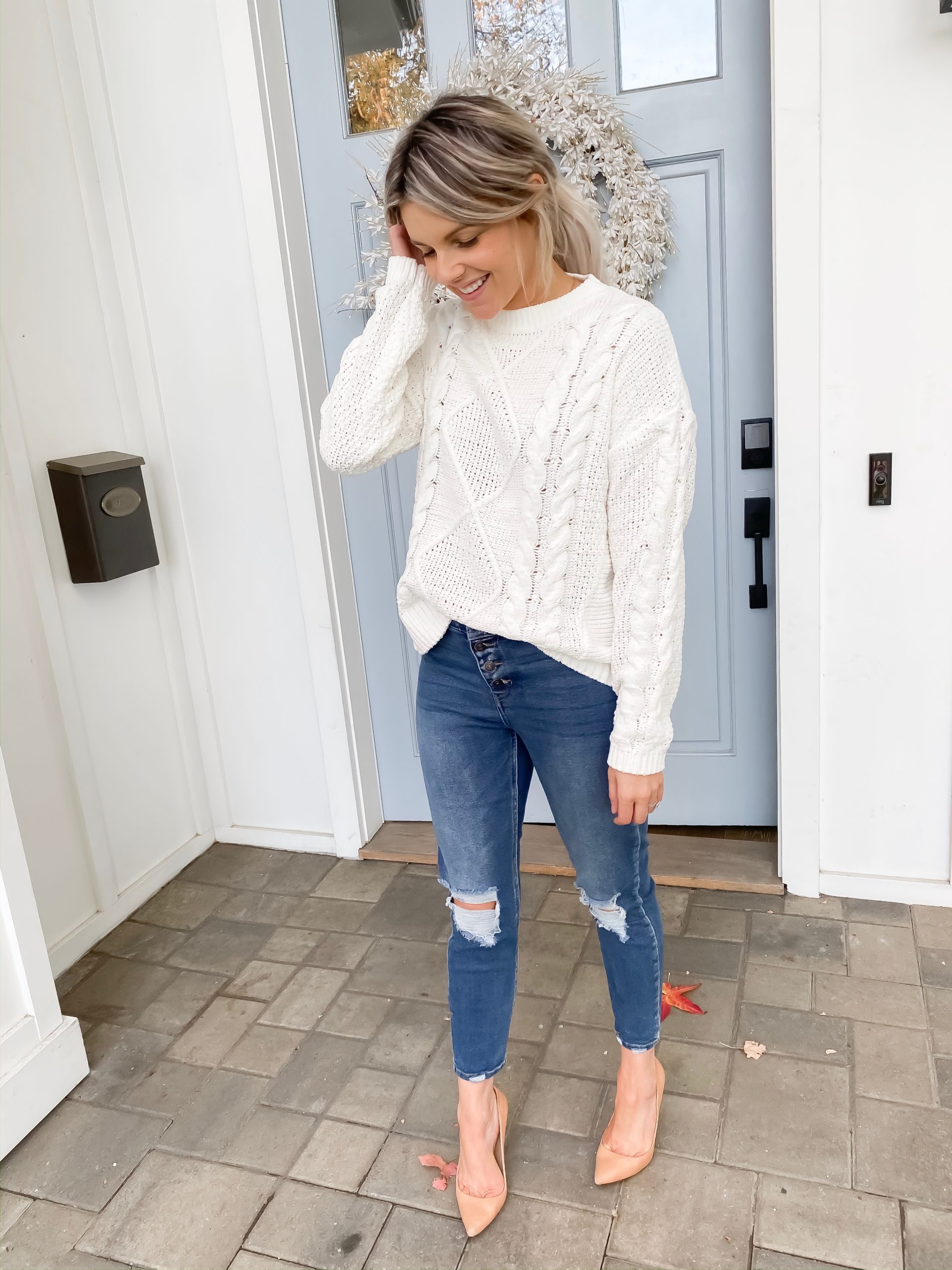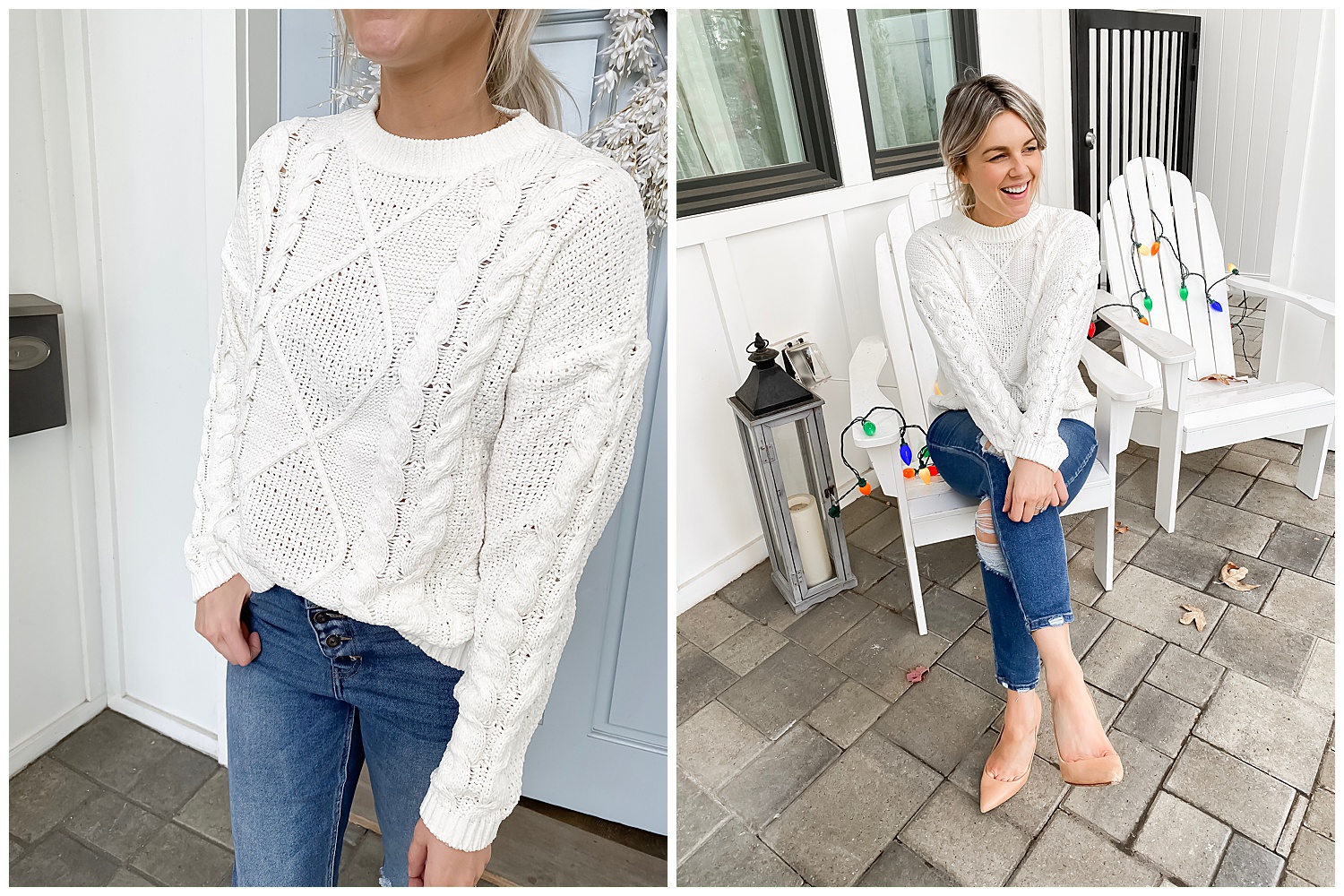 1. KNIT SWEATER | 2. $16 JEANS | 3. NUDE HEELS
And like in the first look, I have my $16 pair of jeans on. If you bought these jeans when I blogged about them in the past, please comment and share your experience with them! I have no doubt that you love them as much as I do!
Well that's really it for me today. I hope you guys love this Affordable Friday post! The fact that you can get all 3 of these sweaters for under $50 is so crazy to me!  Let me know if you've any questions about anything or just drop me a note to say hi in the comments below! You guys know I try to respond to every comment and I love hearing from you guys.