Good morning and happy Friday! Happy Affordable Friday!
Friday has always been my favorite day of the week for obvious reasons, but now that I do all these Affordable Friday posts, I love Fridays even more! And I just want to give you guys the heads up that if you are ever wanting to go back and look at some of my older Affordable Friday posts, I made it really easy for you to do that on my blog. Just click the fashion tab at the top of my website on the menu bar, and then eight below where it says my name, you'll see a few different fashion categories and one of them is "Affordable Friday". You just click on that and you'll see all my Affordable Friday posts. Some of the stuff is sold out, but a lot of it is still in stock so I definitely recommend checking that out.
My Favorite Affordable Friday Post EVER!
And I also highly recommend reading this post from Affordable Friday a few weeks ago about my three favorite pairs of jeans that are under $20. I honestly think it is my absolute favorite Affordable Friday yet! Hundreds of you bought the $17 jeans and I can't wait for your feedback to tell me how you all styled them! They are my favorite jeans and I know you guys are gonna be so happy if you order them. OK, on to this week's Affordable Friday post…
LOOK ONE
If you got a little sass and love to show off your curves, this fall look is for you! I bought these jeans because I thought they were unlike anything I've ever worn before. I wanted to try something new. And when I tried them on, I have to say I kind of felt like a Kardashian! In a really great way! My curves were situated in all the right places and it just made me feel sassy. If you don't like to highlight your curves, these jeans might not be for you FYI. But they're a steal at only $18!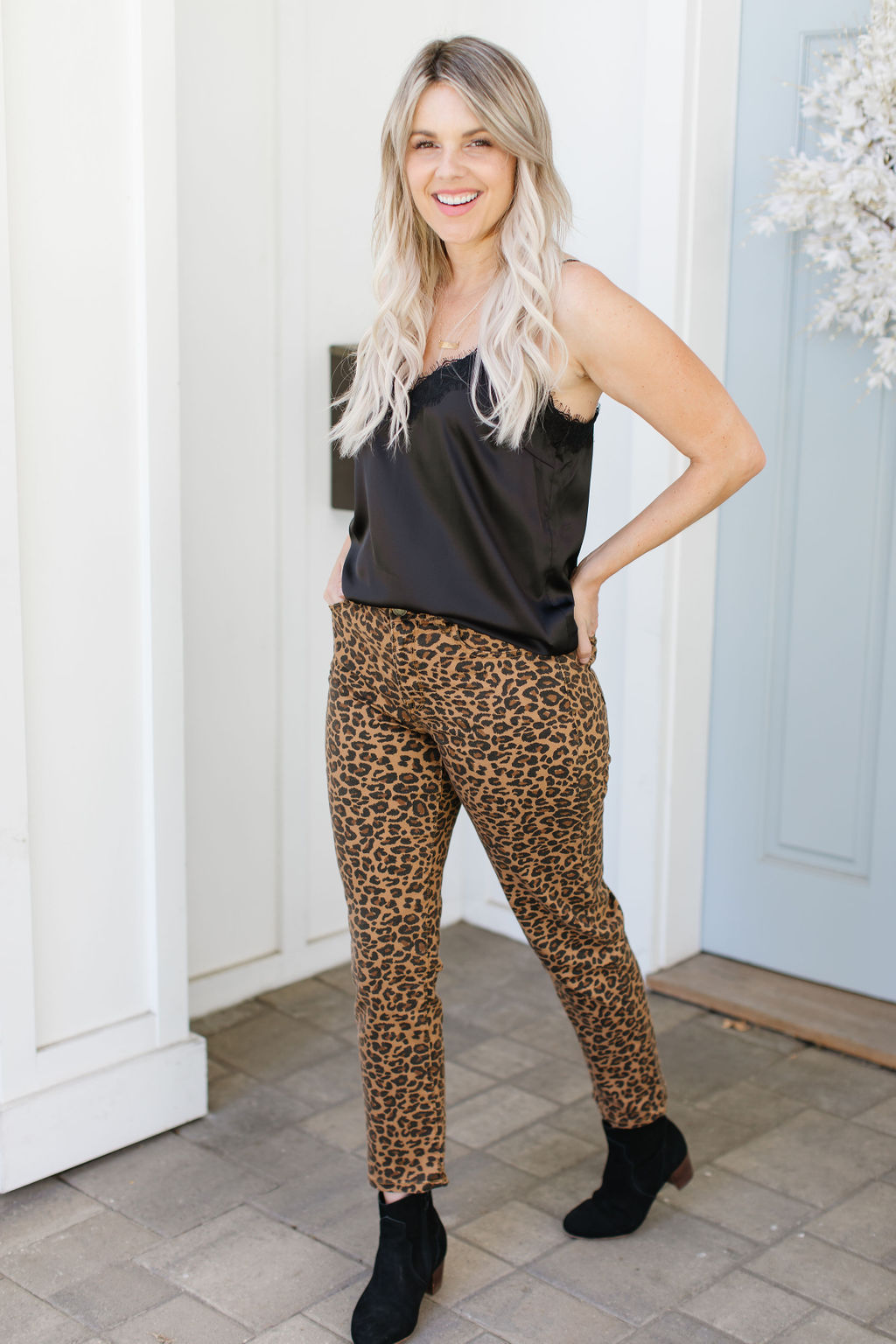 1. LEOPARD PANTS | 2. BLACK CAMI | 3. BOOTIES
I paired them with this black cami from Forever 21. It's only $13 and so perfect for so many different looks. I wear a lot of them under blazers for meetings and work. It can be dressed down  with jeans or dressed up with black high-waisted pants – and truly with so many fall looks! I highly highly recommend this cami! I'm wearing it in black. But I also have it in this blush color, that I absolutely love and just think it's so pretty. It comes in white too.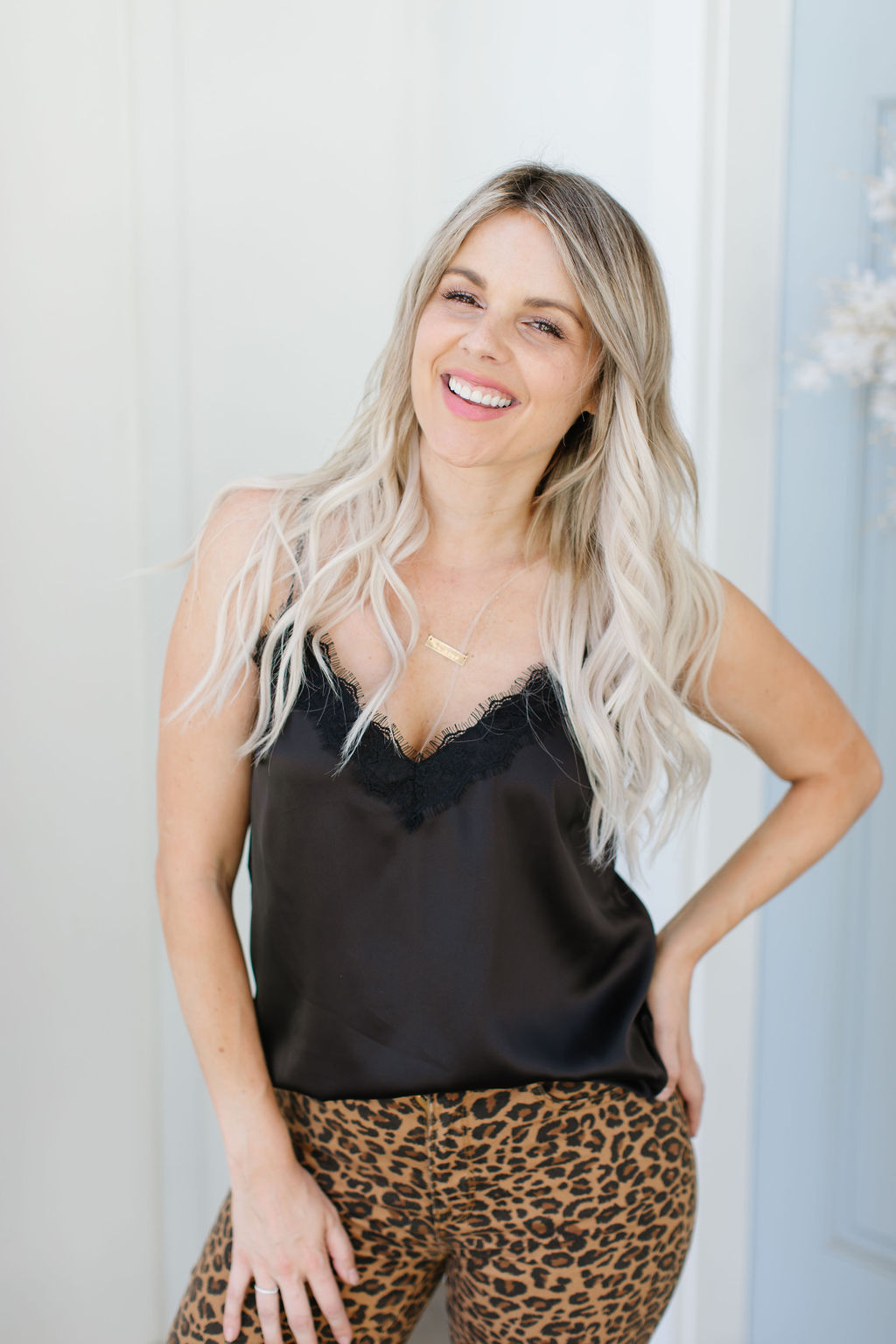 1. LEOPARD PANTS | 2. BLACK CAMI | 3. BOOTIES| 4. BAR NECKLACE
LOOK TWO
This next look is very pretty and feminine. When I bought the top, I had no idea what to expect. But I was so happy when I tried it on. Granted, it did take me a good 2 to 3 minutes to figure out how to put it on. Ha! I'm not even kidding. But once I got it on, I just thought it was so pretty! And it's only $16. I even think because of all of the detail that it looks really expensive. I would recommend wearing it with high waisted jeans to get a cute tucked in look like I'm wearing it here for perfect fall looks. Speaking of my jeans….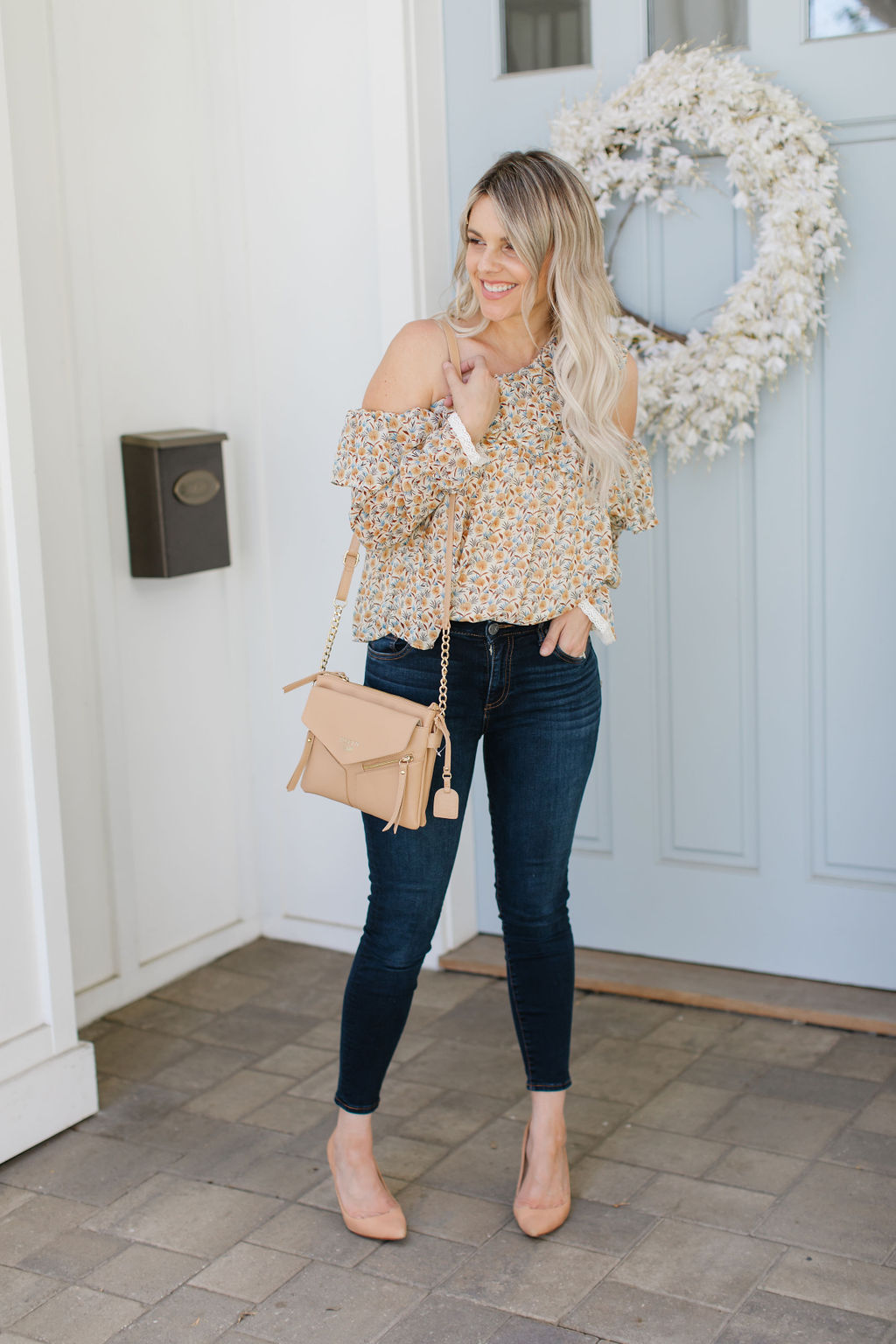 1. FLORAL TOP | 2. JEANS | 3. NUDE PUMPS | 4. $12 PURSE
Normally items I post about in my Affordable Friday posts are well under $50. But I think a pair of jeans under $100 in general is a good deal. So while these aren't the most affordable thing for an Affordable Friday post, I wanted to add them. They are my Kut from the Kloth blue jeans that you see me wearing all the time. They're honestly more of a mid rise, than a true high waist. But I still love them. And I think they're a great buy at $89.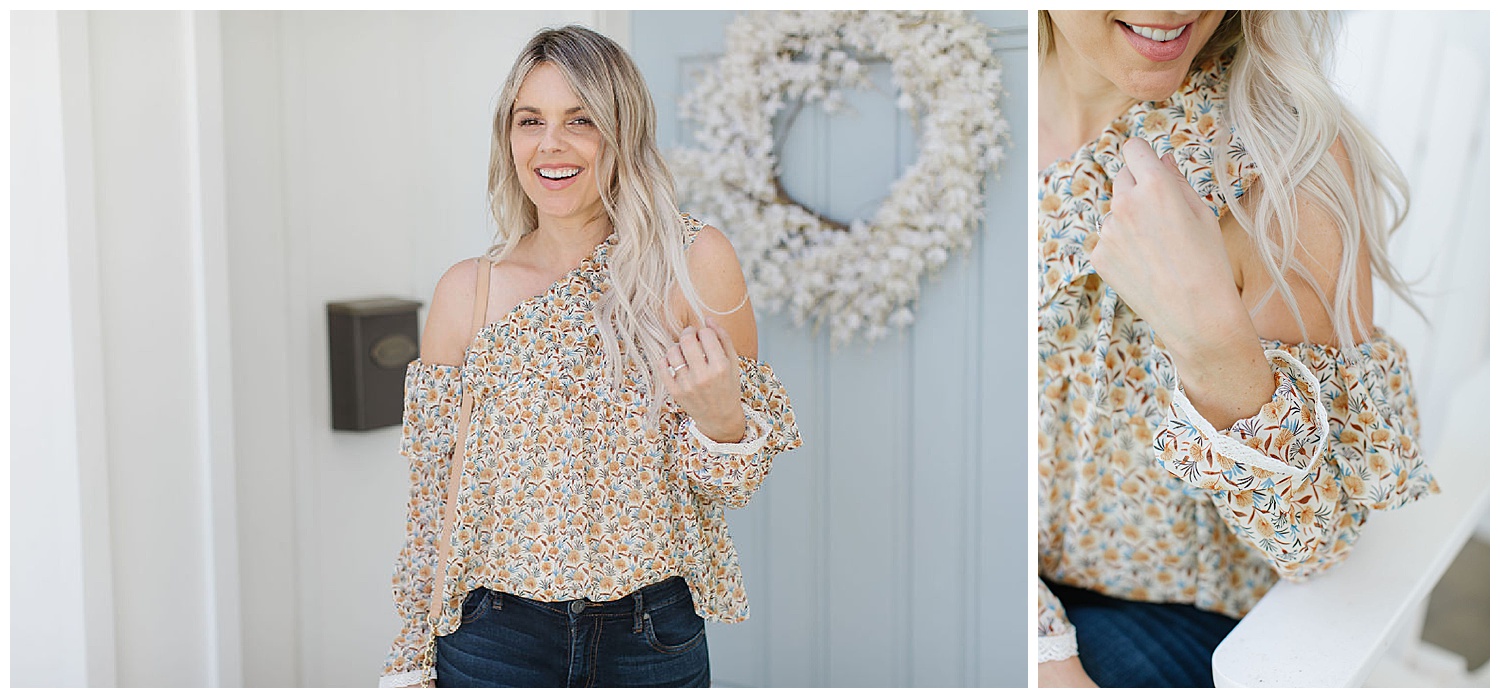 What do you guys think about this hair clip? It's part of a three clip set that I got so each clip is about $8. I think they are worth every dollar and penny of that $8 because they really just add something special to every look I wear of them with. Check out this $12 duster that I wore last week on the blog, I'm wearing the pearl barrette from this three-piece set. So if you buy the set you'll get both the one I'm wearing in these photos and the one I wore with that duster in this blog post!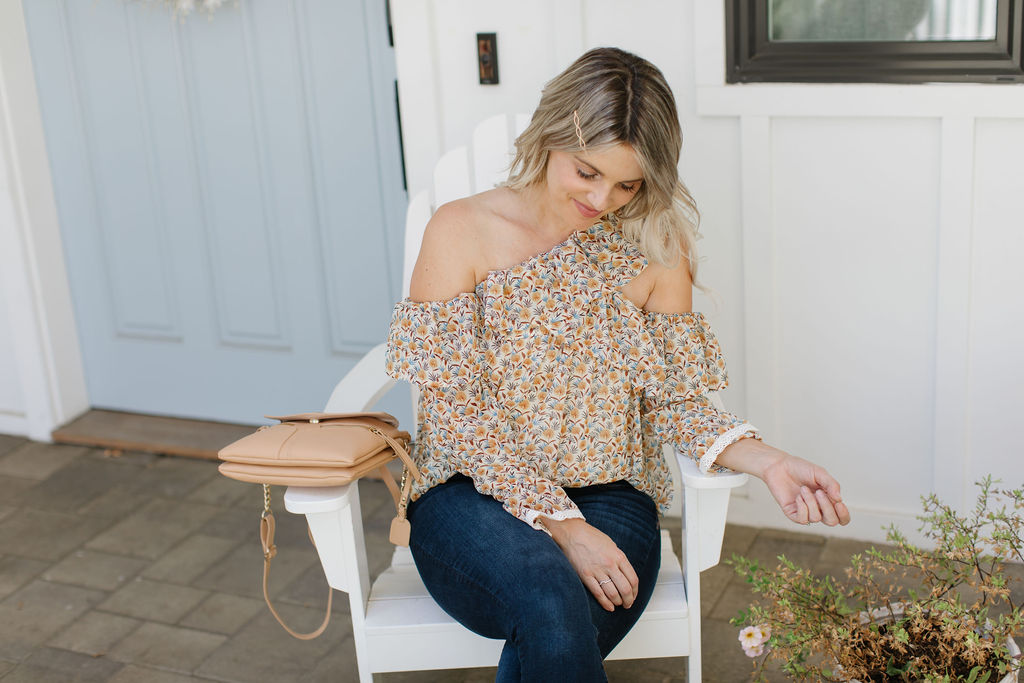 1. FLORAL TOP | 2. JEANS | 3. NUDE PUMPS | 4. $12 PURSE | 5. HAIR CLIPS
And last but not least, I'll leave my bag. Actually, I take that back, maybe it is least. To be 1000% honest with you guys, I loved this bag when I ordered it online. And I still love almost everything about it, except for the words on the front of it. I kind of feel like it took away from the overall feel of the bag. However, I want to highly recommend this bag that I just bought that will be in my next Affordable Friday post. Because it's only $3! My jaw hit the floor when I saw the price drop. It's normally way more than that but the price was cut back for whatever reason. I don't know the reason but all I know is that I'm pumped about it! It goes with so many fall looks!
LOOK THREE
I think every girl should have a good chambray shirt in her closet for fall looks. A chambray shirt could be styled so many different ways. You can wear it buttoned up and paired with a statement necklace, you can layer it with a cami or turtleneck or with a long sleeve shirt underneath it. You can tie it around your waist too, which adds so much to a look. Really the possibilities are endless! This chambray shirt might be my favorite item in today's Affordable Friday post. I love the color, the fit is great, it's long in the back so it will cover your butt when you wear it with leggings like I am in these photos, and I love the fringe detail along the bottom. Plus it's only $25! It's really hard to find a good chambray shirt at this price.



1. CHAMBRAY SHIRT | 2. $29 LEGGINGS | 3. PLUS- SIZE LEGGINGS | 4. $20 BOOTS
And the boots I'm wearing these photos are only $20! This is a very basic look, so I feel like I'm not giving the boots justice in these photos but they're a steal at 20 bucks! If you have wider calves, they do have some stretch so I feel like you would be safe to buy these! But then again Walmart's return policy is so good that you can just return them if you want to. And if you have thinner calves, it has a tie in the back right above your knee, so you can tie them to stay in place. I also recommend wearing some knee-high socks if you have thinner calves. But I just love them! Plus, if you're like me and like to have a bunch of different boots to style throughout the fall but can't spend $100+ on each pair, this is a great way to get a different look to add your closet and not spend that much money.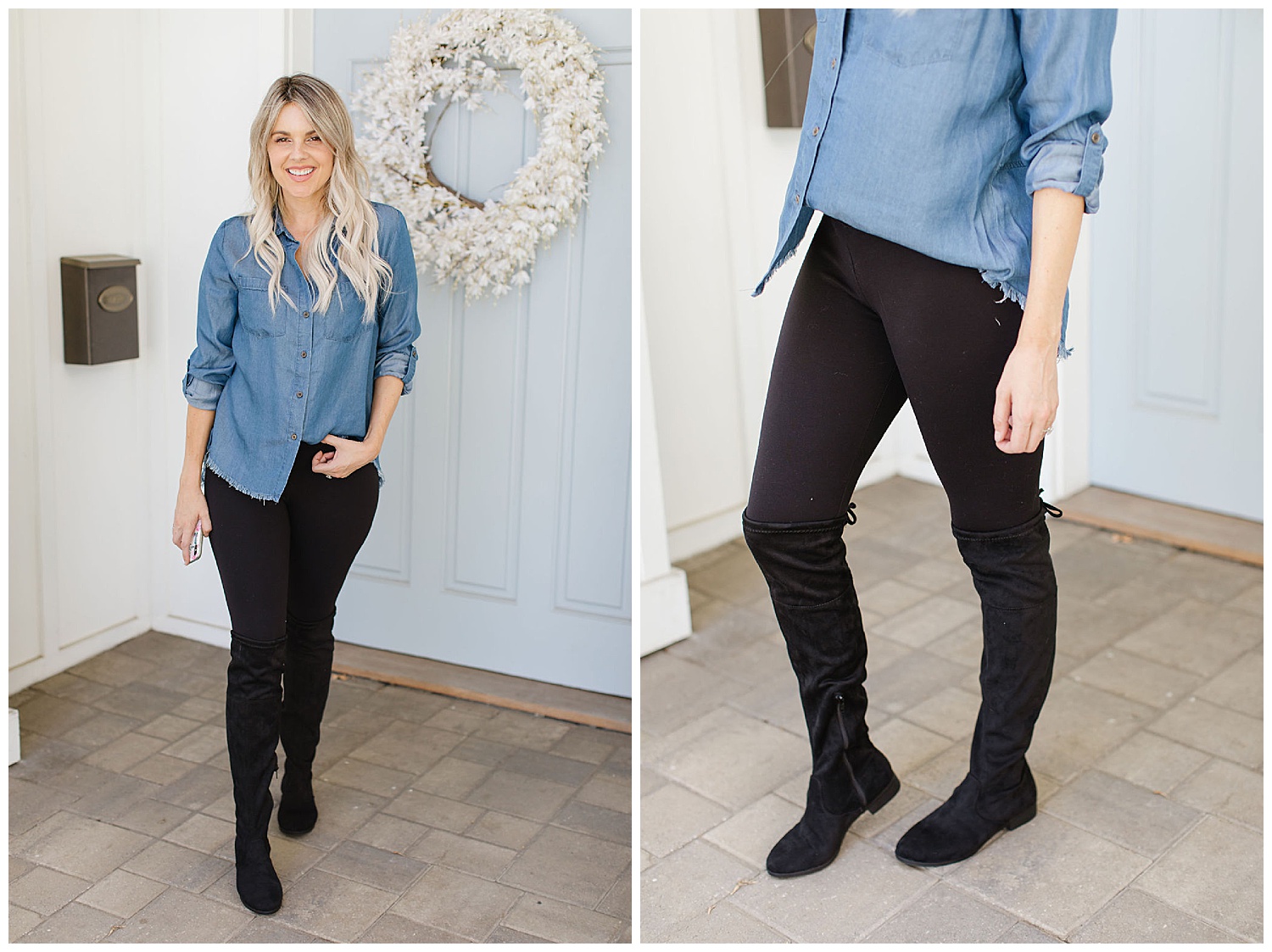 1. CHAMBRAY SHIRT | 2. $29 LEGGINGS | 3. PLUS- SIZE LEGGINGS | 4. $20 BOOTS
My leggings are $29, FYI, and such a great pair to get to where all throughout the fall! They come in plus-size, too! If I had to pick five must-have fall items these leggings would definitely be on that list.
LOOK FOUR
This entire outfit is less than $40! Including the boots. I can't even believe it! This is why I love doing these Affordable Friday posts!!! The leopard top is only $5 now! When I bought it, it was $9, and I thought that was cheap. I tied it in the front because I thought that added an extra detail that really made this top adorable! I do want to mention that the back has lace, which I didn't know when I bought it and it's not my favorite. It's just that it's not really my style. I think for $5 though, this top is a great affordable option. Plus my hair goes over the lace!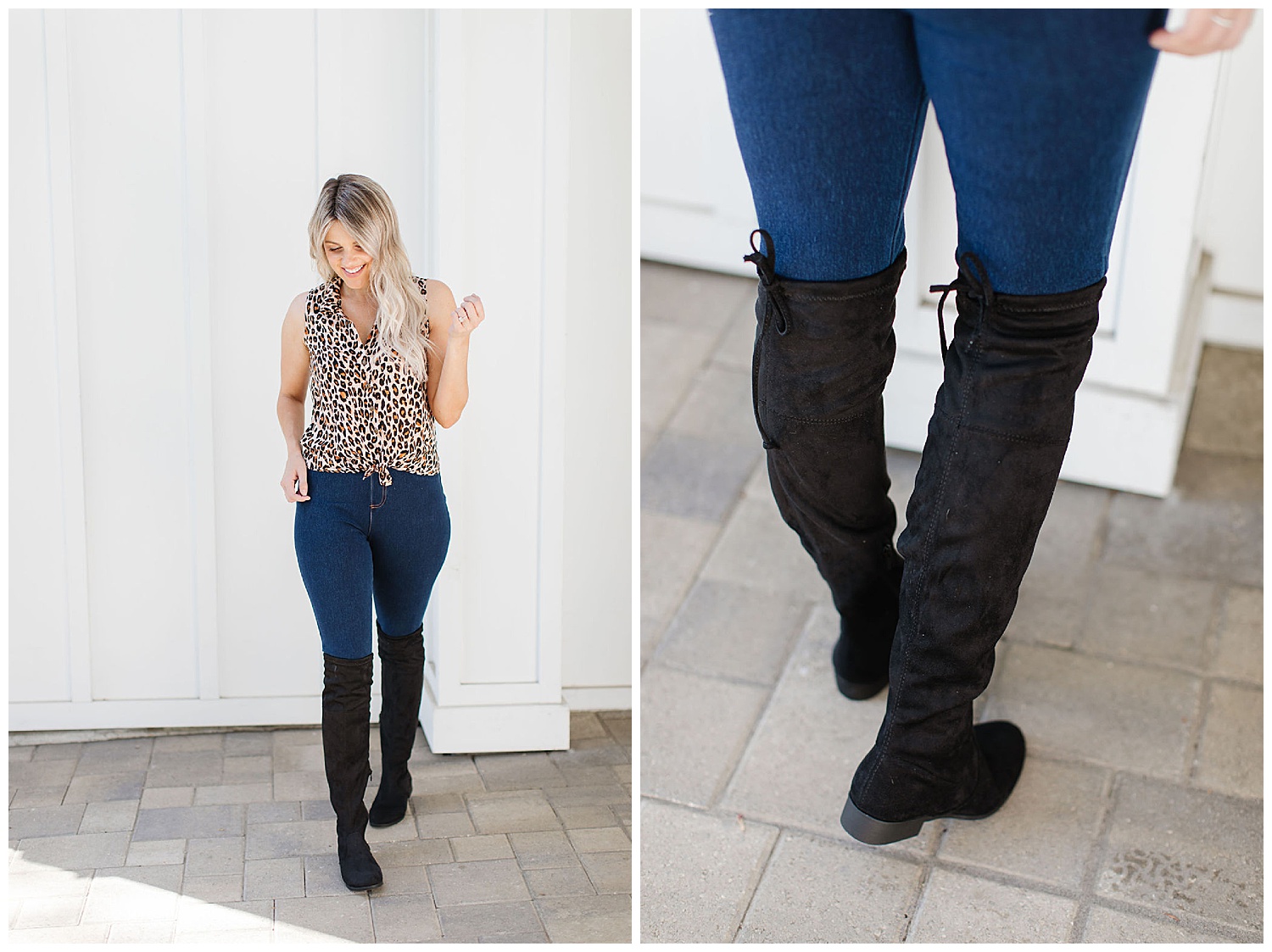 1. $5 LEOPARD TOP | 2. $12 JEGGINGS | 3. $20 KNEE-HIGH BOOTS
I shared these $12 jeggings last week in my Affordable Friday post that was all about jeans under $20! Jeggings are such a great item to have in your closet for fall looks.  Jeggings are key fall item! Plus, they are just ridiculously comfortable.  They are called jeggings because they feel like leggings (so comfy!) but look like jeans! I mean, what could be better?! Ha! It's the elevated yoga pant! Ha! Plus for $12, I feel that they are a must in every closet!!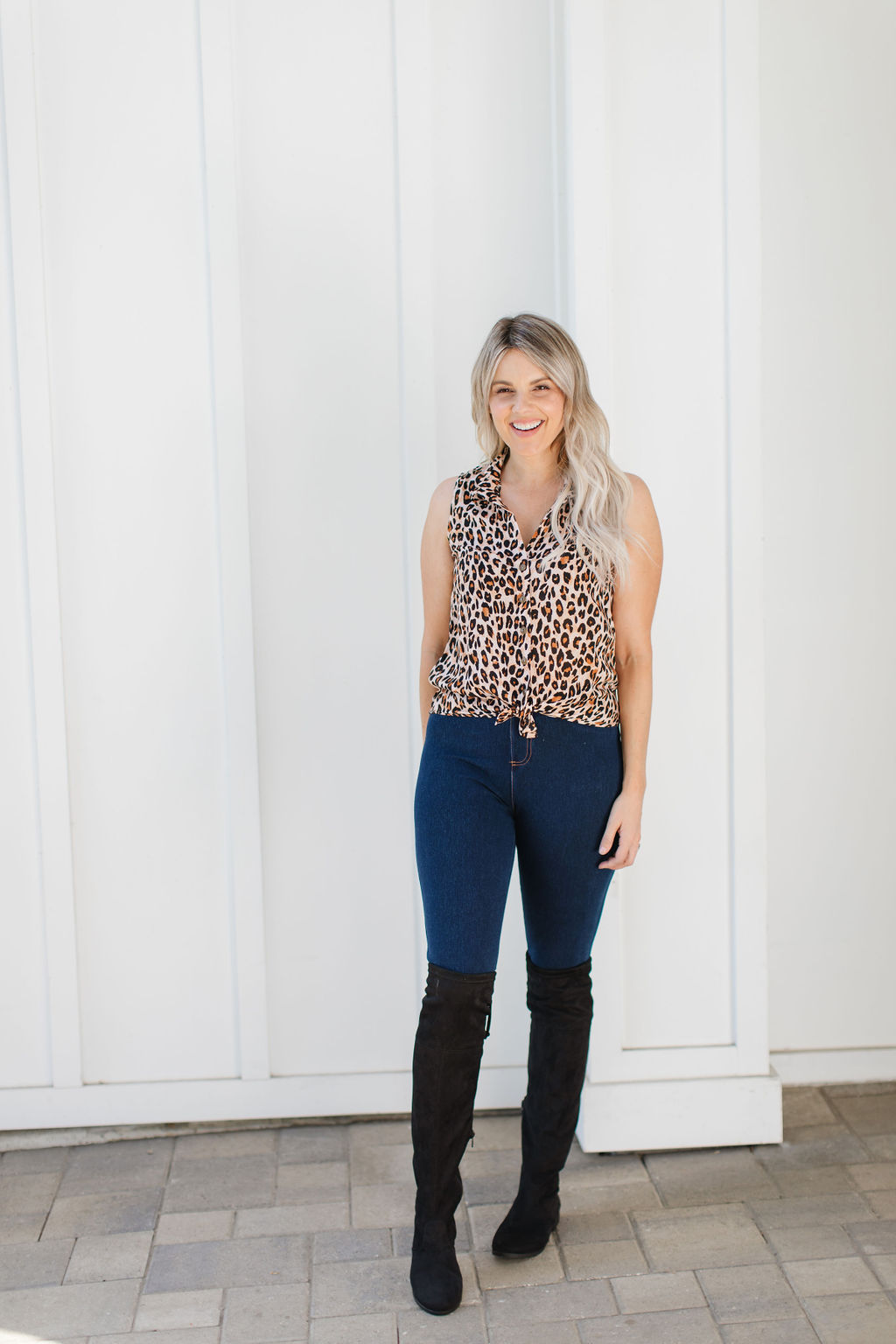 1. $5 LEOPARD TOP | 2. $12 JEGGINGS | 3. $20 KNEE-HIGH BOOTS
These are the boots that I mentioned in the last look, and I wanted to include this look too so that you could see another way to style them! Again, they are only $20 and I definitely feel like they could work on both thinner and more wide calves because of the drawstring and the stretch! They are so perfect for fall looks!
Until Next Time!
I hope you love this Affordable Friday post filled with fall looks! Which one is your favorite? If you already got the $17 jeans, please give me your feedback below! I'm pretty positive that most of you love them as much as I do. Have you found a great affordable piece recently? Share with us below!!