Oh my gosh you guys, I'm so excited about today's Affordable Friday post because I am sharing three pairs of jeans that I absolutely love that are all under $20! I know some of you are going to come to this post and be skeptical. I would be too! It almost seems impossible that you could get a quality pair of jeans for under $20. But I promise you, you can! Don't get me wrong, I had to order a lot of jeans that weren't great in order to find these three pairs that are absolutely amazing!
Also, I am styling all three pairs with this white tee with a ruffle hem (it comes in a two pack for only $13. So each tee is $6.50. Yay!) and these leopard flats for only $29. These flats are so on trend and really comfortable. I didn't need to break them in at all. They were instantly comfy. Also, I highly recommend checking out Walmart's September Edit here for a bunch for leopard print pieces that are so cute for fall!  Ok, let's get into these jeans!
 $9 Jeans
I wanted to start with these $9 jeans because I posted about them over a month ago so I thought it would be cool if people who bought them after that blog post could comment here and tell me what they think of them! And really tell all of you that are reading, too! Here's my review on these jeans. It blows my mind that they were only $9! They are comfortable and extremely flattering! Truly. When I put this dark wash of jeans on, I feel like I look 5 to 10 pounds slimmer. That's a great thing about a pair of dark wash jeans. They really are slimming.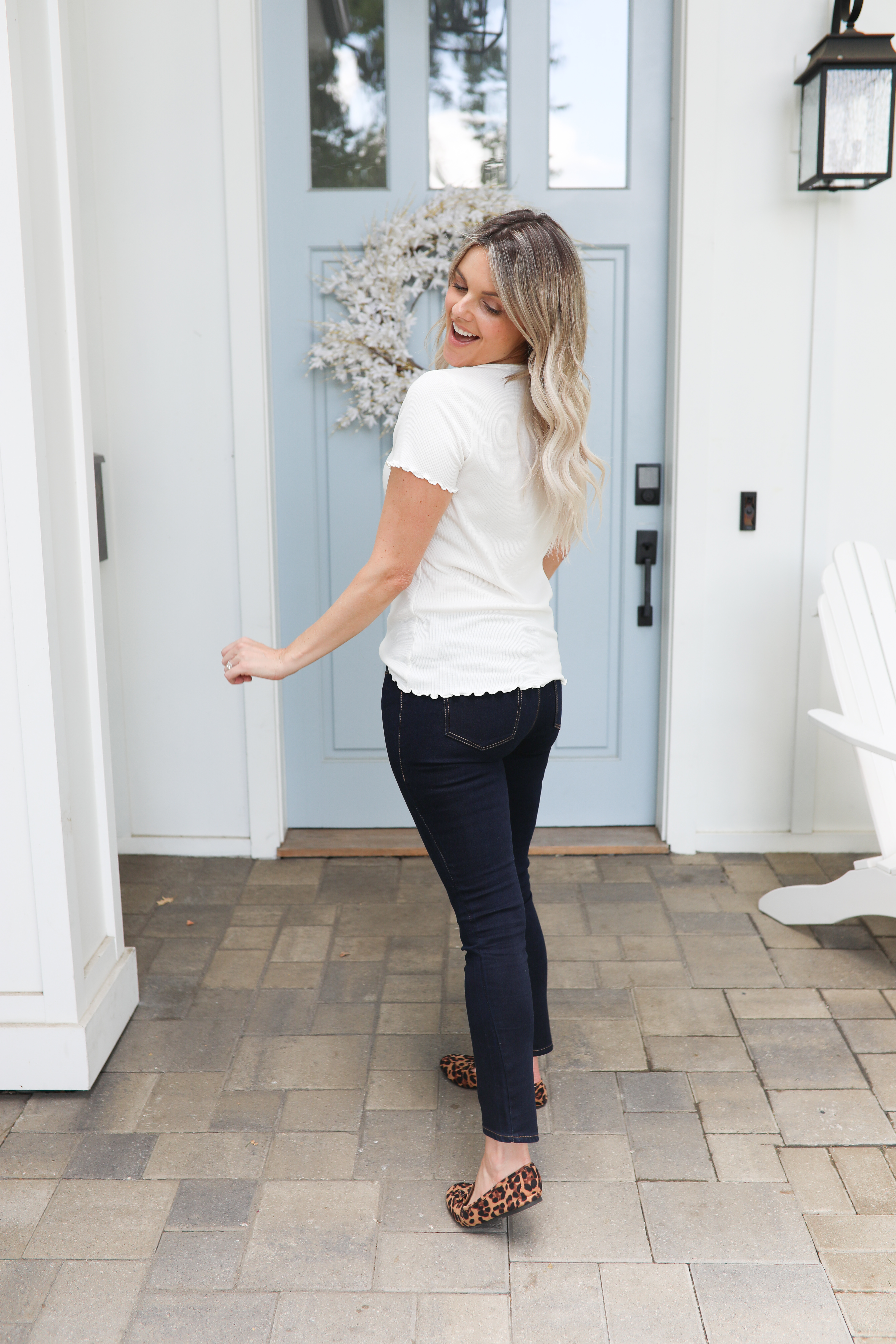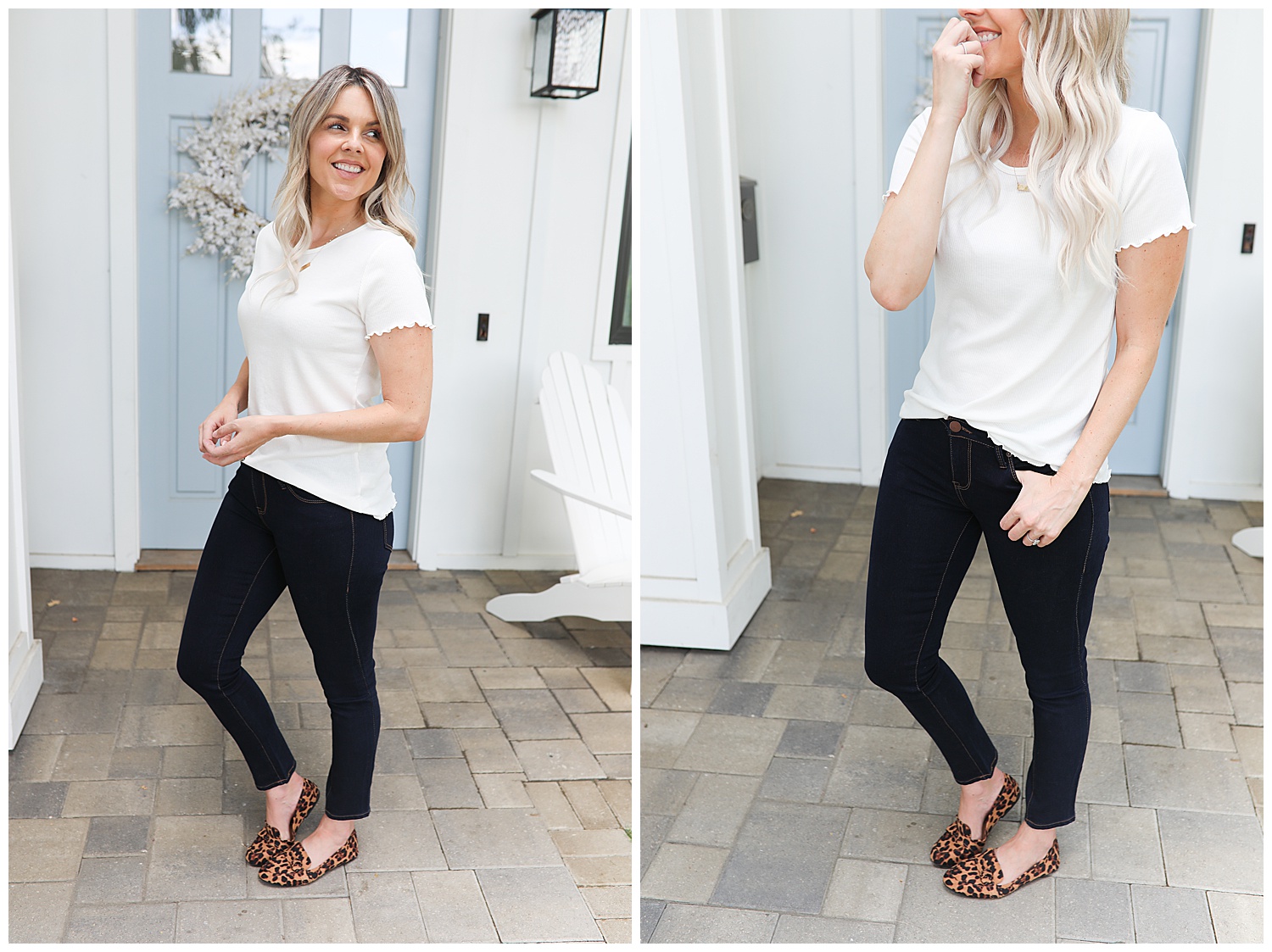 1. WHITE TOP | 2. $9 JEANS | 3. LEOPARD FLATS
The only reason these jeans aren't my very favorite of the three pairs I'm talking about in this post is because they aren't high waisted. For me, high-waisted jeans are the best thing since leopard loafers. Ha! Honestly, I barely even wear jeans if they aren't high-waisted these days. But that mostly changed for me after I had children. My lower tummy is just not the same and having it covered just makes me feel more secure and confident. But if you like a mid-rise or even lower rise jeans then these are so great! And I will say, even though they don't have the high-waist I still wear them pretty often. Just because they are so flattering. And like I mentioned, you cannot beat the price! Heck, just don't order your morning latte two days in a row and these jeans are paid for.
And make sure to check out the reviews on Walmart's site. There are over 800 reviews of these jeans they they are almost ALL positive! I'm wearing a size 11 FYI and I'm normally as size 28 for reference.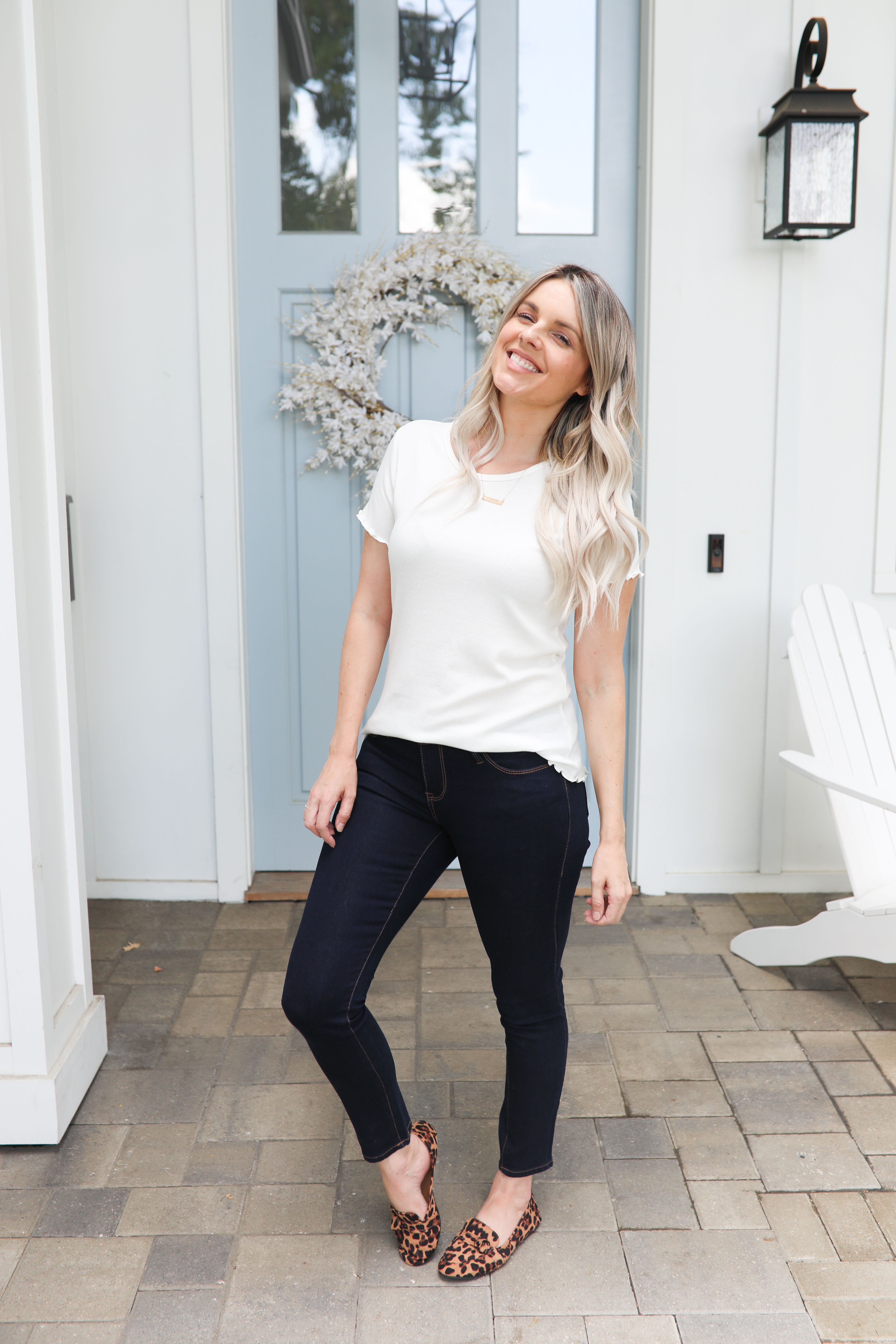 1. WHITE TOP | 2. $9 JEANS | 3. LEOPARD FLATS
$12 Jeggings
Jeggings are such a great item to have in your closet for fall. As I'm sure many of you know, fitted knee-high or over the knee boots are all over bloggers sites when styling fall boots. Sometimes those boots have some room in them, but sometimes they don't! Or you just want a really sleek look from the boot up against the "jean" – this is where jeggings are key!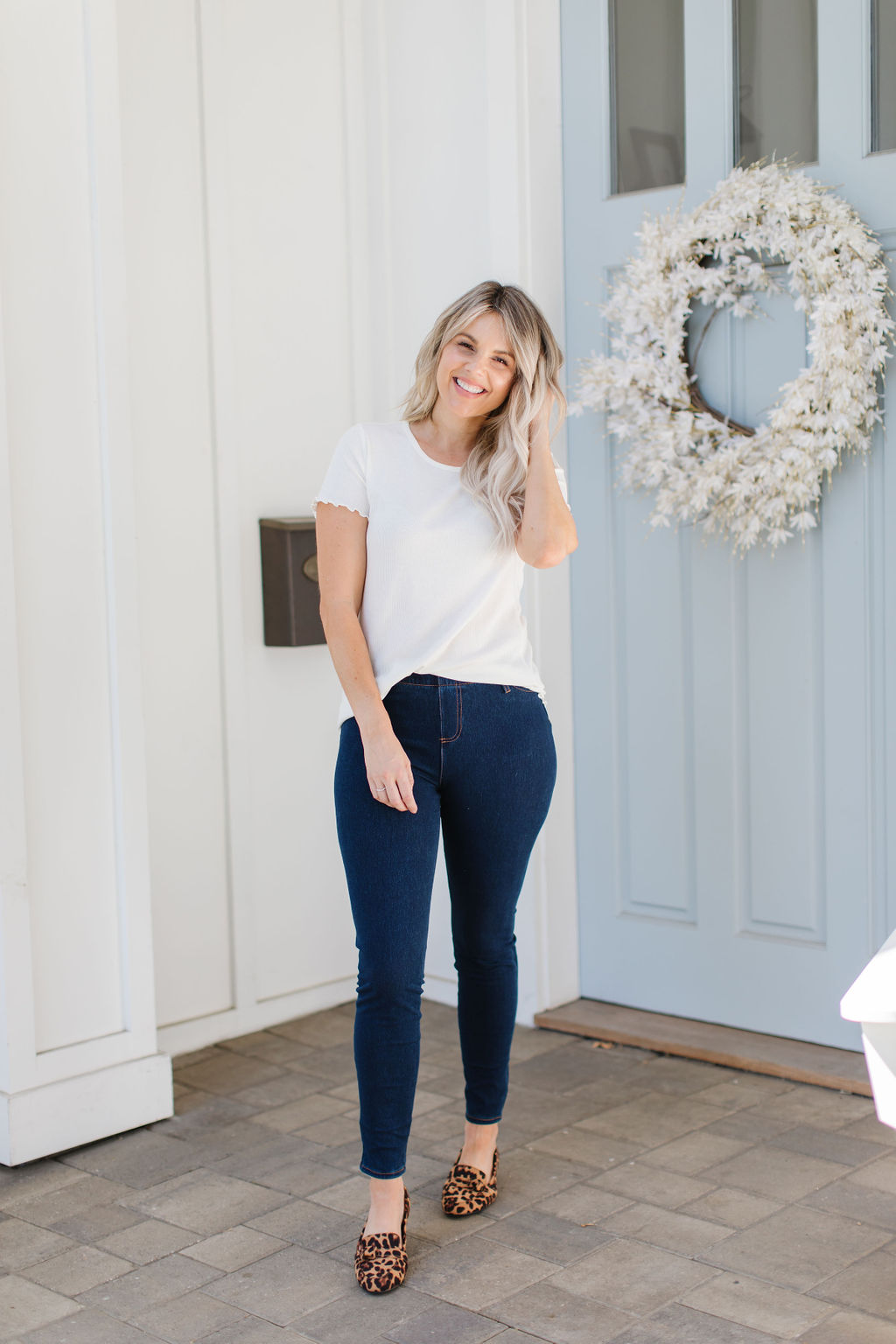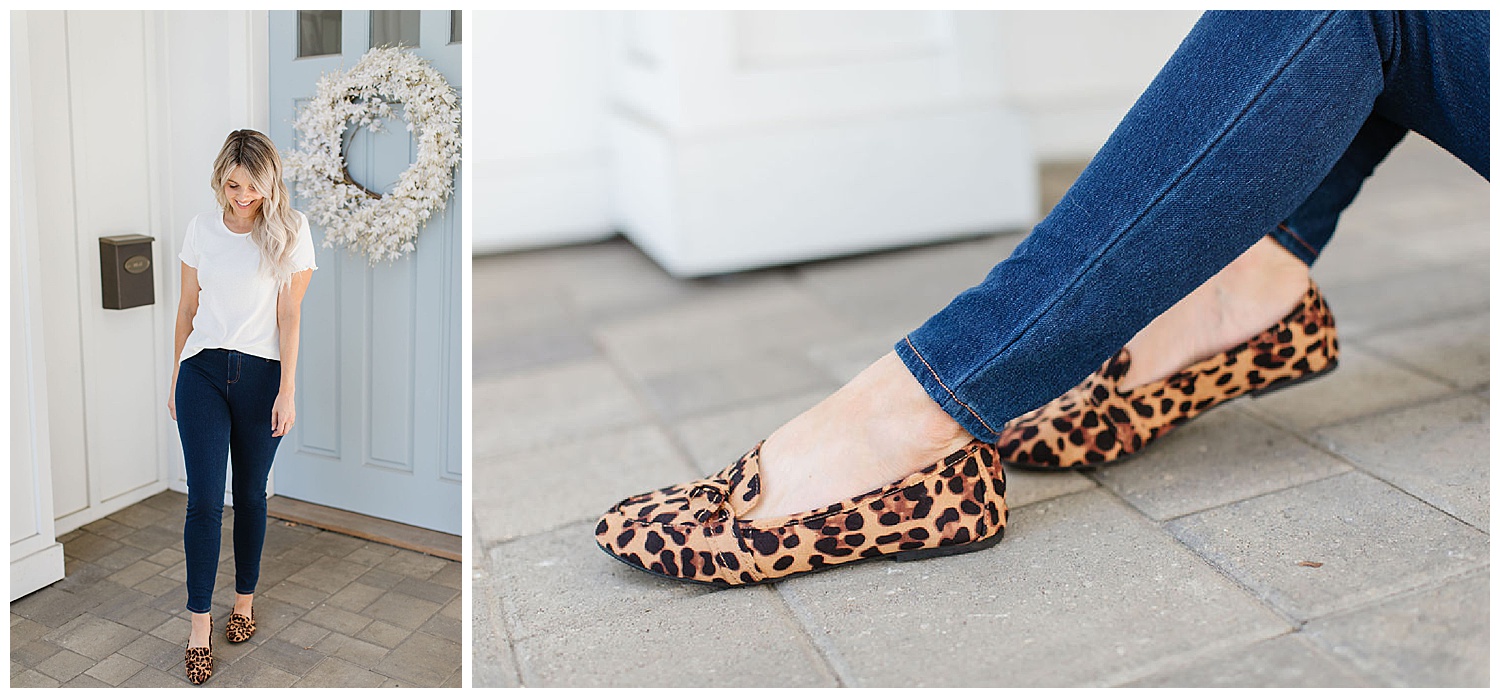 1. WHITE TOP | 2. $12 JEGGINGS | 3. LEOPARD FLATS
Plus, they are just ridiculously comfortable. They are called jeggings because they feel like leggings (so comfy!) but look like jeans! I mean, what could be better?! Ha! It's the elevated yoga pant! Ha!
And I truly love this $12 pair. If you can afford it, get both the $17 jeans (that I'm about to talk about below) and the jeggings. Cause you'll want both for different looks this fall. These jeggings are also high-waisted so they keep everything in.
I also love to wear them with these $20 black boots that I got from Walmart. They look JUST like an $80 pair I have with heel and they are the exact quality for a forth of the price. I love the tie in the back because it holds them up on your leg. But they also have stretch to fit different calf shapes. This photo is a sneak peak from an upcoming Affordable Friday post!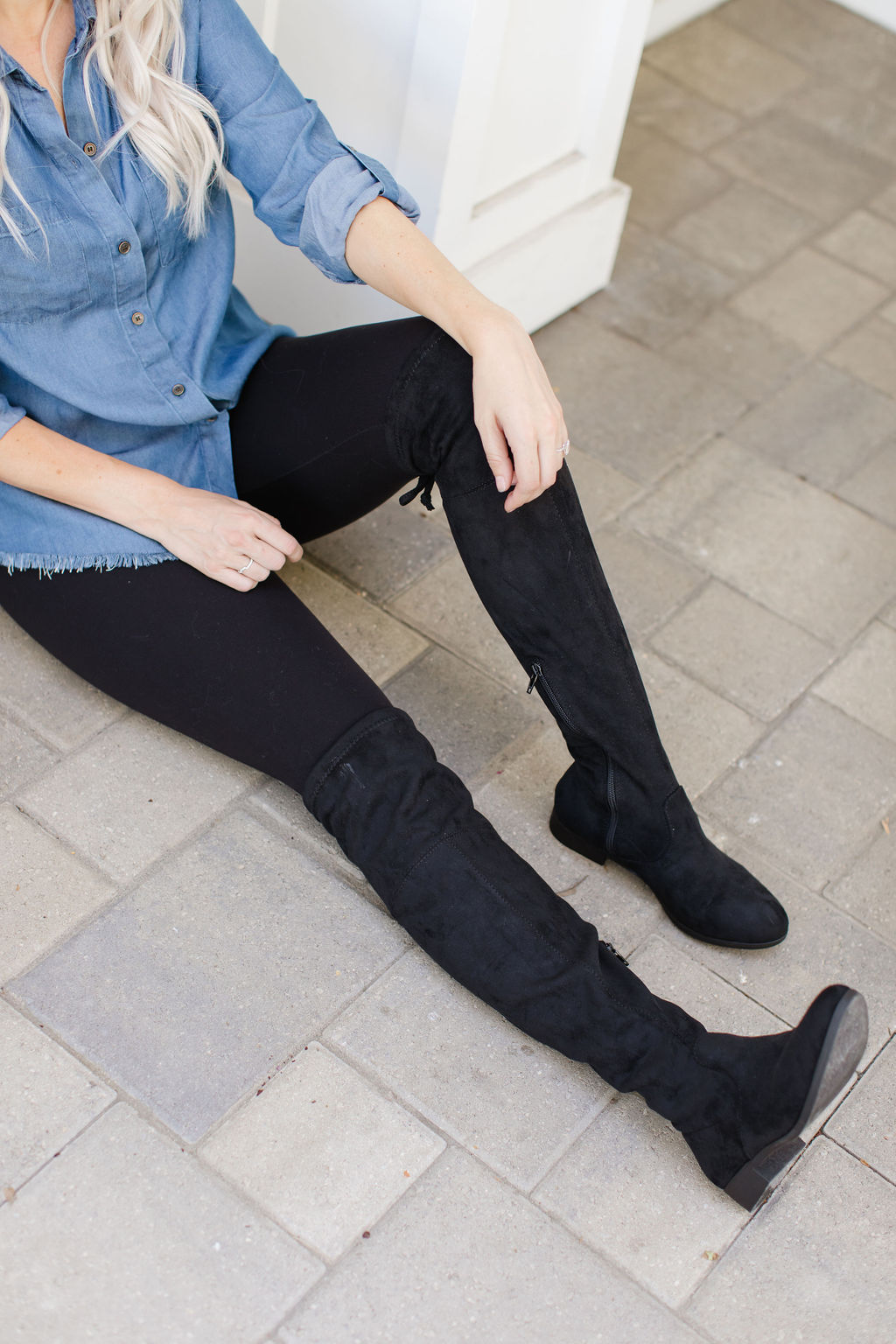 1. WHITE TOP | 2. $12 JEGGINGS | 3. LEOPARD FLATS
$17 Jeans
Option 1 : Blue Jean
I saved my favorite for last! I posted about these jeans a few days ago when talking about it my favorite pair of fall boots and I can't even tell you how many messages and DM's I got from you guys telling me how much you love them! Some of you ordered them and got them in the mail pretty much the next day and others ordered and picked up right in store. But the great thing about Walmart is that you can easily order online and pick up the items in store same day. And they also have super fast shipping on so many other items! Anyway, I'm writing about these jeans last because they are my favorite! I wear them all the time! In fact, if you watch me on the show I work, on Home and Family, today I'm actually talking about these jeans in one of my segments where we are all discussing our favorite items for fall.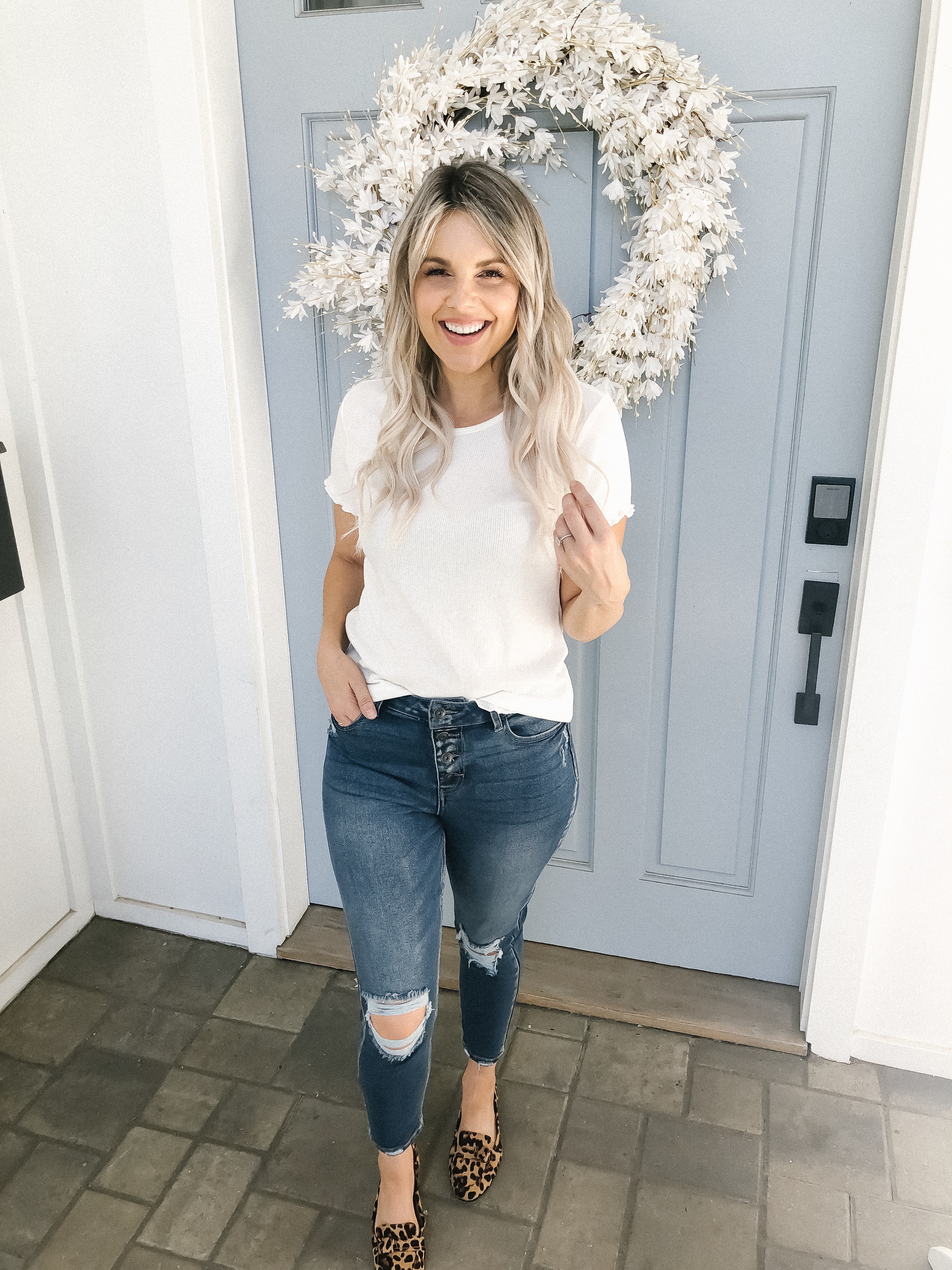 1. WHITE TOP | 2. $17 JEANS | 3. LEOPARD FLATS
So needless to say, I am absolutely crazy about them! And I really couldn't rave about them more! I got a size 11 and I'm normally a size 28 in jeans for reference. And they fit perfectly. I chose the size 11 based on the size guide on Walmart's website. I love that they have the distressing around the knees and the high-waist is an absolute must for me!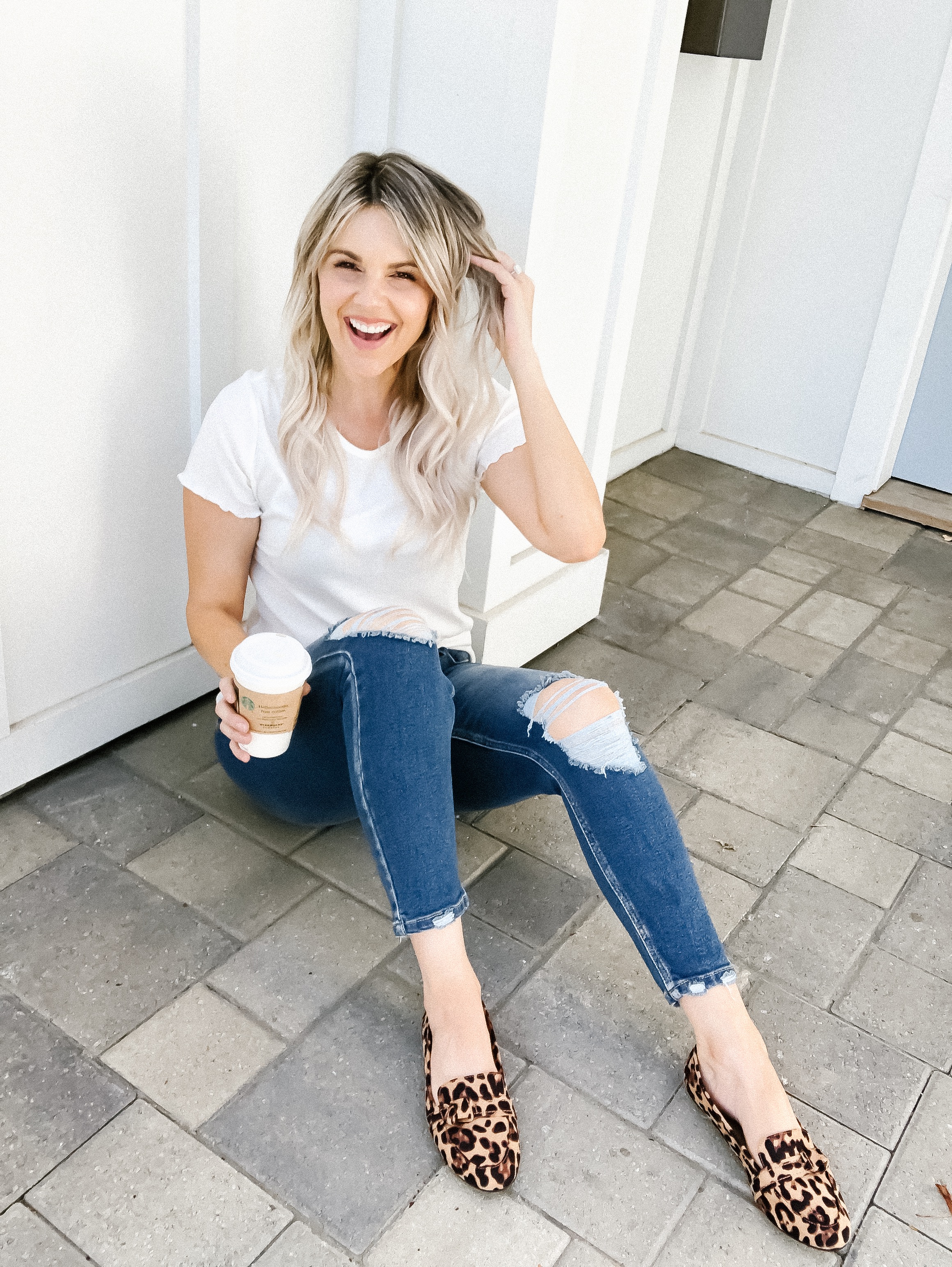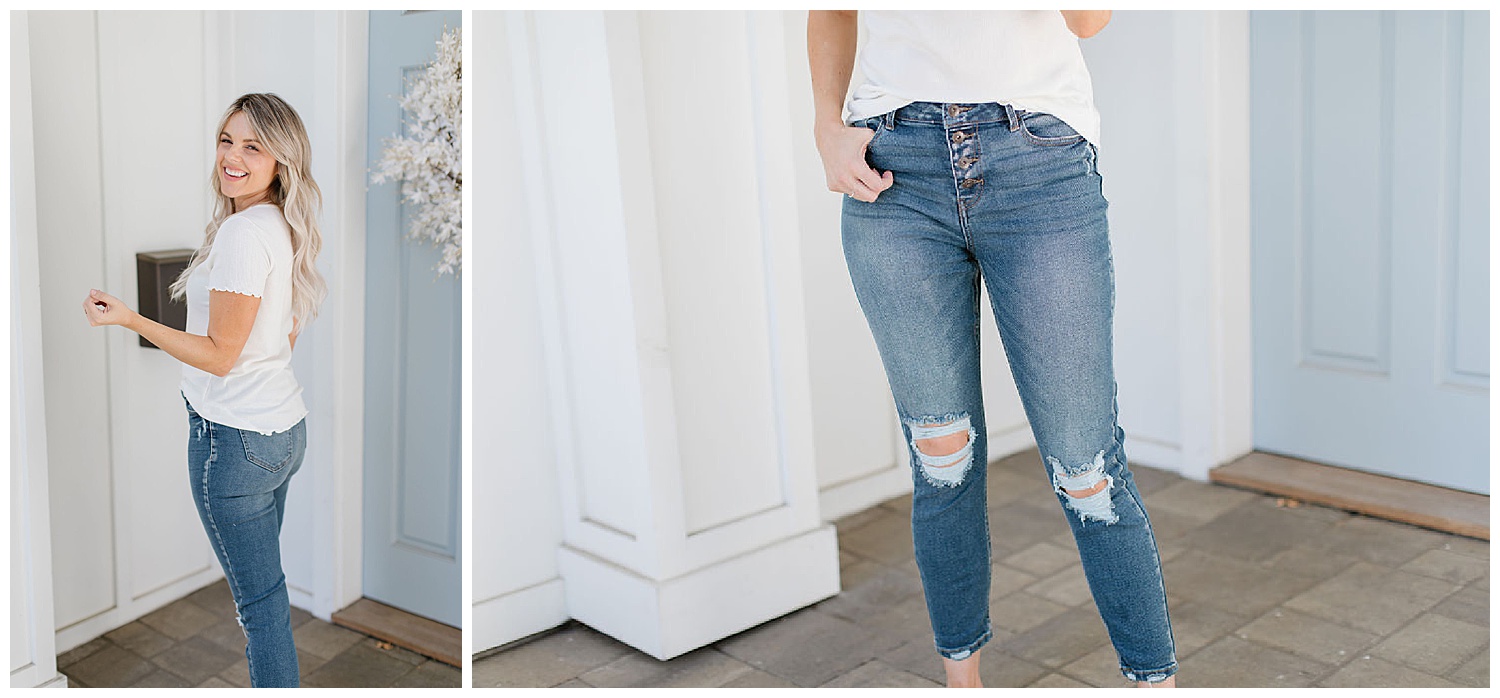 1. WHITE TOP | 2. $17 JEANS | 3. LEOPARD FLATS
In fact, these jeans may look familiar to you guys because they are a dupe for a pair that are over $200! My girlfriend came over the other day and we thought we were wearing the same jeans until we realized hers were the $200 designer pair and mine were the $17 pair that looked just as good, and in my opinion even better!
You guys know I talk about a lot of clothes on my blog and I truly do love them all. But this is honestly in my top five items I've ever written about! And for sure my favorite item so far this month!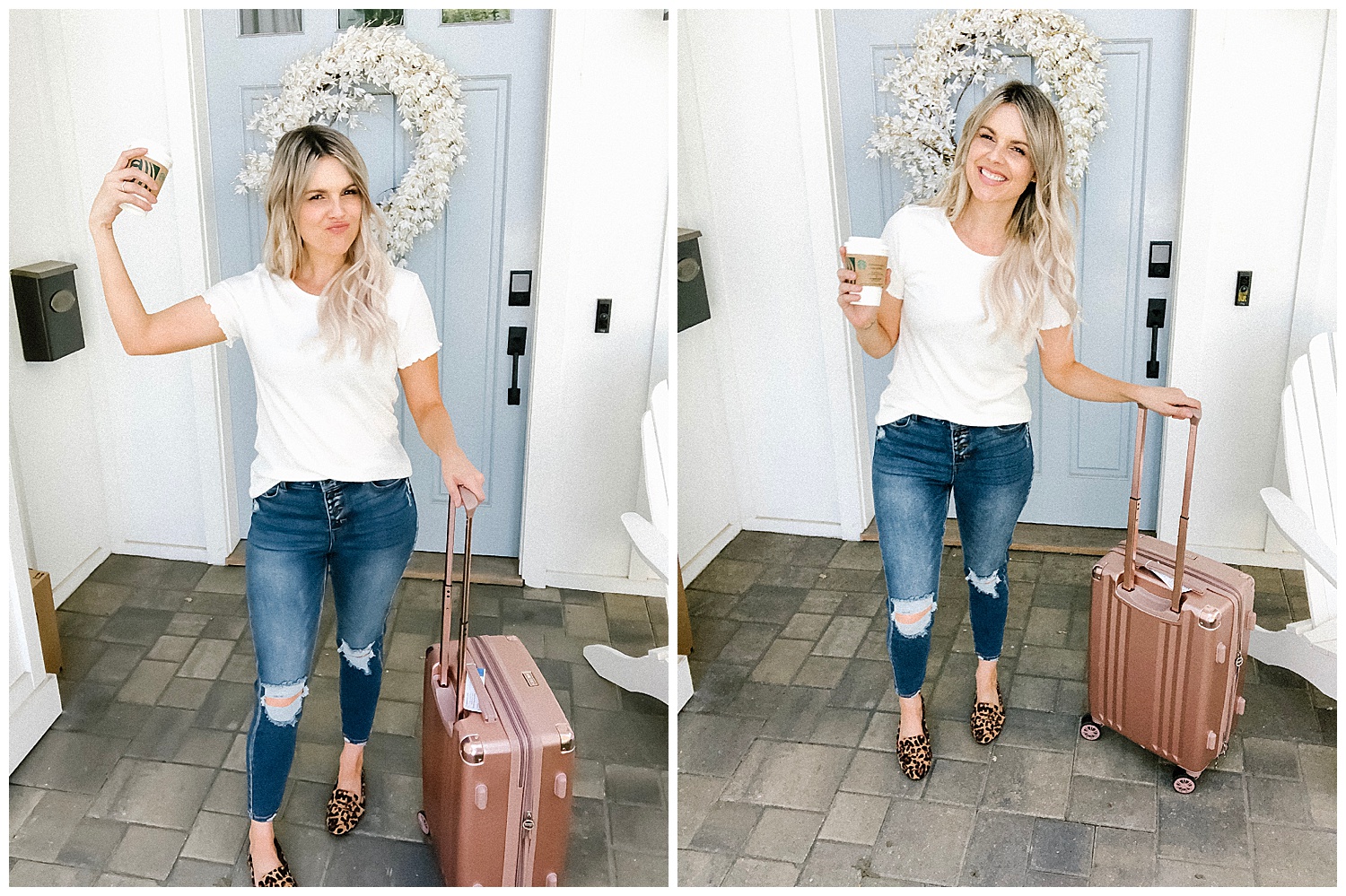 1. WHITE TOP | 2. $17 JEANS | 3. LEOPARD FLATS
They also look so great with a pair of knee high boots as you can see in the photo below! So great for fall!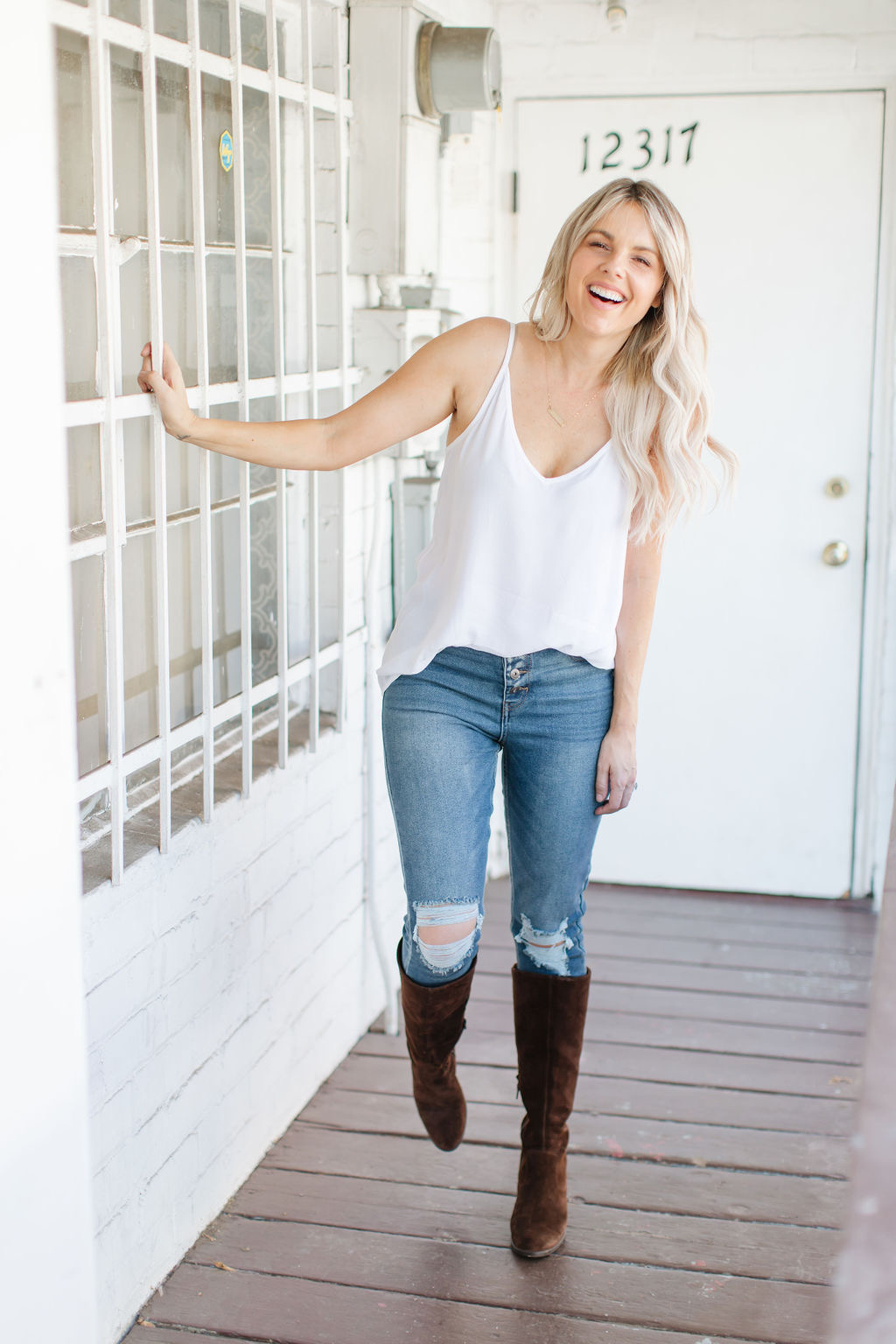 Option 2 : Black Jean
They also come in black!! Which are so great and will be ever better once we get closer to winter months. They are also only $17 and fit exactly the same as the blue jean option! I highly recommend getting both pairs if you can afford it!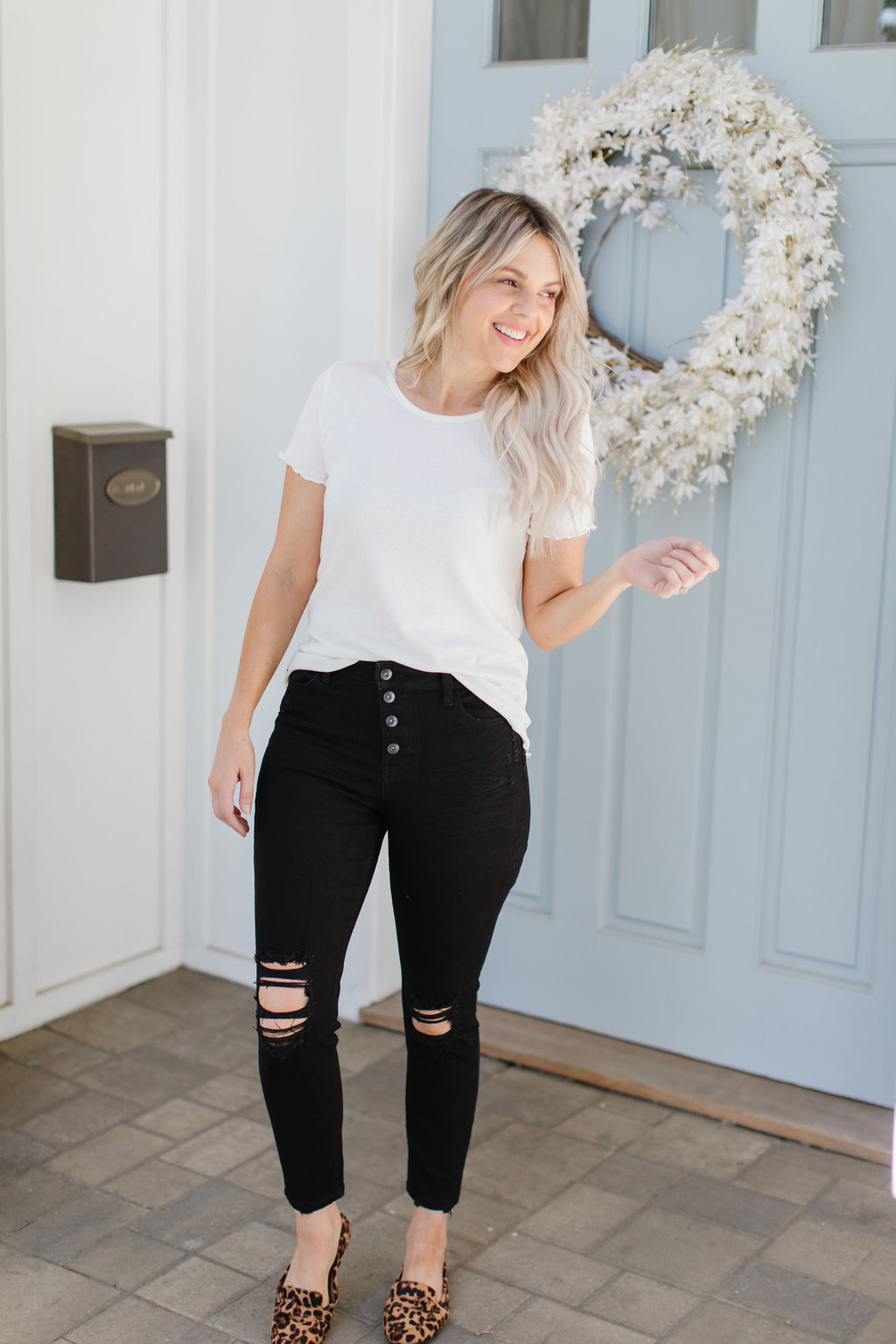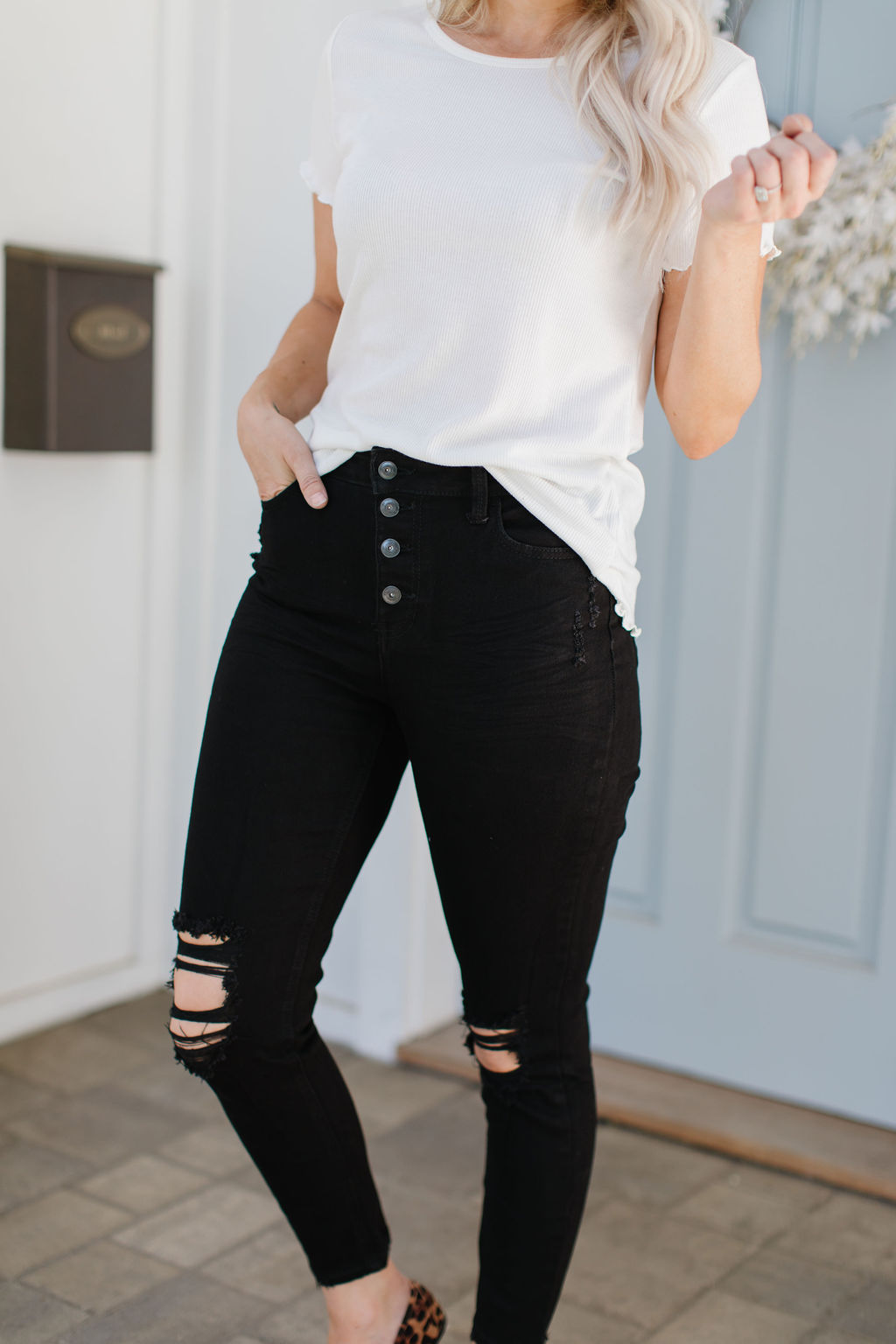 1. WHITE TOP | 2. $17 BLACK JEANS | 3. LEOPARD FLAT
You can also pair any of these jeans with these super adorable slip on sneakers! I've blogged about them before, but wanted to mention them here again because I have been getting so much wear out of them. They are only $19! I love them because they are so easy to throw on when taking Molly to school or running an errand!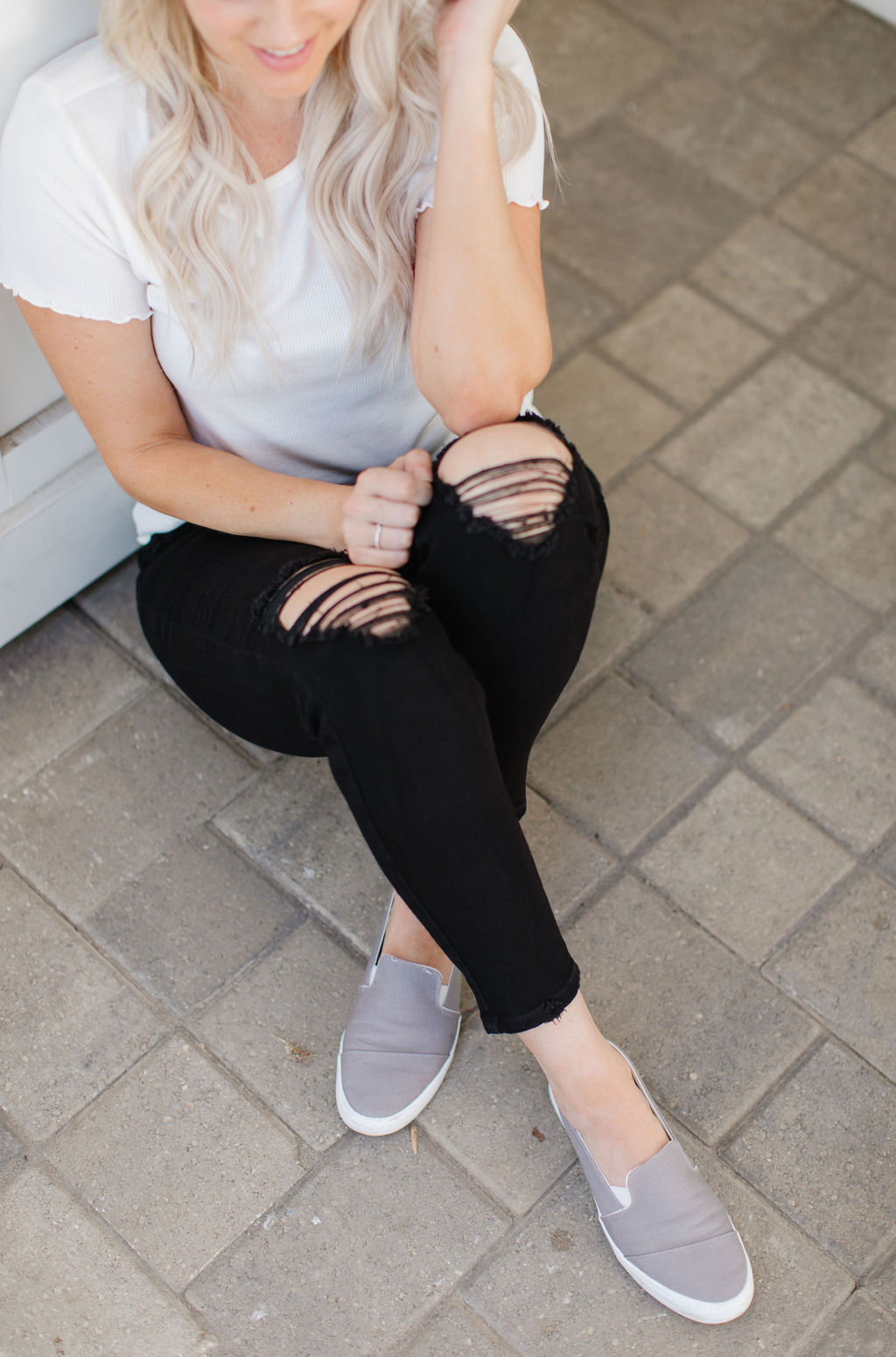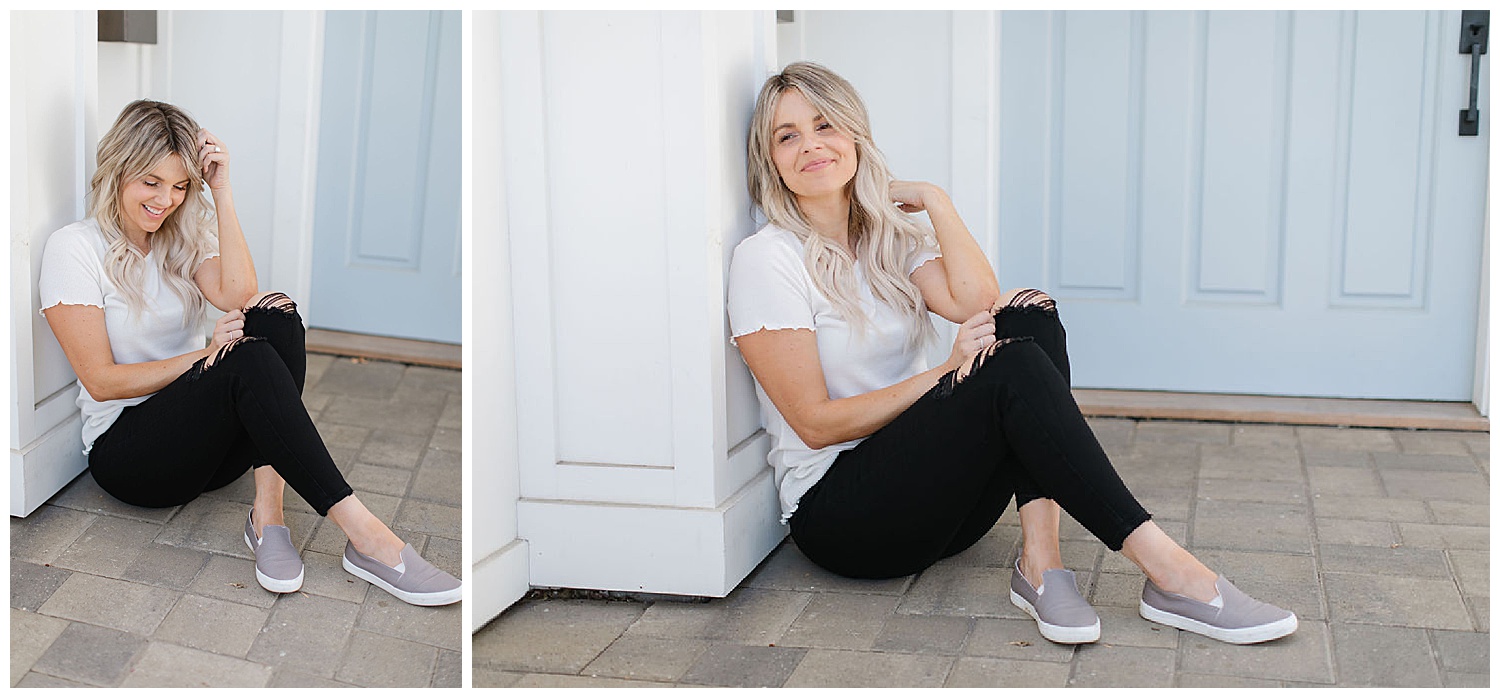 1. WHITE TOP | 2. $17 BLACK JEANS | 3. GRAY SLIP ONS
There you have it! I seriously love all of these and highly recommend them! Which is your favorite pair? Do you have any of them already? I can't wait to hear what you think of them! And thank you Walmart for being a sponsor of AliManno.com!