Wow, I seriously am so happy with tonight's episode!! We are continuing to see these couple's flourish (yay Caelynn + Dean!) and grow and I can't wait to see where they all end up. Let's get into tonight's episode, I laughed and I cried!
Caelynn and Dean Forever and Ever
Oh my gosh, I could've watched an entire episode about Caelynn and Dean. In fact, when they were driving away in the car together talking about sleeping in his van, I honestly wish the cameras just stayed on them and this turned into a reality show about their life together. I know Caelynn seemed a little turned off when he talked about cooking ramen in the van, but to me that sounds like a fabulous vacation! Ha!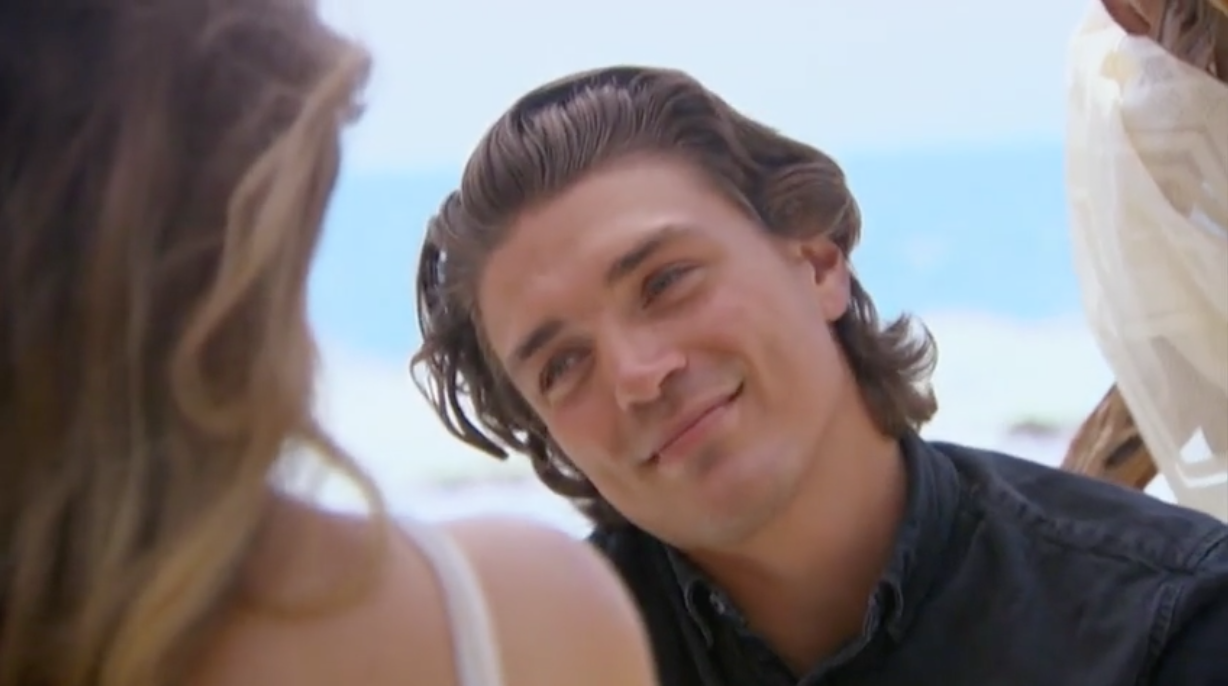 You guys know how much I love my Ramen. But in all seriousness, I just love them together! I think him coming back is ridiculously romantic and like I said in my blog last week I think it takes the right person to turn a notorious Bachelor into a committed man. I think Caeylnn could be that girl for Dean. If they end up working out and I kind of feel like they will, I hope we get a reality show about their life because I will be a loyal viewer! Ha!
Connor
All that said, I did feel bad for Conner. What Connor said is so true. Caelynn really did downplay her relationship with Dean and she didn't say sorry to Connor. All of that was wrong and I am sure Caelynn felt bad watching it back. I think she got wrapped up in the romantic gesture that Dean did and so did I! I think we all did.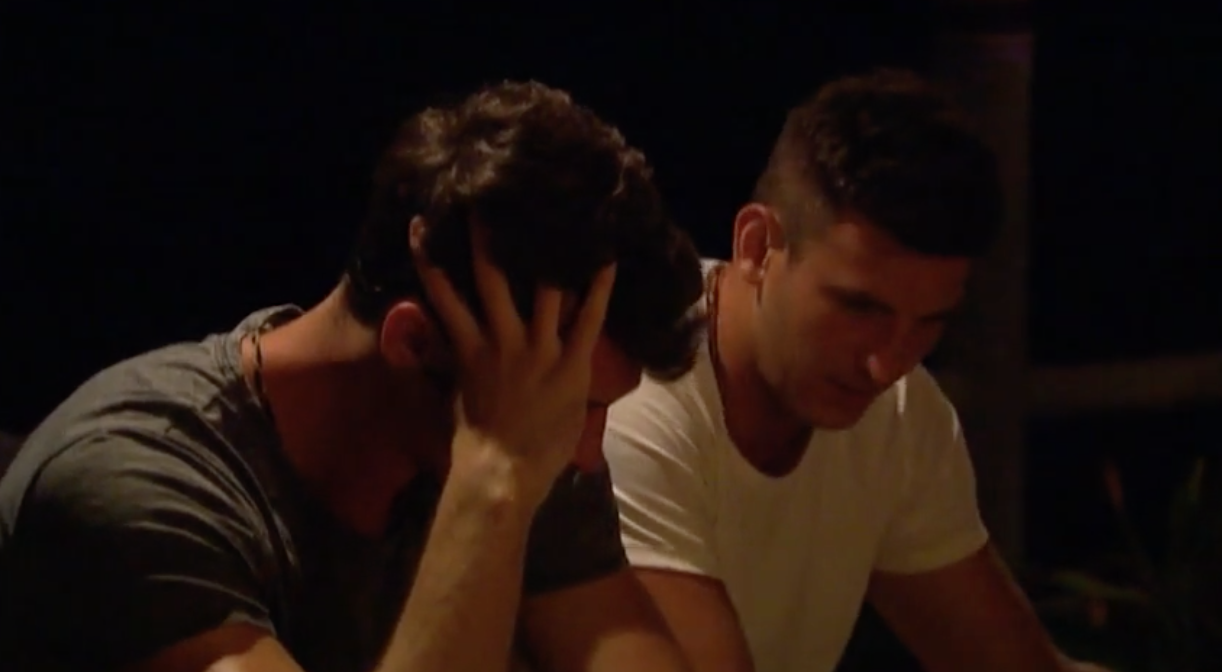 To be completely honest, I didn't even really think twice about Connor until we saw him break down and talk about how hurtful it was to him. And then I even felt like a jerk myself for not thinking about him more. I'm not mad at Caelynn. I genuinely think she'll feel bad about how the situation played out when she watches it back. And I stand by the notion that I think Caelynn made the right choice because I think Dean is the one for her. But Connor really did get screwed over and I really do feel badly for him.
Chris and Katie
I'm curious to know what you guys think, but I don't think there's anyway possible way they are getting engaged. I'm not even sure they're gonna leave Paradise as a couple. And I don't really have a ton to say about it other than that. What are you guys thinking?
Demi and Kristian
I feel like it's hard for me to even say more about the situation than mention the fact that I was utterly glued to my TV watching every moment and every word spoken between them. Not only was I crying like a baby, but I was just so impressed with the relationship and how clearly they're able to communicate with each other.
I truly cannot imagine being Demi and coming out in such a public way for so many people to judge. I know what it's like to be on the show and for people to rip you apart for who you are and with so much hate in this world, I can only imagine what Demi's going through. I stand by her. Both her and Kristian. And that's all I really have to say about the situation. Honestly, I can't say more because I can't see through my tears right now. I write these blog while watching the episodes.
Tayshia and JPJ
So we're on the same page that there's no way Tayshia and JPJ are going to end up together. In fact, Tayshia even said on our podcast a few weeks ago that she single now. So I think it's pretty safe to say this was a fun thing for her and much more serious for JPJ, but I think we all knew it wasn't gonna work out.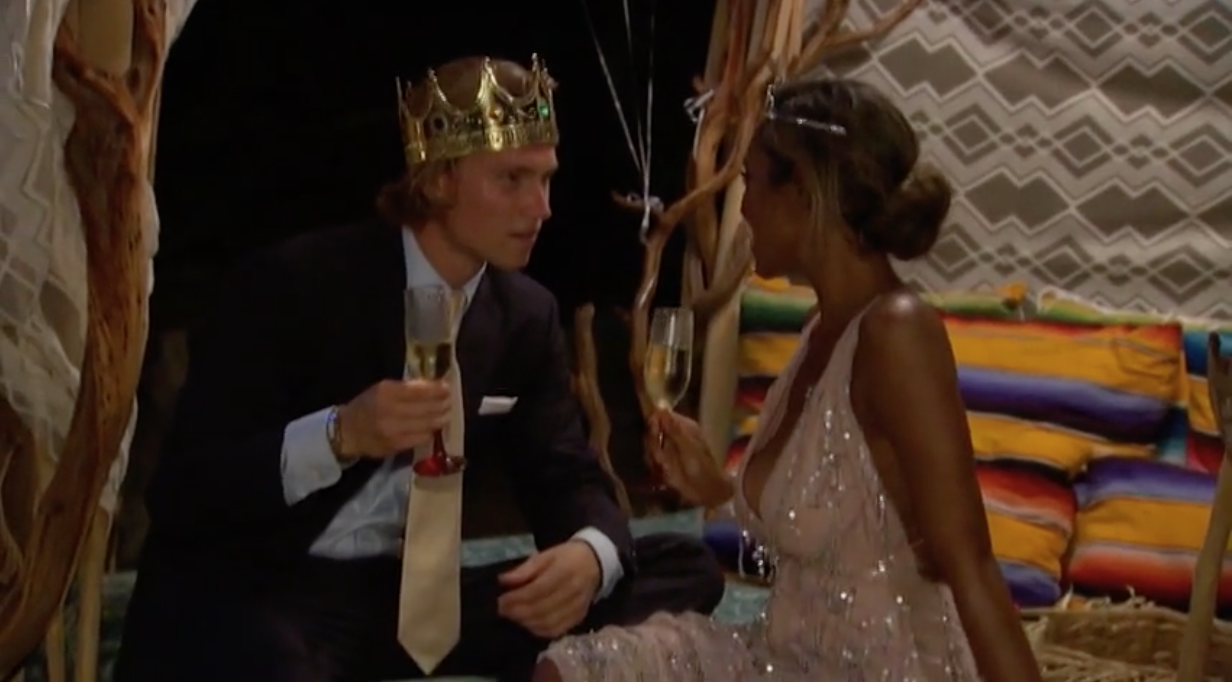 By the way are you listening to the Bachelor Happy Hour podcast? If not you totally should! I'll put the link to subscribe here.
Blake and Kristina
Now all of Kristina's actions make a little bit more sense to me. I couldn't for the life of me understand why she would even consider a relationship with Blake after all of her actions this far in Paradise. I talked a little bit about that last week. So her leaving him this week makes much more sense to me. Her actions all through Paradise match with how she's actually feeling.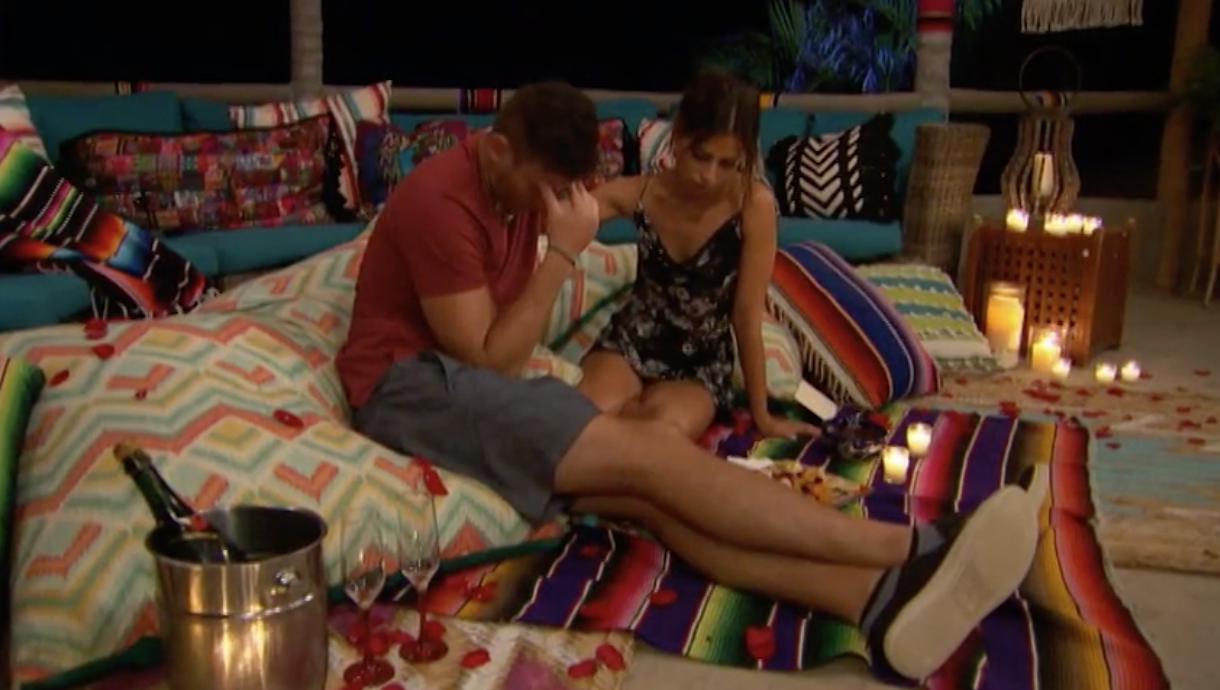 And I wanted to feel bad for Blake I really did. Because I always try to see the best in people. But I couldn't help but feel like it was all an act. And I'm not trying to say he's a bad guy, because I definitely don't think he is. I think he's a very sweet person who is desperate to be liked. And he was so nervous after this whole situation, and I think maybe worried that people are going to hate him that he wants to do everything he can to make people like him. And I sympathize with that. I'm a people pleaser too. So I wish both Blake and Kristina the absolute best. Because I know they're both good people and they both deserve love.
Who will stay together in Paradise and who will leave together?
We are almost at the end here, and I can't wait to see who ends up leaving together to explore their relationships more and who is going to get engaged!!! So exciting! Who do you think is going to remain couples? Do you thinking the remaining couples will make it? What do you think happened with Caelynn and Dean after they left? Let's chat!!
Outfits of the Week!
HALEY

KRISTINA

DEMI

 1. YELLOW REVERSIBLE BIKINI TOP | 2. YELLOW BIKINI BOTTOM | 3. DEMI'S EARRINGS | 4. DEMI'S OUTFIT
TAYSHIA

Isn't this dress so darling?! I feel like it checks all the boxes: pretty, affordable, great quality, a great length, the sleeves… the list could go on. Let me just start by saying that this gorgeous dress is less than $50! I remembered it being a great deal when I ordered it, but when I went back while writing this post and realized that it was only $49, I was happily surprised. This dress feels so much more expensive than $50! And in my opinion it looks pricier too!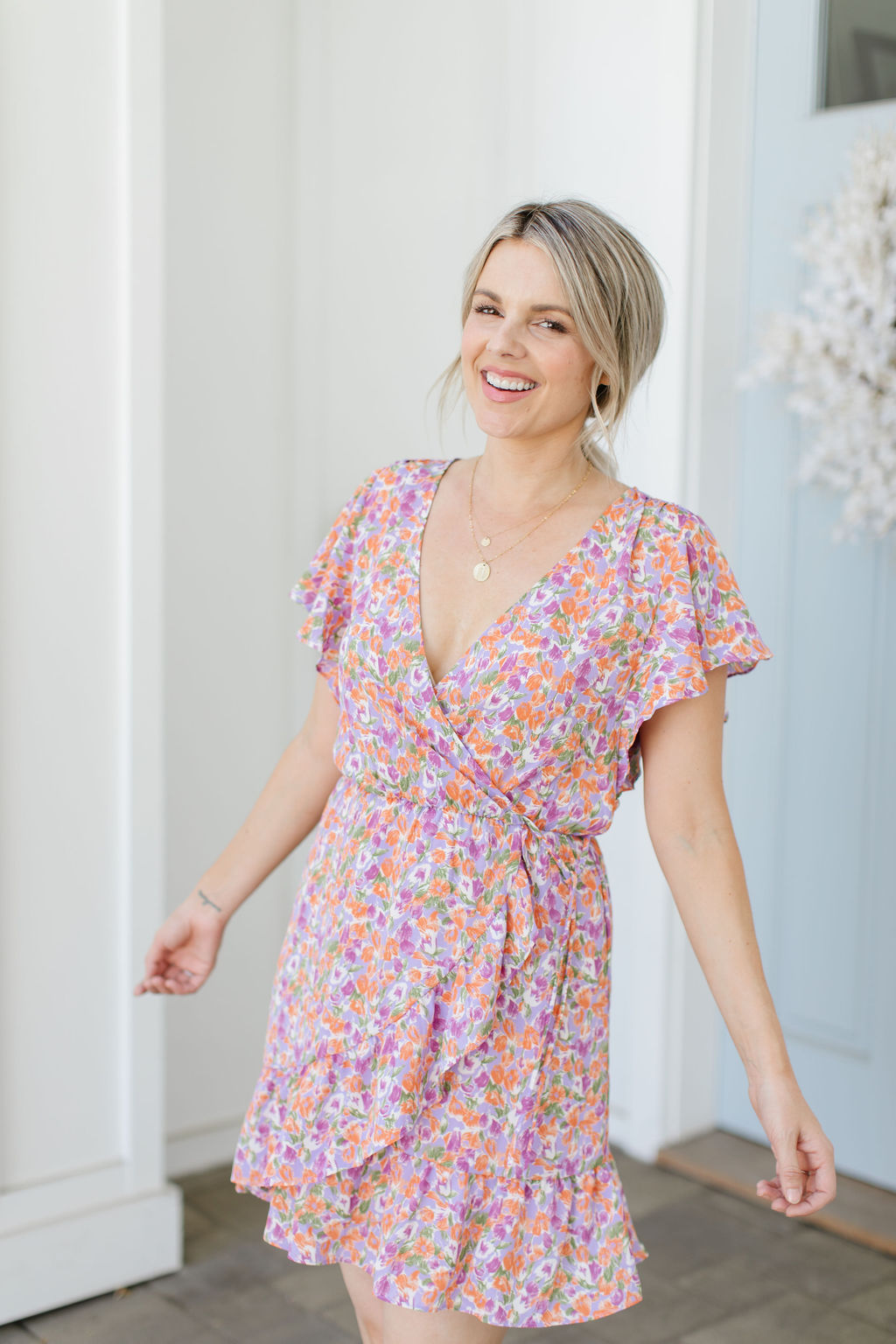 There are so many details going on in this dress, and somehow they all work effortlessly together. There are ruffles going around all the hems of the dress, including the bottom, sleeves, and around the wrap portion. I think that this is such a lovely detail that adds sophistication to the dress. It's a dainty ruffle! Ha! The sleeps fall to the perfect length on the arm, covering the upper arm area. One of the best parts to me is that it is a faux-wrap style, meaning that the wrap portion that you see is actually just an overlay and the dress can be slipped over your head! It takes out all of the fussy work that can sometimes come with a wrap dress, but still leaves the beautiful look!
I go into more depth about the fit and details in my blog post from Friday! Click here.
Oh, and while you're here!
The other day I posted about some of Molly and Riley's favorite toys. If you have kiddos you'll wanna check it out, I think that it has some great suggestions! Even if you don't have kids, you should go look at the photos of them from that post. Honestly it cracks me up so much! I was hysterical when I was looking through the photos! They are both obsessing over this Bounce and Spin Puppy right now, and you can definitely tell from the photos! Seriously, can't you tell below how in love they are?! Ha!! It also comes in a unicorn version!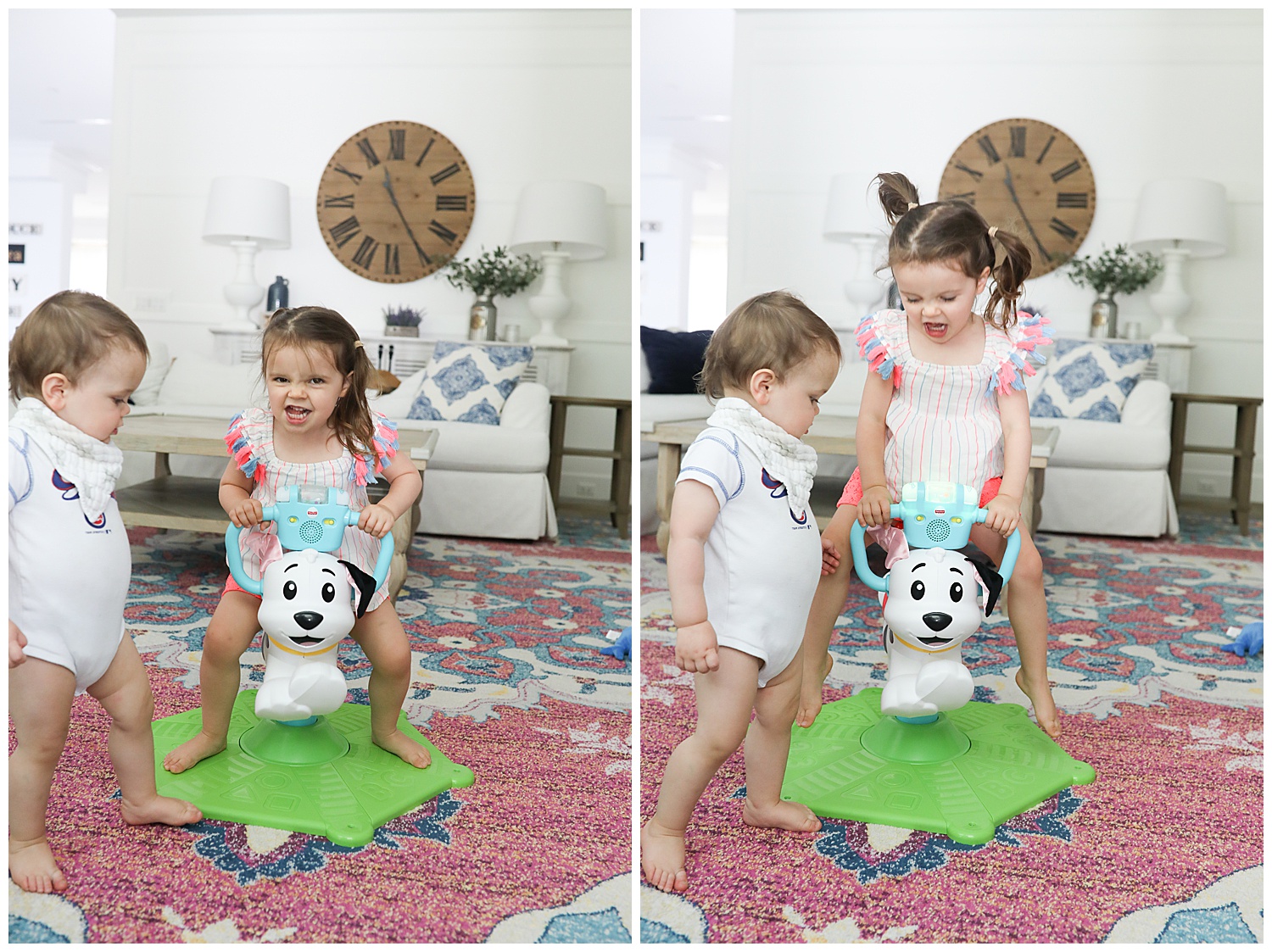 Both of their outfits from these photos are super affordable. Molly's shorts and top were only $12 as a set, and Riley's Cubs onesie came in a pack of 3 for only $20! So I dressed both my kiddos for less than $20 that day. That's a mom win to me!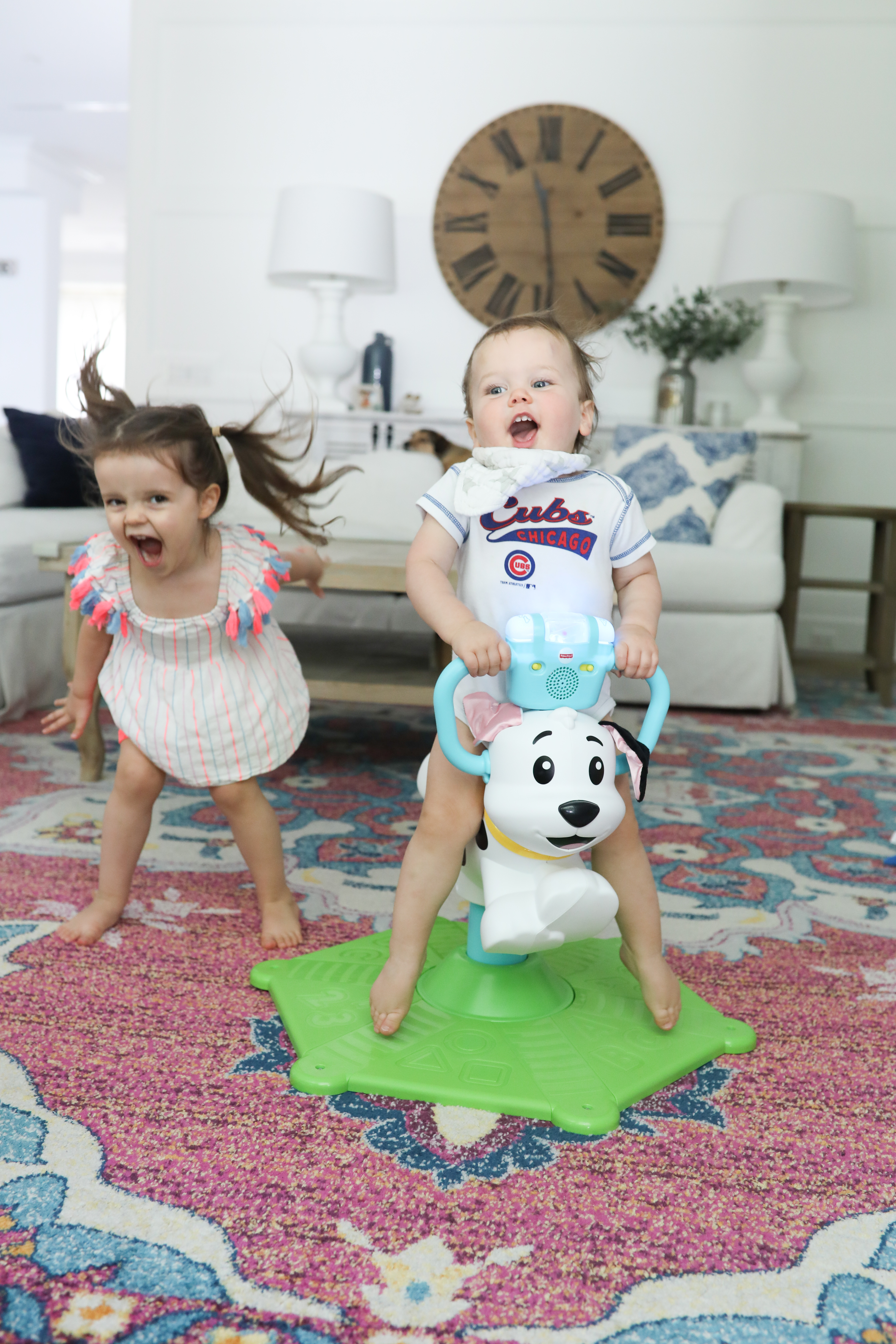 1. BOUNCE AND SPIN PUPPY | 2. UNICORN VERSION | 3. MOLLY'S $13 OUTFIT | 4. CUBBIE'S ONESIE
I also wanted to quickly add a note about kipik! It is a new subscription service for little girls clothing, and I got to partner with them to choose the pieces for the fall box! Here's the link to the Ali's piks box – featuring my favorites of the personalized items we received for Molly. They are just perfect for back-to-school, and I also love that they're super transitional – everything can be layered for when cooler weather rolls in.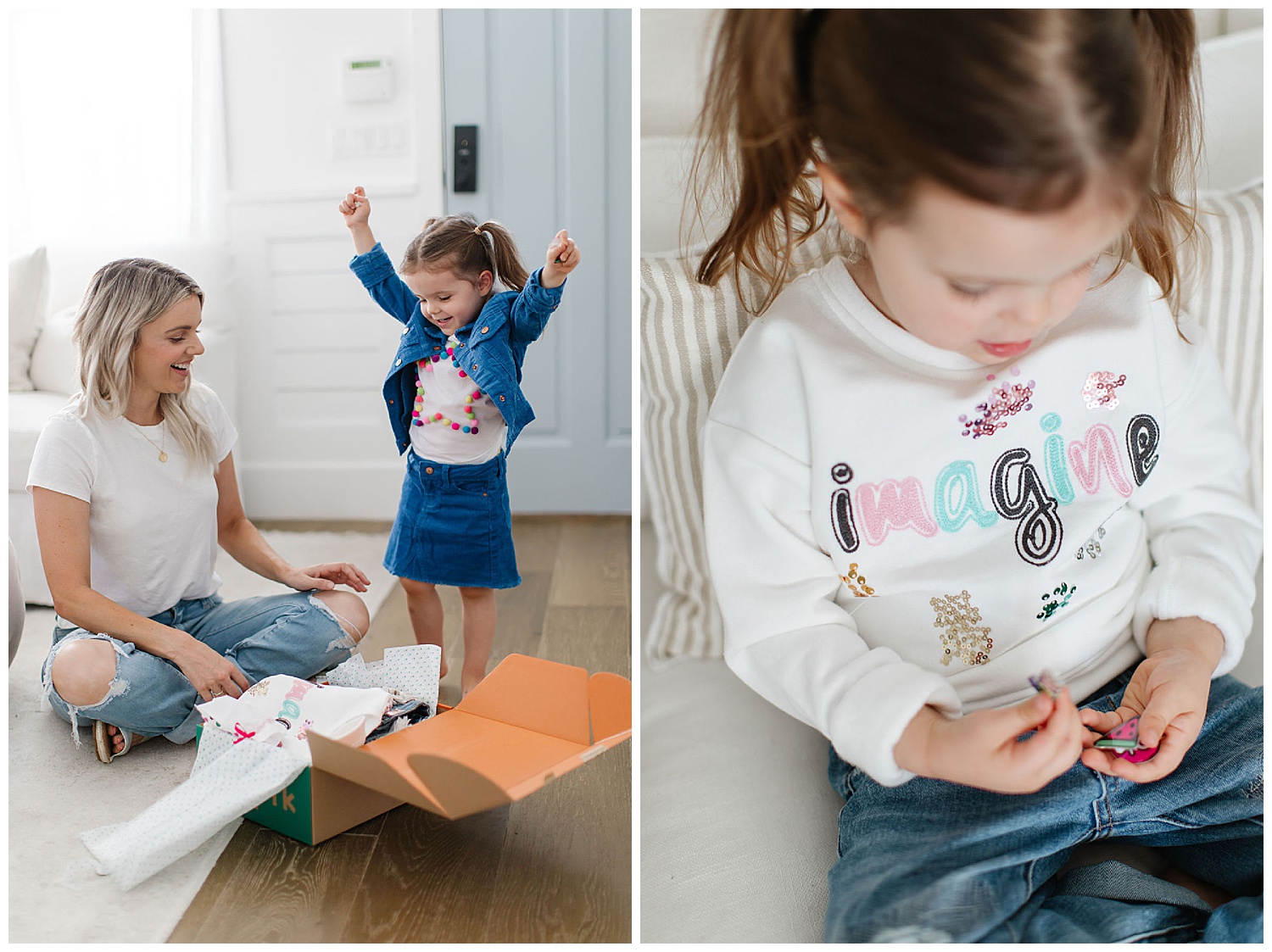 Also, I am so excited to share an exclusive code for your first time purchase! Use code: Aliluvskidpik to take $25 off a purchase of $50 or more. You can even combine it with the 30% off discount that is automatically applied if you keep everything from your box! So if we do that math on that, that means you get all 3 mix n match outfits including the shoes for only $70 your first order! Eeek amazing.
Head over to my blog post for a bunch more details about the service and to hear more about the pieces that we got for Molly!
Thanks so much for coming by the Bachelor in Paradise blog today! I can't wait for tomorrow!!!