UPDATE: The giveaway winner is Kelli! Congratulations!!!
Kelli, I commented to you below, but please email me your address for your kidpik box!
—-
I am so excited to share that when kidpik saw the reaction to my curated box on their site, they were so excited that they offered for me to GIVE ONE AWAY to one of you! All you have to do to enter is leave a comment on this post about YOUR little girl's style (or a little girl you want to gift it to!). So cool that they offered to do this today! It wasn't planned at all!
For those of you that have followed me for awhile, you might have noticed that recently I've gotten even busier than I was before. Now I am not complaining at all, I feel so incredibly lucky about everything coming my way, but that means I've needed to really figure out ways that I can save time! I'm even working on a post dedicated to saving time, and I will be posting it really soon!
kidpik has made my life so much easier!
Today, I want to talk to you all about kidpik, because I truly think it's an awesome RISK FREE service for parents! Plus, like I already mentioned, it's a HUGE time saver. I am constantly on the hunt for clothing and accessories to show you all on the blog, and I never have a ton of time to spend on the kiddos wardrobe. kidpik truly has been my saving grace!!! kidpik is a subscription box service that is made specifically for girls like Molly, offering sizes 4-16! It truly takes away all of the guesswork and difficulty in shopping and putting matching outfits together for your daughters. Not only does it come to my door and save me so much time, it is such a fun experience for Molly.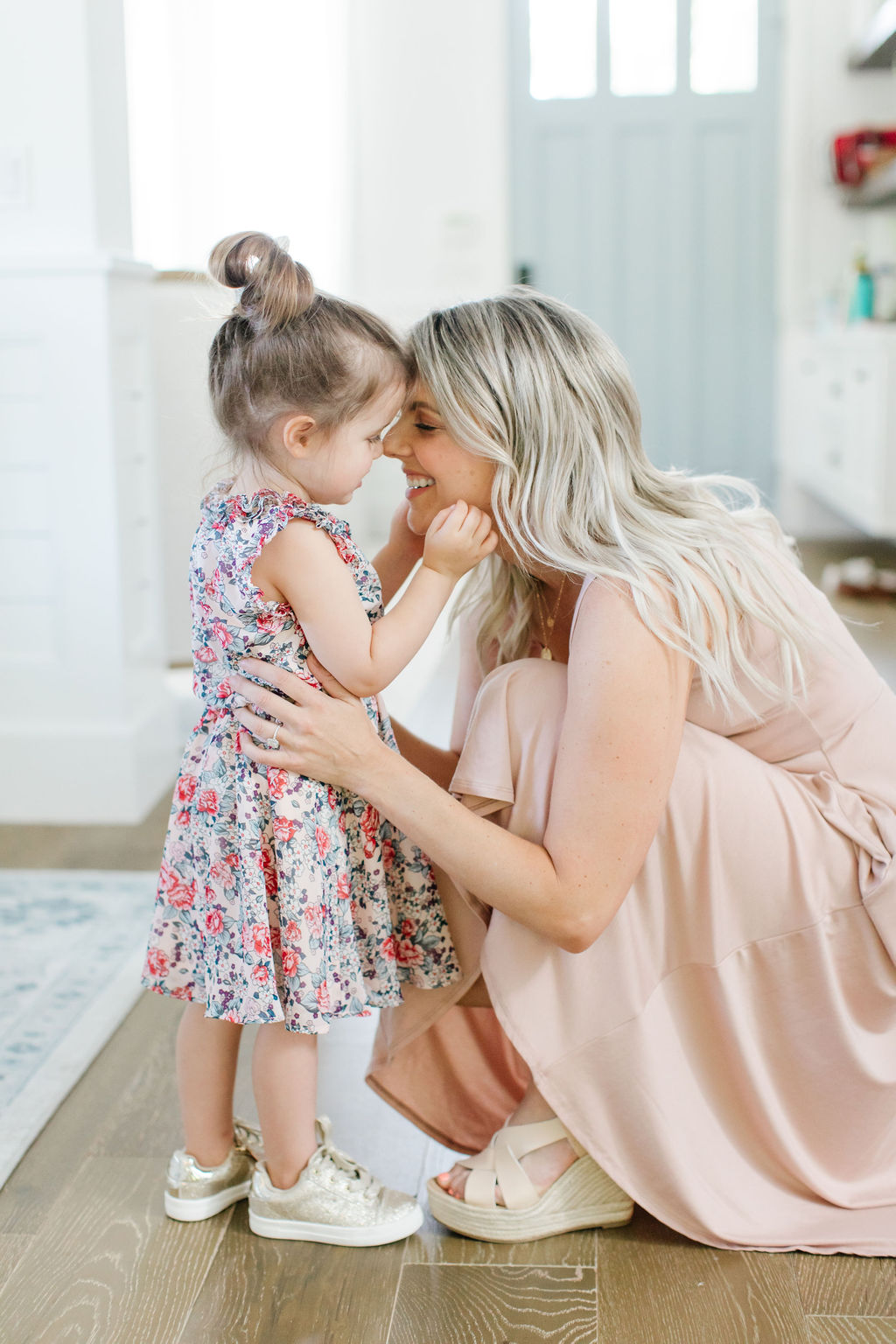 Making Shopping Easy for Mamas+Dads
It's tailored to individual budgets, moms, dads and girls – and in my case, especially busy mamas! I no longer have to spend time searching the internet or in stores for Molly's clothes, because a box filled with styled clothing now comes to my door. When you first sign up with kidpik, you can take a fun 2-3 minute quiz so that their stylists can personalize looks that suit your kiddos size, style and fashion!
I cannot tell you how much easier it is to get Molly to try on clothes when we get to make a fun activity out of the unboxing! It's like Christmas! Especially because Molly is starting to develop her own sense of style, so taking this style quiz was so much fun for both of us! I think one of the questions was something like "on a scale of 1 to 10, how sparkly is she?" So adorable. When Molly's older, she can take the quiz herself, and it will help her to build confidence by allowing her to create looks that express her personal style and unique fashion sense, with some guidance from a team of experts! 

We had a blast during our recent unboxing! It came while Molly was at school, so right when she got home and came inside she saw it sitting there! The look on her face was priceless! Man, this girl already loves clothes. That's going to get me in trouble in a few years! Ha!! But anyways, she was so excited to open her kidpik box!!! We opened everything one by one, and ended up having a fashion show! You can see from the photos how happy she truly was! She was in heaven!
What's great about the kidpik box is that it contains outfits that are designed to be mixed and matched, with 7 coordinated items! It even comes with shoes and an accessory! And kidpik's design team seriously thinks of everything!!!! They know our kiddos are going to be wearing their clothes to school and to the parks etc. so some pieces like skirts have shorts built in! Which is great for girl's like Molly that love twirling around and doing somersaults. Their jeans and bottoms have a lot of stretch and also have adjustable waists so that your kiddo has the perfect fit! This is one of my personal favorites because if something is a tiny bit big on Molly, I can adjust the waist to be tighter and then as she grows I loosen it up! Since it's adjustable, it makes clothes last even longer!
And kidpik does everything in-house!
Another thing to mention is that kidpik only sells their own designs. This is HUGE to me because it ensures that all their sizing runs the same and the colors match. I am sure you have noticed in my fashion posts, I tell you what size I get in certain things because all brands run differently. That's even more tricky when you are shopping for your kids because finding items that fit right seriously feels like finding a needle in a haystack! Because they sell their own designs, they know their fit and they are much more likely to get the sizing right for your girly the first time! Everything that Molly got in her most recent box fit her, and that truly is amazing.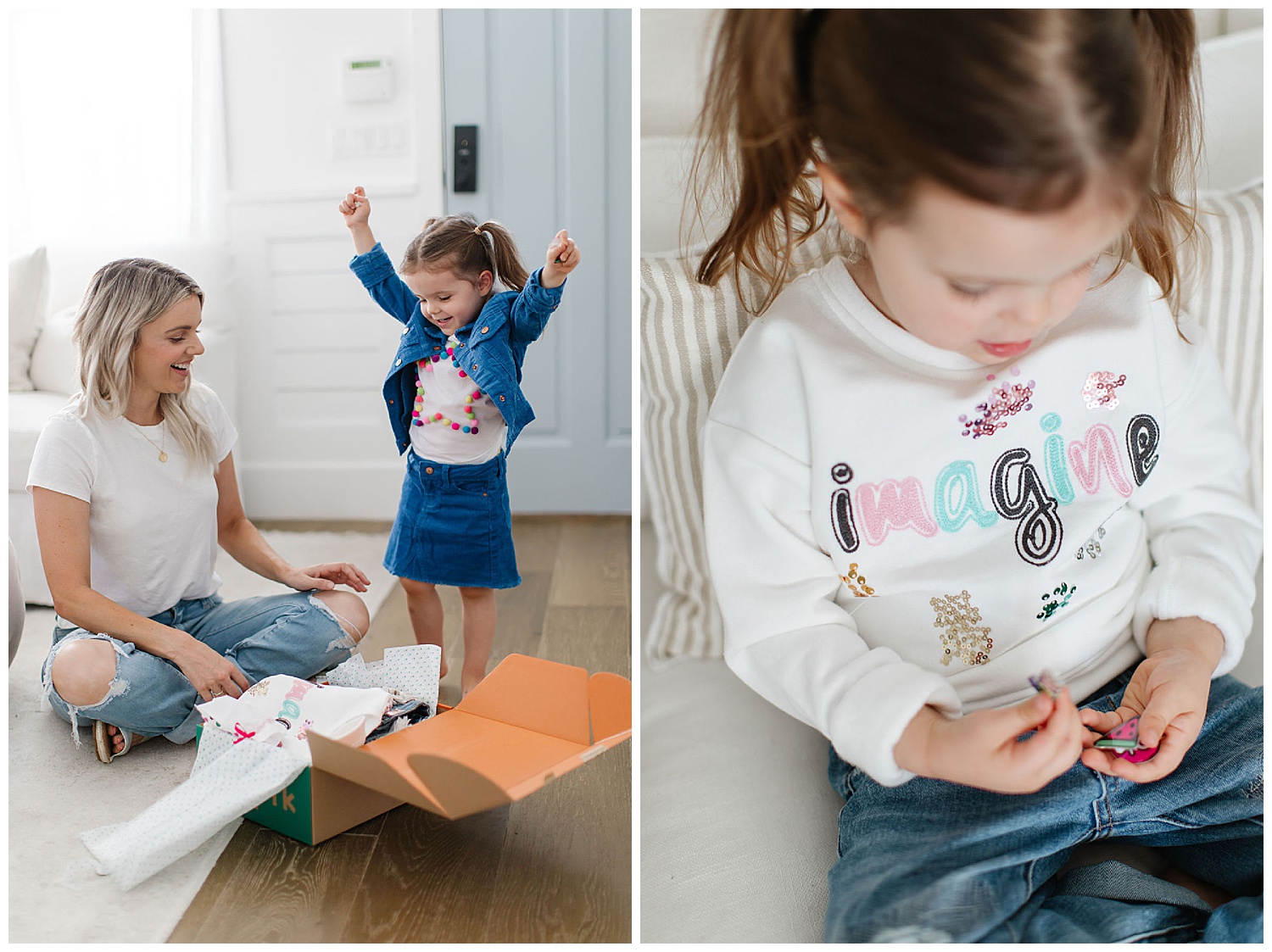 If for some reason something doesn't fit right, you can send anything back for free within 7 days! That means you can have a full on fashion show in your living room like we did, see what you like, and you won't be charged for anything you send back! You only pay for what you end up keeping. So it's totally risk free. Also, since you are at home for said fashion show and not in a dressing room, you can also take the new clothes into your kiddos closet and see which items will mix n match best with pieces that she already has. Game changer!
High-Quality, Cute Pieces at Affordable Prices – Delivered to Your Door!
The pieces that you get in these boxes are high-quality! And I mean that with my whole heart! I feel like that isn't always the case when purchasing children's clothing. You typically pay a premium price for a small amount of fabric, and one's that aren't even the best quality! But the kidpik clothing pieces truly feel like my own personal clothing – and did I mention that they are really affordable!? So you are getting great quality pieces that will have your kiddos lookin' stylish at great prices. How stinkin' cute does Molly look in her dress and fur vest in the photos below!!!! And for anyone wondering my wedges are from Daybreaks shoes.
No Styling Fees, Free & Easy Shipping and Returns!
And just to be clear, there is zero commitment. There's not even a styling fee! I've seen other types of subscription services where if you send everything back, they keep the styling fee. But since there isn't a styling fee with kidpik (how awesome!), it is absolutely risk free. They always offer free shipping and returns. And boxes come however often you like, whether that be every months, every other month, or every 3 months. You can also pause or cancel your subscription at any time. You can set them to ship automatically so that you don't even have to stop your day to think about when you're going to have time to get your daughter some new clothing! I hope this is as much of a no-brainer for you as it is for me!
Like I said, every item in our most recent box Molly LOVED! And there's a perk to that! If you keep every item in the box, they take 30% off the overall total of the clothes. (And keep reading because I have a code for you to get even MORE $$$ off the box) This brings the average price of each item down to just over $13, and the entire box on average comes down to $95. So for $95 you get to keep three whole outfits, including shoes! Speaking of which, how awesome is it that the box also includes shoes?! Sometimes when I am in the store browsing, I cannot believe how expensive kiddos shoes are!!! So not only does it help keep the guesswork out of finding which shoes are best and at a good price, but it also helps you get your hands on super affordable shoes that are adorable for your little girl and match her outfits!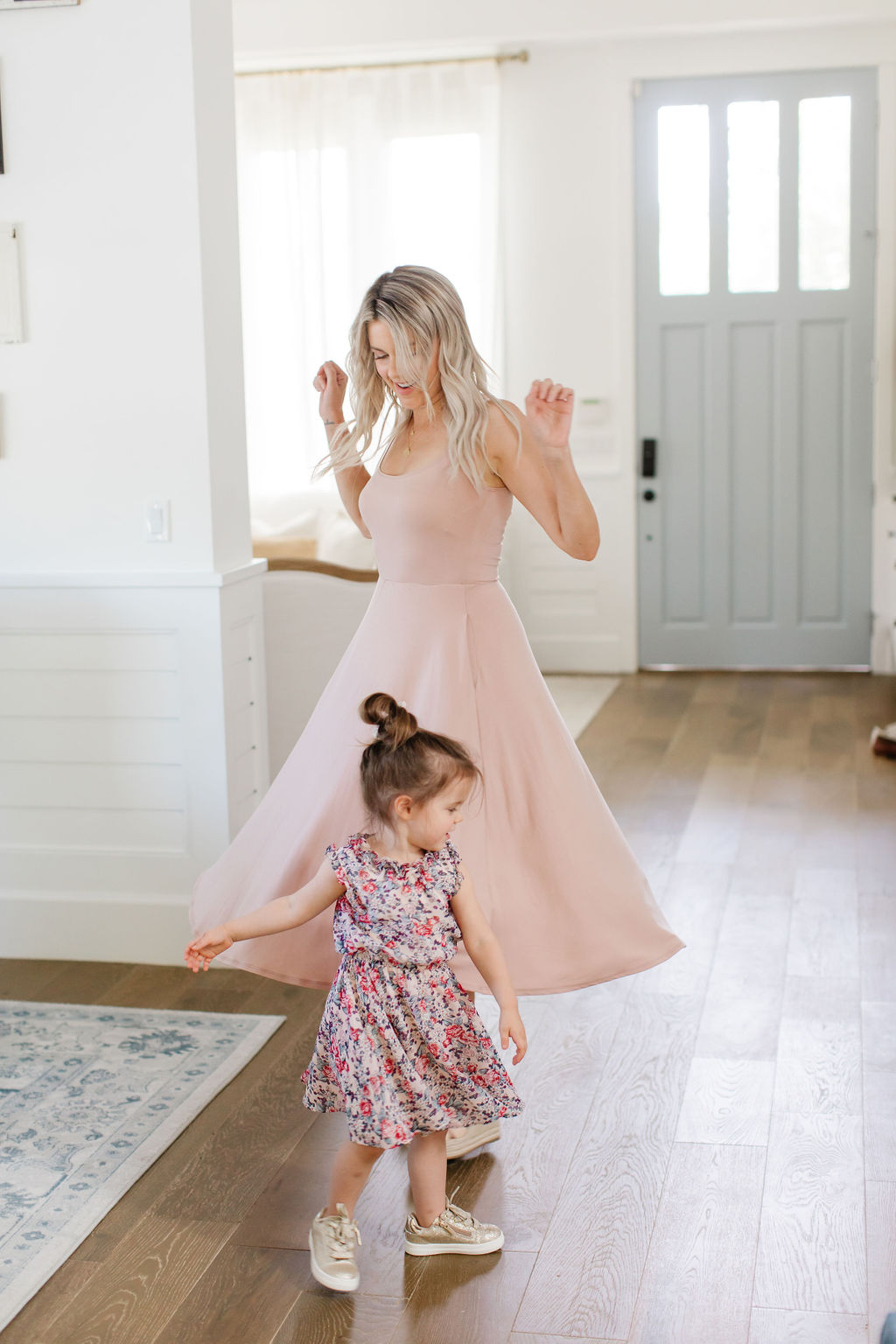 Helps you get out the door quickly!
If you follow me on Instagram, I am sure you have seen me mention how some mornings, it takes me a quick minute to get Molly out of the house. I get it, we don't all have great mornings everyday, and our kids are no exception to that. Ha! So especially on those mornings where she just wants to lay on the floor and snuggle with Mr. Whale instead of wanting to go to school, having outfits that are already pre-styled save the day!
It's one less thing to think about when I am trying to get her out the door. Since the boxes are pre-styled and the pieces can be mixed and matched, I can just grab them from her drawer, throw it on her and get her out the door. No one at school needs to know that kidpik was the one that styled Molly in the morning and not me. Haha!
If you can't tell from these photos, Molly is living her best life! She absolutely loves all her new outfits, especially her new gold sneakers and "princess jasmine" skirt! Every outfit that we received is so fabulous. I am trying to decide which is my favorite piece from this box… and I am having so much trouble! Because I love them all so much! I think if I had to choose I would say the precious floral dress. The material is lovely and soft and is such high quality. How stinkin' cute are the little ruffles around the neck and arms!
I guest-styled a Back-to-School Box!
I'm super excited to share that I guest-styled a Back-to-School Fashion Box for kidpik with all my favorite fashion piks for Molly! So you can head to their website and get Molly's exact look by purchasing the box that I styled. Or you and your daughter can take the style quiz and receive looks that are selected just for her unique personality. Here's the link to the Ali's piks box – featuring my favorites of the personalized items we received for Molly. They are just perfect for back-to-school, and I also love that they're super transitional – everything can be layered for when cooler weather rolls in.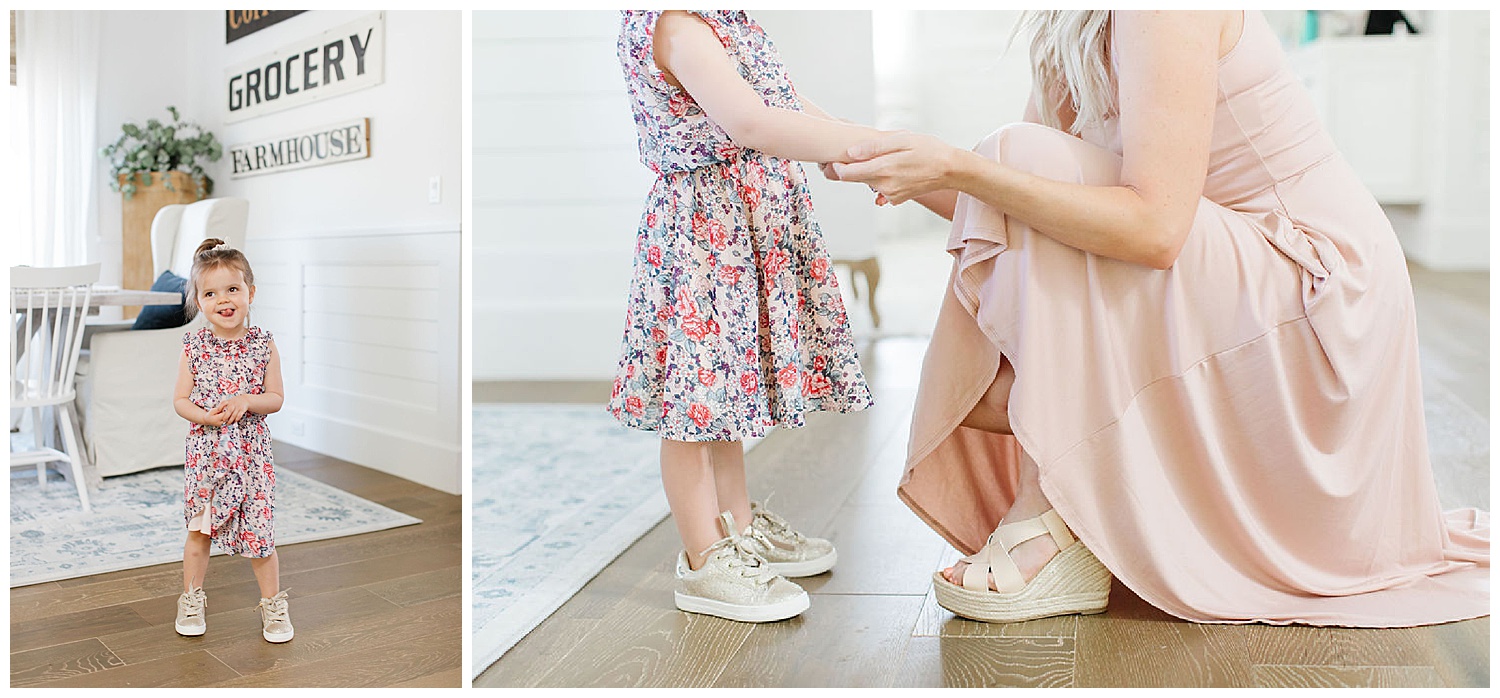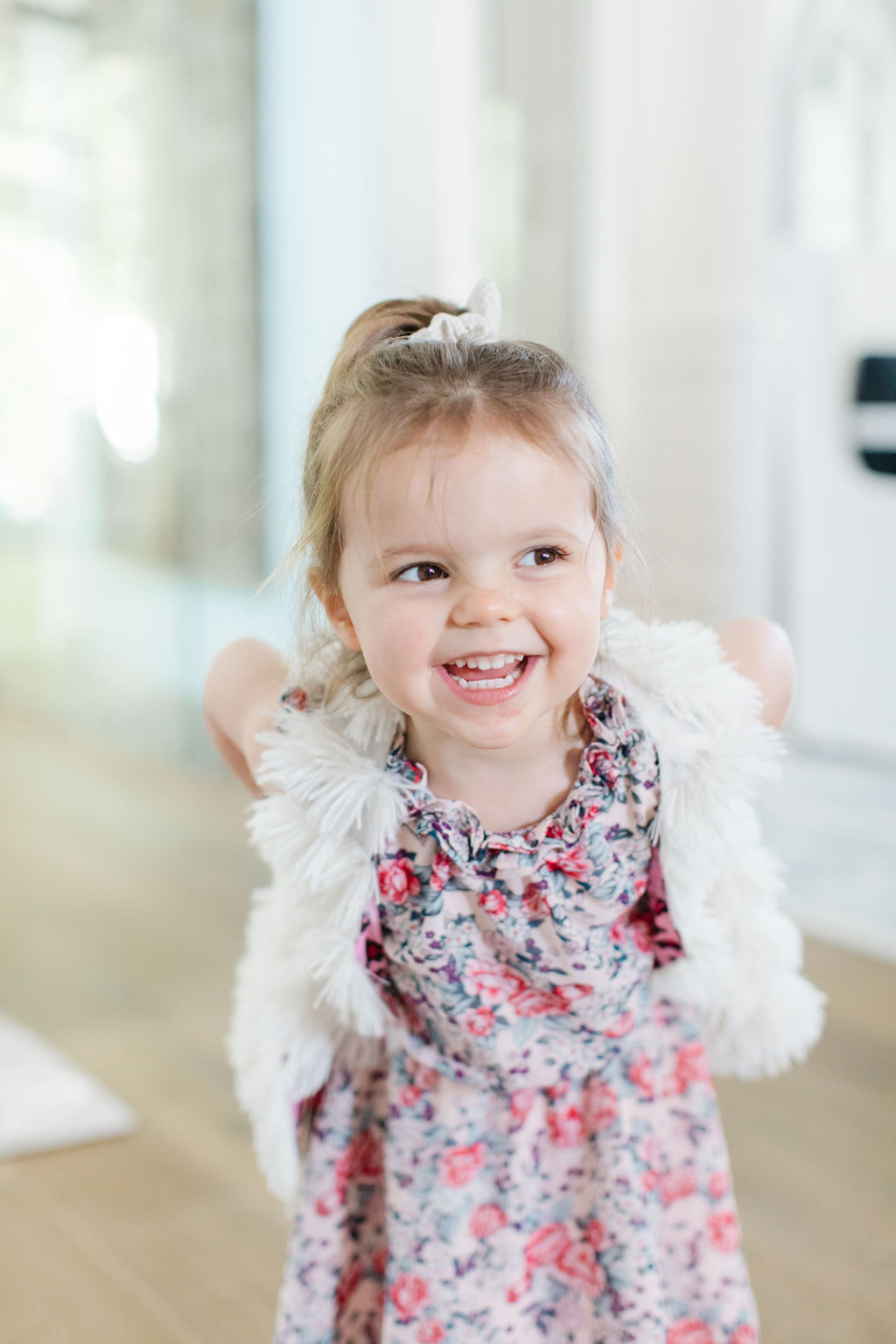 I hope you guys love all these looks as much as I do! Both Molly and I cannot wait for her next box to arrive! Also, I am so excited to share an exclusive code for your first time purchase! Use code: Aliluvskidpik to take $25 off a purchase of $50 or more. You can even combine it with the 30% off discount that is automatically applied if you keep everything from your box! So if we do that math on that, that means you get all 3 mix n match outfits including the shoes for only $70 your first order! Eeek amazing.
And FYI, promo code Aliluvskidpik for $25 off already also applies to my curated piks too, except please note you can only do exchanges if you order my custom styled pik box (not refunds). And the 30% discount is automatically applied and already reflected in the listed price ☺ Just so you know!
Can't wait to hear what you all have to say about your kidpik boxes! Which is your favorite outfit? From 1-10, how sparkly is your daughter?! Let's chat below!