Happy Friday!! I hope that you all have been having a fabulous week, even though it was a short one! I'm started back at Home & Family this week and it has been so busy. The good kind of busy, but still I have been running all around! The long weekend was so great, and as you know I took a little bit of a social media cleanse over the weekend. Do any of you do that? I feel like it really helped me refresh and recharge for this crazy week! I recently found this gorgeous floral dress and I just wanted to share it with you really quick!
Affordable and Beautiful Floral Dress
Isn't this dress so darling?! I feel like it checks all the boxes: pretty, affordable, great quality, a great length, the sleeves… the list could go on. Let me just start by saying that this gorgeous dress is less than $50! I remembered it being a great deal when I ordered it, but when I went back while writing this post and realized that it was only $49, I was happily surprised. This dress feels so much more expensive than $50! And in my opinion it looks pricier too!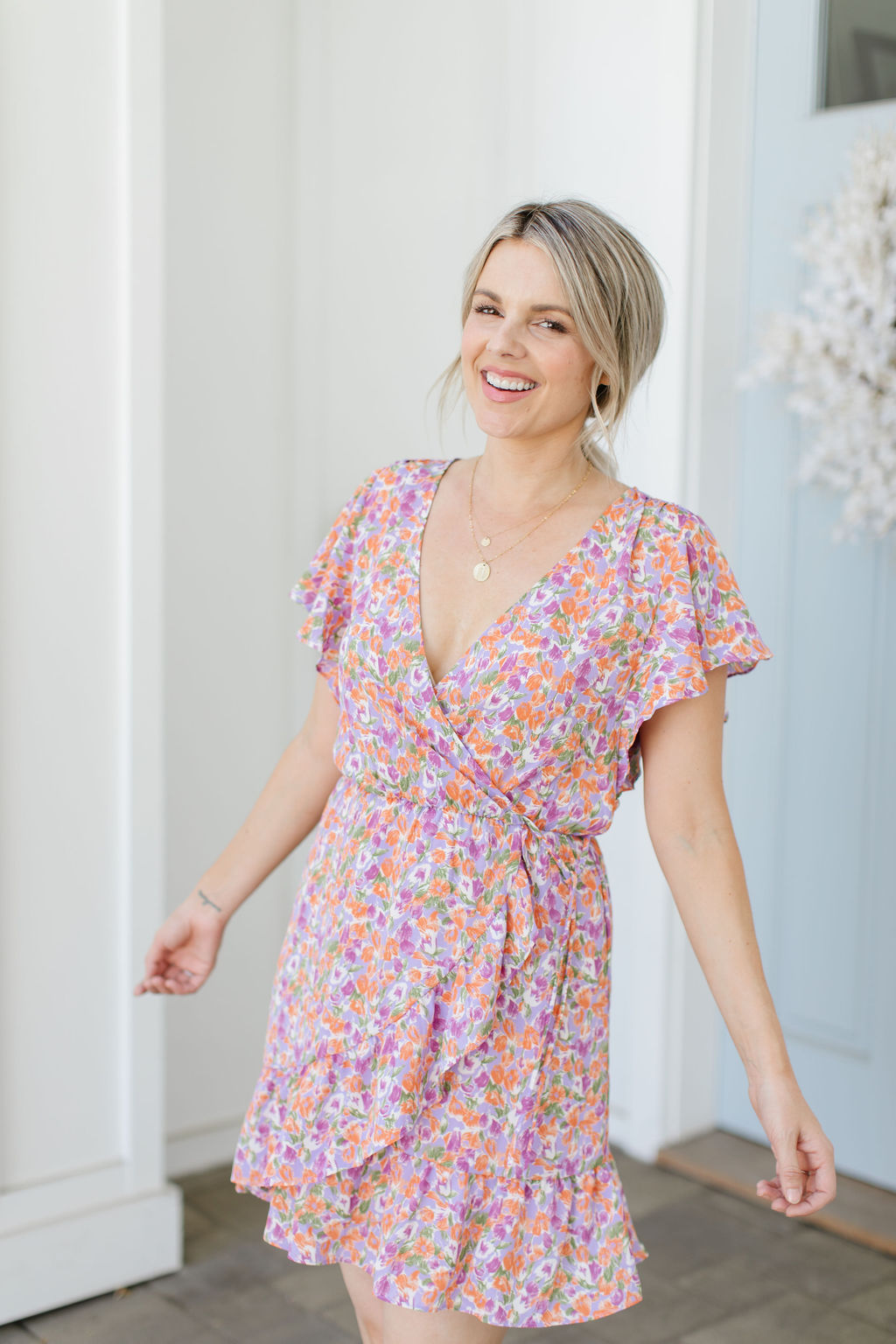 There are so many details going on in this dress, and somehow they all work effortlessly together. There are ruffles going around all the hems of the dress, including the bottom, sleeves, and around the wrap portion. I think that this is such a lovely detail that adds sophistication to the dress. It's a dainty ruffle! Ha! The sleeps fall to the perfect length on the arm, covering the upper arm area. One of the best parts to me is that it is a faux-wrap style, meaning that the wrap portion that you see is actually just an overlay and the dress can be slipped over your head! It takes out all of the fussy work that can sometimes come with a wrap dress, but still leaves the beautiful look!
The dress is a lightweight, breezy material! I love it because it is great if you are hustling around at work, it doesn't feel constricting and hot. Also unlike most wrap dresses in this style, it is lined. So even more of a plus for being able to run around at work in it! Ha! This dress is one of those versatile ones that can be worn to so many different types of events depending on how you accessorize. It would be great for work with some little heels or flats. Or great for brunch with your friends! Or super cute for a date night with a jean jacket. I even think that you could dress this down for a more casual errand look with some white sneakers!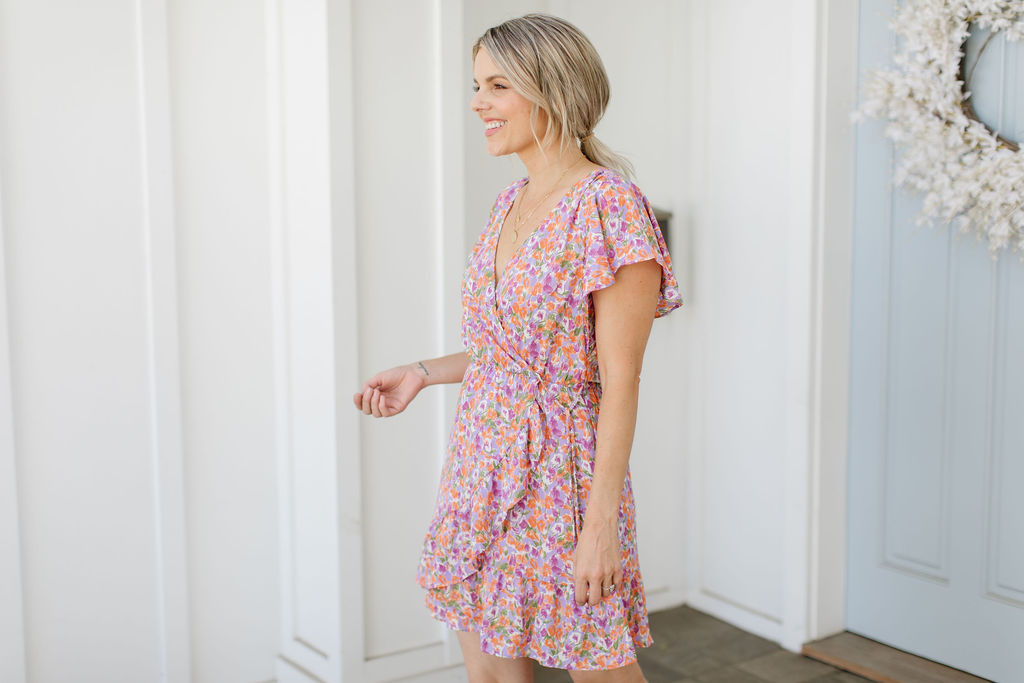 I'm loving the colors on this floral dress, I think that the purpley-lilac color and the orange look so beautiful next to each other! The dress also comes in a coral petal color that is just darling. I will link that here for you too. Which color would you prefer? I think that they are both great transitional colors to wear in these final days of summer and as we head into fall! I would say that this dress is pretty true to size, I am wearing a medium here! One thing I will say is that I feel like it is a bit longer in person than it seems in the online photos, which is great! I have a long torso and am pretty tall, and this lands just above my knees.
I did need to use double stick tape to wear it FYI. Otherwise is would flap open on me. I don't know if this is just because I have a smaller bust, but I did want to add this caveat for you guys!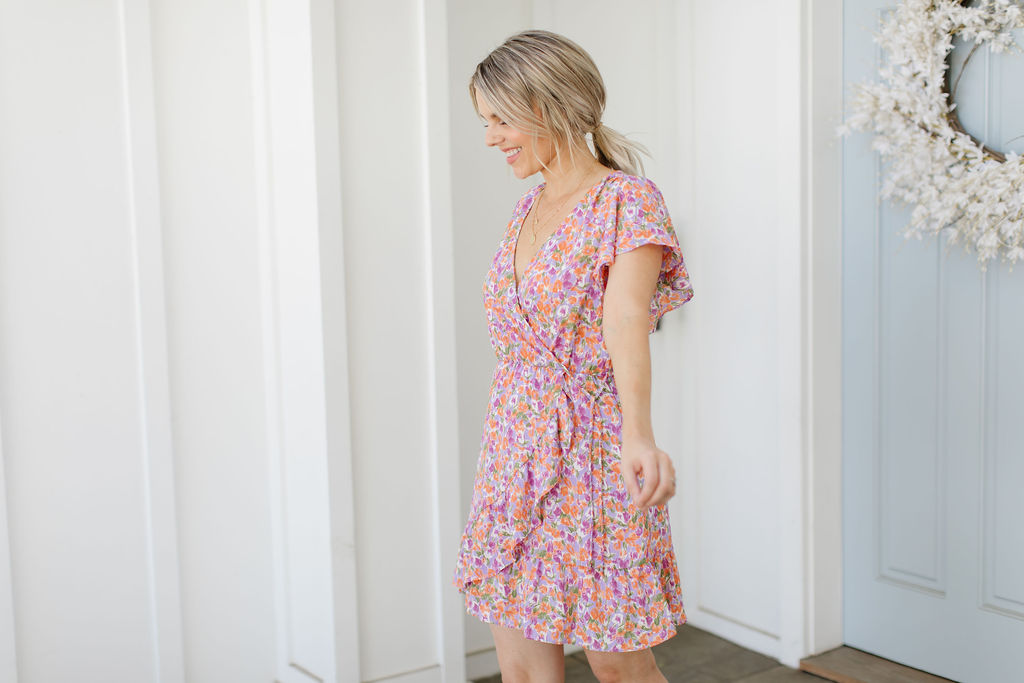 Well there you have it! I hope you love this dress as much as I do! Let me know if you end up getting it and what you think. I'd love to hear all about it. Do you have any favorite dresses right now? Share them in the comments with me below!