Tonight's episode is truly all about Demi. It's so important for so many reasons and I really wanna give that situation the attention and respect it deserves so I'm going to leave that for the end. First I have a few comments about some of the other relationships and Bachelor in Paradise right now. So let's start with those.
Blake, Caitlin and Kristina
What happened to Kristina?! I really like her and I know her personally, but she's coming across as so harsh the season. When in actuality, she's one of the sweetest girls ever! It's like she came into Paradise with a big chip on her shoulder. And I hate that for her! Because I know that's not who she is. I do agree with her that Kaitlin shouldn't have really been concerned with Kristina trying to get a friendship rose. That's Kristina's business. And she should just focus on Blake. But Kristina was just mean to her.
I honestly think Kristina's gonna watch this back and wish she handled that differently. She is such a sweet girl and I don't think we saw the best side of her tonight. Also, just a side note, but Caelynn seems so supportive of Caitlin pursuing Blake, and it again makes me think that we don't know the entire side of the story!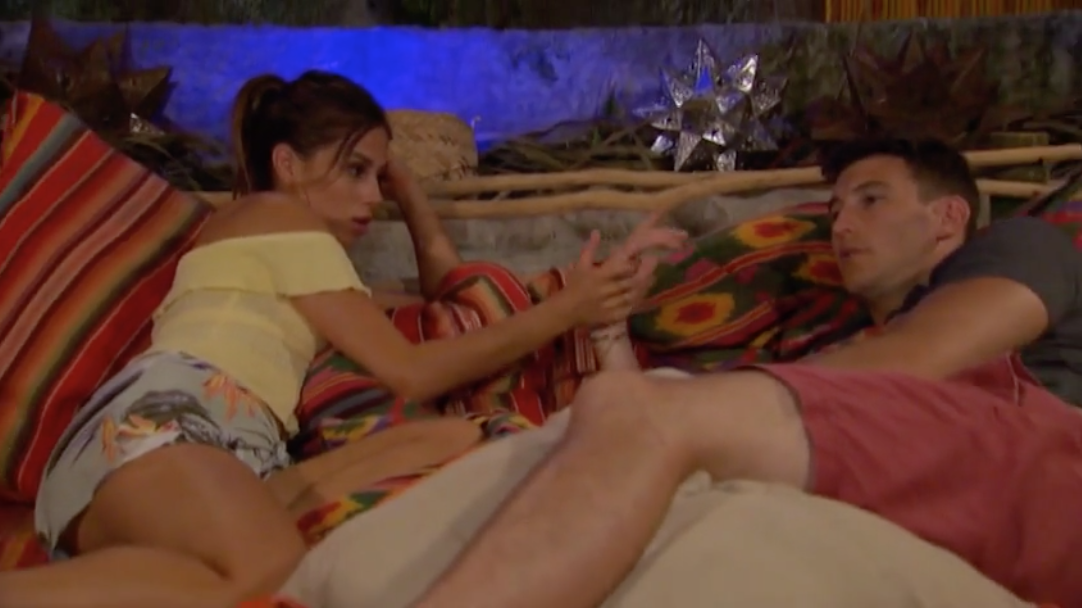 Chris, Jen and Katie
I definitely feel for Katie. So many women out there can relate to putting up walls and saying we don't care about something as a defense mechanism – I did it countless times in my 20s. I call it the "cool girl" syndrome. You're trying to act cool but really you're not being honest with the other person or yourself. But let me tell you this. If you're a young girl reading this looking for love, don't ever play the cool girl. And I can say that because I did it so many times. When you meet the right one you won't have to play cool girl.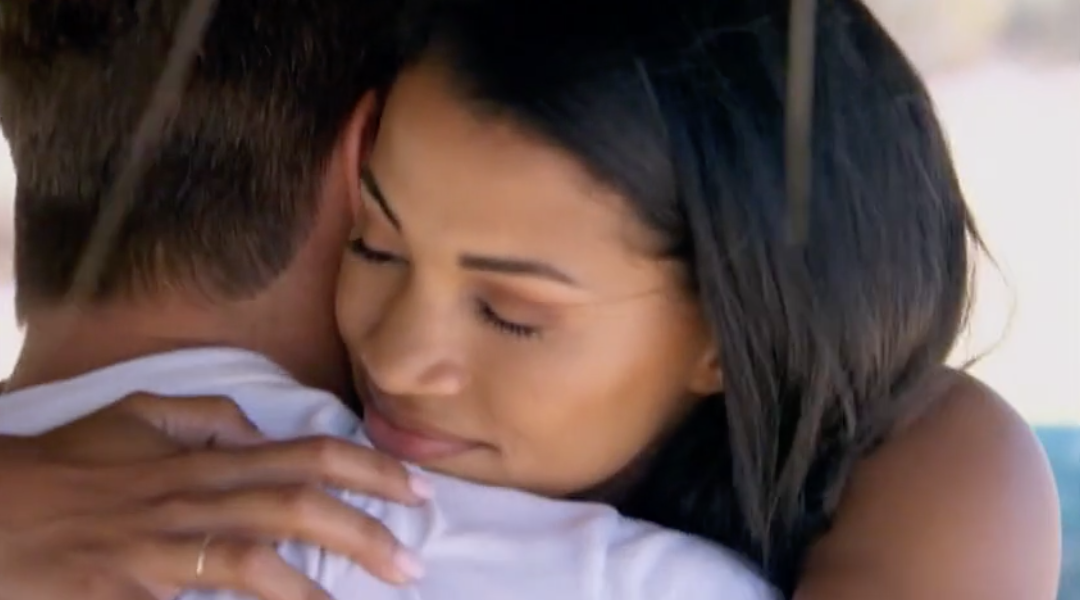 When I first started dating Kevin I remember how easy it was. All the games that I had played with guys in the past were done. I didn't wait to text him two days after I date, I texted him the second I walked in my front door. Or the second we walked away from each other. So if you're out there looking for love, drop the games. Be your true authentic self and say what you truly feel and if the person doesn't reciprocate that then they're not the right person for you.
Demi + Kristian
I absolutely wept when Demi saw Kristian for the first time in Paradise. Their love for each other was so evident and raw. I know there's been some speculation out there that Demi knew that Kristian was coming on the show. And obviously I can't know for sure one way or another whether or not she knew. None of us can. Only Demi knows that. But I will say that as a viewer she seemed utterly shocked to see her. All of that emotion that we see come from her when she first sees Kristian is without a doubt real. I wholeheartedly believe that she had no idea.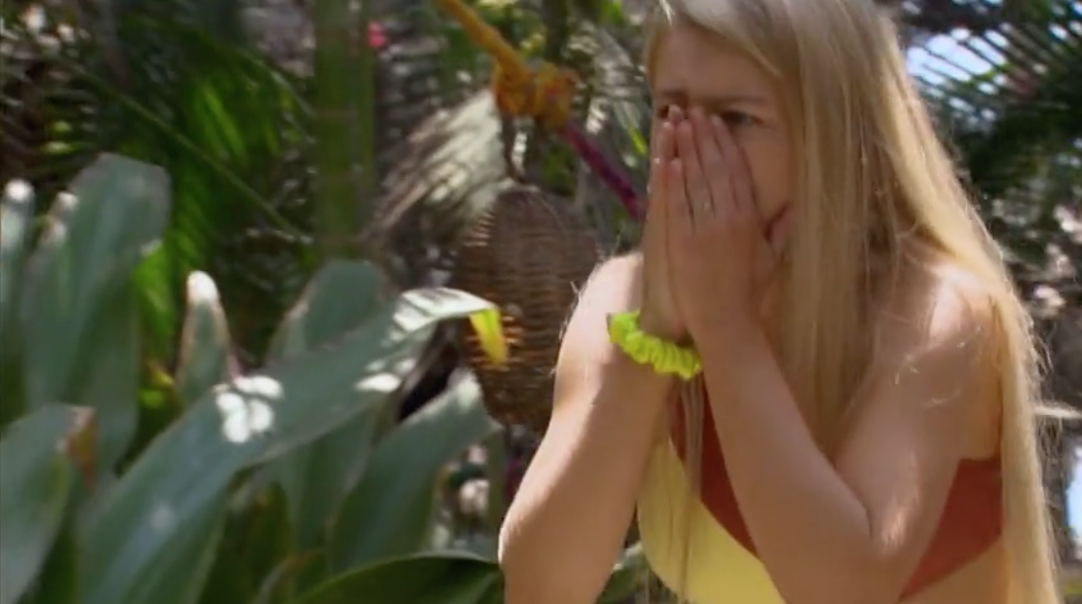 You have to put yourself in Demi shoes. Some people have compared her going on the show with a girl from back home, to the same scenario if she had gone on the show with the boyfriend back home. I strongly disagree with that sentiment. It's comparing apples to oranges. Demi was still trying to figure out her sexuality. And while I've never been in the shoes of someone who is coming out of the closet, from what I understand it is one of the most emotionally challenging times in someone's life. So for anyone to say she was stringing Derek along is just not fair.
I will say that I do think that Demi asked for Kristian to come to Paradise. I feel like when she sat down with Chris Harrison she must've asked him that or they must've had the conversation about it. Maybe he asked her and she said yes she wanted Kristian to come. Because when Demi sits down with Derek to talk about it she even says that she wanted Kristian here. So there's definitely something we didn't see. But it doesn't really matter. I'm guessing they cut it out of the Chris Harrison conversation because they didn't want to give away that Kristian could be coming.
Derek's Heartbreak
And man, my heart breaks for Derek. Both Derek and Demi are both incredible people. And their love and respect for each other was evident in their conversation when Demi told him about Kristian was there in Paradise. But my goodness, do I hope he sticks around to meet somebody. I feel so invested in his love story now and really want him to find love.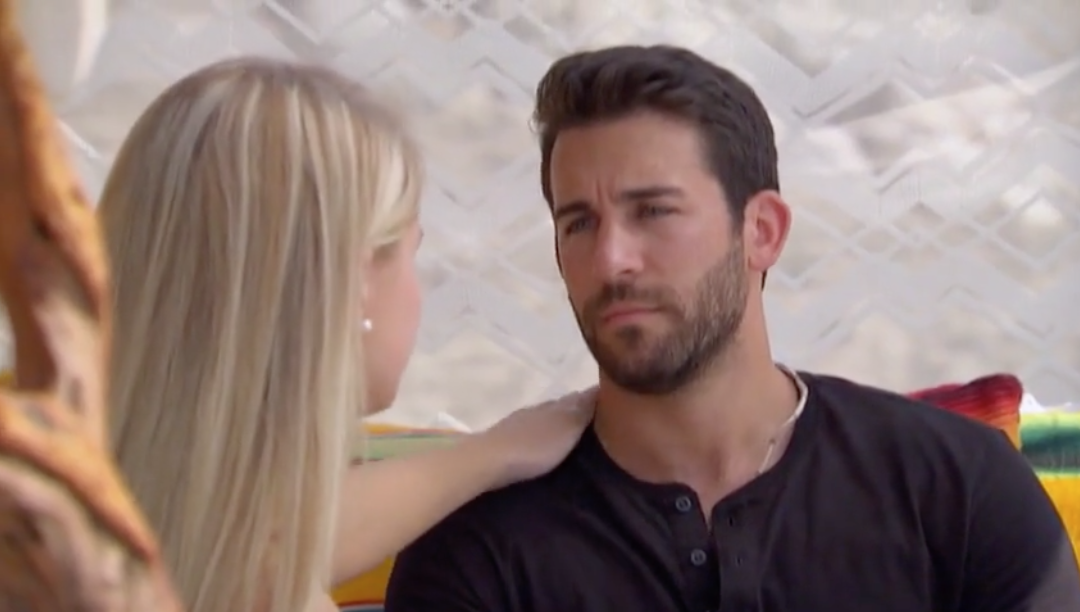 Final thoughts
Demi and Kristian's date was perfect. What else can I say. I found myself in a puddle of tears multiple times throughout this episode. Mostly because I am so proud of Demi! And of Kristian! The strength that it takes to put yourself out there on a show like the Bachelor with a relationship that not all people understand or respect is an extremely brave thing to do. I always had respect for Demi. I've always thought she was strong and outspoken but still kind and funny! But now my level of respect for how fearless she is is it a whole other level. Some tears tonight are tears of happiness for her! And some are tears of fear for her for what she's about to face. Most importantly tears of hope for all the young men and women watching that show who now see their relationship represented.
I feel like there are so many great candidates for the Bachelor this year! Now that we have seen this whole situation unfold with Derek and Demi and how genuine he is, I think it definitely puts him in the running to be the next Bachelor, along with Pilot Pete and Mike! Who do you think it's going to be? And who do you want it to be?
Demi Visited Bachelor Happy Hour Today!
Also, earlier today I sat down with Demi, and Rachel called in, to record an episode for a podcast. And let me tell you it was really special. We laughed, we talked, we cried. I truly felt lucky to sit down with Demi and tell her how amazing I think she is. When she first walked into the room to do the podcast I could see how nervous she was. This poor girl in her early 20s is putting her life out there for the world to judge. A life that not everyone's going to agree with.
And as soon as she walked in and I saw her I wrapped her up in my arms and gave her the biggest hug. I told her how exceptional she is and how she is going to change so many lives by selflessly sharing her story. I loved hearing everything she has to say about her journey so far and why she decided to open up. She also addresses so many questions that I know you all have so I hope you tune in to the podcast first thing tomorrow morning. Subscribe here if you haven't already.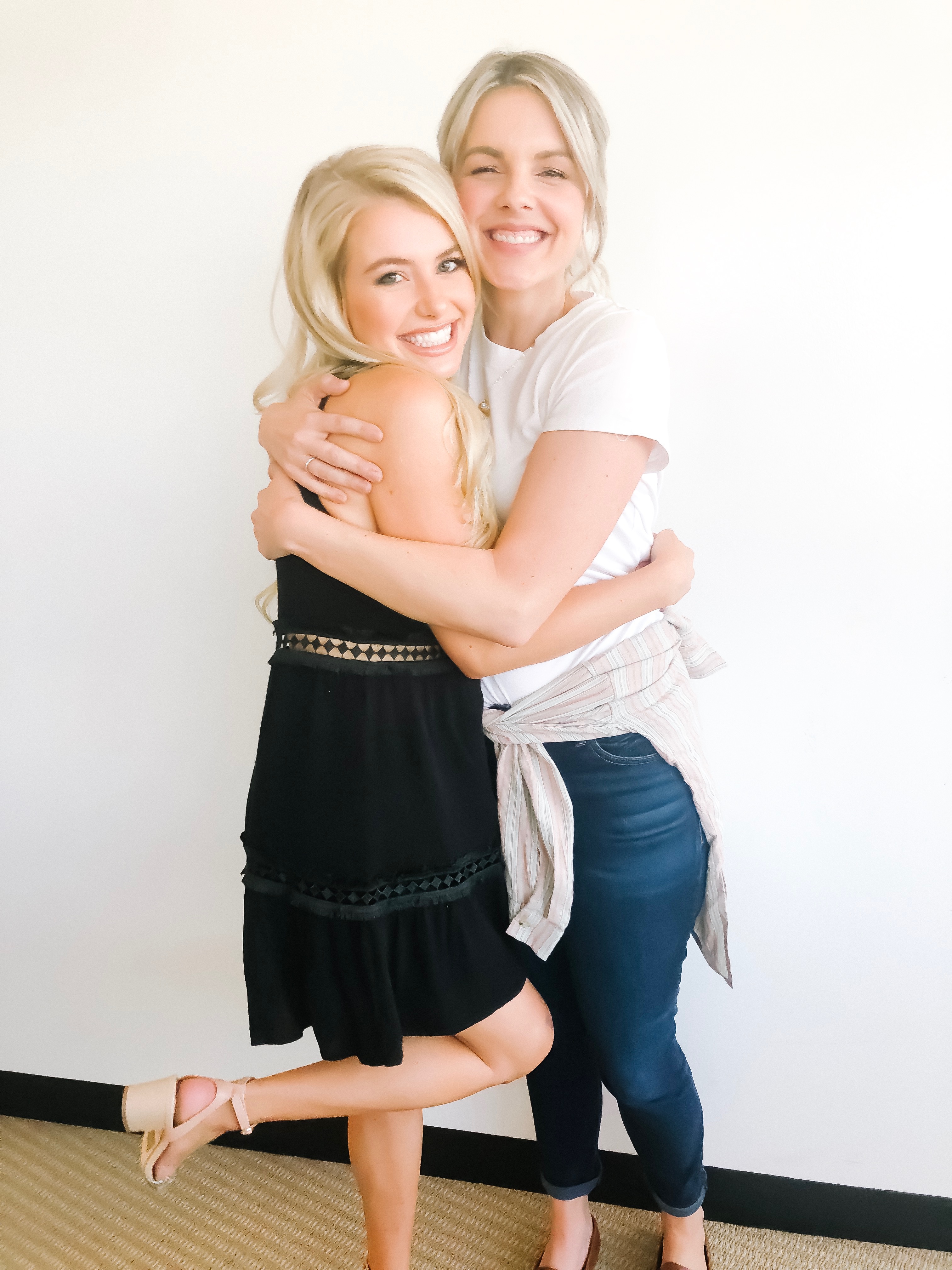 1. $16 TEE | 2. STRIPED SHIRT | 3. JEANS
Fashion Recap + BIP Cast Outfits
I hope you have been enjoying my weekly fashion recaps, as much as I've loved going them! I feel like I am really getting good at finding contestants outfits! Ha! I'll update if I find anymore! Last night's post also had a ton of outfits linked, if you wanna check that out here.
KATIE
This red and pink top keeps popping up in almost every episode so I thought it was a good one to note! I'm on the hunt for her purple tie dye outfit.

 1. RED+PINK TOP | 2. $6 PURPLE TUBE TOP
DEMI
I found her knotted swimsuit, but it was sold out in yellow. I thought the reversible blue was really cool and it's on sale!

 1.  KNOTTED SWIMSUIT TOP | 3. KNOTTED BOTTOMS 
HANNAH

  1. LAST NIGHT'S DATE DRESS | 2. YELLOW SWIMSUIT | 3. PINK+WHITE BIKINI TOP | 4. BIKINI BOTTOMS
NICOLE
I'm pretty positive that this is Nicole's ruffle bikini top!

Okay now a recap from the past week!
First of all, if you haven't checked it already, I just redid Molly's reading nook! Definitely check that out if you haven't! I am so excited that she is loving her new space as much as I am. She truly is reading all the time and I am glad that this space will encourage that even more! Did you see her "Mr. Whale" bookshelf and new rainbow painting?!
My dress from this photo is only $11! And it's a great dress for 11 bucks! Molly's outfit is $10, for both the top and shorts. So I can proudly say that I dressed both of us for just $21!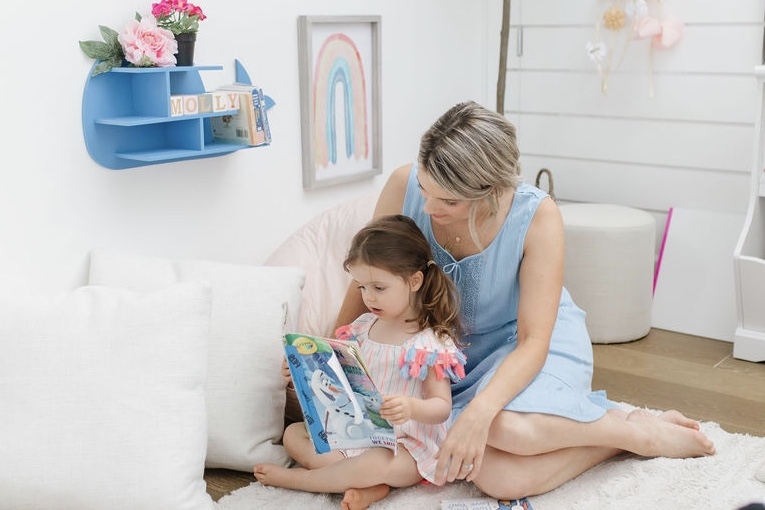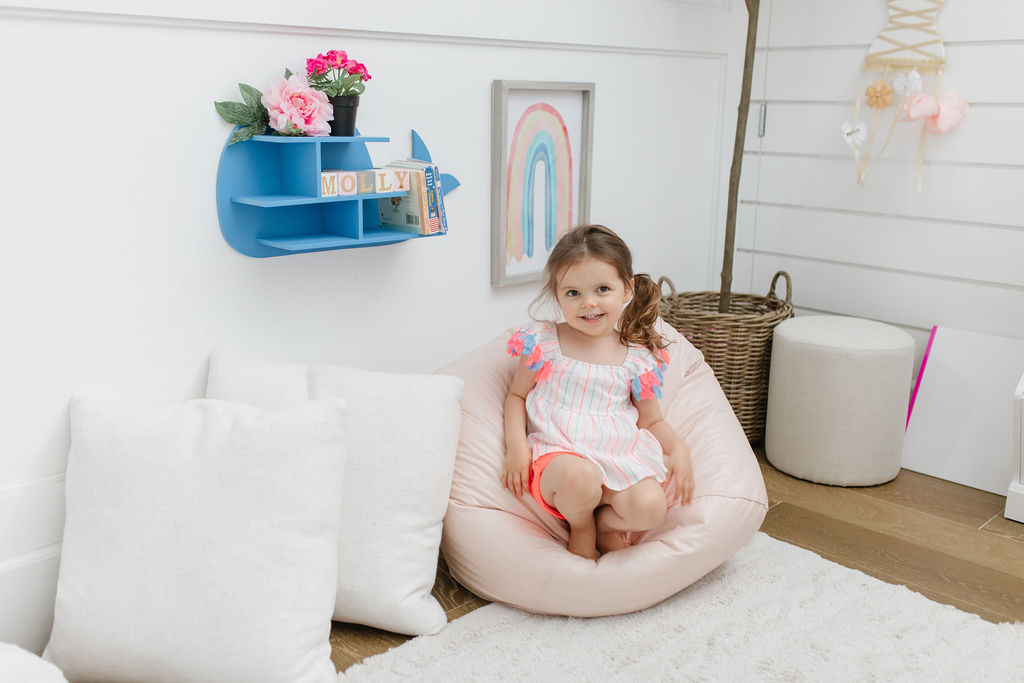 1. WHALE SHELF | 2. RAINBOW PAINTING | 3. MOLLY'S OUTFIT | 4. BEANBAG CHAIR | 5. MY $11 DRESS
Thanks so much for visiting my BIP blog post! See you soon!