Phew! Tonight's episode of Bachelor in Paradise was a doozy. Crazy emotions, happy emotions, surprised emotions! It was all over the map. Let's discuss!
The Fight
The fight was really scary. Jordan was a jerk and was trying to prove he's all tough by bodyslamming Christian. And Jordan started it plain and simple. Not cool. But man, Christian terrified me. I think he scared everyone. Again, I fully blame Jordan for starting it, but the way Christian couldn't let it go and kept breaking away from the crew to try to attack Jordan was extremely frightening to me. Both guys are in the wrong and just like the producer's and Chris Harrison said it doesn't matter who started it or whose fault it was or who is the more aggressive one. At the end of the day they both resulted to physical violence and that's never OK.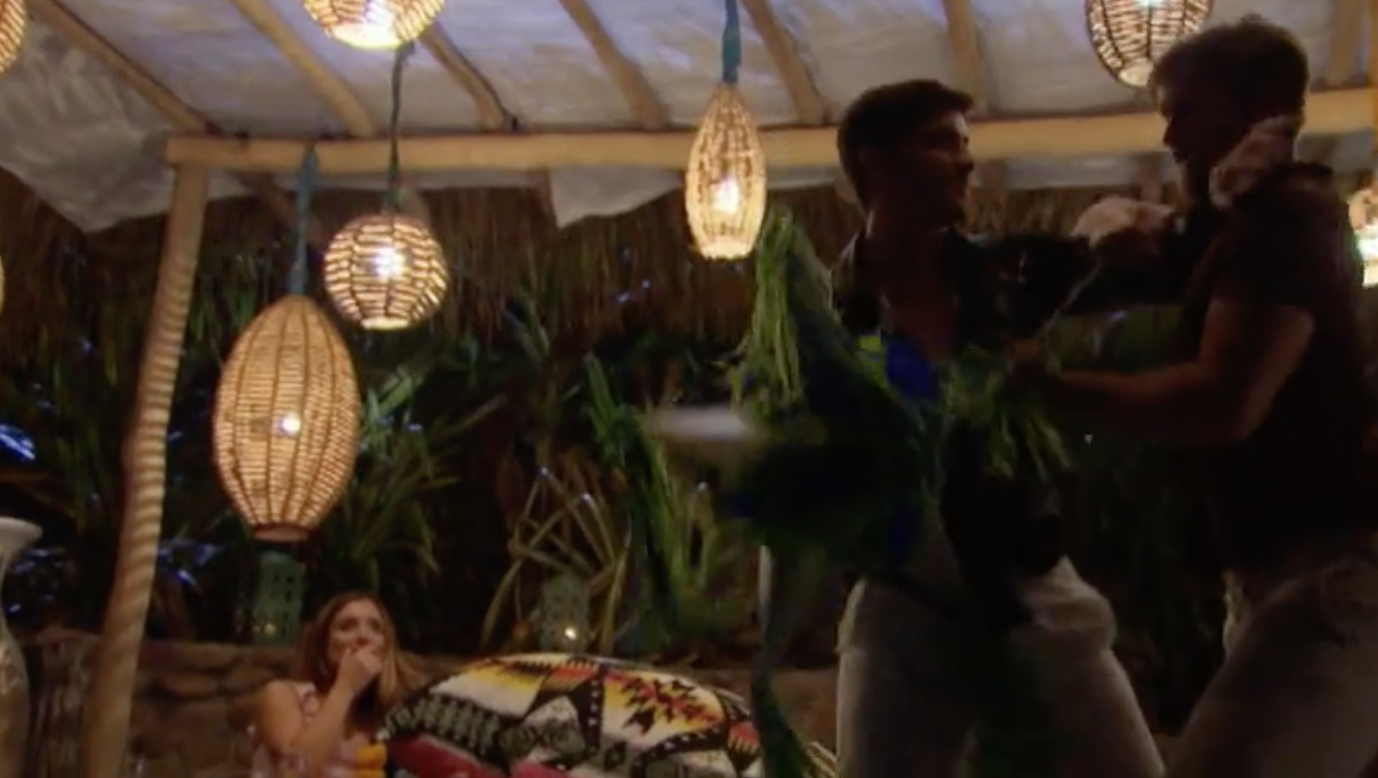 Clay and Nicole
But to be completely honest I'm kind of glad Christian is gone. I could just see Nicole getting swept up with him and I really adore her with Clay. Some of you might think Clay was her second option but I don't. I think Christian was more of the fun guy to make out with because she found him super sexy. But Clay is more like her rock and the guy I think she would've ended up with anyway. And yes, I'm predicting that they will end up together. I think they make a really solid couple and I hope it works out for them. And I'm glad that Nicole acknowledged that Clay is not going to be that aggressive type. And I'm glad the Clay was firm on if that's what she wants that's not him. He's just the best. One of my favorite contestants ever on the show! I would be proud if one day my own daughter ends up with a guy like him! Such a class act!
Onyeka
I was so mad at Cam when he told her that Mike said, "she's not worth my time". Why would you ever tell somebody that?! It's fine to tell somebody that he said he wasn't interested. If Cam had told Oyneka that Mike said she has a cool vibe but isn't interested because he's interested in somebody else, then I would've stood by what Cam said. Even if he had to bend the truth a little bit to preserve her feelings. Some of you might disagree that lying is never the right case, but I also think hurting somebody like that isn't okay either. So if he felt the need to tell her that Mike wasn't interested, he should've done it in a lot softer way. He made her feel like crap about herself just so he could potentially get a rose. Not cool. I was really sad to see her go. She could've given her rose to a great guy like Wills and then stayed another week and her dream guy could've walked down the stairs who was totally into her. But I feel like Cam took that away from her. And took it away from another great guy there who could have stayed.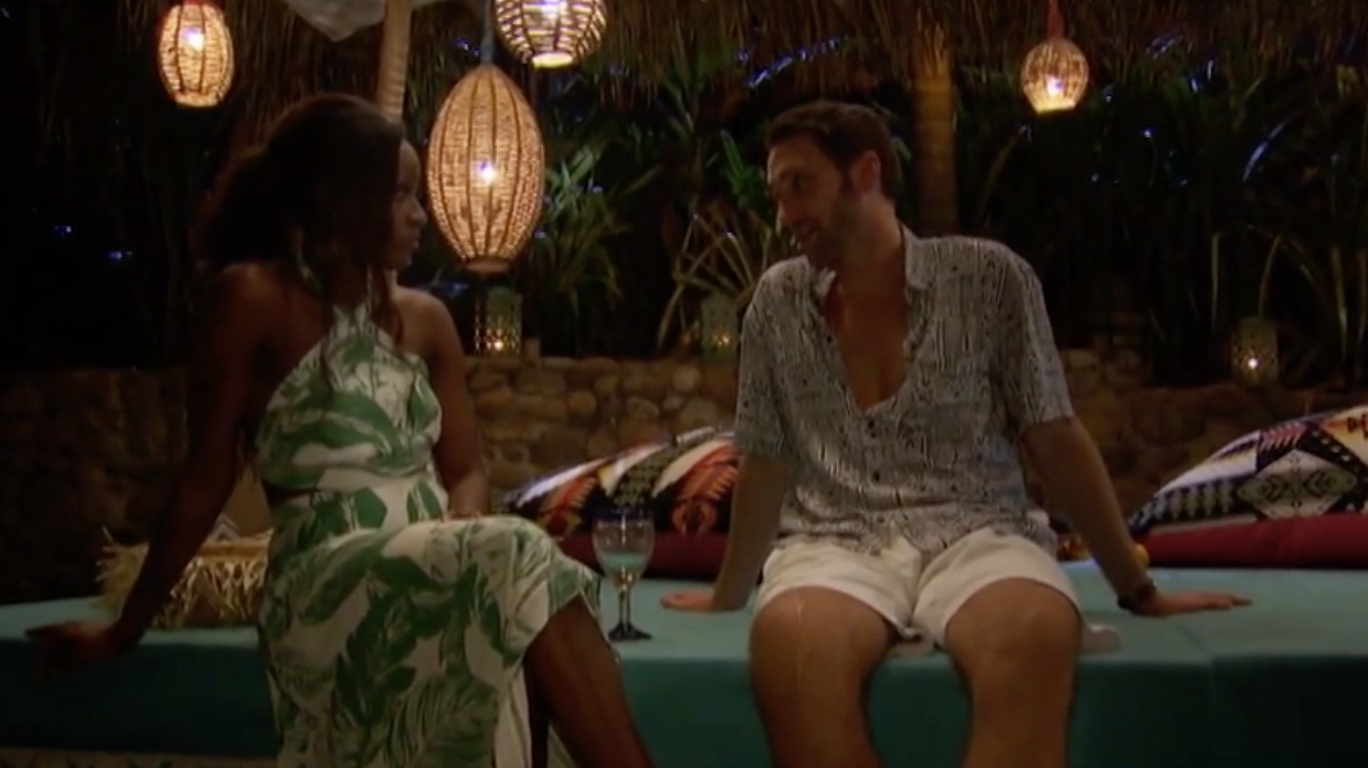 Kristina Giving her Rose to Blake
I know so many of you are probably scratching your heads wondering why the hell Kristina would give her rose to Blake. I'm not wondering at all, though. I know why. And that is because a producer asked her to. I don't think she was forced to give her rose to him. But I have no doubt in my mind that a producer pulled her aside and asked her if she would be willing to and told her it would help the show. There is no other explanation! He completely played her and screwed her over at Stagecoach. She took him on a date and ambushed him. So obviously she doesn't care for him or like him much. At least not at this point in the show.
So why would she keep him around? Why would she want to keep creating more drama. There's no personal gain for her there. The only thing that makes sense in my mind is a producer asked her to do it and she wants to play ball with the show. I don't believe for one second that she wants to give him more tv time and become more famous to "live in his personal hell". The real punishment would be sending him home. I also just don't think that's the type of person Kristina is. And how could she possibly think that another girl wouldn't walk in and fall for "The Bachelor of Paradise." She for sure did it to make a producer happy. You have to remember that there are perks in keeping producers happy. Like getting to come on BIP season after season.
Blake
It seems pretty obvious that he wasn't very into Caitlin. And that he only has eyes for Hannah really. Which makes me so upset that he didn't take her on the date in the first place. And obviously he's realizing now how much of a mistake it was. He wanted to play the field, which it seems like he likes to do. So he asked Tayshia when he should've just gone for Hannah. The fact that he flew to see her a week before makes it so ridiculously obvious how into her he was.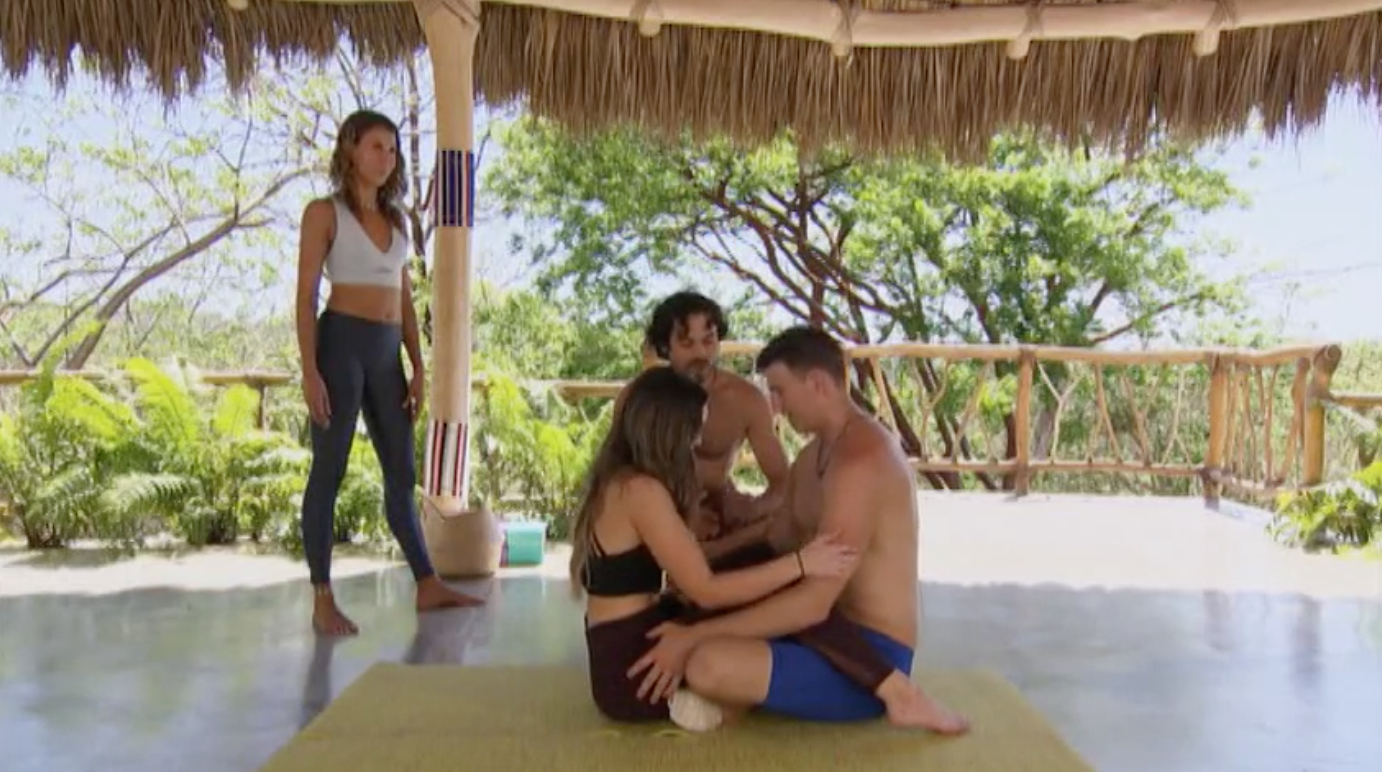 Hannah and Dylan
I hate even saying this, but up until the end of their date I did not see a future for the two of them. And I hate saying this even more, but I kinda felt like Hannah was a little bit out of Dylan's league. And I hate saying this even more than the two things I just said, but I kind of agree with Blake when he said Dylan seemed kind of clingy.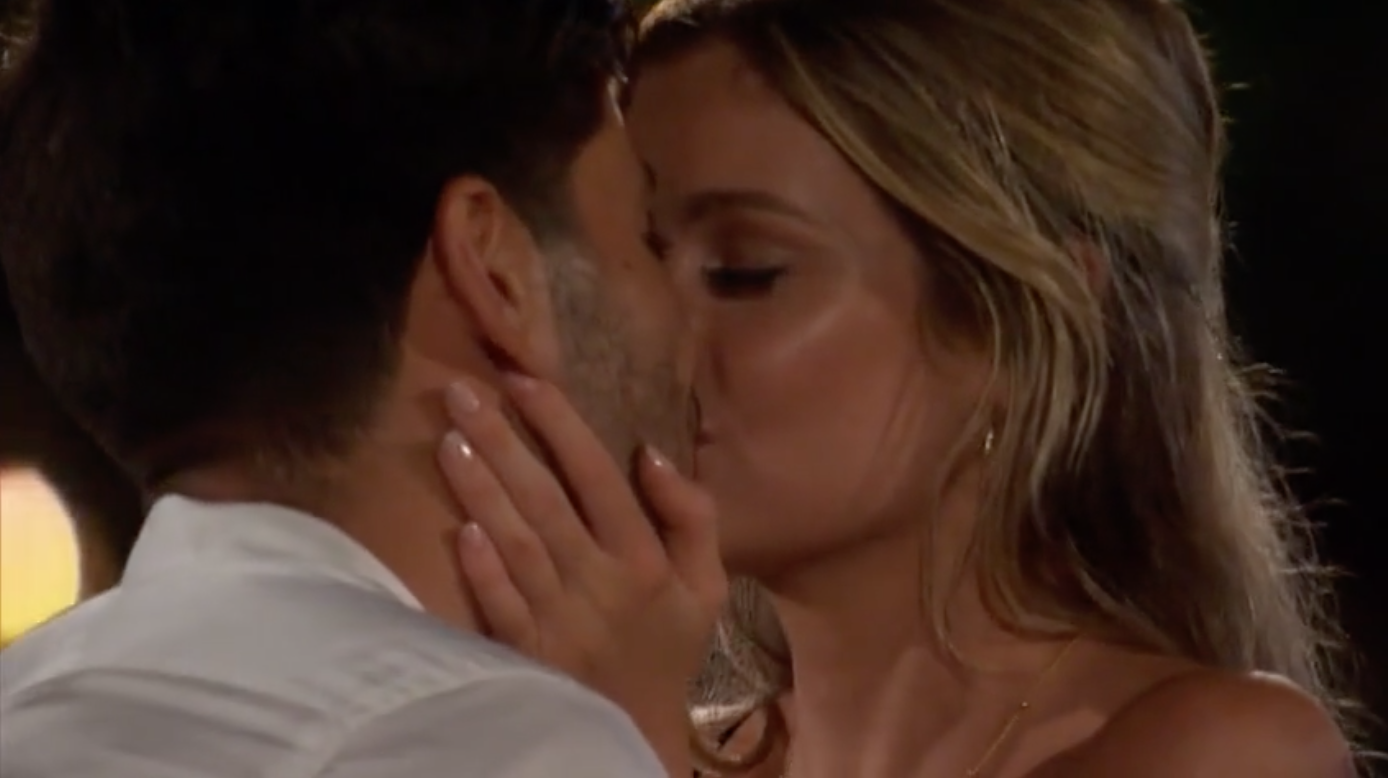 All of those horrible thoughts aside, I was so happy to see Hannah commit to him like she did on their date. I almost feel like it's a Fifty Shades of Grey love story. Ha! That's going to seem really weird. But let me explain. It's almost like Hannah is Christian Grey. Meaning she is super sought after because she is just one heck of a catch! And then Dylan is Anastasia Steele. On the modest and a little bit more plain side, but in the end Anastasia got her man. And it looks like maybe Dylan will get his dream girl! Sorry if that was confusing to follow. But that's just my best example to describe how I feel about their relationship. I really hope it works out for them. I have no doubt in my mind and Dylan would spend the rest of his life doing everything in his power to make Hannah the happiest girl in the world. That said, I still have doubts and worry about Dylan's feelings. But I am so so hopefully for them.
Tayshia and JPJ
Oh my gosh, they are the couple in Paradise that I didn't know we all needed! When Jordan was sent home at the beginning of the episode, which he deserved to be sent home, I was slightly bummed just because his commentary on the show always makes me laugh when things are getting a bit too intense. But it was so awesome and such a relief to see JPJ and Tayshia together. They had me giggling and smiling the entire time. I, like Tayshia said herself, did not see them getting together but I am so glad that they are connecting!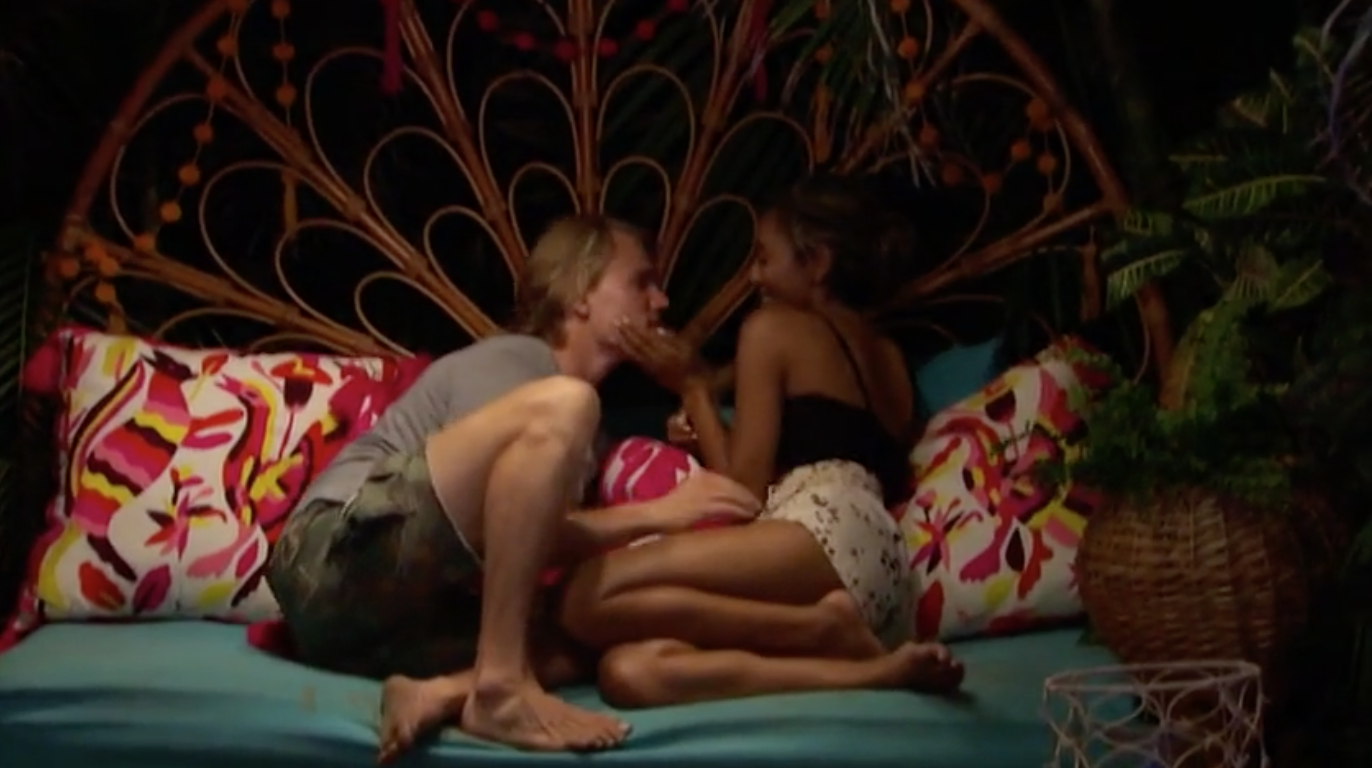 Demi
I know there's some conflicting opinions about Demi having somebody else back home. And I hear you. Some people are choosing to compare it to having another boyfriend back home and I just don't agree with that. From what I understand, the woman that Demi is referring to back home is her first serious relationship with a woman. And if that's the case, she is still figuring out this new side of herself. I'm sure it feels very confusing and new and I can't imagine what she's going through. Honestly, I shouldn't even say what she might be going through because none of us know. Unless of course you've been through something similar.
However, I don't think this situation has ever happened before. Meaning this hasn't happened to somebody who's gone to Paradise and Paradise is unlike any situation you could re-create in the normal world. The only instance where I feel like Demi maybe could've done things differently is she could've been more honest from the getgo with Derek about how serious her relationship was. But she acknowledged that and Derek even told her that. At the end of the day it's not like Demi was telling him how much she's falling in love with him. She's been very honest about being unsure. I just don't think any of us can really judge her for what she's deciding to do in the situation because it's unlike any situation we've ever seen on the show before. She's just trying to figure it out because literally it's never happened before. I'm here for her, I'm here to support her and it seems like everybody else in Paradise is there to do the same. What she's doing is so brave. And I admire her for it.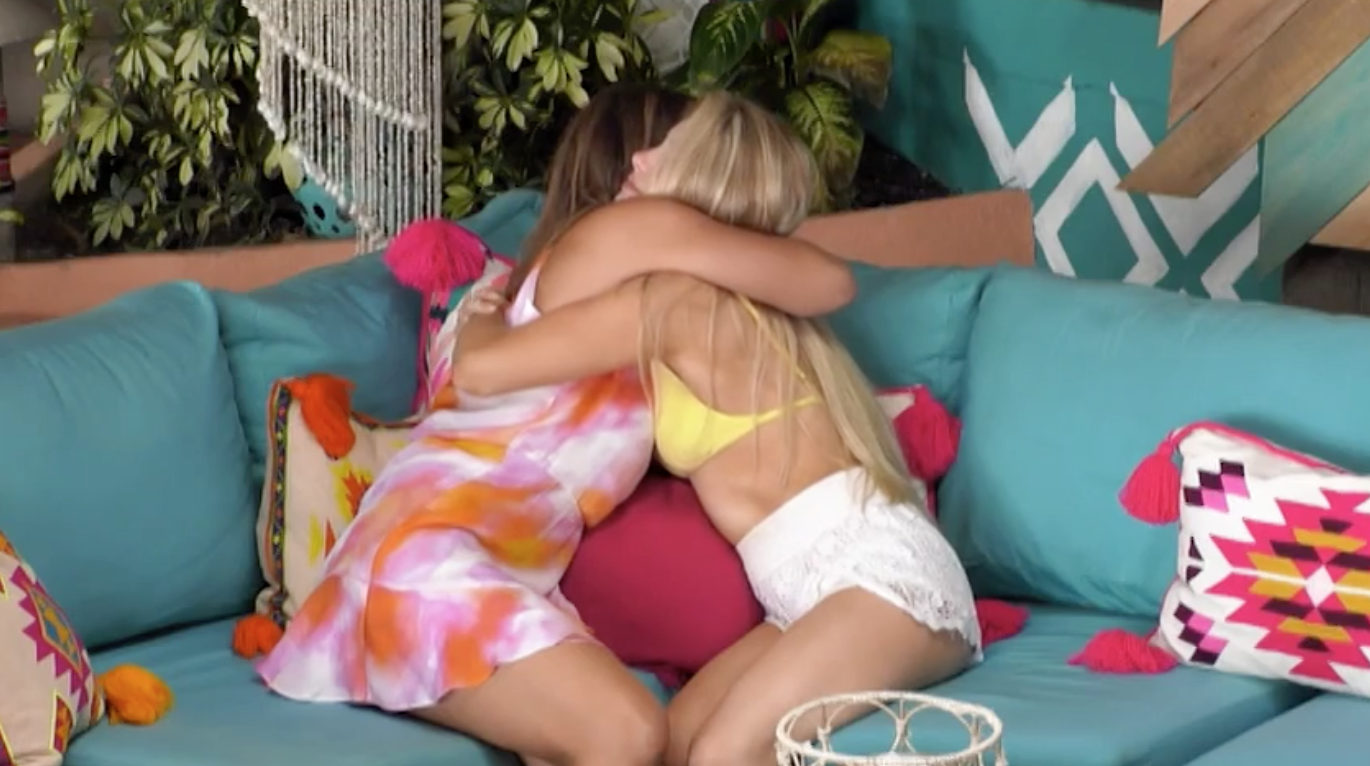 I know we see her go sit down with Chris Harrison and it looks like she might be asking to leave, but I highly doubt that's the case. I have a feeling that Demi is going to be around for a while. If she were leaving, I don't think Hannah coming down to talk to her would've happened. The producers had to let that happen. There's a bigger storyline going on here. And I'm glad! I feel like this narrative is important not only for Bachelor nation, but for our culture and society as a whole. The franchise has been criticized for mainly showing Caucasian/straight relationships. And little by little we're starting to see things change for the better. To show much more diversity. And this is diversity that I really feel is needed.
Until tomorrow's Paradise….
I can't wait to see what happens tomorrow. They left us on such cliffhangers with so many situations like Demi, Chris + Katie, and what's going with Kristina and Caitlin?! What are you most excited to see? Let's chat in the comments below!
This Week's Recap + BIP Outfits!
I was able to hunt down a few outfits from today's episode, and a few from last week too! Since Paradise was filmed awhile back, a lot of things I found were out of stock, but here are some I found that are still available!
First off, while on my hunt for the BIP clothes, I noticed that Show Me Your Mumu currently is 60% off! Which is huge! The girl's have been wearing a ton of clothes from here this season, like Katie's tropical dress from tonight, so be sure to check it out! It looks like it also includes their bridal collection.
A few of you asked me about Nicole's white ruffled swimsuit last week, and I found it! Click here 🙂
KATIE

1. SWIMSUIT TOP | 2. SWIMSUIT BOTTOMS | 3. PANTS | 4. DRESS | 5. NECKLACE
CAELYNN

1. LEOPARD DRESS | 2. YELLOW DRESS
NICOLE

1. SIMILAR LACE PANTS | 2. SIMILAR LACE PANTS
HANNAH B

DEMI

And now onto the recap of my favorite finds from this past week's posts!
Let's start off with this one, because I just love it! When I bought this dress I wasn't sure how I was going to feel about it. Just because it's very fitted. And I tend not to wear fitted clothes that often. However, I will say I've been working out a lot more and feeling a bit more confident in my body. But definitely not confident enough to wear a fitted dress on its own. That's why I tied the light wash denim jacket around my waist. By the way check out this denim jacket it is the best! It's only $18! And it's got over 60 reviews that are all super positive! If you're looking for great light wash denim jacket for fall, this jacket is it!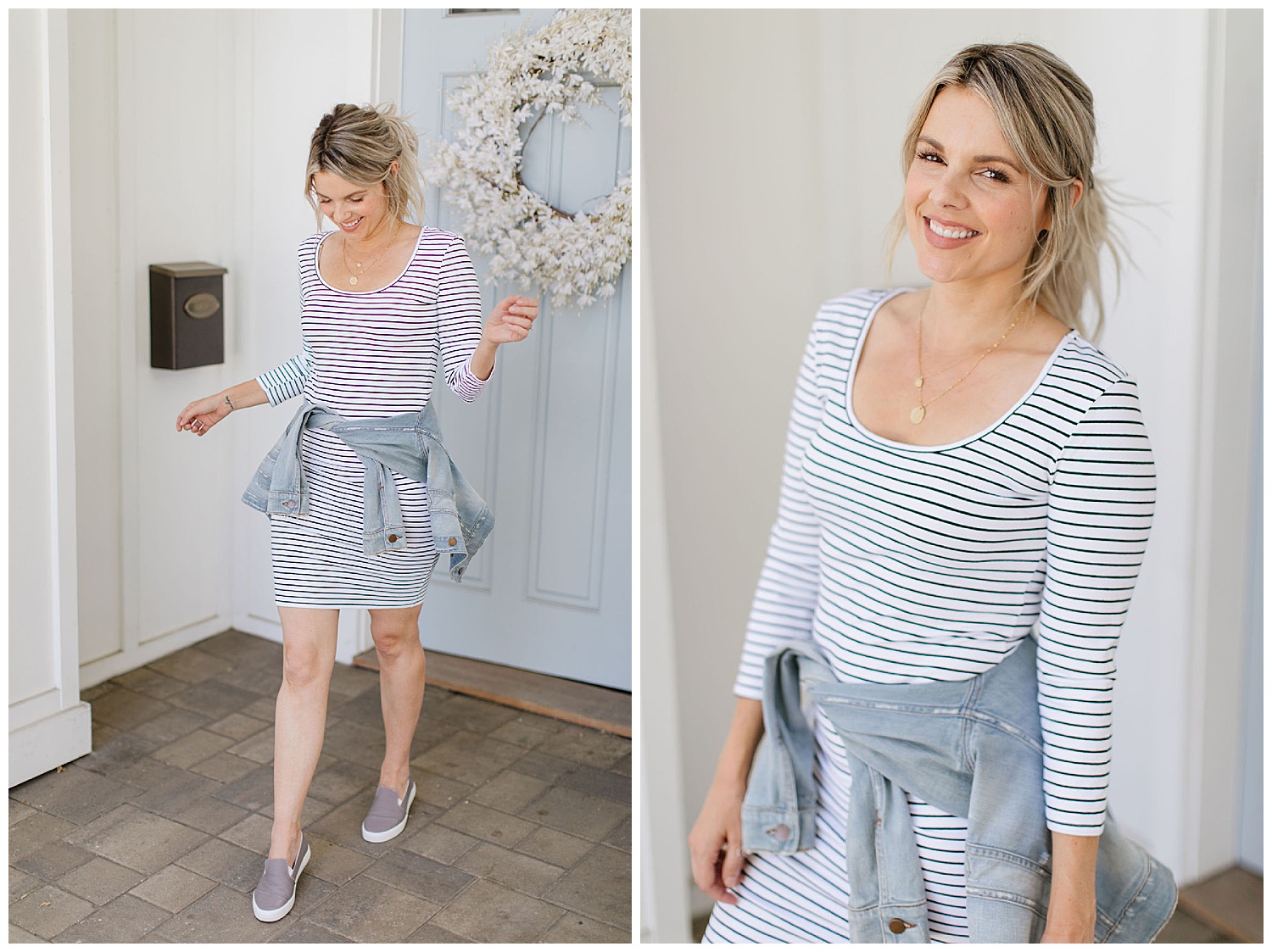 1. $15 DRESS | 2. JEAN JACKET
Anyway, the dress is under $15 and a bestseller at Forever 21. I sized up in a large and I'm so glad that I did. The medium would've been way too tight. But by tying this denim jacket around it I feel super comfortable and even skinny! I can't even believe I'm saying that. You could also tie a chambray shirt or even a sweatshirt around your waist. I paired my outfit with these gray slip on shoes that are under $20. These shoes also have ridiculously good reviews. So I'm not the only one who loves them. Plus I'm finding that I just really love slip on shoes these days because of the easiest to throw on when I'm running out the door with the kiddos.
I also found these amazing and affordable pajamas recently. When I was on the hunt for some pajamas for Riley (I found 2 sets for $15!), I also found these super cute ones for me! The top and bottoms are sold individually, but the combined they are only $18! I have been loving them so far because they are really soft (especially the shorts!). And a plus is that they don't really look too much like pajamas! So if I am having a "mom day" and staying in my PJs and cleaning etc, I feel a little more put together even if I am just wearing these pajamas! Ha!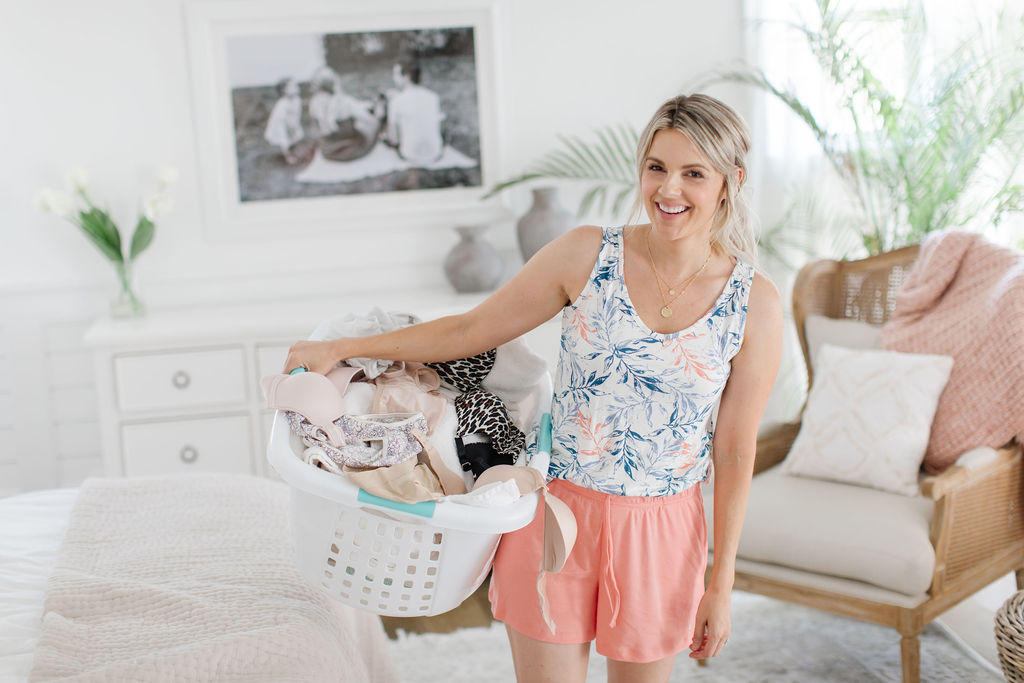 1. PAJAMA SHORTS | 2. PAJAMA TOP | 3. STRAPLESS BRA | 3. CHAIR
And last but not least… well actually it is the least because it is a $3 dress! Yes THREE DOLLARS! Can you believe that? I definitely saved the best for last. And actually, now that I am looking at the link, some of the colors are even on sale for $1! I don't even know how it is possible but I am here for it! The baby doll sleeves are so darling, and I feel like it cinches your waist at the perfect spot! Not to mention it has the cutest buttons down the front. One thing that I will point out is that it is on the shorter side, so you might want to size up to help cover your booty a bit more. I mean at $3 you might as well order both sizes and return the one you don't like! Especially since their returns are so easy!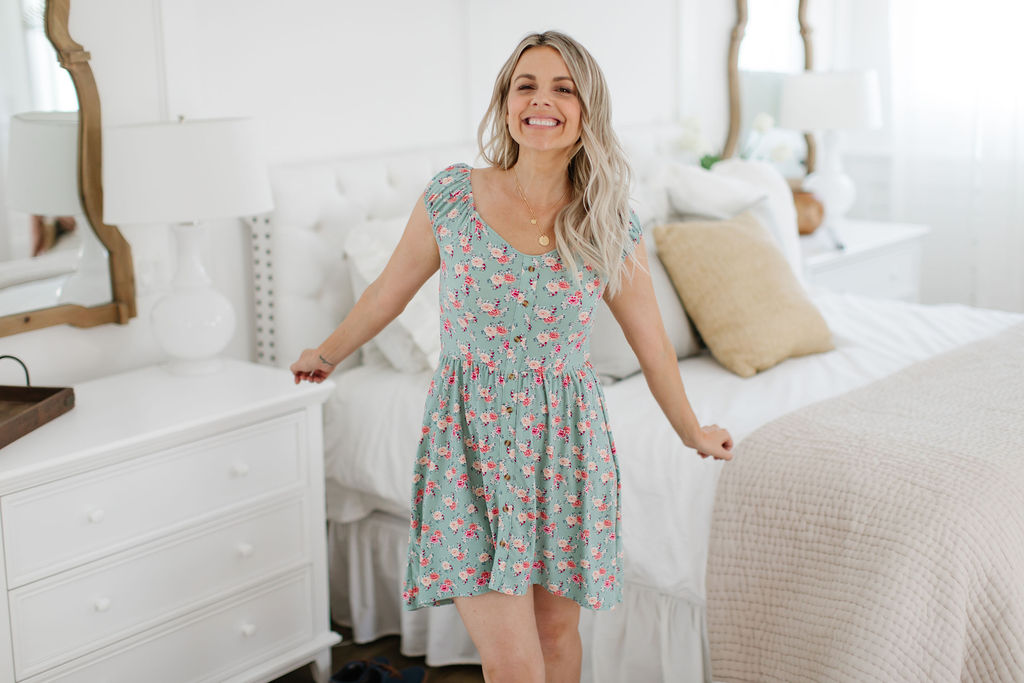 1. $3 DRESS | 2.NIGHT STAND | 3. LAMP
My Affordable Friday post from last week had TEN looks, and I also included what bras I typically wear with each type of dress or top. So for more details on the outfits above, and a bunch more outfits, make sure to head over to this post!
Thanks so much for stopping by my Bachelor in Paradise post! See you tomorrow 🙂