Welcome to Molly's reading nook! Well, hers and Riley's! But since Riley isn't reading yet, Molly claims the space! As you guys know, Molly absolutely loves to read. And by read, I mean recite books she's memorized or flip through picture books and talk about what she sees. I know that her love for books is so important to her and I want to do everything I can to foster that love of reading as she grows older. So I thought it would be nice for her if I created a little space for her in their play area just for her to read all her favorite books.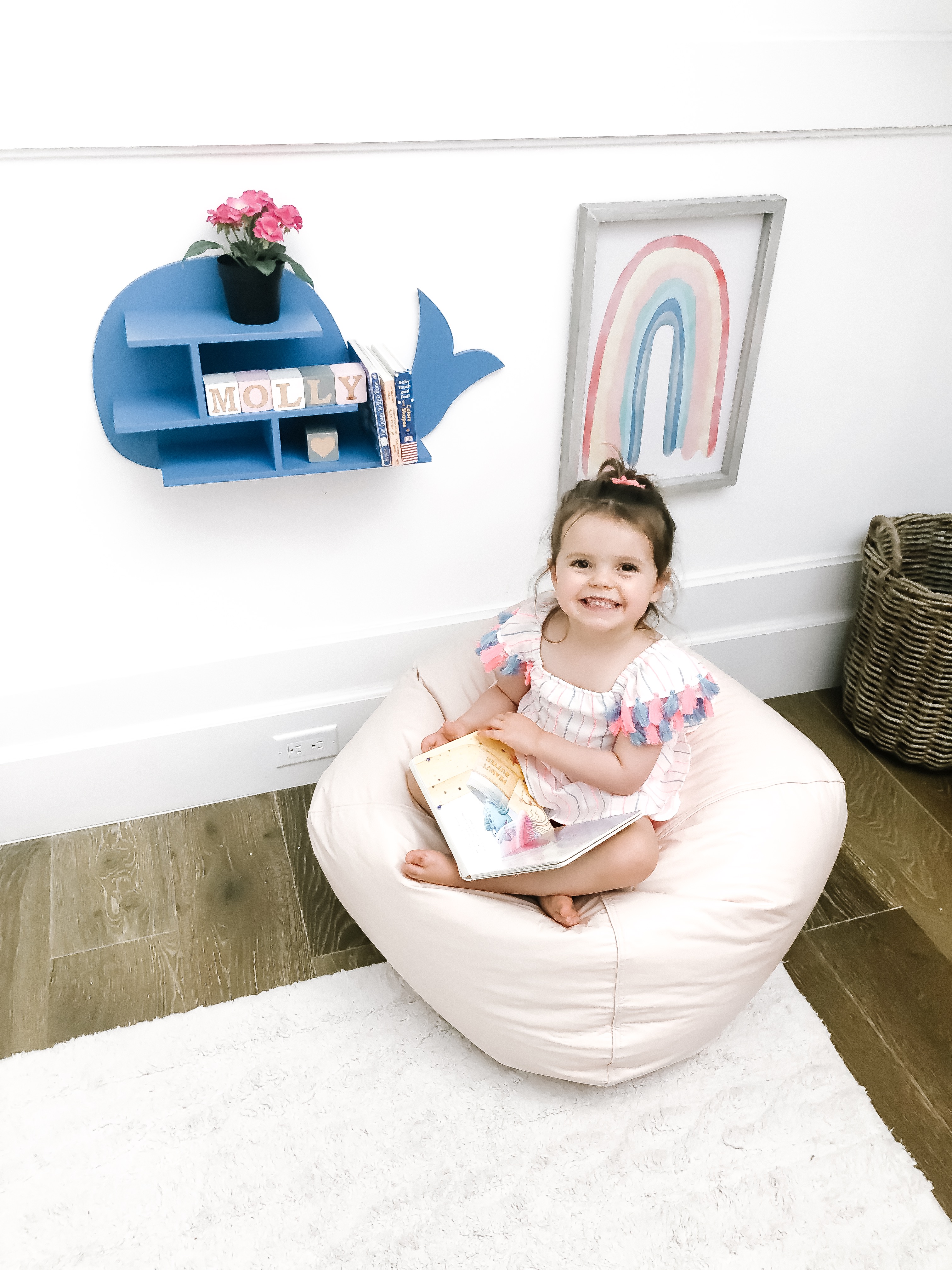 1. WHALE SHELF | 2. RAINBOW PAINTING | 3. MOLLY'S OUTFIT | 4. BEANBAG CHAIR | 5. POUT POUT FISH
Flower Kids
I happen to follow Drew Barrymore on Instagram. I thought of this idea when I was scrolling through Instagram and saw her post some of the most adorable photos from her new furniture line at Walmart called Flower Kids. Below is one of the photos she posted and I just thought it was the cutest space ever and I immediately went online to look at her stuff.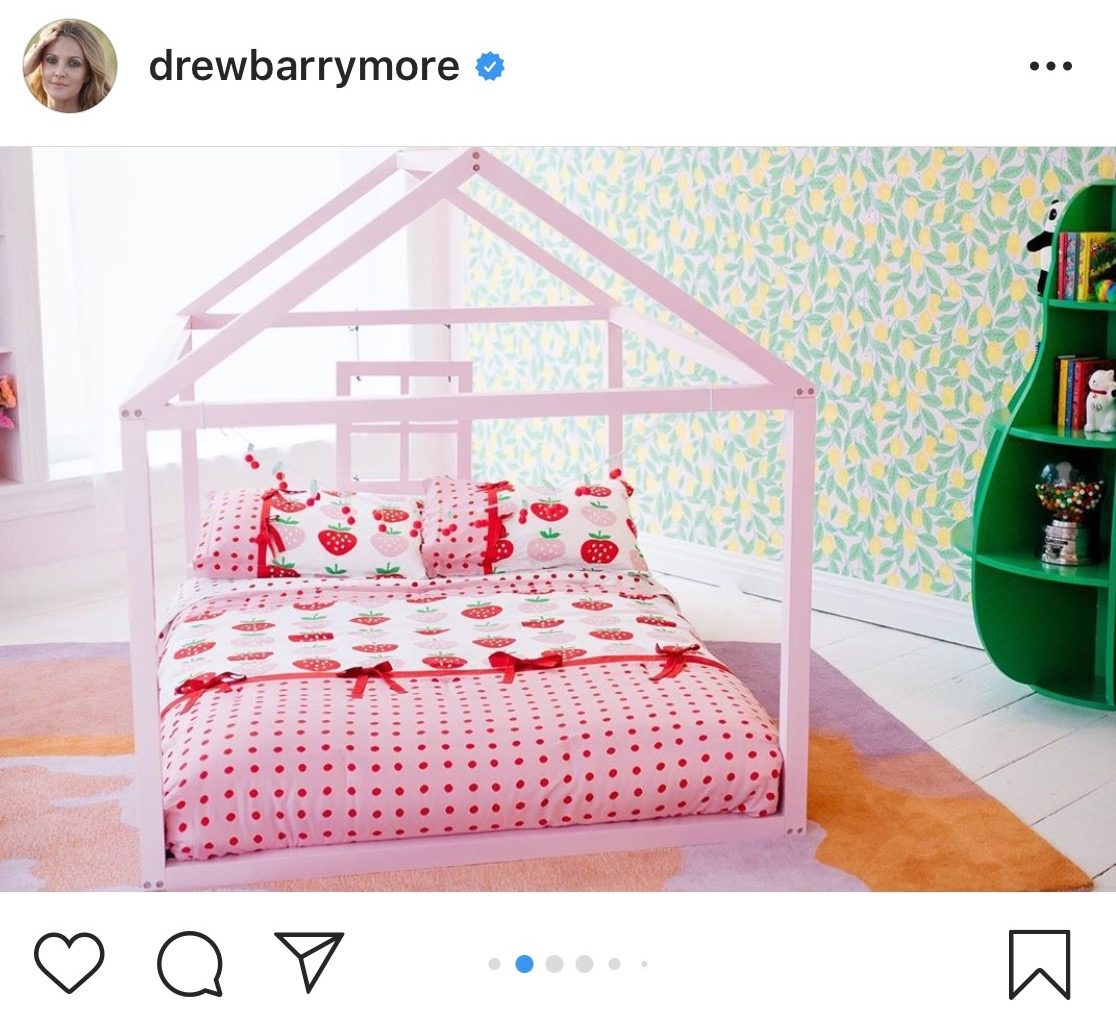 1. BED FRAME | 2. $49 STRAWBERRY BED SET 
How cute are the bed frame and the strawberry bedding?! Molly would absolutely love these. The bed frame also comes in a wood color! I can't decide which one I like more! When we switch her over to a bed soon I think this might need to be what we get her! What do  you guys think? Tell me in the comments below!
Mr. Whale!!!!!!
That's when I saw the whale shelf!!!!For those of you who have been reading my blog or following me for a while, you know that Molly is absolutely obsessed with Mr. Whale. Who is that you ask? Ha. Well, Mr. Whale is her beloved stuff animal. He used to go everywhere with us. But somehow we convinced her that he loves to sleep in her crib all day long so now she leaves him in there for the most part. Once in a while she'll insist on bringing him downstairs or out somewhere with us, but for the most part he's her snuggle buddy at night!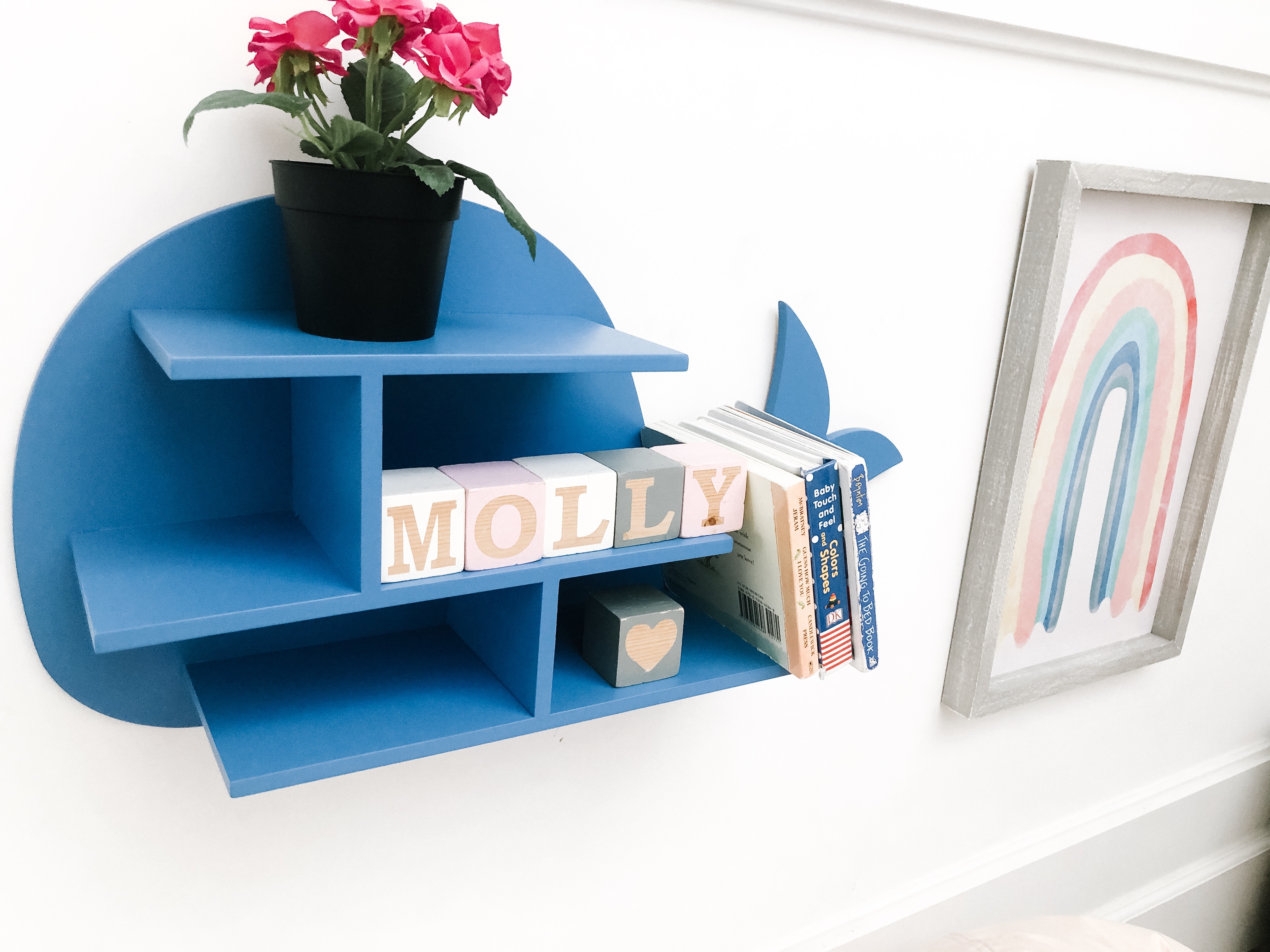 The Big Reveal
When she came home from school the other day and saw her little reading space that I made for her, she just about lost her mind when she saw her "Mr. Whale shelf"! After getting it, it honestly made me think about how it would be so cute in an underwater themed nursery. I've honestly thought about redoing Riley's room just because I feel like it needs a bit more color and I might just have to get another one and do the underwater theme in his room. Whenever I have some time free up, I think that will be my next project!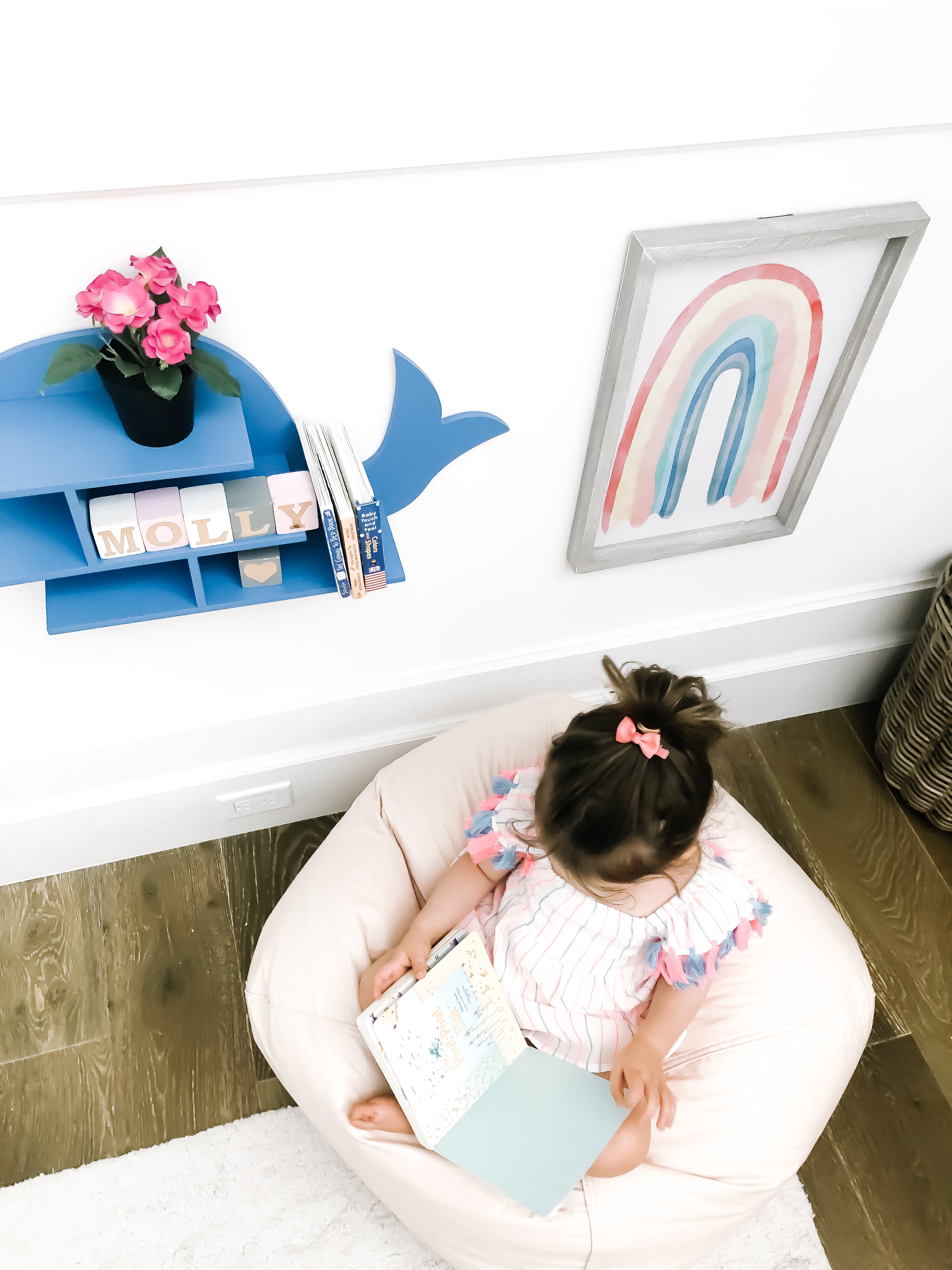 1. WHALE SHELF | 2. RAINBOW PAINTING | 3. MOLLY'S OUTFIT | 4. BEANBAG CHAIR | 5. POUT POUT FISH
Anyway, when I went to Walmart's website to look for Drew Barrymore's line and buy the whale shelf, I saw this adorable rainbow painting. I just think for a painting to go in a child's room it's so whimsical and beautiful. In fact I think it's so pretty that I don't think it's necessarily just for kids' rooms. I feel like it would be great for a college dorm room or even a girl in her 20's getting her first apartment. I tried to convince Kevin to let me put it in our bedroom but he wasn't on board. Ha! And wouldn't it be the most beautiful gift for a person or couple with a rainbow baby. I get tears in my eyes just thinking about it!
Added Touches
I added a big pink beanbag chair that I got for $28 so she would have a super comfy place to kick back while she gets into her favorite books.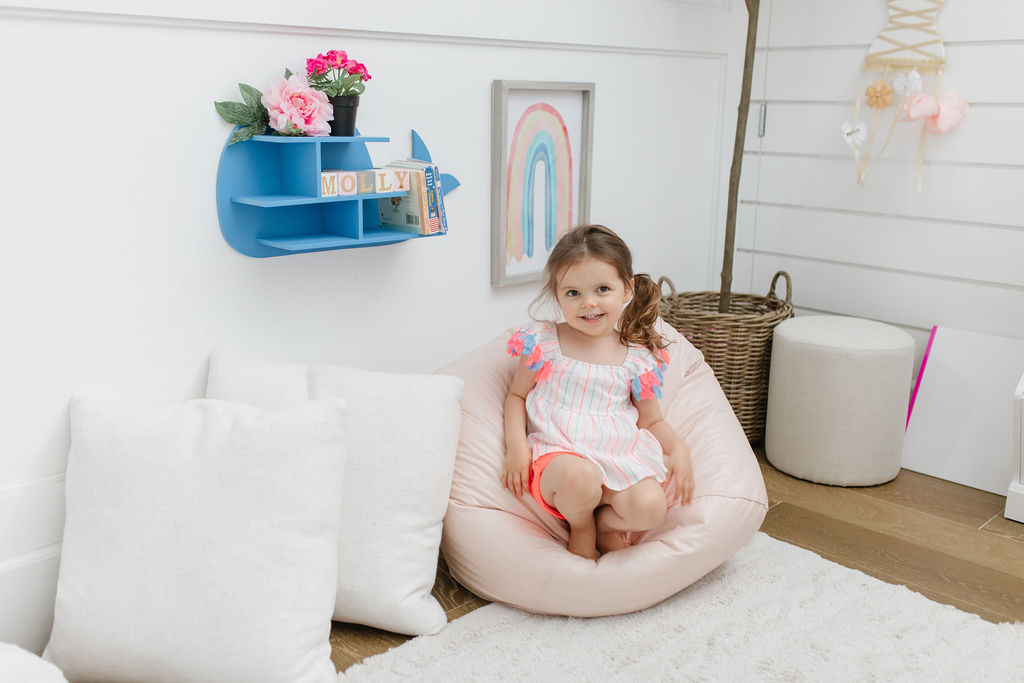 1. WHALE SHELF | 2. RAINBOW PAINTING | 3. MOLLY'S OUTFIT | 4. BEANBAG CHAIR | 5. POUT POUT FISH
And I just have to quickly mention her outfit. Isn't it so stinking adorable?! I just love the tassels on the shirt. It's a set and both the top and shorts were only $13. So less than $7 apiece. And they're really good quality. I got her a size 3 tee. And that's pretty much her normal size but I feel like she'll be able to wear these even next summer when she's 4 just because of how they're made.
Some of these photos she's reading Pout Pout Fish and others she's reading Oh The Places You'll Go. But I hope this little space that I made encourages her to keep fostering that love of books!
Encouraging Her to Read
People often ask me how we've encouraged Molly to become such a bookworm. And the truth is we just surround her with books! For her first birthday I didn't want her getting a bunch of toys that I knew she would never really appreciate. Instead, we encouraged family to give her books. And of course the grandmas and grandpas took that upon themselves to give her dozens of books each!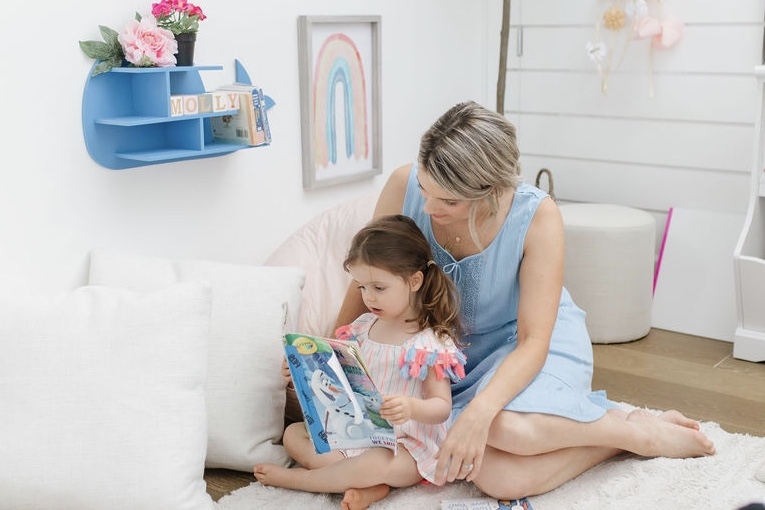 1. WHALE SHELF | 2. RAINBOW PAINTING | 3. MOLLY'S OUTFIT | 4. BEANBAG CHAIR | 5. MY DRESS
Ha! But I think getting a stack of books on her first birthday had an impact on her. I could be wrong. But I just think encouraging it as much as you can from the very beginning makes a difference. And I think it depends on the kid! I think Molly just naturally gravitates to books. But if I have one piece of advice for parents, it would be to surround your children with books. It's so easy to give them a toy for a birthday or as a reward for something, but instead try a book. To them it's just as good, if not better!
Oh! And just wanted to mention my dress above really quick because it is so affordable! It is only $16 and I LOVE the lace trim down the front. Also the ruffle skirt at the bottom is so stinkin' cute!
Read to Them A LOT
It's also so important to read to them from a very early age. And a lot! I remember when Molly was little, I almost felt silly reading books to her when she had no idea what I was doing. I'm talking, when she was an infant. But I did it because I was told it was important and I believed it! So as silly as I felt I would sit with her before bed every night and read. I also did it because our sleep trainer told us to create a routine for her to signal that sleep was coming and part of that 30 to 40 minute routine was reading a few stories. So really you can use reading as a way to encourage your little one to love books but also to help you get some sleep! Ha!
Women Supporting Women
I'm a firm believer in women supporting women, so I feel absolutely honored that Flower Kids and Walmart wanted to work with me on this post! And what I wrote above is absolutely true. I'm not even kidding you I saw the stuff on Drews' Instagram and immediately looked into it. The very next week I got an email saying they wanted to work with me! How cool is that?! Plus I'm just totally fangirling that I'm working with her brand, even though it's totally not Drew directly. Ha!
Anyways guys, thanks for reading. Check out her Flower Kids line at Walmart. They seriously have the cutest stuff ever! I'm going to put a few of the items below that I also absolutely love! I ordered the cloud lamp for Molly as well. It hasn't come yet so that's why I don't have any photos of it. But it's so fun and whimsical that I had to get it. The other things I'm linking below I just think are so cute but we don't have a space for them at the moment.

I mean how cute is this artwork?

Hope you guys enjoyed this post! What ways do you foster your child's level of learning or reading? Share them with me in the comments below because I want to do everything I can to encourage Molly to keep reading books!
And this is the $5 swim suit I was talking about in m]y- insta stories