Welcome to another one of our screened in porch spaces! I know we are nearing the end of summer and transitioning into fall, but honestly, fall is my absolute favorite time to spend on the screened in porch. Since we just finished our screened in porch recently, this will be our first fall with it and I can't wait to sit with coffee outside on a chilly fall day! As I frequently try to do, I really wanted to make the space feel cozy and inviting all while being beautiful, and of course affordable! So I am so excited to share it with all of you!
The pieces I used to create the space can be used alternatively for an outdoor table, a screened-in porch table, or an indoor dining room table! Plus, I'll be sharing a few other home decor items in this blog that I recently got from Walmart that are just absolutely stunning!
Here is the before…
And the After…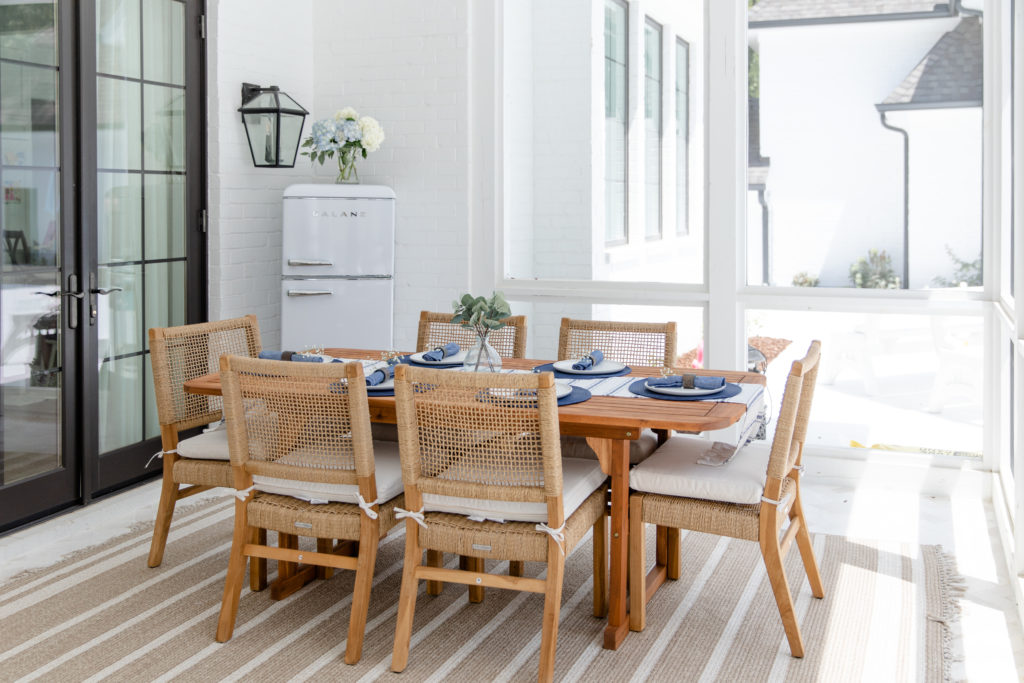 1. CHAIRS | 2. TABLE | 3. RUG | 4. EUCALYPTUS CENTERPIECE | 4. TABLE RUNNER | 5. NAPKINS | 6. NAPKIN RINGS | 7. PLACE MATS | 8. SILVERWARE | 9. EUCALYPTUS | 10. DINNERWARE | 11. OLIVE TREE
Indoor / Outdoor Table
My number one priority when choosing items for the space is that I really wanted to find an affordable dining room table! Specifically an outdoor one just because this is on our screened-in porch. I am so excited to share the table I found! Let's start with the price. I got this table for $383! It's on sale right now for that price so definitely take advantage of it! This is seriously a steal! Look up dining room tables on any other website, or even a tag sale, and you'd be lucky to find one at this price. Seriously Google outdoor dining room table right now and I guarantee you the vast majority will be over $1000. In fact, Google the outdoor dining table chair and it will likely be more than what you'll pay for this table!
It comes in two different colors. Brown and dark brown. If you get the dark brown, it's even more affordable for $342. I went with the lighter brown just because it matched the other furniture I had on our screened in porch better. But both are absolutely stunning! In fact I almost like the dark brown a little better!

1. CHAIRS | 2. TABLE | 3. RUG | 4. EUCALYPTUS CENTERPIECE | 4. TABLE RUNNER | 5. NAPKINS | 6. NAPKIN RINGS | 7. PLACE MATS | 8. SILVERWARE | 9. EUCALYPTUS | 10. DINNERWARE | 11. OLIVE TREE
Oh and last but not least, the reason I love this table so much is that to make it this size which is 79 inches there is a leaf in the middle. But I can remove it and push the table together making it only 55 inches which is better for game night when we are friends over. You guys know how much I love Mahjong. So some nights having friends come over we can do that or we can pull out the foldable game table.

1. CHAIRS | 2. TABLE | 3. RUG | 4. EUCALYPTUS CENTERPIECE | 4. TABLE RUNNER | 5. NAPKINS | 6. NAPKIN RINGS | 7. PLACE MATS | 8. SILVERWARE | 9. EUCALYPTUS | 10. DINNERWARE | 11. OLIVE TREE | 12. MY TOP | 13. MY LEGGINGS
Going to quickly link my outfit as well. This green top is one that I wrote about in my Affordable Friday fashion post recently and I know so many of you got it because I've gotten so many DM's from people saying how much they love it! If it's still in stock by the time you're reading this, seriously get it because it's absolutely perfect for fall. So soft, affordable, and flattering! You can't really see in these photos but I'm wearing it with a pair of leggings. The leggings are also from Walmart and super affordable! They pass the squat test and I've had them for over a year and they've held up great!
Chairs
Next I want to talk about the chairs. You might not think these are quite as affordable when I tell you the price, but I want you to hear me out for a second. These chairs are stunning! Wait let me say it again. These chairs are freaking stunning! Just read the reviews. They have all five star reviews and there's a reason for it. You get two of them for $347. Which when you think about it, really is an affordable price. In fact it's really affordable. Chairs that almost looked identical to these on another website I found were selling to close to $600 for one chair. So the fact that you get each chair for around $170 is a really good deal for this kind of quality.

1. CHAIRS | 2. TABLE | 3. RUG | 4. EUCALYPTUS CENTERPIECE | 4. TABLE RUNNER | 5. NAPKINS | 6. NAPKIN RINGS | 7. PLACE MATS | 8. SILVERWARE | 9. EUCALYPTUS | 10. DINNERWARE | 11. OLIVE TREE
It doesn't appear so in the initial photo on the site, but if you scroll through to the lifestyle photos of the chairs, you'll see that they come with a white cushion on top. You can use the chairs with or without the cushion. We use them with because I think they're beautiful and super comfy. But honestly the chairs are really comfy without them too. I highly highly highly recommend these if you're looking for a good outdoor chair, or even indoor! These would be really beautiful at an indoor dining room table.
In fact, I highly recommend you check out Dave and Jenny Marrs' line with Better Homes & Gardens on Walmart's website. Every single thing I've ever bought from their line has been exceptionally beautiful and well-made! If you go to their main page you'll see that says that they wanted to create artisan pieces with exceptional quality at affordable prices and I truly believe they have done just that! Their stuff sells out fast! The pillow I got from them is out of stock, but I'm linking it for you guys anyway just in case it comes back in stock because it seriously looks like it cost over $100. I also got baskets from them that I put my faux olive tree in and the rugs that I use in our screened in porch. These rugs are incredible for both indoors and outdoors! And I love love love the neutral colors. My rug is also from their line!

 1. PILLOWS | 2. STRIPED RUG
Oh and speaking of olive trees. I use this one in numerous places in my house and I've blogged about it so many times. I bought real ones for the space that I want to put in here eventually but they're just so small right now that I'm keeping them outside until they grow a little bigger. This faux one is one of my absolute favorites. I love how skinny and narrow it is because it's perfect for small corners. And then I put it in a Dave and Jenny Marrs' basket that came in a set of two.

 1. FAUX OLIVE TREE | 2. BASKET
Decorating Your Table
I can't stress enough the importance of decorating your dining room table whether it's outside or inside. I was able to decorate this one so affordably and I'm really excited to share the items with you guys! You'll honestly be shocked by how decorating your table with a few simple items will completely transform the look of your table and just make it feel more homey.
I started with this gorgeous striped table runner. It really gave the table that cozy farmhouse field that I wanted at such a great price! I got it for only $11.50! This would look so beautiful in a breakfast nook or a dining room table or outdoor table like I have it here.

1. EUCALYPTUS CENTERPIECE | 2. TABLE RUNNER | 3. NAPKINS | 4. NAPKIN RINGS | 5. PLACE MATS | 6. SILVERWARE | 7. EUCALYPTUS | 8. DINNERWARE
I then used these navy round placemats that I got for just $10 for all six. I'm gonna link them for you guys but they're sold out right now so I'm also going to link similar placemats that will give you the exact same look that are a great price!

If you're looking for some absolutely stunning dinnerware, this set by Better Homes & Gardens looks artisan and handmade and is gorgeous! I love the white and neutral colors. While you're at it, get this black silverware by Better Homes & Gardens. The set is under $25 and you can get it in either matte or glossy finish. I got the matte finish because I just really love the look of that and I feel like it gives a really pretty farmhouse feel. I put a set out on the table you so you can see, but I don't usually leave the silverware out on the table just cause it's a pain to wash it all whereas it's really easy to switch out the plates. So usually I keep it in this woven basket with the three slots to bring out for people to grab cutlery from when we have friends over. I think this basket can be used for a ton of different things. I've seen people use it on the back of their toilet seat to store toilet paper in. I've also seen people use it to store office supplies like pens and pencils. It could be used for so many different things and it's really beautiful and affordable at $18.
If white and neutral plates aren't your thing, I found these gorgeous matte black ones that I think are stunning! I might have to order them for our In-law suite just because I think they are so cool and the price is so good! I feel like they look super high-end and luxurious!
Also going to link this cute little eucalyptus vase that I got for just $11 that I put in the center of the table. I ordered multiple of them to put in different places throughout my house. These are really great for decorating built-ins with or any cabinets you might have that have a glass door. And it's just so so so affordable!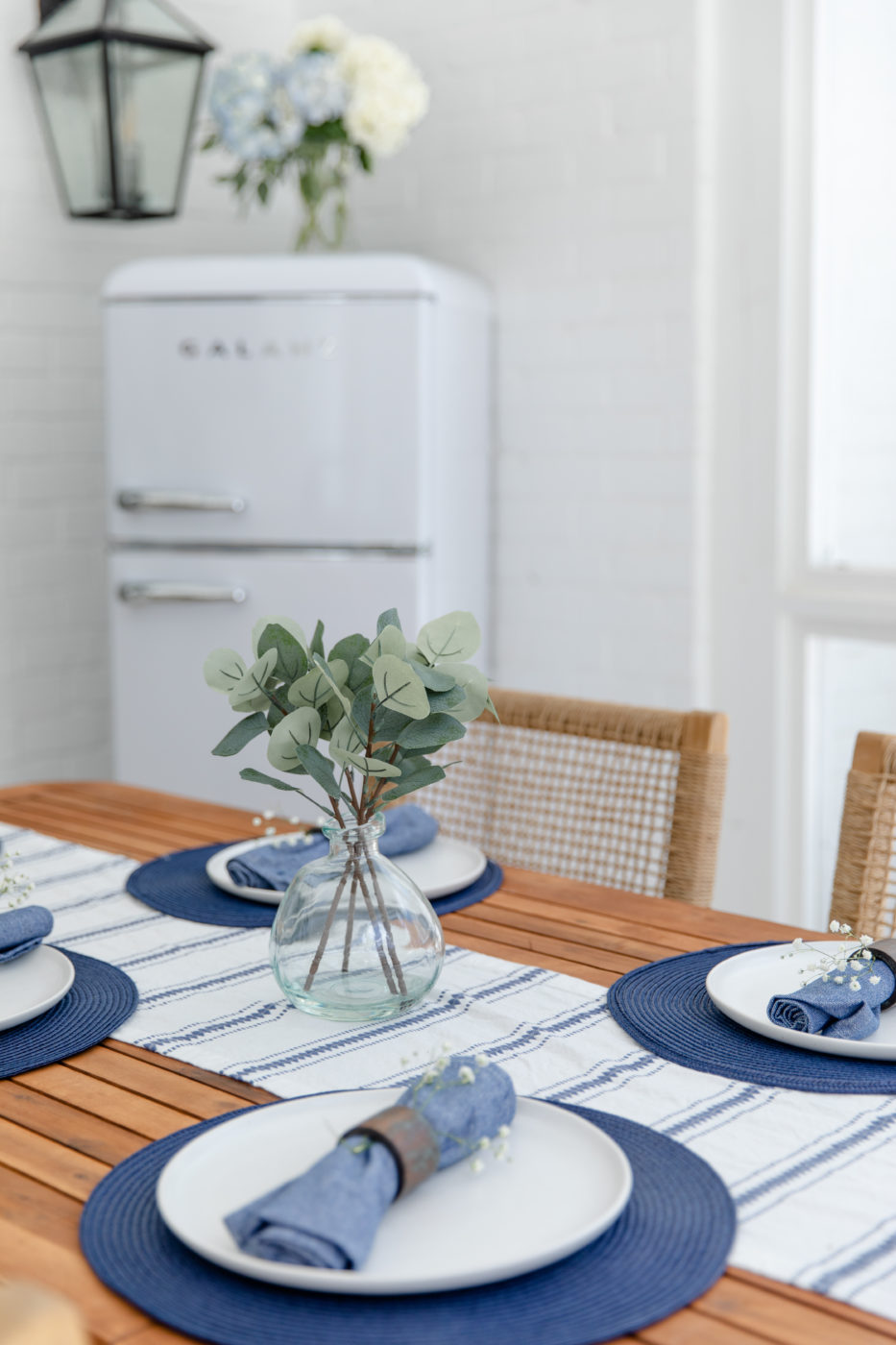 1. EUCALYPTUS CENTERPIECE | 2. TABLE RUNNER | 3. NAPKINS | 4. NAPKIN RINGS | 5. PLACE MATS | 6. SILVERWARE | 7. EUCALYPTUS | 8. DINNERWARE
What else, what else? Oh the napkins! I got this set of six napkins for just $19. Then these wood napkin rings for $18. When I bought them, I thought they were all dark brown but if you look closely they have a little bit of green tarnish on them which I didn't realize when I ordered them. I didn't think I liked it at first, but now that I've lived with them for a little bit, I love it and I think it gives them character! Then I bought this batch of long stem eucalyptus leaves and I cut them into smaller pieces so that I could use them to put underneath the napkins just for a little bit more character on the place setting. I almost wish I took a picture of this table before I set it up with all these things on top and then after and you can just see the difference a few affordable pieces can make to completely transform your space!
The Other Side of Our Porch
If you wanna know what other furniture we have on our screened in porch, I'll link that here as well! This set is also super affordable and stunning! Just in case you want to create the same vibe we have going! In fact, I wrote a whole blog about it that you can read here.

 1. 4-PIECE FURNITURE SET | 2. SIDE TABLE | 3. RUG | 4. WICKER TRAY | 5. FAUX OLIVE TREE | 6. WOODEN BEADS | 7. LANTERN | 8. CANDLE
Other Affordable Items I Have For My Home
That's it for the outdoor dining room table. I hope you guys love it and you're able to buy something affordable for your home that brings a smile to your face! But before you go I quickly just want to link a few other things that I've gotten from Walmart recently that I really love that make me happy and hopefully will make you happy to.
First I want to show you this bamboo bathtub tray. I've had this for over a year now and I absolutely love it! Have I ever actually read while in the bathtub? No, I haven't. So I haven't functionally used this yet. But I use it just because I think it's beautiful on my bathtub. I like it as a home decor piece rather than an actual functional piece. I always have a book in it open just for the luck.
Bathroom pics above by Amy Demos

I also wanna share this candle I got with you guys. I feel like candles that have more than one wick are always expensive and this one has five wicks and is still a really good price. It's a little on the higher side and when I'd like to pay but for under $30 to get a beautiful candle like this with five weeks I think it's a pretty dang good deal.
And last but not least I'm linking this bamboo cutting board. I probably should've linked this above because I always use it to make cheese boards when I'm having guests over because it just looks really beautiful and it has the handles on the side so I can easily bring it from the kitchen out to the screened in porch for people to enjoy.
Well that's it for me I hope you enjoy this blog post! As always thank you for coming over, reading and supporting me I love you guys so much and I hope you have a wonderful Friday!