Hi guys! You know on Fridays I like to typically do Affordable Friday's on my blog. Today I'm showcasing Molly's super affordable desk aka her new writing area! She is SOO excited and I can't wait for you to see how cute this desk space is for yourself or your kiddo hopefully you get inspired here today!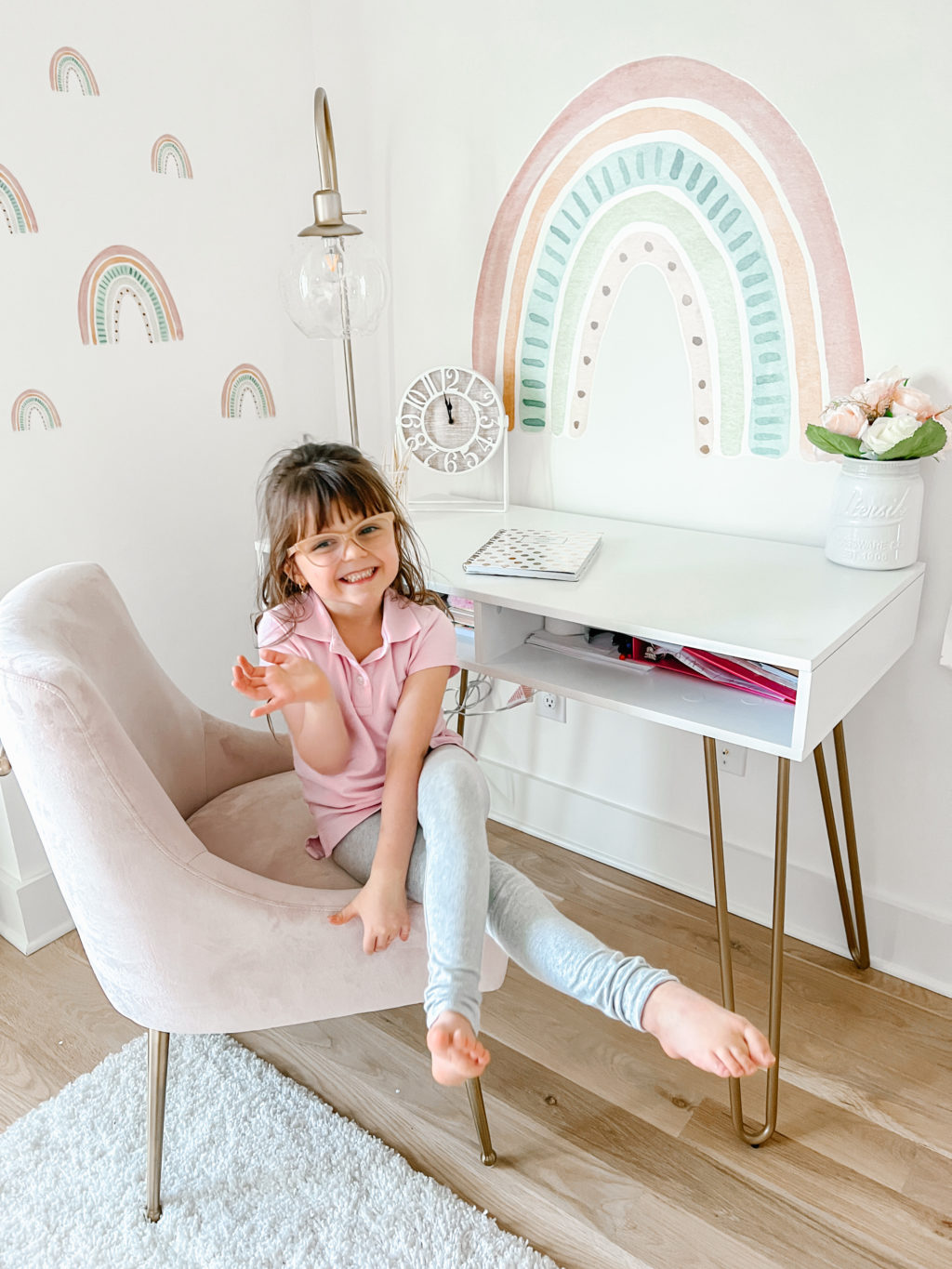 1. DESK | 2. BLUSH CHAIR | 3. RAINBOW DECALS | 4. FAUX FLOWERS | 5. NOTEBOOK | 6. CLOCK | 7. HEART SWEATER | 8. LAMP 
Molly's Desk
I'm going to start with Molly's desk because it's really the centerpiece of the space. I just showed it to her and set it all up for her last night for the first time and it was so cute to see her reaction when she went and saw it. She's been wanting her own little writing space in her room ever since we moved in, so she is in love with her new space. The desk is only $89. For how beautiful it is and the statement that it is in the room with the gold hairpin legs, I feel like that is a steal of a price! The quality is really incredible. If someone told me the desk was $250 I wouldn't question it for a second. Plus, it's the perfect size for her.
This desk sold out a little while back and recently came back in stock so I would definitely snatch it up quickly so it doesn't sell out again!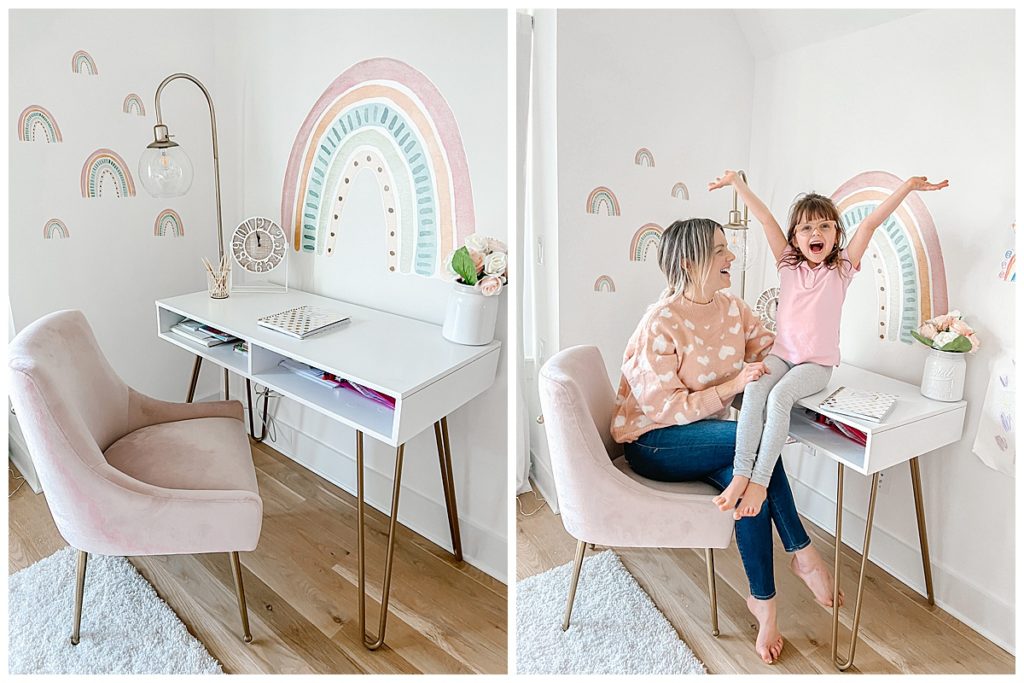 1. DESK | 2. BLUSH CHAIR | 3. RAINBOW DECALS | 4. FAUX FLOWERS | 5. NOTEBOOK | 6. CLOCK | 7. HEART SWEATER | 8. LAMP 
Rainbows
The next big statement is definitely the rainbow design! As you guys know, Molly is obsessed with rainbows and so when I saw this one for only $30 dollars I had to snatch it up. These are normally so much more expensive so I love that Walmart has it it's such a great price. It said it was one large rainbow, but came with all these little ones too. So yours might come with the smaller rainbows and they might not! But I seriously love the smaller ones, they are so cute! It's just a peel and stick decal so it's super easy to put up and it's removable. Such an inexpensive way to add a statement to your child's room. Or any space where you want a little rainbow magic! It just puts a smile on my face.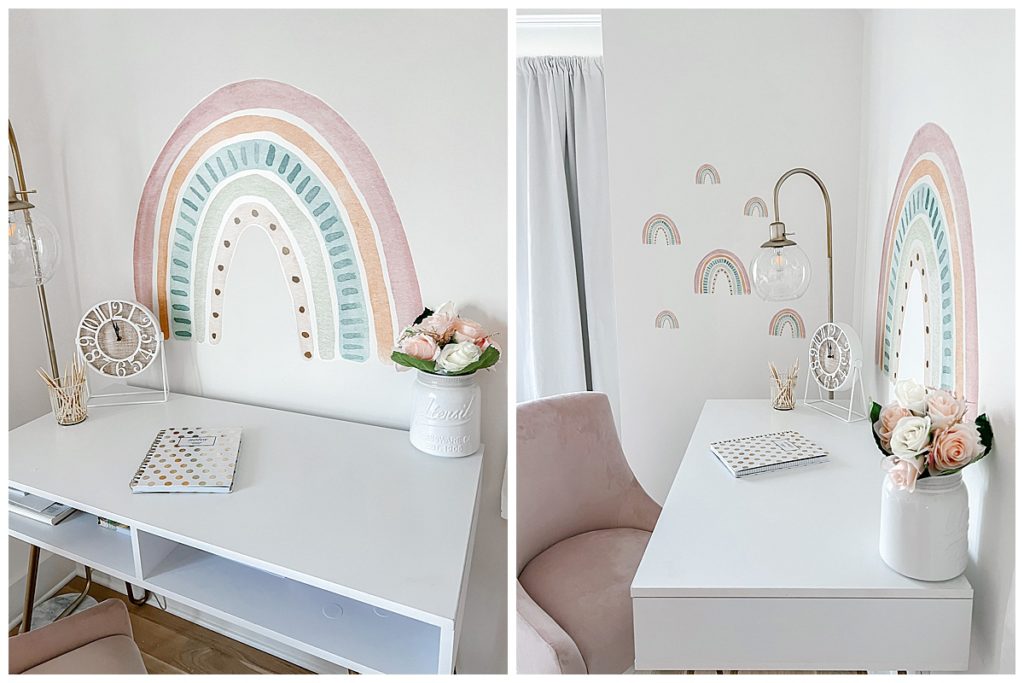 1. RAINBOW DECALS | 2. FAUX FLOWERS | 3. CLOCK | 4. LAMP 
Gorgeous Blush Chair
This chair!!!! The blush color is DEVINE!!!!! I paid a little more for this chair just because it's so so so so stunning. It's the type of thing that I feel like she will want in her room for her desk for years and years to come. I feel like it's really hard to find a desk chair that has a really pretty soft color blush like this one. They're either too pink or too mauve. But this one is the perfect powder blush! I'm in love with it! I almost want to take it for my office. Ha!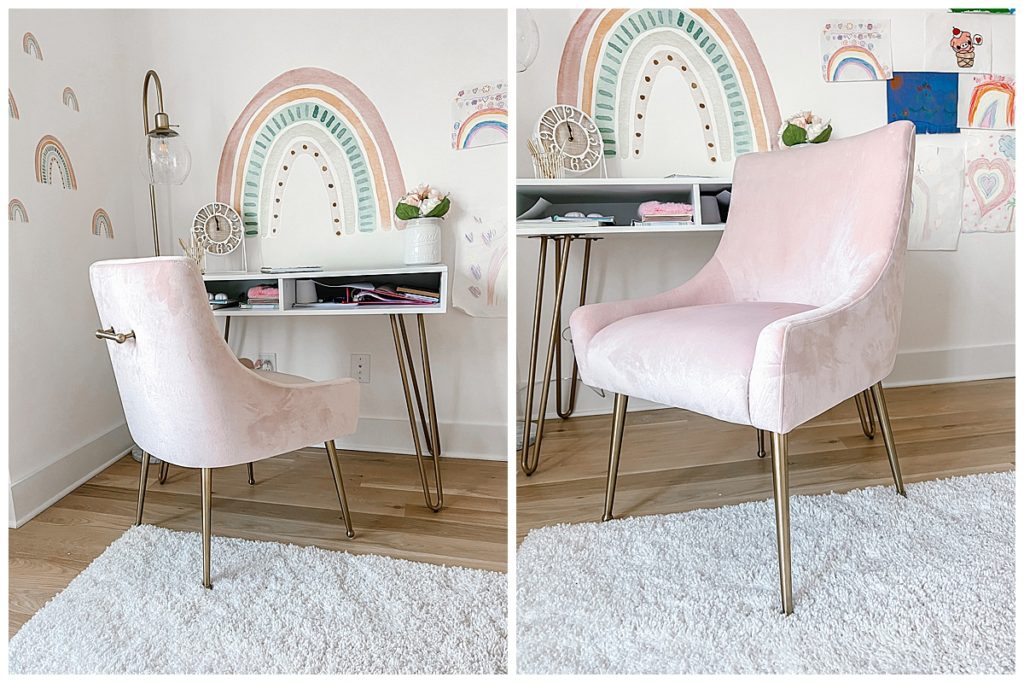 1. DESK | 2. BLUSH CHAIR | 3. RAINBOW DECALS | 4. FAUX FLOWERS | 5. NOTEBOOK | 6. CLOCK | 7. HEART SWEATER | 8. LAMP 
Dainty Decor Details
I want to touch on some of the details on her desk as well. How gorgeous is this white clock! I actually bought a second one for the built-ins in our office because it's so beautiful. I could not believe the detail and the quality when I got it just because it was such a great price. It's really really stunning and great for any built-in decor. People often asked me how I picked items for our built-ins in our living room. The truth is I found that symmetry works really well and sticking with the neutrals and whites to decorate works really well. So this clock would be great for any built-ins you have.
To stick with the gold theme with the desk legs, I did these gold pens and pencil holders. They're really simple, but beautiful and go great with the desk.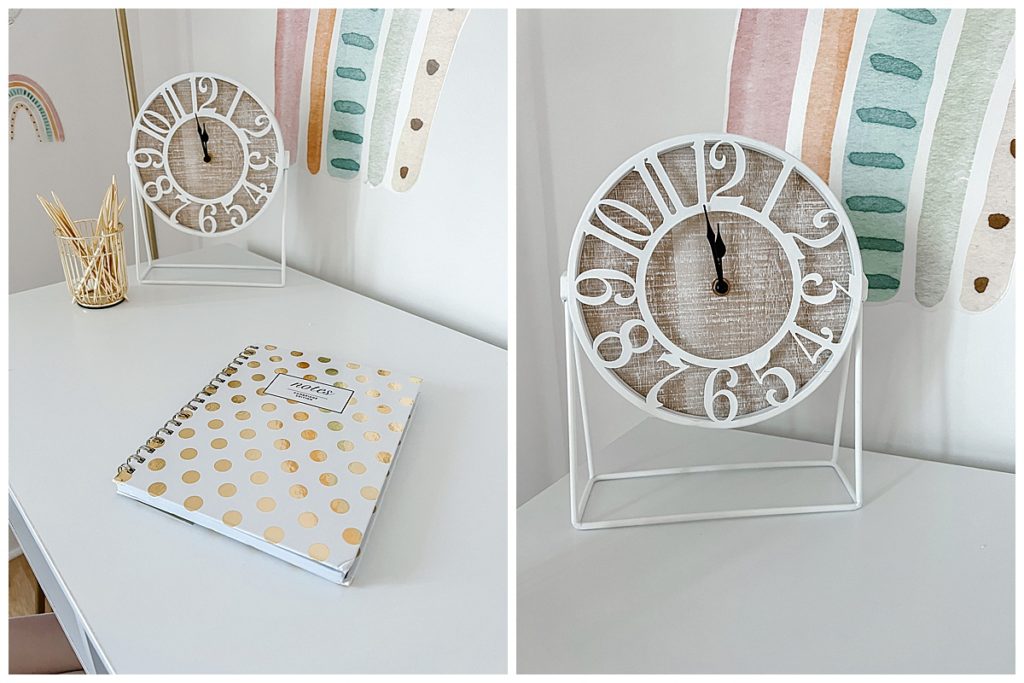 1. CLOCK | 2. NOTEBOOK | 3. RAINBOW DECAL
Then also gave her this gold polkadot notebook. Molly loves her notebooks! She probably has 10 of them that she writes in every day. So she loved having this one that matches her desk!
I couldn't surprise her with a new desk without some beautiful faux flowers on it! I was looking for something with a really soft color palette, beautiful, and not too expensive and I found this bouquet and I love it! Faux flowers can be pretty expensive especially when you get ones that are realistic looking, and these are such a great price! I would put these in a bathroom, a kitchen counter, or a desk just like this!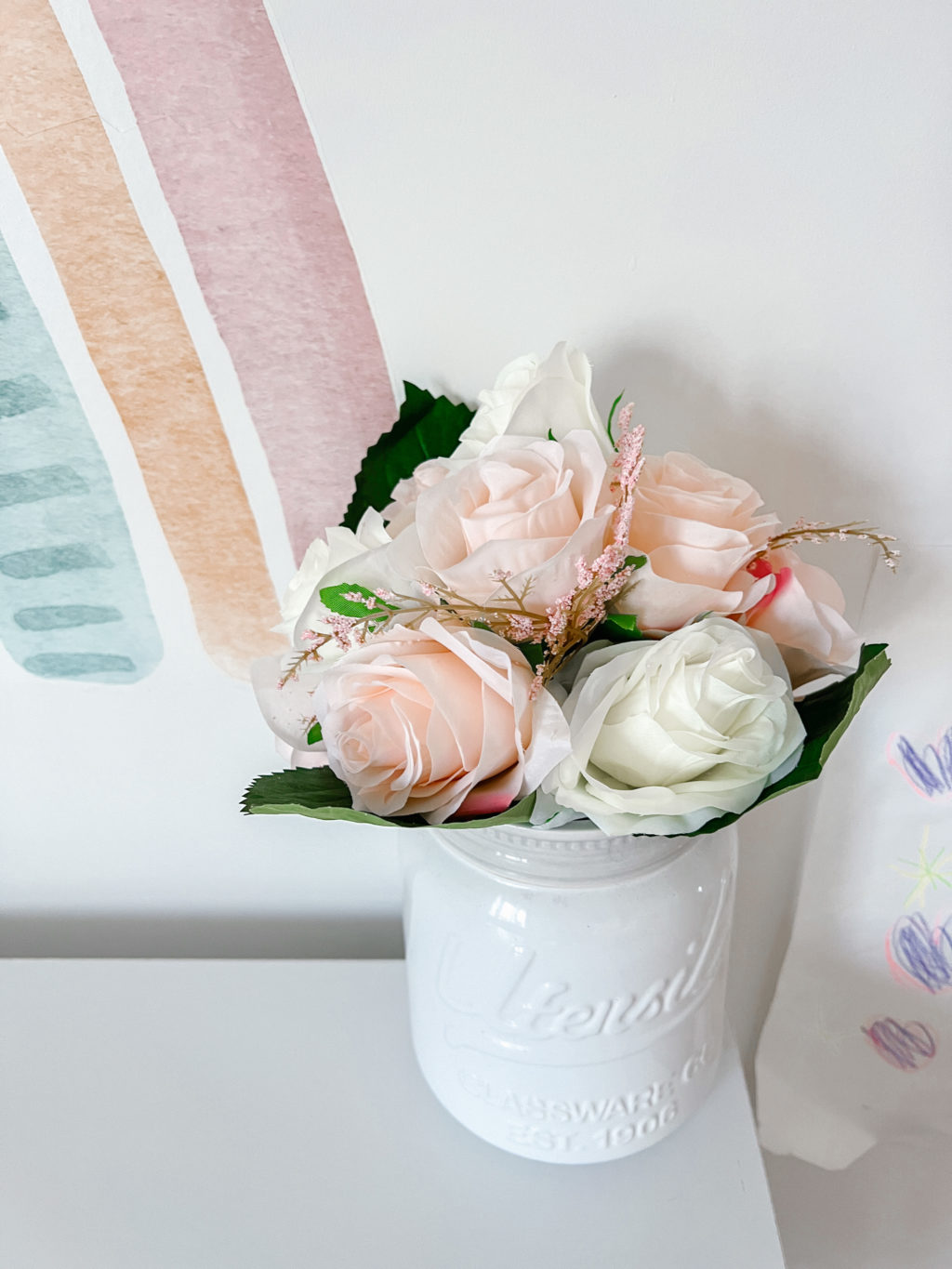 Blush Heart Sweater
You know I have a hard time doing any blog without adding in some affordable apparel items that I have found, and I am LOVING this heart sweater. It is perfect for Valentine's Day! Technically, it is plus size, but I just got the 1x and it fits a little oversized, which looks super cute. I love that all different people and body sizes can get this beautiful sweater. For only $25, it is so cozy and cute! It also comes in a black color as well.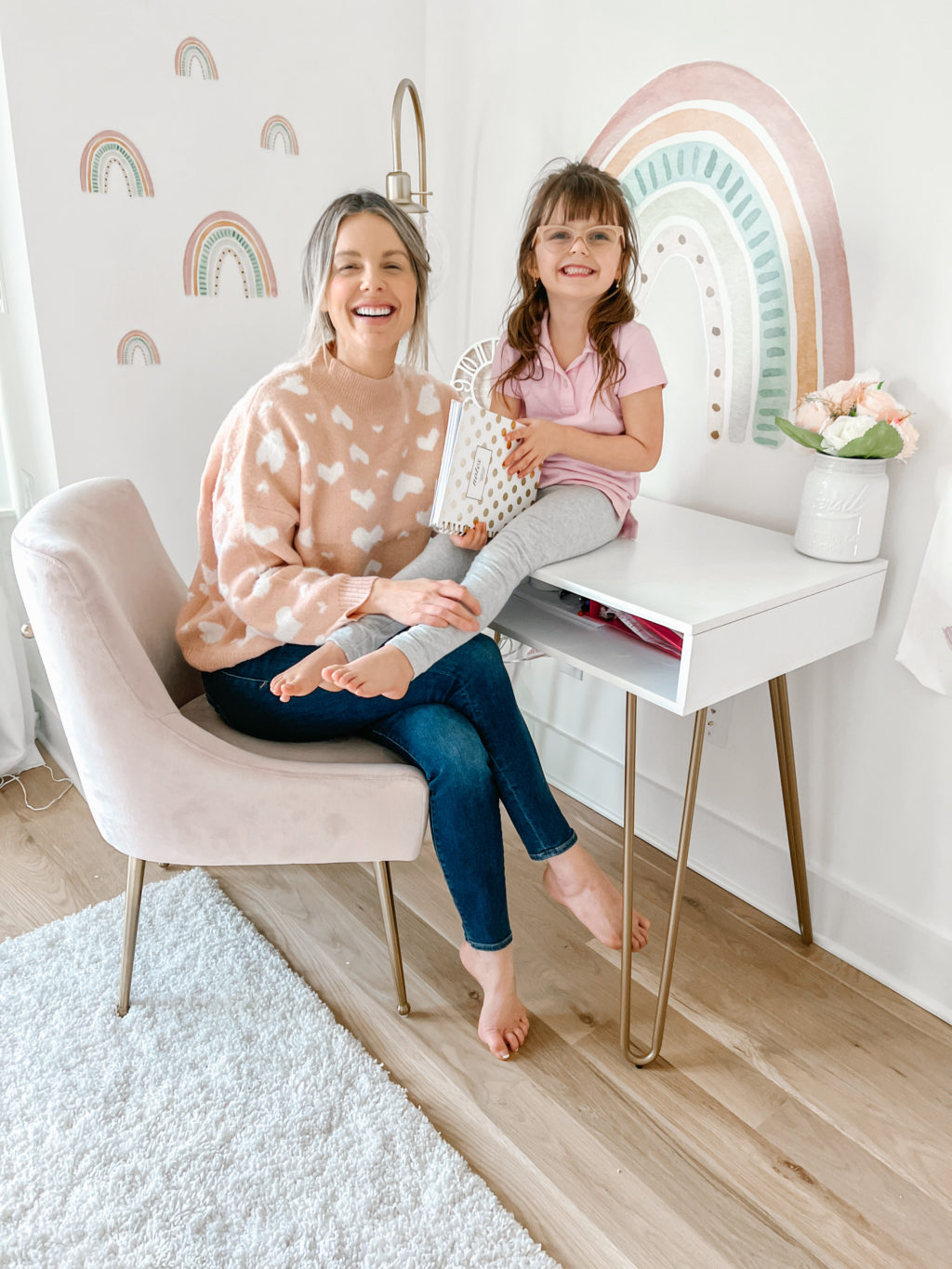 1. HEART SWEATER | 2. BLUSH CHAIR | 3. DESK | 4. RAINBOW DECAL
What do you think of Molly's "office?"
Well that's it for me! I hope you guys enjoyed this blog post. Let me know what you think of the space. I love hearing from you guys in the comments below and I will do my best to respond every comment on this post today!
And thank you Walmart for your AMAZING prices and for sponsoring my blog!