Happy holidays! My gosh am I so excited to share my holiday decor with all of you! When we left Los Angeles, we had to donate the majority of our non-sentimental holiday decorations because we didn't have room for them in our shipping container so I re-ordered a bunch of holiday decor for the house and I wanna share with you guys!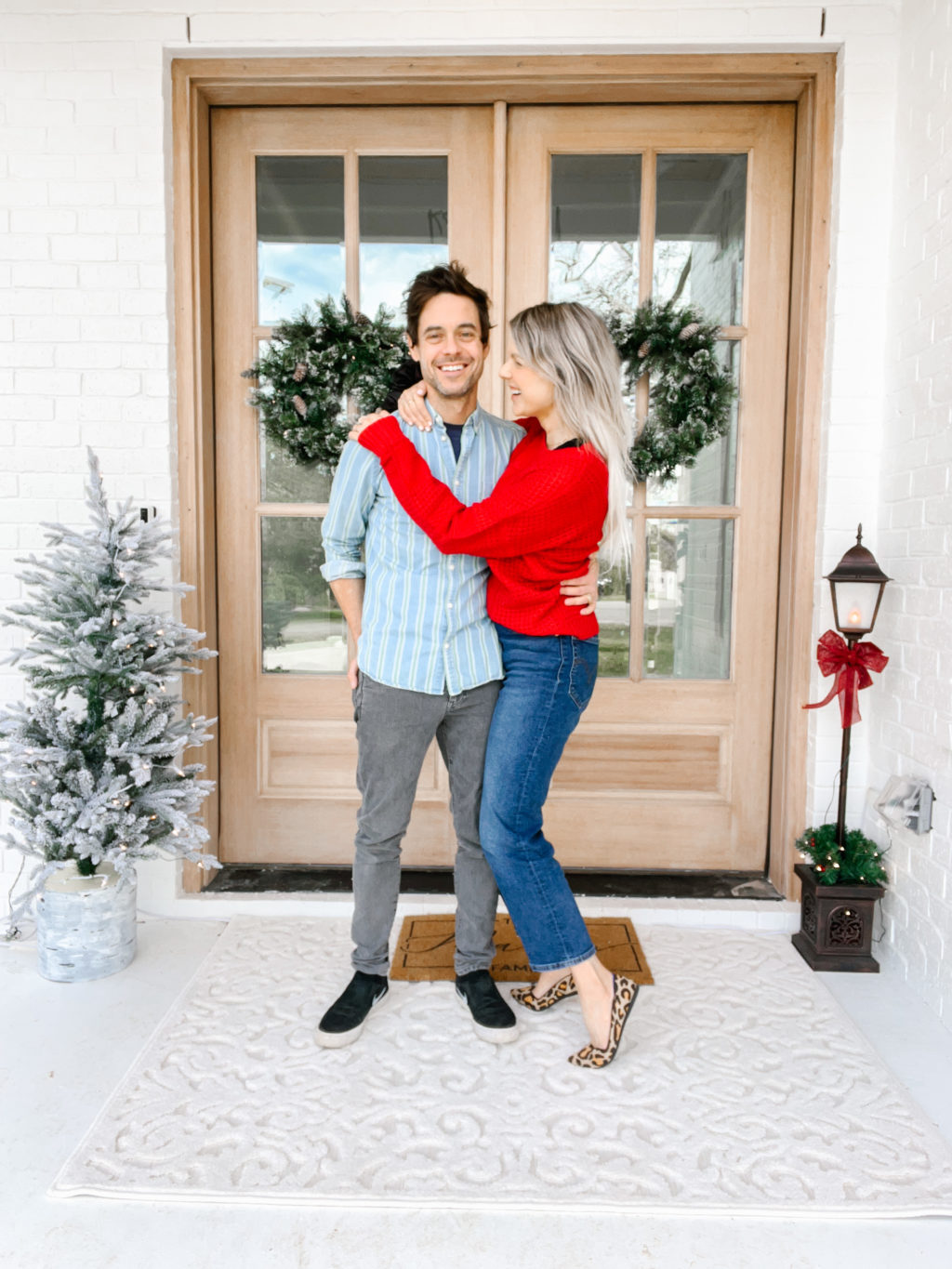 1. RUG | 2. LANTERN | 3. WREATH | 4. BATTERY-OPERATED STRING LIGHTS | 5. FAUX CHRISTMAS TREE | 6. RED SWEATER
Oh, and I do want to quickly mention this red sweater before I get started! You may recognize this from my last Affordable Friday post because I had worn it in white. I loved it so much I got it in red too! The price is SO good… only $17! I'm wearing my normal size which is a medium.
The Most Incredible Bow
I have to start with this massive bow because it is amazing! When you click on the link, at first you're going to be a little bit surprised by the price (The smaller versions are more affordable). I know I was, but I think that's because I didn't quite understand what I was buying. I thought I was buying just like a big flimsy bow. But oh my gosh, this is something that will keep its shape for years and years and years to come! It is so gorgeous, so well-made and it is massive! This is the kind of bow you see in car commercials that they put on top of the car. Ha! It also come in slightly smaller versions if you don't need one quite as big.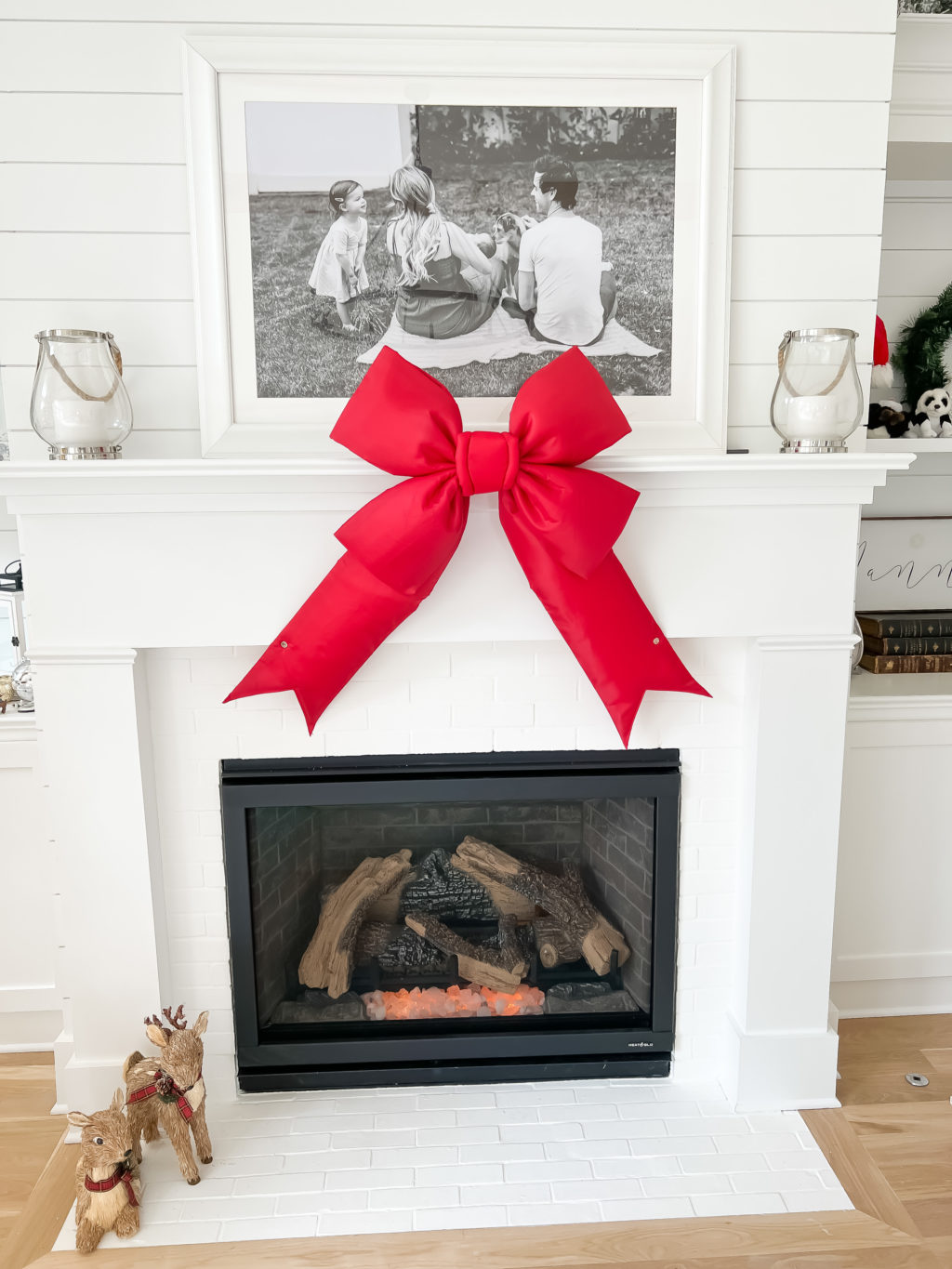 We've had it over our fireplace as you guys have seen in my stories over the past couple weeks, but our plan is to mount it over our porte-cochere. I didn't even know what that was until I moved to Nashville, so I'll put a picture of it for you guys here. We're just waiting for our shutters to be installed on it and then we're going to mount it.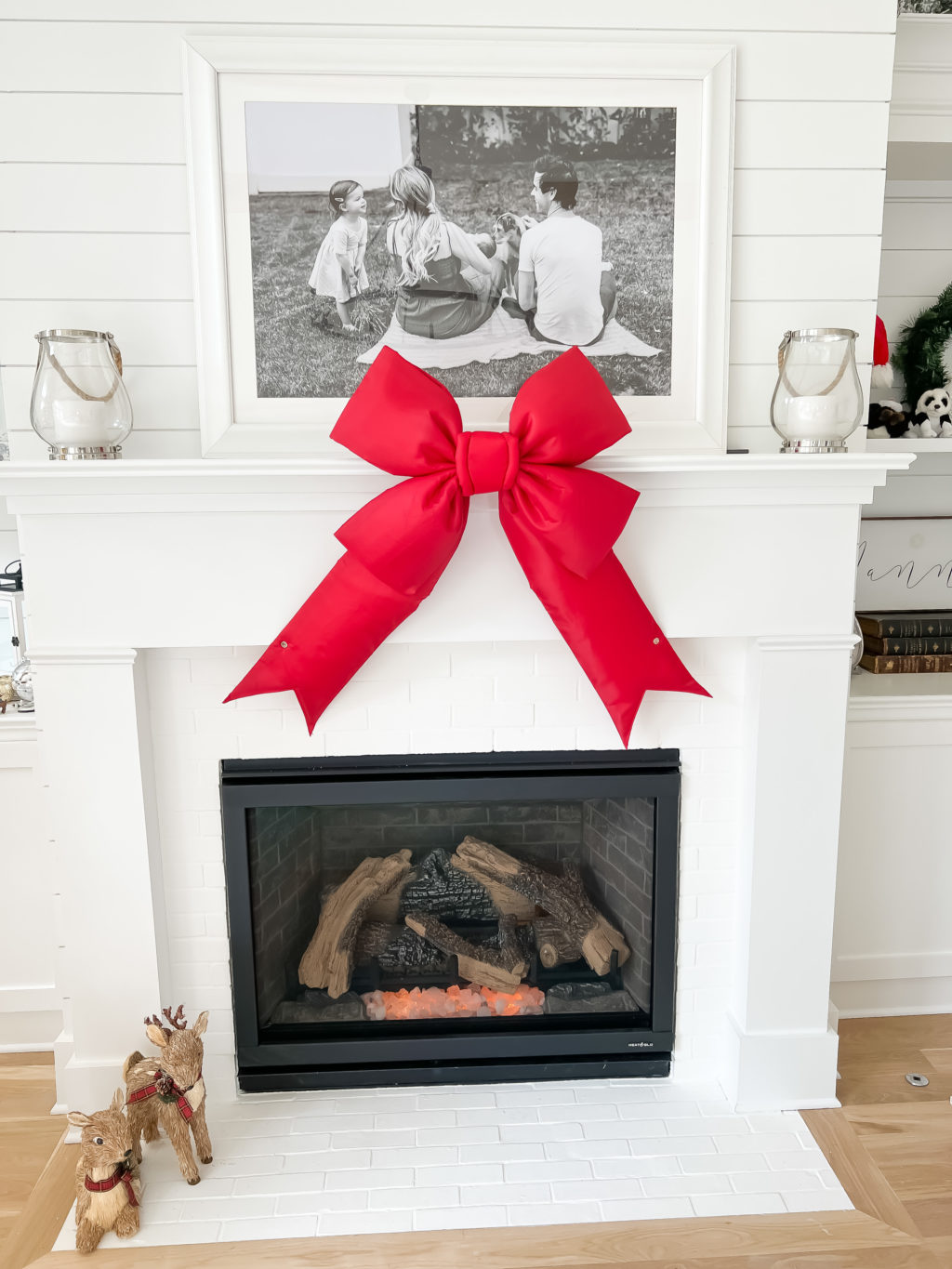 But my goodness, this large bow would look so so so beautiful over a garage and obviously a mantle like where we've had it. Or even halfway up the chimney between the ceiling and the mantle. It's just so gorgeous and I truly believe it's worth every penny! That's why I had to lead with it in the blog post.
Front Porch Decor
Let's talk about the decor on our front porch. This 4.5 foot pre-lit Christmas tree is stunning! I love that the base looks like a natural tree trunk and the flocking is so so so beautiful! I also, of course, love that it's pre-lit. This is the perfect tree to put in your entryway, next to a fireplace, or on your front porch like we did. It also would be beautiful in a playroom or a child's room. I know Molly is going to try to steal it off the porch and bring it into her room. Ha!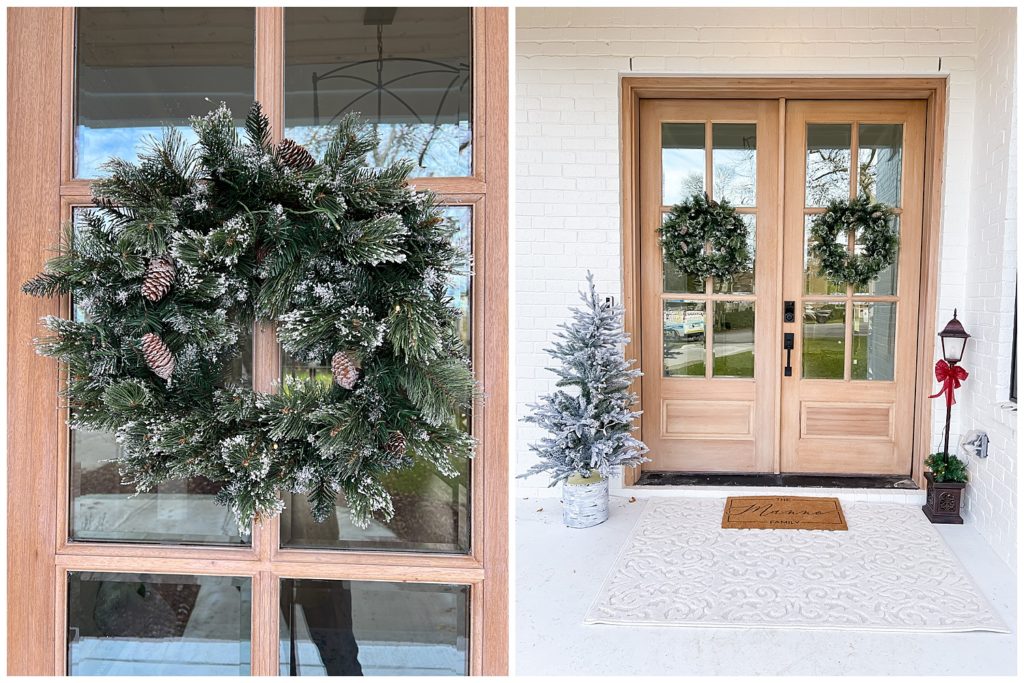 1. WREATH | 2. BATTERY-OPERATED LIGHTS | 3. MINI CHRISTMAS TREE | 4. LANTERN | 5. RUG
Adding this photo here so that you can see how the mini tree looks on both my fireplace and on the front porch! I know not everyone has the right front entryway to have this mini tree outside, but look how darling it is inside too! Now you see why Molly wants to steal it, ha!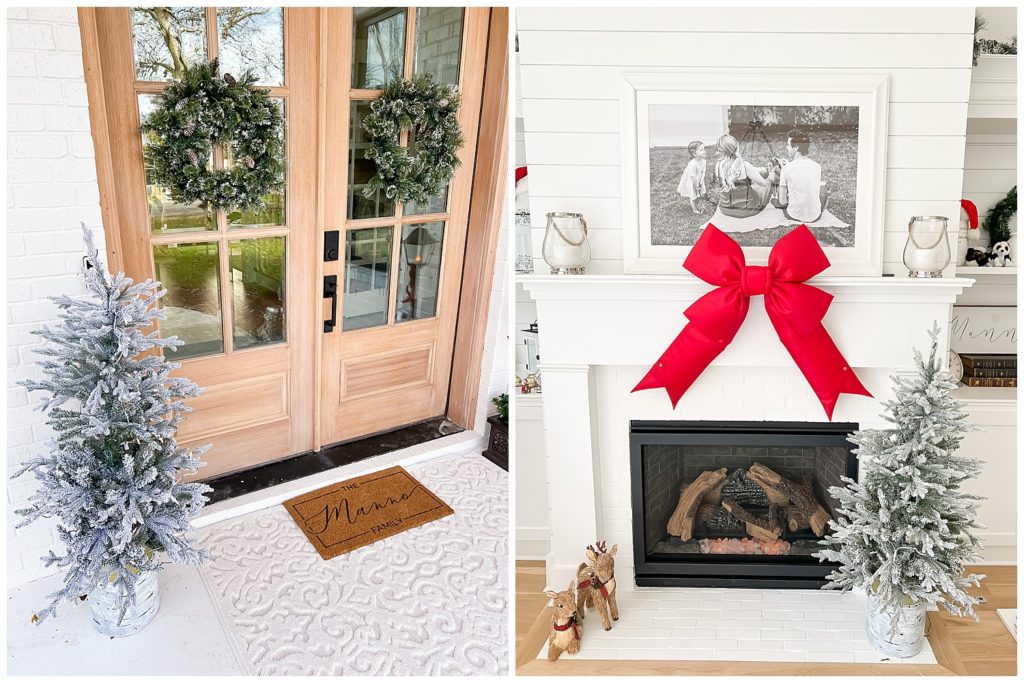 I also got two of these lanterns. They're super affordable at only $25 and really just so darling for the holidays. Molly wanted to put one next to Owen's dog bed which I think is just super cute. So here it is next to Owen's bed. Ha! Then of course we put the other one on our front porch. It has a faux flame inside that really glows and moves like a real flame so it's really pretty. If you want this today, you can actually order online to pick it up in the store so you can get it right away. You can probably do that with multiple things that I am mentioning here if you want the decor items as fast as possible. I for one wanted these right away, so I ordered them online and picked them up at my local store. Ordering them online ensures that they hold them for you in store so they don't sell out when you're driving over!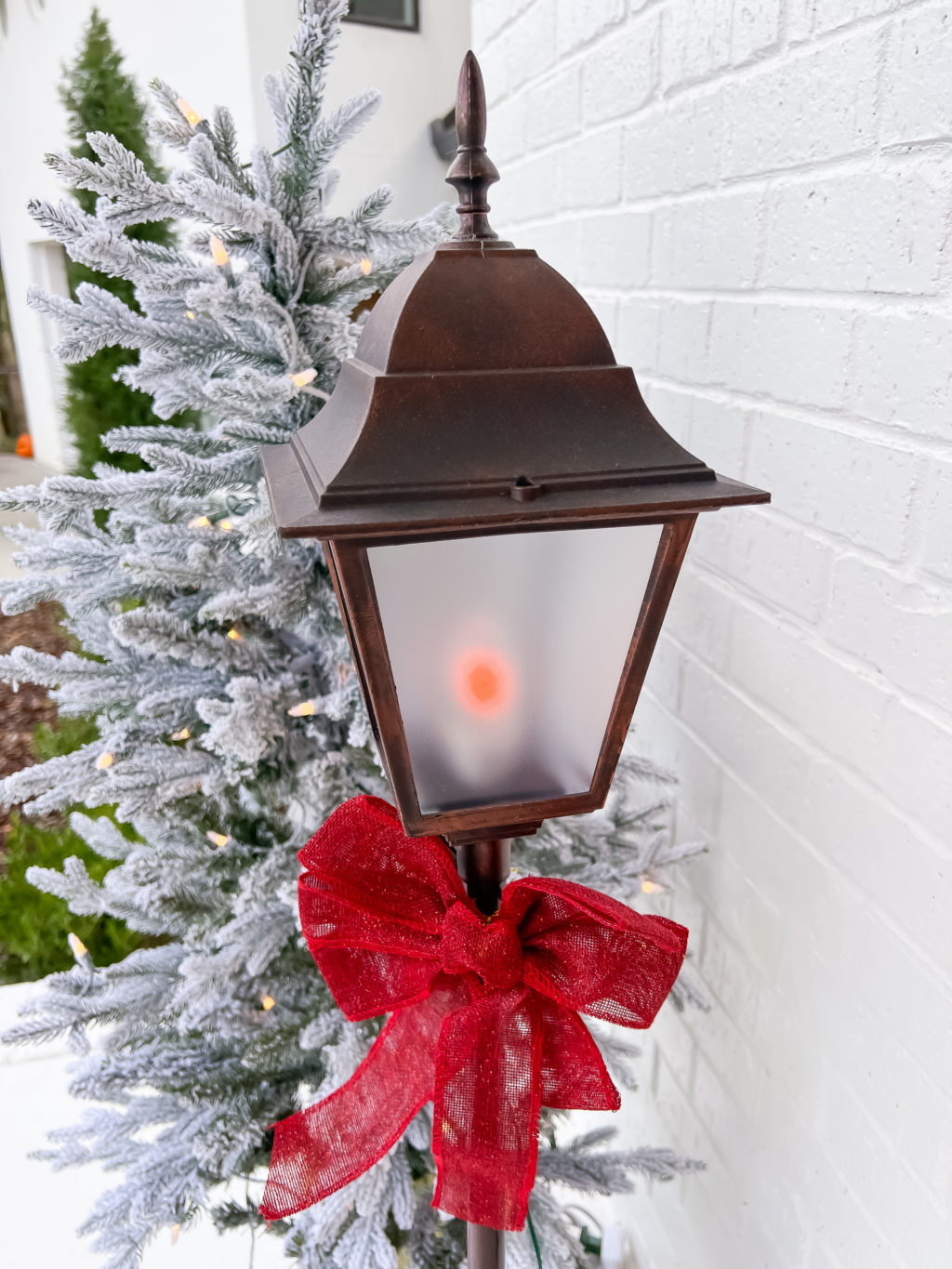 1. LANTERN | 2. MINI CHRISTMAS TREE
I want your advice, comment below, but what do you think? Should the lantern be on the left or right side of my porch? I am struggling to decide! Give me your feedback!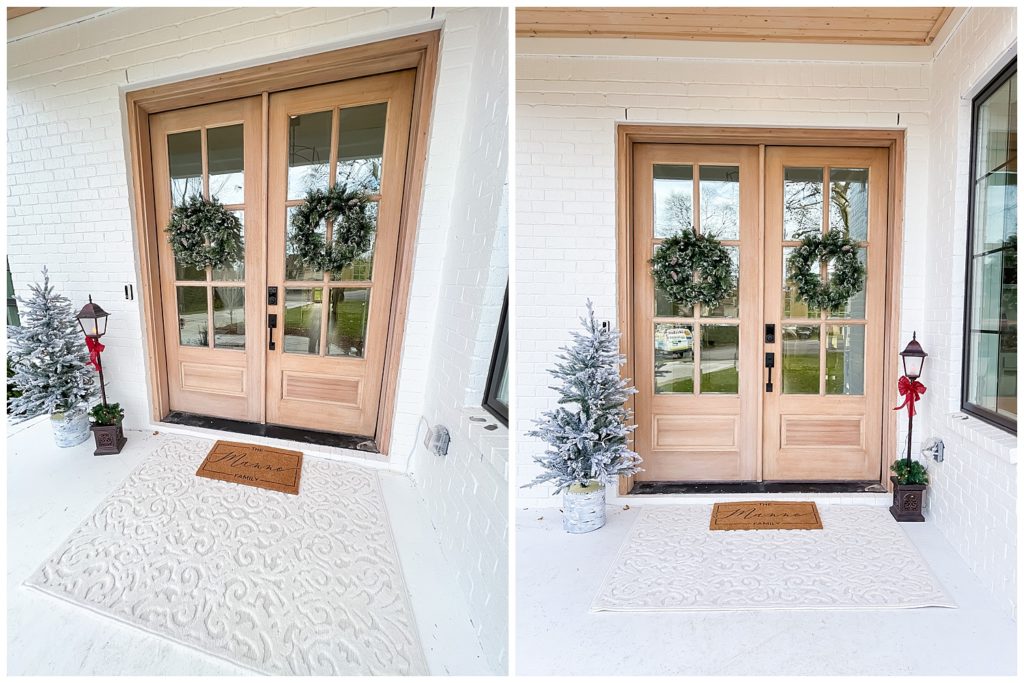 I also want to talk about these wreaths because they are so beautiful and so so so affordable for a battery operated wreath! I got a few other wreaths that I'm gonna talk about in this blog (that are under $10) and are absolutely beautiful, but you do have to be able to plug them in which is hard when you're putting a wreath on your door, if not nearly impossible. So for our front door I got these battery operated wreaths for only $23 each! The lights also have multiple settings so the lights can do different things like stay on or flicker or twinkle. A bunch of different things! I love them!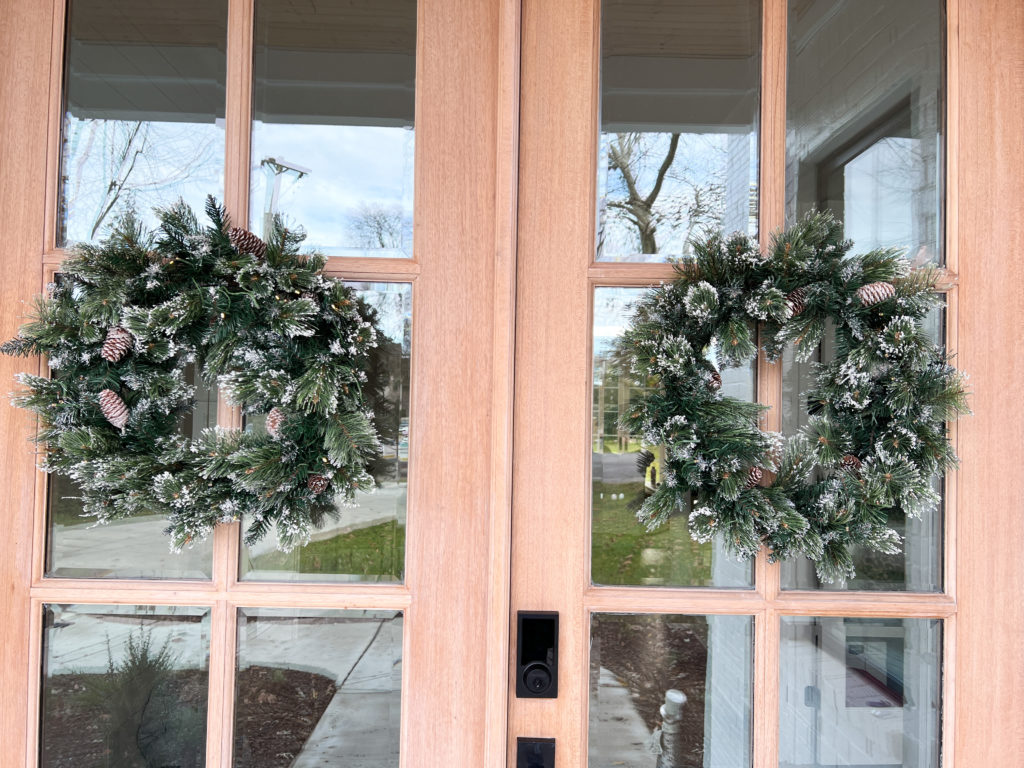 1. WREATHS | 2. BATTERY-OPERATED LIGHTS
If you already have a wreath for your front door but it's not pre-lit or battery operated, you could get these battery operated lights to add to it. I did that for a few of the other wreaths that I wanted to be lit up.
Our Rugs
I also absolutely have to link the rug on our front porch. It's GORGEOUS and on SALE! I honestly never even really thought to put a rug on the front porch until I saw somebody else do it on Instagram. And it just adds so much character to a front porch and really makes it feel like you're about to walk into a cozy home! Which is what I want my guests to feel! I know you guys are gonna think I'm crazy that it's an off-white color. But this rug is by My Texas House. I follow her on Instagram and she has legit shown videos of her pouring an entire glass of wine on these off white rugs (The color is "natural on Walmart's site FYI) and then easily cleaning them outside with a power washer because they are indoor outdoor rugs. So I'm going for it! And what I absolutely love about this rug is it comes 31 sizes! Which makes it so nice when you're looking for a particular size rug for your space. The size on our front porch is the 3'11" x 5'5″.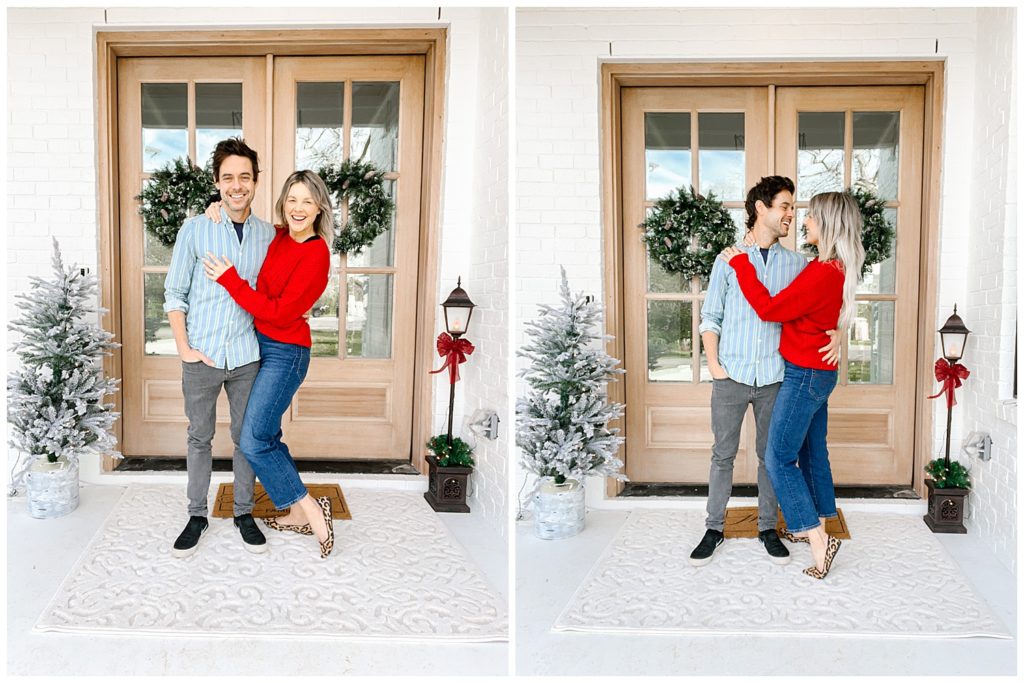 1. WHITE RUG | 2 DINING ROOM RUG | 3. RED SWEATER
I also have these rugs in our kitchen! Thanks for helping me pick what size to get in my insta stories! I went with the 10ft runner and the 3'11" x 5'5″ rug. It really make the kitchen feel more cozy! I love them! The one in our dining room is on sale fro Black Friday too! In fact, I have about 8 of their rugs in our home and I'm gonna show you over the course of the next few months as I share different spaces in the home! Get ready for full blogs on every room in the house coming up!
I also had to show you guys the pre-lit garland we got for the house that you'll see on our banister going up our stairs. In this photo, it's one piece of the garland and it was only $12.98! I say that's a steal! It looks absolutely beautiful!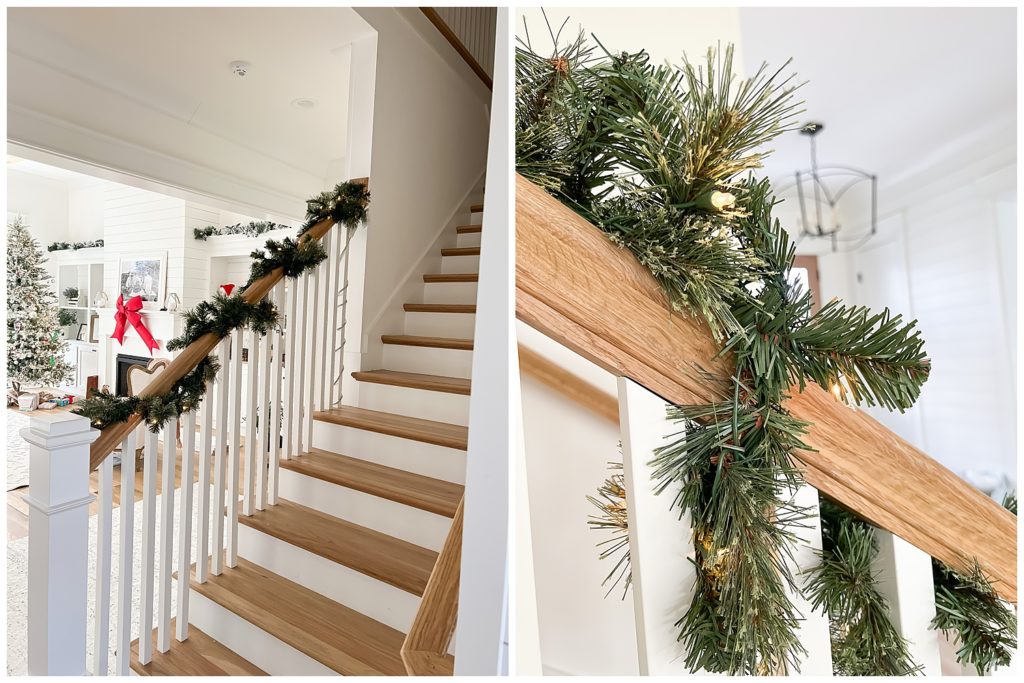 Garage Snowman
I also wanted to link this DIY snowman decoration to put on your garage. If you order now, it may not arrive in time for Christmas but the thing is I think that's fine because this is the type of thing that will put a smile on your kiddos faces in the colder months of January and February where everything is just kind of freezing and dull because the magic of the holidays is over. So I highly highly highly recommend it for an activity to do with the kids and to bring a smile to their face after the holidays are over! Plus it only $9.98 – it's a super affordable activity! It makes a huge statement on your garage that the neighbors kiddos will love too!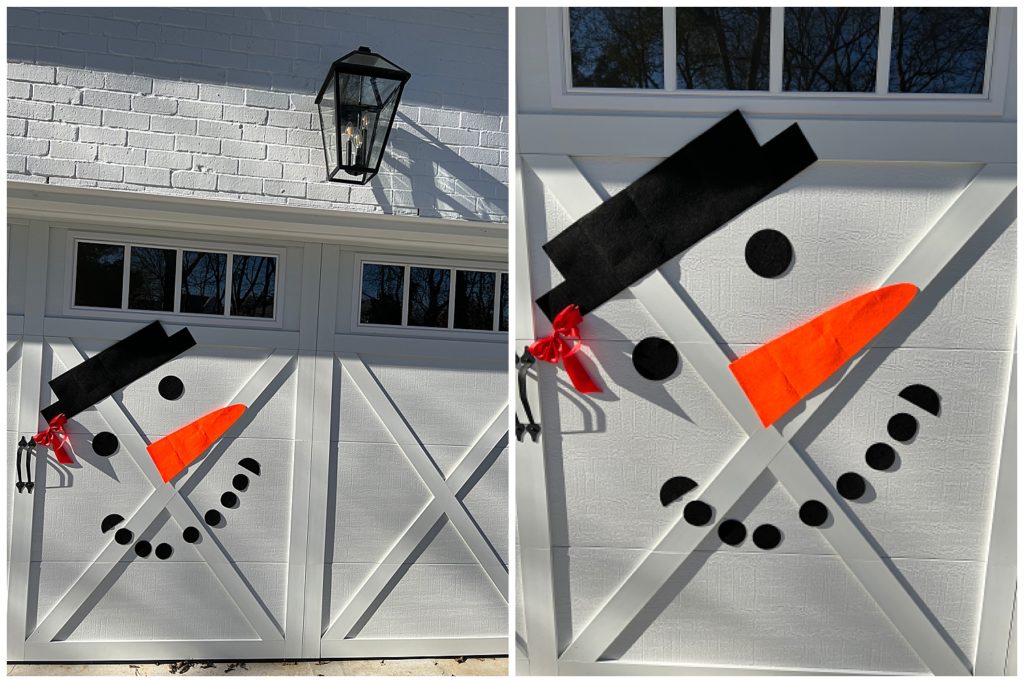 It's essentially a bunch of felt pieces and a red bow, that technically you could cut yourself out of felt but it's gonna cost you just as much if not more to buy all this felt and the bow and the tape! These are cut out so clean and nice so I prefer the ease of it. But if you want a fun project to do, you could totally cut it from felt!
Flocked Garland
Also want to share the flocked garland that I got. Right now it's not showing available at my local store. But it was a week ago when I bought it. So I'm linking it here just because there's a good chance it could be available at your local store and I've gotten so many DM's from people asking where I got it. If you look at the reviews, people are are in love with it as much as I am! It's truly beautiful and added so much to our living room!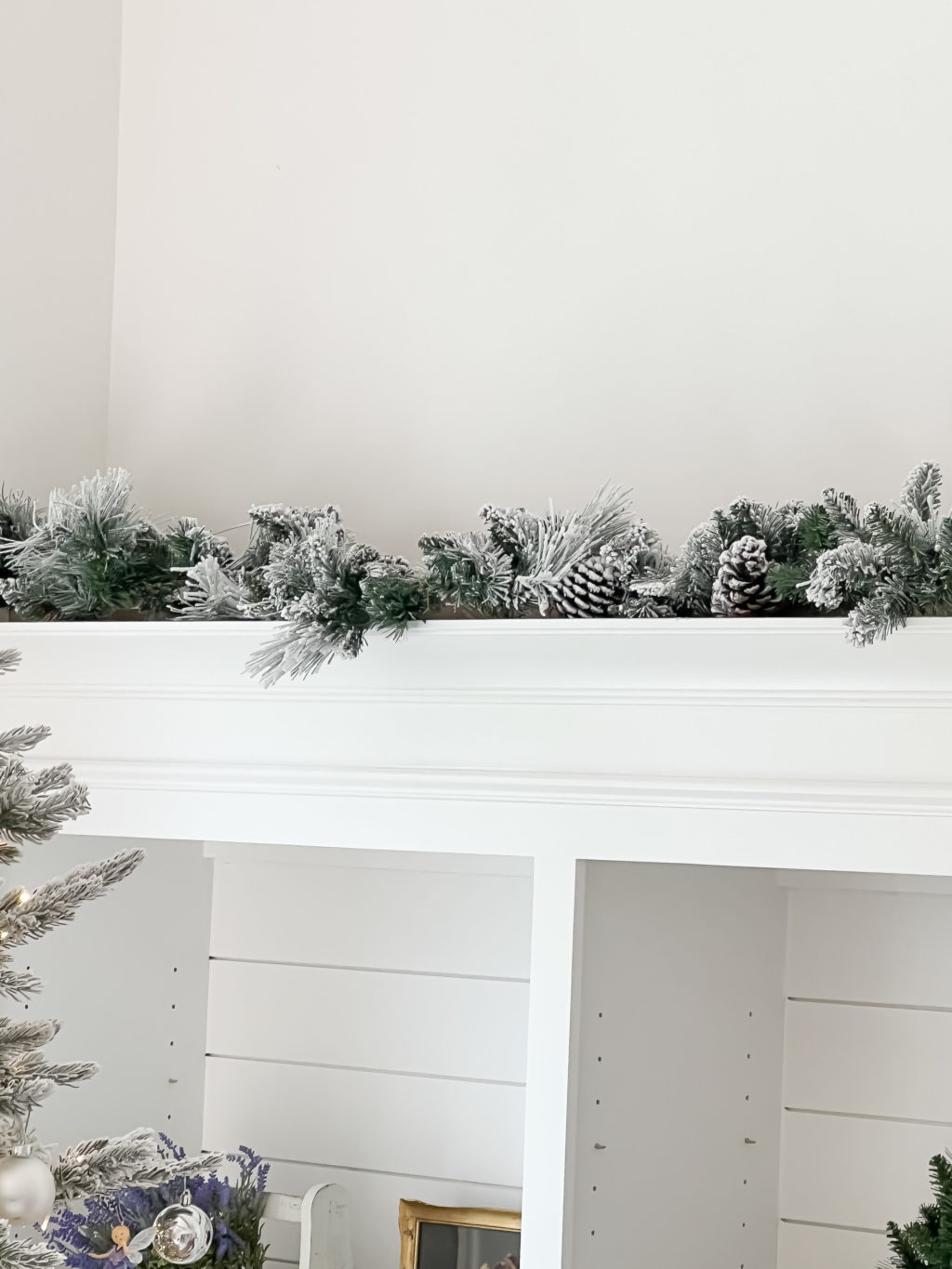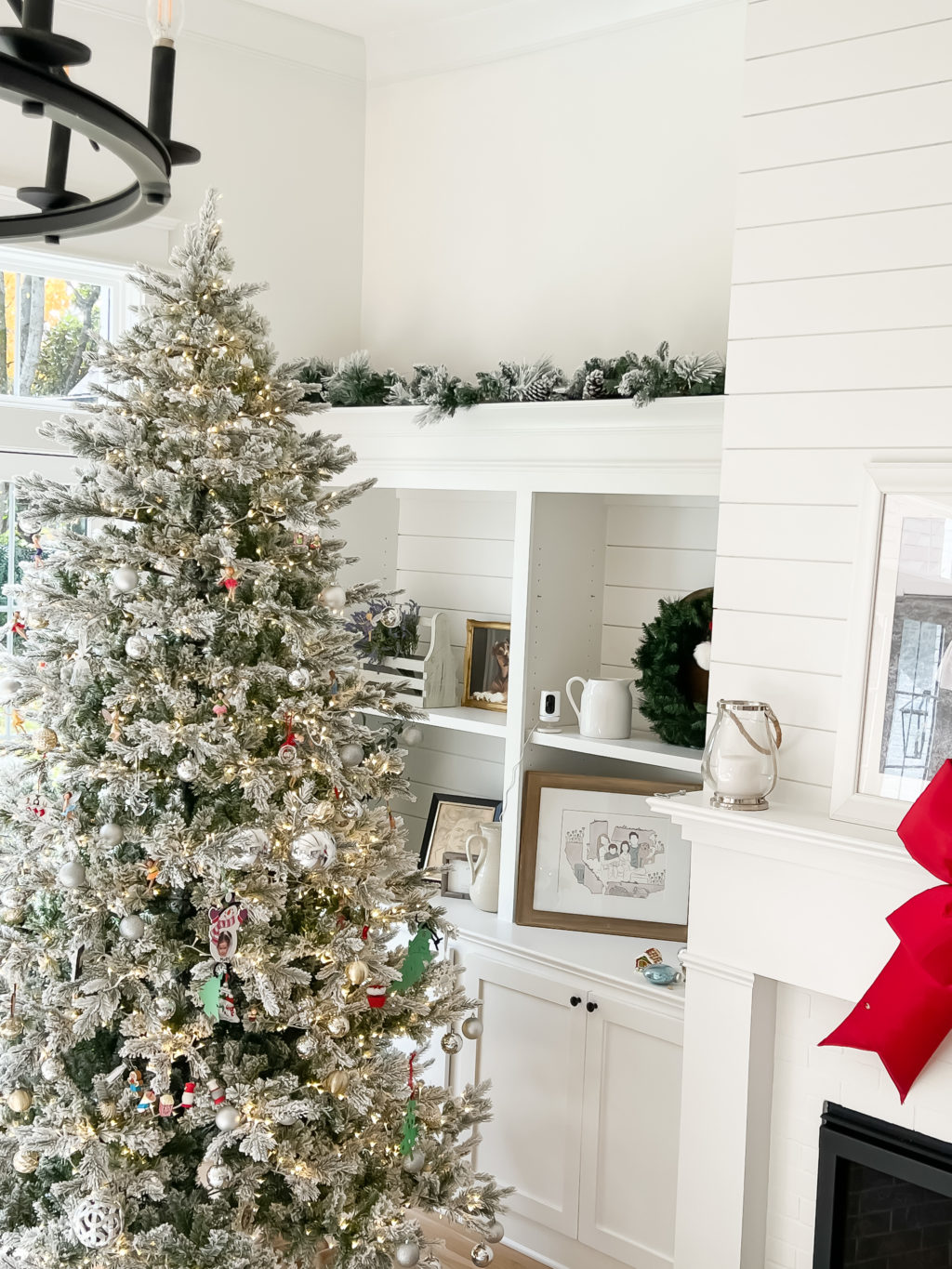 1. FLOCKED GARLAND | 2. LARGE RED BOW
Molly's Nightstand
I'm also going to add the link to my daughter's nightstand. I've got a few questions about it on Insta stories, so I wanted to be able to direct people here. It's really precious and such a great price at $87. It's sturdy, easy to put together, and really sweet.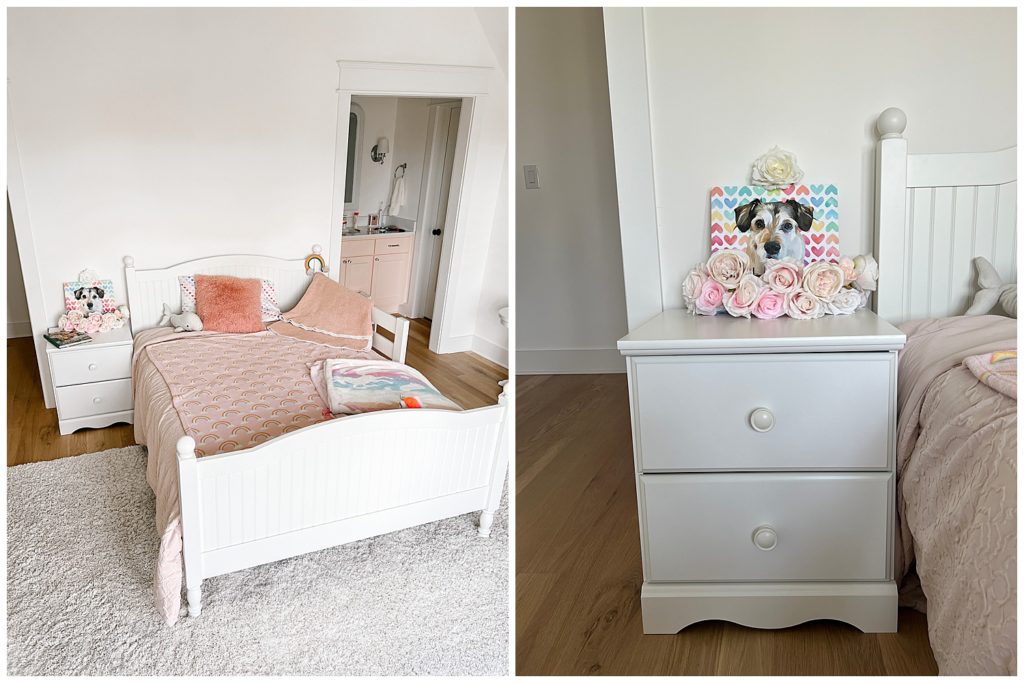 Happy Holidays!
Well that's all for me. I hope you guys find this helpful for decorating your home for the holidays. As always, big thank you to Walmart for being a huge supporter and sponsor of my blog!