Happy Affordable Friday! This Affordable Friday is all about comfy and cozy clothes to wear as the weather is getting cooler! Although I will say I did include a short sleeve option that I thought was super festive for the holidays and would be great for anybody who lives in warmer climates.
Mix and Match!
I also wanted to take the affordable aspect of this post a step further this week and show you how you can mix and match a lot of these items. So for example, for the corduroy pants that I'm recommending, I'm showing you a few different shirts that I like to wear them with that are all part of this Affordable Friday. Then I'll show you that same shirt with a pair of jeans. That way you can get the absolute most out of anything you purchase from this blog post.
Honestly though I don't even know where to begin because I love these pieces so much, so I guess I'll just have to start with the two pairs of pants I'm wearing throughout this post. Well technically I also wear a pair of leggings at the end and keep reading, they're the best ever and super super super affordable! But you'll notice that I go back-and-forth between the denim and the corduroys for all the different tops I'm wearing. So I thought I'd review both of those first and then you can see what they look like with all the different looks.
Denim
I'll start talking about the denim. They are buy a brand called Free Assembly. I've written about this brand multiple times on my blog because I love it so much! Not only do I love the fit and affordability of their clothes, but it just makes me so so so happy that this brand is focus on sustainability! To be able to get a pair of jeans that are sustainably made for only $27 that fit like a dream is just so amazing. Right now they are fully in stock from size 0 to size 22! Heck yes for size inclusiveness!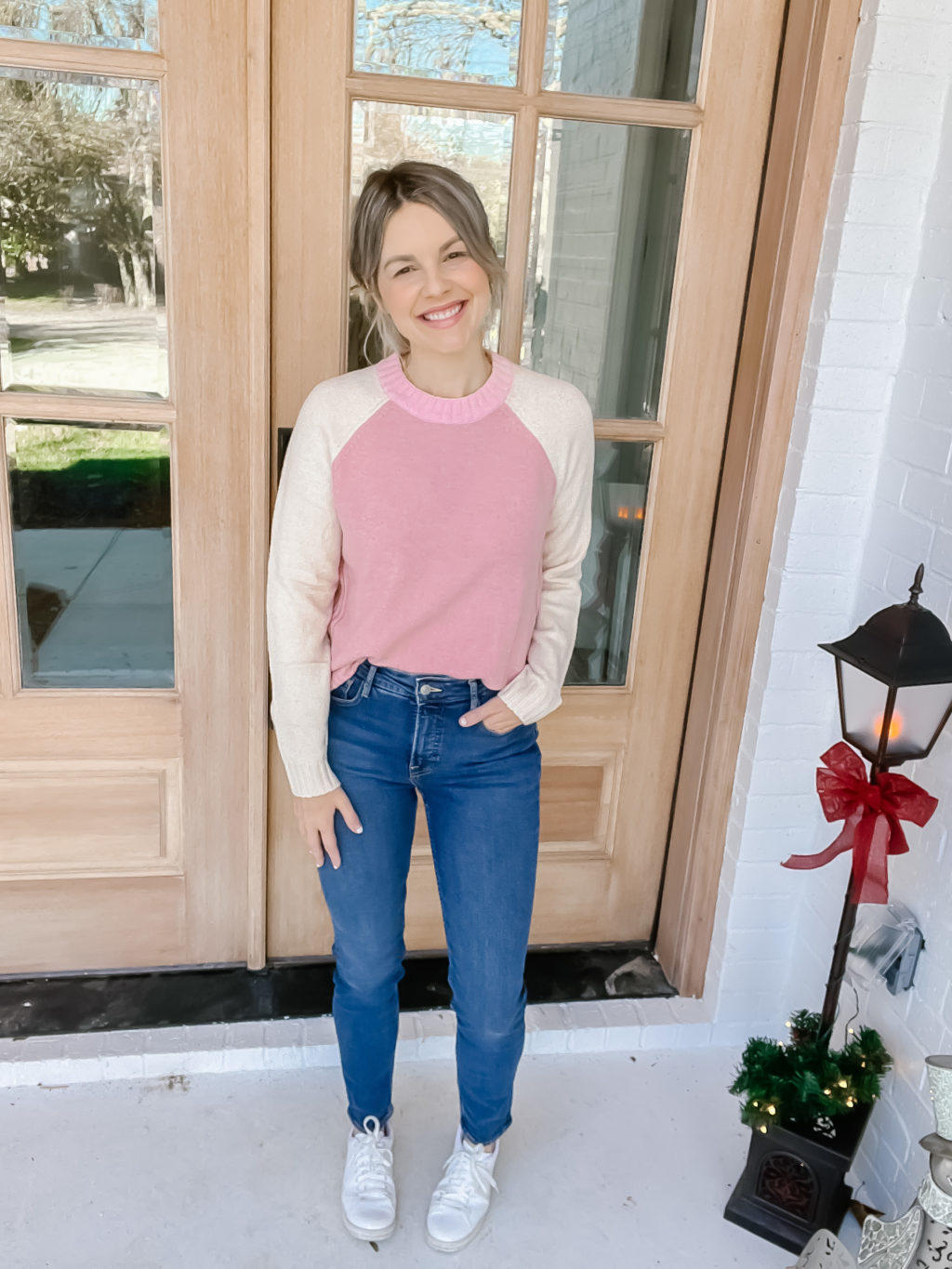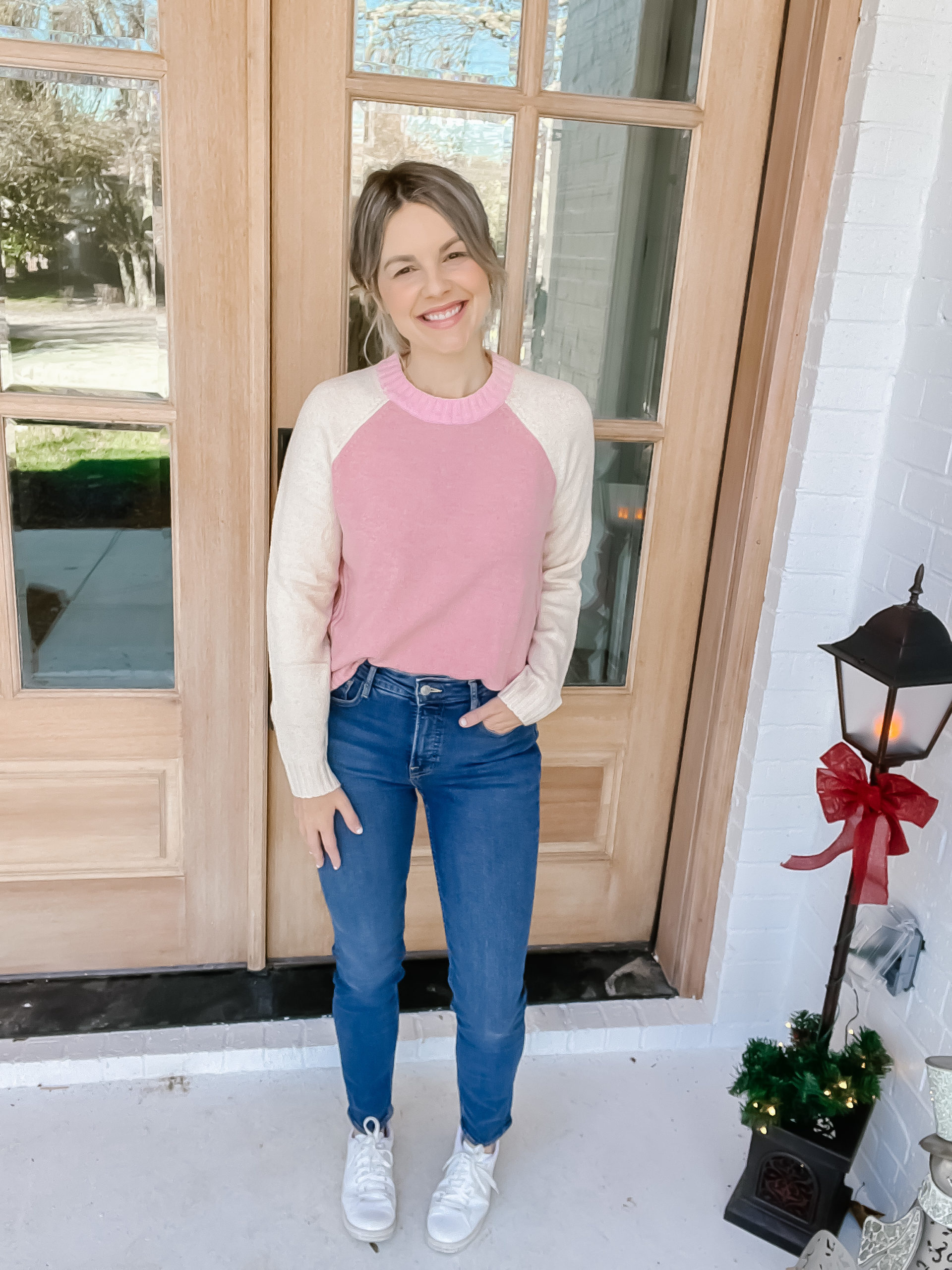 1. PINK SWEATER | 2. JEANS | 3. SNEAKERS
I am wearing a size 8 which has typically been my size. Sometimes I go down to a size 6, but I did read one review saying that the jeans ran small so I decided to go with the size 8 and they fit great. But I almost think I maybe could've gone with the 6. If you're unsure, read the reviews and maybe size up. Also Walmart has an amazing return policy so you could buy both sizes and return whatever doesn't fit. They also come in a few different washes and in black.

1. WHITE SWEATER | 2. PINK SWEATER | 3. JEANS | 4. SNEAKERS 
Corduroy
These corduroys are an absolute dream! I love them I love them I love them I love them! Can I say I love them just one more time? Because I do. They're only $17. They come in two different colors, both coffee and this beautiful burgundy color I'm wearing and right now they are fully in stock in both colors in all sizes. They come in sizes 2 to size 22. I'm wearing a size 6 which at this point in my life I might just say is my normal size. A few months ago I probably would've been an 8 in these, but I've lost a little bit of weight so I'm a 6 now. They fit perfect. So I would definitely say these are true to size.

 1. CORDUROY PANTS | 2. 2-PACK SHIRTS
I'm laughing that I'm not wearing shoes in a lot of the photos in this blog (I took the pics quick because I wanted to get this up before things sell out!) but I would wear loafers with these or even a cute booty. Or sneakers! You will love these – get them before they sell out and read the reviews. People love them just as much as me. They are the most beautiful high rise corduroy pants! I still can't believe they were only $17.
To see the true color of them, watch my stories today. I'll make sure to post some wearing them. They're a bit of a deeper color. I feel like when I edit these pics to make them brighter it changes the way the color actually looks. And these pictures just don't do the pants justice, they're just so good!
White Sweater


1. WHITE SWEATER | 2. JEANS
It's so soft! So beautiful! Size inclusive! Available in five different colors! And fully in stock right now! Let's not forget the best part, it's only $16! Check out the reviews because they're all positive and can give you a better idea of what the sweater is like rather than just hearing it from me. It also comes in a super beautiful red color that would be absolutely perfect for holiday photos or really just to wear around the holidays. If you don't wanna go straight up red, they have a really pretty olive green as well.

 1. WHITE SWEATER | 2. CORDUROY PANTS
Taupe Button Up Top
The next top I want to show you is this gorgeous button up by Celebrity Pink. I normally buy their jeans, but when I was checking out their page on the Walmart site, I saw this top and had to have it. First, I just love neutral colors. I feel like when you wear neutral colors it instantly makes your piece of clothing look more expensive. I don't really know why I just feel like it does.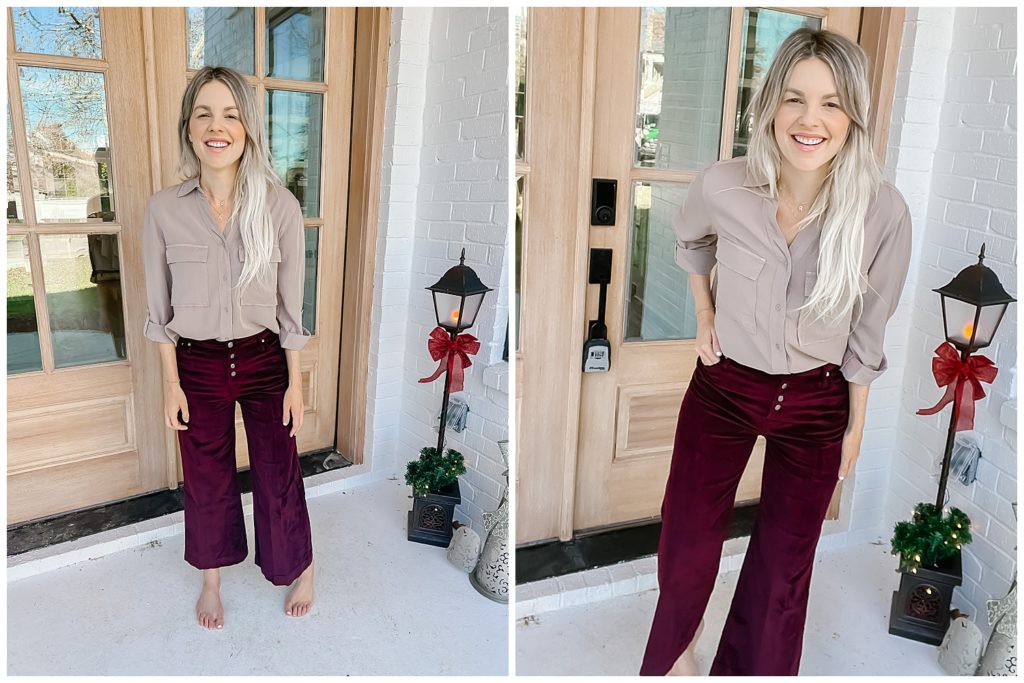 1. TAUPE BUTTON UP | 2. CORDUROY PANTS
And my goodness is the material of this top so so so soft! It feels so expensive, but it's only $16! Right now it's sold out in a couple sizes but it's still available in extra small, small, and medium. It also comes in an olive/gray color as well. As you can see in these pics, it can be worn with the denim or the corduroys from this post.


 1. TAUPE BUTTON UP | 2. JEANS | 3. SNEAKERS
Softest Sweater Ever! (Comes in Multiple Colors)
Who doesn't love a pink sweater? Nobody I know! Ha! When I tell you this is one of the softest sweaters of all time, I mean it! I didn't know what to expect but this is one of the absolute cozy sweaters you will ever wear! I love the color, I love the cut and I love how it feels. And you know I love the price! The sweater is only $12.98! Such a steal for such a cute sweater.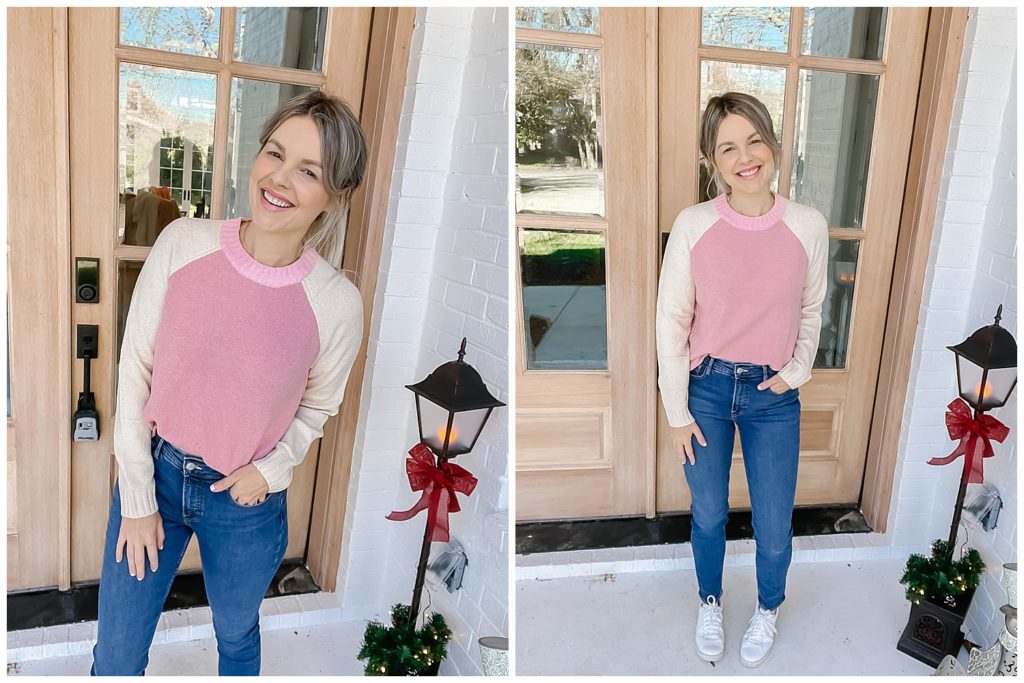 1. PINK SWEATER | 2. JEANS | 3. SNEAKERS
I know I sound like a broken record, but make sure to check out the reviews. They're super positive! A lot of people are saying to size up, but I personally don't agree with that. I'm wearing my normal size which is a size medium and it still gives me a really nice relaxed fit. Speaking of sizing, the sweater are also size inclusive, ranging in sizes from extra small to XXXL. It also comes in a bunch of different prints if pink isn't your thing!
I am wearing it with the Free Assembly denim and these $14 sneakers that I've had for a while and I blogged about in a past Affordable Friday post. I love them. In fact I wore them the entire time we moved because they're so comfortable.
Leggings
Okay, I may be even should've started with this look because it's one of my absolute favorites! First, you can get these leggings in a two pack for only $11.86. That's less than $6 per pair of leggings. Now that is an absolute steal! I'm wearing a size medium which is my normal size and they fit great. These leggings have over 1200 reviews on Walmart site so definitely check out some of those, but people love them! They do not slide down, they are super soft, and not see-through! I can't say enough good things! In fact, I bought another set because I've pretty much plan on living in leggings over the next few months!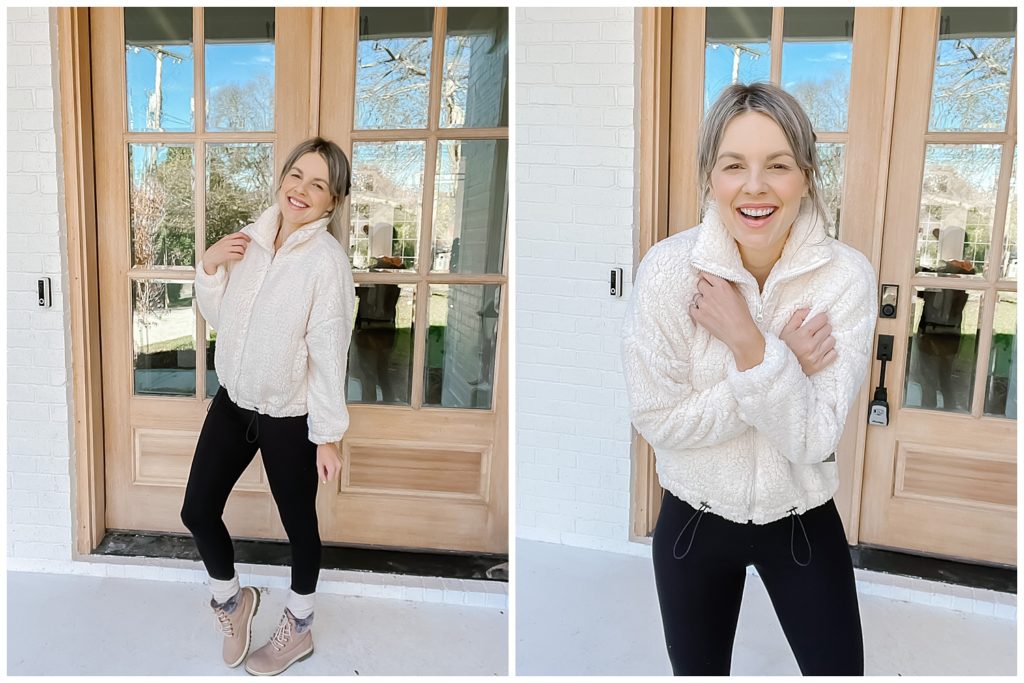 1. LEGGINGS | 2. SHERPA JACKET | 3. BOOTS
Sherpa Jacket
Can you believe that this Sherpa jacket is only $16.96? It has over 100 positive reviews and is cloud-like soft! Like seriously the softest thing ever! I got a size medium which is my normal size and it fits great. The only comment I'll make is that if you have a long arms, the arms might be a little short on you. For me it hit pretty perfectly at my wrist, but I might wear a long sleeve shirt underneath that goes over my hand because I personally like a long cozy sleeve during the colder months.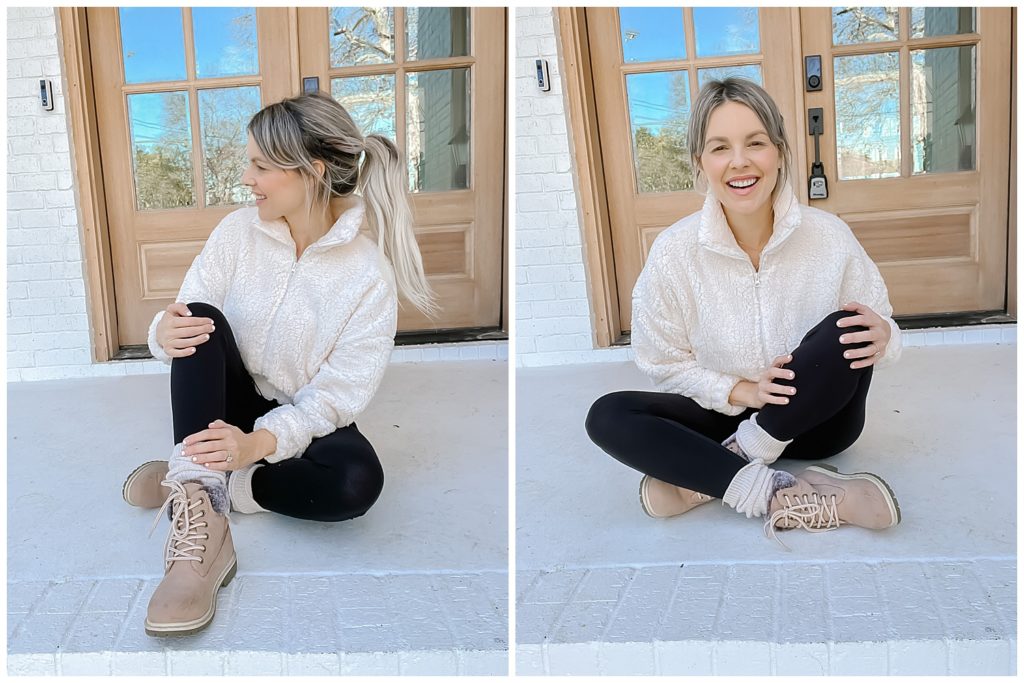 1. LEGGINGS | 2. SHERPA JACKET | 3. BOOTS
My guess is the shorter arm length is because this is a juniors top. But I still purchased my normal size medium and it fits great. This is a steal whether it's for you or your teenager or whoever – you're gonna love it!
To finish off this look, I am wearing these blush boots. Technically the color is blush, but really in real life it's just like a neutral taupe color. I've had these boots for over a year now. I bought them back when we were living with Kevin's parents in Indiana and they look as brand spanking new as the day I bought them. I love them I think they're super cute and they are super super super affordable at only $34.99!
Flowy Top
I want to share this top because let's face it people layer up a ton in the colder months and you could easily wear this under your jacket or cardigan. But then also I wanted to include stuff for people who live in California and other warmer states. When I lived in LA, I would always see people wearing these super cozy sweaters in November in other states and I was always so jealous because it was a gazillion degrees in Los Angeles. What I love about this top is that even though it's short sleeve, it screams holiday with the buffalo plaid and black! I feel like this would be a really cute top for holiday photos or any holiday event. I'm wearing it with the same $6 leggings that I was wearing in the above luck. Again six dollars apiece. The two pack of leggings is $12. Then just a black over-the-knee boot.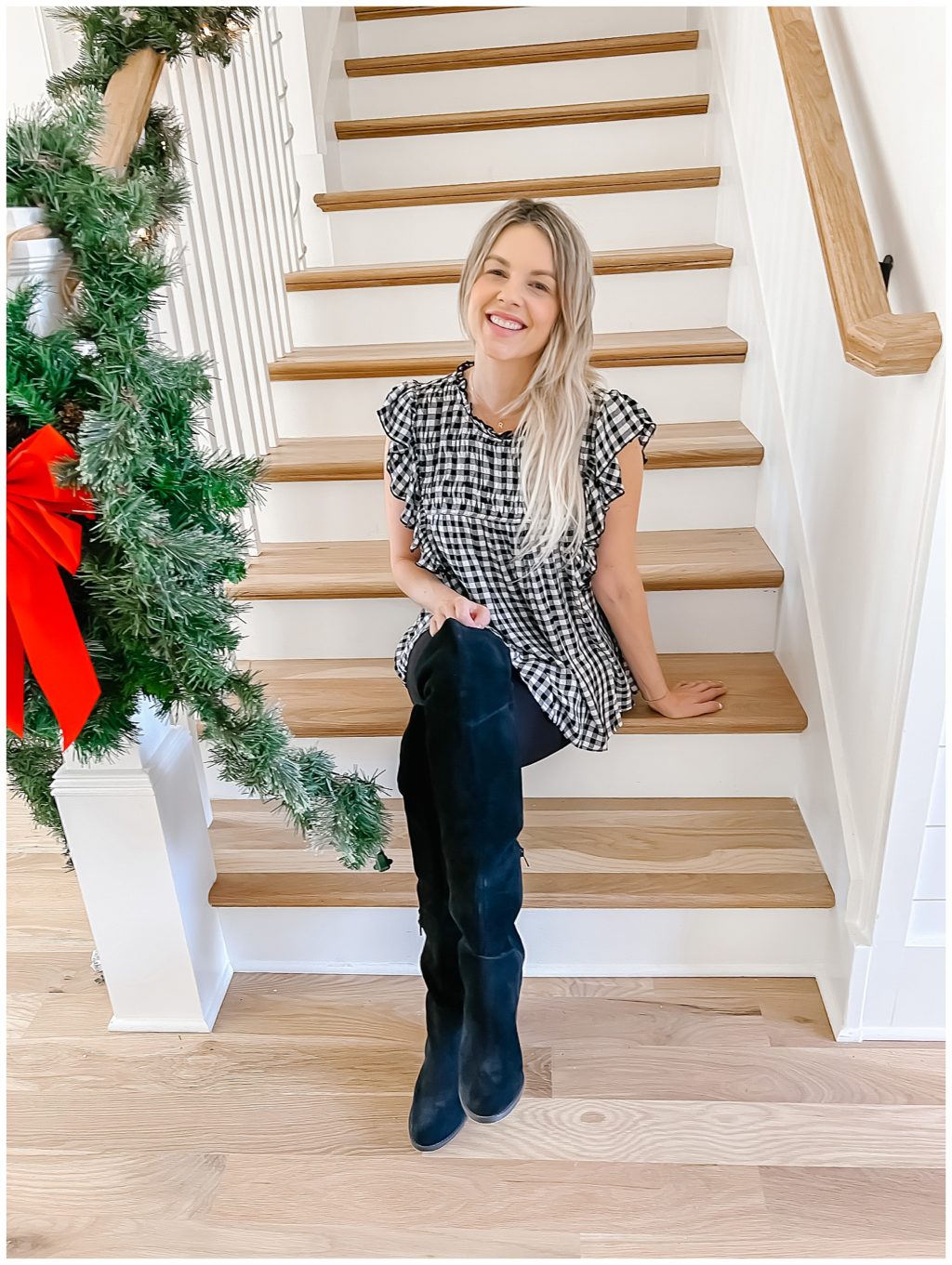 1. PLAID TOP | 2. OTK BOOTS | 3. LEGGINGS
As you can see in one of these photos, this top is super flowy so it's really great for camouflaging your midsection if that something that makes you feel self-conscious and this would even be a really cute top for somebody who was expecting. Or really if you just wanna be comfortable and wear a flowing pretty top! And the price? $14.98! I love a good deal!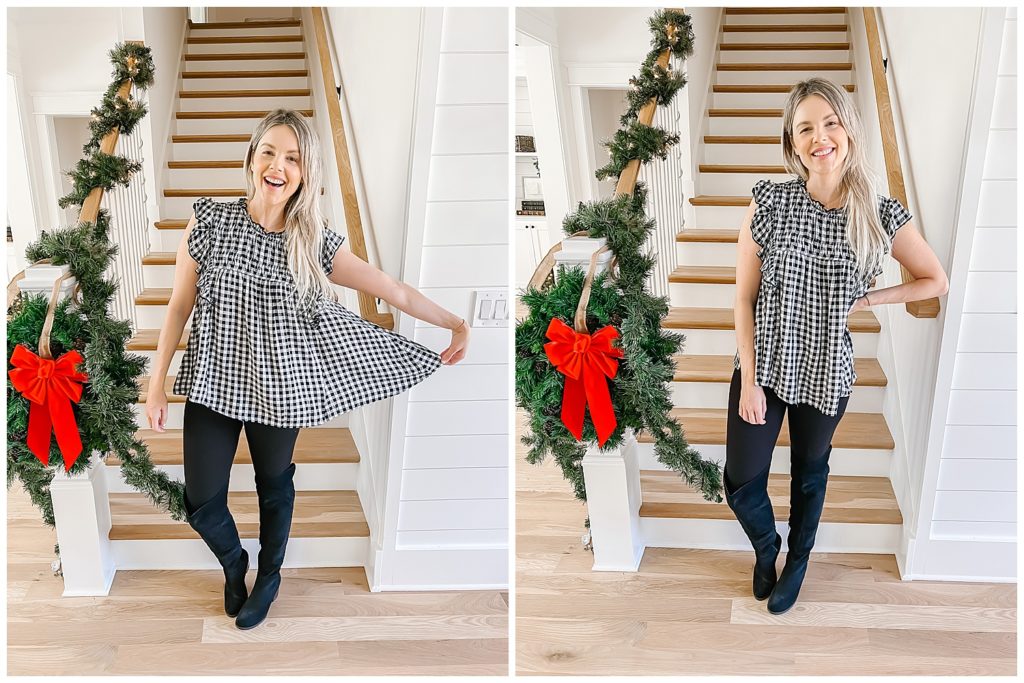 1. PLAID TOP | 2. OTK BOOTS | 3. LEGGINGS
Striped Top (3 pack or 2 pack!)
I can't say enough good things about this top. You guys might recognize it cause I wore it all day yesterday and it is so flattering, so comfortable, and just the perfect go to shirt to wear basically all the time. I bought it in a three pack for $17.96. So not only did I get this long sleeve T-shirt in the stripes, but I got a gray thermal, and a white cami. I mean with a steal to get three tops for $17! Plus, they are 3 tops that you really just wear all the time. If you don't need all three, it also comes in a two pack for only $11. You can get different color combos so you can pick what you like best! These tops range in size from XS to XXXL.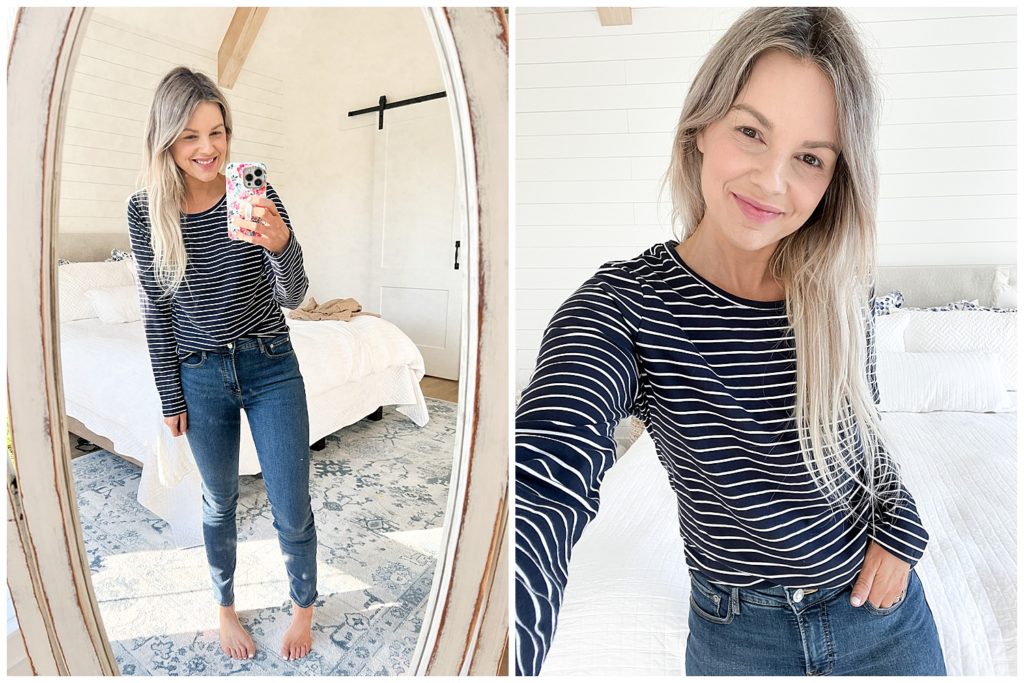 Tan Cardigan
I wanted to end with one of my absolute favorites! This tan cardigan is gorgeous! It's $17.98, super soft, and has incredible reviews! I also just love the color. In reviews, some people say that it runs a little big and I actually agree with that because I accidentally ordered a size extra small and as you can see from the photos it fits me pretty well. Maybe a little small now that I'm realizing it. But honestly I didn't even think twice about it until I went back and saw what size I ordered when I was writing this post. So I would say size down and it will fit perfectly. I'm telling you you're gonna love this cardigan.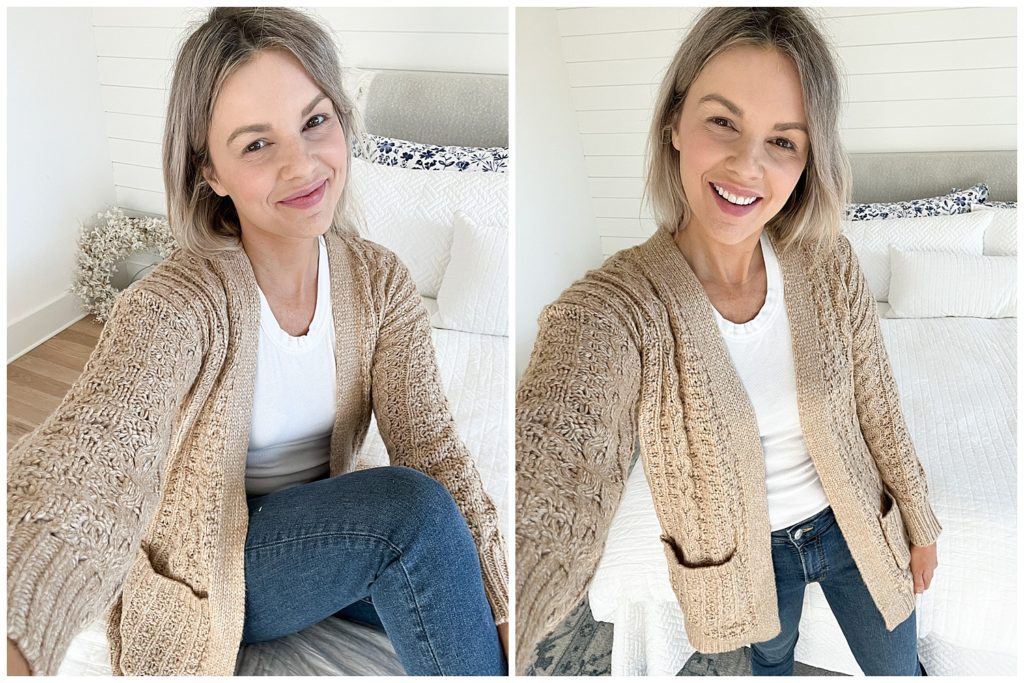 Happy (Affordable) Shopping!
Well that's it for me. I hope you guys love this post! I truly put my heart and soul into these posts and work so hard on them to find pieces I absolutely love that are accessible for many people to be able to afford and purchase for themselves. Let me know what you think and let me know if there's anything specific you'd like to see in a future Affordable Friday posts and I will do my best to find it! Like would you like to see holiday dress options? New Year's Eve options? Tell me in the comments below!
And as always thank you so much Walmart for being such an incredible support and sponsor for my blog! I'm so grateful.