Thank you Walmart+ for being so awesome, sponsoring this post, and making my life so much easier and prepared!!!
Kevin has come around to the helmet side! Ha! If you follow me on Instagram then you probably have been laughing along with my helmet story. I stand by my decision to get them even though I might've been a little paranoid when I originally ordered them. Ha!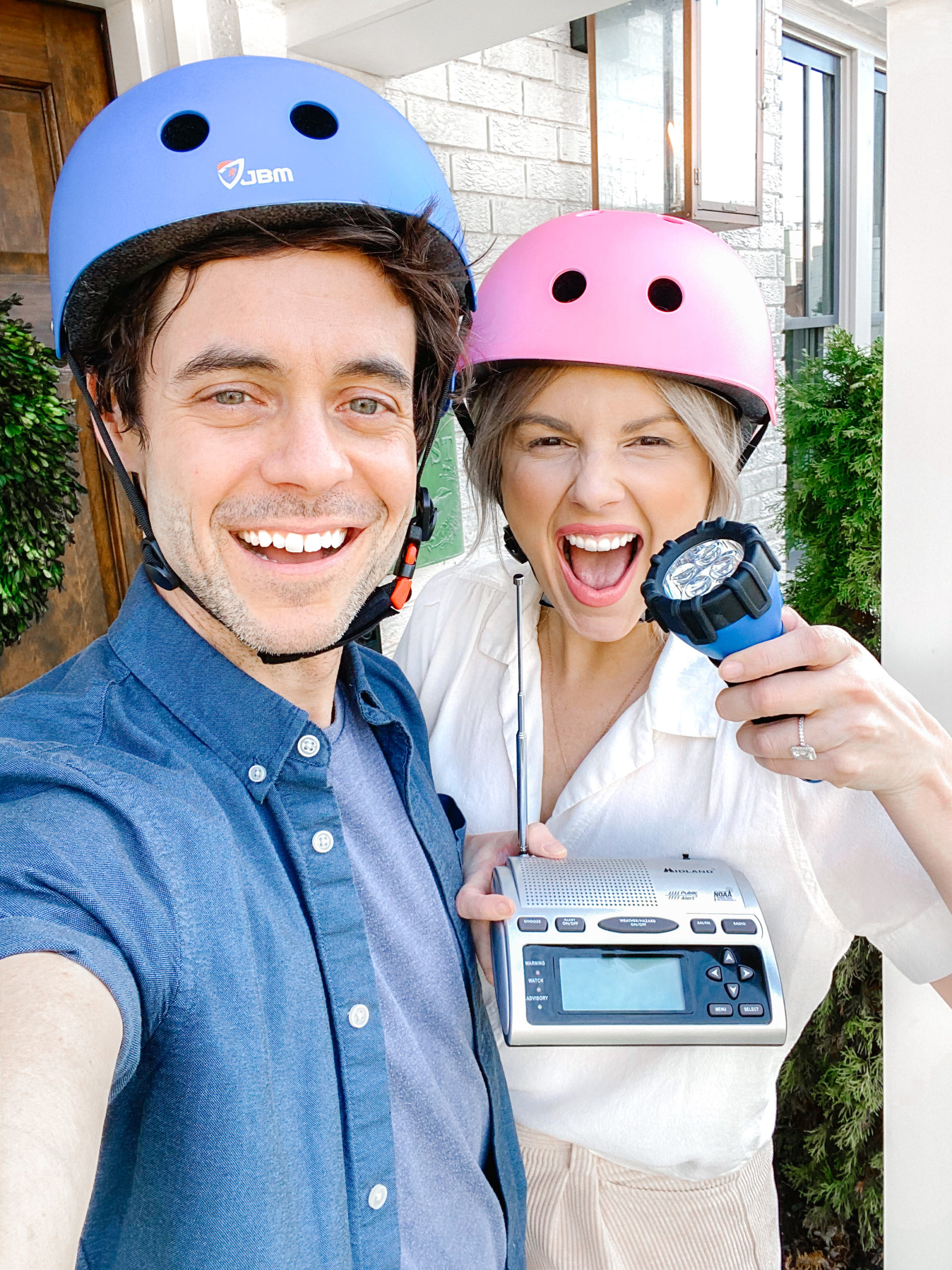 1. HELMETS | 2. NOAA WEATHER RADIO | 3. FLASHLIGHT | 4. WHITE BLOUSE
Be Prepared!
In all seriousness, when we had intense storms a couple weeks ago and I wasn't really prepared. I hated that feeling. I had an emergency kit for earthquakes when we lived in California, but I didn't really have a plan for natural disasters like tornadoes here in Nashville. So that storm definitely lit a fire under me to get prepared. While getting prepared I realized more and more, not that I hadn't known already, how helpful my Walmart+ membership is. I'm telling you, I have saved so much money in my shipping costs alone since I signed up, that it's already paid for the membership three times over. This blog is an example of where it was helpful when I was feeling a little frantic and felt super grateful for it.
Because I felt so unprepared for a natural disaster, I really wanted some things and wanted them quickly. I thought about running out to Walmart and picking some things up, but I had so much else going on that I decided to jump online instead. That said, I will say that when I do go into the store, I love that I can check out on my phone using the mobile scan & go benefit in the Walmart app. It gets me out of the store quickly and allows me to have an easy and contact free check out which I really appreciate. I'm all about social distancing as much as possible when I go to the store.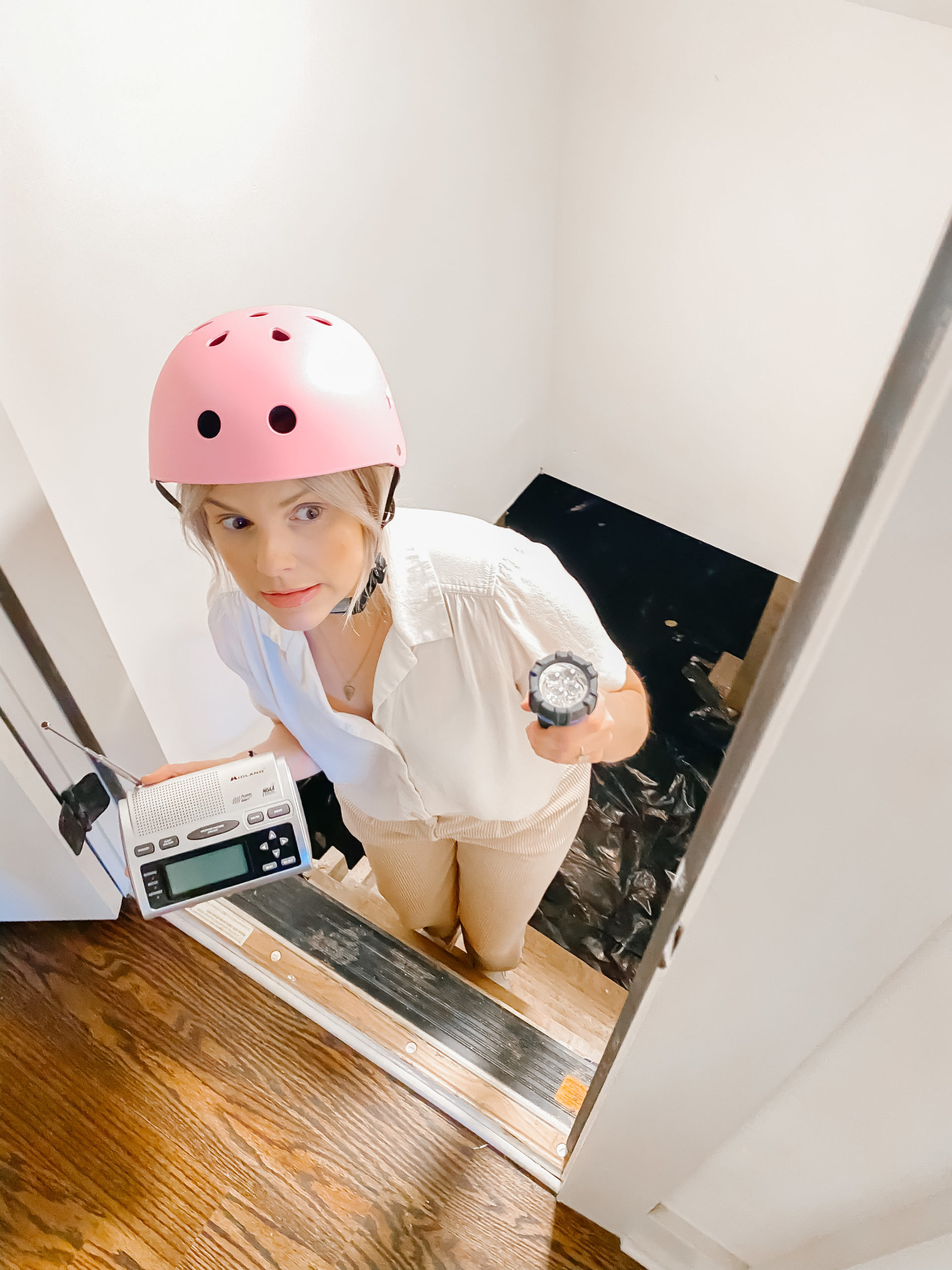 1. HELMETS | 2. NOAA WEATHER RADIO | 3. FLASHLIGHT | 4. WHITE BLOUSE
Even though I felt super anxious to get things like flashlights and helmets, I knew that if I ordered things on walmart.com they would come quickly with my membership. One of my absolute favorite things about Walmart+ is that you get free shipping from Walmart.com with no order minimum. But just an FYI it excludes oversize, freight and Marketplace items, but that's it.
When I was on the site, I bought the helmets, the Midland NOAA weather radio, and the Dorcy lanterns. Oh and they are solar powered lanterns because you never know how long you could be without power. After I placed the order I realized I forgot to order a couple flashlights. So I threw two Dorcy LED flashlights in my cart and because I have a Walmart+ membership I got free delivery even though my under order was under $35.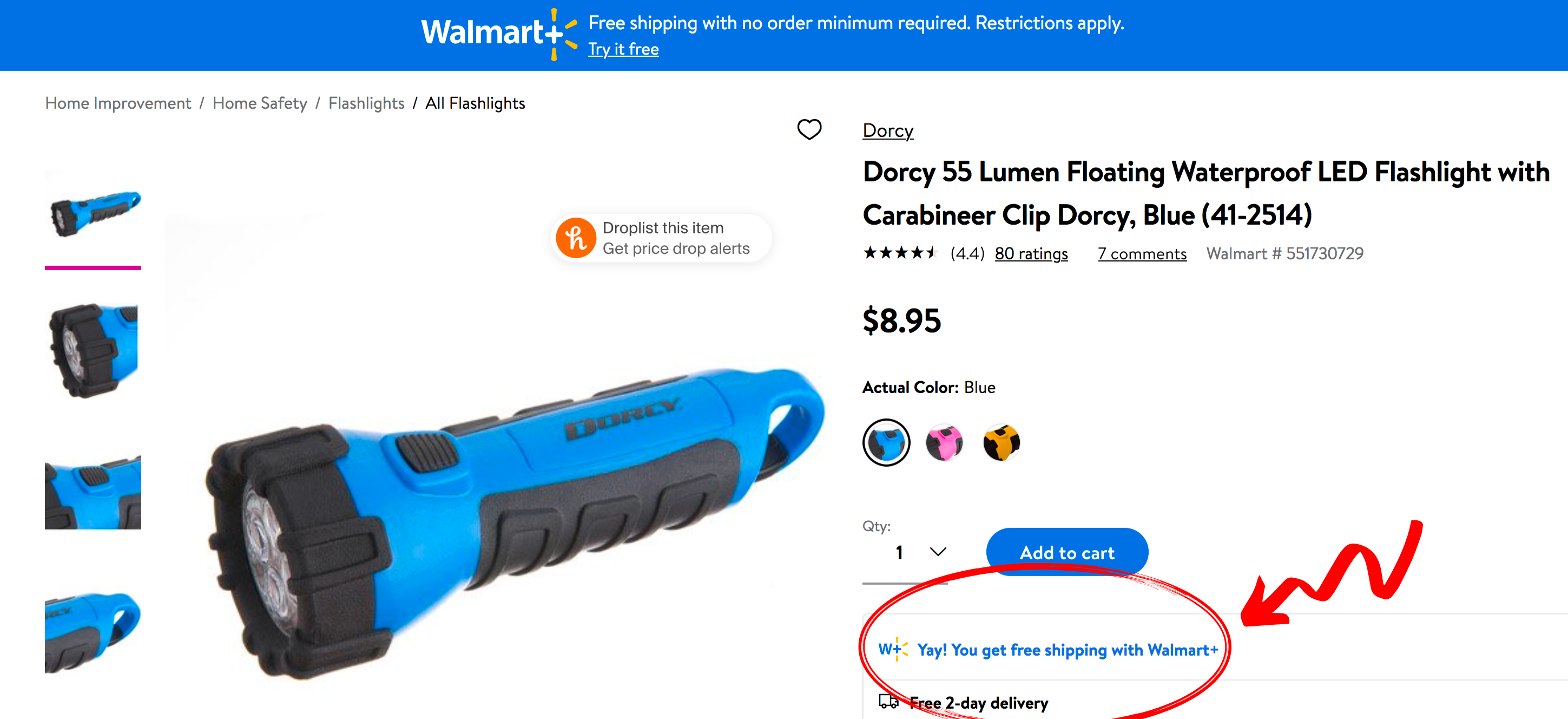 1. FLASHLIGHT
As you can see above, it tells you when an item is eligible for free shipping before you even add it to your cart! I can't even tell you how many times this feature has come in handy. Whether it's realizing I need to order a battery for our security alarm, or a new pair of shoes for Riley because he outgrew his. I love that I get free shipping no matter what I spend. I can spend $5 and get free shipping or $30 to get free shipping. It's just the best!
Quite frankly I feel like as a parent, I'm always forgetting things or needing something small for Molly or Riley that I forgot to pick up. So having this benefit of free tw0-day and next day delivery has just been helpful on more occasions than I could possibly count. If you didn't get a chance to read my last blog about how Walmart+ helped me keep the kiddos busy I highly recommend checking it out to just see other instances where it could be helpful to you like it is to me.
Free Grocery Delivery
I also think the Walmart+ membership can save you guys a lot of money when it comes to grocery delivery. We've been getting our groceries delivered 80% of the time for the last year and we plan to continue doing that now that we realize we can help keep our family healthy, even well beyond the pandemic. All the little charges that can come with some delivery services really add up! So I absolutely love that with my Walmart+ membership, I can get free grocery delivery from our store (you have to spend $35 and some restrictions apply).
Save Money on Gas!
Also I know a lot of people have been choosing road trips over flights and I suspect that trend will continue. So the fact that you can save 5¢ per gallon on gas at Walmart and Murphy stations is just an awesome bonus! On top of that you have access to member pricing at Sam's Club fuel centers. So over time, you're really going to see all the savings add up to well over your membership price.
Take Advantage of my Affordable Fridays!
One thing I want to also add if you're a fan of my Affordable Friday posts, when you're a Walmart plus member, you will be able to buy as many individual items from my Affordable Friday posts and get free shipping. For example, the white blouse I am wearing in these pics was part of my last Affordable Friday post and it's only $24. Seriously it's one of my favorite shirts ever.
With a Walmart+ membership, you could order the single shirt and get free shipping. Normally you'd have to put $35 worth of items in your cart to get it shipped for free. So I just think this is another way the membership will come in handy if you are a fan of my affordable Friday posts. Or say you want to by the $12 t-shirt or $27 jeans I talked about in last week's Affordable Friday post – pictured below. You can get either item shipped for free and only buy one product. I guess I just feel like it further benefits me overtime because a lot of times I would throw extra things in my cart to get the free shipping and now I don't have to. I buy what I need.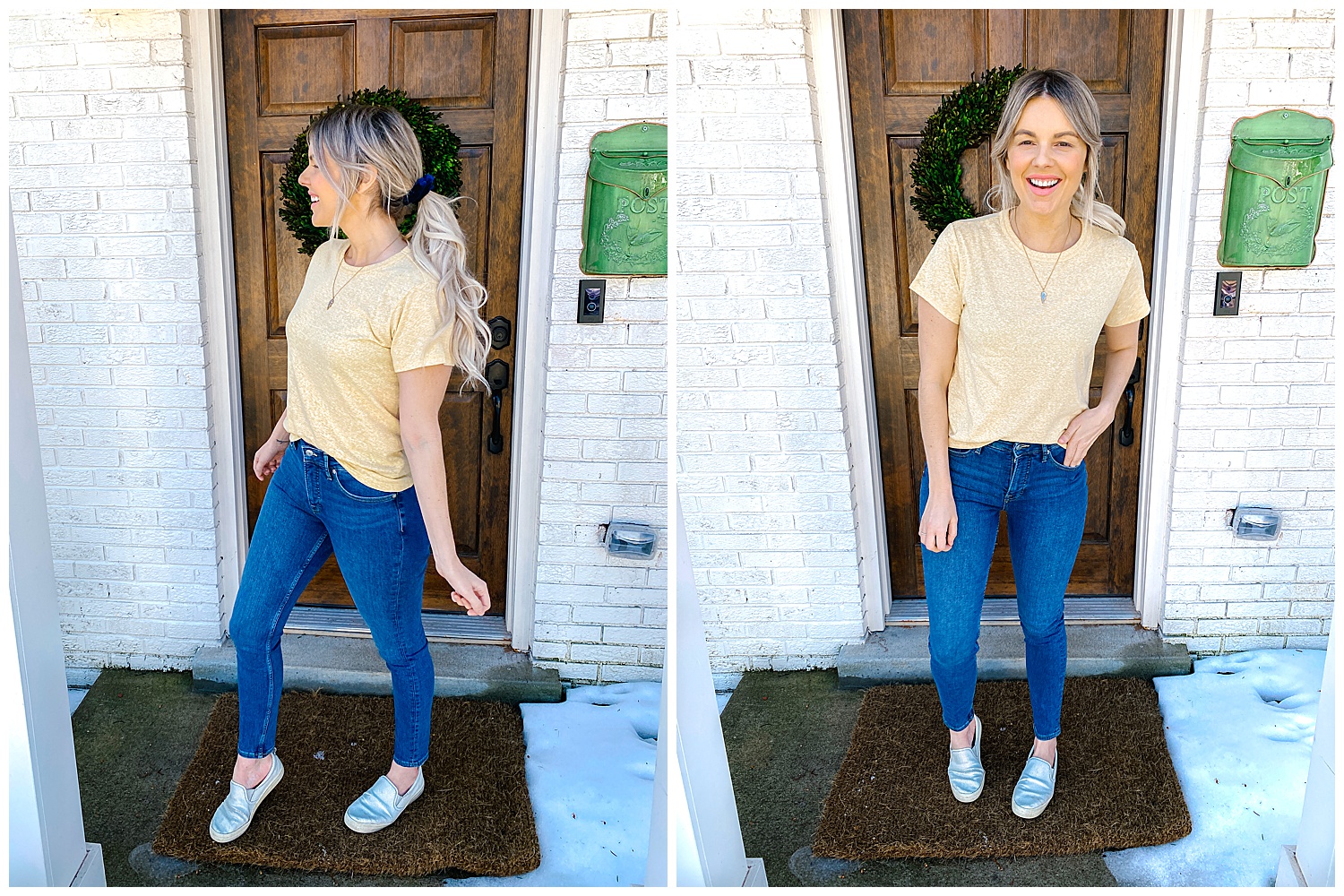 1. PALE YELLOW TEE | 2. LIGHT BLUE TEE | 3. $27 JEANS
Do You Have Walmart+?
Do any of you reading this have Walmart+? If you do, what are you loving about it? I'd love to hear your stories in the comments below!
Also if any of you have any other recommendations for things I should buy to add to our emergency kit please tell me below – I truly appreciate every single suggestion!
And last but not least, I leave you with how Kevin has decided to use his helmet. Ha!