Oh my gosh, I can't believe we have a new Bachelorette mid-season! 2 Bachelorette's! It's so exciting! I'm so sorry that I haven't been able to watch this season so far and blog for you guys but Madi's been holding it down like a champ! I'm so grateful for her! Also, make sure to read til the end for info on my BRAND NEW Amazon lives!!!!! The sweater I am wearing in the pics below is only $33 and it's the BEST sweater ever! It is linked right below the video of my live for $32.99.
Clare Finding Love
Even though I haven't been able to watch, I will say I think there's something incredibly empowering about the fact that Clare stood up for her love and ended the season when she did. I didn't watch any of the season, so I can't speak to anything that's happened but I will say I know what it's like to be in her shoes and I know how emotional it is.  I wish I had that kind of strength when I was the Bachelorette and put my foot down with producers and just told them from the very get-go that I wasn't moving forward with anybody but Frank and Roberto, the two guys I knew wore my top to the very first night. So I just think there's something pretty awesome about the fact that she knew what she wanted and she went for it and she wasn't gonna waste anybody's time. I know that people having disagreed with a lot of Clare's decisions this season, but I think we can all agree what she did is pretty badass!
That said, I do see the other side. She signed up for the Bachelorette and we ALL only want to spend our time with one or two people the very first night. It's not new. No one REALLY wants to go on dates with all 25 of the men! That's just not a thing. Most people's attraction and heart don't work that way. But here's the difference, even though I wanted to end the season early, I didn't. I didn't have the balls to do it. She did! And I just admire that.
Adding Tayshia to Our Bachelorette Sisterhood
And oh my gosh, Tayshia is the Bachelorette! I'm so obsessed with her and so happy for her! All of us Bachelorette girls have a big text message group and Tayshia was just added! It feels like such an awesome bonus to have two girls added to our text group this season! I love my Bachelorette family and I'm so pumped to have her be a part of it. She's just beautiful, well spoken, smart, and seems super kind. I really just totally fell in love with her when she was on Bachelor in Paradise. The way she was in her relationship with John Paul Jones just showed such an amazing side of her and I think we are so lucky to have her as our Bachelorette.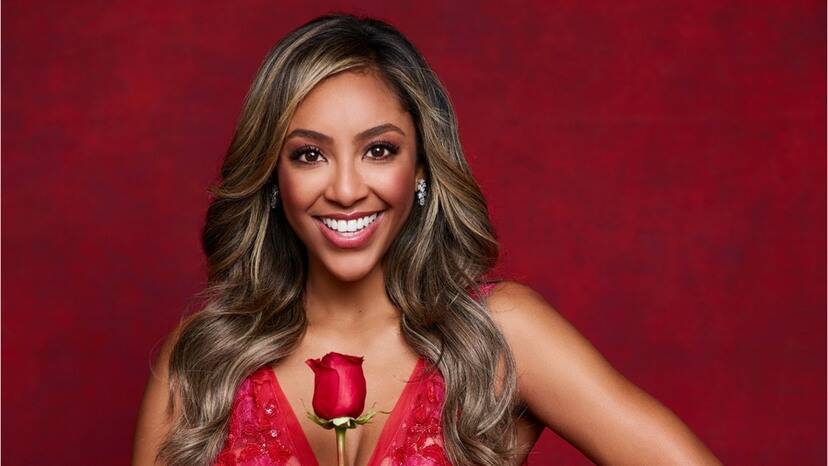 Backtracking for a second, do I think that the producers let Clare leave because she was so strong willed? Yes and no. She put her foot down for sure. But I think the producers knew they just weren't getting a good show because she couldn't hide her feelings for Dale and she wasn't gonna have it any other way. Plus, they probably knew they had an amazing Bachelorette in their back pocket that they could bring in and that was Tayshia. And my gosh did it have us talking before the season started! What do you guys think of Tayshia as the Bachelorette? Are you super pumped for the switch or do you feel disappointed? Or maybe a little of both? Let's discuss in the comments below because I'm definitely going to be chiming in on this blog in the comment section!
2 Bachelorette's
Hi everyone, Madi again here to recap the blog this evening! I know from your feedback that you miss Ali, but she will be back to writing her Bachelor blogs when she can. In the meantime, thanks for reading and chatting with me! It means so much that Ali trusts me to fill in for her, and I love hearing what you all have to say! Now back to why we are here, the Bachelorette! And in this case, 2 Bachelorette's! I've already told you all how excited I am that we have Tayshia as our new lead and it was so exciting having her photo in the intro this episode. I want to jump back to Clare for a second and so this is going to go slightly out of order from the episode.
Clare + Dale ATFR
It was so great that we still got to have an ATFR for Clare and see how they are doing now that it's been a few months since they've filmed the season. It is so nice to see her so happy, and just watching how emotional she was, I truly think that was one of the happiest, most in-love AFTRs that we've seen in a long time. I am so happy for them! Yes, they might have gotten engaged so quickly after meeting each other, but if you remember so did her parents. They had only known each other 3 weeks when they got engaged. Sounds like fate to me! I'm not sure about all of you but I kept watching all her facial expressions the entire time and believe wholeheartedly that they did not talk before the season.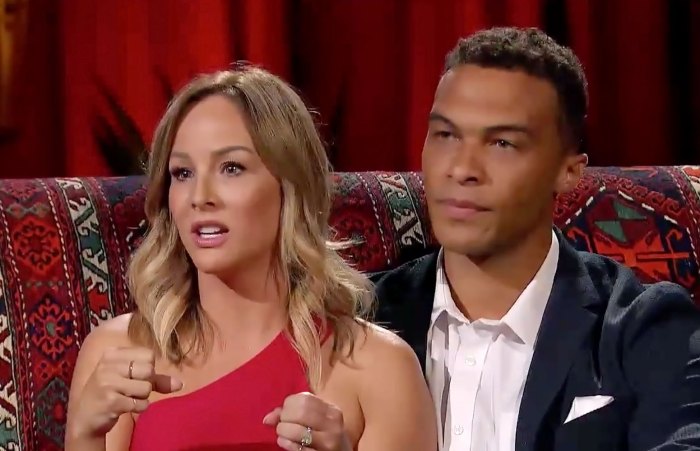 It was sad to see that she feels as though people are not happy for her and that she is hurt by that. I have to say, for a lead she got a truly unfavorable edit. It was almost as if they didn't want us to be super happy for her which I found odd. The more I keep reading online, it seems like there were quite a few sound-bites that were edited in a way to say something she truly didn't mean. For example, that when she says they were talking bad about her fiance, it's rumored that she actually said her "ex-fiance"! If you haven't seen or heard Benoit on a podcast, he speaks about how he came down and they filmed and entire intro package for her and he met the guys. Apparently, they all made jokes about him during the roast but that was cut from the episode. I am not sure why they chose not to air anything about him, but by guess is that they had a strong enough storyline with Dale that they didn't find it necessary. That sure would have helped paint a more clear picture of why she was upset though!
Anyways, I am so happy that she found love and wish them nothing but the best! Her reference to sunbeams coming out of her heart was so sweet and you can tell she is truly over the moon. How do you all feel now that her portion of the season is over? Personally, I am feeling a little guilty that I was so frustrated haha! But I blame the edit! 🙂
Tayshia Night 1
Wow! Didn't she look so incredible!? No wonder the guys' jaws dropped when they saw her.  Eazy's audible reaction was hilarious. Tayshia walking into the group of men was a truly "tables have turned" moment. In a weird way, this almost seems like the best scenario for her. Being that it was more relaxed, it seemed that she was able to have more genuine conversations with the guys right off the bat since they already had been through this and seemed much more calm. The first night conversations usually seem so forced and I feel like the lead usually looks like they are trying so hard to keep up with the convos, but everything just seemed so natural which I truly love for her! A few of them mentioned their newly awakened excitement, and I really see it. Almost more than I ever did with them for Clare (again could have been an edit).
A few thoughts on the guys…
Ivan – He has always come off as really sweet to me, and I didn't see him with Clare. But the vibe between him and Tayshia is really sweet and I see the connection.
Riley – How did I forget that he has a malpractice attorney! This seemed to really surprised Tayshia. I love their energy together too.
Jordan C – I have to admit, I had to look up his name as I was writing this and wrote him down as "glasses" so that I'd remember! Oops. Hoping he gets more airtime with Tayshia than he did with Clare. You can tell he is truly so excited to be there now.
Blake – Loved his honesty because I think he really did have a hard time with the process so far and had been frustrated with what was happening. Plus, I don't think it's too much to ask for a little patience given that it had been what, 24 hours since Dale was pulled out of the room? Maybe less.
Jason – I could tell on his face that he was having a hard time when she first entered the room, and again it was refreshing that he was open about that.
Brendan –  Another one where I forgot his name! But I did love what we saw from him during Clare's time and I think we will be seeing a lot more of him. They seem to vibe right from the beginning and probably would have chatted a quite a bit more if Chris didn't interrupt them for the new limo.
Zac C – If you've read all the blogs, you'd know that he has been one of my very favorites since the beginning. Their pinky promise with the coin toss seemed like a moment you'd want to look back on with your grandkids. Don't you think that their energy in that moment seemed so deep and genuine? I almost got goosebumps! I think he will be here for awhile, especially since she called him interesting and intriguing – she absolutely wants to know more about him.
NEW GUYS
I think it is so important that they brought in a few new guys just for Tayshia. I am not sure if she requested that, but I think it was the perfect way to make her feel at ease with her worry about guys already being to "in it" with Clare. Not sure about all of you, but to me it did seem like Jason was probably the one who developed feelings, but I love that there were a few other guys that came just for her as well.
Spencer – I thought from his intro that he seemed very sweet and she seemed to be attracted to him from that moment. Once he went inside I liked him a little less because he seemed to be stirring the pot. Not sure if he straight up could not answer how many guys were coming, but it just seemed to rub the rest of them the wrong way too.
Montel – His calm energy as he walked out of the limo was so refreshing!
Peter – Didn't really see too much of him to make an impression on me but am excited to see more!
Noah – Totally agree with Tayshia that I think he will be trouble. Ha! Did anyone else get like prankster "Jackass" (the show) type of vibes from him? For some reason I can see him doing the craziest stunts. I can't believe he is 10 siblings, that actually makes sense with his outgoing personality! They probably were always having fun and trying to one up each other. Having tons of siblings must be so fun!
Love that she canceled the rose ceremony to get to know them all more and spend time with them! With only 20 guys, I am sure the producer's agreed this was a great move (it was probably their idea ha!). The guys definitely deserved a chance to talk to her more than once after quarantining before Clare's seasoning and agreeing to start this process over.
GROUP DATE
What a baywatch moment! When that was shown at the end of episode a few weeks ago, it definitely looked like something she did over and over, and not that the guys were going to walk in to her doing that. Who knows, maybe they did 20 takes, but it seemed like the first time the guys saw her! Their casual hangout time in the pool reminder me of her relaxed nature on BIP. It was good to see the guys get to know her in a "real life" sort of setting rather than jumping straight into a date activity like they did with Clare.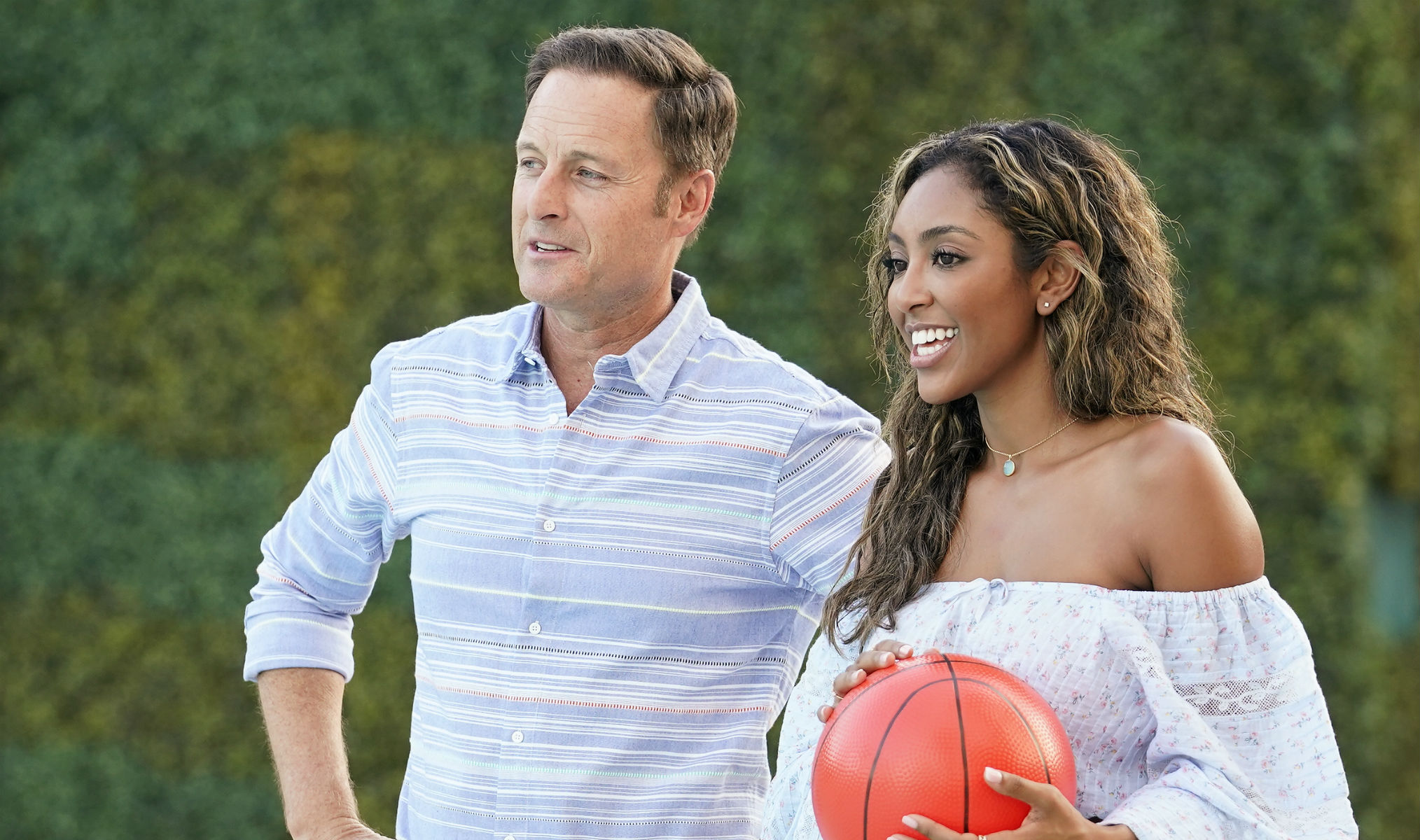 Did anyone else feel like all the guys looked like they were having fun with the splashball game… except for Spencer? I am not sure if he was trying to show off or what, but he definitely seemed to be the only one that was roughing up the other guys and it seemed to piss them off. It would piss me off if I was them! It doesn't even seem worth it to spend more time talking about! I feel like this is one of those date games that could easily have been really fun and where no one got hurt.
End of the Date Cocktail Party
Again, her conversations with the men seemed so easy and unforced. Normally I have an idea of the top 2-3, but in this case, I truly feel like I am stuck between a top 6 right now! Anyone else?! The producer's are really doing their jobs well! Haha. Zac C and Eazy stuck out to me the most from this date day and they both seem to provide her differences that she is wanting. She straight up said that she feels like she needs Eazy there and that he makes her feel at peace, and how Zac C is very comfortable. Both of those statements are one's you could make about a future husband! Not to mention, they seem very into her too.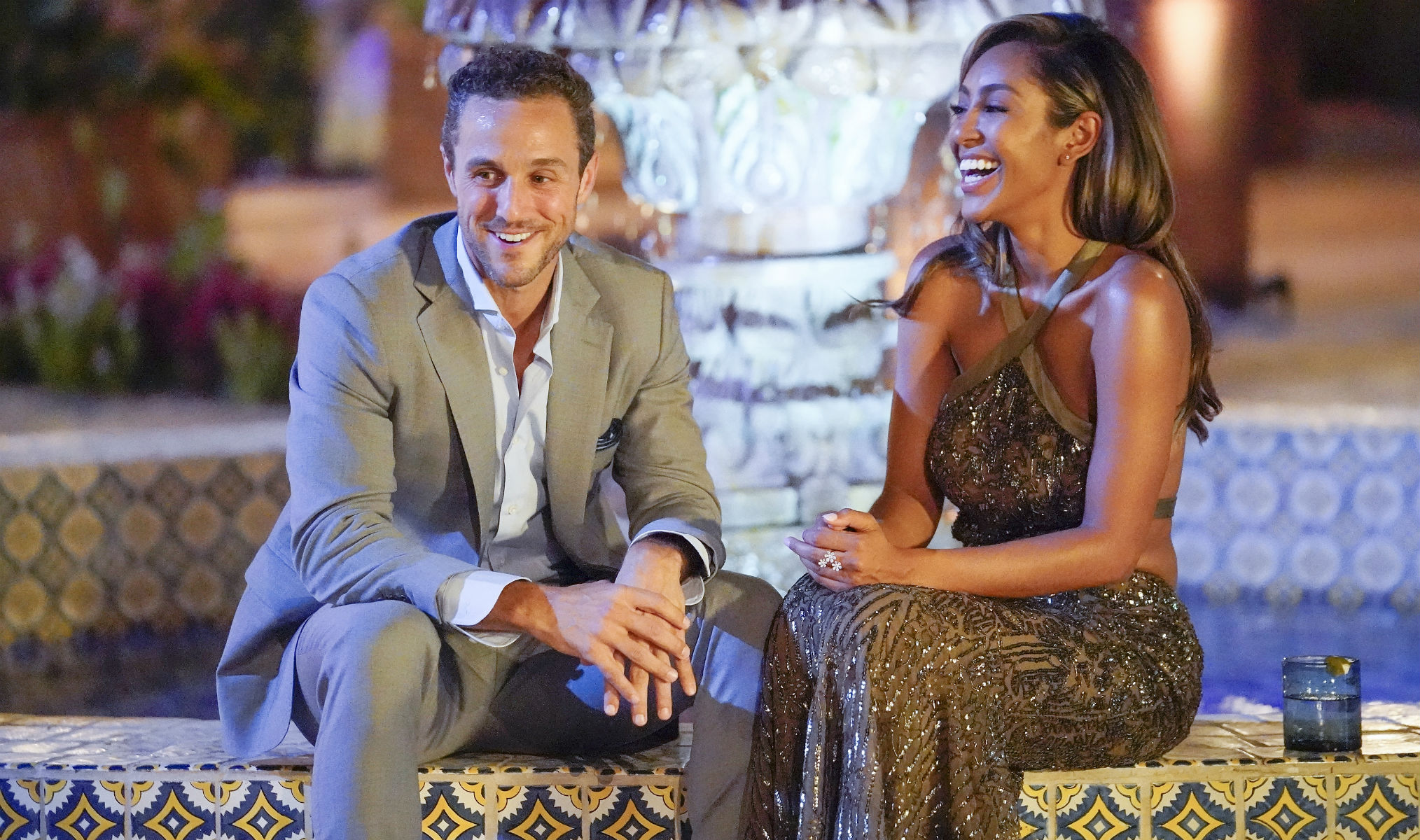 Loved the honesty from Kenny and Zac C when they told Spencer he seems to be stirring the pot and purposely causing problems. You can tell he is really pushing Riley's buttons and has since the moment he walked in. Here's to hoping that we don't see a physical fight between Spencer and any of the guys.
I am so happy for Eazy and that he got the rose! I think their connection will only continue to grow. It was also really sweet of her to give "honorable mentions"!
Brendan's 1 on 1
Right off the bat you can tell that they are both very into each other and I see a real connection there. It's apparent that she's not wasting her time or anyone else's and that's why she chose him for the first date and I am here for it!!! He didn't get too much airtime with Clare, and maybe that is because the producer's and editor's were saving his story line for Tayshia. Being that Tayshia is the first divorced Bachelorette, it is so interesting that they gravitated toward each other without even knowing that they had this in common – and it was so sweet that they both seemed equally nervous to mention this. I remember when Tayshia told Colton and it was very difficult for her.
They truly both surprised each other so much during that dinner, in the best way ever. His facial reactions when Tayshia mentioned she wanted 5 kids was so sweet. He didn't even seem phased and the fact that he wants to be a dad so much is absolutely adorable. Being that this was only their first date and her first 1 on 1, it is crazy that she already said that she feels like she's kissing her person and that feels like she could marry him!! Maybe Palm Spring has something in the water! He's in it for the long-haul and I can't wait to watch more of their story unfold.
Thanks for stopping by!
Phew, this was a long one since we were basically doing a Night 1 over again. If you're still with me, thanks for reading! Ali and I will both be chatting in the comments below and we can't wait to talk about the season with you! It seems like it is going to be a really good one!
While you are here, make sure to check out Ali's blog post from yesterday! She just started doing Amazon Live videos and will be doing a handful each month to show you all her newest finds. Make sure to follow her here so that you are alerted whenever she goes live! And if you missed it, you can still watch her live from yesterday where she talks about their move and Indiana! Her sweater below is only $33!!! She texted me and said it's one of her favorite's ever!