Hii, Madi here! Happy Wednesday! I hope you're all having a great week so far. I can't wait to get right into last night's episode of the Bachelorette… and especially chat about the "quality time" – I am truly thinking it might be one of the final episodes of just Clare… maybe 1 or 2 more. Let's get into it!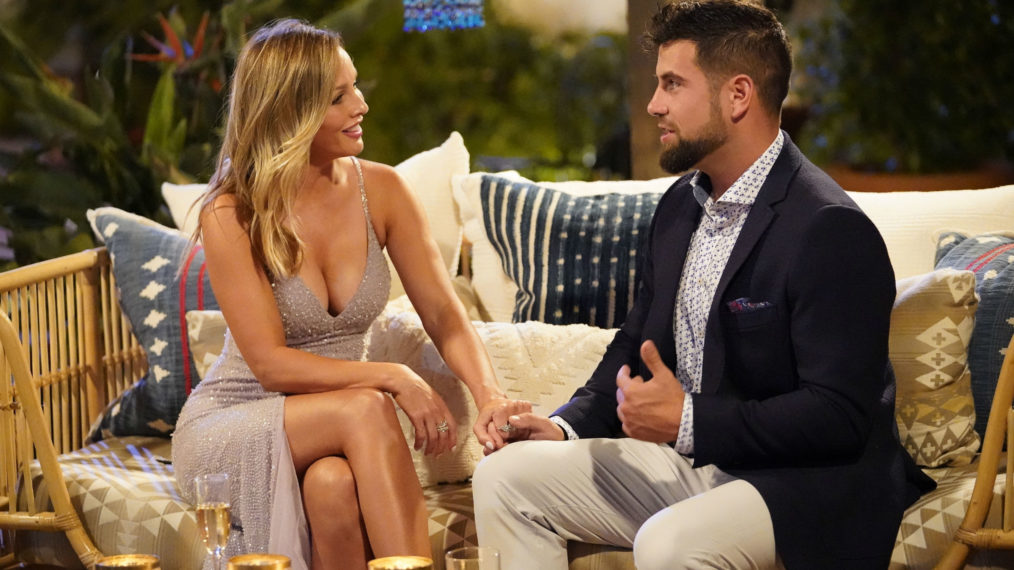 Group Date #1: Quality Time and Love Languages
I'd like to start this off by saying, I am a HUGE love languages person, because it doesn't only affect how you are in a relationship, but friendships too! If you don't know which is yours, I highly recommend looking into it, it truly makes you understand certain people in your life, and yourself, more! Mine is acts of service. Anyways! I thought it was a really interesting date concept for them to think of, I mean they can only do so much and go so far at the resort. Going off what we talked about last week, having a date like this really speaks to Clare's self-love and spirituality too.
Words of Affirmation
I thought that Ben really opened up his heart and it seemed so genuine and sweet. You could tell many of the guys were nervous about this, but he stood out to me! As for Dale, I thought the words he was saying were amazing, like being comfortable committing to love and how he trusts her, but something fell flat to me? If you look at Bennett's face below, I think he felt the same way! I am not sure why it felt so forced because I really do see their chemistry (is it even possible not to?)  Maybe it was just the nerves! And did he really rip is pants running to get his gift?!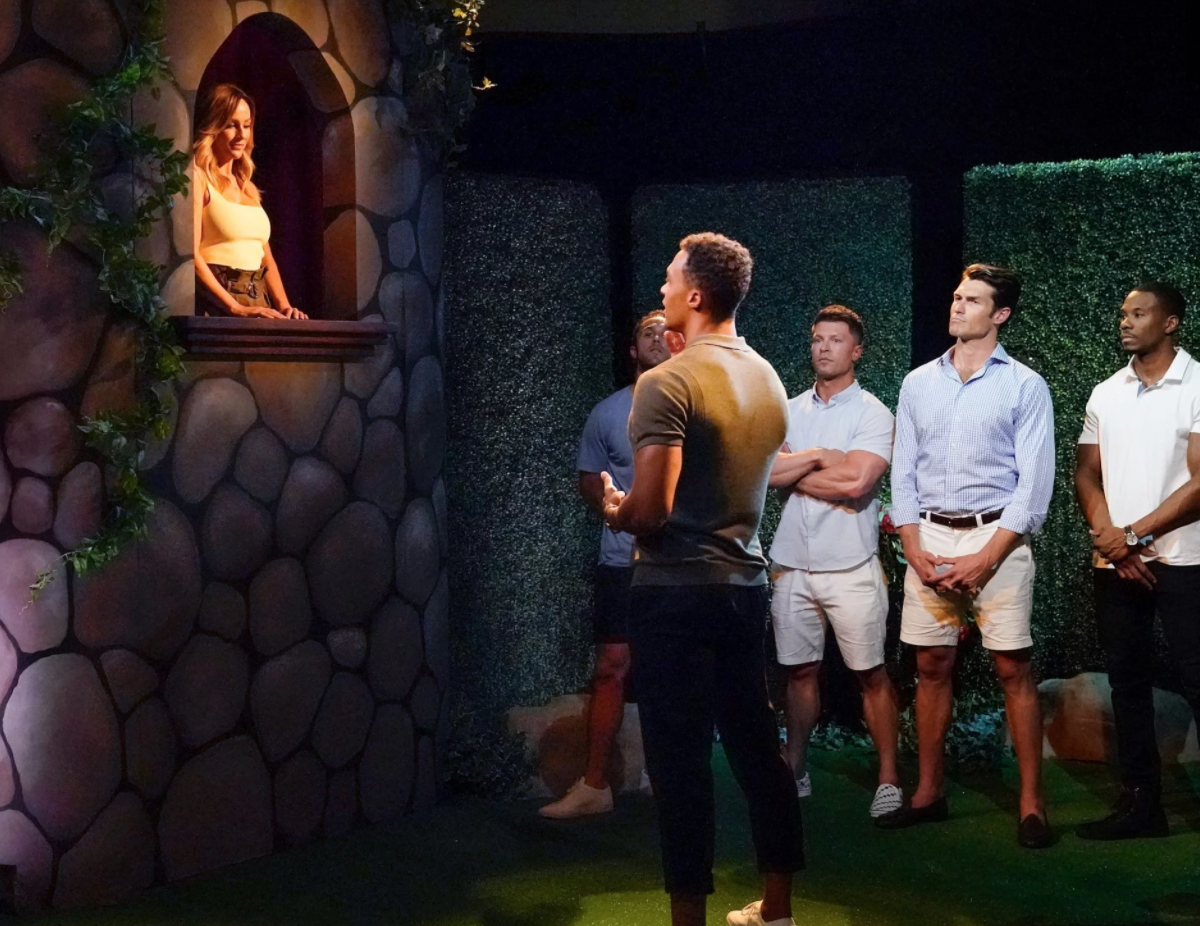 Physical Touch
This  seemed really awkward and uncomfortable. I do think it's better that they did this early on in the season before most of the guys are really getting to know her and are starting to have feelings, but I still did not like it. I am all about the leads being able to talk about and show their sexuality, it just seems rude to do that in front of the other men. Anyone else feel this way?
Cocktail Hour (aka Quality Time)
Cocktail hour, aka Quality Time, did not turn out at all how I thought it would. Being that was their first ever group date, I felt like she really overreacted to them not trying to steal her right away. I am sure they were watching for cues from the producer's or Clare. She really wants men that are there for her, which is completely understandable, but truly that seemed like an overreaction. Some of these may have never even watched the show to know that's when you are supposed to "steal her" away!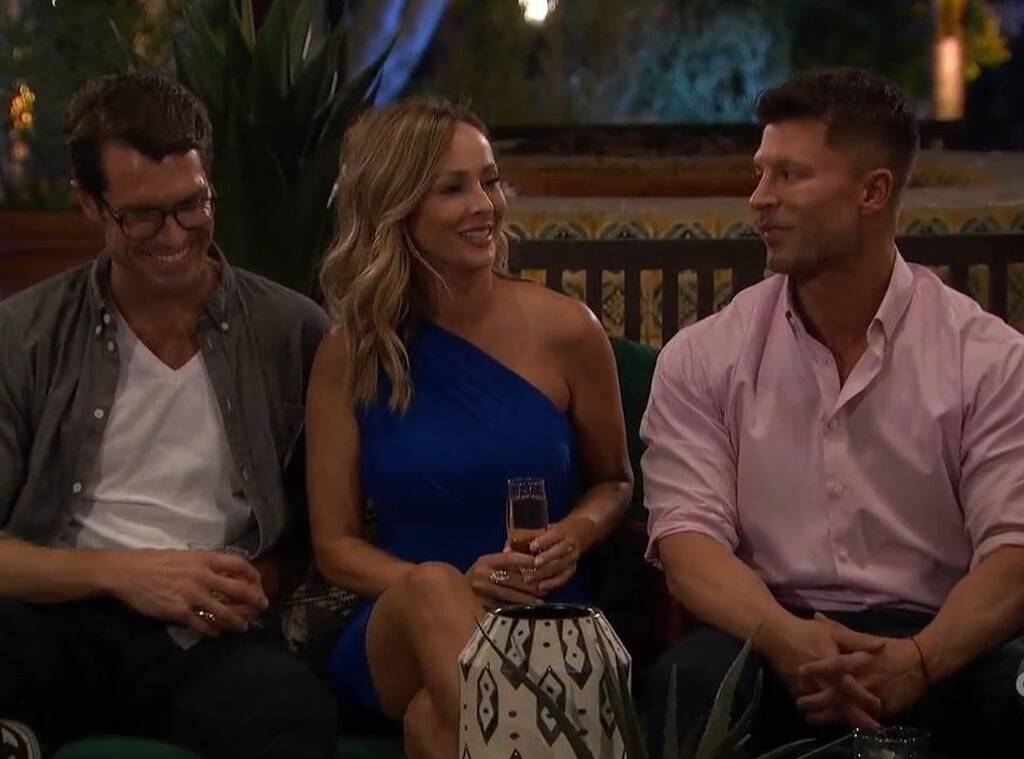 When she ended up walking away with Dale, I kept thinking where is Bennett?! He probably was just patiently waiting in that room for her to come back after addressing the group. Other takeaways: I didn't like that Dale was talking about his first impression rose in front of the other guys, the vibes from Yosef are starting to give me the heebie jeebies, I really loved her talk with Zac C, and was so happy that Riley got the group date rose!
Jason's 1 on 1
This was a very intense first date before even getting to know someone. Sure it allowed them both to be vulnerable and jump right in, but it just didn't seem right. What if there was something really dark in his past that he wasn't ready to explore with her, let alone do it on television? However watching it, I did feel like I saw a lot of similarities in the two of them and I can see why she chose him for this specific date. She knew it would take some inner-work and self-reflection on his end to get him to open up to her, and this way she was able to open up about some harder times in her life too. I did feel a little bad for his parents knowing that they are still together and probably watching. Although I am not sure that I really see them together, they both seemed to have a good time opening up to each other and being able to shatter the words that hurt them and speak to their younger selves, if anything it helped heal them both a bit.
Group Date #2: Strip Dodgeball
I feel like I absolutely know what Ali would say if she was watching this because she has been vocal about similar dates on seasons of the Bachelor in the past. First of all, I am not sure why they always choose these types of "violent" dates. I am glad no one got injured playing dodgeball, especially when they were partially undressed for some of the games. If you've ever played before, you'll know that it definitely hurts a bit, and on bare skin, ouch! I also just never like when they have any of the contestants "strip down" – to bathing suits, in speedos etc. If you want your men to all be there for the right reasons and to be your husband, why would you want them to be basically naked on television? I always think about how Kelley was uncomfortable with the pillow fight last season because she didn't want her clients to see her like that, and I feel the same way about this.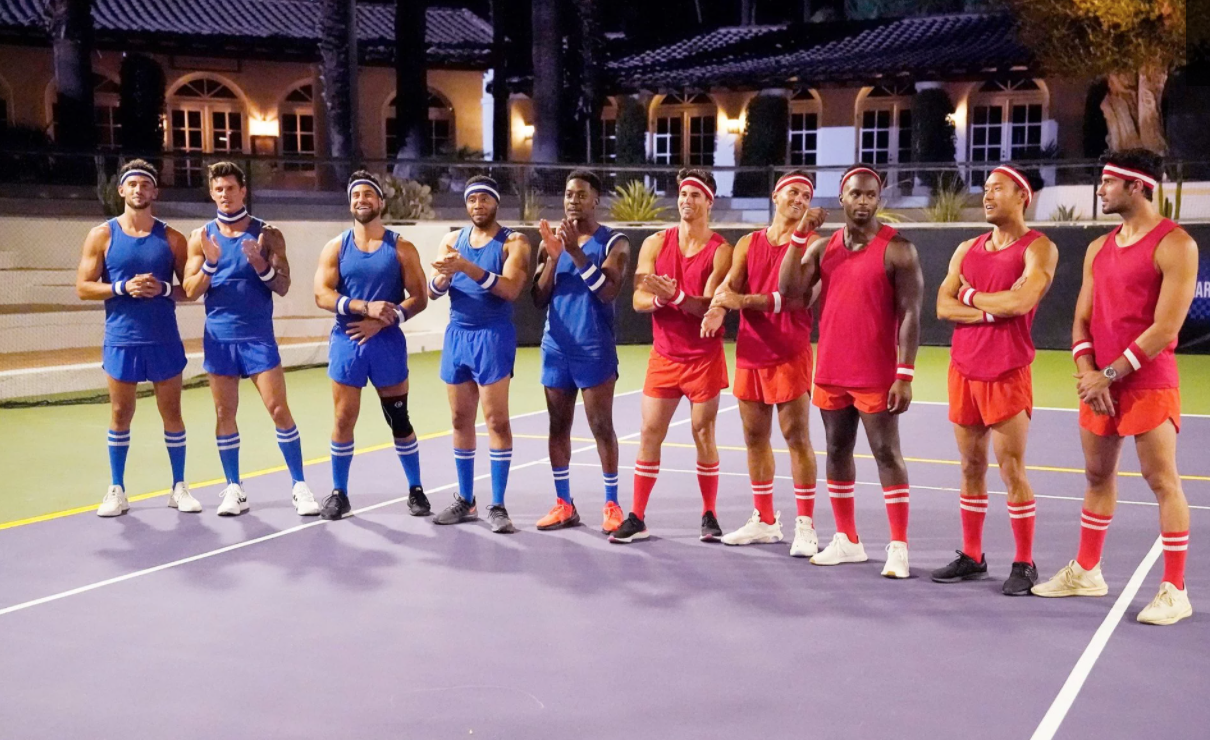 Also, when they do "elimination" group dates where some of the guys have to leave, I feel like they typically give the lead and the contestants more time to hang out! Or the lead is involved with the game, like how Peter was on the field during the flag football group date. It was a bummer that the men didn't get ANY time with Clare before having to leave, and I can totally see why Blake ended up crashing it.
I did think it was really interesting that she sent Brandon home because she felt he only cared about her looks, even though that was right after she had the guys play strip dodgeball? It just seemed like interesting timing. Maybe it wasn't the best to say that he applied once he found out she was the Bachelorette if it was only for looks, but I feel like so many contestants do that. He probably would have gone home at the next rose ceremony anyways, but I did feel bad that she embarrassed him. I'll give her the benefit of the doubt though, because it was clear that she was really offended.
On another note, I wanted to mention how sad it is that Fred Willard passed away this year, he was such a huge part of Bachelor Nation! This is definitely the type of date he would have hosted with Chris Harrison and told his jokes.
Thanks for stopping by!
The reason I stated above that I think this is one of Clare's last episodes is because if you notice, all the footage that they are showing for what's coming up this season could essentially happen in one or two days. Do you feel that way too? It almost feels like a complete recap of all that's left of her time on the show, except for the key aspect of why the guys are mad and mention needing a new Bachelorette. I mean even the scene that was used to promote this season with the guys all running to a room like they were pissed about something already happened in tonight's episode and was apart of their group date game! I guess we will see! There is so much that we could have discussed from this episode, so let's continue in the comments below!
While you're here…
Did you see Ali's newest post about toys to get your kid's for the holidays?! Molly is a serious rockstar in all the photos, you can tell music is apart of her soul! HAHA 🙂 I love that they found the Frozen karaoke machine before Christmas, sounds like something that I would do as a child. I'll quote Ali below about it:
"While I planned on hiding it in the shipping container to send to Mimi and Papa's house for Christmas, Molly and Riley found it early! Ha!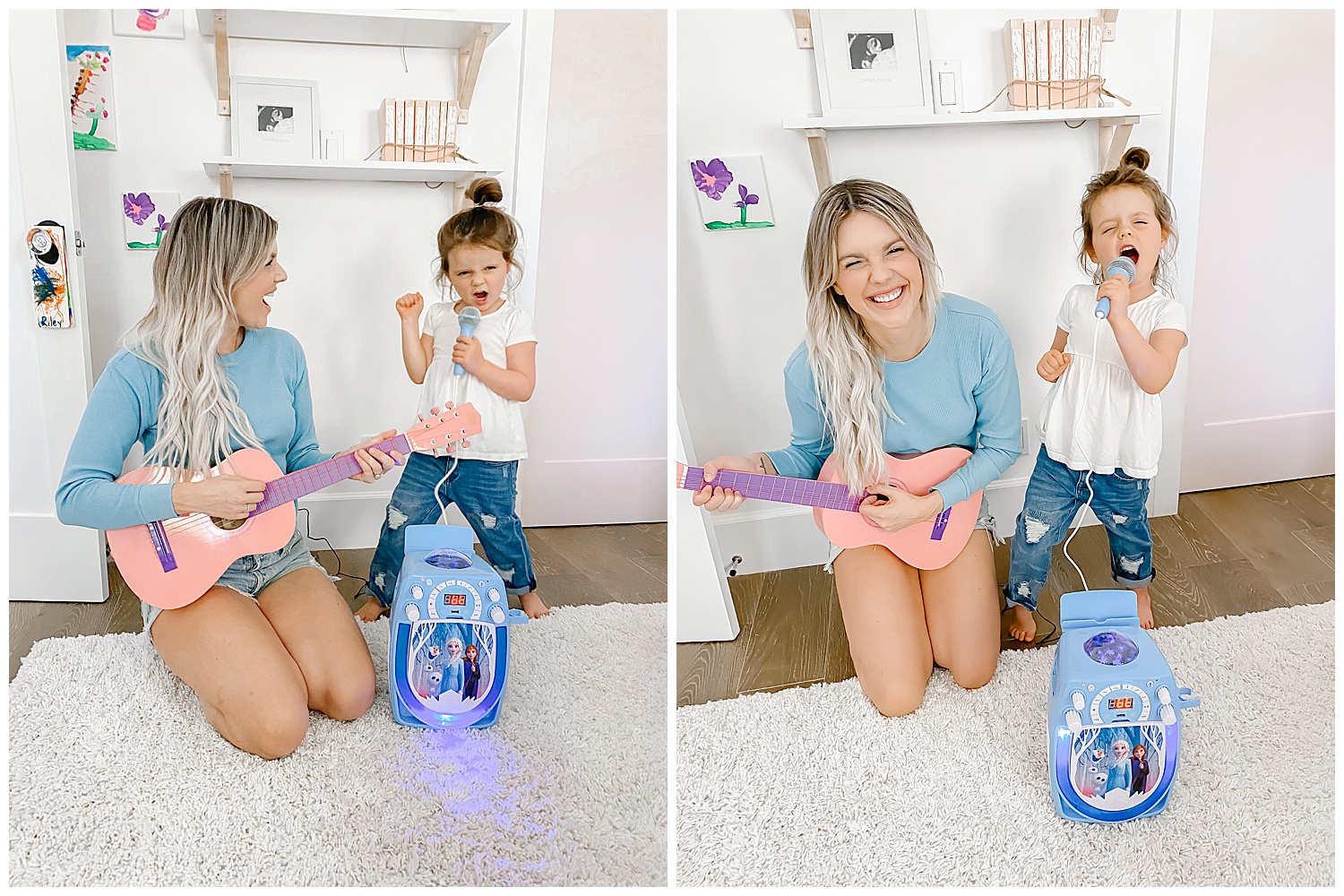 1. FROZEN KARAOKE | 2. GUITAR
But honestly, I'm glad they did. We have been having so much fun with it! Not only is it a karaoke machine where she can sing her absolute favorite songs (It connect to Bluetooth so you can play anything!), we all know how much Molly and Riley love to sing, but it also projects snowflakes up on the wall. They just think it's the coolest thing ever! They keep talking about how they're going to use it outside of Mimi and Papa's house when it's really snowing when we get there.
Molly's favorite thing to do is take it into her room because it's super dark in there from her black out curtains and just have a little solo concert by herself. And at the end of the day, it provides them with hours of entertainment! Below you'll see a photo of Molly singing a bedtime song to Riley!  They love it, I'm getting the cutest videos of them ever in this house singing with it, and I just think it is such an incredible gift for any little Frozen fan or singing fan!"
Definitely check out her blog if you haven't already! I don't  have kids but it gave me so many ideas for my younger cousins! I also loved the idea of these Silly Scents markers. I think it is SOO funny that they are sweet and stinky. I might even get them as a stocking stuffer for my husband!!! Haha!