Hi guys! I can't believe I'm already writing posts about potential holiday gifts! I don't know about you, but I'm really looking forward to the holidays this year more than ever! I think it's safe to say it's been a tough year and I know many of us could use some holiday cheer. That said, to get me in the spirit I've started my holiday shopping extra early this year! Plus, I love that I can ship most of the items to my in-laws house so they're already there and tucked away for December. So today on the blog I partnered with Walmart and I'm sharing some of my favorite toys for kids that both of my kiddos really love! Walmart is always my go-to for toys. Who doesn't want to get their kiddos fun toys that theyNot only do they have everything under the sun, but I love the convenience of Walmart+ and getting everything delivery quickly or being able to pickup curbside if I need to. Plus, they have great prices!
You'll see that all these gifts are based around music and arts. I've just found that my kids are so inspired by music and love to sing and play instruments and I really want to foster that love. So if I'm going to get them a toy, I feel like I can't go wrong with something musical or artistic!
Frozen Karaoke
I know what you're thinking from looking at these photos. It's what I would think. Why do I have this at my house when I should've just shipped it to my in-laws. And why did my kids get it early? Ha! To be honest with you, I started my holiday shopping about two months ago. The holidays tend to be a really busy time for me, so I'd like to get a lot of my shopping done early and like I said above, this year I think I just really desperately wanted to get into the holiday spirit as early as possible. And while I planned on hiding it in the shipping container to send to Mimi and Papa's house for Christmas, Molly and Riley found it early! Ha!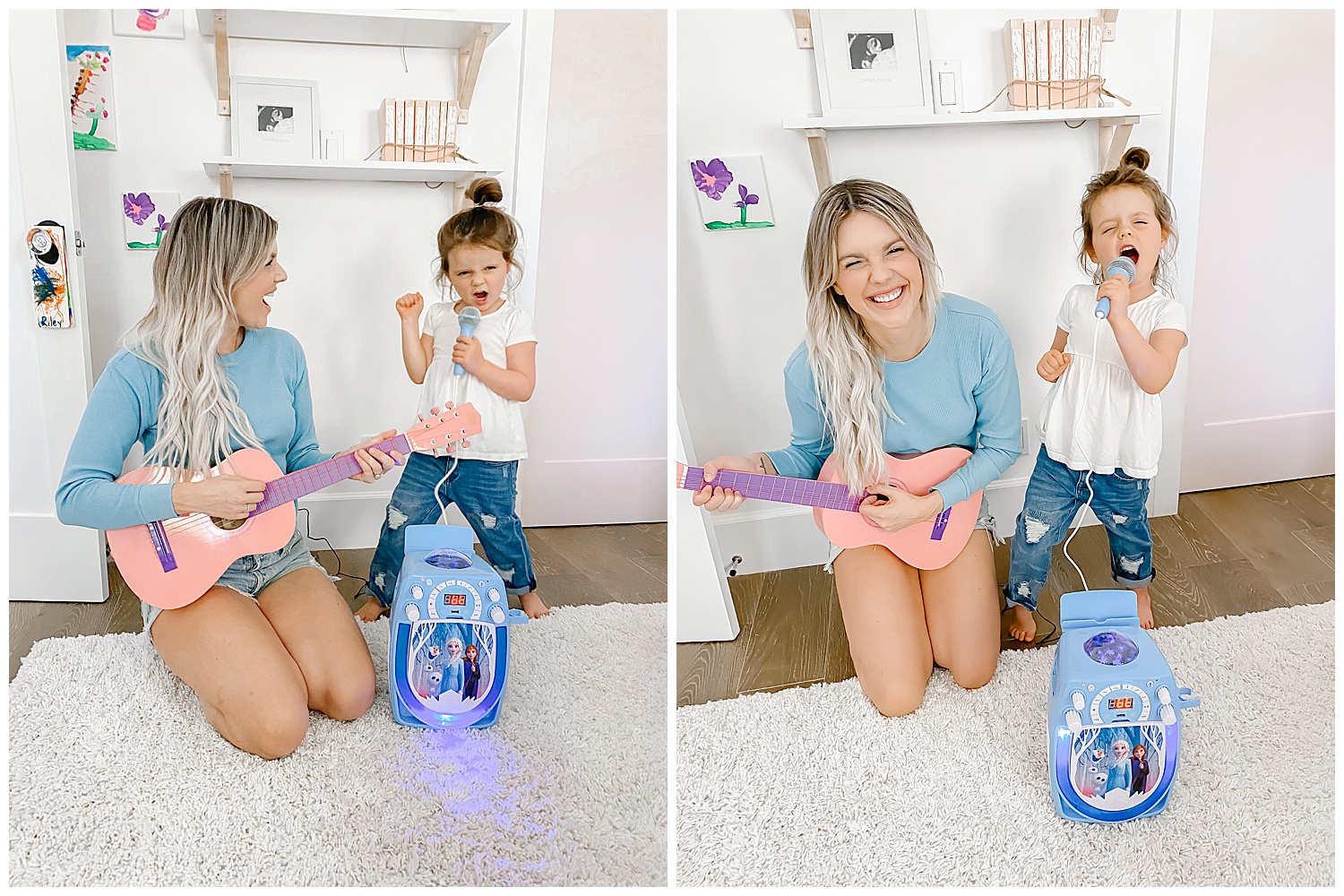 1. FROZEN KARAOKE | 2. GUITAR
But honestly, I'm glad they did. We have been having so much fun with it! Not only is it a karaoke machine where she can sing her absolute favorite songs (It connect to Bluetooth so you can play anything!), we all know how much Molly and Riley love to sing, but it also projects snowflakes up on the wall. They just think it's the coolest thing ever! They keep talking about how they're going to use it outside of Mimi and Papa's house when it's really snowing when we get there.
Molly's favorite thing to do is take it into her room because it's super dark in there from her black out curtains and just have a little solo concert by herself. And at the end of the day, it provides them with hours of entertainment! Below you'll see a photo of Molly singing a bedtime song to Riley!  They love it, I'm getting the cutest videos of them ever in this house singing with it, and I just think it is such an incredible gift for any little Frozen fan or singing fan!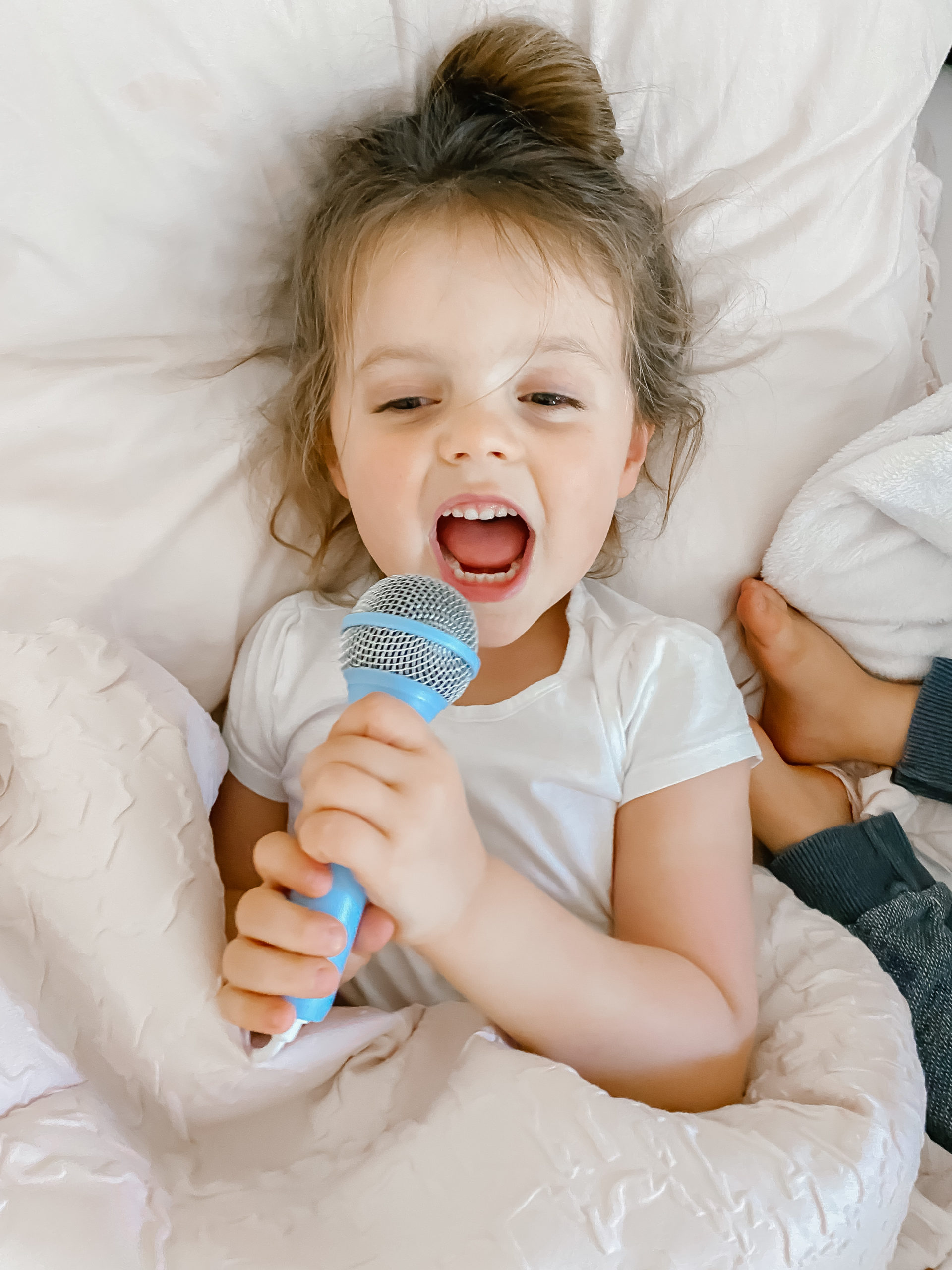 I just noticed that it is actually on sale! It's $10 less than I bought it for – so get it while it's such a great price!!! Gotta love those Rollback prices!!!!
SENSORY FX MEGABAR
So this is pretty similar to the Frozen karaoke, but I wanted to add it here because not everyone's child loves Frozen as much as mine do! If they love to sing and dance and you want them to have that same karaoke experience, I highly recommend this one! It's basically a little DJ turntable that comes with a mic and I just think that it is soo cute. Not to mention it is slightly less expensive than the Frozen one, which is a definite plus if you're shopping on a budget!

Guitar
We've had this guitar for a couple months and it's so cute. It looks just like a mini version of a grown-up guitar! Molly keeps asking if she can bring it on the plane. I'm sure the other airline passengers would love that. Ha! Trust me, get this for  your kiddos and they will not only be entertained, but provide YOU with so much entertainment. I have the cutest videos of Molly and my dad playing their guitars before he moved last month.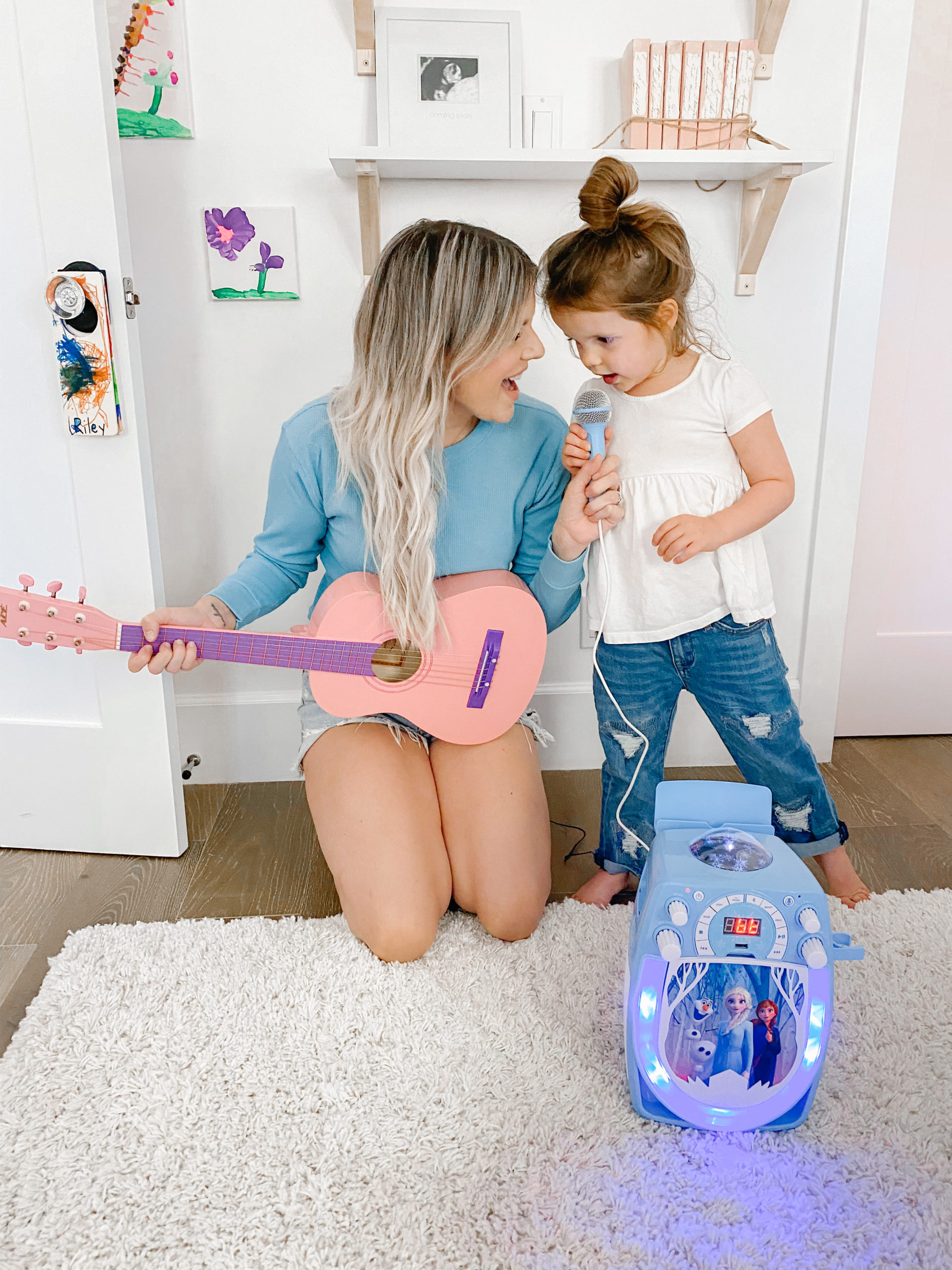 1. GUITAR | 2. FROZEN KARAOKE
PRESENT PETS
Okay so this one isn't musical, but my kids LOVE it so I had to include. To be honest with you guys, I didn't buy this gift. It was sent to us by a PR company that reps this brand. And I almost gave it away because we are moving. But one day while I was packing stuff up and just really needed the kids to have something to keep their full attention and I didn't want to put on a tv show, I decided to grab this and let them open it. Oh my gosh the giggles that ensued were so much fun! SO much so that I just watched them play with it instead of getting anything done! Ha!
They keep calling our new pet, Owen's sibling! They know how much they love each other and having a sibling and now they love that Owen has a little animal friend to love just as much as they love each other. You might've seen me post to Instagram stories about it and if you did then you know how excited they got! You pull a little tab and the puppy unwraps itself from the box and comes out barking and jumping around.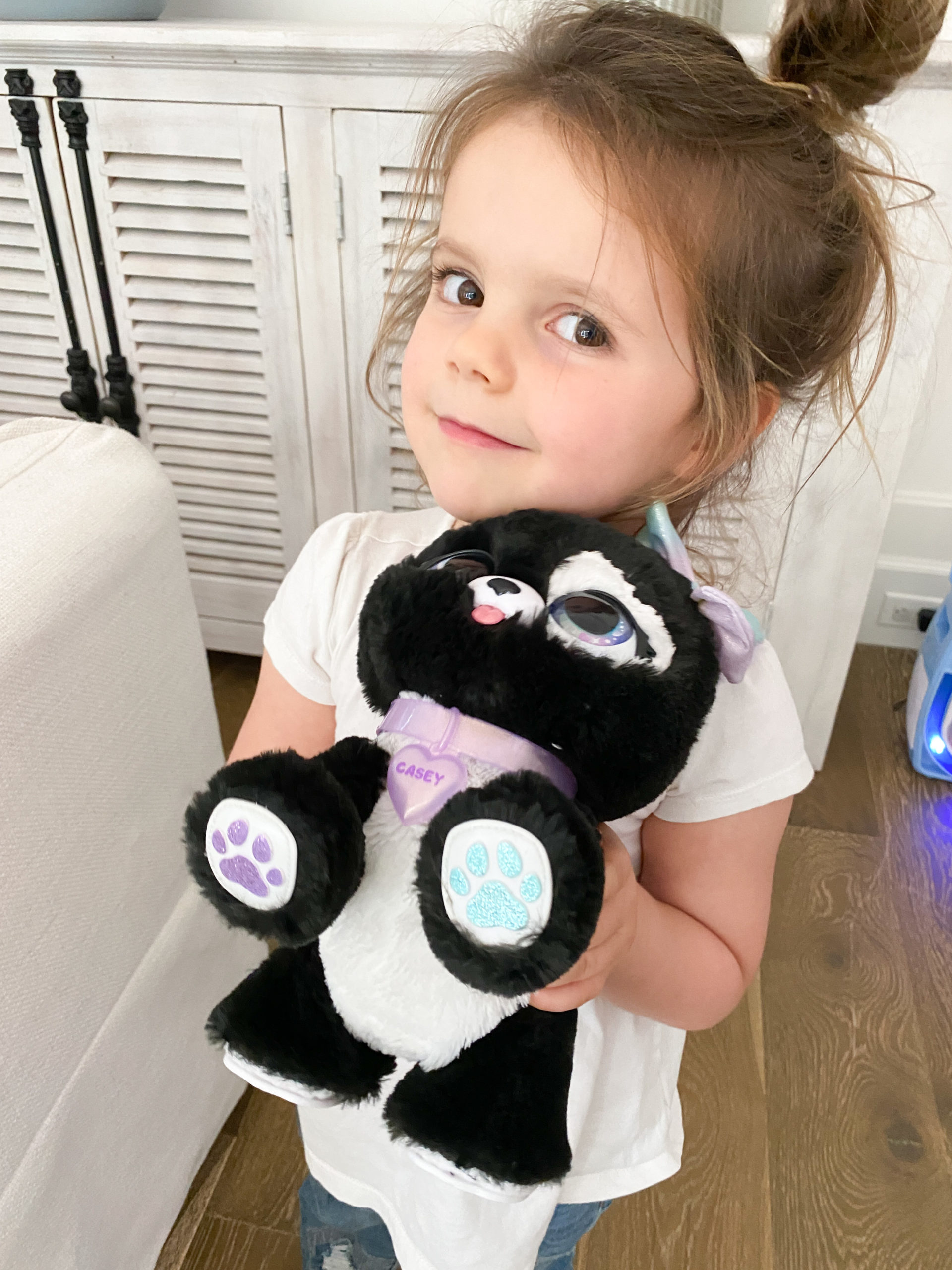 1. PRESENT PETS
SQUEAKEE THE DOG
This is a different but similar option to the puppy above! I think my kiddos would both love this one too because it looks like a blow up balloon dog that you can get at a fair or carnival or something, but this one plays! It responds to your voice, makes noises and plays also you can train it with the squeaker toy to sit. It also comes with a special pin you can "pop" it with and it deflates – Molly and Riley would truly be hysterical over a little dog that they could teach and tickle his tummy to make him happy!

Crayola Silly Scents Markers
Oh my gosh, if you want something that will keep your kids creative I highly recommend these Silly Scent markers! Oh my goodness when I first gave these to the kids did we giggle! They absolutely love smelling every single scent with pure delight or pure disgust! The funny thing is Molly ended up liking most of the scents that were supposed to be yucky! For example she loves garlic and pickles so she loved those two scents. I just love these markers and I think they're super fun so I wanted to share. Not to mention these markers are the perfect gift for a little one who loves arts and crafts or is just learning to draw letters or write! It gives them something fun to look forward to!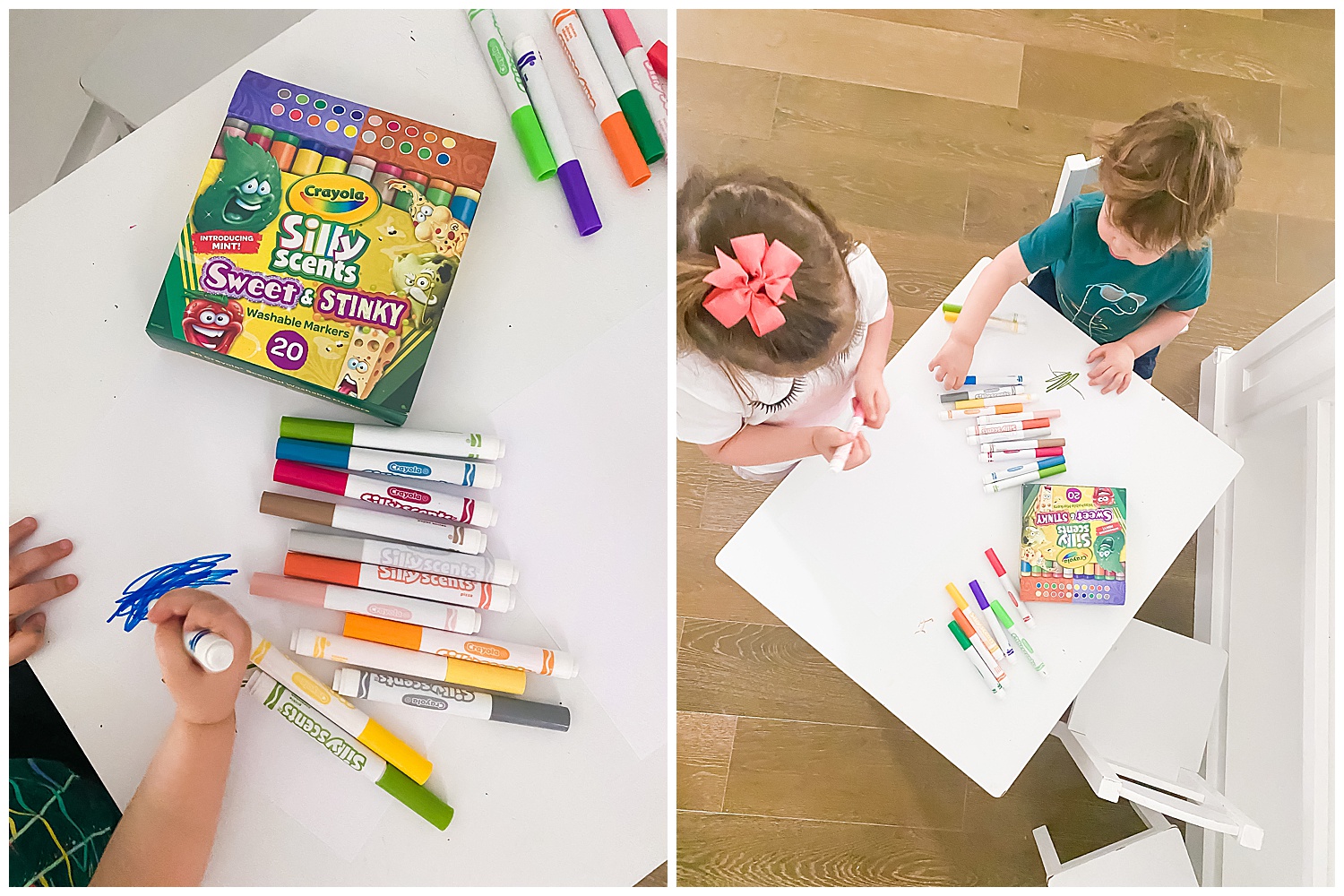 1. SILLY SCENT MARKERS : SWEET & STINKY
Bounce House
This one isn't music or art related but I just realized I HAD to add it because of how much my kiddos love it! If you guys are looking for a great toy/activity to entertain your kids all winter long I can't recommend this bounce house more! When quarantine started this thing entertained our kids so much and got so much energy out of them every single day!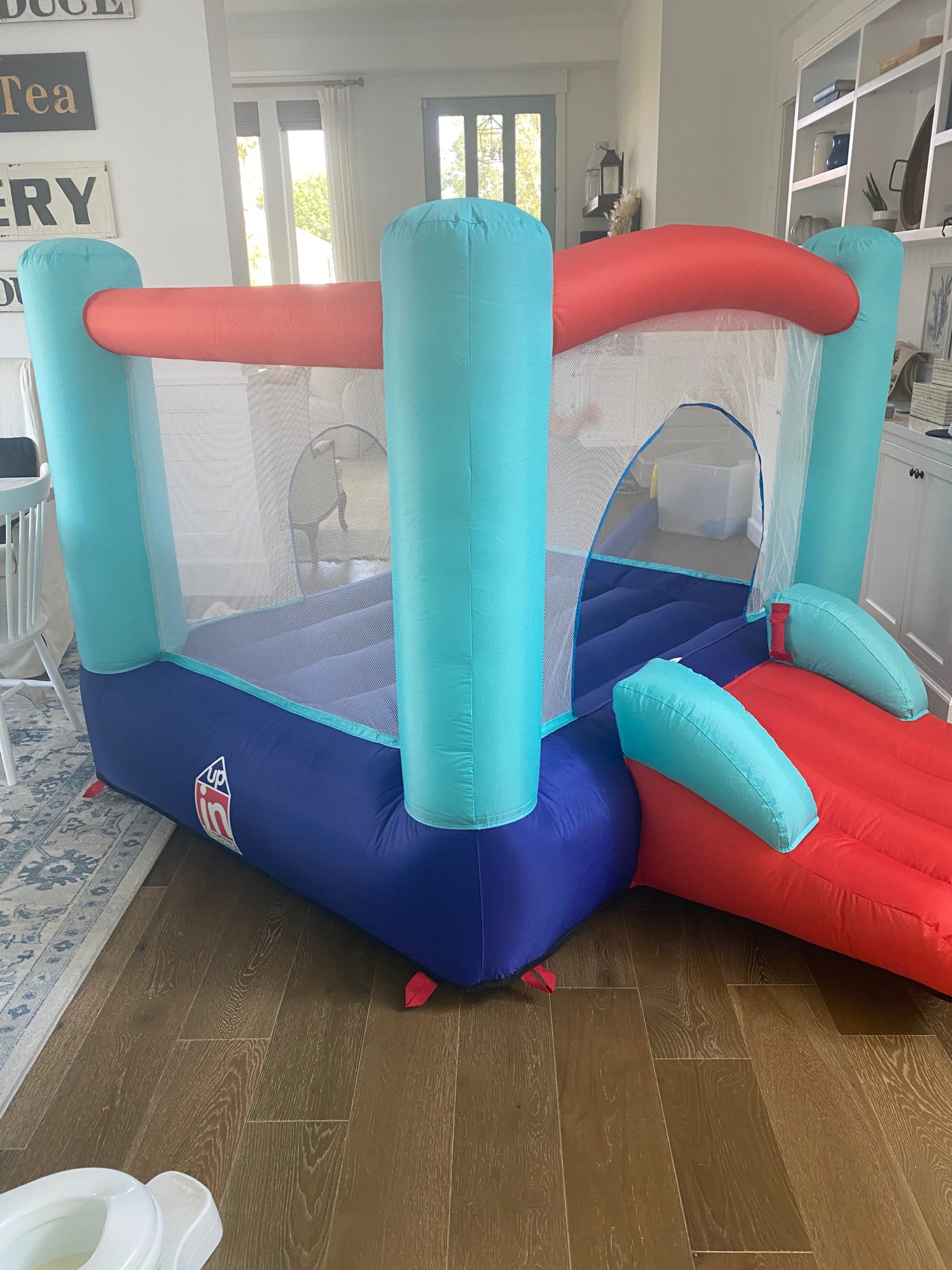 1. BOUNCE HOUSE
They slept like champs after a day of bouncing! It sold out really quickly the first time I posted about it, but it's back in stock, which I'm so excited about!!! This bounce house comes with a blower so even if you find other bounce houses that seem less expensive it's usually because they're bad quality or because they don't come with the blower which is the most expensive part. I promise you if you get one of these it will be entertaining your kids all winter long while it's cold outside.
A Few Honorable Mentions!
I wanted to add on a few more toys that I came across because I think that they would be so fun for my kiddos – I am actually considering shipping these to Indiana. Let me know if your kiddos have them and love them in the comments below!
FROZEN 2 'SHOW YOURSELF' ELSA
This Elsa doll sings 'Show Yourself' and I love that because I think that Molly would LOVE this to sing along and play with. The mouth moves as she sings the song and it has lights that flash and she sings.  From the reviews it seems like it is really realistic which is amazing!!! I really think I'm going to have to get this Elsa for Molly.
LOL! SURPRISE OMG LONESTAR DOLL DANCER
I've been seeing these LOL Dolls become more and more popular. I have friends whose kids LOVE them. This one is a country music doll and comes with a few outfits and you can spin the record on the box to play a song.
SPARK PUPPY PIANO
This puppy piano is for 24 months and up, but I think it's really good for any kiddo from about 2-6 to play piano on. I love that you can record what they play and that it has built in songs and beats.

Happy Shopping!
Thanks for coming by the blog today. I can't wait to get more into the holiday spirit – and it makes life so easy to have holiday shopping earlier! I love that I can easily order for delivery or pickup from Walmart and then hide them right away! What are you getting your kiddos this year? Give me ideas in the comments below!