Hey guys! It's been a pretty quiet Monday over here at my house. So I actually started packing for our trip to San Diego this weekend! To say I'm excited for a little mini road trip is a huge understatement. There aren't words to describe just how much I'm looking forward to it. Anyway, I was trying on some stuff for our trip and I thought I'd throw a blog post really quick to tell you about this beach/vacation look because it's so affordable and so cute and I don't want it to sell out before you guys get a chance to snatch it up! By the way, it's officially summer!!!
If you didn't already check out my summer Affordable Friday post that I did last week definitely check that out because there are some incredible affordable finds on there.
LINEN PANTS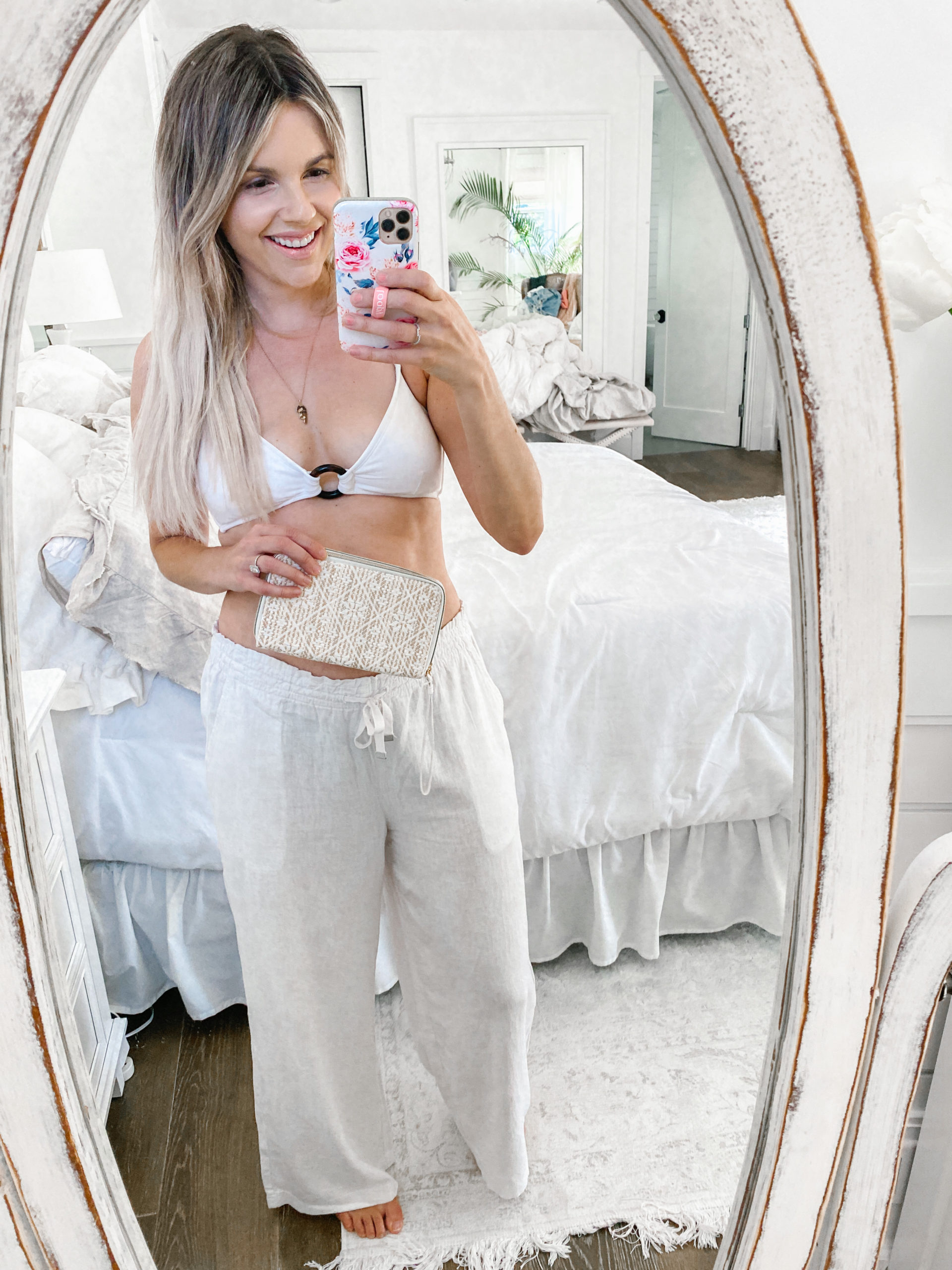 1. BIKINI TOP | 2. LINEN PANTS | 3. WRISTLET
I am so excited about these white linen pants! They have them in a couple other colors as well if white isn't your thing. They are the perfect vacation/beach pant. I'm wearing a size medium which is my normal size and the fit is great! I am 5'7 and they go right to my ankle. But honestly, I pulled them down lower on my waist and I still look they look think they look cute. When I pull them up higher to be mid-waist, having them be a little bit cropped is still super cute. I feel like these pants would be great for everyone no matter how tall or short you are.
The linen pants are super cute with a vibrant, colorful top like this tee. I feel like this is the perfect summer, beachy look! I love how the coral pairs with the pants and that they are both so comfortable! Unfortunately I can't find the top online, but any flowy bright tee will do! The look is definitely completed with a hair accessory! I can't find this exact headband online, but this one is the same brand and style as the one I am wearing! I actually have this one too! I love Scunci hair accessories! They are the best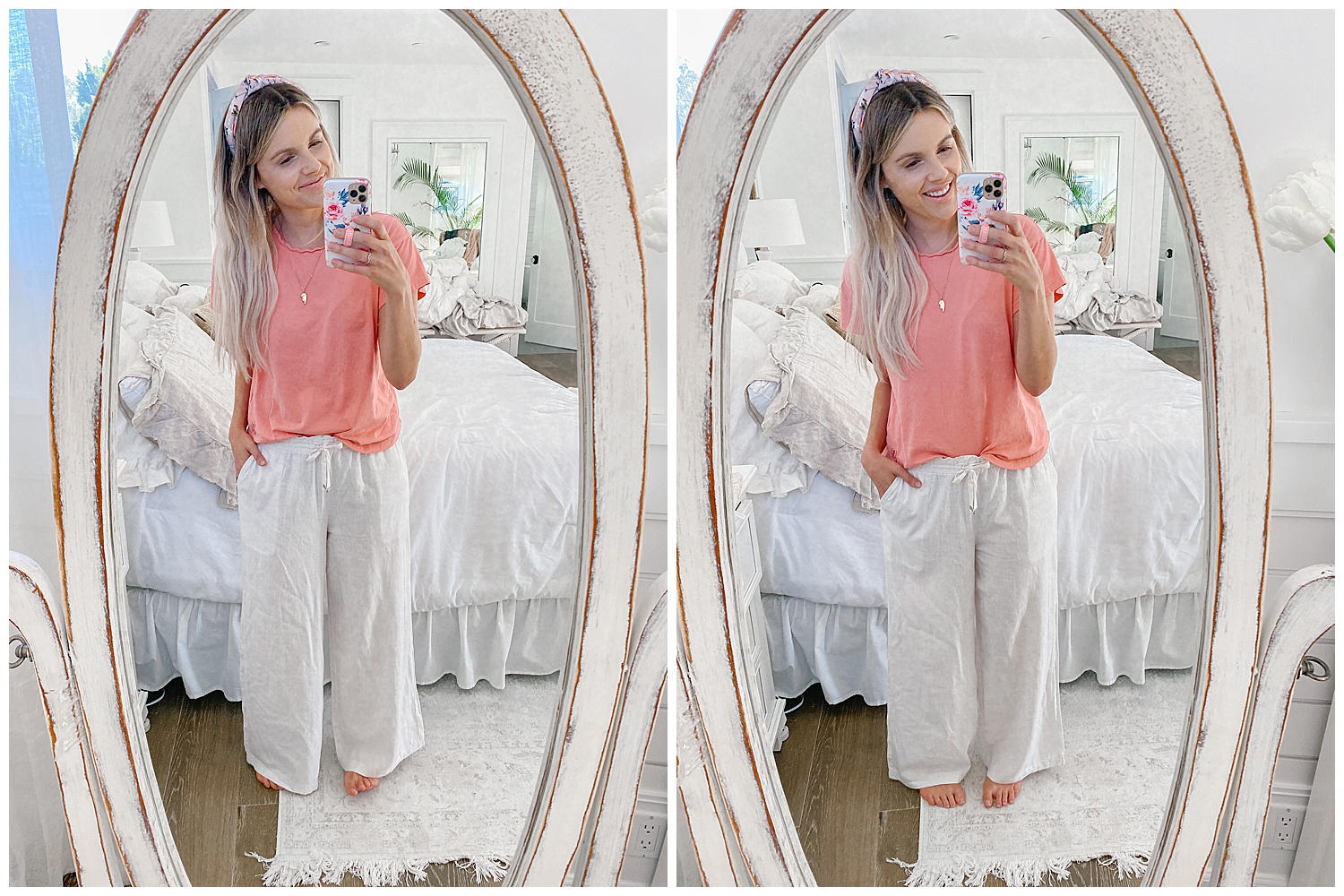 1. LINEN PANTS | 2. HEADBAND
Anyway, I want to quickly share that bikini top I'm wearing in these photos because it is under $10! I didn't bother getting the bottoms, so I don't know how they fit. I usually only buy bikini tops nowadays. I have a handful of neutral bottoms that I just switch in between all the different tops I have. I'm wearing a size medium which is what I would normally order, and it fits great. On a little sidenote, isn't this wristlet SOOO good? It's only $11!!! I highly recommend grabbing one – it's the perfect neutral bag for summer.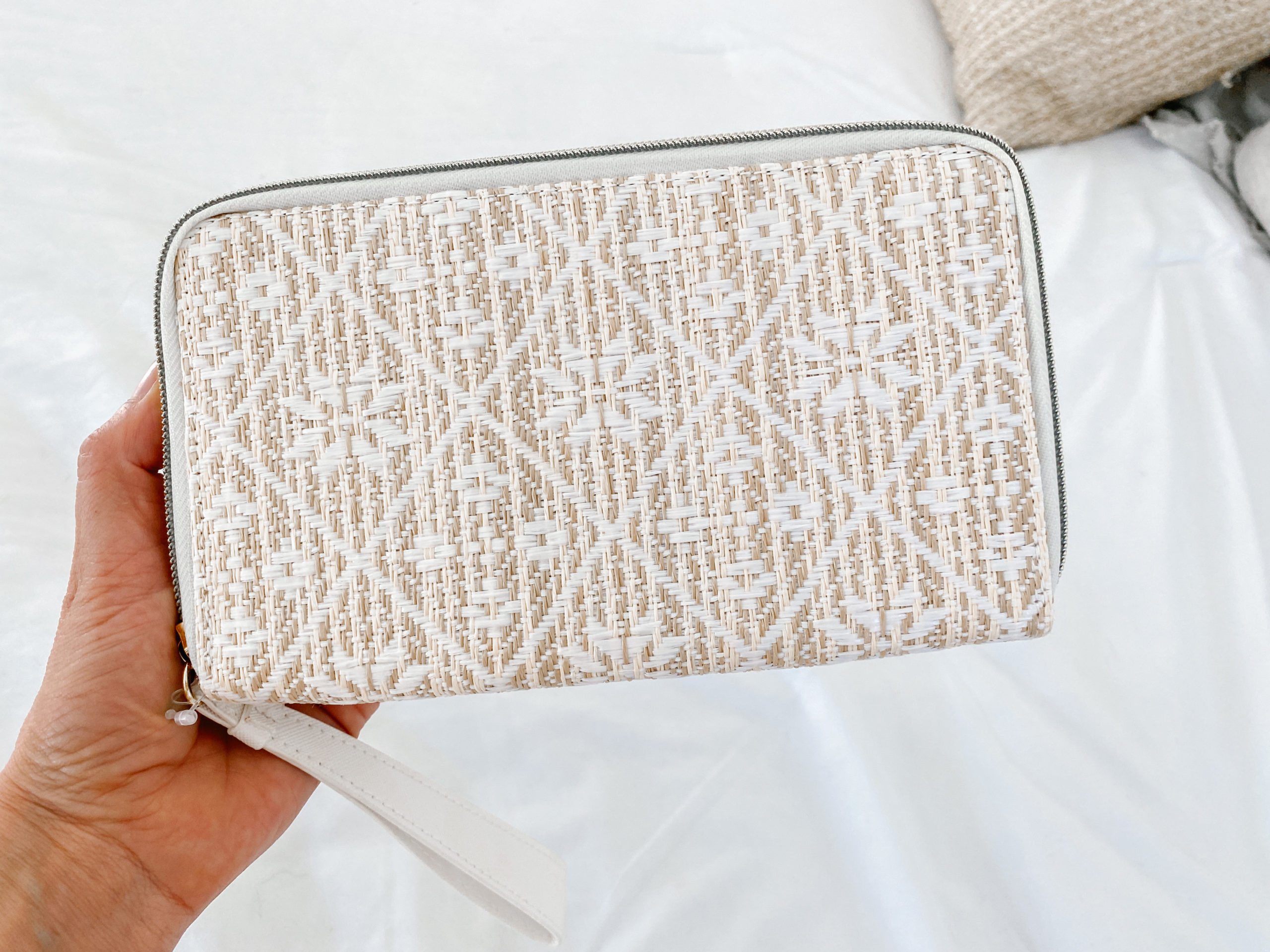 1. WRISTLET
$20 JEANS THAT I LOVE!
I also wanted to quickly throw in a photo of these jeans. I posted about them in my Affordable Friday post last week, but I showed you the light wash version. I just wanted to pop a photo on here of the dark wash version just so you guys could see that there are equally as amazing! If any of you bought the light wash jeans last week when I posted about them please leave a comment below telling me what you think!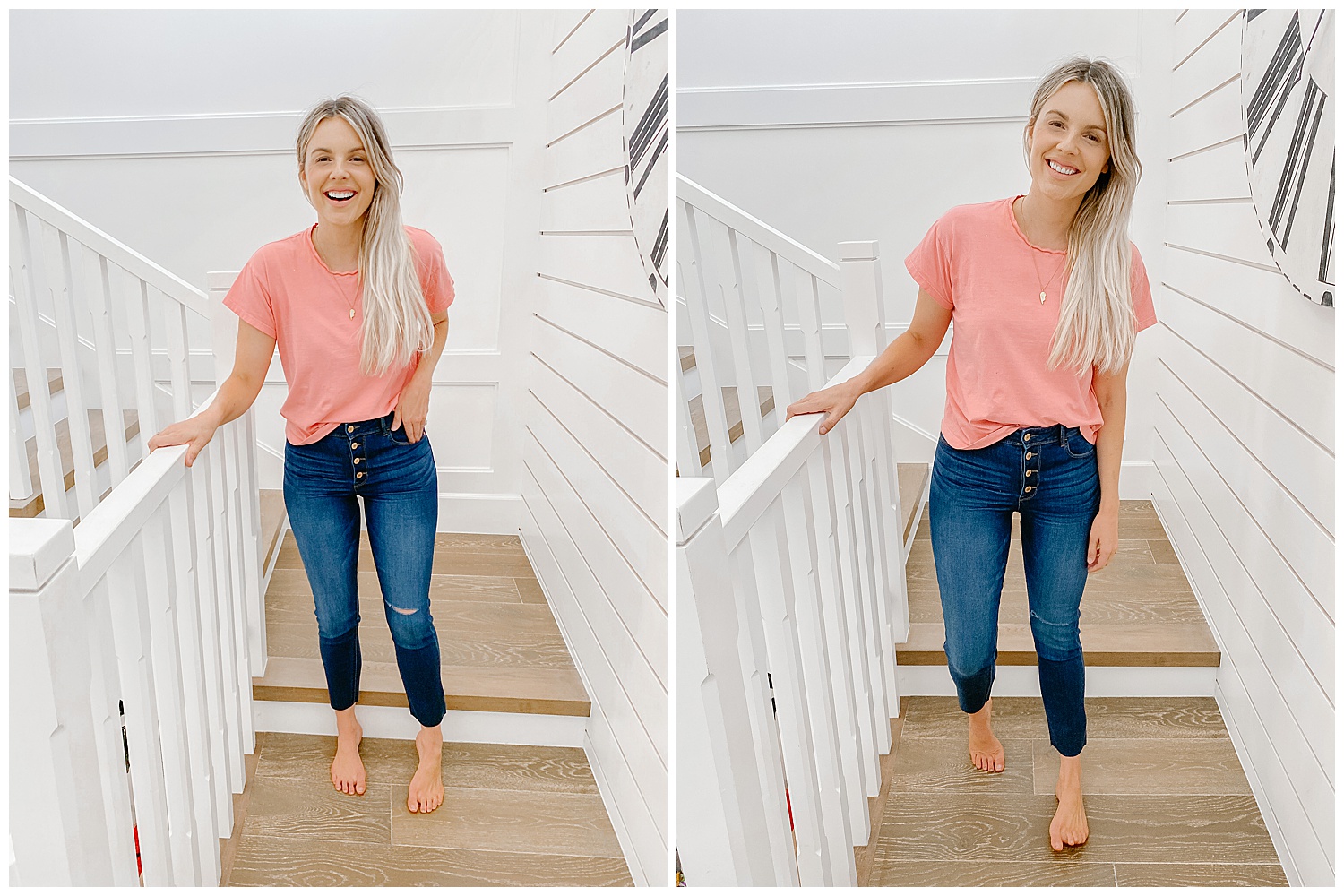 1. $20 JEANS
The shipping is so fast on them that I know a lot of you probably already received yours. My friend Madi ordered a pair when my Affordable Friday post went up and she told me that she already got hers. So let me know what you think, and more importantly share with other people reading this what you think, so they can make a decision on whether or not they want to snatch up a pair! I said this in my last post, and I'll say it again, They are truly one of my favorite pairs of jeans ever! And for $18 you just truly cannot pass them up!
BLUSH RIBBED SWIMSUIT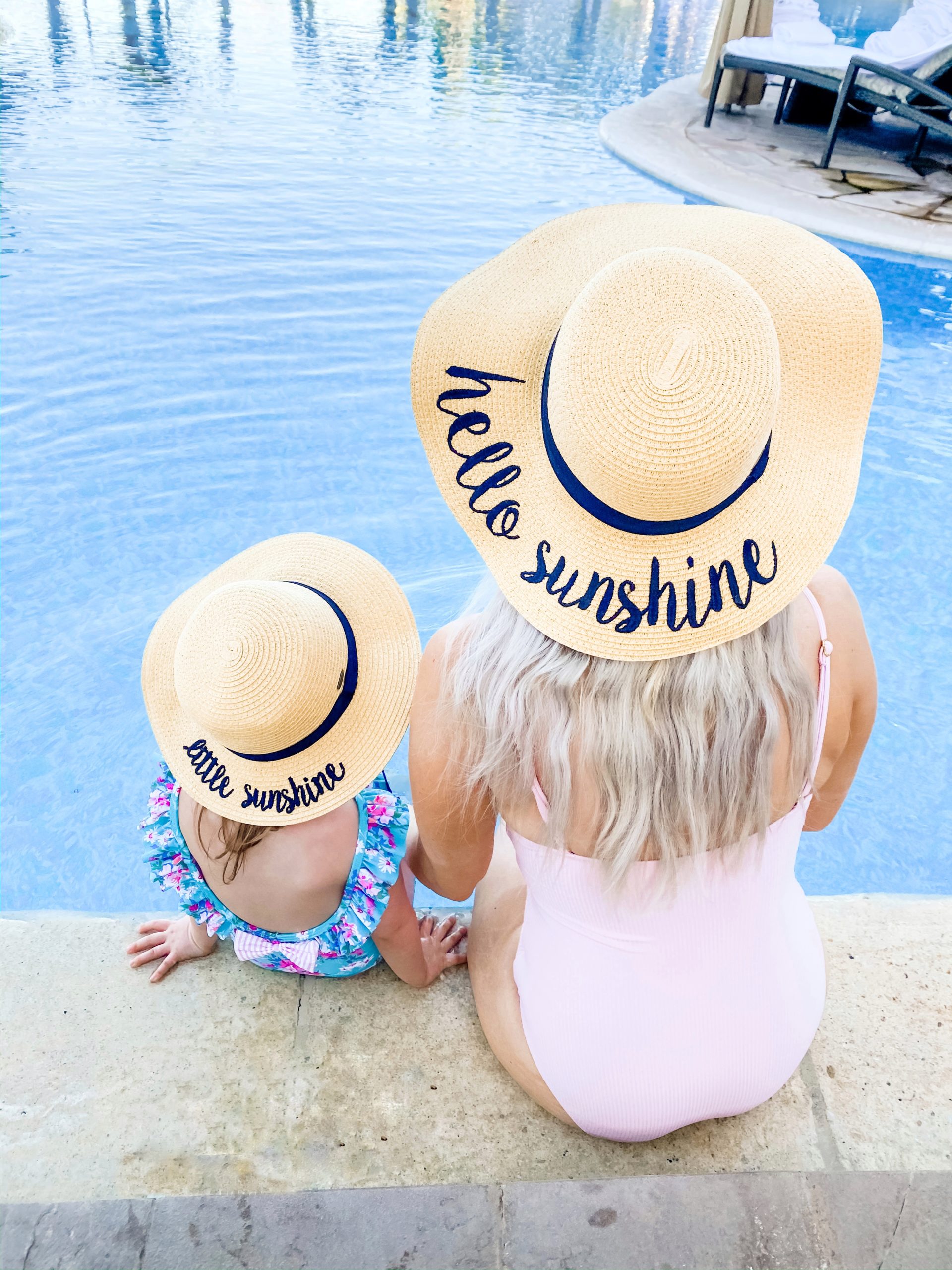 1. BLUSH SWIMSUIT | 2. MATCHING HATS
The last thing I'm going to mention here is my pink ribbed swimsuit that I wear all the time!!  I've gotten so many DM's lately asking about it and I just wanted to have a place to direct people to find the exact link for it. I know code summer15 works for 15% off the site. The ribbed material makes it super flattering and an absolutely obsessed with this brand! I own at least seven swimsuits from them. They're worth every penny! The blush is sold out in a few sizes, but the white would be STUNNING! I will also link our matching hats because they are darling and perfect to wear all summer.
Have a great week!
Yay, love that I was able to share a few looks with you from my upcoming trip! I know you will love each of these pieces as much as I do. What are you doing with you family now that it's summer? Swimming? Water balloon fights? Beach? Let's chat in the comments below!