Hi guys! Thank you so much for coming to the blog today – and Happy Affordable Friday! On a Thursday! Ha! I couldn't wait to post because I am so excited about these pieces. Truthfully, I can't even begin to explain to you guys how much I love doing these posts. I know times are tight for so many right now, so I love when I can share things that are reasonably priced and can hopefully make women out there reading this feel more confident when they wear them. Let me tell you, I feel so confident in each one of these looks, and they are great for summer! There's a quite a few of them because I just couldn't narrow it down! Everything is from Walmart and you get free shipping if you spend $35 or more! If you only want to buy one thing that I talk about in this post, then fill up your cart with essentials that you need like hand soap or dish detergent to get it over $35 so you don't have to pay shipping! I do that every time I order from Walmart!
Cute + Casual 4th of July Look
I want to start with this cute look for July 4 because I just love these pictures of me and my kids! Ha! And you have plenty of time to order because this entire outfit was at my front door within 48 hours after I ordered it. In fact all of these looks came to me within two days. I love how fast Walmart shipping is!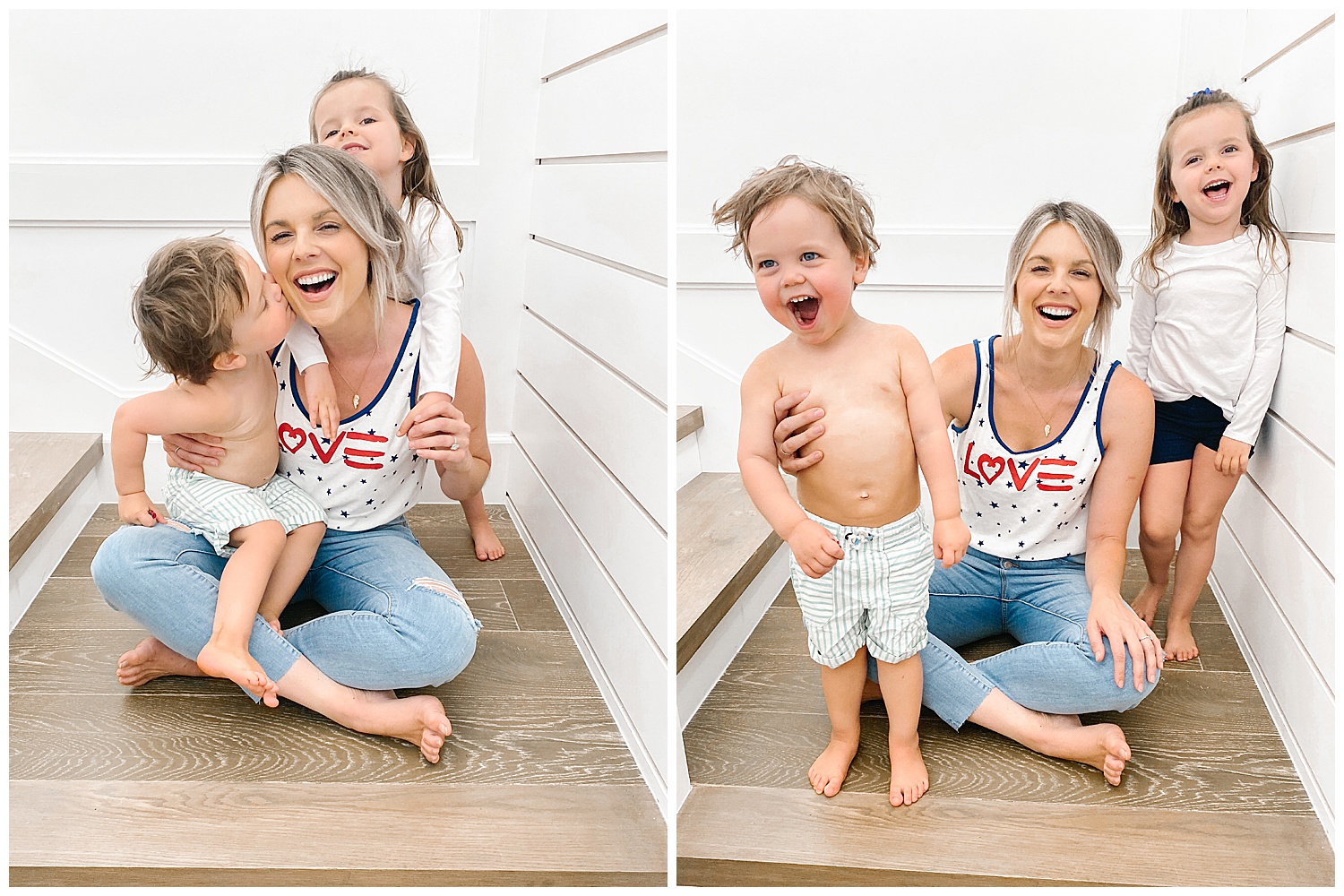 Anyway, this top is actually part of a pajama set. The entire set is $22, but it comes with two sets of shorts and this top. I was just looking for something cute to wear on Independence Day that wasn't a straight up American flag shirt, not that there's anything wrong with that. That's great! I just like something a little more subtle. Plus, this top is from Ellen DeGeneres's line and I love the message that love is love and everyone deserves it!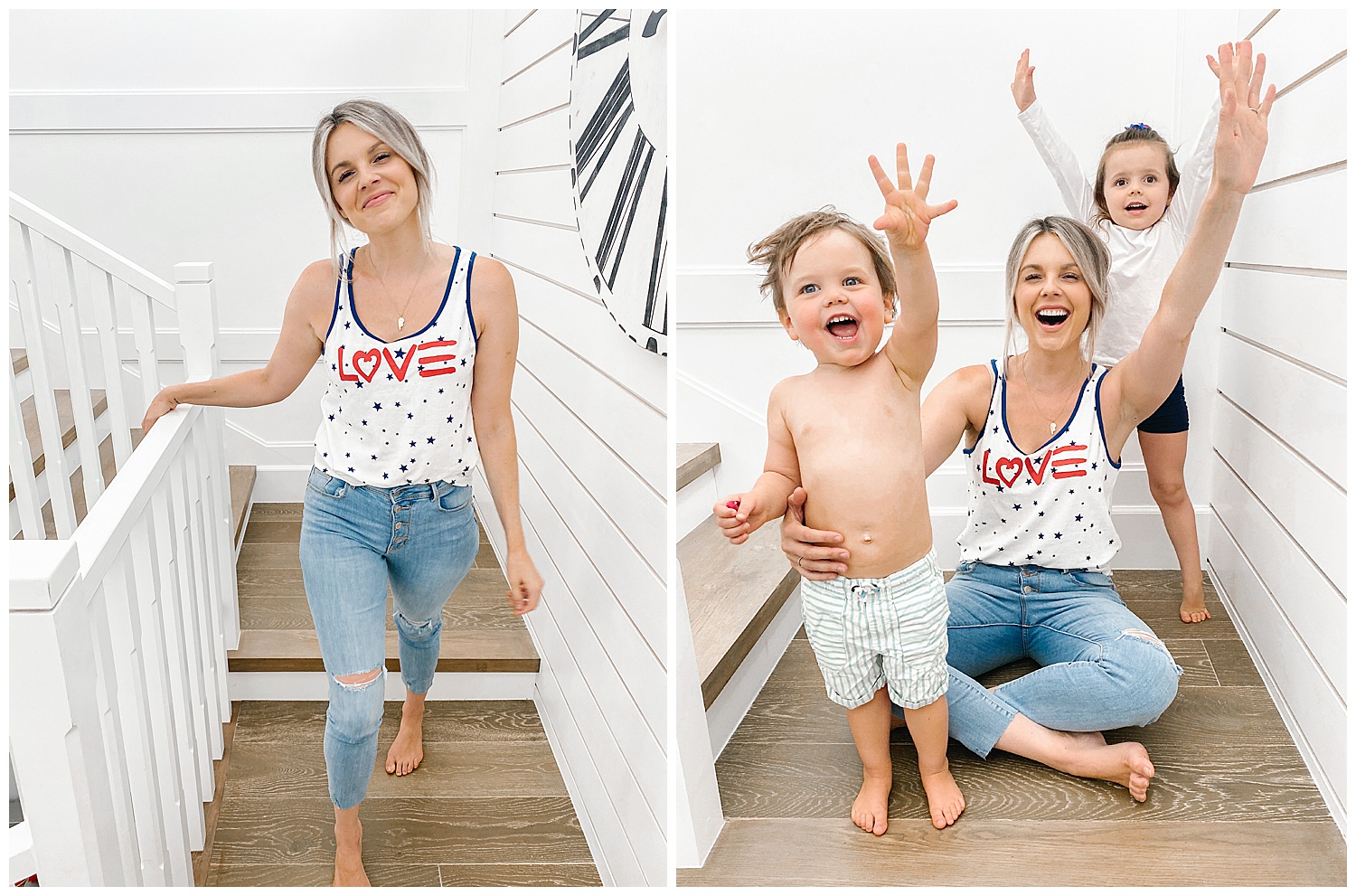 The jeans are incredible! I'm not even kidding you, when I got these I ended up texting them to almost every single one of my girlfriends telling them to buy them ASAP because I'm worried they're going to sell out. They are so stinking flattering! They're high-waisted and insanely comfortable! There honestly my favorite go-to jeans right now. They might be my favorite jeans I've ever bought from Walmart! Maybe even one of my favorites ever that I bought from anywhere!
They come in this light wash and in a dark wash. I have both and both are amazing! I'm telling you – get these jeans! They're under $20 and you will not regret it. But here's the thing, if for some very weird weird weird weird reason you don't like them, although I'm almost positive you will, Walmart has a super easy return process where you just print a label online and send them back. And you're not charged anything to do that. I love how easy it is. But I know you're gonna want to keep them! I'm wearing a size 8 and I figured that out after sizing chart. However, for reference I'll tell you guys that I'm normally a size 29 in jeans if that helps.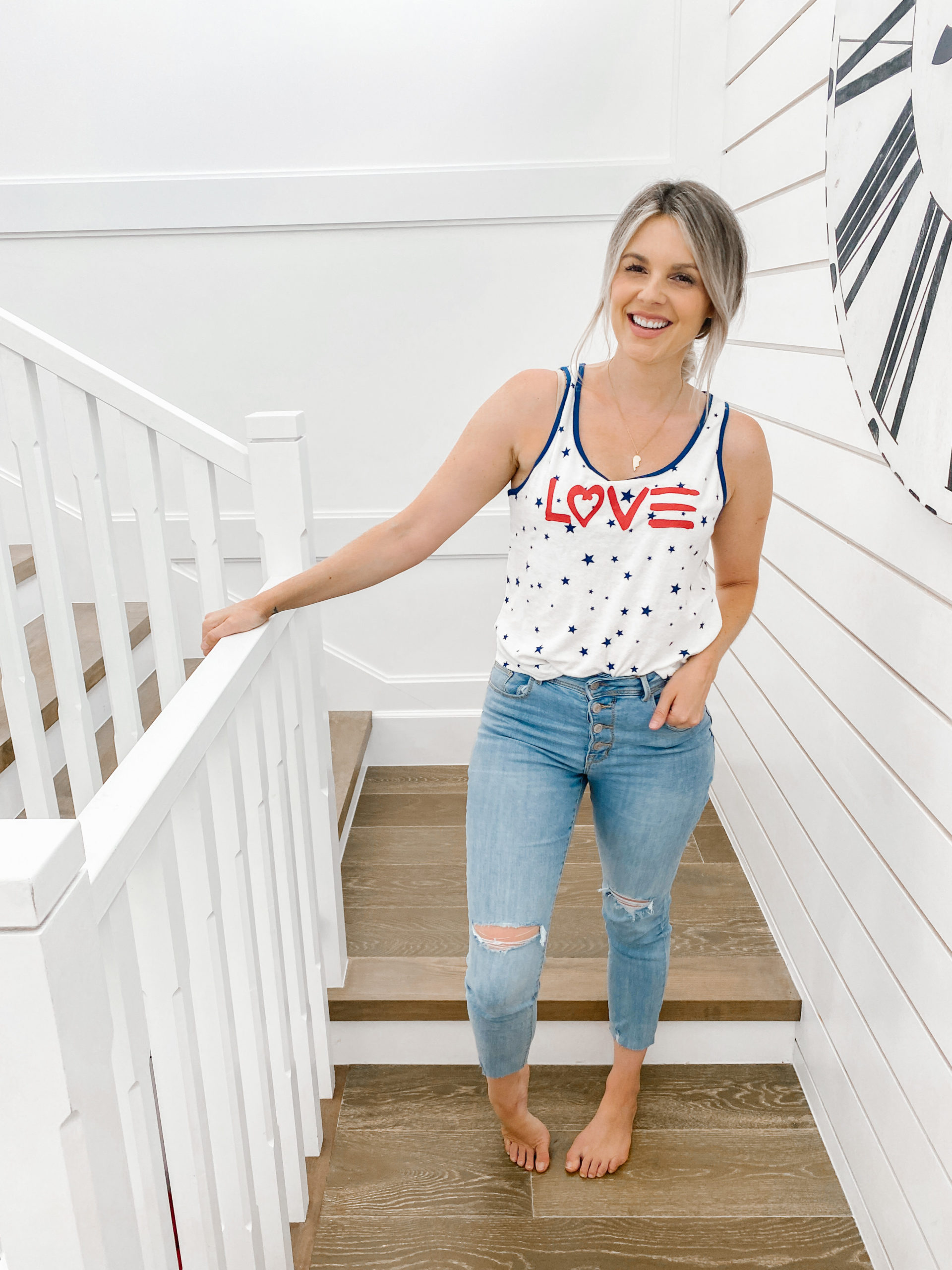 Long-Sleeved Tee
I'm wearing the exact same jeans in this next look. Like I said, I love them so definitely snatch them up! But I want to tell you about this long sleeve t-shirt that's under $10 that I absolutely love! It runs a little large so you might want to size down. I got a size medium which is my normal size, but it's definitely on the oversized side. I don't mind that though. It is so soft and well-made that it could totally pass as some super expensive designer tee. And I just love how it lays on my body. It's got a raw edge around the neck that I also really like and I feel like makes it seem expensive. It's also great option for people who don't want to sweat their butts off this summer, but also want to cover their arms. It's a really nice lightweight material.

1. WHITE LONG-SLEEVE TOP | 2. $20 JEANS
Summer Dresses

Okay, moving onto some dresses that I love! How cute and feminine and girly is this dress?! Check out my Instagram stories today cause I'll show you it on there but I love this dress! I feel like it's the perfect dress to wear to a brunch, church, or any event. It's also so comfortable that I feel like it's a nice dress to sort of just wear around the house. It's just one of those perfect versatile dresses. And I haven't even mentioned the price yet. It's $19. Yep you heard me right $19.
But you would never know that it was only $19 seeing it in person. It is so well-made and fits beautifully. I think it's super flattering and I love that it's lightweight dress option for summer. I'm wearing a size medium which is my normal size. The buttons are also functinal so it works great for a breastfeeding friendly dress! (Thank you Briana for asking about this in the comments below!) Let me know if any of you have any other questions about it in the comments below!
This next dress has such a beautiful vibrant blue color it is also very flattering. It's a wrap tie dress and it has really beautiful ruffle details. Again you would never know looking at this dress, but it is only $24!
It's also very light weight so perfect for summer. I don't even really know what else to say about the dress other than the pictures speak for it! It's beautiful! I'm wearing a size medium which is my normal size.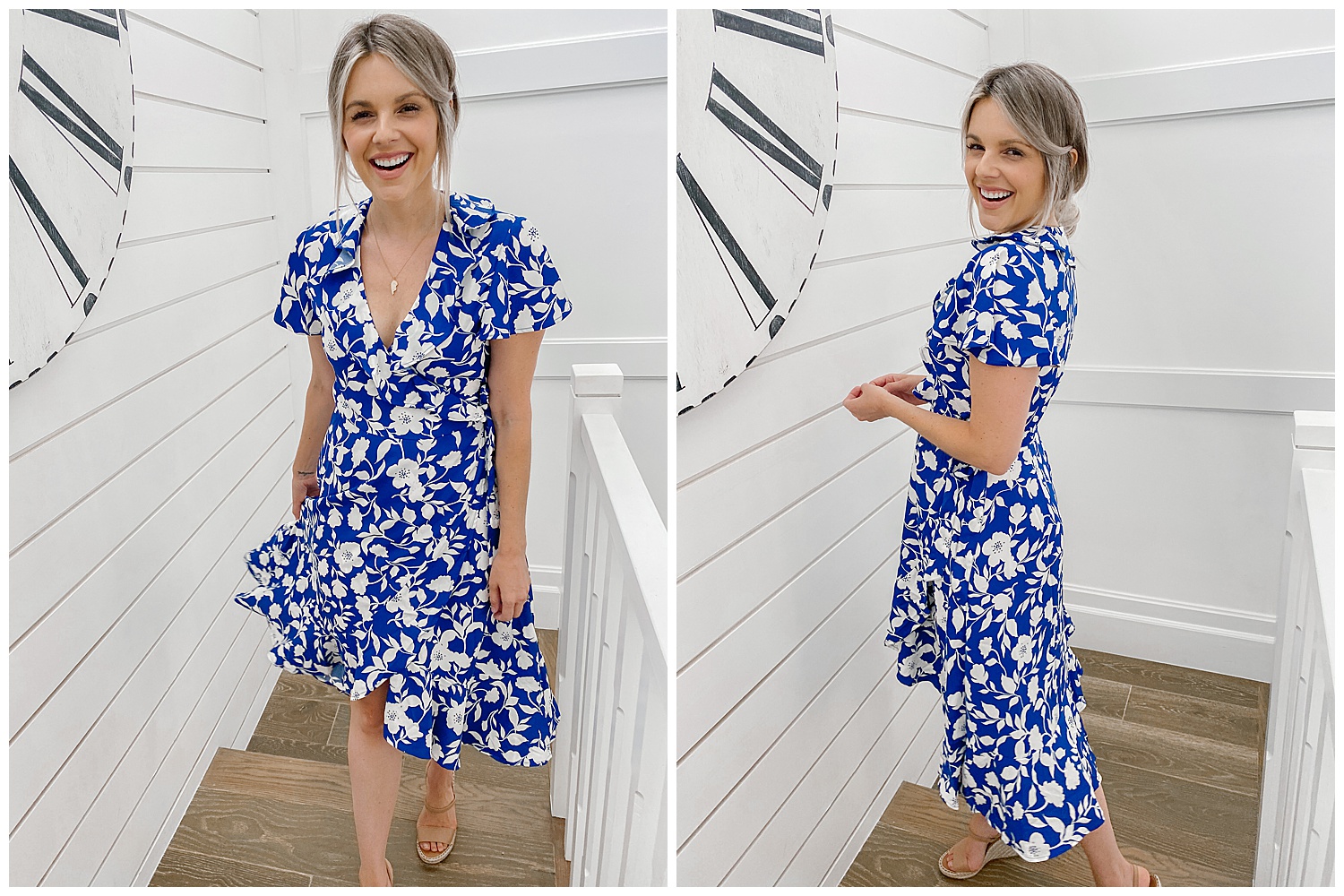 Business Chic
This last look is absolutely perfect for any sort of business meeting you might have or to wear to the office! The top is a little on the higher side for the prices that I normally talk about on Affordable Friday, but it's still only $31 and it's a steal! It looks like it could be a Ted Baker blouse! If anybody knows Ted Baker, those run for about $150! I love the white detail. The white against the blue really pops and makes it look super expensive.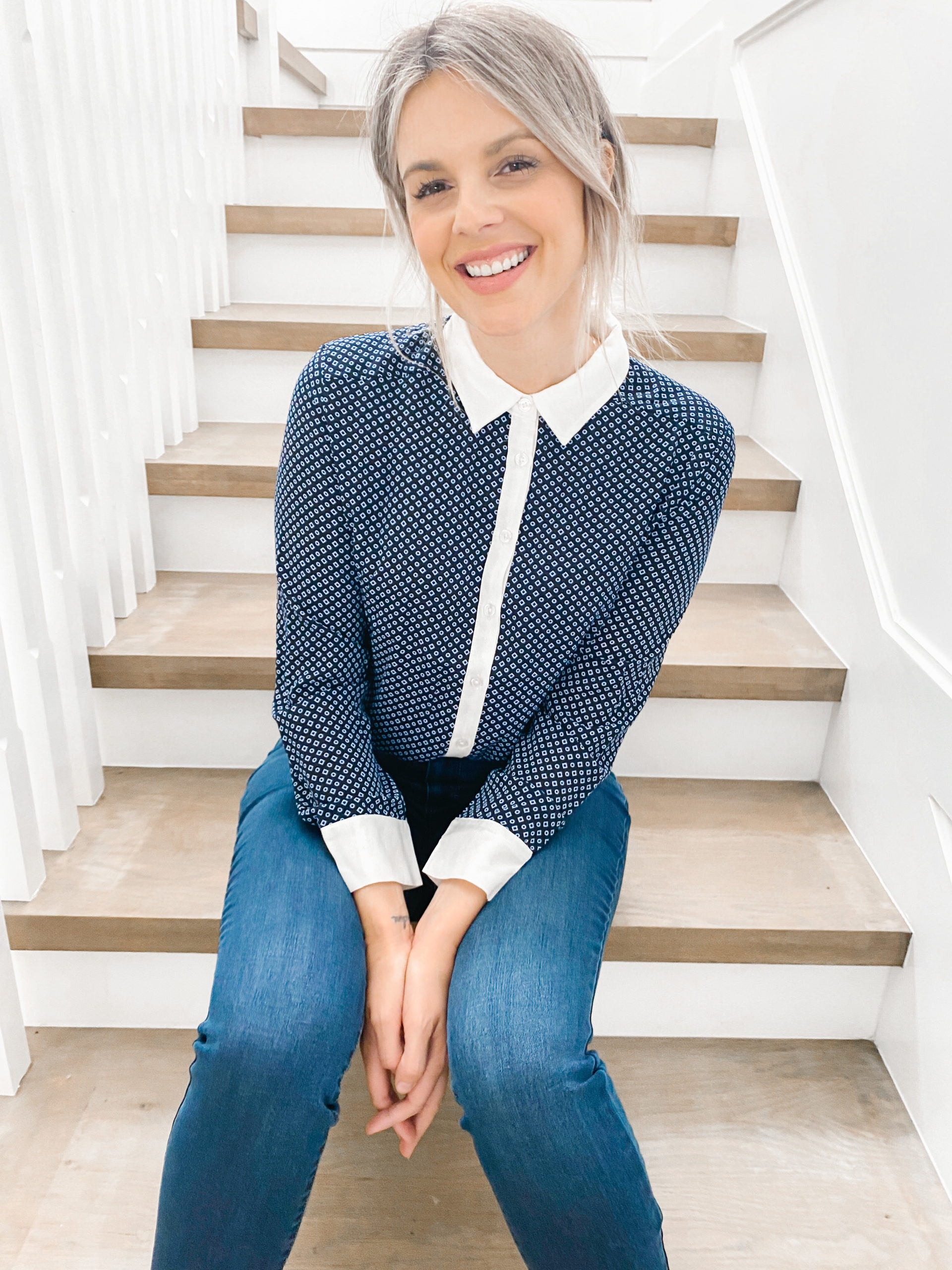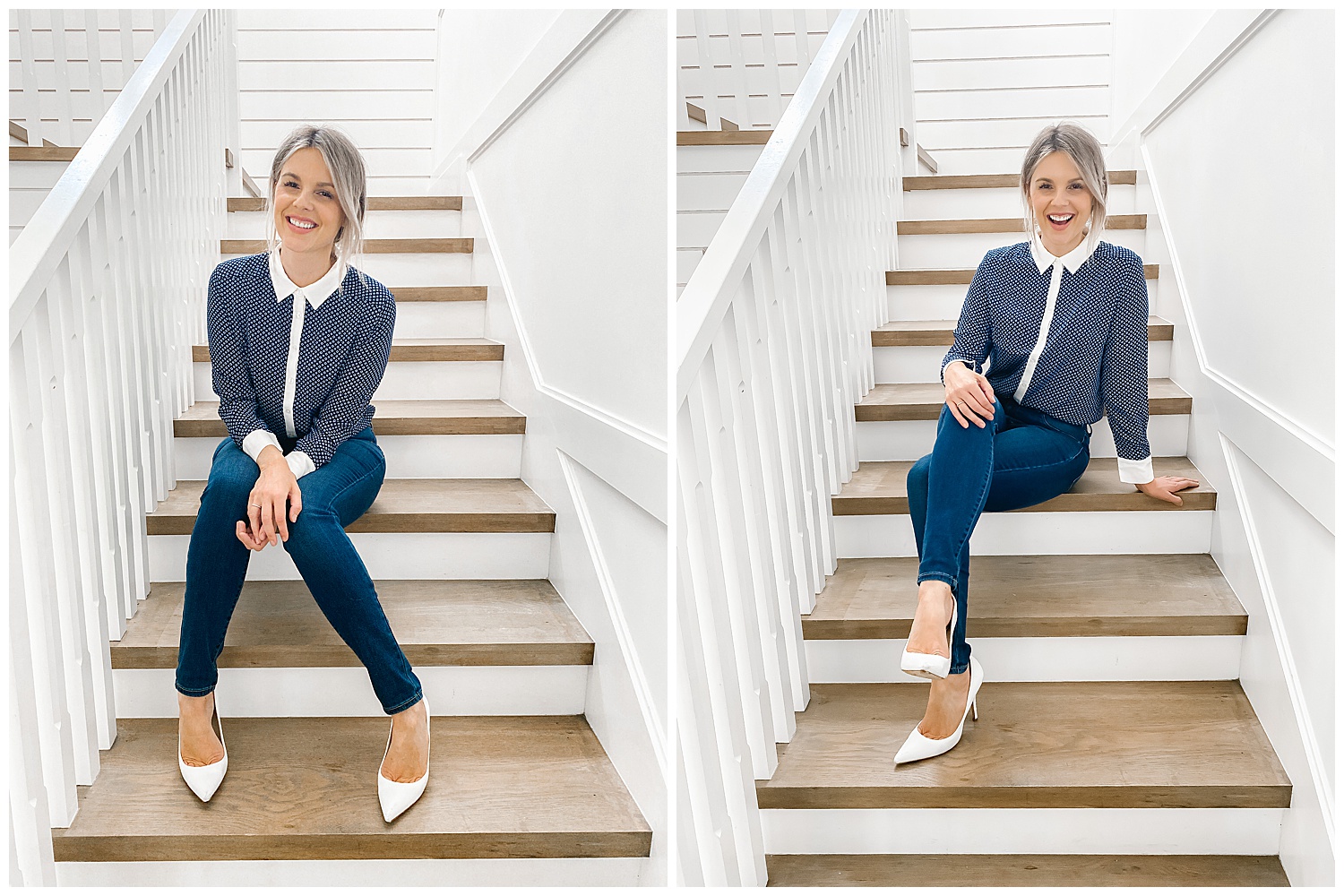 I'm wearing it with a pair of jeggings that I actually told you guys about my last Affordable Friday post. Jeggings are definitely different than jeans. They're a mix between a jean and a legging. And I think these are really really good pair of jeggings. However if you're trying to choose between this pair of pants or the other jeans I talked about in this post go with the other pair. I really really like these ones but I am beyond obsessed with the other ones!
Extras!
And last but not least I just want to link some items that I also got from Walmart that I absolutely love and that I will be sharing in my Instagram stories over the next couple weeks, so I wanted to share them with you guys here so you can find them later! They are all perfect for summer! You also can have first dibs at getting them now so they don't sell out quick when I end up talking about them on Insta stories!


Hope you guys absolutely love these Affordable Friday posts! I said at the beginning of this blog, but I truly cannot even tell you how much joy it brings me doing these posts! I just love these clothes and I love how I feel in them and it makes me so happy that so many of you are going to get to feel just as good in them as well! Let me know what you're snagging below, or what your favorite outfit is for summer this year!
And big thank you to Walmart for being a sponsor on my site!!!