Hi guys! Happy Affordable Friday, Summer Edition! It's been a while since I've done one of these posts, actually the last one was the end of February! Mainly because I feel like most of us haven't really been buying clothes during quarantine. However, now that summer is coming I definitely feel like now is a good time to buy a few great pieces like swimsuits, shorts, and pool floats if you have a pool! So I wanted to give you guys some affordable options that I found that I absolutely love.
And really, I'm just so so so hopeful that we will be able to get back to a version of our old life soon and these will give you some great options that won't break the bank! Everything is from Walmart, well because I love their clothes and I find the GREATEST deals there. And they graciously sponsored this post! Yay! Also they have SUPER fast shipping. I got most of these items within 2-3 days.
Beautiful Dress
I absolutely have to start with this dress! When I bought it I had no idea just how amazing it was going to be. Normally when I get a dress for under $25 it's not double lined! So when I opened up the package and saw this dress in person, I could not believe that it was double lined and it has pockets! Truly the material and fabric is so nice that if I didn't know this dress was under $25, I would've guessed that it was at least over $75. I'm wearing a size medium, but I honestly think I could've size down to a small. Either would work! The small would've been more fitted. And the medium gives it more of a farmhouse kind of vibe.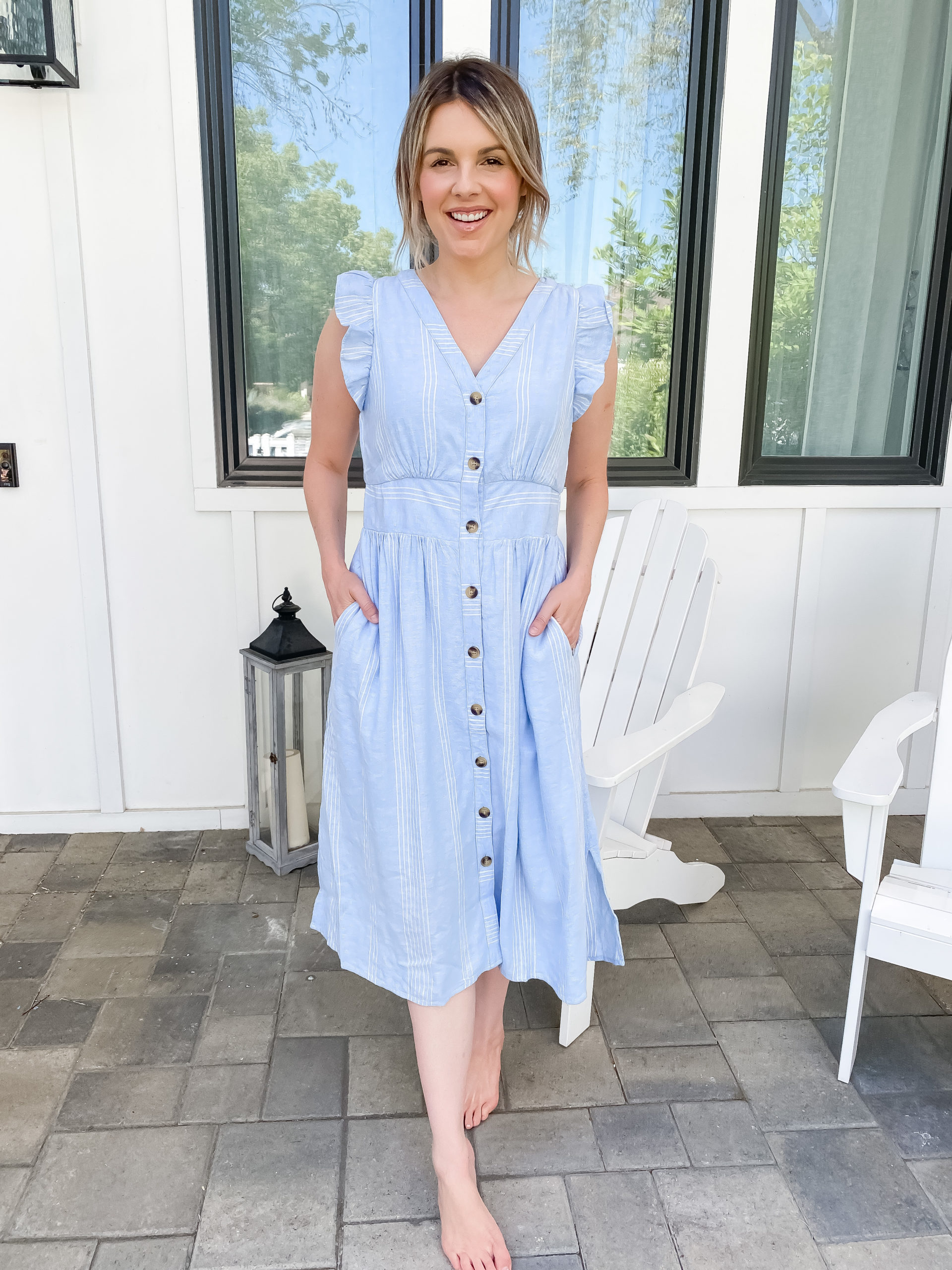 1. BLUE DRESS
It also comes in a white color that has a beautiful lace detail! If I didn't already have a couple white dresses that look similar to this, I totally would've gotten it as well! If you guys get this dress, and I hope you do, please please please come back here and tell me what you think because I know you're just gonna be absolutely blown away when it arrives!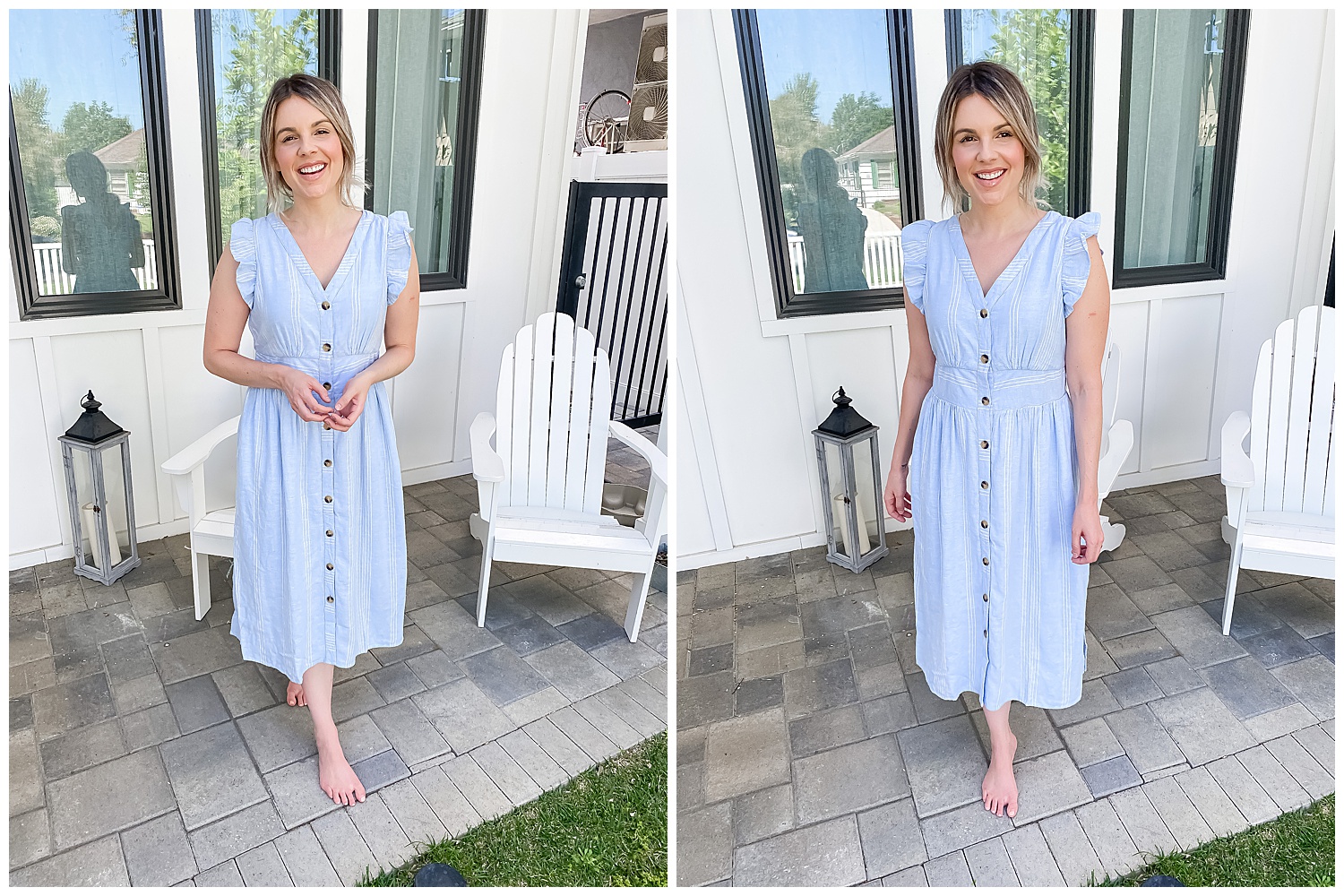 1. BLUE DRESS | 2. WHITE DRESS
For the Pool
Okay, I have to talk about this $17 swimsuit now. It's funny because the term "Out-of-Office" used to be a good thing when you were off on vacation. But right now, I would give anything to be in my office. Ha! I can't wait to get back to work at Home and Family and I know a lot of you are probably looking forward to getting back to work eventually too! But I still love the swimsuit and I absolutely love the cut and color! The fun pink color pops so much and the swimsuit is beyond flattering! It dips pretty low in the back which I absolutely love.
I ordered a large just because it's a junior swimsuit and I thought I would need it. But honestly I probably should've stuck to my normal size which is a medium. So if you decide to size up or stick with your normal size in this suit, I think you'll be fine either way. I just think it's a little big in the bust for me because it has a bit of a liner (which I like) that is slightly big.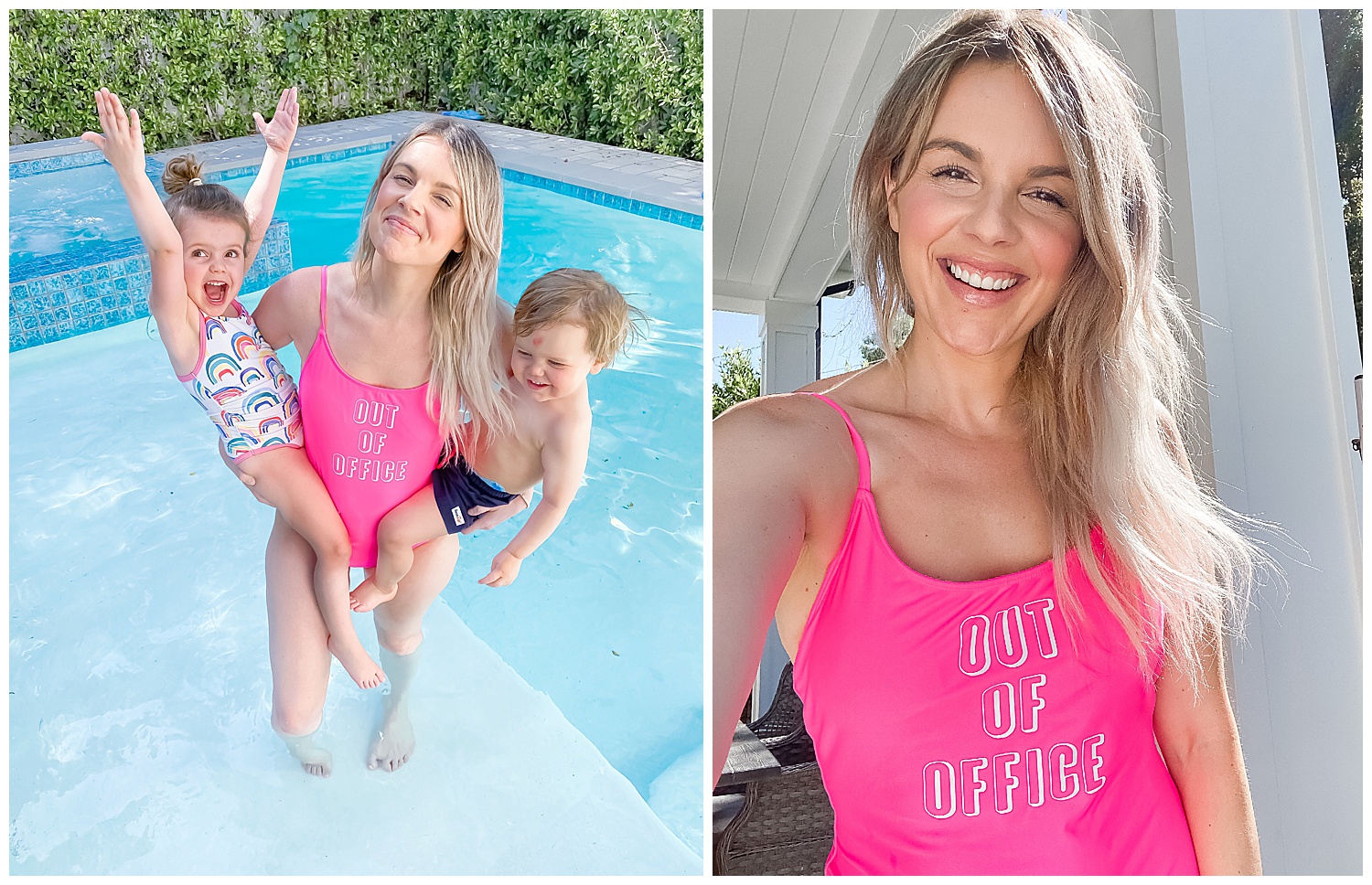 I'll put the links below with all the swimsuits I ordered from Walmart. They haven't arrived yet, but when they do I will add the photos to this post! The white and red top are both only $10!!!! With swimsuits, I usually just order the tops since I have a handful of bottoms that interchange with all my suits. I feel like that's a good money saving tip. Have a handful of neutral bottoms that you can just switch to wear with different tops so you can feel like you are constantly getting a new look without having to buy the top and the bottom! These are SO affordable though that I am also going to link the bottoms in case you need some.

 1. OUT OF OFFICE SWIMSUIT | 2. RED BIKINI TOP | 3. RED BIKINI BOTTOMS | 4. WHITE BIKINI TOP | 5. WHITE BIKINI BOTTOMS
And how fun is this big float that we got for the pool! You'll be seeing it in my Insta stories a ton so I wanted to link it here. Oh and I wanted to add that I love the message behind the wings. I am not sure if you have seen any in the city you live in, but the artist, Colette Miller, started a project of paintings called The Global Angel Wings Project. She paints them all over the world as interactive murals and their message is to remind humanity that we are the angels of this earth. I love that we now have one for our own home. By the way, the wings are huge, so I highly recommend getting this pump to blow it up. I had Molly do it for me and she actually had so much fun with it. I know this pump will come in handy over the years!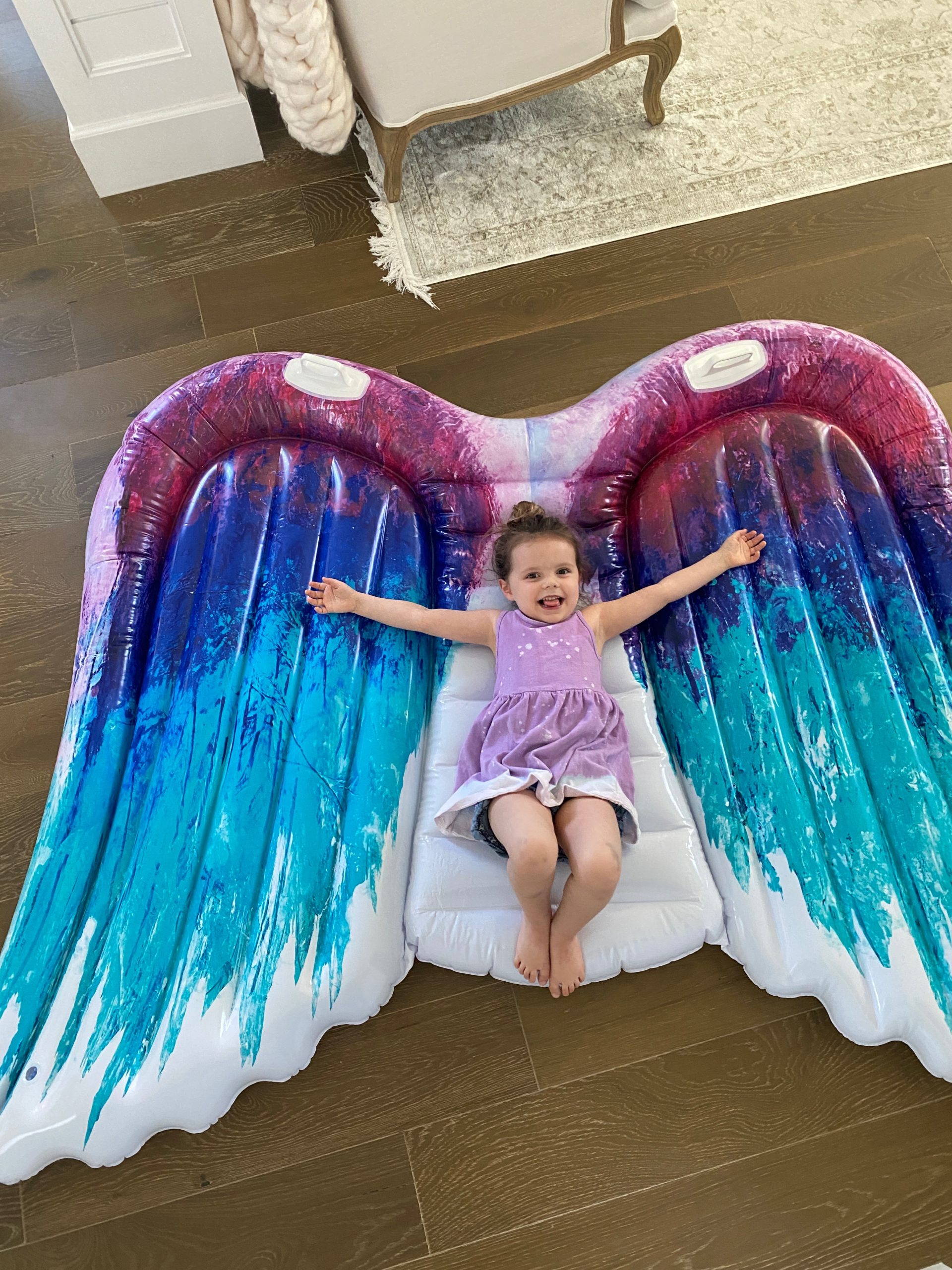 1. WING FLOAT | 2. AIR PUMP
For the Sun
For complete transparency, I bought this pack of three floppy hats for myself, but couldn't keep them for myself. The reason I'm telling you guys this is because I was so bummed! They are stunning! I could not believe that I got 3 of them for $10. I ended up giving them to my mom and she loves them!! But the reason for all this is quite frankly because I have a massive head! Ha! I'm not even kidding you my head measures 24 inches in diameter. That's massive! And while these hats are absolutely beautiful, they are just slightly small for my head. So I would say if your head measures under 23 inches these hats would be perfect for you! And I can pretty much guarantee that 95% of the female population has a head under 23 inches. Ha! Mine is just ridiculously large. So I truly can't recommend these hats more! Not only because they're beautiful but because they'll protect your face from the sun which is super important.
Who Wears Short (Or LONG!) Shorts?!?
The other day I posted to Instagram stories to tell you guys about one of my favorite pairs of shorts. However, they were $130 and I know that's a lot for most people. It's a lot for me too! So I really wanted to find a short option that I think a lot of people would love that wouldn't break the bank. So I'm so happy that I found these shorts by Scoop at Walmart. Scoop is a new line at Walmart that I really love because the pieces are great quality! And very on trend. I ordered everything in the links below and will be reviewing them on my Instagram stories so stay tuned!

 1. SMOCKED TOP | 2. FLORAL SQUARE NECK DRESS | 3. FLORAL SKIRT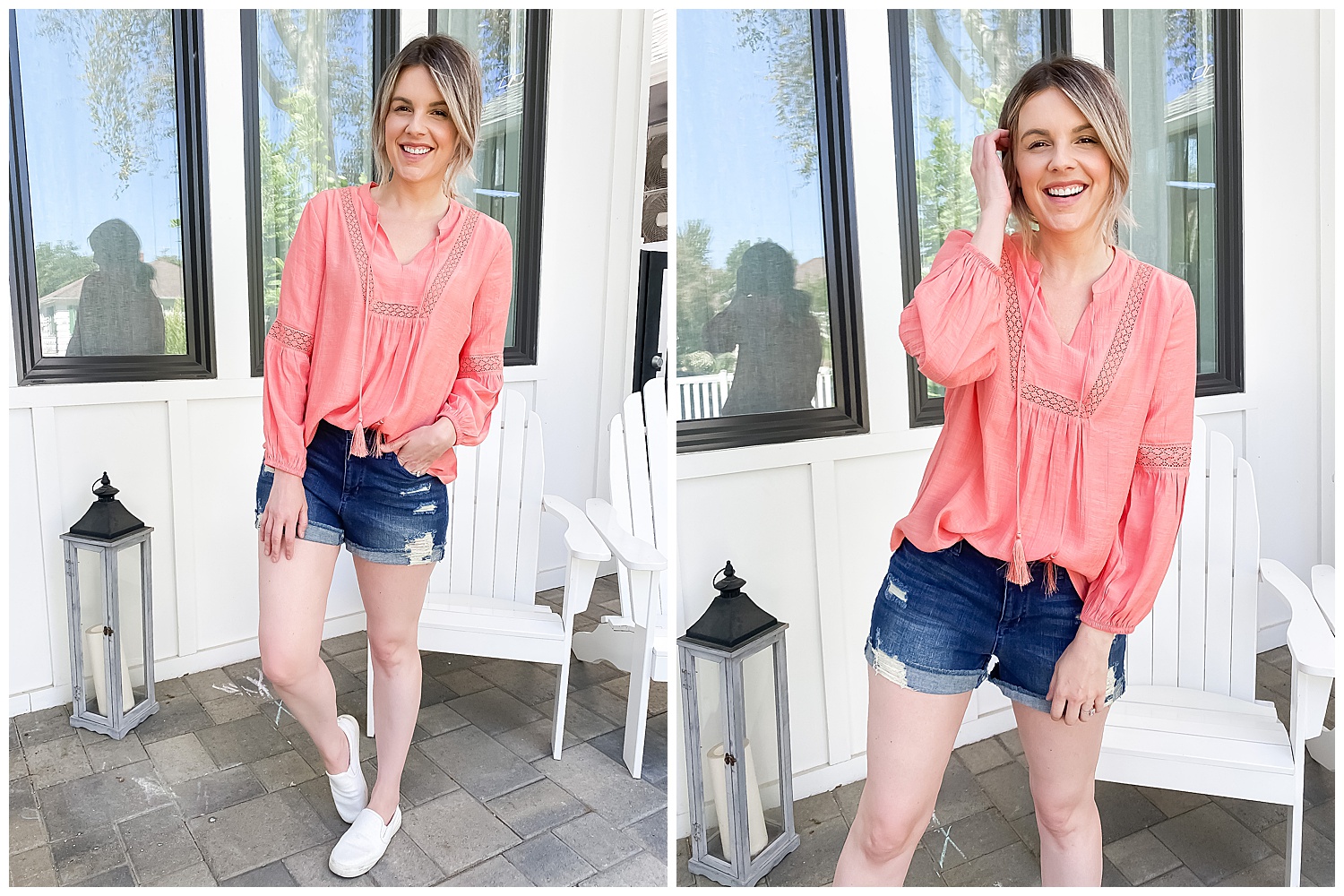 What I love about the shorts is that they are on the longer side so they're perfect for people who like to cover their legs more in shorts. Plus, they are made of super stretchy material so they are extra comfortable!
Anyway, when I got them I actually didn't like how they looked on me as a longer short so I cuffed them and I love them that way! The cuff stays pretty well but it will fall down sometimes and I have to re-cuff it. So I'm actually just going to do a little single stitch on the sides of each cuff so it stays that way. And at $22 they are just such a steal!
Oh I also wanted to add that I just bought these two pairs of jeans that I think would also be so cute with this outfit. They come in both a medium and darker wash so I got both because they are only $18 which is great!!! I have really liked my Time and Tru jeans in the past so I have high hopes for these. Do any of you have them already? I will review them once I get them!

 1. MEDIUM WASH JEANS | 2. DARKER WASH JEANS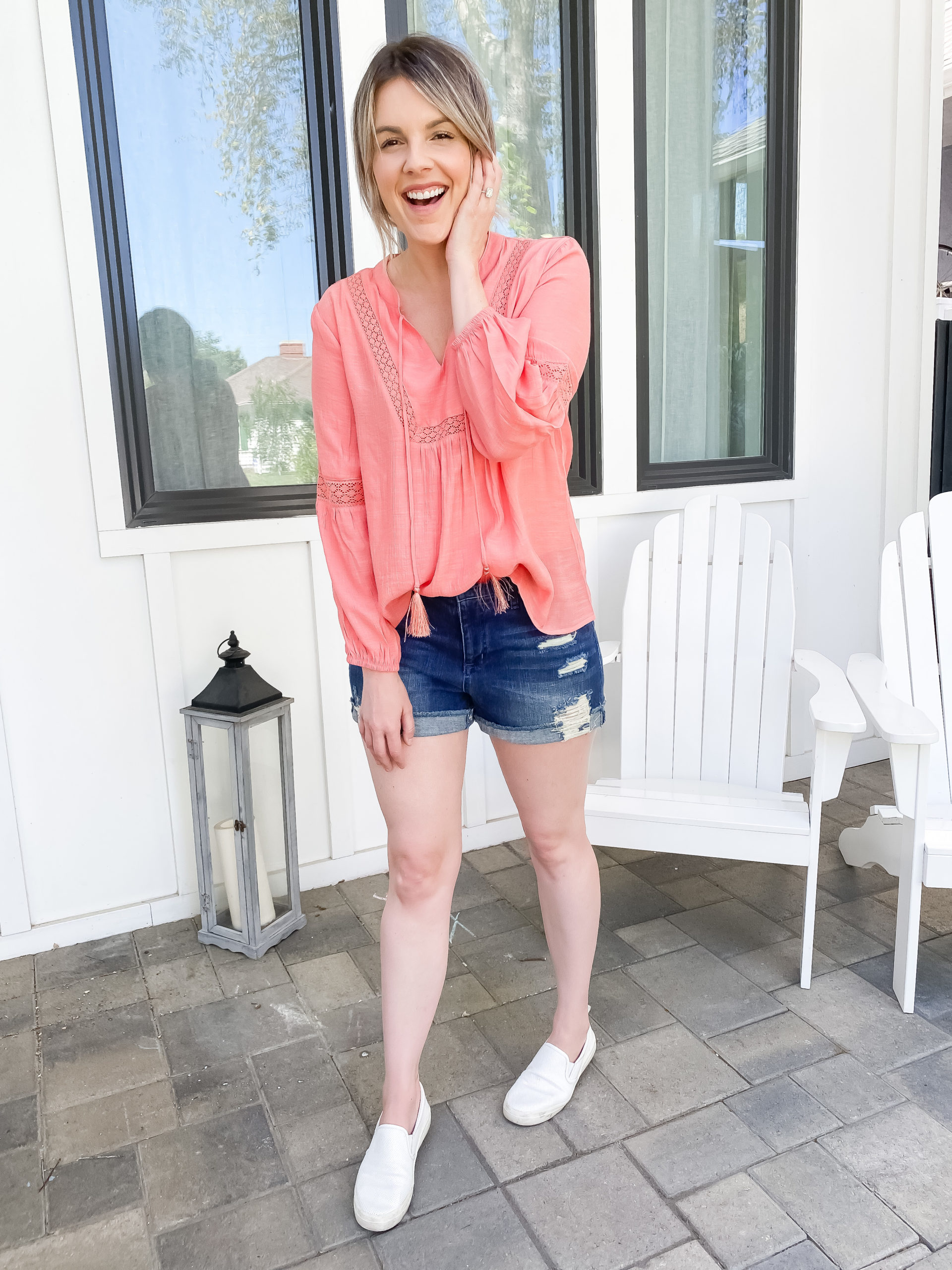 1. JEAN SHORTS | 2. $15 CORAL TOP | 3. WHITE SNEAKER
And this top is fabulous! Can you tell how excited I am about this Affordable Friday post in general?! I truly love everything! This top is just so ridiculously flattering and cute. I love the coral color and the detail on the sleeves. Plus the material is so lightweight and breezy that it's absolutely perfect for spring and summer. I feel like this is a great top for someone who doesn't want to sweat their butt off in the summer, but also doesn't wanna wear short sleeves. I'm wearing a size medium which is my normal size.
Happy Summer Edition Affordable Friday!
I hope you all have a great day and even better weekend. What are your plans?  We will be spending our weekend poolside and continuing our potty training adventure with Riley! Ha! Let me know if you get anything from this summer edition AF post – I would LOVE to hear what you think!!