Welcome to today's makeup tutorial! I feel like I've gotten asked to do a makeup tutorial and hair tutorial for years now and for some reason I've just never gotten around to it. I don't know why. It's one of those things that I absolutely have always wanted to do, but then I just keep forgetting about. And recently, a few of you in my Facebook group asked me to share how I do my makeup everyday and I promised I would do the tutorial so I'm sticking to my word and sharing how I do my 5ish minute makeup!
5ish-Minute Makeup To Feel My Best
I hope you guys find this helpful. I truly think some of the little tricks I do, like adding highlighter to the inner corners of my eyes, are super quick and easy way to put yourself together in the morning. I for one, always feel 100% better mentally throughout my day when I put on some makeup. I feel like when I take care of myself on the outside it automatically takes care of me on the inside. So I hope it does the same for you without taking up too much of your time. Here's a video tutorial of me putting on my makeup and you can find all the info and links below too!
Oh and I had to mention here how hilarious it is that my zipper was unzipped throughout the whole video and I didn't realize until I was basically at the end of the video. I almost went back and re-recorded the whole video but then I figured that who cares it's real life and it's funny so I decided to leave it. So now you guys have officially seen me with my fly unzipped. We just got a whole lot closer. Ha!

Sunscreen
You guys know how important sunscreen is to me after my basal cell carcinoma skin cancer diagnosis a few months back. The first thing I put on my face before my makeup is this Coppertone Pure and Simple for Face sunscreen! I highly recommend you protect your skin and start with sunscreen too. Our skin is our biggest organ!

Moisturizer
For the longest time I didn't wear moisturizer. I don't know why I just didn't prioritize it. Or I'd just wear tinted moisturizer and call it a day. However, now I absolutely swear by putting on moisturizer before makeup. And you guys know I use Hello Body products. I have for over a year and I swear by them! I know sometimes that when you see influencers post about brands that they work with they can seem like they're only saying they like the product because they're being paid to. First and foremost, I would never do that. But additionally, I would use Hello Body products and talk about them even if I wasn't working with the brand! I truly believe it's the reason my skin is clear. And FYI, code ALILOVE will get you 40% off all of their products. And just for the record, this is not sponsored. I'm telling you about it because I truly love it.
Foundation
The 'foundation' of my look is  tinted moisturizer for a little extra moisture to my skin mixed with foundation. I have used Tarte products and have forever. I think I first started using them after I stopped working at E! News. I used to use MAC foundation back then and it was just so hard on my skin! My pores were always super clogged and I broke out all the time. So I did a little research to discover a natural foundation and that's when I found Tarte. I couldn't love this brand more!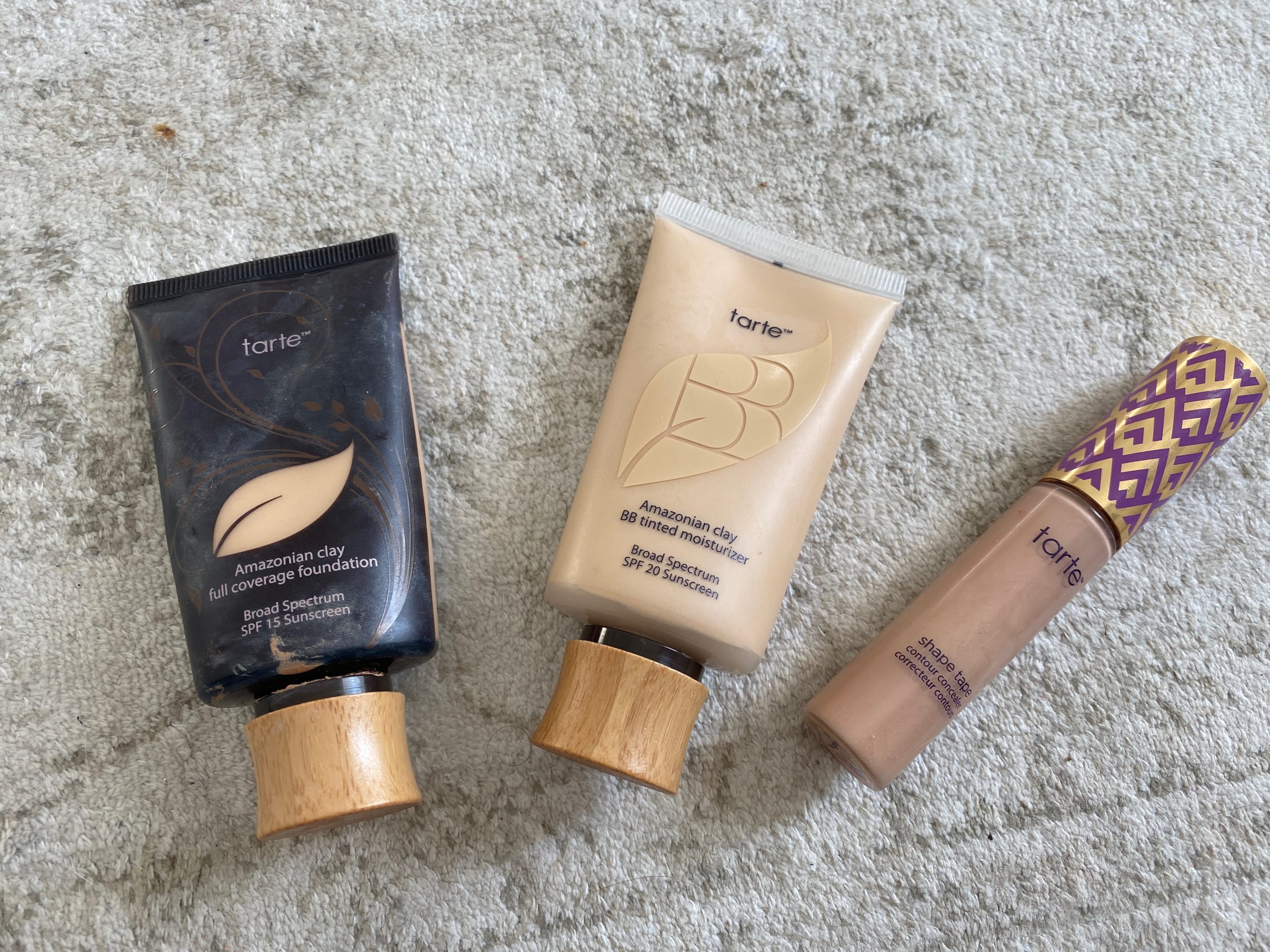 1. FOUNDATION | 2. TINTED MOISTURIZER | 3. SHAPE TAPE
They have a bunch of different shades to match your skin tone and skin undertones. If you're unsure of what yours might be I suggest buying two because you can always mix them. For example, right now I'm using the light tinted moisturizer and the 22S light sand foundation, but sometimes I use the 29H light medium honey foundation and mix it in. It just depends on how tan I am. Which these days I don't get very tan because I'm obsessed with using sunscreen. Ha!
Concealer + Brightening
If you grab the tinted moisturizer and foundation from Tarte, go ahead and throw a Shape Tape on your card as well! This is another one of those products that I didn't use until recently. Honestly as recently as a couple months ago. I always just put on foundation and called it a day. But lately I've started doing slight contouring with concealer and a little bit of bronzer and it has taken my make up to a whole other level! I just feel like I look so much better when I do a little bit of contouring. And when I say slightly I mean ever so slightly. I just put a little bit of concealer under my eyes, on the bridge of my nose, the bottom center of my forehead, and then just slightly on the sides of my nose and then use a Beauty Blender to pat it all in . If you watch my video you'll see what I mean, you don't want to rub it! I use the 22B shade. But I recently bought the 20B shade as well to see if I'd like even a little bit lighter on my skin tone.
When I mentioned to Madi that I wanted to do this post and that I use Shape Tape, she told me that this product is super loved in makeup groups on FB and people call it the "Holy Grail"! So I guess I really did stumble on an awesome product and I am so happy to share that with you too.

Also, sometimes when I want a slightly brighter look under my eye, I will use this Becca Under Eye Brightening Corrector in Light to Medium. You only need a teeny bit and just dab it under your eyes with your finger. This product will last you forever because you really need so little of it.
Bronzer and Blush Palette
The bronzer is the second part of the contouring. I'm using a bronzer and blush palette that is honestly super old so I can't find it available anymore. Not that I've been using it for years and years, but I think I got it years ago and never opened it until recently. And maybe it's a little old. Ha! I use my my makeup way longer than I'm probably supposed to. Anyway, I'm going to link a similar palette here and a few others below that have the exact same shades in it that you'll need to get this look, and a few for slightly darker skin tones!

First, I put bronzer around my hairline and then contour on the side of my cheeks just slightly. And then with for blush I use a hot pink color to give myself a soft glow on the rounds with my cheeks. It's funny because when my make up artist Emma first suggested I use this color on my cheeks years ago, I thought she was crazy when I saw the hot pink color in the palette. But don't be afraid of that. Even though it looks hot pink in the palette, it goes on so pretty and fresh. This is also a really pretty palette with a bright pink and a highlighter.
Eyeshadow
I honestly use a tiny bit of eyeshadow but I really think it goes a long way! I've been using a palette that I got from my Fab Fit Fun box, as you can see in the video the colors I use the most are basically gone. Ha! I couldn't find it online anymore, but I am going to link a few below that have basically the same exact colors.

I take a light color and brush it over my entire lid – I really don't do anything too crazy with eyeshadow because I am not really good at it but I feel like adding this little bit helps! Then I take a darker color on the brush and go to the crease of my eye and rub the brush back and forth. This is definitely easier to show than explain so watch the video above if you haven't already! It just gives you eye a little something. I don't like using a lot, I just want it to look natural and fresh.
Eyebrow Pencil
I looove this eyebrow pencil by Chella called Beautiful Blonde. They have other colors too of course, but it is so hard to find a good blonde eyebrow pencil and this one just blows others out of the water. It doesn't make my eyebrows look like they ever have too much, they just look perfectly filled. I have so many of them stocked up because I am so worried they will discontinue them someday or something haha! I've brought it with me to the show I work on and the artists cannot believe how great this eyebrow pencil is!

Lip Liner + Color
For lips, I use a few different things. Sometimes I use Gucci 101 (Margaret Candleflame) lipstick on my lips for a nice nude color. It's really not as fancy as it sounds and lasts a long time. But depending on my skin tone that day (or how tan I am or really lack of tan), sometimes I feel like a nude alone doesn't really work for me. So I've come up with this little combo that I think works really well.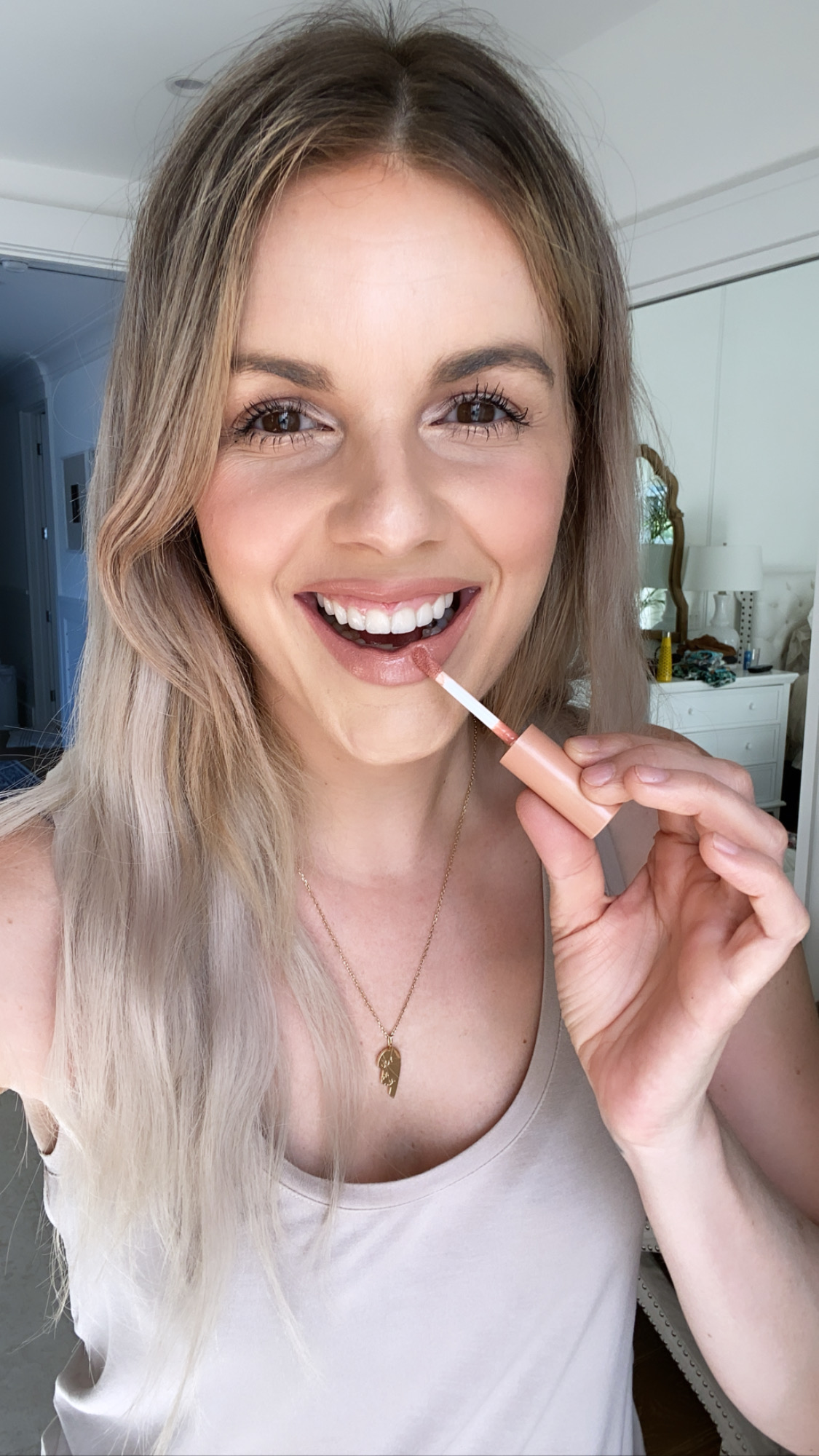 1. LIP LINER | 2. LIQUID LIP | 3. LIPSTICK | 4. GLOSS
I line my lips with this nude liner called Nude Beige and then I use this NYX liquid lipstick over my entire lip to create kind of a nude lipstick base. Over that, I like to add a little bit of color like this PYT lipstick in Icon or the Gucci one I mentioned above. This just adds a little pop over that nude base. Then to finish it off, I use this butter gloss. The gloss is really essential here and the color is as well. I also have been thinking about buying this vegan gloss because it is a great price and the Pink and Shortcake both look so pretty!
I find that the NYX liquid lipstick gets really dry and sticky within 10 minutes of wearing it if you don't add other things on top of it. I almost think of it as a way of giving my lips a neutral base before adding to them. I used to do this with foundation. Anybody else? Put foundation on your lips to give them a nice neutral base? But that's just not what foundation is for – it doesn't last and seems cakey. Where as I find this combo really lasts and is smooth on your lips!
Highlighter
One of my absolute favorite makeup tricks is putting a little highlighter in the inner corners of your eyes. It instantly makes you look more awake! This was a trick that I used constantly when I was the Bachelorette and was tired. Not that I should even be referencing that now. When I look back at my makeup during that show, I am appalled! Ha! But regardless, this really is a good trick. This is the highlighter that I use in the color Ivory Lace. But there are so many good options, so I will link some below!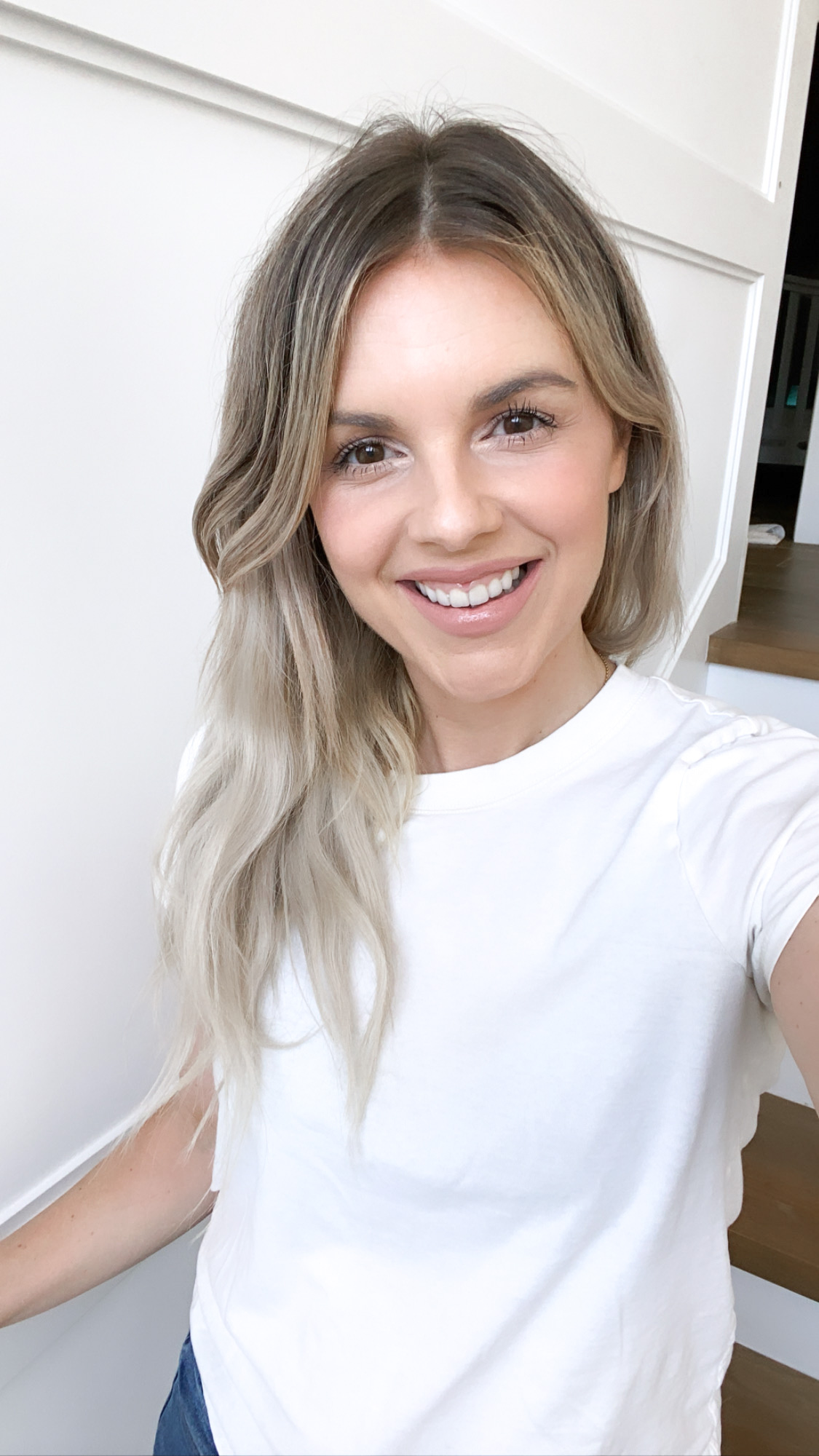 Mascara
I love this mascara so so so so so much! I'm not sure if this is true, but I heard that all mascaras are basically the exact same formula. The only real difference between them is the brush. And something about this curved brush and stick bristles gives me such a nice wispy look on my lashes! I love it so much that I bought an extra one to keep at work so that my makeup artist at work only uses this mascara on me. And I just bought this one because my friend just told me it is the best one she's every tried.

Root Touch Up
I found this one online and it had great reviews and I seriously think it is so incredible.. I got it in both blonde and platinum, and for my hair the platinum works so so so so well! People must have also been looking when I was and found this awesome product, because when I just went to find more of it, I found that it was sold out on every site! As I am writing this you can preorder it through Amazon and it will ship out in just over a week which isn't bad! I'm ordering another one and that's what I am doing, but I'd jump on that fast if you can so it doesn't sell out! I love color root touch-up for blondes because it allows you to put a little bit of color into your hair without using a box, and they also have I think about 10 other shades from auburn to black too!

Also, I looooooove this texturing spray. It's on the pricey side but worth it it use for special occasions like a date night or event! More tips on how to do your hair during the quarantine over on this blog!
Before and After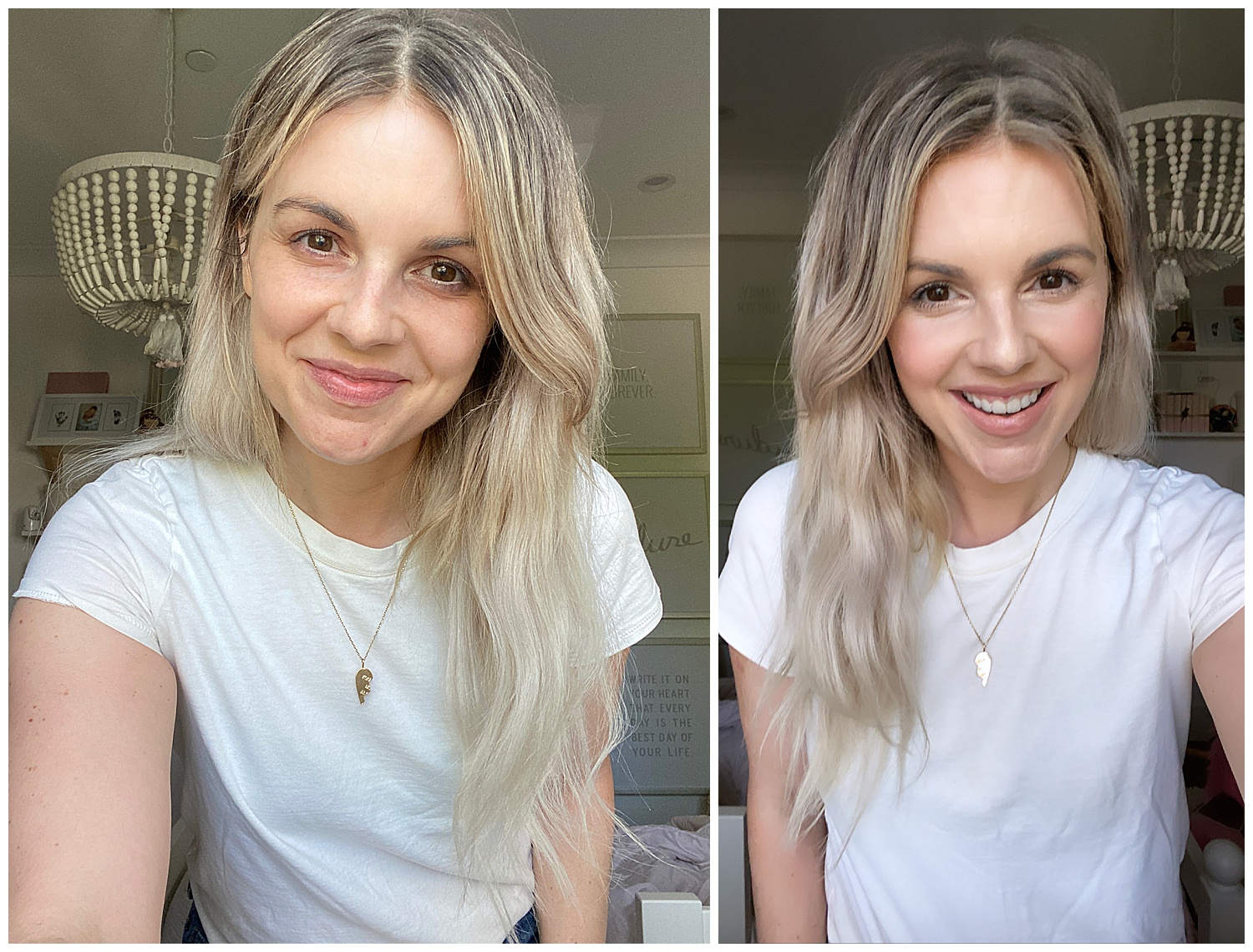 Extras
Thought I would link a few fun extras for your routine here, like this awesome UV light brush cleaner, SPF makeup setting spray, lighted makeup mirror and these pure cotton makeup pads. They are 100% cotton and not chemically treated or bleached, which I think is really important. If you want to go the sustainable route, I have these makeup remover pads from Hello Body that are great – don't forget the code ALILOVE for 40% off if you order them! Oh, and we can't forget to clean our Beauty Blenders. I love this cleaner from them, the makeup comes out so easily. What do you add to your routine or how to do clean your brushes?

Another Extra… ha!
I got these pajamas in the mail today so I just wanted to show you guys while you are here! Who said you can't wear PJs all day when you're stuck at home? I decided to put on some jean shorts and wear this top just because it is so comfortable!!! They are from Tommy John! I posted this on my Instagram stories today, but I want you guys to have the links here as well because the discount code comfy30 works for 30% off! We all need some comfy pajamas to sleep…and do our makeup in!! I also got some underwear from them and the most comfortable loungewear – that I am going to get my mom some for Mother's Day because they are so great!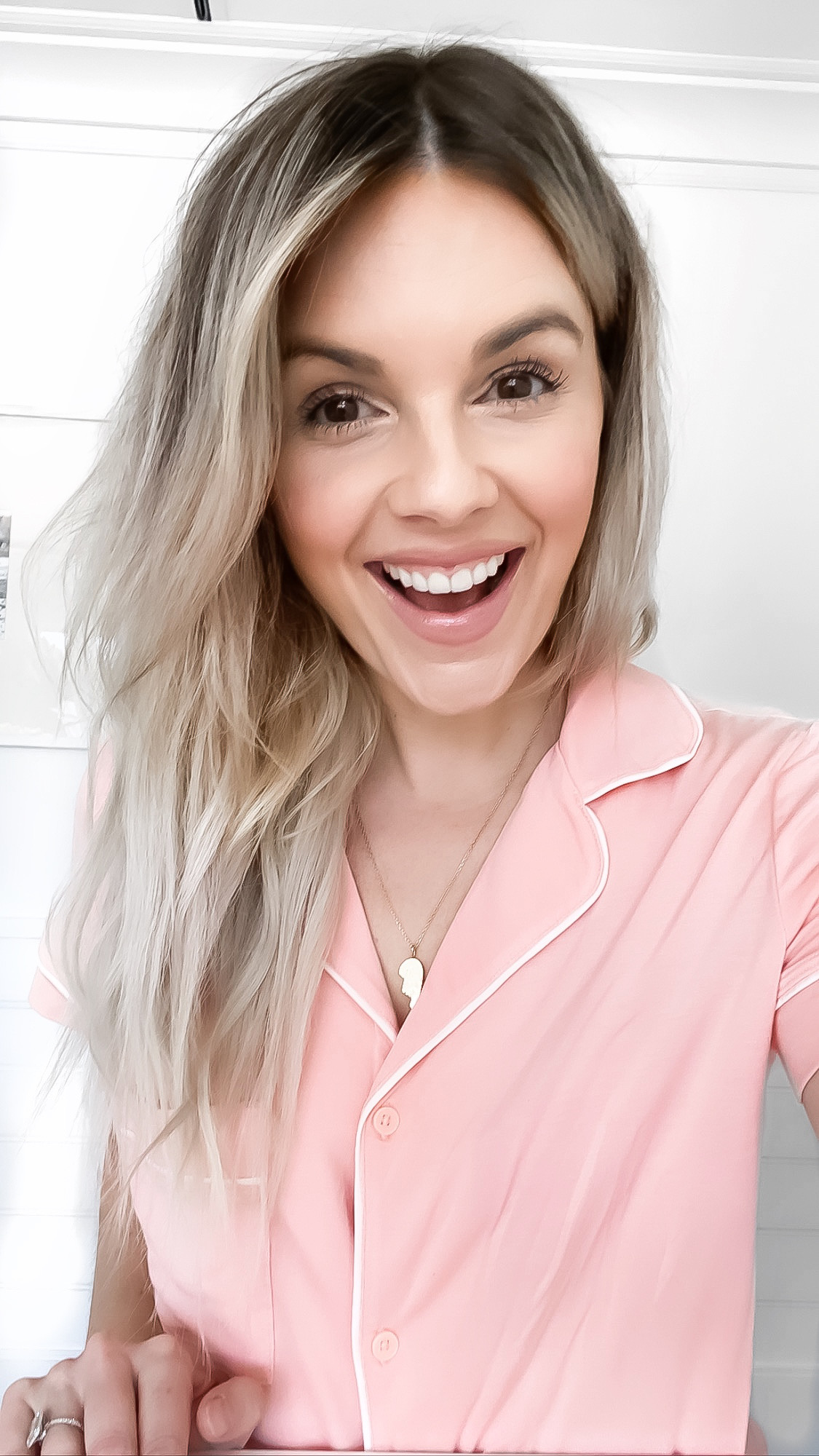 Look and Feel Your Best
I hope my tricks help you to get your makeup done a little faster and also help you feel your best. I've said it a few times and I will say it again, for me looking my best is directly related to feeling my best and I know that rings true for some of you. It's OKAY to feel this way and I hope you can try out my 5ish minute routine and see if it works for you! Maybe you have an extra step you love and thing I should add, let me know in the comments below! Hope you are all hanging in there in these tough times, thinking of you all!