Hey guys! I almost hesitated doing this post because there are so many serious things going on in the world that vanity is definitely low on my list of things to be concerned about. But here's the thing, sometimes with everything going on in the world the only thing that can keep us sane is a sense of normalcy in our lives. And for me, when I wake up in the morning and look in the mirror, it affects how I feel throughout the entire rest of the day. I always find that on days where I get dressed, brush my hair, and throw on a little bit of makeup that I feel so much better than on days where I don't get out of my pajamas or even wash my face.
There have also been so many posts on my Facebook group with people asking questions like "Help! How do I get off this gel polish?" or "I work with the public and really need to know how to take out my extensions!" So I wanted to share this post today to let you guys know what I'm doing to upkeep my appearance when I'm not able to go to the salon. And even if some of these things are things I'm not doing, which I will call out below, I'm sharing them because I think they could help others.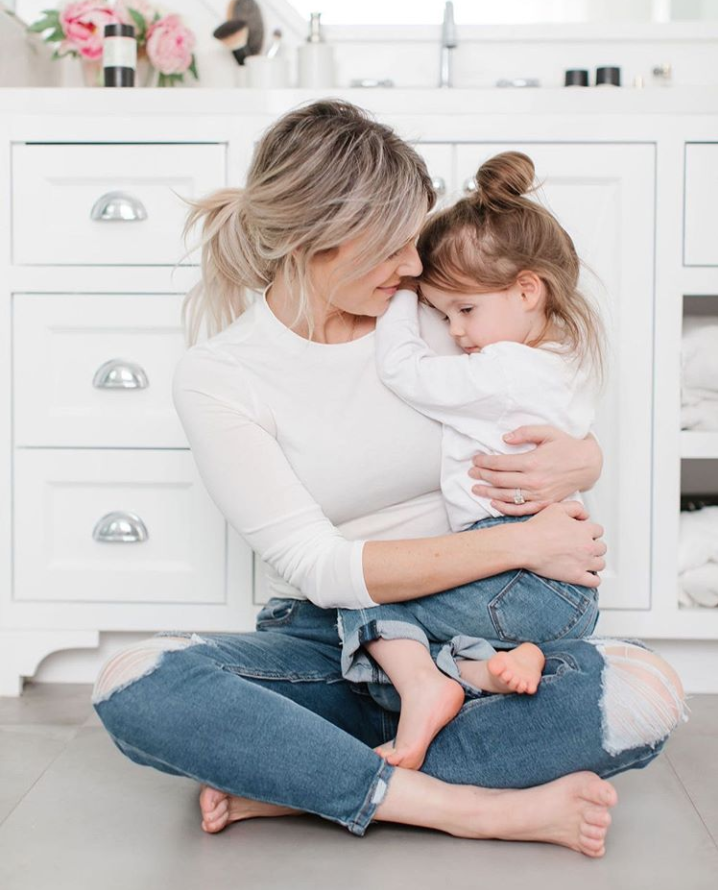 Roots Roots Roots!!!
Root Touch-Up
Honestly my biggest concern with being home for so long is not being able to go to the salon for my roots. And I know I'm absolutely not the only one out there. It's hard being a blonde who has naturally darker hair in general. Never mind when you can't get highlights for eight weeks or more. So I found a color root touch-up that I just bought last week that I wanted to share the idea with you guys. I hadn't used this exact brand before but I have used other brands, which have been discontinued since, that worked great!
I found this one online and it had great reviews. I got it in both blonde and platinum, and for my hair the platinum works so so so so well! You can see my own personal before and after below. People must have also been looking when I was and found this awesome product, because when I just went to find more of it, I found that it was sold out on every site! You can preorder it through Amazon and it will ship out in just over a week which isn't bad! I'm ordering another one and that's what I am doing! I love color root touch-up for blondes because it allows you to put a little bit of color into your hair without using a box dye. I'm all for box dye as you'll see below. But absolutely not for blondes!
Here's a before and after that I just took that I did on clean hair! Honestly I do think it works a little better on dirtier hair, which I will show below. But both are night and day and I am so thankful for this touch-up!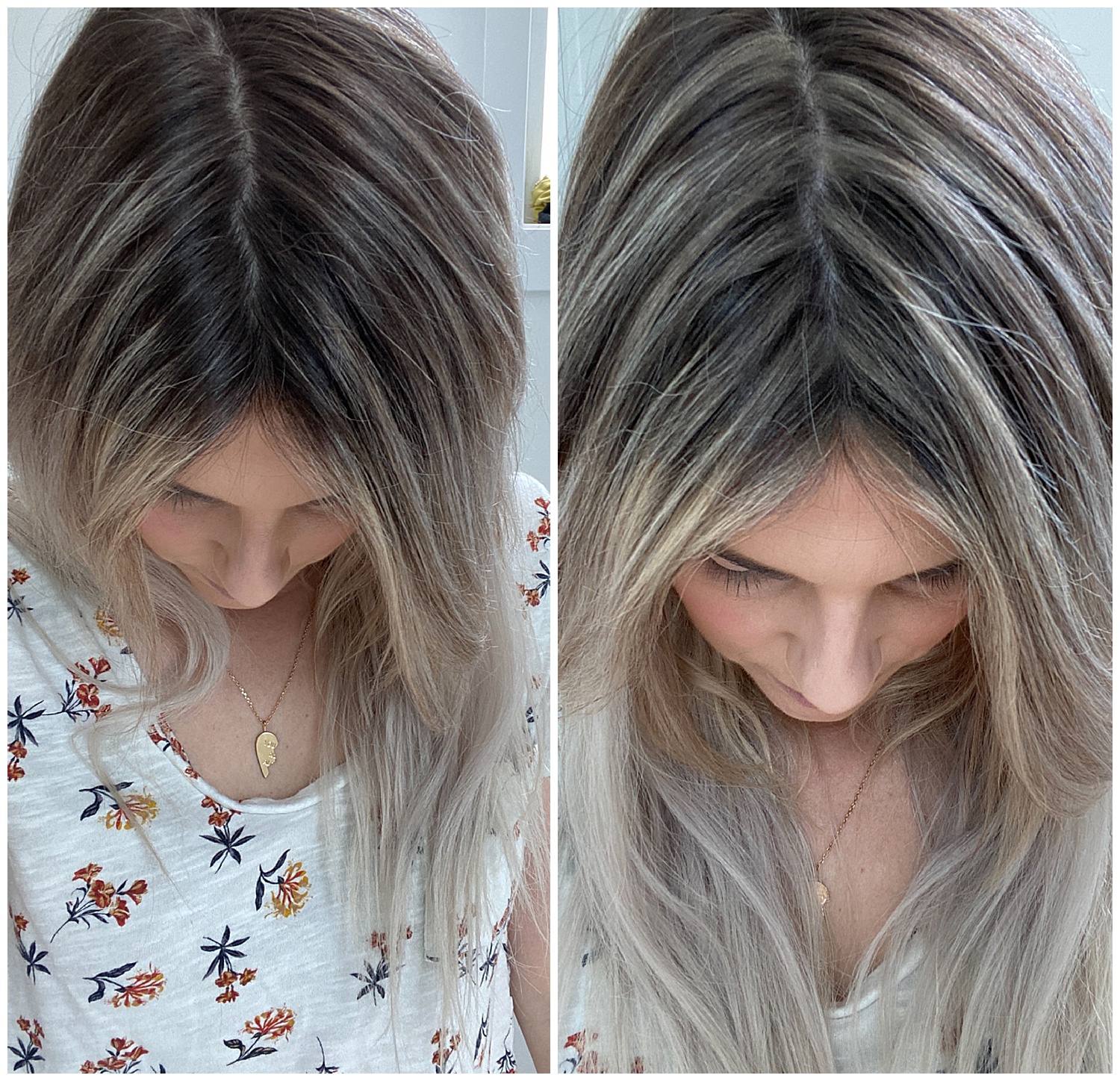 1. COLOR WOW ROOT TOUCH-UP | 2. SCOOP NECK TEE
The shirt I am wearing above is sold out in this print, but this is one of my very favorite t-shirts, especially for lounging around with your kiddos and doing projects. A handful of the colors are 40% off right now making them only $15!! I would definitely recommend checking them out – I have it in a few colors just because I love it so much.
And I wanted to show you this photo I sent to Madi the other day when I was telling her how awesome this works. Her hair color is a similar shade of blonde to me and I think it would work great on her to. So this little "highlight" that you will see below is the Color Wow on dirty hair. As you can see, it is more pronounced on dirty hair but I think that both look great!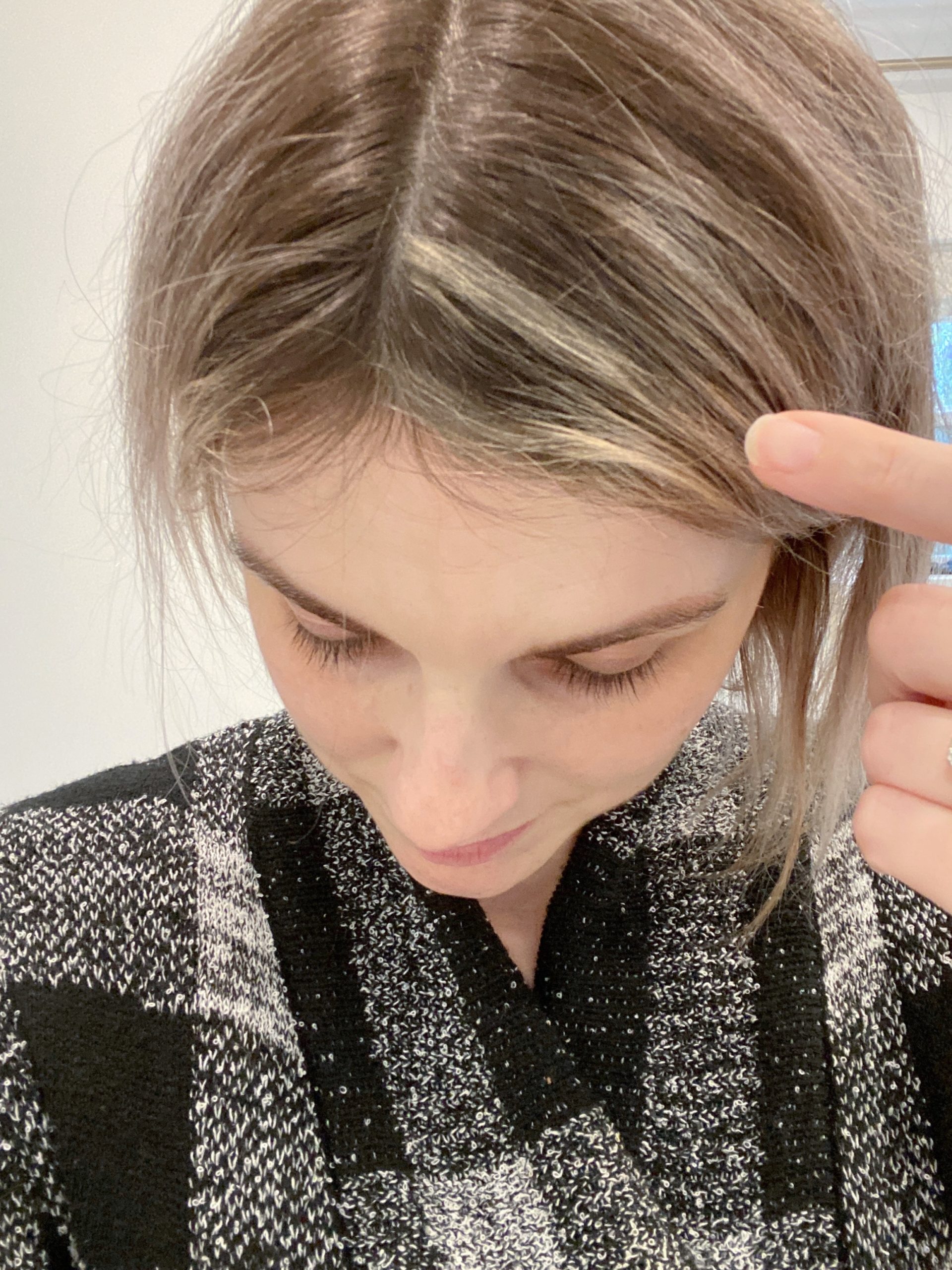 Dry Shampoo
I also find that using dry shampoo works great for roots as well if you're a blonde. I purposefully look for dry shampoos that are white and not the ones that claim they don't leave a white residue. The white residue actually works pretty well for a blonde because it makes your roots lighter. Also they make specific dry shampoos for blondes and brunettes that are great for root cover-up. The reason I'm talking about blondes mostly in this is because I think if you are brunette a box dye would work great for you. But if you don't wanna use a box dye, a dry shampoo for brunettes is another great option!
I've really been liking this one because it isn't an aerosol spray, which I think is better for the environment. And it leaves the white residue that I mentioned above. A white powder comes out of the top you apply it to your roots directly. I just spray it right on the dark spots and it instantly lightens them and also keeps my hair looking fresh! I've been using this every day. Here are some photos of a quick fix that seriously takes 10 seconds, it's it great? If I had to choose though, I do prefer the Color Wow root cover-up that I mentioned above!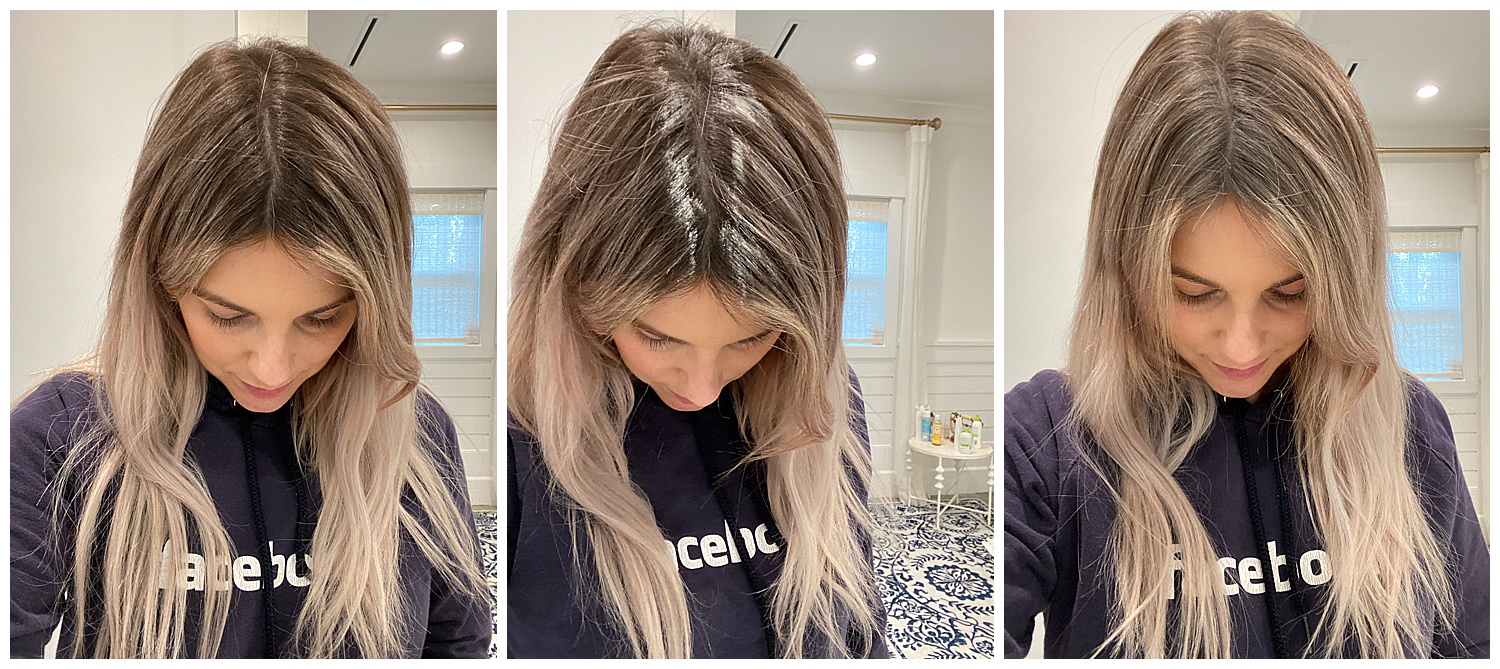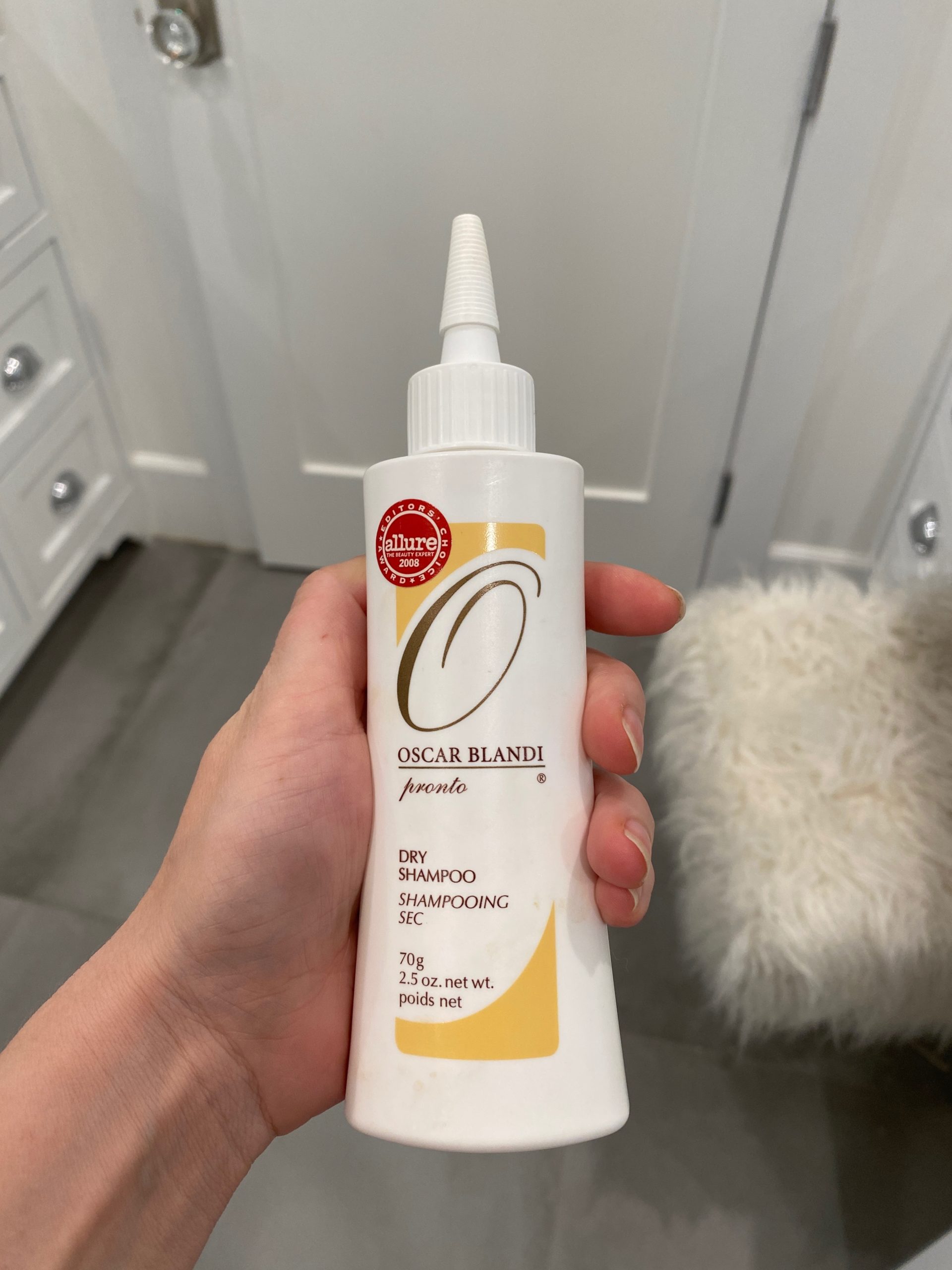 Honestly, right now is the perfect time to be training your hair to go longer in between washes. I didn't wash my hair for an entire seven days last week – and I am aiming for once a week moving forward! It's really important not to wash your hair every day or even every other day because you can train your hair/scalp to stop producing so much oil. The more oil it makes the more greasy your hair is. And when the shampoo keep stripping your hair of that oil, it just produces more and more and therefore your hair gets more and more oily. Look it up! So the dry shampoo would not only help you go longer in between shampoos but it will also add a little color to your hair!
Box Dye (If you dare!)
Like I mentioned above, I feel like box dye is a good option for people who aren't blonde and who overall hair that is a single color. I don't know if it works great for redheads, if any redheads are reading this please weigh in below! But I feel like box dye is for sure an option if you're up to it. I've heard good things about this brand. Anyone use any particular box dye that they really love that you could share in the comments below for everyone? I haven't used a box dye since I was in high school. But again that's because I go blonde now!
Extension Remover
Sticking on the topic of hair, I wanted to mention extension remover. I know extensions are super common, but I have tape in ones and I know a lot of other people have extensions as well. If you need to remove your tape or glue-in extensions, I found this extension remover online years ago and have used it a couple times. It definitely works and you absolutely need this if your extensions are growing out to the point that they're dreading. Do not try to remove them without some sort of remover. I would definitely consult your hairstylist at your salon, but I find this one works well.
Extensions
If you take out your extensions, your hair underneath might not look so hot – especially because they typically cut your natural hair to flow well with the extensions. I for one have not gotten a haircut in over a year, so I can only imagine what mine looks like under my extensions. So if you want to buy clip in extensions to replace them for now, I'm linking a few with good reviews at different price points below. I'm still trying to decide which ones I'm gonna buy if I have to end up removing mine.

Toner
Hey guys! Madi jumping in here – I asked Ali if I could share the product that has saved my hair this quarantine! I was supposed to get my hair done the week the Safer at Home mandates started in CA, so needless to stay my hair was in shambles. The water is my area is pretty hard and has a lot of copper deposits which causes my typical "creamy" blonde to look brassy and bleh. Sometimes I even go to the salon in between regular appointments for toner.
Anyways I had been eyeing this in-shower toning gloss for some time, and after talking to a handful of friends who used it, I decided to try it! I used this one by Kristin Ess in Winter Wheat and she has a variety of products for different hair tones, including a clear version if you are just looking for some shine and conditioning. I'll put before and afters of my hair below, apologies for the quality. My husband was not meant to be a photographer. lol. But as you can see, a lot of the brassiness was removed from my hair in just that one treatment. I kept it on the minimum time frame that it said because I wasn't entirely sure how my hair would react, but next time I will definitely be keeping it on for the max time! Definitely worth the $14, and as you've probably seen in the FB group I am a big Kristen Ess gal!!! So affordable and works great on my hair. Next on my agenda, learn how to cut my ends? Haha just kidding, but they need it badly! Okay back to Ali.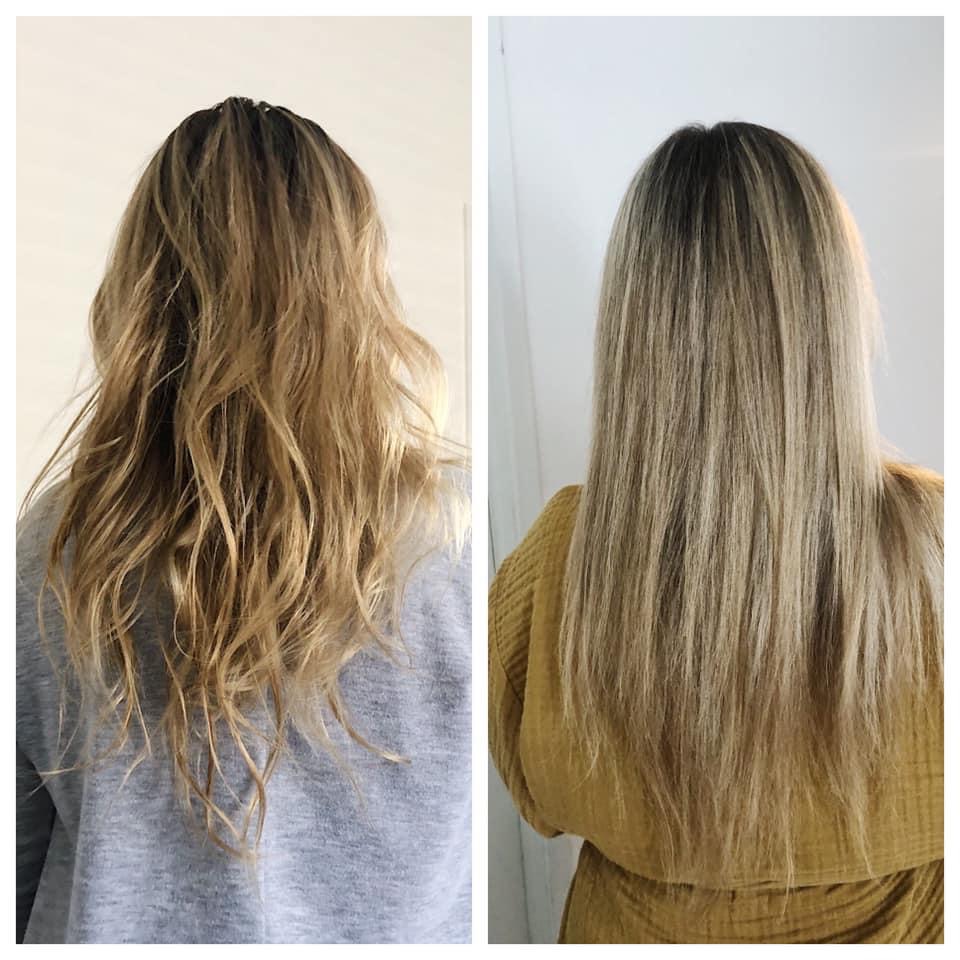 Finding More Normalcy for Your Body
Sunless Tanner –
The other day I finally put on sunless tanner for the first time in over 45 days. And honestly it felt so so so good! I haven't done it because I've had no reason to. I wasn't getting dressed up to go anywhere, or really even going anywhere at all. But at the end of the day, I was looking in the mirror everyday and just not feeling great about my appearance. As soon as I put on the sunless tanner I instantly felt better! You guys know that my absolute favorite brand ever is Clarins. It gives such a nice even look. I've also seen a bunch of you on my Facebook group recommend Jergen's Natural Glow. I guess it's something you build gradually as you put on every day. I've never used it but I've seen so many people recommended on my Facebook page that I thought I would link it here for you guys as well if you want a more subtle option.

Hello Body
Little fact about me for you guys – I haven't gotten a facial at a dermatologist in 5+years! However, my skin has never been better! Full disclosure I did get 2 IPL's which were great, but that's not what I credit for my skin consistently being so much better over the past few years. Honestly I credit natural products! As you guys know, I've been using Hello Body products for well over a year.  I just checked and my code ALILOVE still works for 40% off, so definitely snag some now while the discount is so good.
Even though I swear by Hello Body, I will say that I did try a different skincare brand for about a week a couple months ago. The reason I did is because the company sent me a bunch of their products and they were super expensive high-end products and I was curious to try them. However, they weren't super natural. Nonetheless, I thought I'd give them a go for a week just to see if it made any difference – I kid you not within five days I was breaking out all over my chin. I could not believe it! I grew up my entire life thinking that the products with all the harsh ingredients in them were the products that would work to make your skin better. Where as natural products were kind of too "hippy dippy" to actually work. That couldn't be more far from the truth for me! I immediately went back to my Hello Body products and my skin cleared up almost instantly!
I've been getting so many amazing messages from others saying how it has cleared up their skin or their teenagers skin! I wanted to share this post from Kyla with you, because it seriously made me so happy!! I am so glad that these products are working for you guys!
Definitely check them out since you can only order them online. I have most of their products, and my favorites right now are the Cara Balm Night Cream, the Cara Illuminating Eye Cream, and the Coco Fresh Face Foam. I also LOVE the bamboo reusable makeup pads, I put a little makeup remover on them and that's how I take off my makeup every night. I love that it is a more sustainable option than using cotton disposable ones.
I've been saying that now is the perfect time to order brands that aren't available in drugstores since we're only ordering online now anyways. If you already use Hello Body products, let me know what you think in the comments below!
Other Self-Care That Might Be Needing Maintenance
Lash Serum
I saw so many people posting stories about how they're fake lashes have either completely fallen off at this point or are looking pretty sparse at this point. I don't know if there's a solution or something you can buy to help take them off. But I do know that when they do come off your lashes are probably going to be pretty thin. I used to get lash extensions all the time and when I stopped getting them, I couldn't believe how thin my real ashes were. So I started using Grande Lash MD. And it has worked so well! My lashes have gotten so much longer just by using it a couple times a week. I think you're supposed to use it every day but honestly I just forget. I actually ran out a few weeks ago so I just ordered a new one, and that's because I've even noticed a difference in my lashes just for not using it for a couple weeks. It's amazing!
More Items I Love
There are sooo many places that are having sales right now, so if you can afford it, this is a good time to stock up on makeup and other things once we resume everyday work life! So grab what you normally use! I've talked about it a couple times before, but I love this Tarte foundation. It gives you such even makeup and there are so many colors available. Another great product is the Chella Eyebrow pencil, I use the Beautiful Blonde. I'm also going to do a widget below with a few lip products that I like!

Normalcy is Okay!
I know that the saving grace for a lot of us during these times is routine and normalcy. While I know that beauty is seriously one of the last things to be worried about in the grand scheme of what's going on in the world, you may still want to look and feel our best right now – and that's okay! For me, looking my best is directly related to feeling my best and I know that I am not alone in that. Let's all support each other, no matter what it's about. We all are going through this strange time together, and everyone is affected different. Sending love to all of you!