UPDATE! I decided to update this post for current sales going on today 4/24! A few of them were still going and I've updated them too! I've been finding some amazing deals like my outfit below!
This top is from Nordstrom and is currently on sale for only $16! It's the brand Leith that you might see me wearing often. They just have really quality pieces. This top is originally $55 and is 70% off. It comes in a really pretty coral poppy color as well that I really like. I also want to mention my shorts! These jean shorts are my absolute favorite jeans shorts ever. And this is coming from a girl that never wears jean shorts ever! They're super flattering! They're on the expensive side but in my mind there so worth it because they're the only jean shorts I wear.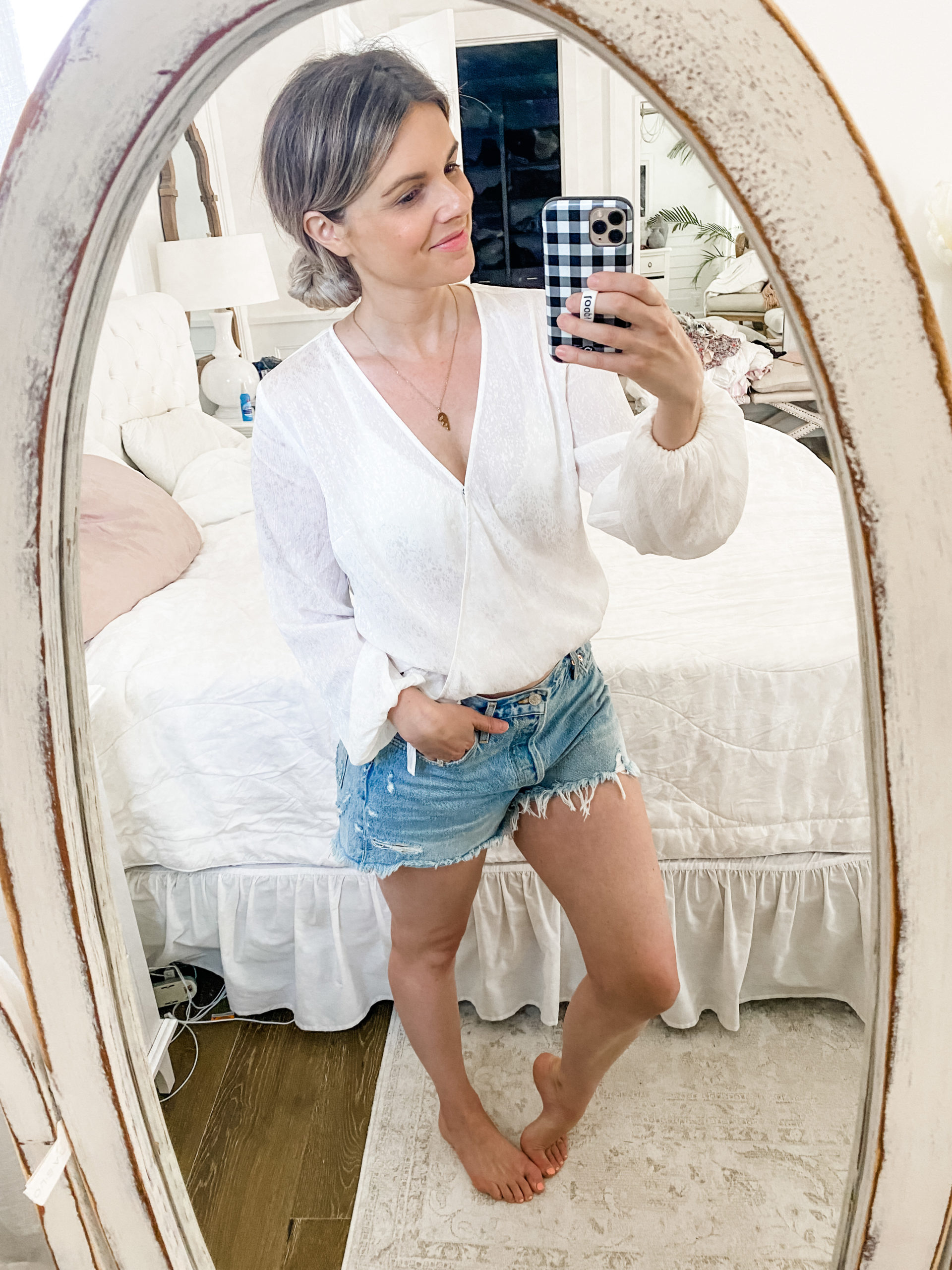 1. $16 TOP | 2. JEAN SHORTS
Hi guys! I thought that I would share some sales with you that I have been finding all over the internet and turn it into an Affordable Friday post for you. I think we are all in the same boat when it comes to saving money these days, but that also doesn't mean life is stopping and there are some things you might need to be purchasing. Maybe for you that's a few shirts, or maybe it's a bed because your kiddo grew out of their crib during this quarantine, whatever it is that you are looking for, I hope you can find something good in these current sales!
Anthropologie
Currently Anthro is offering 30% off ALL clothing, including sale! The non-clothing sale items are also an additional 25% off. I'm linking a few items below that I found and love, all are apart of the sale!

Crate & Barrel
They are running a 40% off sale on their top-selling outdoor furniture, and up to 30% off all other outdoor furniture. Outdoor entertaining, planters and rugs are also 20% off. Furniture, lighting and wall decor is also up to 20% off! Extra 20% off clearance rugs, bedding and more through 4/30.
Home Depot
I don't know if you guys have ever seen the Home Depot Special Buy of the Day, but there are a TON of awesome outdoor furniture pieces on there today, including umbrellas and decor! I also spotted this set of 25 succulents that is on sale for $29, which I know is a great deal for them! If you are trying to build a succulent garden, this would a great time to grab some. This set of plant drippers is on sale for $8 too, which is 50% off. I didn't even think of getting plant drippers until now, but wow what an awesome idea.

Nordstrom
UPDATE: The oatmeal cowl neck is 55% off now instead of 40% off and the pink shock and light heather gray are both 70% off now making them only $23!
You all know that I am a Nordy's girl through and through and many of my most-worn pieces of clothing in my closet are from them. While they aren't offering a sitewide sale right now, a few of my staple pieces are over 30% off!
Two of the items that I wanted to point out that are on sale are my cowl neck sweater and my Kut from the Kloth jeans. You have seen both of these items on my blog a ton of times because they are truly some of my very favorite items in my closet. Let's start with the sweater. There are a few different colors that are on sale for different prices. The light grey heather and the pink shock are both 70% off, making them only $23! That is such a deal for this great sweater and the colors are really pretty. I am wearing the pink shock in the photo below. If you remember, I have this sweater in about 5 different colors because I love it so much! Also, the beige oatmeal light heather which is probably my very favorite of all of them is currently 55!% off!

I promise you this sweater is my favorite sweater of all time! And I'm not exaggerating when I say that. It is so ridiculously soft, the length is just perfect, and I am completely obsessed with the long cuff at the end of the sleeves that give it the coziest look ever.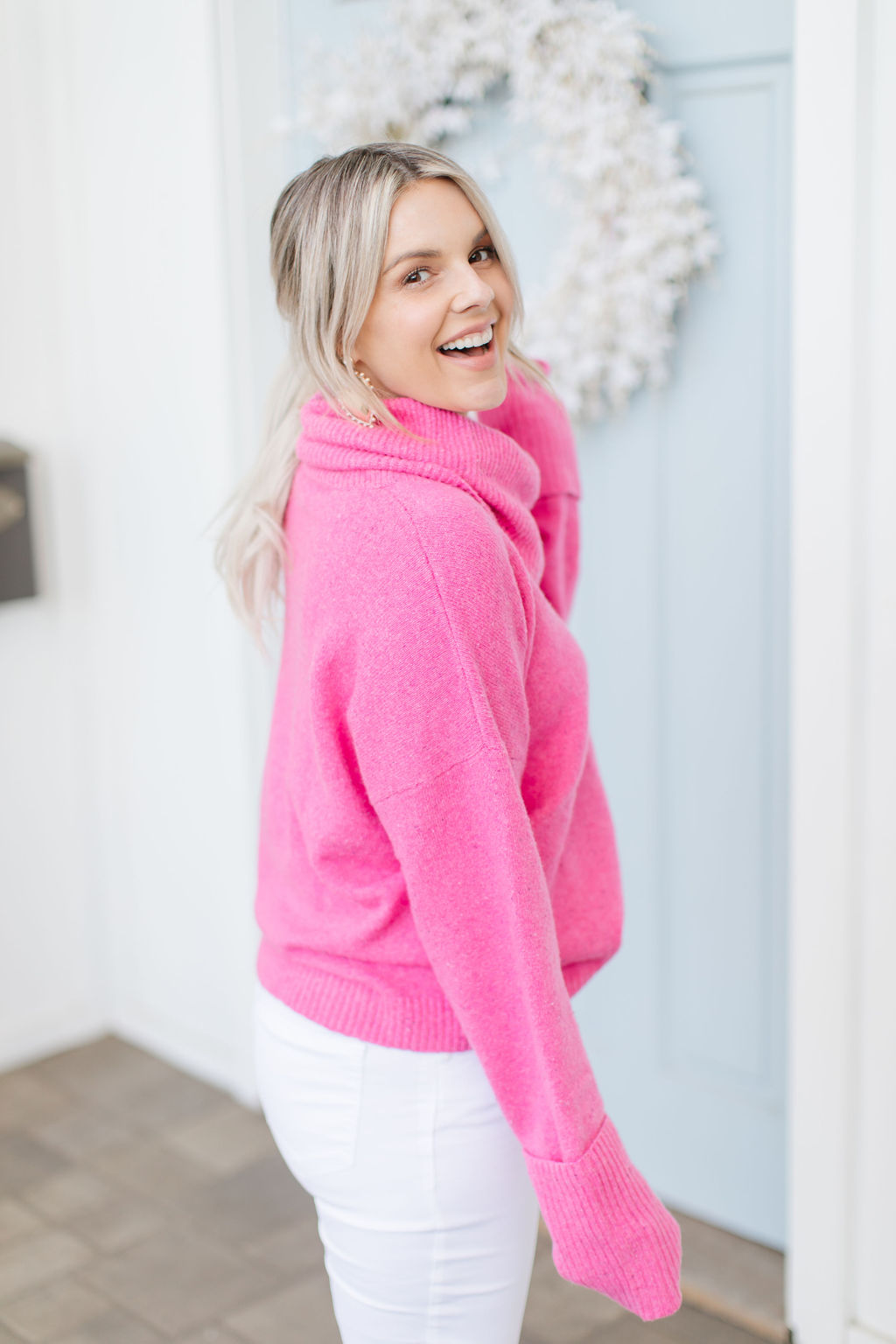 And honestly, it doesn't just look cozy –  it is cozy! I have this sweater in black, blush, oatmeal, rust, the pink shock and I honestly I think there is one more. I wish more of the colors were still in stock for all of you, but considering my favorite one is available at 40% off makes me so happy!  I honestly love this sweater so much that I wish I could buy one for every single one of you! I want everybody to have the sweater because it's so good! Every single one of my girlfriends who have seen me wear it went out and bought it for themselves. And that's the truth!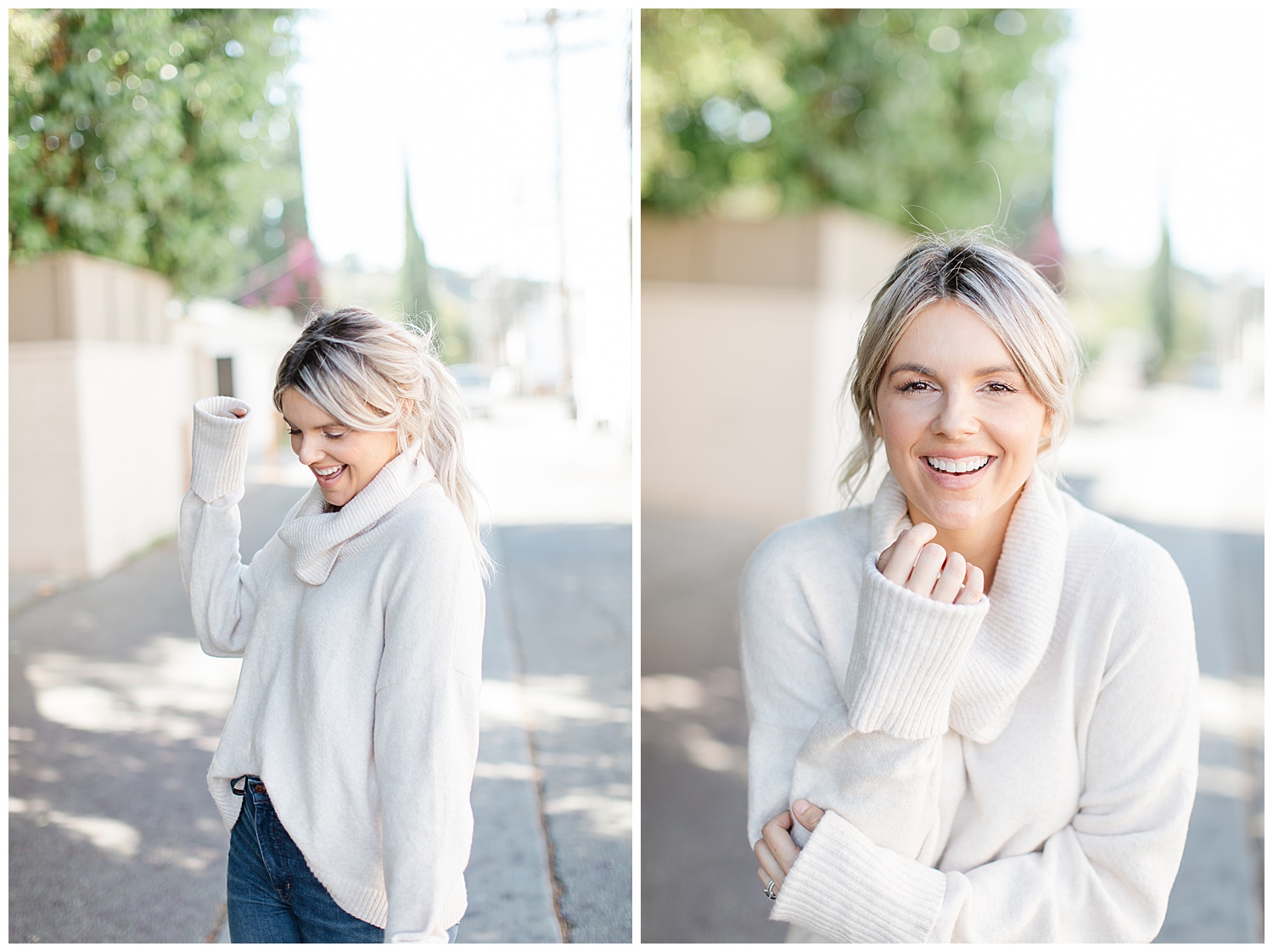 Onto the second item that I love that is on sale, my Kut from the Kloth jeans! Normally items I post about in my Affordable Friday posts are well under $50. But I think a pair of jeans under $100 in general is a good deal, and I think that these are a good deal at their normal price of $89… but they are on sale!! They are 30% which means they are only $63 right now which is incredible for these high-waisted jeans.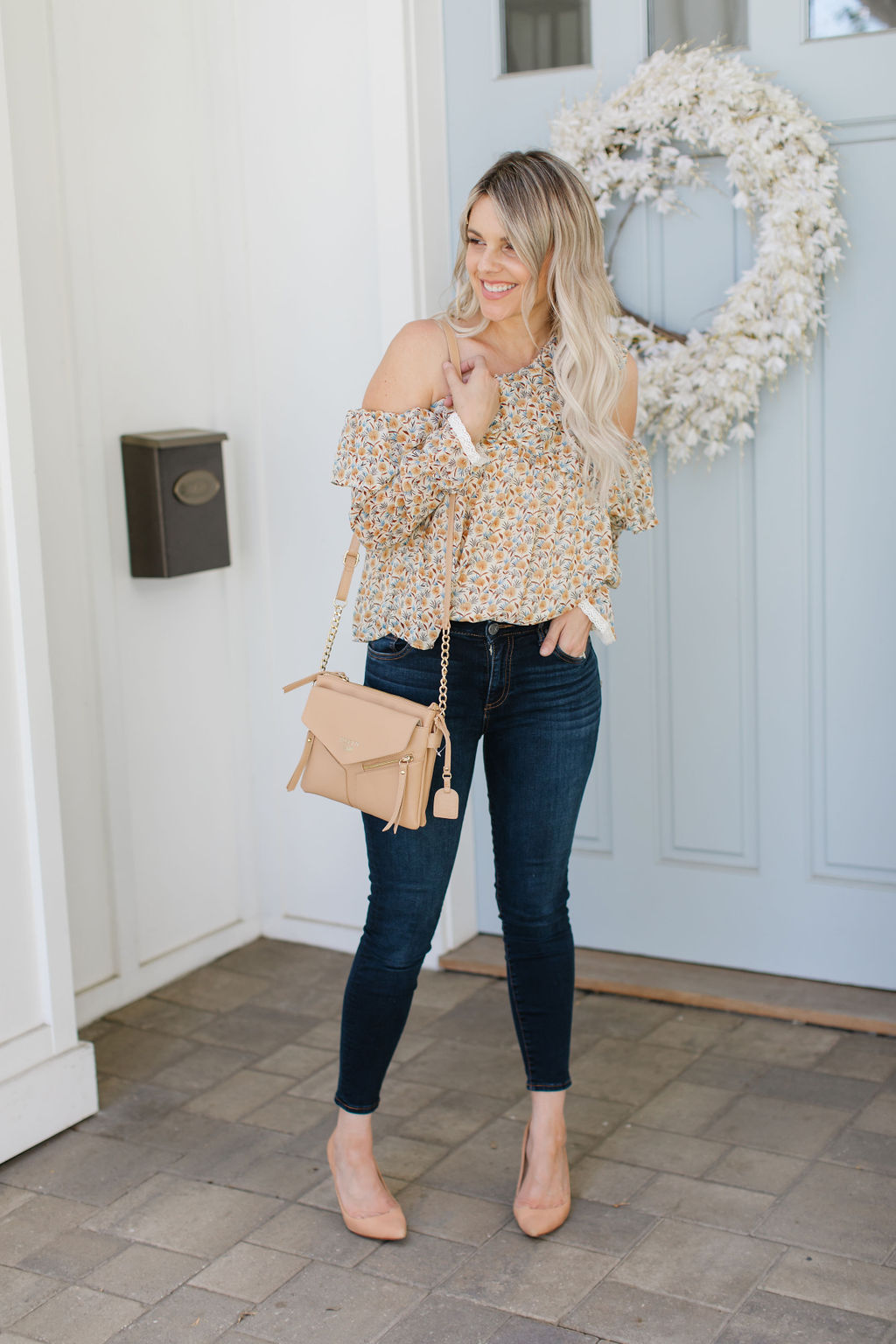 1. JEANS | 2. NUDE PUMPS
They're honestly more of a mid rise, than a true high waist. But I still love them. If you guys read the reviews on Nordstrom's website you'll see that people absolutely love these jeans! One person even said they instantly made her feel 10 pounds thinner! And honestly, they do the same for me. I've truly never felt thinner than I do in these jeans.
I think you can size down in these. I would normally do a size 6 or 8 but I went with a size 6 in these and they fit great! They are also very stretchy!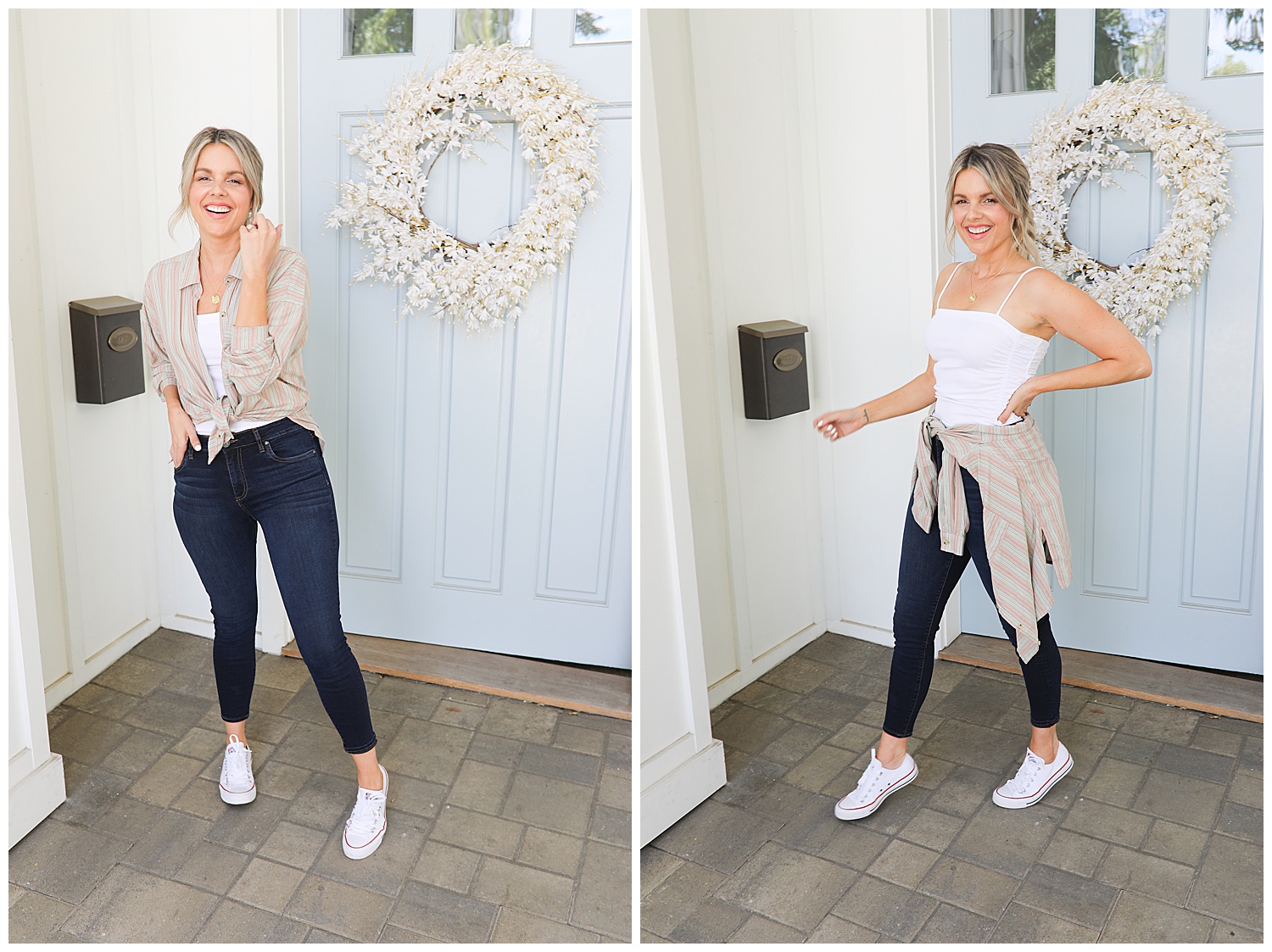 1. KUT FROM THE KLOTH JEANS | 2. WHITE CHUCKS
Target
Furniture is currently up to 25% off with an additional 15% taken at checkout when you use the code SPRING. Bedding, bath, rugs and decor is also up to 25% off. All of these women's clothing lines are also 30% off through tomorrow 4/25.
Pottery Barn
So exciting to see that their currently sales are 20% off furniture & 25% off everything else with code EARTHDAY. And you get free shipping! Both our bed and Molly's bed is included in this sale!
Molly's Bed
I wrote an entire blog post about her big girl bed and the transition, if you haven't had a chance to check that out already! I'll link it here as well. Here are some details!
As you guys know I went back-and-forth on what bed I wanted to get her for such a long time. I really, really, really had my heart set on a little dollhouse type bed like this one. I also fell so in love with this more detailed one (which is 15% off right now). But because I live in California having anything over your bed when you sleep is just so not safe. Earthquakes happen here and we are all gearing up for the next big one, so having something above her head just wasn't an option for us. But if you live in other parts of the country where you don't have to worry about earthquakes, 1. I'm jealous, and 2., I totally think you should consider a little house bed. They are just the cutest things ever. I'll link a few different options below a different price points of some of my favorites that I found while I searched different beds for hours!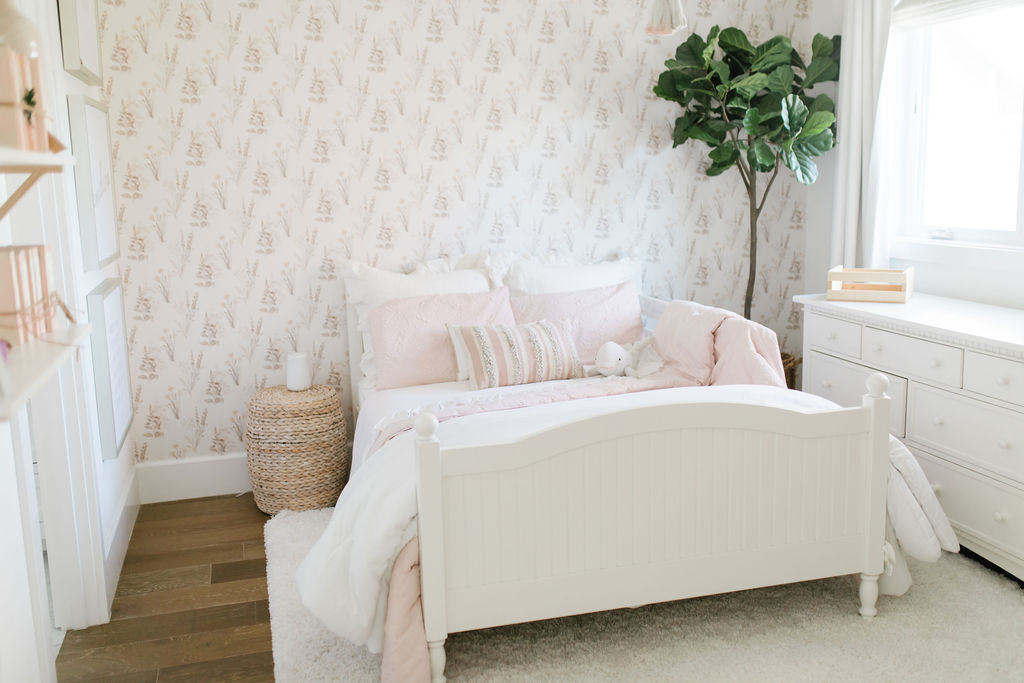 1. BED FRAME | 2. BLUSH COMFORTER | 3. WHITE RUFFLE SHEETS | 4. OK-TO-WAKE NIGHTLIGHT | 5. SIMILAR EURO SHAM | 6. SIMILAR THROW PILLOW | 7. GUARD-RAIL | 8. WALLPAPER
In the end I decided on this simple farmhouse style frame. It's classic and clean, but also has adorable character! I did kind of wish the headboard was a little taller to be honest. But I was able to give the head of the bed more height with pillows. Originally we had purchased guard rails for both sides of the bed, but with a bed of this size I really think that 1 is plenty. When I make the bed I drape the bedding over it to make it look cute! Unless you have a kiddo that thrashes around, I don't think they would need both unless they are in a twin! I would base it off the way they sleep and the size of the bed.
Our Bed
Our headboard is also from Pottery Barn and is included in the sale. It actually says some colors and sizes are on clearance in addition to the 20% off sale, so I'd say it's definitely worth checking out if you are in the market for a new bed. Below you will see pics from when we just moved into our house, and then when I added a pop of blue in for a little while. We actually got new bedding recently that I don't have a photo of yet, but it's also from PB and in the sale! It's a really pretty belgian flax linen, I think it is so beautiful.  I thought I would share that with you here, especially because if you are getting a new bed you will likely be needing new bedding too!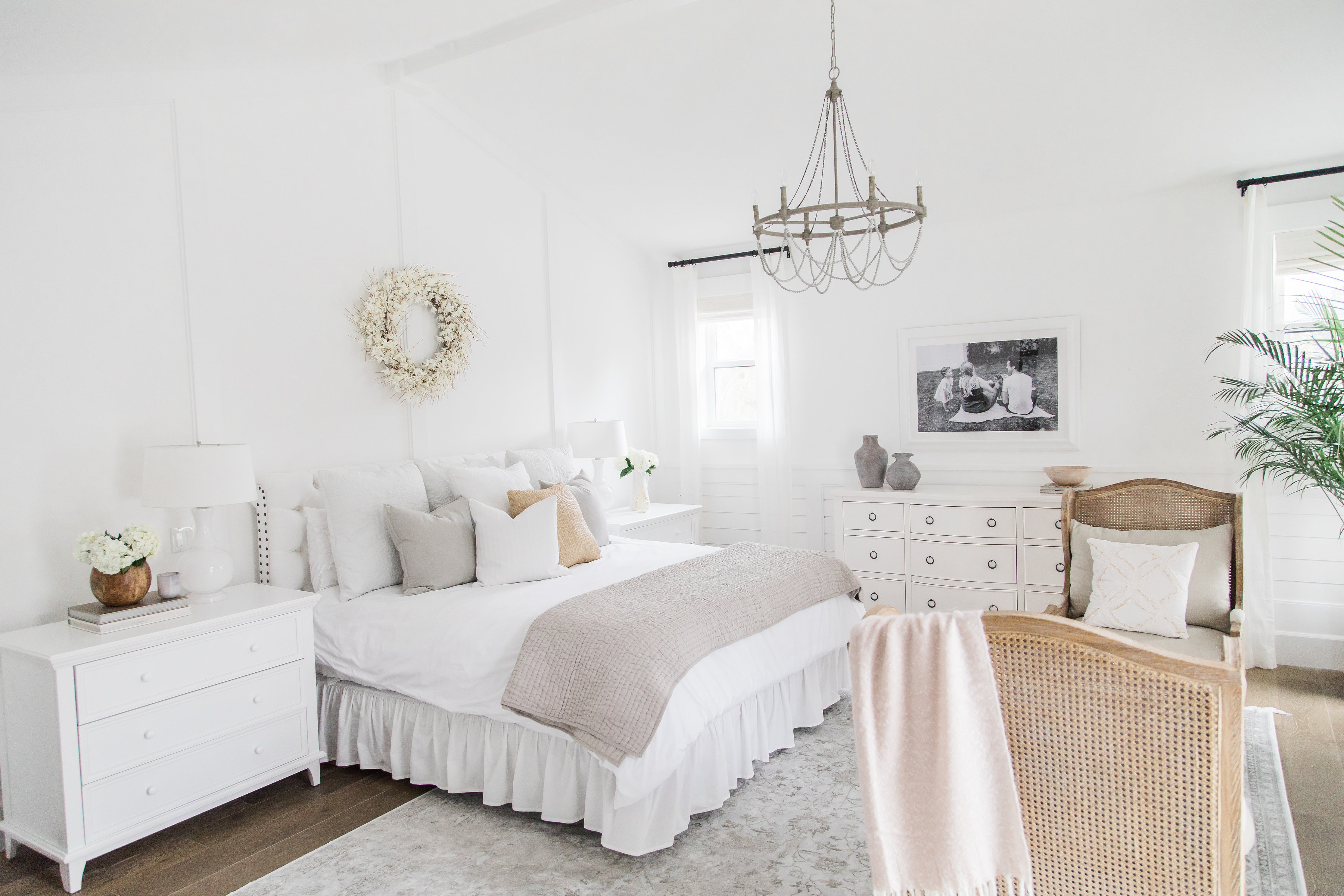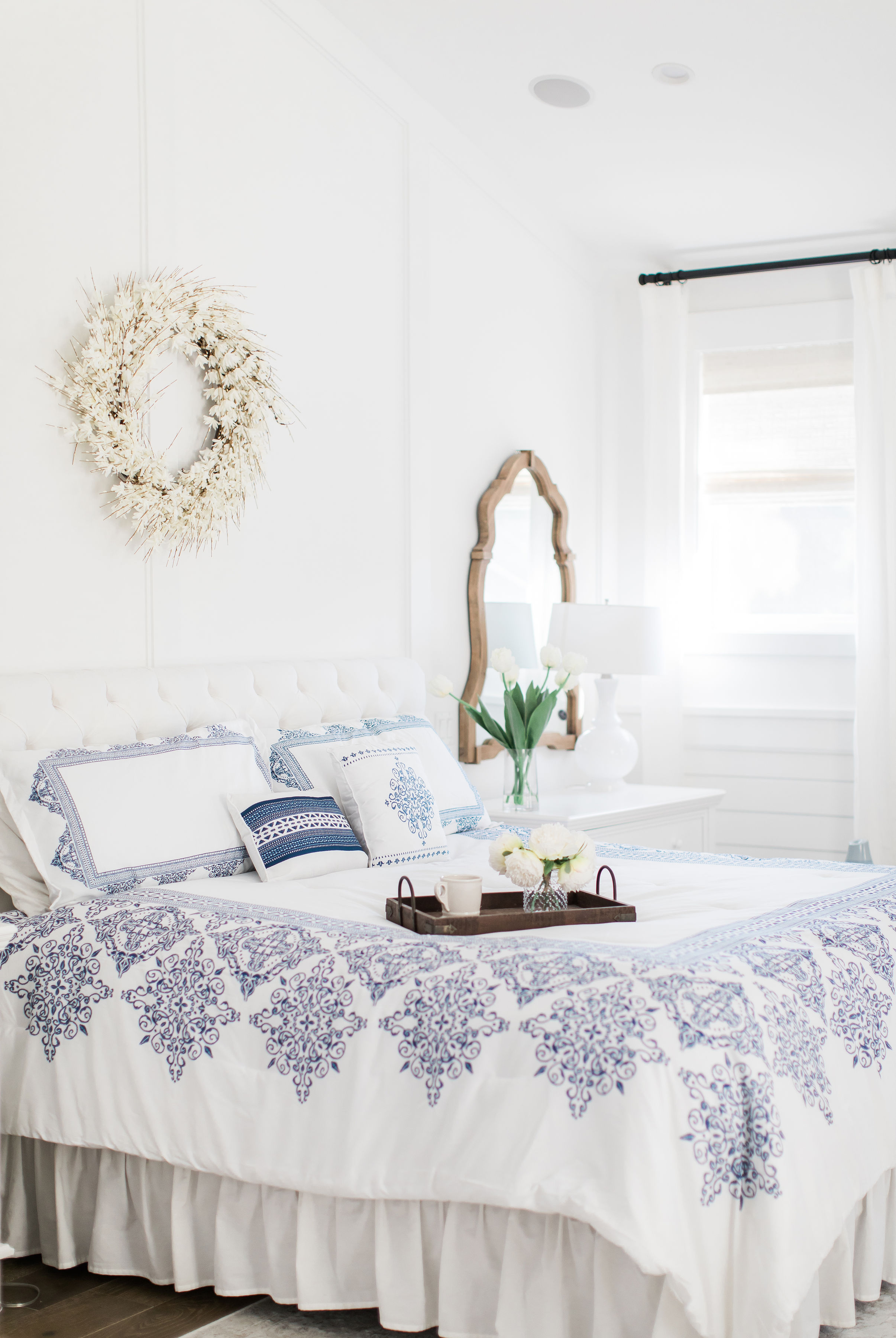 1. HEADBOARD | 2. SERVING TRAY | 3. OUR NEW LINEN BEDDING
World Market
They are 40% off all outdoor products – rugs, furniture, candles, gardening, picnic! I love this little potting bench that they carry! Perfect if you're a gardener, or newly into gardening like us.
Happy Shopping!
I hope you can get a few of the items that you are needing for a great deal from these current sales. If you see any other awesome sales you think I should know about, please comment them below! Let's all help each other save money during these times of uncertainty! Love you guys!