Welcome to Molly's room! I am so excited about today's post! Not only because I think her bed is absolutely adorable and I wanna share all the details for it, but also because the transition has been amazing for us and I really want to share with all of you what a positive experience this has been. Mostly because if any other parents out there are stressing about making the transition to a big girl bed or big boy bed, hopefully this will put some of your nerves at ease.
Molly's New Bedroom Decor!
The Bed
First, can I just tell you about some of the adorable details for this bed. Let's talk about the bed frame itself. I got it from Pottery Barn and I could not be more happy with it. As you guys know I went back-and-forth on what bed I wanted to get her for such a long time. I really, really, really had my heart set on a little dollhouse type bed like this one. I also fell so in love with this more detailed one. But because I live in California having anything over your bed when you sleep is just so not safe. Earthquakes happen here and we are all gearing up for the next big one, so having something above her head just wasn't an option for us. But if you live in other parts of the country where you don't have to worry about earthquakes, 1. I'm jealous, and 2., I totally think you should consider a little house bed. They are just the cutest things ever. I'll link a few different options below a different price points of some of my favorites that I found while I searched different beds for hours!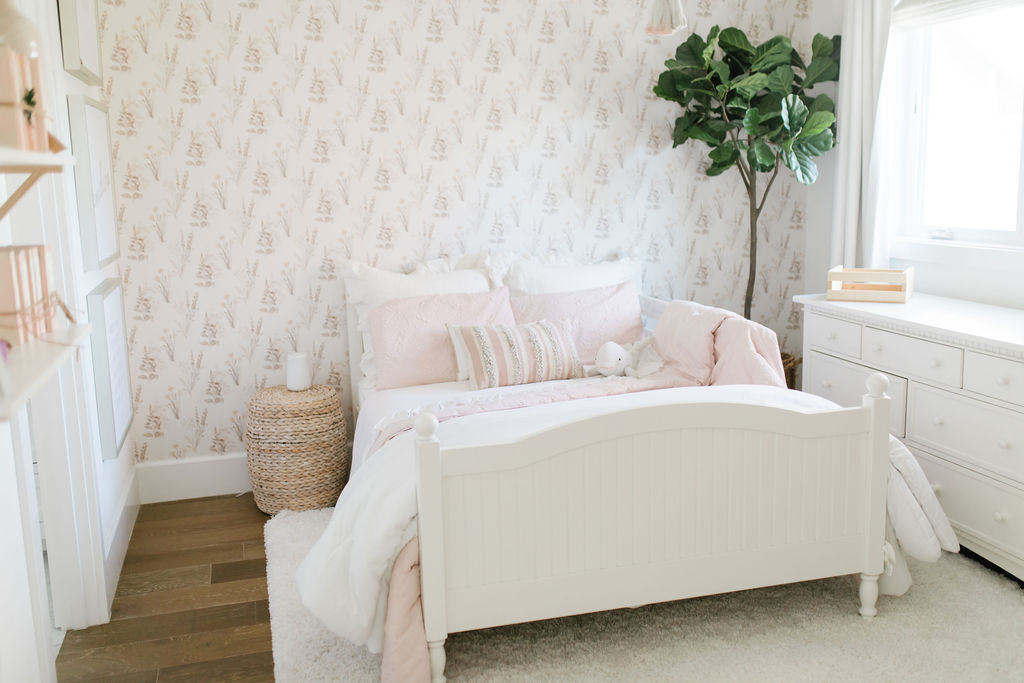 1. BED FRAME | 2. BLUSH COMFORTER | 3. WHITE RUFFLE SHEETS | 4. OK-TO-WAKE NIGHTLIGHT | 5. SIMILAR EURO SHAM | 6. SIMILAR THROW PILLOW | 7. GUARD-RAIL | 8. WALLPAPER
In the end I decided on this simple farmhouse style frame. It's classic and clean, but also has adorable character! I did kind of wish the headboard was a little taller to be honest. But I was able to give the head of the bed more height with pillows. Originally we had purchased guard rails for both sides of the bed, but with a bed of this size I really think that 1 is plenty. When I make the bed I drape the bedding over it to make it look cute! Unless you have a kiddo that thrashes around, I don't think they would need both unless they are in a twin! I would base it off the way they sleep and the size of the bed.
Her Pillows
So the pillows at the very top of the bed actually used to be on mine and Kevin's bed. But I just ordered new bedding for us. I ordered it three months ago, but it was on backorder so it still hasn't arrived yet, but I'm pretty sure it's coming this month. This set is what I ordered FYI for anybody who is curious. I'll do a blog post about our new bedding with pictures later so you guys can see. But I just absolutely love the pillows that were on our bed before and I am so glad Molly is getting to use them now. Originally, I got them from etsy. I reached out to the seller and unfortunately she doesn't make them anymore, but I found a few more from etsy for you below, and also linked an affordable option from Walmart too.

The other decorative pillows are ones that we've honestly just had lying around our house and they went so perfectly with her bed so I added them. I don't have exact links because I don't think they're available anymore. But I linked super similar pillows below so you can get an almost identical look.

Blush Comforter
Now let's talk bedding! How beautiful is this blush bedding?! I can't even tell you how long I searched for blush bedding before I found this comforter set. Molly's bed is a full-size bed so I got the full/queen size. And it comes with two shams for two additional pillows as you can see on her bed. While I was searching for different blush comforters, I kept finding some that were either too pink or not my style. I wanted something feminine, with detail, and it absolutely had to be the perfect light blush color. So when I found this at Kohl's, I instantly bought it. I also really like that it's not a duvet cover and it's a comforter. The bedding we just bought for our master bedroom is a duvet cover, so I do get them. But I just think comforters are so much better, especially for kids, because the blanket stays put and you're not always fussing to have the duvet lay properly.
You might notice in the photos, but I have a plain white comforter down at the bottom of her bed just to look cute! Chances are you probably have one in your house or linen closet already!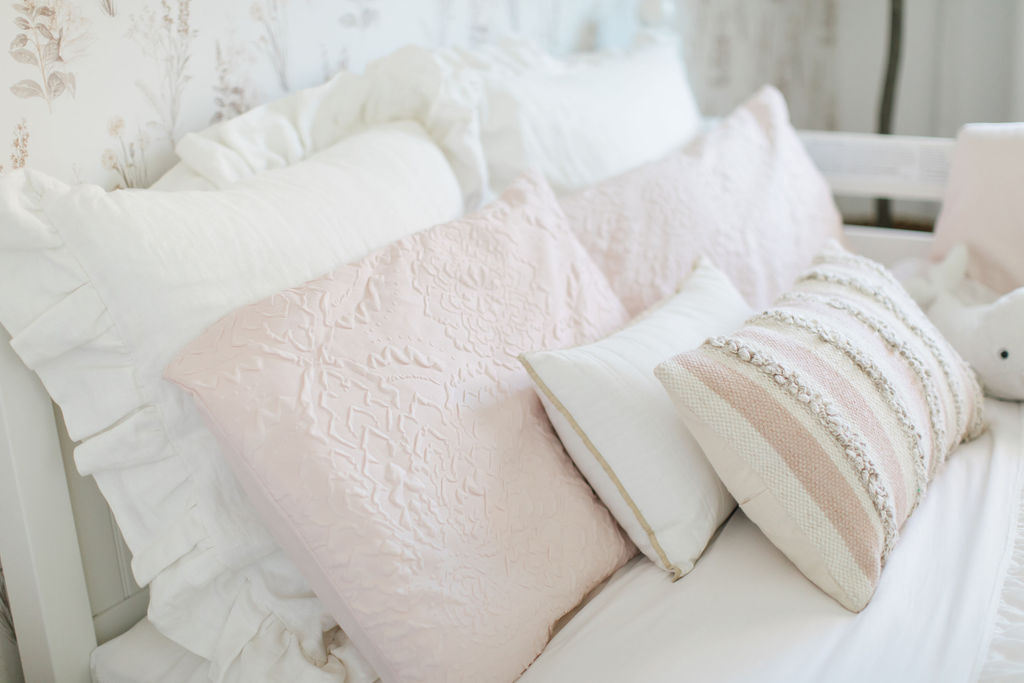 1. BED FRAME | 2. BLUSH COMFORTER | 3. WHITE RUFFLE SHEETS | 4. OK-TO-WAKE NIGHTLIGHT | 5. SIMILAR EURO SHAM | 6. SIMILAR THROW PILLOW | 7. GUARD-RAIL | 8. WALLPAPER
White Ruffle Sheets
Finally to complete the bedding set, we got her these white ruffle sheets. I knew I wanted ruffles somewhere on the bed and for a while I looked for a comforter that had ruffles. But every comforter that I could find with ruffles also had a smooth top. I knew with it being on Molly's bed it was just gonna look super wrinkled all the time and never really look nice. That's also why I bought her comforter with the detail on the top because it never looks wrinkled and always looks neat and clean. But, having the ruffle on the sheet worked out perfectly! It gives it that little feminine and girly touch that I was looking for! Not that having a blush comforter wasn't girly enough. Ha!
Wallpaper
Another detail that I feel like really completes the look of her room is the wallpaper. I love the colors and details. This wallpaper has been in here since we moved into the house. We put it up when we first moved in. It went perfectly with her crib and now looks just as great with her big girl bed! I will also link her little wicker nightstand, dresser, and faux tree as well for anyone curious.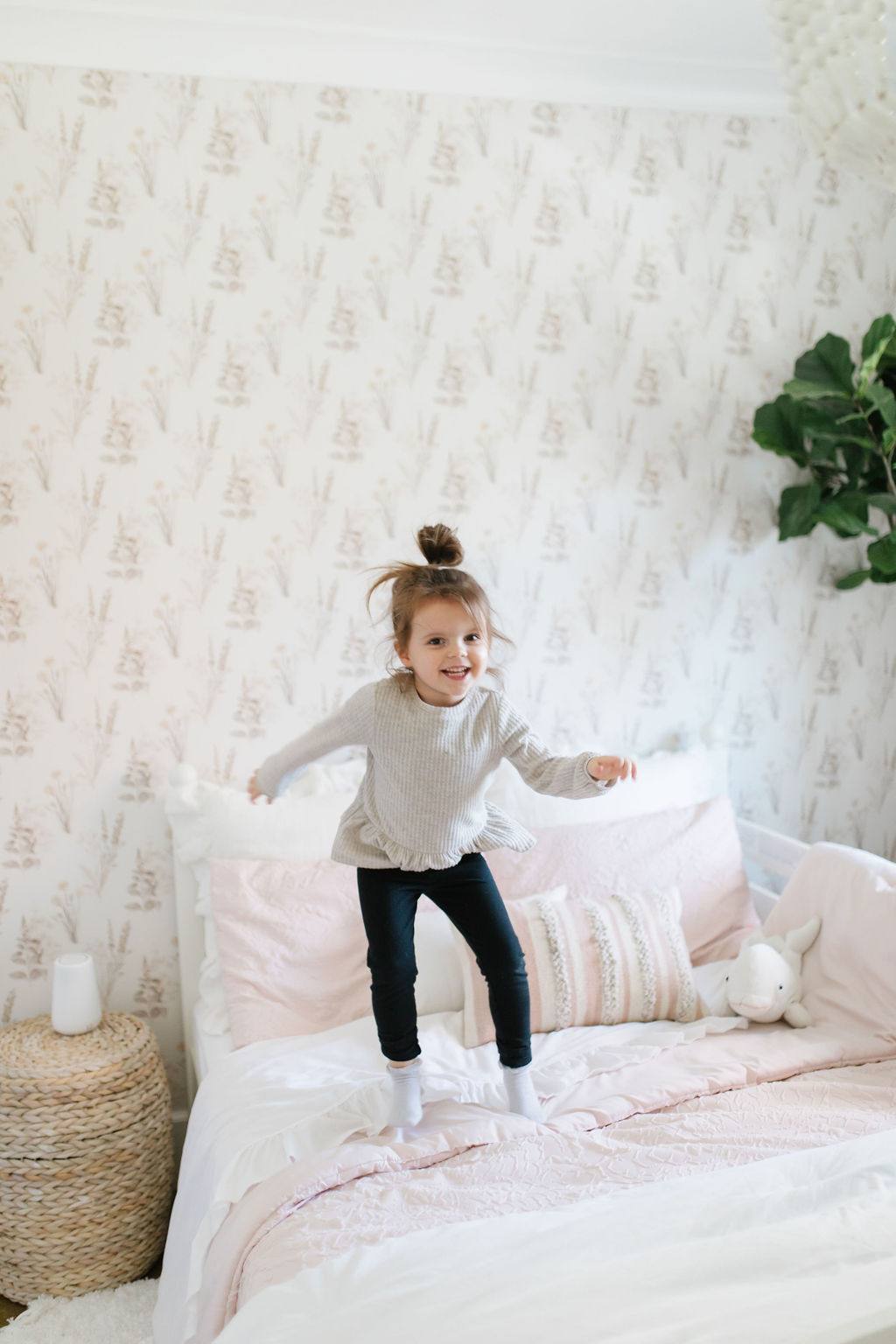 1.  DRESSER | 2. FAUX TREE | 3. BLUSH BEDDING | 4. BED FRAME
Transitioning Molly to Her Big Girl Bed
Okay, now let's talk about her transition. I'll start with when I knew it was time to transition. Honestly, I wish I wrote this blog post right when we switched her because I feel like now my reasons for switching her feel a little hazy in my mind. But I'll do my best recalling everything. Honestly, I was always told that we should keep Molly in her crib as long as possible. Every sleep coach or expert I had ever talked to said keep her in there if she was happy in there and not trying to escape. Molly never once tried to climb out of her crib and she always seemed pretty happy in there. So I planned on keeping her in there until she didn't fit anymore. Ha! You can find a link to her bedroom decor with the crib here!
Flexible Timing Due to School Switch
The only reason we decided to switch earlier than planned is because Molly switched schools. As you guys know, in November we switched Molly's preschool. I was nervous about the switch and how she would take it so to get her excited about it I told her that it was a new school because she's a big girl now and needed to go to a big girl school. Molly is absolutely obsessed right now with being stronger and bigger and older so I knew this was an easy sell.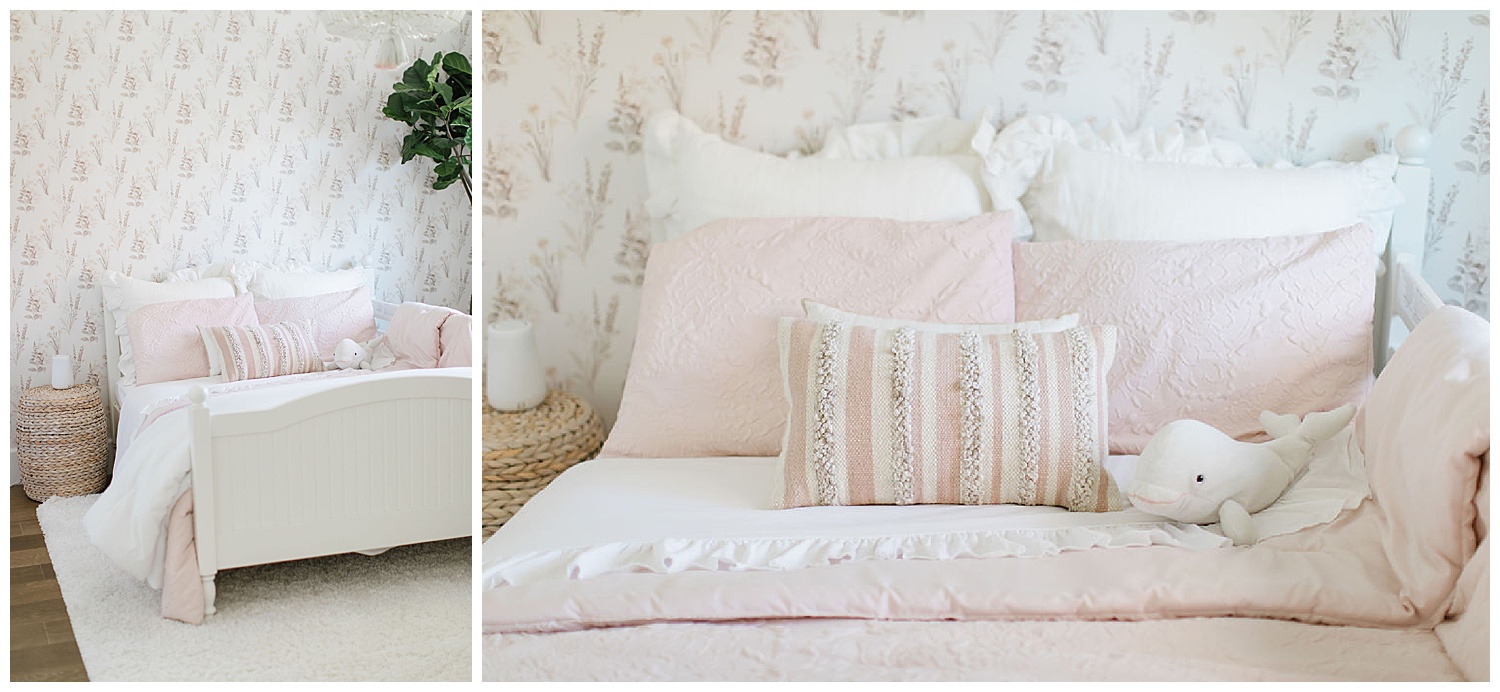 1. BED FRAME | 2. BLUSH COMFORTER | 3. WHITE RUFFLE SHEETS | 4. OK-TO-WAKE NIGHTLIGHT | 5. SIMILAR EURO SHAM | 6. SIMILAR THROW PILLOW | 7. GUARD-RAIL | 8. WALLPAPER
So I thought that since we were playing up the big girl aspect of going to a new school, I also thought we could re-emphasize it by telling her she also got to have a big girl bed now. It's funny, because almost everything I've read has said not to do more than one big transition at a time. Something about this just felt right to me. And let me tell you, the look on Molly's face when I told her she was getting a big girl bed was the cutest thing ever! She was so so so excited! I would say things to her like "now that you go to a big girl school you get to have a big girl bed too!" tying it all together and making it exciting helped me sell her on the new school. Honestly I didn't think too much about how hard it might be trying to transition to the big girl bed. And lucky for us it wasn't hard at all it was seamless! If anything it made our life so much easier.
She Was Probably Ready For Quite Awhile
Molly's bedroom time routine in the crib went from about 20 minutes when she was two years old to about an hour when she was three years old. She never wanted us to leave the room and it became a little bit of a struggle to actually leave. She would cry and scream and fuss and asked for one more song. We used to sing her one song before bed and I had gotten to a point where we were singing her 6+ songs before bed in addition to stories before that. She always just wanted one more, one more, one more. I should've realize this was a sign. She kind of felt trapped in there and I guess I just didn't really realize it. I thought for sure that by switching to a big girl bed, not only would she keep asking for us more, but then also get out of the bed and follow out of there.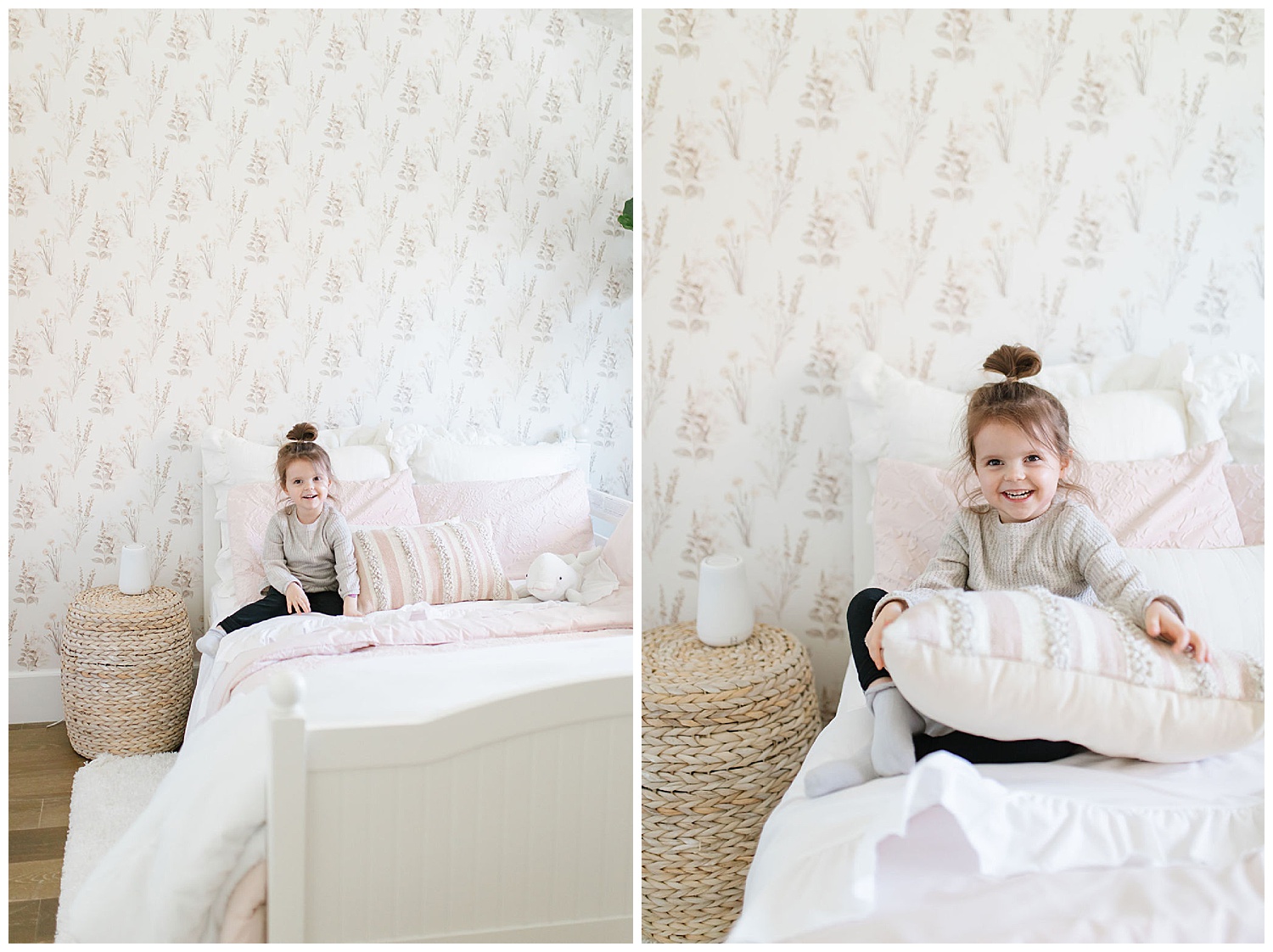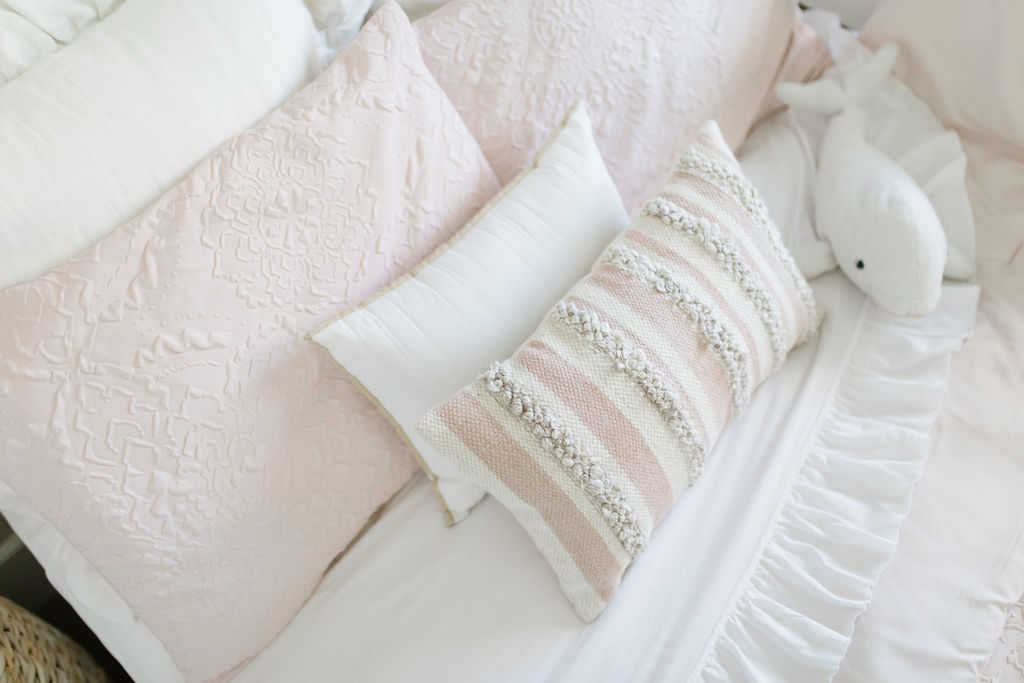 1.  DRESSER | 2. FAUX TREE | 3. BLUSH BEDDING | 4. BED FRAME
The crazy thing is once we got the big girl bed, miraculously she stopped asking for more songs. And now our bedtime routine with her is about 15 minutes. We get on PJs after the bath, brush her teeth, read one or two stories max, lay next to her for 1 minute. And then leave the room. We don't even do the songs anymore cause she doesn't ask for it. Now she just asks that we lay next to her for one minute and then we can go. 50% of the time she'll ask that we check in on her after one minute and we do it and that's that. Look, I realize that we might be the luckiest people on earth and that most kids don't transition like this, but I had to share the story because of any other parents have a child who is two or older in a crib that is prolonging bedtime, I really think it might mean they're ready for a big kid bed!
Her Nightlight Helps
Molly has not once tried to get out of bed without permission and I've yet to see little eyes staring at me in the middle of the night while I'm in bed like a mini poltergeist. Ha! And to be quite honest, I feel like our OK-to-wake light is to thank for that. If you have an infant, I recommend getting them started on an OK-to-wake light early. We use the Hatch Baby Rest and love it. If you have an older child you could introduce it now, but I feel like the reason the transition was so seamless for Molly is because she was using that light from the get-go. When she was in her crib she knew it wasn't time to call for us to get her out of bed until the light turned on. And now that she's in a big girl bed, she will not get up and leave until that light goes on. We tell her that the fairies turn the light on and off. So sometimes in the morning if it's not on yet I'll hear her on the monitor saying "Fairies! Please please please turn the light on!". Sometime she'll say it over and over until the light goes on. Which is pretty cute. But, she will not step foot out of that bed until the light goes on. So I would say having that light and using it as early as possible with your kiddos is my best tip for making this transition as smooth one.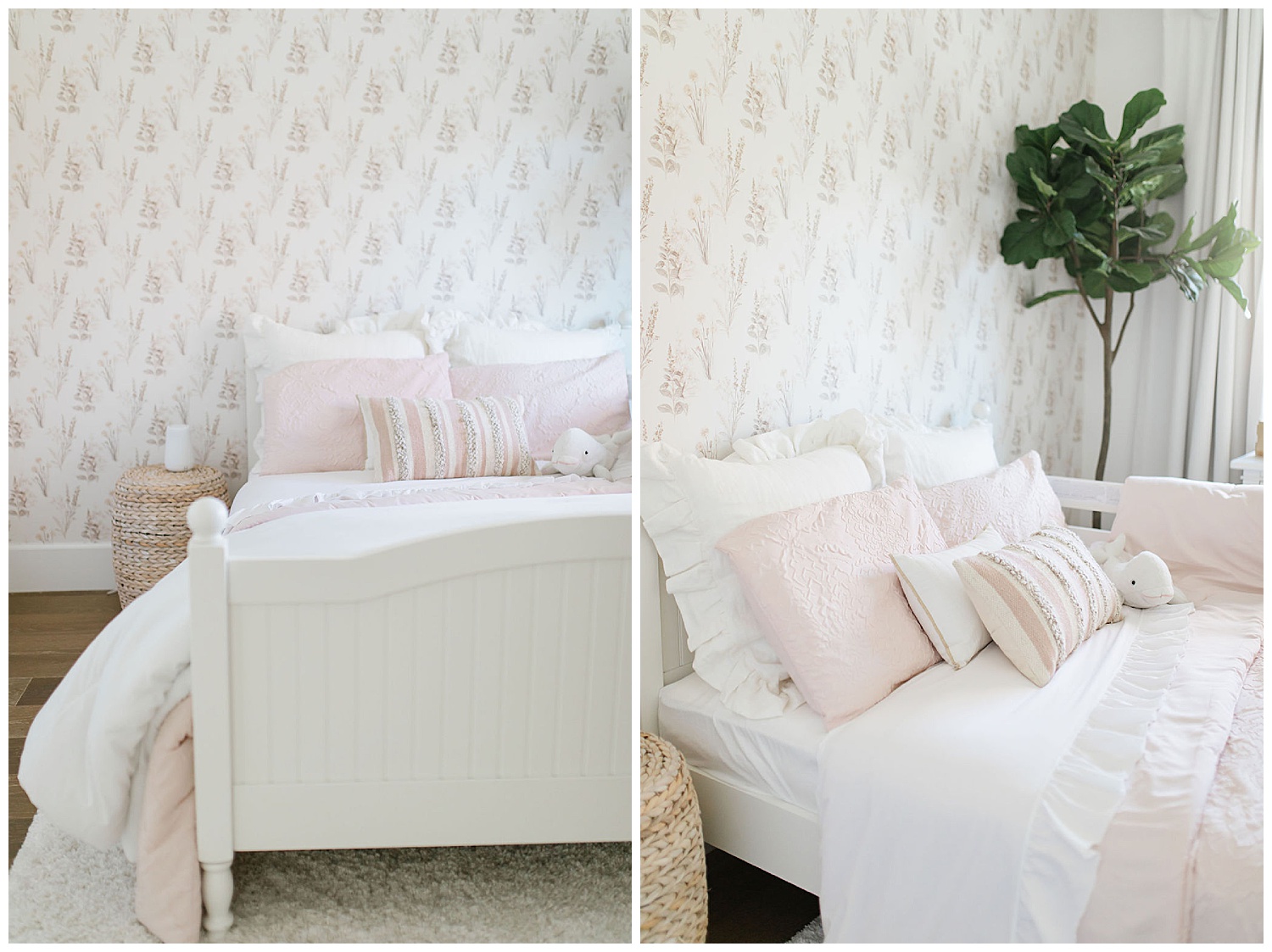 1. BED FRAME | 2. BLUSH COMFORTER | 3. WHITE RUFFLE SHEETS | 4. OK-TO-WAKE NIGHTLIGHT | 5. SIMILAR EURO SHAM | 6. SIMILAR THROW PILLOW | 7. GUARD-RAIL | 8. WALLPAPER
Anyway, I just wanted to share my story and hopes that it helps anybody out there thinking about making the transition with their kiddos soon. And as always, we love so much about this blog is the amazing community of women that read it. So if you have any tips or tricks that you'd like to share please do in the comments below! Plus who knows, Riley might be a totally different story and I might need to try different things with him when that time comes.