Anyone else going through their entire camera roll during this quarantine? I feel like it's the perfect time to clear out my phone. The other day as I was scrolling through, I saw these cute photos from a  shoot we did a couple months back and they brought a smile to my face. I'm officially obsessed with dressing up in matching outfits with my daughter, and I am so glad that we have photos to remember by! Even though these pictures were only taken a few months ago, she already looks so much older to me.
Matching outfits with my kiddos really makes me so happy. Molly absolutely loves it too! We have matching family PJs and the other morning I had the same PJs on that Riley was wearing, and when we are walking down the stairs I mentioned to him that we had matching pants and Molly got upset that she wasn't also in her matching PJs. She didn't throw a tantrum or anything. She just got a little sad. It was honestly pretty cute. We are all living in our pajamas and cozy outfits these days, as I am sure you've seen in my stories!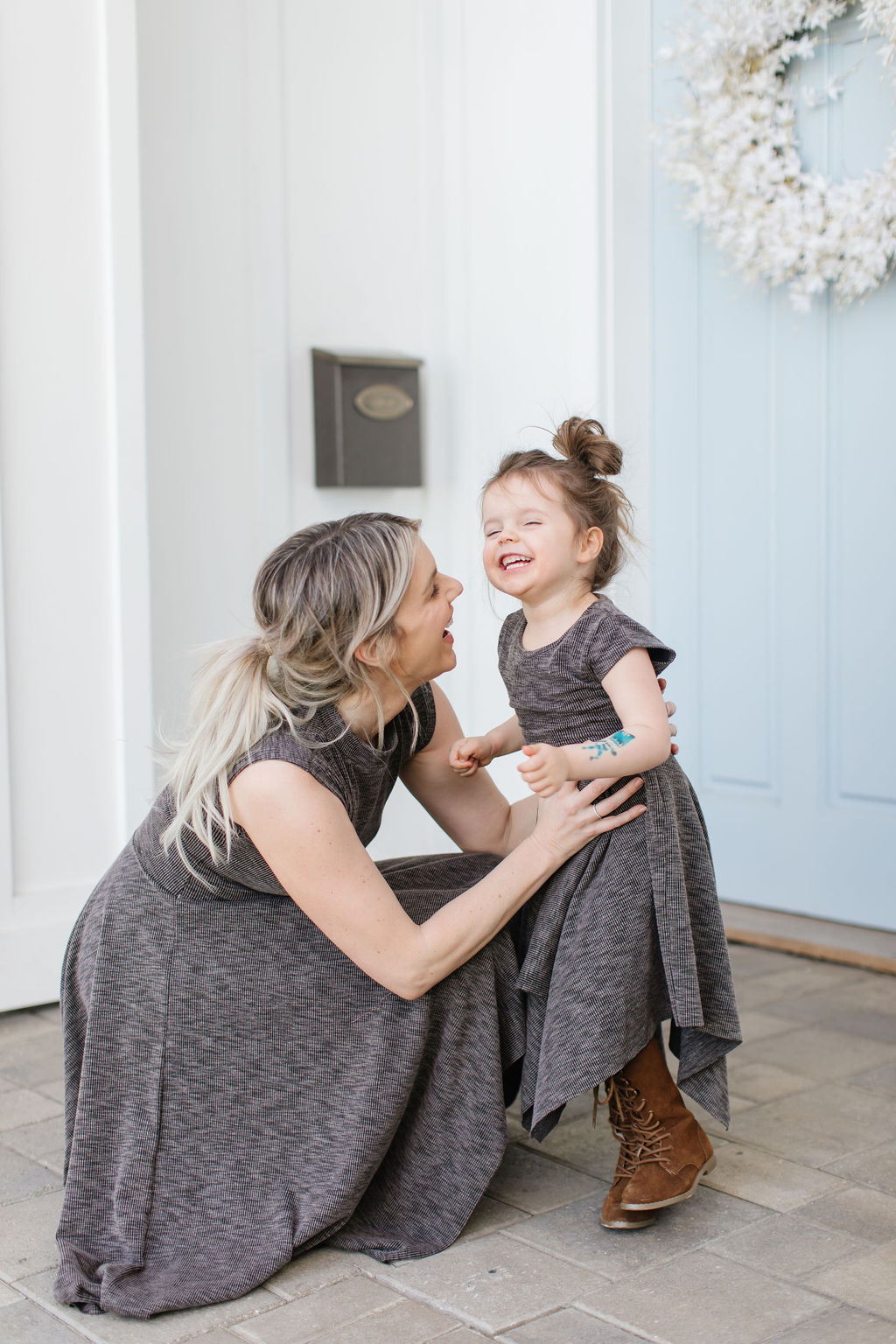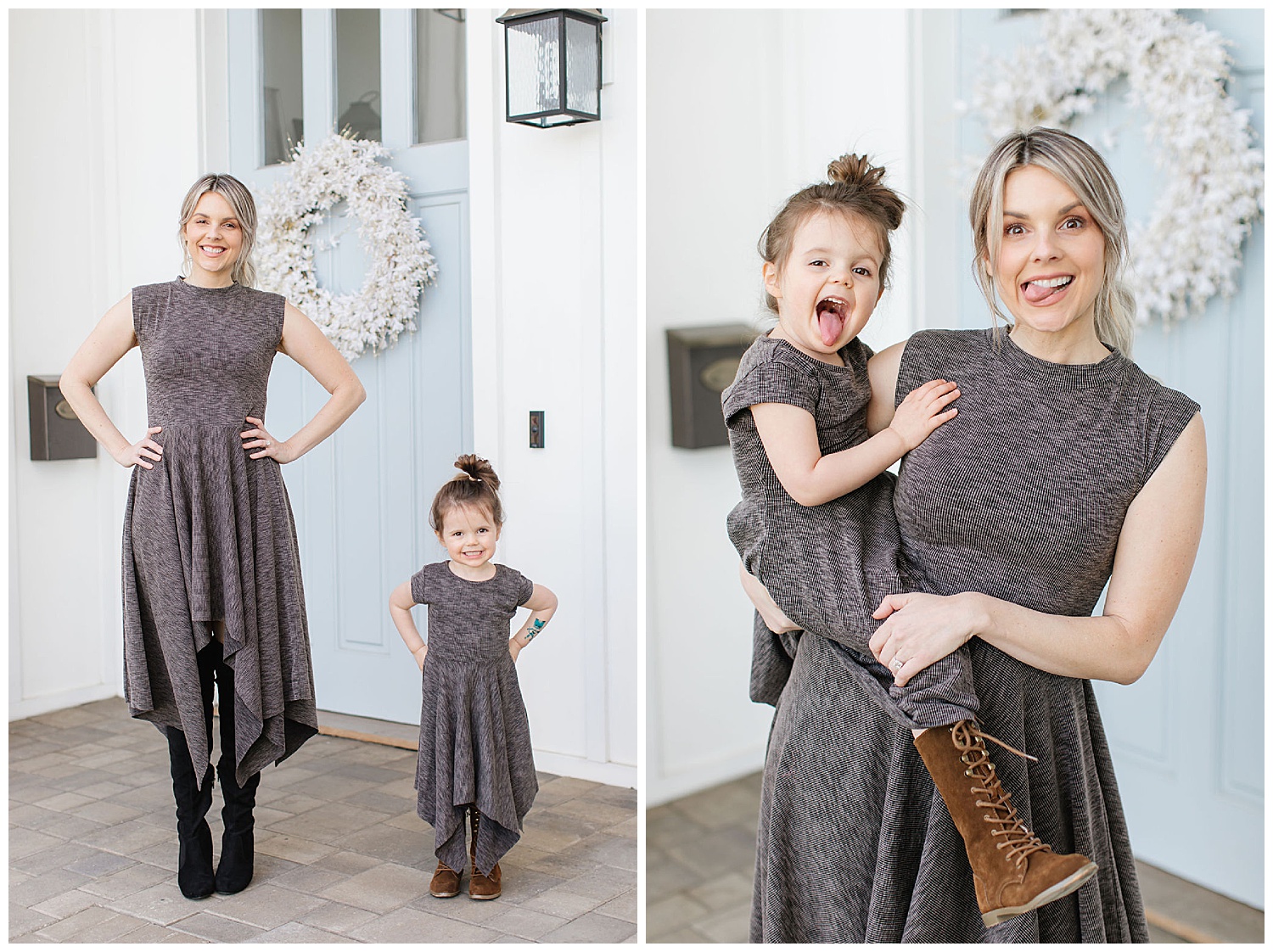 1. MY DRESS | 2. MOLLY'S DRESS | 3. BLACK OTK BOOTS | 4. MOLLY'S BOOT | 5. LIP COLOR
These dresses are from a site called Joy Folie. I just learned about them recently and I feel like they have really cute, but untraditional mommy and me matching! And if you don't have a daughter, in general they just have a really beautiful dresses! Not sponsored at all, just thought I would share a good find.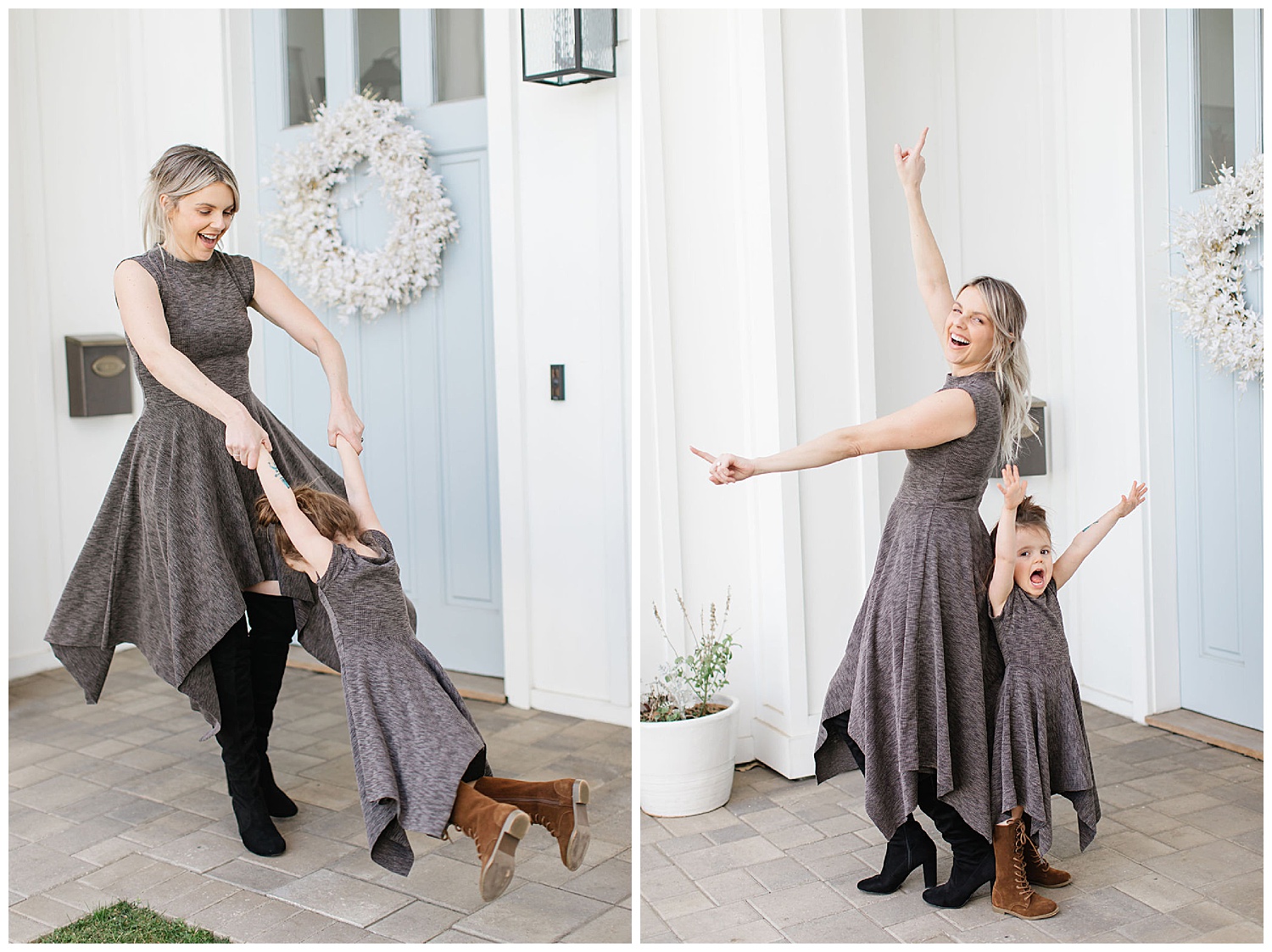 1. MY DRESS | 2. MOLLY'S DRESS | 3. BLACK OTK BOOTS | 4. MOLLY'S BOOT | 5. LIP COLOR
What I really like about these dresses is that I feel like they are more sophisticated than any mommy and me matching outfits I've ever seen. They just have a real chic New York vibe to them. I feel like I dressed Molly's down a bit with these cute boots she's wearing. You might remember from this post, but I also have the the mommy version of her boots.  I feel like it would be so chic paired a black winter coat. I also think I'm missing a necklace in these photos. A necklace really would've taken this look up a notch.
I wanted to check if sizes were still in stock since I ordered these a while ago and I realized that they are both on sale right now, so great. They are called the 'Kimber' for Mommy and the 'Kaia' for your daughter.
And if anybody's interested they are both incredible twirling dresses! Ha! That is extremely important for my toddler. If a skirt or dress twirls properly it is a win in Molly's book!

1. MY DRESS | 2. MOLLY'S DRESS | 3. BLACK OTK BOOTS | 4. MOLLY'S BOOT | 5. LIP COLOR
Anyway, I just wanted to share a few details about our outfits, but really the reason I wrote this blog post was to share all these cute mommy and me photos of Molly and I. I am so glad that I stumbled on them in my phone. It's crazy how quickly you can forget about a moment in time, and then you see a photo and it brings it all back. I'm loving on all of this little girl and so grateful that she's mine!
What are some special moments you have had as a family during this time at home? I love that we have been able to slow down and spend more time together as a family. I feel like Molly might be right in the age group where she will remember a lot of his family time and activities and it really warms my heart.
Oh, and if you know of any simple and efficient ways to clean up the photos in your phone, please let me know!