I cannot even begin to tell you guys how much fun it was for Molly and I to dress up like each other! Honestly, I don't know why I don't do this more often. It brings the biggest smile to her face and let's face it, it makes for the most adorable photos ever!
LACE DRESSES
I was actually planning on posting about this outfit a few weeks ago, but life just got crazy. And at that point the dresses were full price. So I'm super pumped to say today that both of the dresses are on sale for under $40! Maybe there is a reason that life got crazy and I didn't post about it a couple weeks ago. Because now you guys get a better deal! I feel like at these prices these could sell out quickly, but they're fully in stock right now so definitely snatch them up!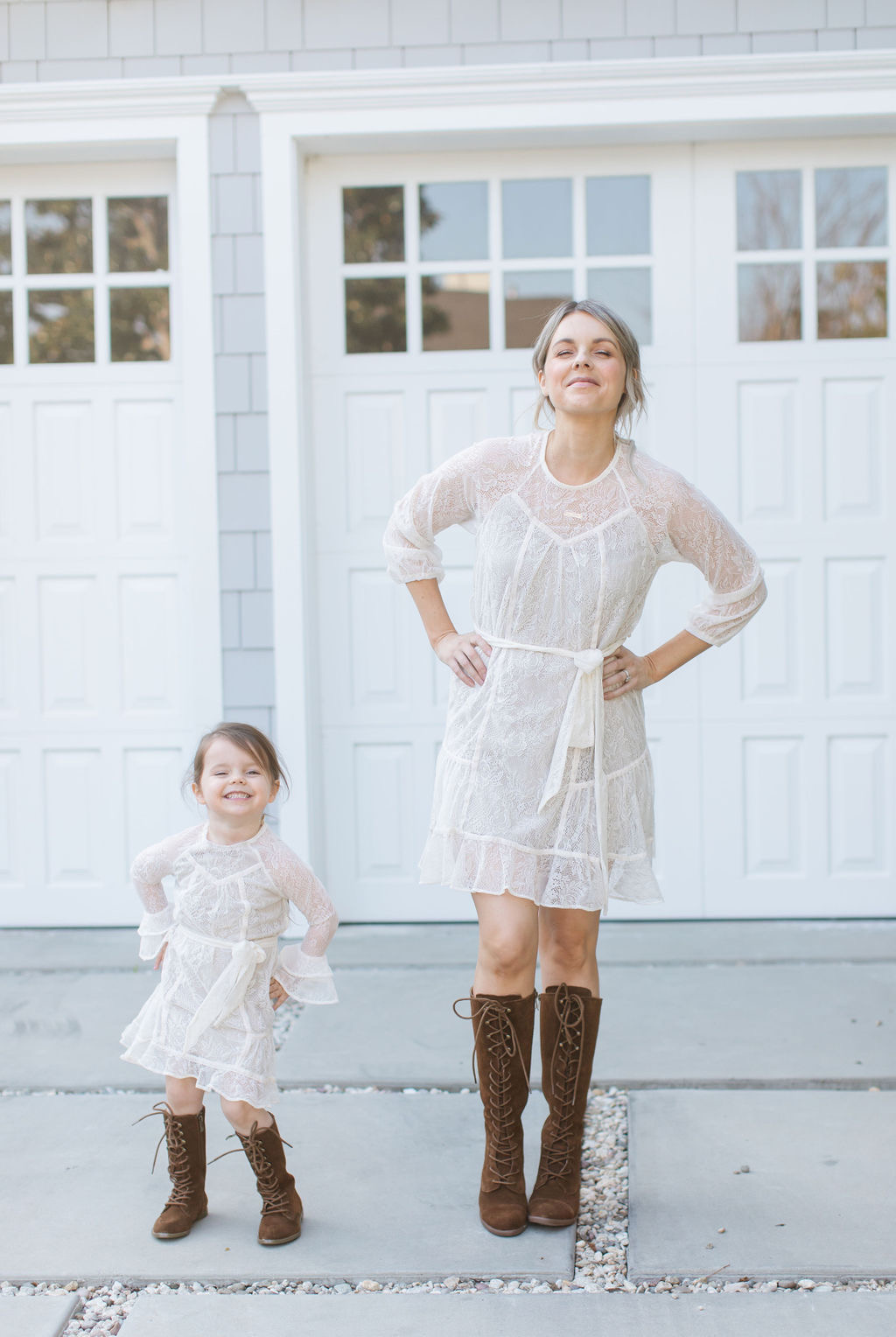 1. MY DRESS | 2. MOLLY'S DRESS | 3. MY BOOTS | 3. MOLLY'S BOOTS
I think these dresses could be really cute for you and your daughter to wear for any sort of BoHo style birthday party or event. Or quite honestly just out and about this spring! The little girls dress comes in a bunch of sizes too! So this isn't just for toddlers. It comes in sizes to all the way up to a girls size 14. Same with the boots. They come in size 6T all the way up to 13T.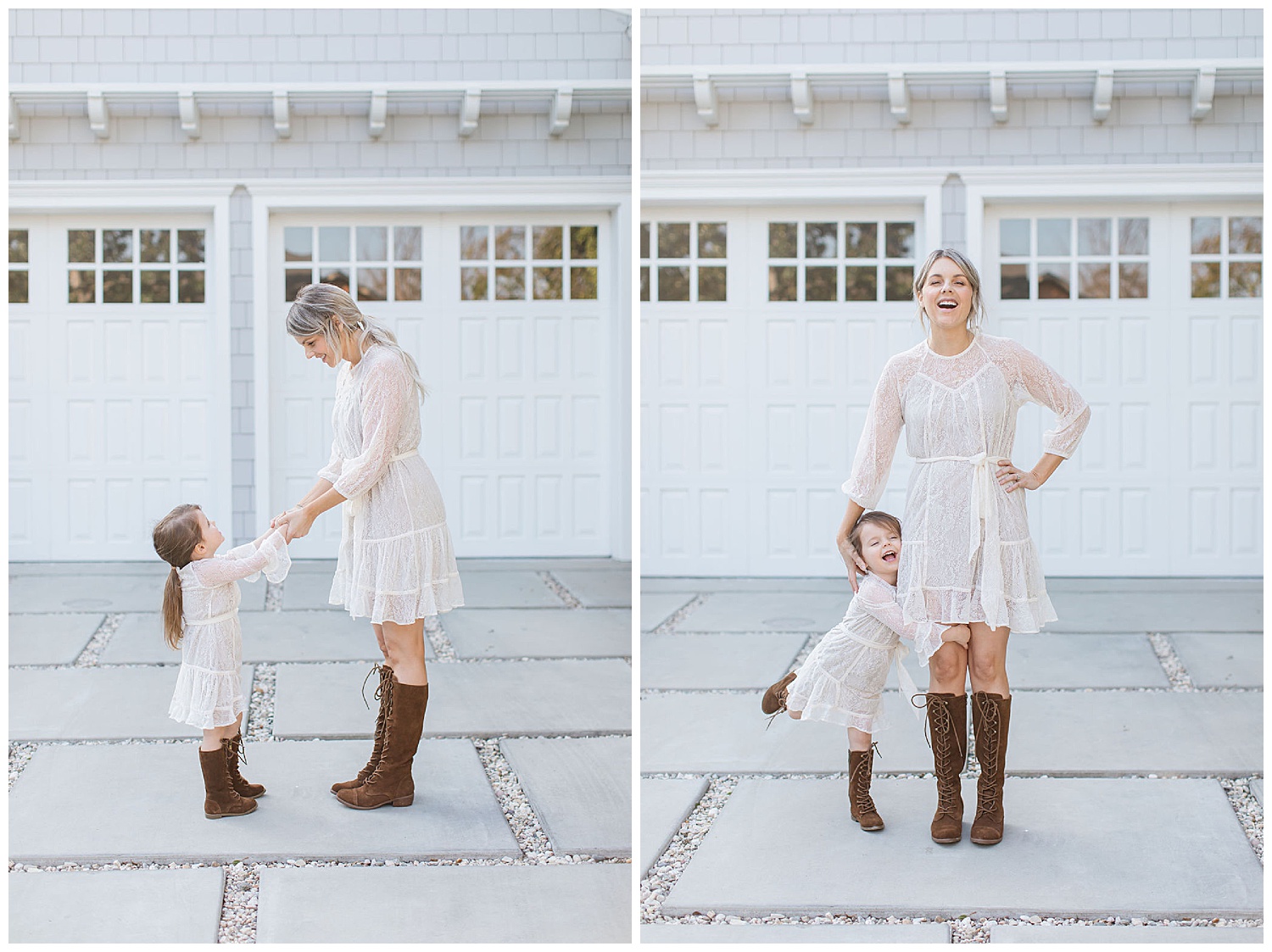 1. MY DRESS | 2. MOLLY'S DRESS | 3. MY BOOTS | 3. MOLLY'S BOOTS
KNEE HIGH MATCHING BOOTS
Can we talk about these boots?! Besides a cute white sneaker, these might be my favorite mommy and me matching shoes ever! I think they are so different and just absolutely stunning! They would be cute to wear with jeans, shorts, and definitely dresses! If you look at the boots on the website and see how they're photographed with the cutest dresses you'll see what I mean. I feel like if you have any sort of photo shoot with your child coming up definitely get these because they photograph so beautifully!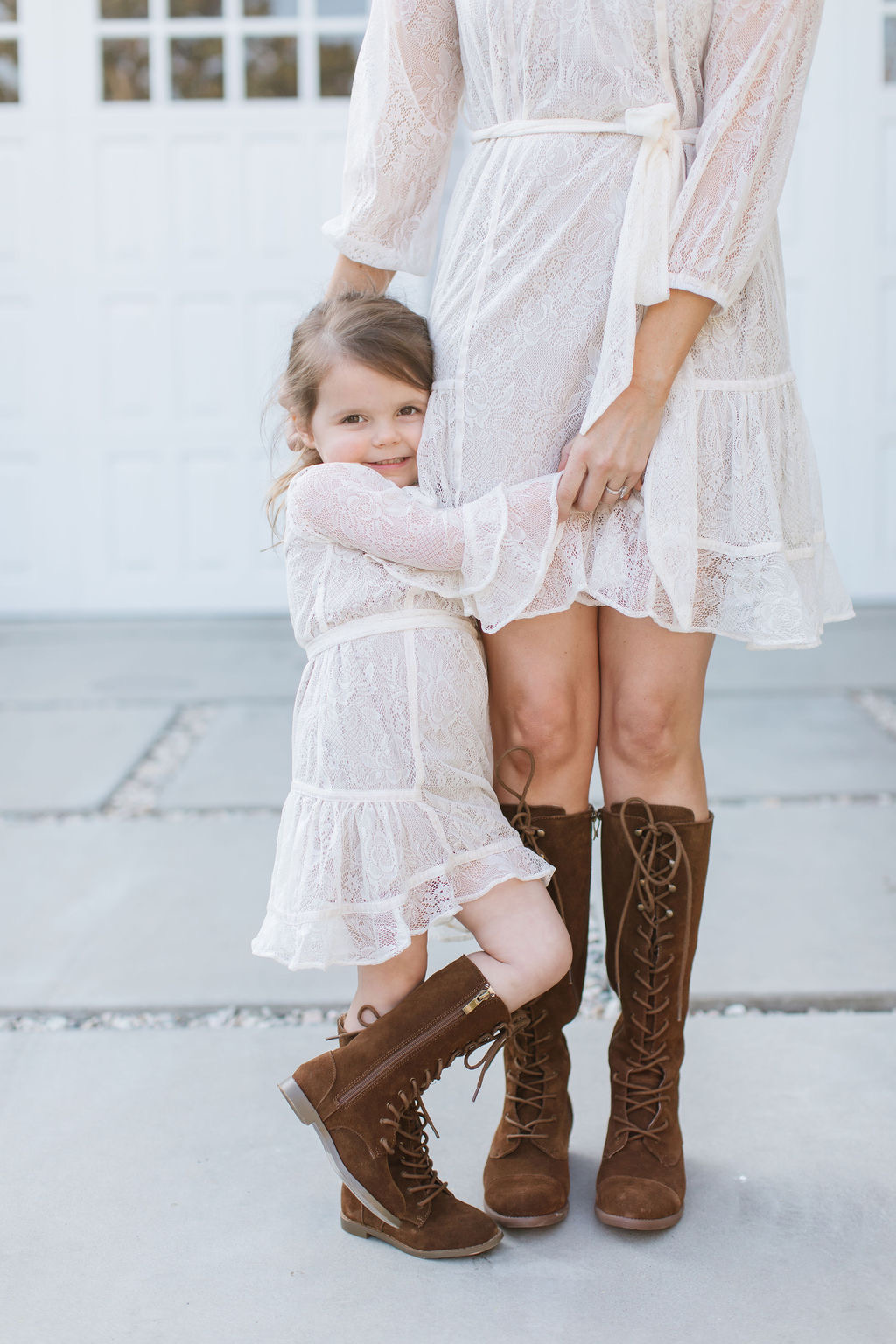 1. MY DRESS | 2. MOLLY'S DRESS | 3. MY BOOTS | 3. MOLLY'S BOOTS
And in general whenever I put Molly in these boots, I feel like her outfit instantly feels styled. And don't get me wrong, the majority of the time I put Molly in clothes that are comfortable that she can run around and play in – and these boots aren't exactly something I would put on her to go to the playground. They're comfortable on her, but sneakers are just a better option for the playground. But when we go out to an event or a brunch or a birthday party, I love to put her in these boots because she instantly looks like a little fashionista.

 1. MY DRESS | 2. MOLLY'S DRESS | 3. MY BOOTS | 3. MOLLY'S BOOTS
MAMA+BABE JACKETS
Anyway, I also want to share a couple other mommy and me options in this post. First these babe jackets. You guys have probably seen me wear these with both my kids because I have both the denim version of these jackets and the camo version. In the denim version, the one Molly used to wear is a 2T that she has now outgrown, but now Riley wears it! And in the camo version I have one for myself and a 4T for Molly and a 2T for Riley! I love that I can do mommy and me matching with both Molly and Riley! I think a lot of times people think mommy and me matching is only for moms and daughters, but it's totally not! I was just looking through my old posts and pictures quickly to share them with you, but for some reason I can't find the ones with the kids in them. I wanted to get this up today for you, so I will try to take some new ones to post shortly. But you have definitely seen my kids wear them a TON on Instagram stories!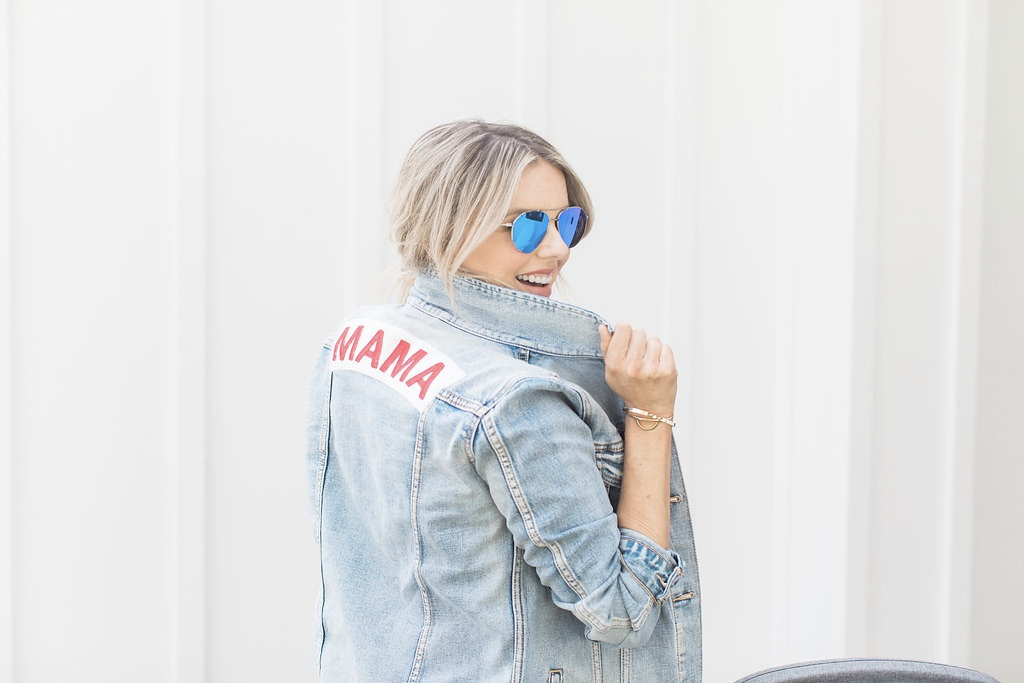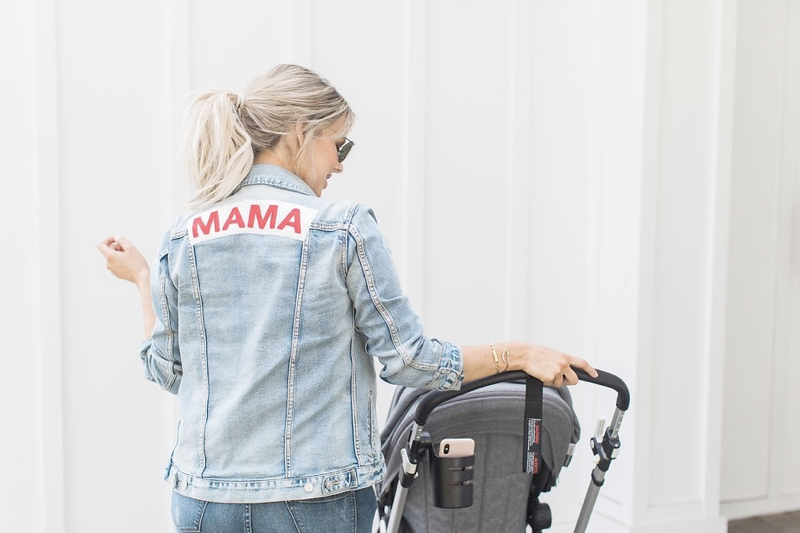 1. MAMA JEAN JACKET | 2. KIDS BABE JEAN JACKET | 3. MAMA CAMO JACKET | 2. KIDS BABE CAMO JACKET
WHITE TOP AND RIPPED JEANS
Another look I love to put me and the kids in our a pairs of ripped jeans, a white tee or long sleeve shirt, and Adidas sneakers! Again, this is something both Molly and Riley can match with me by wearing. And it's just ridiculously cute! We don't have the sneakers on in these photos, but these pictures of me and Molly are some of my absolute favorites and I love the simple ripped jeans and white top look. So if you're not the type of person that wants to take mommy and me matching it to the extreme, this is definitely a really good option for you. I'm going to link the Adidas shoes below for you in both adult and kiddo sizes!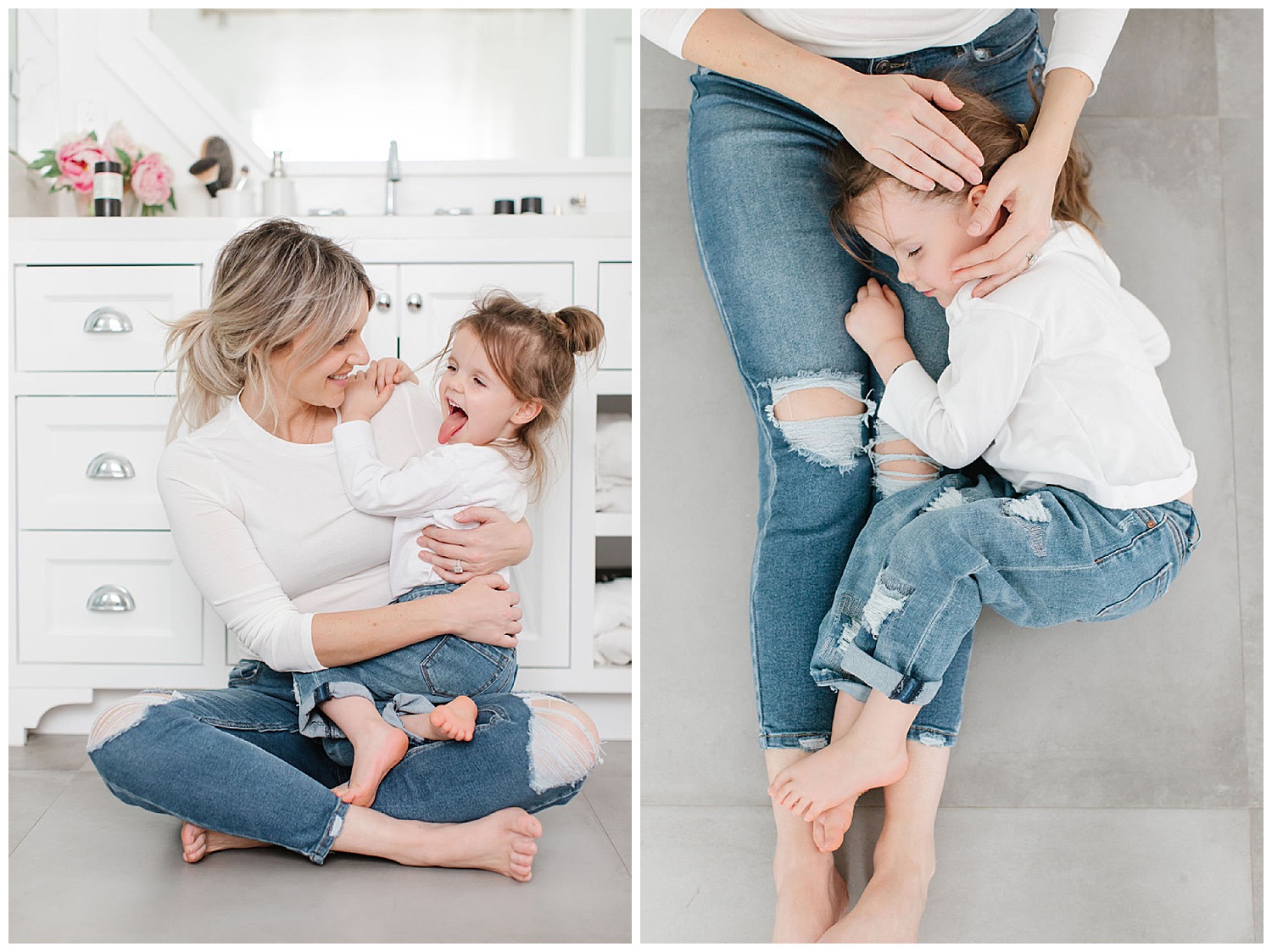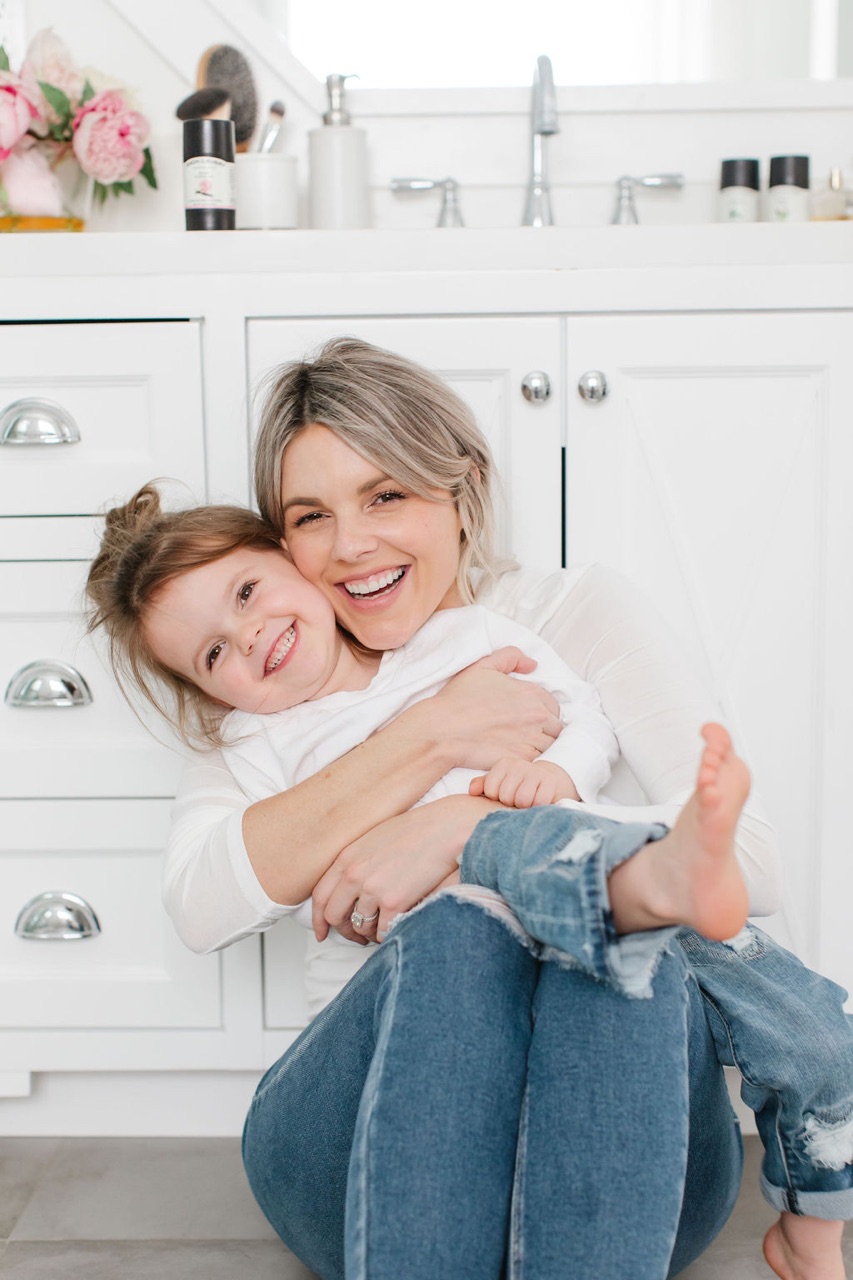 1. MY JEANS | 2. SIMILAR TO MOLLY'S JEANS | 3. MY TEE | 4. SIMILAR TO MOLLY'S TEE
Anyway, I'm curious to know how many of you would like to do mommy a matching with your kiddos? Or if you've never done it would you want to do it? And if you have any cute stores with mommy and me options that you absolutely love definitely share them with me in the comments below! I'm always looking for new ideas myself!