As of last Thursday, it is officially spring! With most of the country in "Safer at Home" or "Shelter in Place" mandates that last through mid April, or even in the end of April in some cases, I know many families won't be able to celebrate Easter like they normally do. And even if you aren't mandating to stay home, please consider doing so anyway, you could saves lives!!!
Here in the Manno household, I've already started decorating, which you might have seen in my stories. The Easter Bunny has already made a few visits as well, bringing Molly and Riley little treats and activities for them to do while we are all at home together. I'm using the Easter bunny as a way to keep the kids in check. Like we would Elf on the Shelf at Christmas time. It's working wonders! Ha! I highly recommend giving it a try.
Although the photos from this post are from last year, we are decorating the same this year and so I thought I would bring these back! I cannot believe how small both of them are in these photos! So much has changed in the past year with our little family, and I am so glad we have these to document.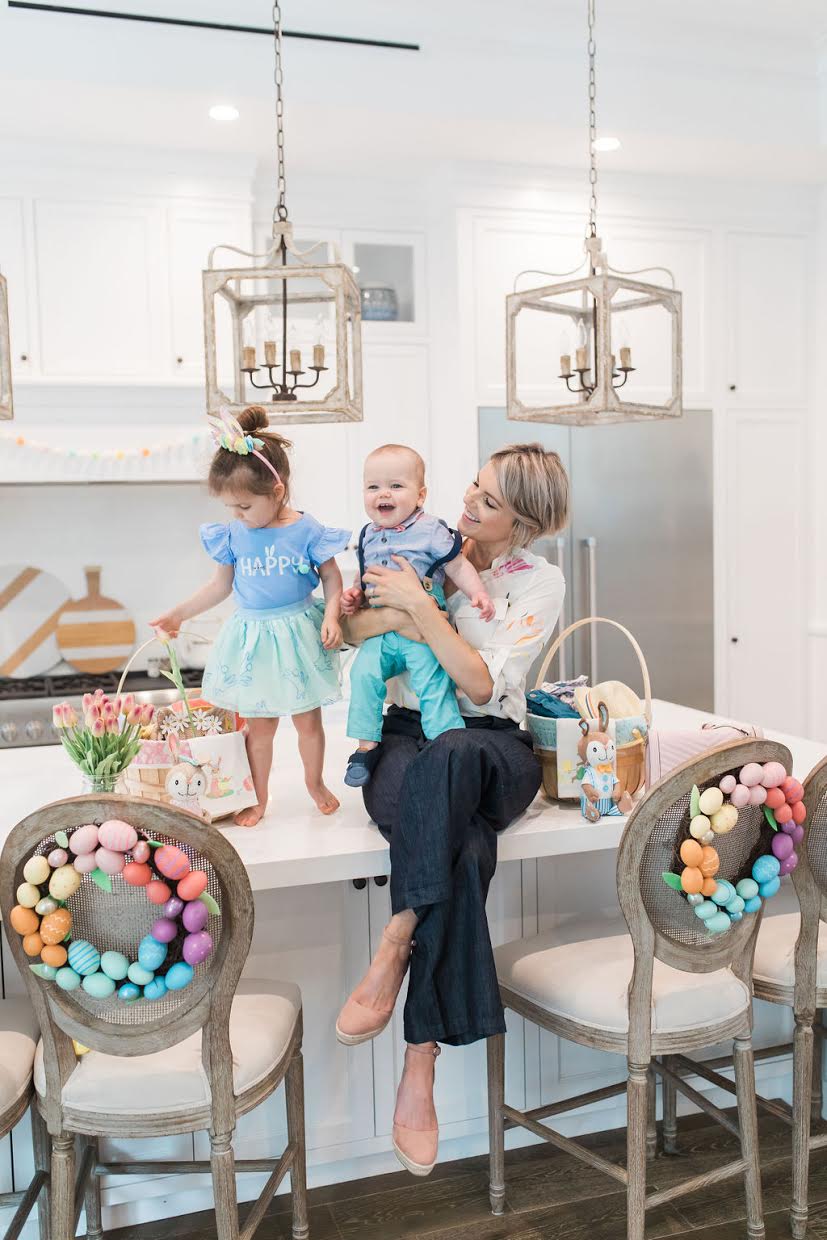 1. RAINBOW WREATH | 2. BAR STOOLS | 3. MARBLE CUTTING BOARD | 4. WOOD CUTTING BOARD  | 5. EASTER BASKET | 6. EASTER GARLAND
We'll be using a lot of the same decorations that we used last year. I know that many families across the globe are not going to be able to spend extra money on more Easter decorations, and I thought even if you are unable to get anything new, maybe this post will inspire you to use decorations that you currently have in a different way! For example, wreaths don't have to go on your front door, where hopefully not very many people would be seeing them! You could easily use it inside instead!
So with that, I want to talk about the rainbow egg wreaths that I put on the back of each of my barstools in the kitchen. You might remember that I also do this with boxwood wreaths at Christmas time. I truly just love having little decor wreaths on the barstools – it makes the room so much more festive. I bought these wreaths last year and I was able to find a few similar options this year that I will link below for you. If you don't have barstools, these wreaths would also be so cute hung on your pantry, or really any door in your house! Most families spend a lot of time in their family room and kitchen and that's why I like decorating this room the most.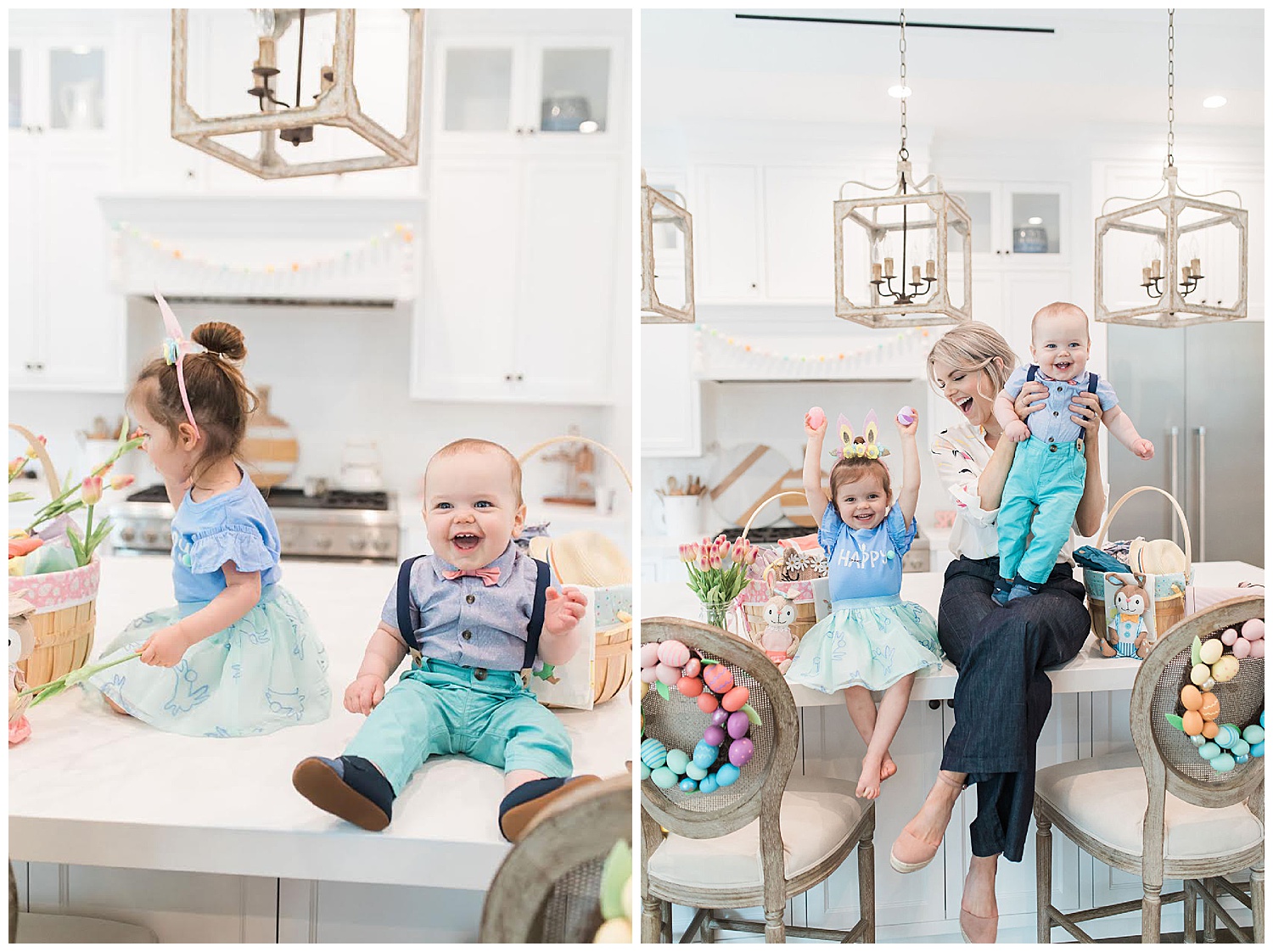 Although Molly and Riley's outfits are sold out from last year, I found some really cute ones that I think you uys will love! Both of the ones I linked for girls have a little pink tutu, similar to the skirt above. The first option is a blush dress with a glittery bunny on the front with gold foil starts on the tutu, it is just darling! It is only $14, so it is a great affordable option. I really like this one because I feel like it almost looks like a costume that you daughter could wear around the house. If you saw, I already picked out Molly's Easter dress so if I get this it would just be additional for her to wear for fun. Or maybe to go in her Easter basket!

The one that I am deciding between for her is this bunny outfit that comes with a cute graphic tee, leggings, and a pink tutu! This one is under $18 for the set. What I love about it is the tutu is not connected so this top could easily be worn once she goes back to school, or even the top and leggings could be worn at home when we are doing crafts, sans tutu. Which one do you like better? I also found this one that is sort of similar to Riley's outfit from last year, except it has an adorable little vest.

1. RAINBOW WREATH | 2. BAR STOOLS | 3. MARBLE CUTTING BOARD | 4. WOOD CUTTING BOARD  | 5. EASTER BASKET | 6. EASTER GARLAND
A few more details about our Easter decor and baskets for you! Molly and Riley both have wooden Easter baskets that are lined on the inside. I wasn't able to find ones exactly like that this year, but you could easily get these wooden baskets and line them with fabric! I did find this white one with blue lining that is also really cute. I'm going to link a handful of Easter baskets that I love below! I also found this really cute bunny when I was looking. When you press his foot it makes a little munching noise to sound like it is eating the carrot. Ha!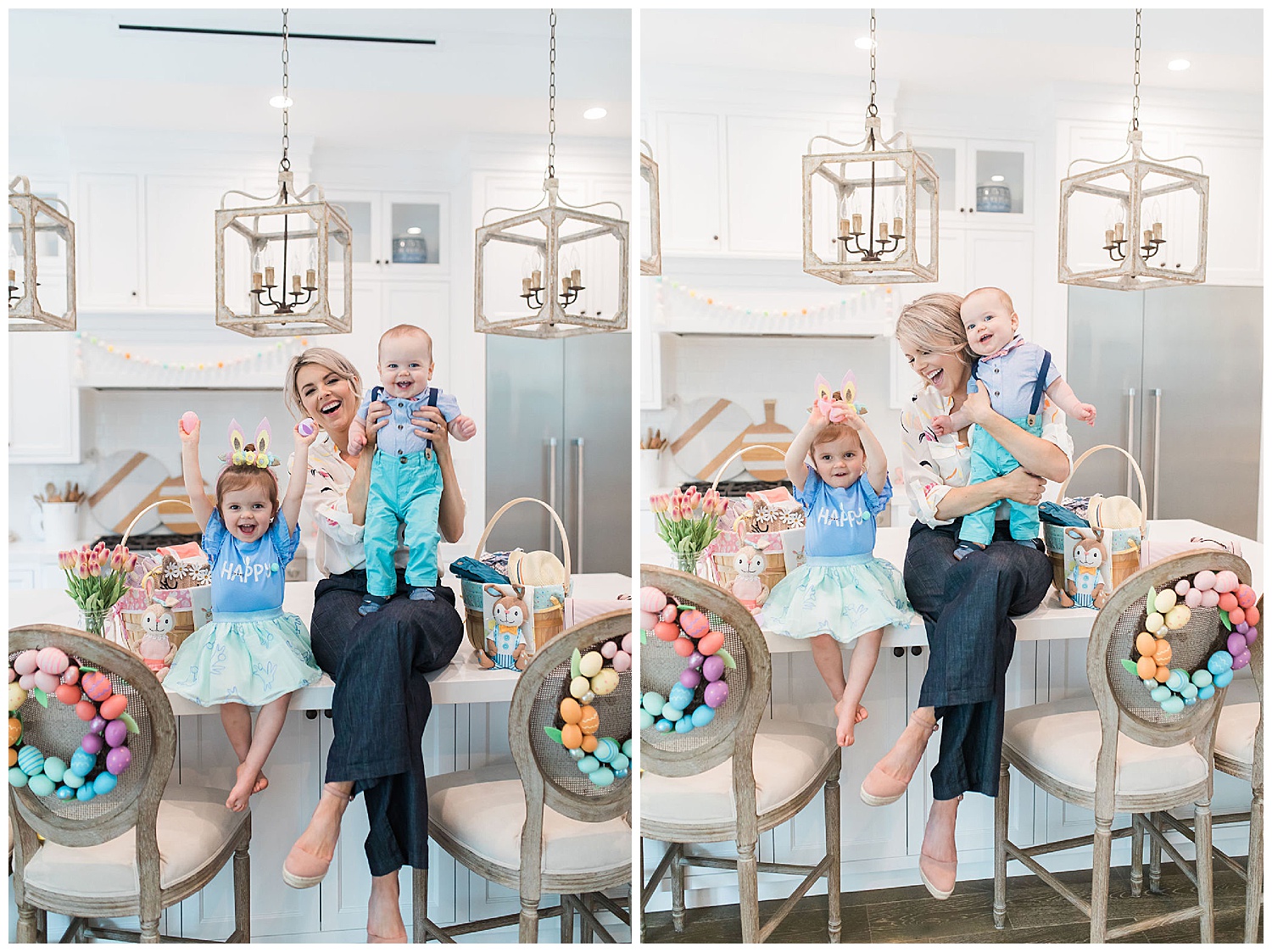 1. RAINBOW WREATH | 2. BAR STOOLS | 3. MARBLE CUTTING BOARD | 4. WOOD CUTTING BOARD  | 5. EASTER BASKET | 6. EASTER GARLAND
The one final thing I wanted to mention from the back of these images is the garland! Garland is such a quick, cheap and easy way to decorate your house for a holiday. We have this little pom pom Easter garland, but there are so many types you can get, like bunnies!

And last but not least linking Molly's dress and flower headband from my insta post today. BOTH are 40% off!!!! They JUST went on sale today.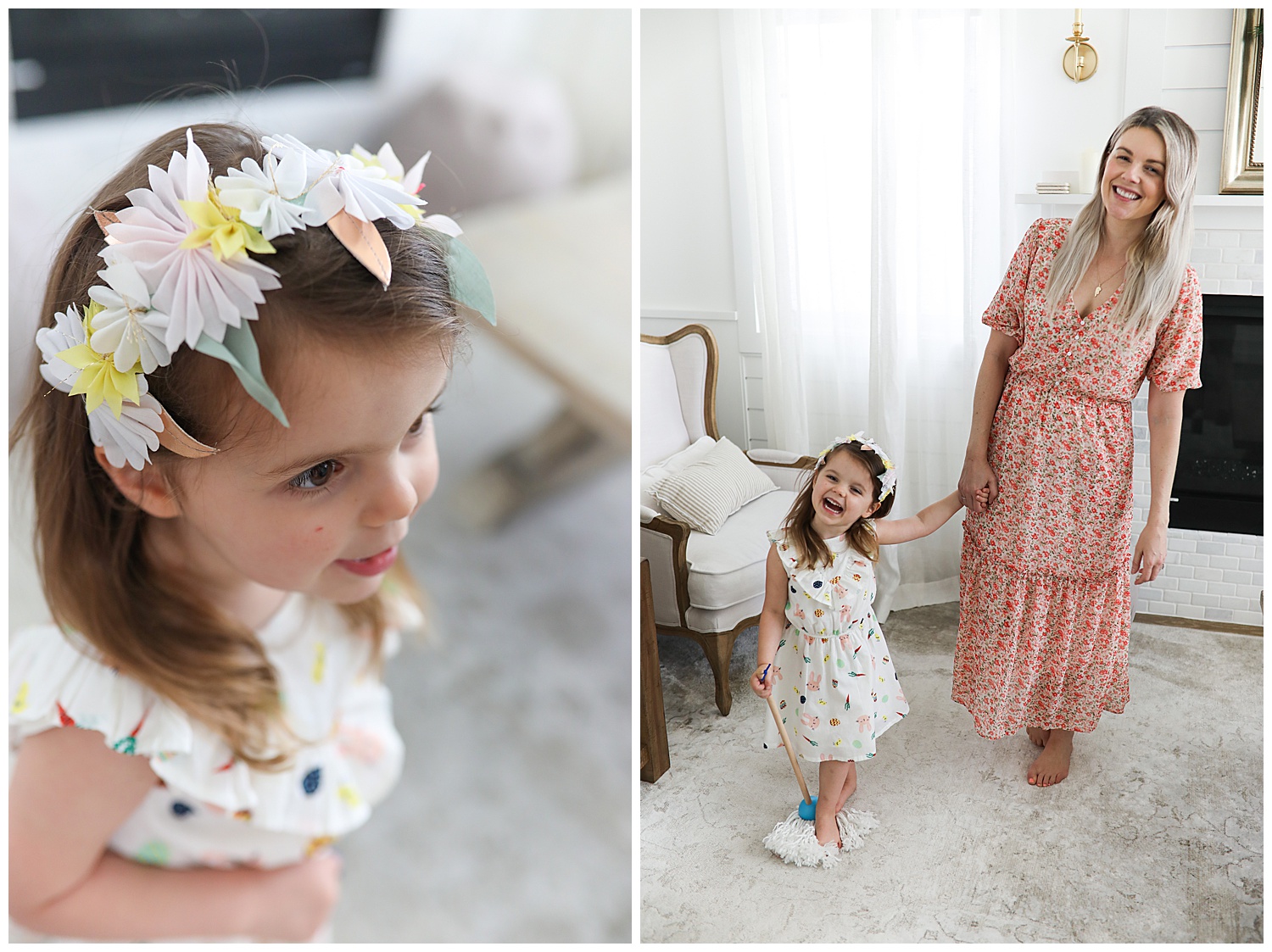 1. MY DRESS | 2. MOLLY'S DRESS | 3. HEADBAND | 4. CLEANING SET
Well that's it from me today. I hope you all have an amazing weekend. Do you have any ideas for Easter that you are going to do for your family at home? I would love to hear about them! Does anyone do any special type of egg hunt in their yard?