Hi guys! Thanks for coming over to the blog! I just noticed that there were a bunch of you on my site, most likely looking for my Bachelor blog since I always post them after the episodes are over – and this is a big one with it being the finale night 1. However, I wasn't able to watch the finale in advance like I normally can since it is live, and it hasn't even aired on the West Coast yet!  I wanted to get something up just to let you guys know to stay tuned for tomorrow.
But from everything I've read online here are my initial thoughts:
Barb
From what I've read and from what I've heard from you guys she was a bit too emotional tonight. Okay, way way way too emotional. However, we have to remember that this is her baby boy! She obviously wears her heart on her sleeve and I think her emotions just got the best of her. Plus, at the end of the day I think she was just trying to let Peter know that he and Madison are too different to make it work in the long-haul. If Peter was my son and I was trying to give him advice, I would also tell him that Hannah and was a better match for him. Because she is. Maybe they don't have the same chemistry that he and Madison have, but at the end of the day, and I said this from the beginning, their differences in faith aren't going to give them a fighting chance in the long run. Is it possible that they can make it work? Of course it is! Anything is possible! But it's definitely not probable. So I think Peter's mom is just very aware of this and wants him to find love. Although from what I've read, she could've done it in a better way and maybe wasn't the kindest to Madison. But again, I'll know more once I actually watch.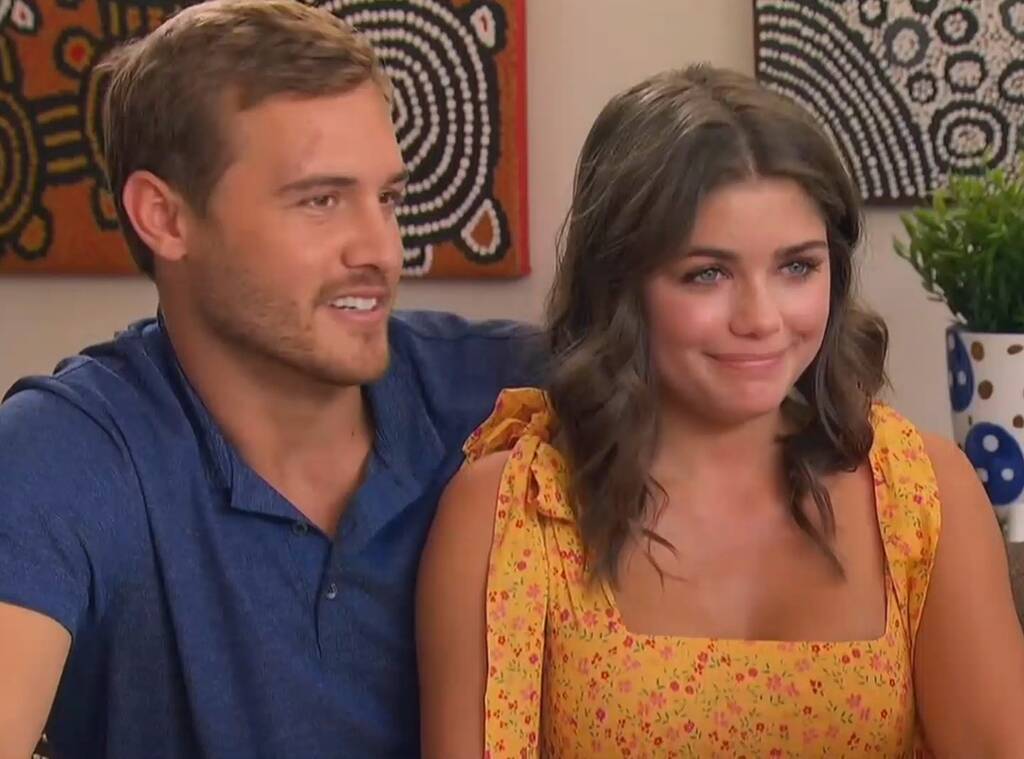 Hannah
I really do feel bad that Peter strung her along and brought her on a date after it was so clear that he wanted Madison. But Madison decided to leave and I'm sure Peter wants this to work more than anything. And I would like for it to work for him so much! If any of you watch my season a decade ago, yes it's been a whole 10 years since my season, then you might remember that a guy name Frank left me in my top three. And to be completely honest with you, to this day I don't know if I would've chosen him over the guy I ended up choosing. I think there's a good chance I might have. But I was so heartbroken when he left that I convinced myself that I wouldn't have chosen him anyway and that I was going to make it work with Roberto. And in the end I did get engaged to Roberto and it didn't work. So I've always wondered, if things would've been different if Frank had stayed. Don't get me wrong, I wouldn't change my life for anything and I'm so glad that he didn't stay. But I wonder what would've happened if he did.
So I can only assume that Peter is feeling the same way right now. That he feels a little bit angry with Madison for leaving like I did with Frank. And he's willing to do everything it takes to convince himself that it was Hannah and all along that he wanted to be with. I have a feeling he's going to quickly come to the realization that it is Madison. But we will have to see.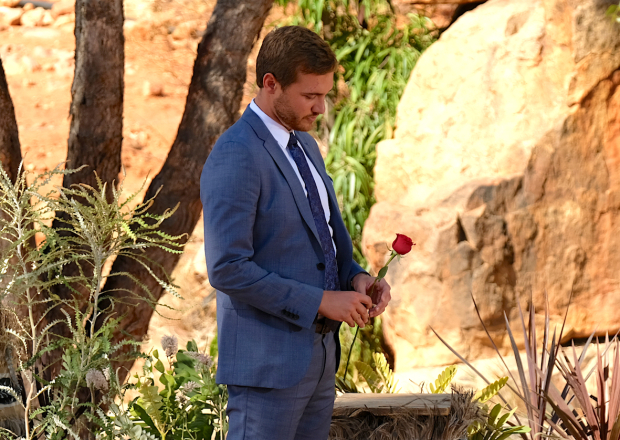 Madison
Chris Harrison says we haven't seen the last of her. I have no idea what's going to happen and I absolutely love it! I feel like every season we have some sort of idea. My best guess is that the producers have been talking to Madison all along and know that she's interested in trying to have a relationship with Peter. And the reason I think this is that if she was totally done with him, I think they would've chosen her to be the next Bachelorette. I'm secretly really happy they didn't because I love that Clare is going to be the Bachelorette at 38 years old. It's about time! But if Madison was available I think they would've wanted her. So my guess is she's not available because she's still into Peter and that they are going to announce live tomorrow that they are dating.
Anyway, I just want to get this up to give you my initial thoughts on the Bachelor Finale Night 1. Again, this is based only on what I've heard from you guys and what I've read so I might change my opinion once I've actually watched it. But I want to get something up so you guys know my initial thoughts and see you guys can discuss in the comments below!
UPDATE
Hey guys, I just want to leave an update since I wrote this blog yesterday. As I mentioned I hadn't seen the episode when I wrote it. After watching, I honestly stick by what I said. The only real thing I would add is that Barb really cross the line in my mind when she was trying to make the decision for Peter. Like I mentioned above, I completely understand that she is concerned about how his relationship with Madison could possibly work in the long run. But she should've asked him questions to help him get there rather than push her feelings and beliefs on to him. I'm proud of him for sticking up for himself and asking her to stop. So while I do think Barb's intentions were good, she just went about it in the wrong way. However, I still really feel for her. I know she's getting a lot of heat online and it would absolutely break my heart if my mom was getting that kind of heat. So please let's not be one of those people to continue to spread negativity. I think we can talk about it while being nice.
Outfit Recap!
I wanted to add info about about the outfit I wore on Friday to set on Home & Family. It is this super chic business casual look with a blazer. If you're looking for a comfortable, yet chic business casual outfit, this is definitely one for you! You might have also seen my stories about it! Check out the entire blog post here.
The star of this outfit is definitely this plaid blazer that I recently got! It truly is soo affordable for what it is, I know of a similar brand that sells blazers just like this for over $400. In fact, Ashley who shot these pictures has one of the expensive ones and we were comparing ours and truly this one seems like the same quality! I was blown away!!!! One of the best parts about it is that the sleeves can be worn full length down to your wrist if you need to look more dressed up or scrunched/rolled up to your elbow for a more casual look. I love that the inside of the sleeves is a black satin and adds an extra detail!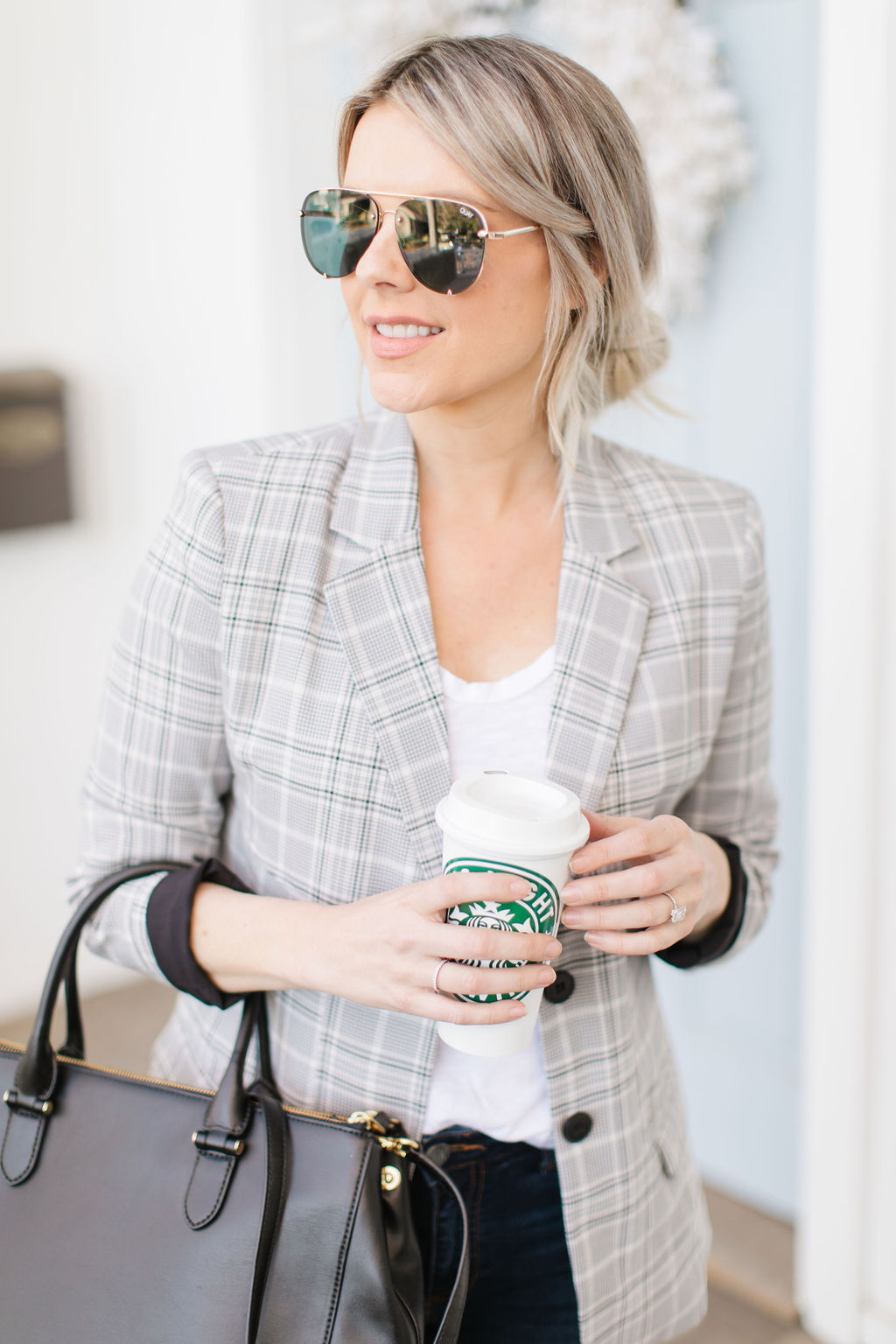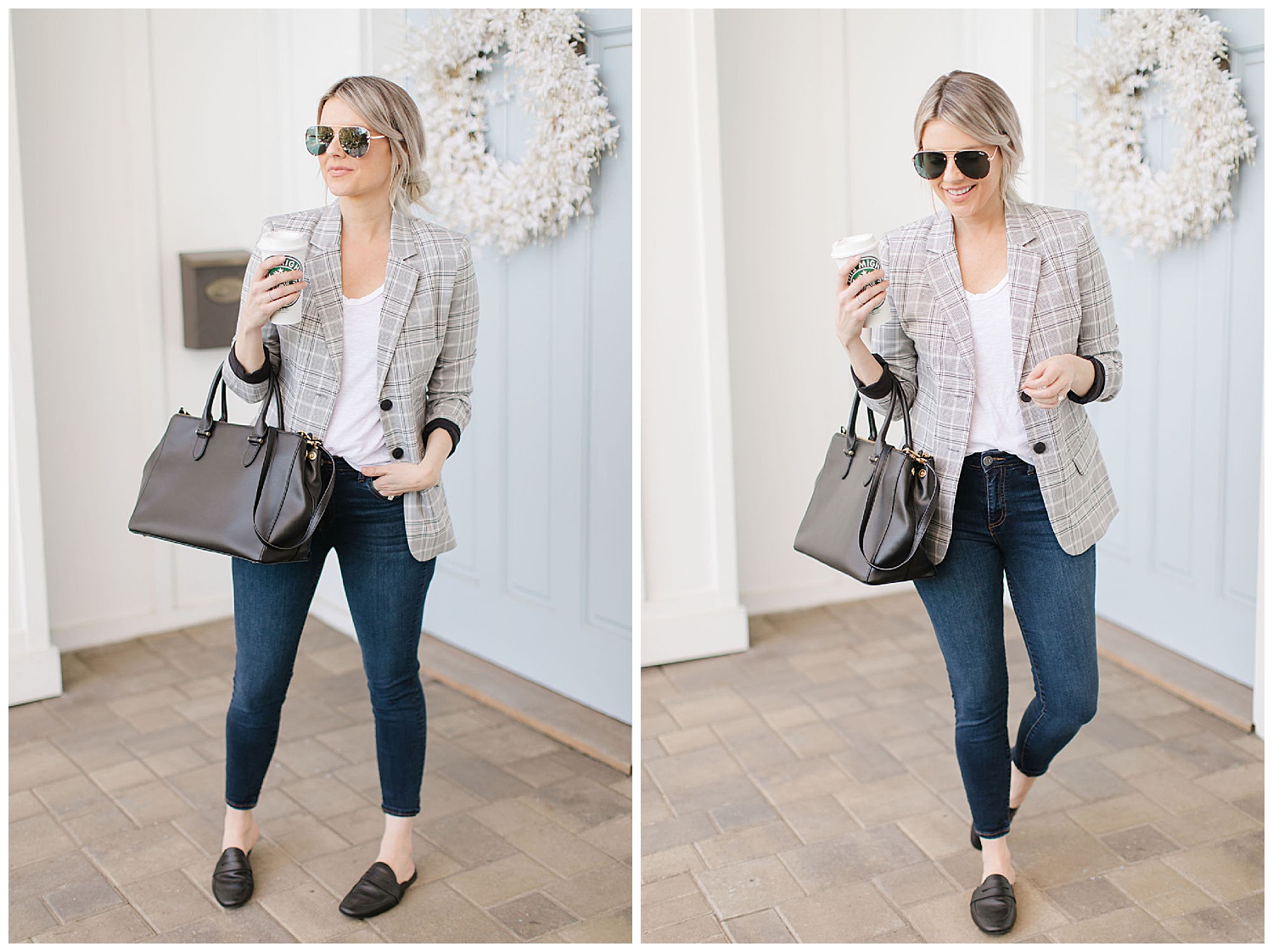 1. BLAZER | 2. WHITE TEE | 3. JEANS | 4. SIMILAR LOAFER | 5. SIMILAR PURSE | 6. SUNGLASSES
It is fitted around the waist, which makes it more feminine than a regular blazer, which I love! The plaid pattern is also so beautiful. If you can't tell from these photos, they are gray and black stripes. Sometimes when I wear a more busy pattern like this, I still like it to be neutral if I am wearing it to work – and this one is absolutely perfect, especially for this business casual look!
I also wore these dressed to work at Home and Family, so I thought that I would share them with you here too. Aren't they both so beautiful? I feel like either could be worn to a casual brunch, or something more fancy like Easter, or a baby or bridal shower (maybe not the white to the bridal shower), or even on a date night! Which one is your favorite?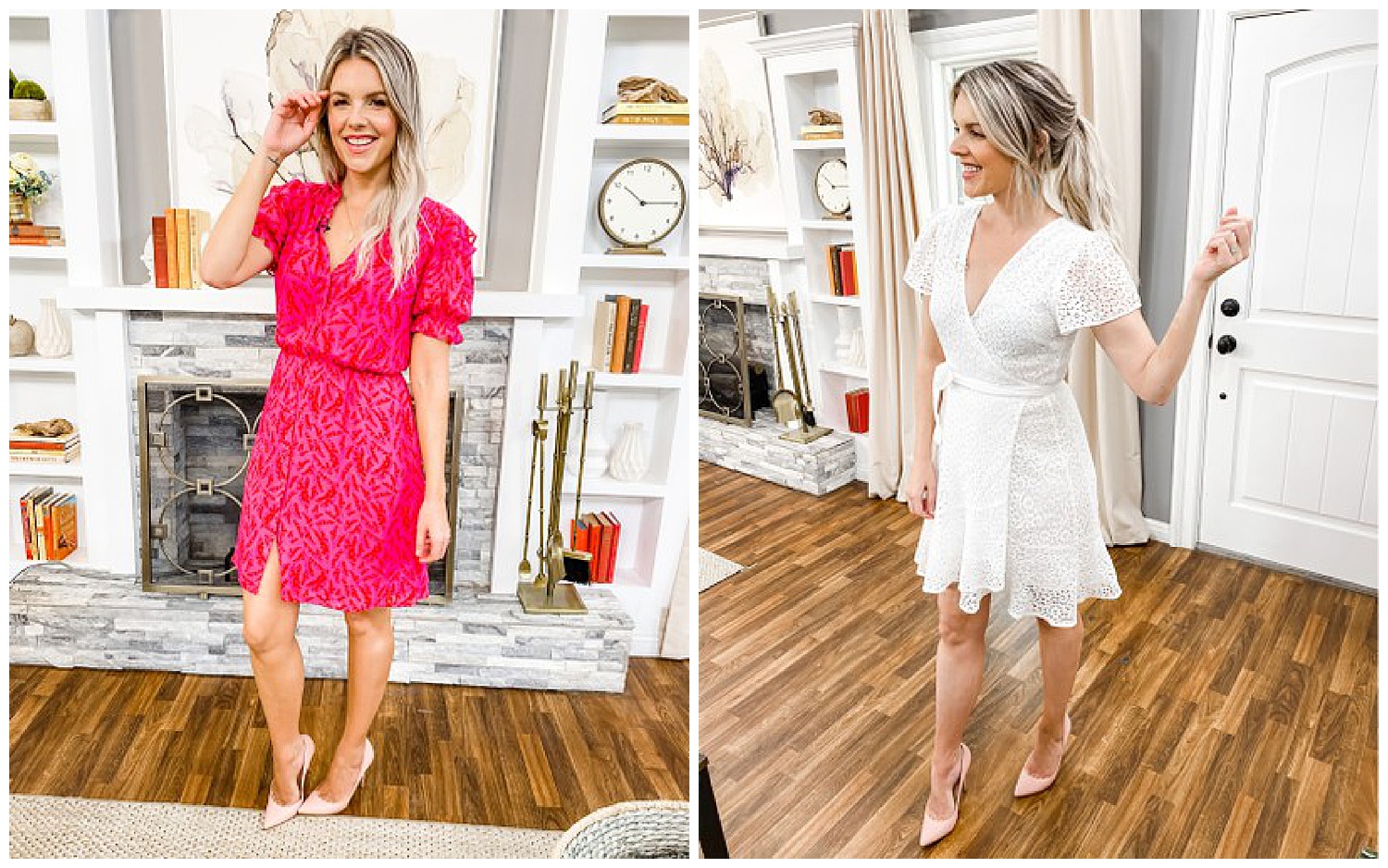 1. PINK DRESS | 2. WHITE DRESS | 3. WHITE DRESS IN MORE SIZES | 4. PINK PUMPS
Thank you for coming by my blog, it means so much to me!!