Hi guys! I wanted to quickly post about the outfit I am wearing today to work on Home & Family. It is this super chic business casual look with a blazer. If you're looking for a comfortable, yet chic business casual outfit, this is definitely one for you. I am going to post a few videos over on my stories to give you a better look of it too, so be sure to go look at those.
Top & Blazer Jacket
Let's get right into the details of this look, and start from the top. You've seen me wear this scoop neck white tee a bunch of times, and I love it because it is so versatile. I dress it up and down all the time! I love that it is not too thin and it also has a little detailing by having a pocket on the left chest. I think this is one of those pieces that everyone should have in their closet, because you will truly wear it again and again. You could even wear this white tee to bed and it would be sooo comfy!
The star of this outfit is definitely this plaid blazer that I recently got! It truly is soo affordable for what it is, I know of a similar brand that sells blazers just like this for over $400. In fact, Ashley who shot these pictures has one of the expensive ones and we were comparing ours and truly this one seems like the same quality! I was blown away!!!! One of the best parts about it is that the sleeves can be worn full length down to your wrist if you need to look more dressed up or scrunched/rolled up to your elbow for a more casual look. I love that the inside of the sleeves is a black satin and adds an extra detail!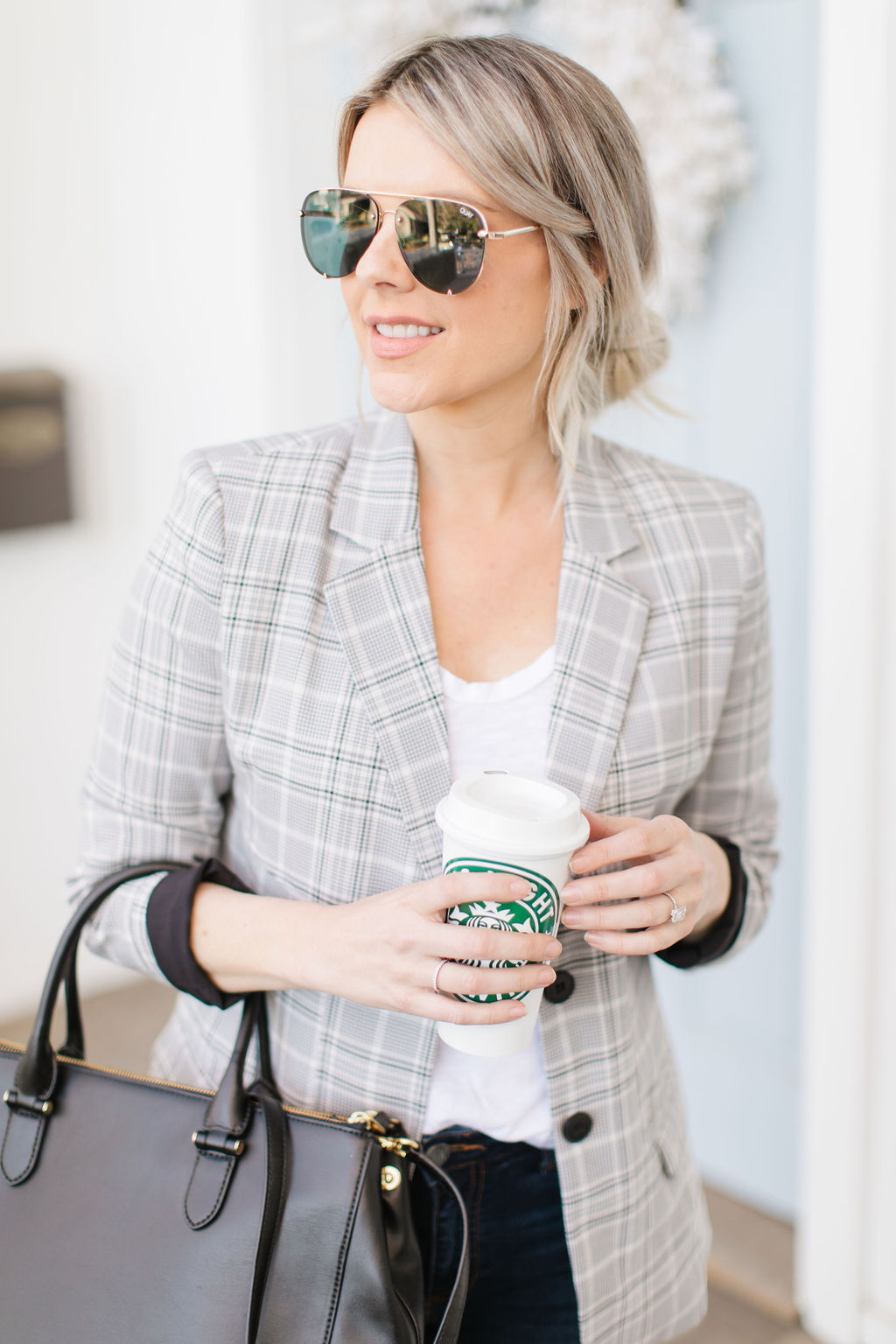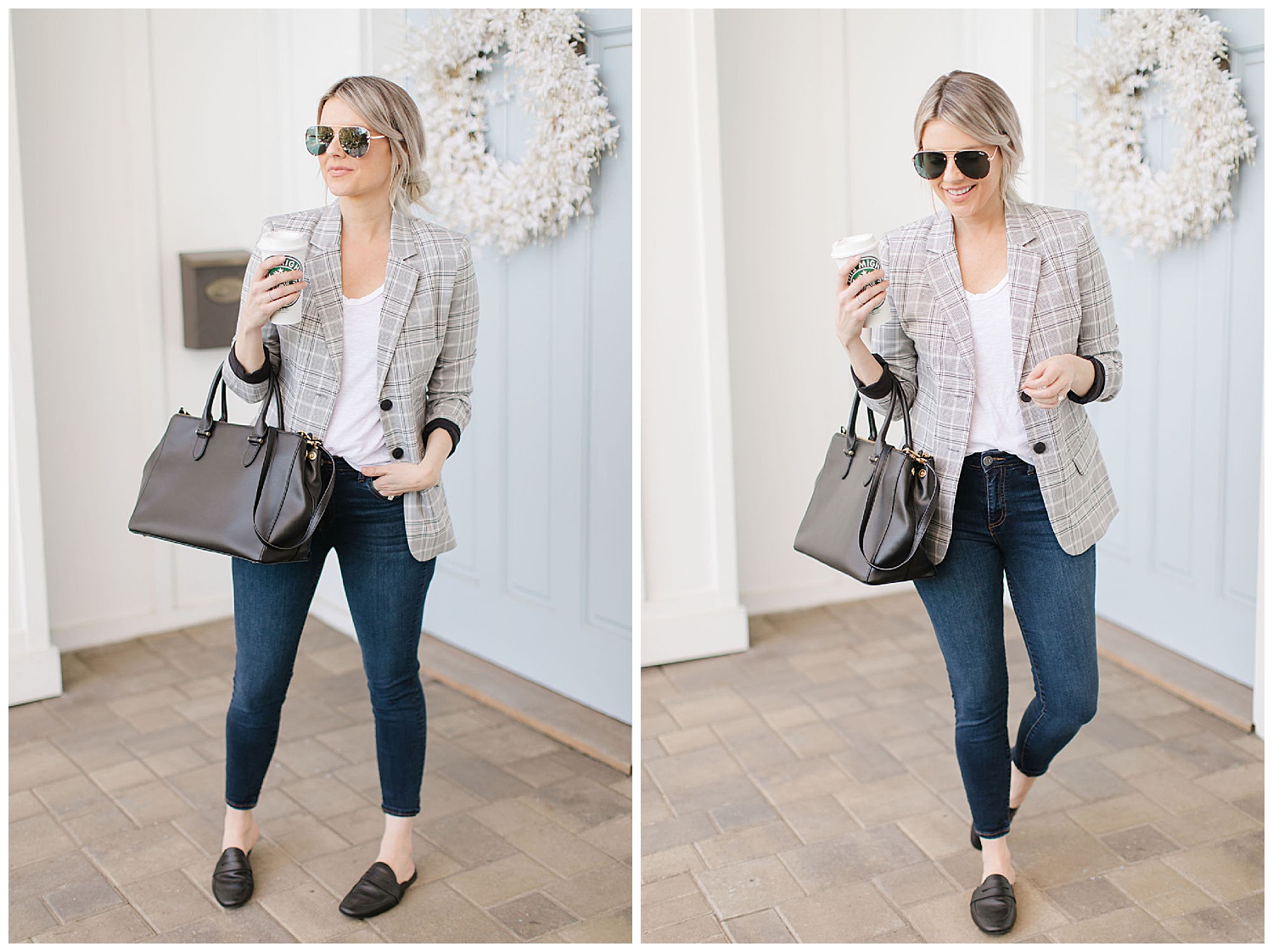 1. BLAZER | 2. WHITE TEE | 3. JEANS | 4. SIMILAR LOAFER | 5. SIMILAR PURSE | 6. SUNGLASSES
It is fitted around the waist, which makes it more feminine than a regular blazer, which I love! The plaid pattern is also so beautiful. If you can't tell from these photos, they are gray and black stripes. Sometimes when I wear a more busy pattern like this, I still like it to be neutral if I am wearing it to work – and this one is absolutely perfect, especially for this business casual look!
Sunglasses
I recently found these sunnies and they are SO good. They are from Quay… which can anyone remind me how you say that? A while back in one of my FB lives we were trying to figure it out. Some people said it is like 'kway' and some of you said 'key'… I am thinking that it might be 'key'. Anyways, I love these sunglasses. I had been looking for a new pair of aviators for awhile and I these ones are exactly what I was looking for!

 1. BLAZER | 2. WHITE TEE | 3. JEANS | 4. SIMILAR LOAFERS | 5. SIMILAR PURSE | 6. SUNGLASSES | 7. THIS MIGHT BE WINE CUP
Black Purse
My black tote bag purse is unfortunately sold out now, but I found you a few similar options at all different price points that I will link below. One of them is even a diaper bag and you would never know that if it didn't say it in the item description! By looking at the images below can you tell which one it is? I think any of these would be incredible with this outfit! OH, and let's not forget my "This Might Be Wine" coffee mug. Ha!


 1. BLAZER | 2. WHITE TEE | 3. JEANS | 4. SIMILAR LOAFER | 5. SIMILAR PURSE | 6. SUNGLASSES
Anyways, I hope you all have a fabulous Friday! I recently did a post about the list of items I purchased in order to prep for an emergency, like the coronavirus, an earthquake, a hurricane etc. Really these items could help you in most natural disasters or in the case of quarantine. Check it out if you haven't already! It doesn't hurt to be prepared, and if anything you could always use the items in your regular life too. In the comments let's chat about what you are all up to this weekend! Anything fun? Can you believe that it is March already?