Hey guys! Thanks for coming to the blog today. First, I want to say that I don't want this to come off as alarmist. I understand that a lot of people are concerned about the coronavirus and quite frankly so am I. But even though I'm concerned, I'm not saying we all need to panic. However, I do think being prepared is absolutely necessary. And not only for the coronavirus, but just for any sort of emergency.
I do want to say this about the coronavirus. From what I've read your chances of dying from the virus if you are under 50 years old is very very very slim. So I'm not preparing because of the fact that I think my family is going to die from this. I'm doing it because if we do get sick, I don't want to spread our germs to others that are more likely to have their life threatened from this illness. Like people my parents age. I ended up sending a lot of the things in this post to my parents because I want them to be protected. And even if you don't choose to stay home when you're sick, there is the chance of quarantines here in the US and I just wanna be ready for them. If they never happen, and hopefully they don't, this is all stuff I'll end up using anyway or is just important to have for disaster relief in general.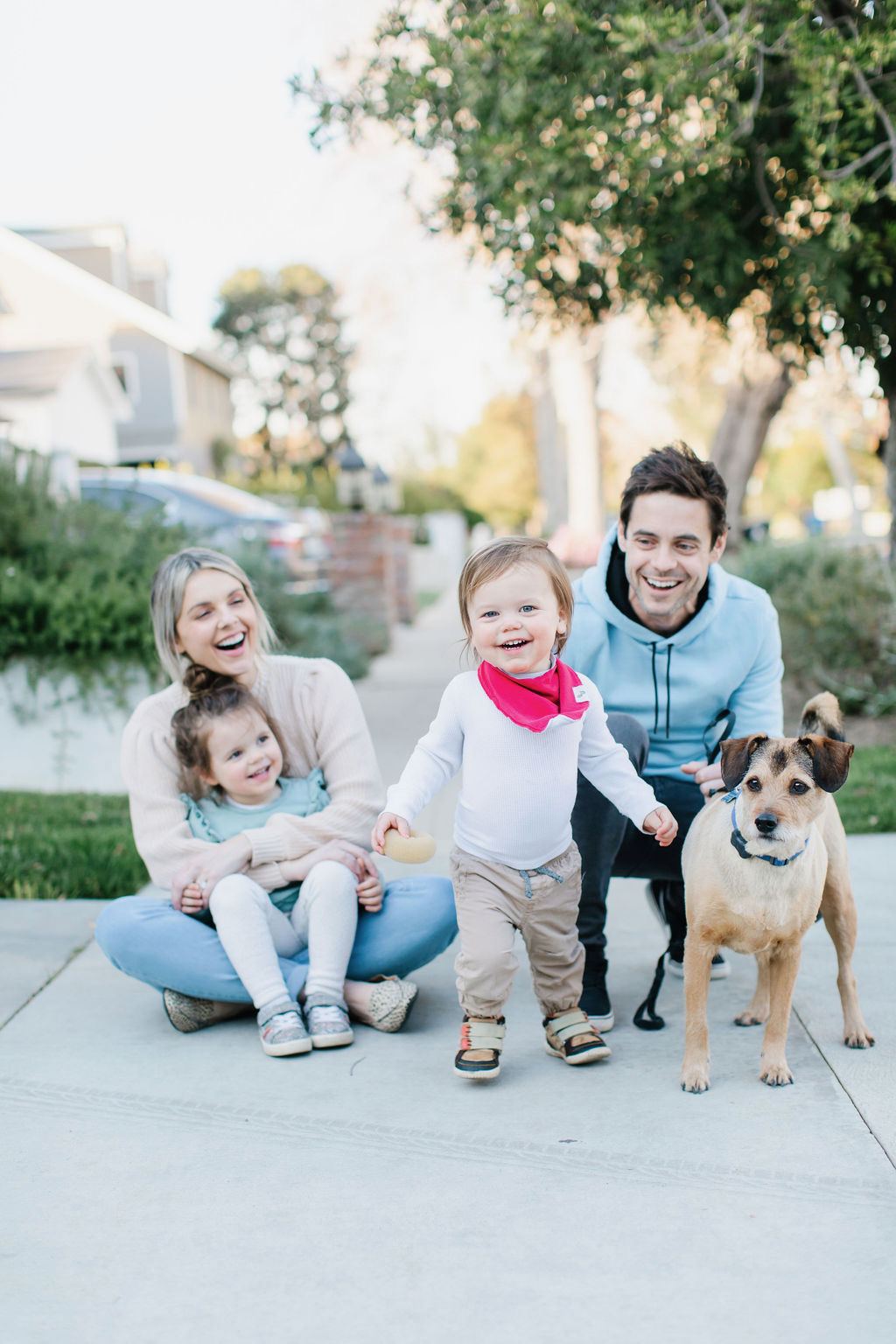 A lot of the items I'm gonna talk about in this blog post we already have/had because it's in our earthquake emergency kit which we've had for quite some time now. Other things I recently ordered because of the coronavirus scare. And while I'm not freaking out, I do rest easier knowing that I prepared just in case the virus is spread more in the US. So here's a list of all the things that I purchased that are available for you guys to purchase as well. I wanted to make sure all these things are still available and not sold out because I know a lot of people are trying to buy N95 masks and finding them sold out worldwide.
What Items to Get for Disasters and Emergencies
Face Masks (Inside Emergency Kits)
So let's start with a face mask. As you probably heard, face masks are either completely sold out online or they cost $100 for one paper mask. And, even if you can afford to buy one, the World Health Organization is asking people not to because they need them for hospitals. Which I completely understand! That said, I personally don't think it hurts to buy an emergency disaster kit that already has a couple masks in it.  I found this kit AND this kit with n95 masks. The hospitals aren't going to be buying these kits because they're expensive with a bunch of other stuff in them. And all the other items in the kit are things that you just need for an emergency anyway. Unless the people/companies that make these emergency kits decide to take all the masks out and give them to hospitals, they will never actually get to hospitals. Does that make sense? So I feel fine ordering these kits knowing that I can get the masks for me and my family, but also not take away from the hospital that need them. And if you you get this emergency kit for your family in case of disasters in general, you could always donate the masks to a local hospital.
UPDATE: Thank you to al the nurses for commenting below about the N95 masks. I still feel good about having a few paper ones! And the emergency kit is just helpful to have in general. Also, I didn't comment on WHAT you should use the masks for because I'm not a medical professional (this is all just stuff I bought to feel at ease). But I want to have them to wear if I get sick and need to leave the house (and at home witht he kids so I don't get them sick). For example, I wore one on the flight to Hawaii because I had a cold and didn't want to spread it to others but wasn't going to cancel my trip because of a small cold.
I actually just read something that said wearing the mask may INCREASE your risk of getting sick. So I plan to only wear if I am already sick because of my kids.
Soap – Was Your Hands!!!!
The best way to prevent the spread of coronavrus? Wash your hands!!! I always buy my soap from Grove Collaborative, so when I ordered this month I just really stocked up on soap. And Grove DID NOT ask me to put this in here but if you use this link to their website and spend $20 on the site you get a bunch of stuff free like bamboo straws, reusable sandwich bags, hand soap, hand soap dispenser, and sponges! Why pay for the soap when you could spend $20 on other products you need and get the soap for free? I truly mean it when I say this post isn't sponsored, you know I love to share any way to save money with you guys. It's an insanely good deal and because they have a bunch of the stuff that you need to keep your family healthy from this virus that is natural and effective. Like hand sanitizer!!!! Their natural hand sanitizers are just as effective as the stuff with other chemicals in it, but so much better for your skin and to put on your actual largest organ on your body. I just wanted to pop that in here just because I feel like it will help a lot of you and that's what this post is all about! Helping you protect your family! So if you get a good deal while doing it why not. Ha!
Feminine Care Products
I wanted to mention this next because I also get some of my feminine products from Grove, like tampons, so I just stocked up on a ton! If we do get quarantined to our homes, these are items you will need! Here's also a link to some organic tampons on Amazon.
Hand Wipes
And while washing your hands in the sink with soap and water is the most effective way to clean your hands, I truly think it's important to have hand wipes handy when you're out and about. Just in general during cold and flu season this is important. We always have antibacterial hand wipes on us when we travel or even go to a restaurant with the kids. It's just the easiest way to clean their hands before they eat. These are also mostly sold out in stores, so I would snag some online where you can even if there is a little bit of a high shipping fee. I just went back and tried to check if they are available for you guys, but it seems like Walmart and Amazon are both completely sold out of them. I would definitely grab them if you see them available on any of these links.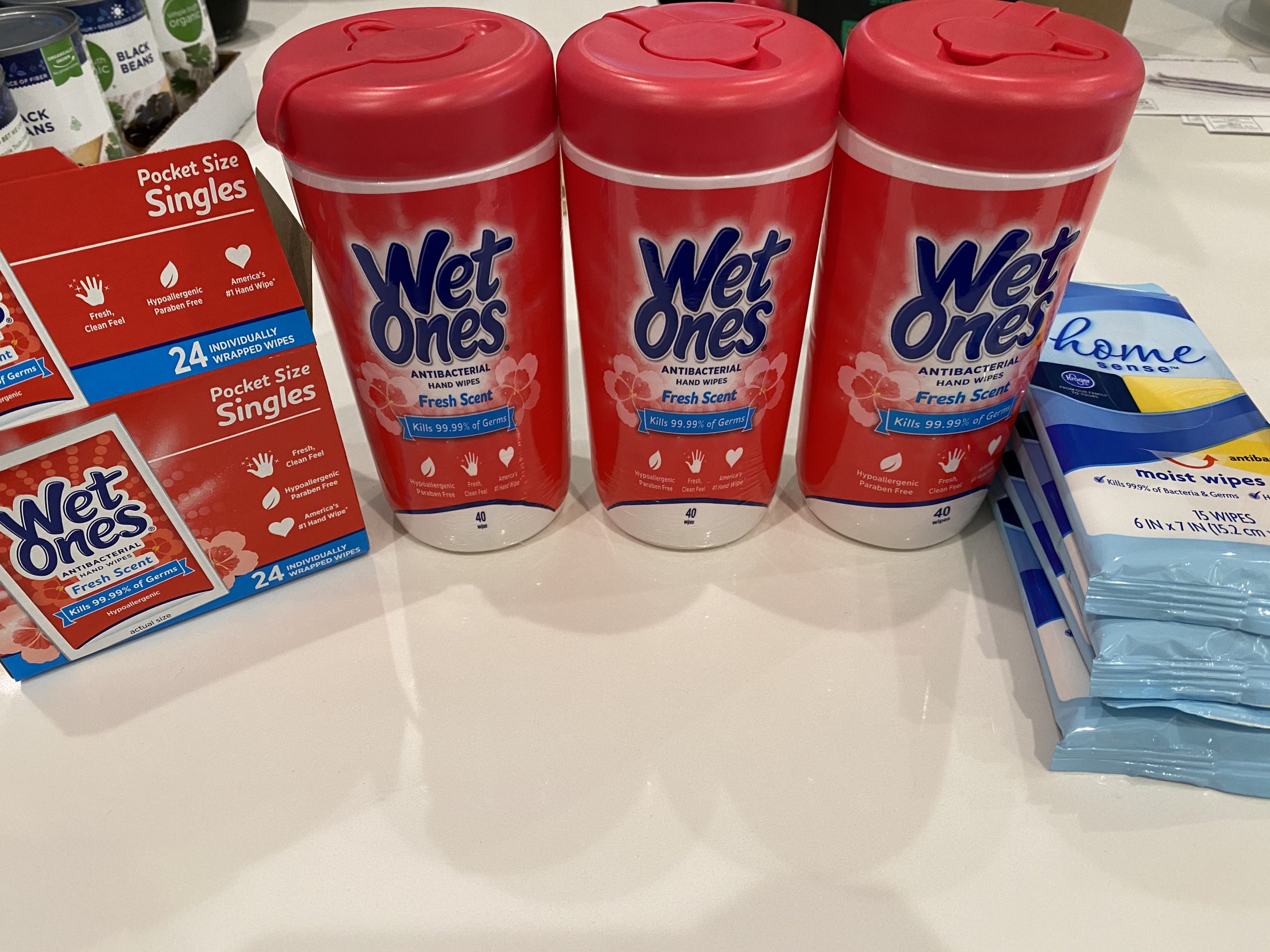 Surface Wipes
OK these might not be the most natural product, but I don't care when it comes to killing viruses on my surfaces. I bought this jumbo pack of Lysol wipes because I want to make sure everything is sanitized in my house. Right now, most stores are sold out of them. Trust me, I've checked multiple and see so many stories online. Y0u may have to pay a large shipping fee online, but I think it's worth it to have them. I think these ones have free shipping right now.
Medication
You guys may have already heard this, but if you're on any sort of prescription medication it's really important to try to get two months worth (I say even more if you can) of it right now. A lot of our medication comes from China, so I've heard they're predicting major shortages. That also said, I've read it's very important, that if someone in your family does get sick and there is any sort of quarantine or lockdown, you're going to want cold and flu medication for you and your family just in case you can't leave to go to the store to buy some. So I stocked up on children's cold medication, adult cold medication, and then all these little packets of other random meds.
I also want to mention that it is so important during the flu season in general to help our immune systems out by taking vitamins. We personally take Vitamin C and elderberry, which I would recommend. Make sure to ask your doctor if that's okay for you, especially if you are taking any other sort of medication or vitamins.

Gloves
I feel like it might've been a little over the top to get the gloves, but I went ahead and bought the medium size for me and Kevin and then smalls for my kids – just in case. I feel like it's the type of thing that doesn't hurt just to have in your home anyway.
Food and Other Supplies
Stock up on non-perishable food! If the virus does become more serious here, there will be quarantines two weeks or more. So you'll need things like toilet paper, canned food, frozen food, and water.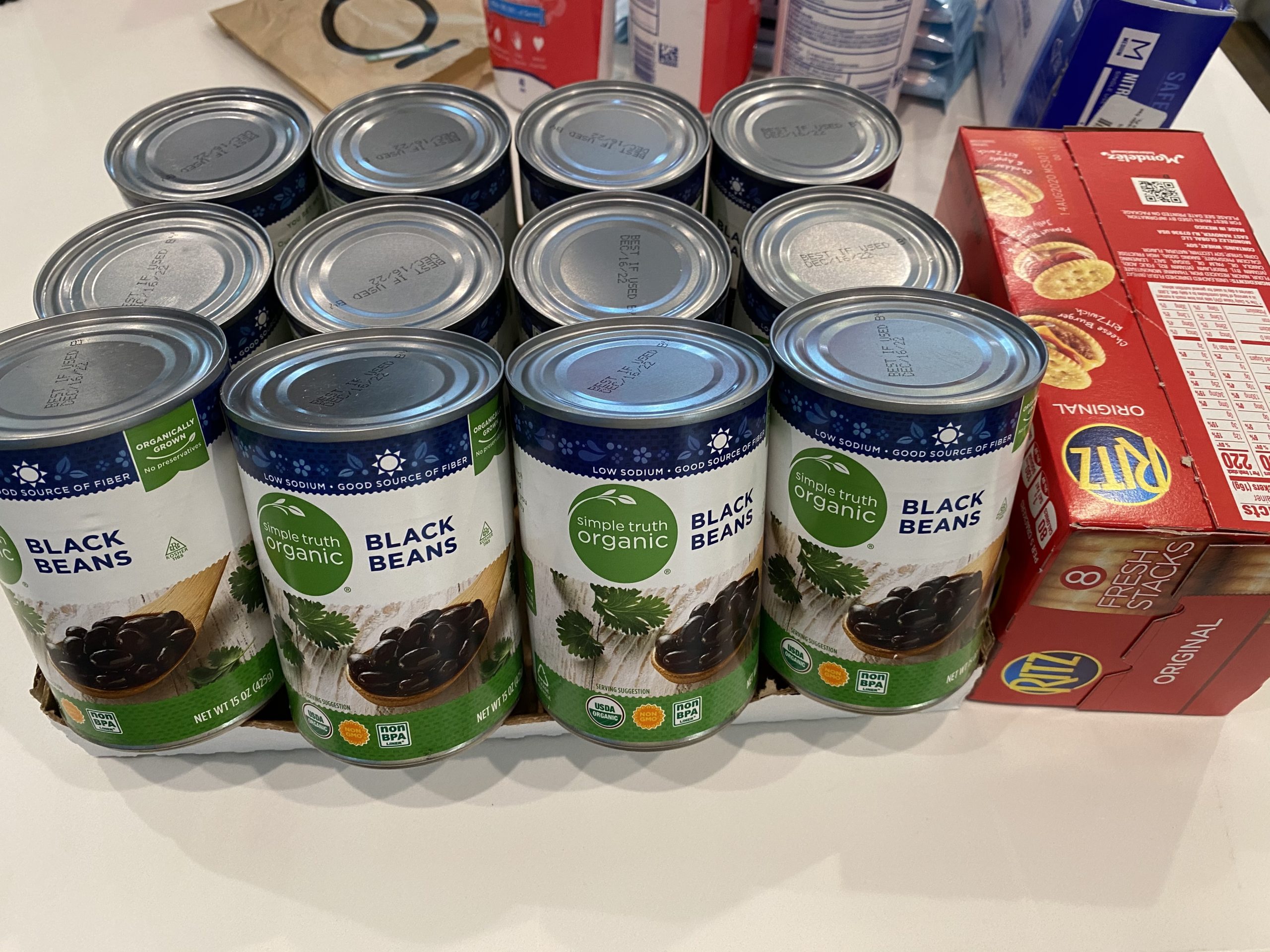 Water
We have a Brita water filter, but I felt like it was important to have these filtered water bottles for each person in our family. So I got four of them. Not necessarily for the coronavirus because if that spreads we will stay here with our filter at home. But just in case of another disaster where we had to leave the house and have something to go. I also have a Life Straw, which I think is an amazing product that every person should have just in case.
We had a few earthquakes in a row back in July and when that happened it really freaked me out, so I kind of went over the top preparing for earthquakes. I bought a huge 70 gallon water tank that sits on the side of our house that we can use in case of emergency. And while I know not everybody wants to go that route. It is important to have these emergency water packs on hand. I keep them in our car emergency kit and in the one in our home.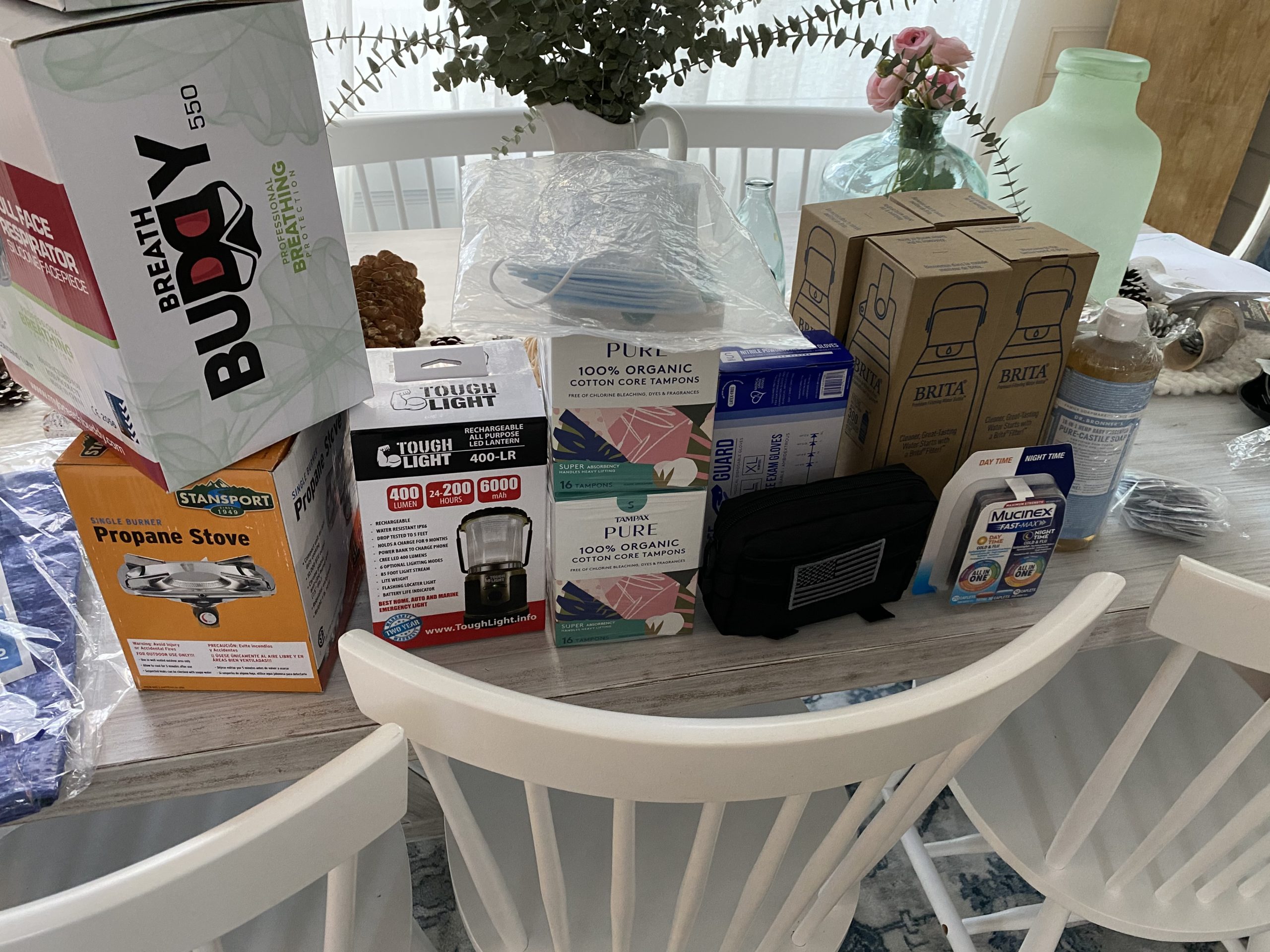 Pet Food in Bulk – Cat Litter
This is when I didn't even think up until friend mentioned it. But we definitely need to make sure we have food and medication for our pets! Food obviously for all pets. But if your pet has any special medications make sure you have enough for a couple months.
This website sends food very quickly if you are unable to get to the store and just want to order something for your furry friends.
This Handy Gadget
Again this doesn't have to do with the coronavirus, but just something I think is important to have in your home. This is a hand crank radio, flashlight, and smart phone charger all in one! I have this in my earthquake emergency kit in my car and in my home. This is something I hope I will never ever ever have to use, but if I'm ever in a situation where I do need to use it it will be the best $14 I've ever spent. I also found this one online that is $45 that looks like it might be a little bit better quality. So I might get that one as another option. It's probably not necessary to have both options but I get a little over the top prepared if you can't tell. One also come in one of the emergency backpacks I suggested.
First Aid Kit
And even if you aren't worried about emergencies like this, everyone should have a first aid kit in their house. This one is really great and easy to throw in your Amazon cart with everything else I've mentioned in this post!
Be Prepared
Anyway, again I don't wanna freak anybody out. My girlfriend sent me this list of items and I found it so helpful and makes me feel so much more at peace with everything going on. So I really wanted to share with all of you guys in case anybody else was feeling the same way I was feeling. I felt underprepared and I wanted to feel more prepared. Not only because of this virus, but just because it's important to be prepared for any sort of disaster. Whether it's illness spreading or natural disasters.
And I kindly ask that if you do think this is alarmist post, please keep it to yourself. I felt compelled to write this to help others and if you feel like it's spreading fear I apologize. But I feel good knowing that I might help someone out there and help them feel a little bit more at ease. I love you guys! Stay healthy!