Hi guys! Oh my goodness, it is so hard coming back from vacation. This is honestly probably the hardest it's ever been for me. I don't think I've ever had as good of the vacation as we just did. And it's so crazy for me to even say that because at the beginning of our trip I was sick with a nasty cold! I thought I was fine when we left, but after a day of travel and we got to the hotel in Hawaii I felt like I was hit by a bus. Luckily within two days it cleared up quite a bit with just a stuffy nose remaining, but even while feeling that way at the beginning this trip was honestly one of the best trips of my life! I don't even know how to explain it.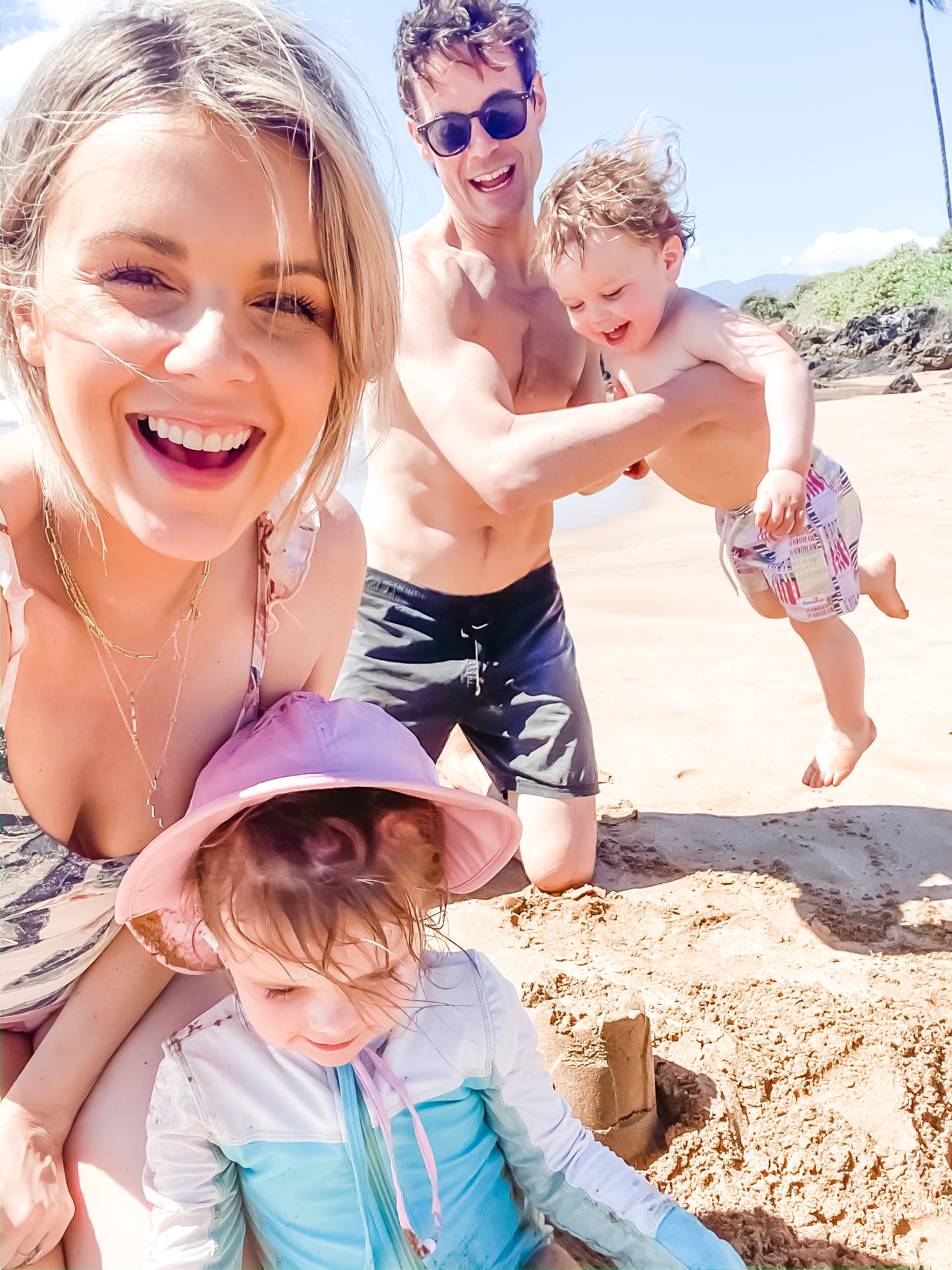 1. MY SUIT | 2. MOLLY'S HAT | 3. MOLLY'S SUIT
I mean obviously we were at the most stunning hotel ever! I told you guys about the Fairmont Kea Lani in my last blog post about Hawaii, but it's worth mentioning again that it was one of the best hotels we have ever stayed at. I don't even know if hotels the right word. Resort! It's a stunning resort! But it's not just because it looks so beautiful, the staff was amazing, the food was insanely good (Plus I was so happy to see so many amazing vegetarian options at some of the restaurants), but everything was just so conveniently located at the resort.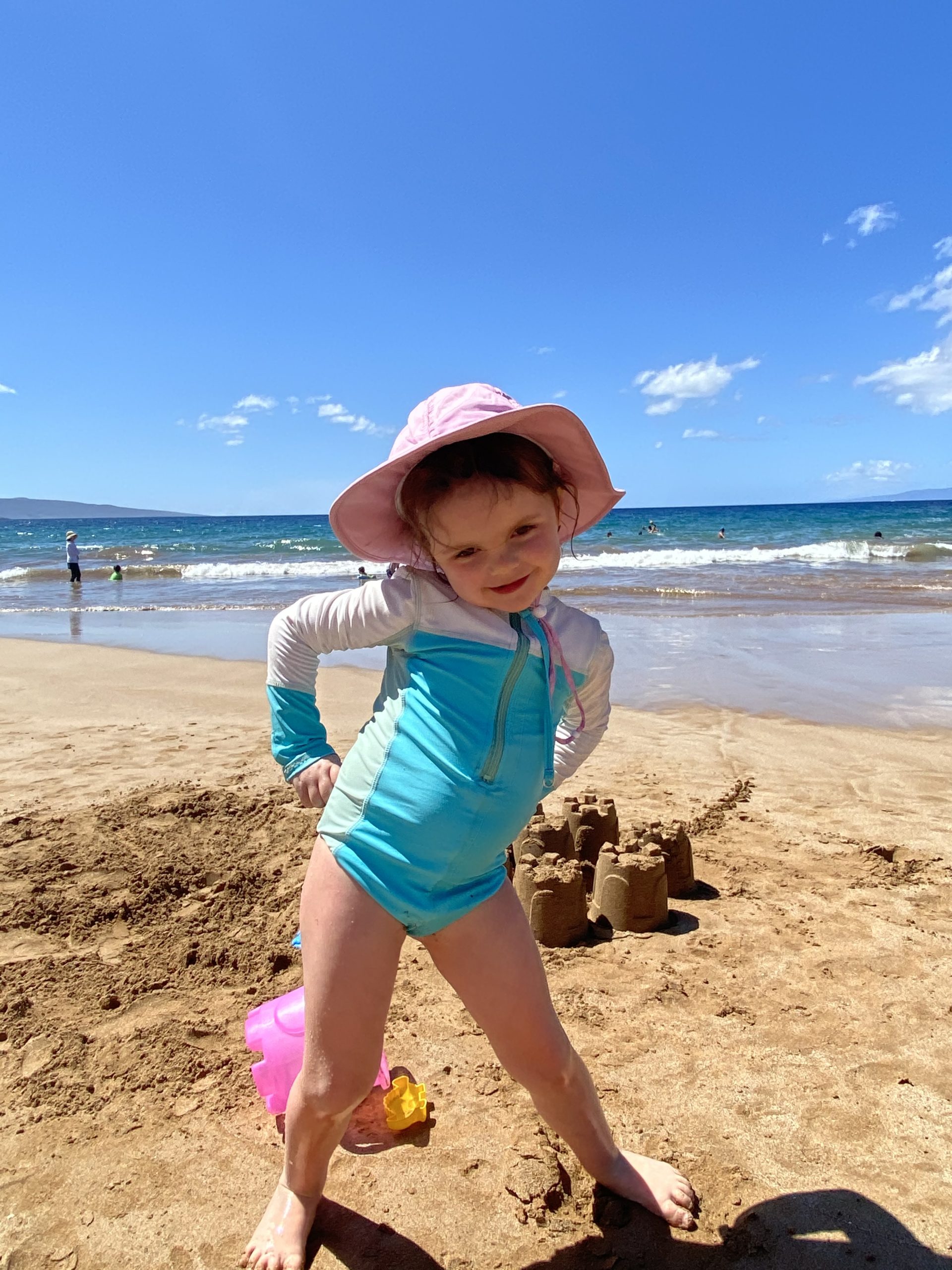 1. MOLLY'S HAT | 2. MOLLY'S SUIT
I've been to a few resorts before where they're so spread out that it's really hard to get from your hotel room to the pool or any of the restaurants near the main lobby. But the amazing thing about the Fairmont is that everything is laid out so well that it's really easy to get from your room to where all the action is happening. Especially if you splurge on a villa. We are so so so fortunate that we were able to splurge and get a villa for the stay. It wasn't inexpensive. Nothing in Hawaii is. But it was so worth every single penny. I told you guys we have been saving for this trip and every penny saved is a blessing.
We had laundry in our room, a little kitchenette to make the kids food whenever they wanted it, and it was steps away from the pool and the ocean which ended up being a game changer for us. Mostly because Molly refused to go to the public restrooms. She has a fear that the public restroom toilets flush too loud, so she would only use the bathroom in our villa. So every time she had to go pee we had to leave the pool or the ocean and go to our villa. But like I said it was so close that it made it so so so easy! Seriously, if you're planning a trip to Hawaii, look into this place!!!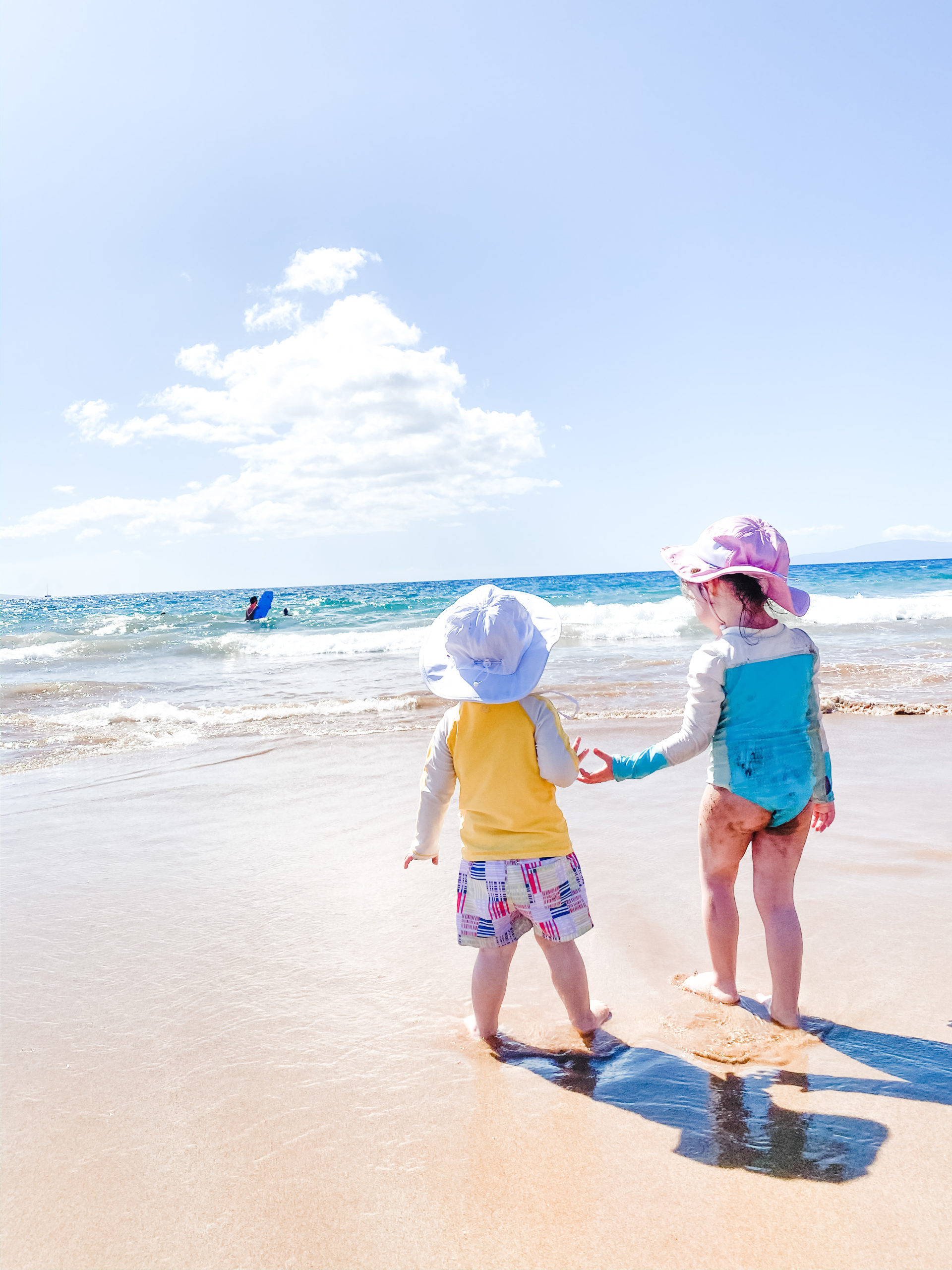 1. RILEY'S HAT | 2. MOLLY'S HAT
Also I have to laugh at this photo of her and her swimsuit because it's on backwards! In fact we put the suit on her a few times throughout the day because it's so great for some protection. It has 50 SPF built into it, so it's amazing for parents to put on their kiddos! Riley was in a similar swimzip a bunch during the trip as well. But we couldn't figure out why it kept giving her a wedgie. Turns out, we had it on her backwards the entire time! Ha! Makes me laugh every single time I see a photo of her in it. Regardless, it works like a charm and we all came home without the slightest sign of any sunburn which I'm really happy about. Some protection is so important to me.
Anyway, I just want to say a few more words about our stay because I couldn't recommend the Fairmont Kea Lani more. This was our first time there, but it certainly will not be our last! I'm already daydreaming about our next trip there. I've already set up an account to start saving for it. Ha! Those "home from vacation" blues are real – especially coming from Hawaii.
I also wanted to post another blog about our trip because there are a few outfits that I didn't write about that a few of you were asking about. One morning when we were there, Kevin and I went for a walk along the beach and had breakfast together. I wore this beautiful dress – I just love the way it flows. It screams beach vacation! Or I feel like it's something you could wear to a brunch or really any daytime event. The fabric lays really nicely on your body and has beautiful flow. I'm wearing a size medium, which is my normal size so I definitely would say it's true to size.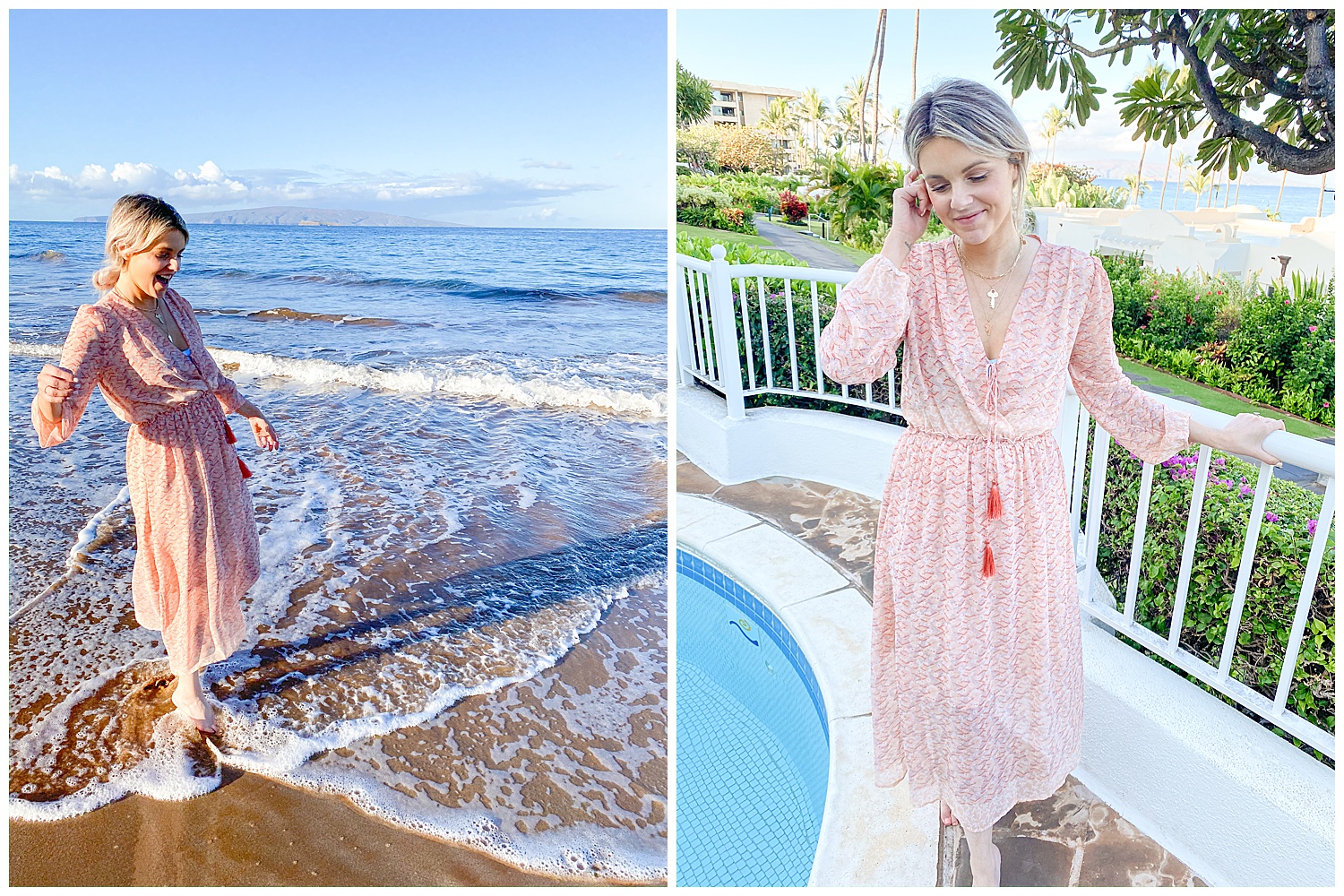 1. DRESS
I also want to quickly write about this top by Free People. I'm obsessed with the colors and I just love a good relaxed fit. I'm also wearing a size medium which is my normal size and would say it's true to size. It also comes in a cool ivory color with blue flowers that I think would look so nice with blue jeans. Actually, I think it would look amazing with a pair of jean shorts if you have any upcoming trips or for the spring.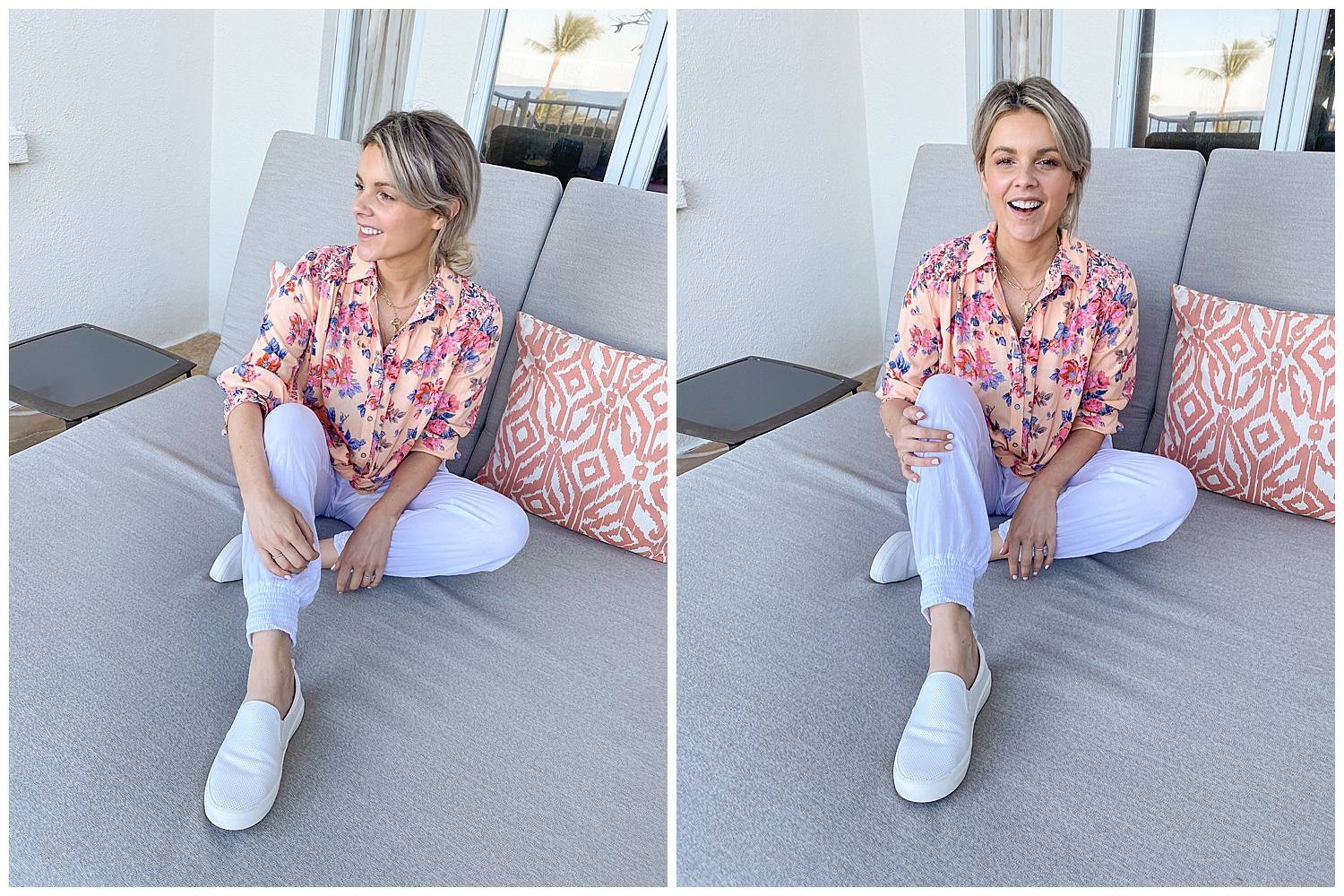 1. FP TOP | 2. WHITE LINEN PANTS | 3. SHOES
I'm wearing white linen pants that are also a must for any vacation you have coming up. I wore these pants a a bunch of random times during our stay. And last but not least, I love love love love love the shoes! Did I say love enough times? I feel like I talk about a lot of clothes on here, so when something is an absolute favorite of mine I really wanna emphasize it. They are the cutest vacation shoes and I love them because you can dress them down like I am here with the white linen pants and top, or you can dress them up with a dress! As you can see in the photo below with me in the yellow dress, I was able to wear the sneakers with a dress on vacation. And I think it looks ridiculously cute!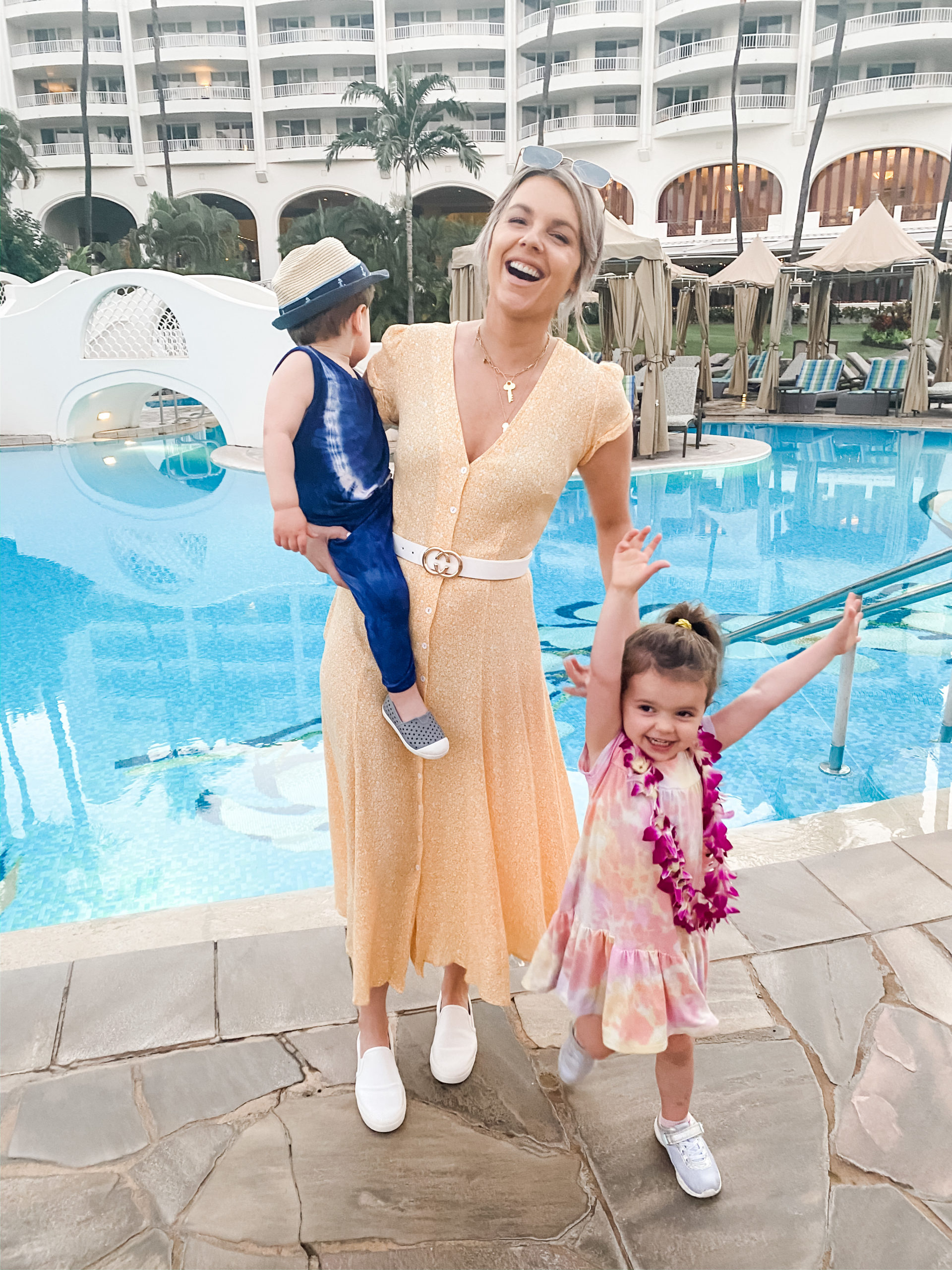 1. YELLOW DRESS | 2. PURSE | 3. WHITE SNEAKERS | 4. BELT
I'm actually wearing this dress today to a lunch that I'm going to that Jennifer Garner is hosting! It's for her brand Once Upon a Farm and they're doing a little smoothie soirée that I got invited to. I'm kind of psyched to meet her! Actually, who am I kidding I am super super super psyched to meet her! And I just thought this dress was so cute and so comfortable to wear with sneakers that it would be the perfect thing to wear to the event. So you know I really love something when I decide to wear it to meet Jennifer Garner for the first time! Ha!
Also, I haven't posted these in the blog, but I wore these tie dye swimsuits a lot in Hawaii and quite a bit of you were asking where you could get them! So I will link them here! Doesn't the sarong really make that vacation-look?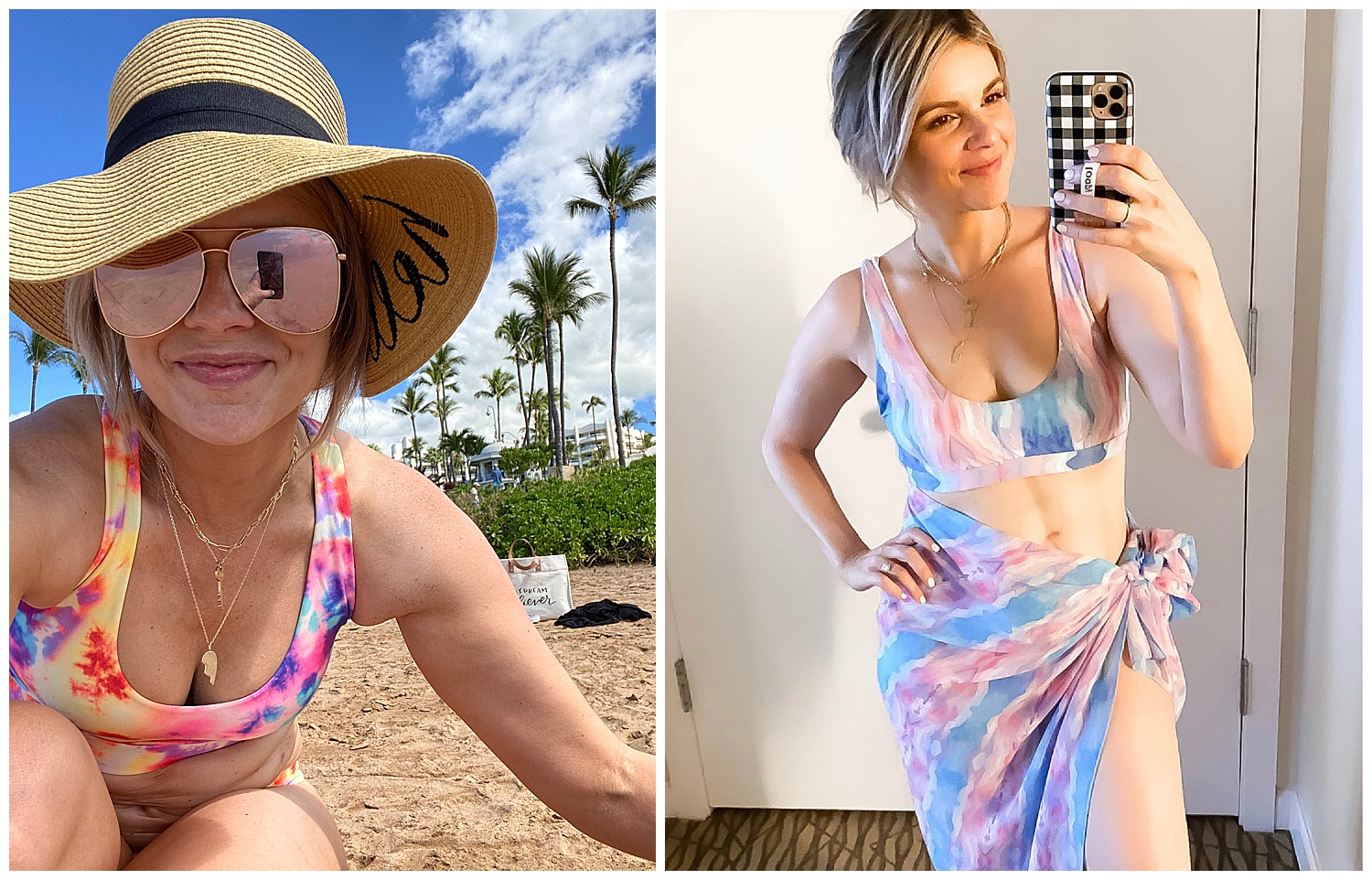 1. BRIGHT TIE DYE SWIMSUIT | 2. FLOPPY HAT | 3. SUNGLASSES | 4. BLUSH AND BLUE TIE DYE SWIMSUIT | 5. MATCHING SARONG

Anyway, that's it for me. Just wanted to share a few more looks from Hawaii and if you're curious about any of my past looks from Hawaii check out this blog post. I wrote about all of the matching outfits that Molly and I wore on our trip. Including these dresses, the swimsuits, and these adorable floppy hats. So go check out that post for sure! Hope you guys have a great weekend and I will catch up with you on Monday to discuss all things Bachelor for Women Tell All.. and I read we heard that we might even know the Bachelorette on Monday, so I can't wait to discuss thaqt too!