Happy affordable Friday! I get so excited about Affordable Friday's, it's kind of ridiculous. Ha! I think it's just because I've found so many quality pieces lately for such insanely good prices that just makes me so so happy! Have you got any of the pieces lately? If you have, let me know in the comments below what you think about them! Today I am sharing my top three favorite tops from Walmart this month that are under $20… and 2 of them are neutral and truly look expensive!
Tops Under $20
Neutral Sweater
I have to start with this neutral sweater because it is no joke one of my favorite sweaters ever! I feel like I say that often about certain sweaters I find, but this one is just insanely stunning! I love it so much, that I legit wore it on Extra TV when I did an interview with them on Wednesday. You guys might've seen that I posted an Instagram story about it saying that it would be in Today's Affordable Friday post. So that kind of proves how much I love the sweater. Out of every single thing I have in my closet that I could've worn to be a national TV show, I chose the sweater. It's just one of those tops that looks super expensive. I think it's because of the neutral color. I always think neutrals feel expensive looking to me. And then I'm absolutely obsessed with the color and the detail on the shoulders. It gives the top an extra feminine touch that I just think it's so beautiful.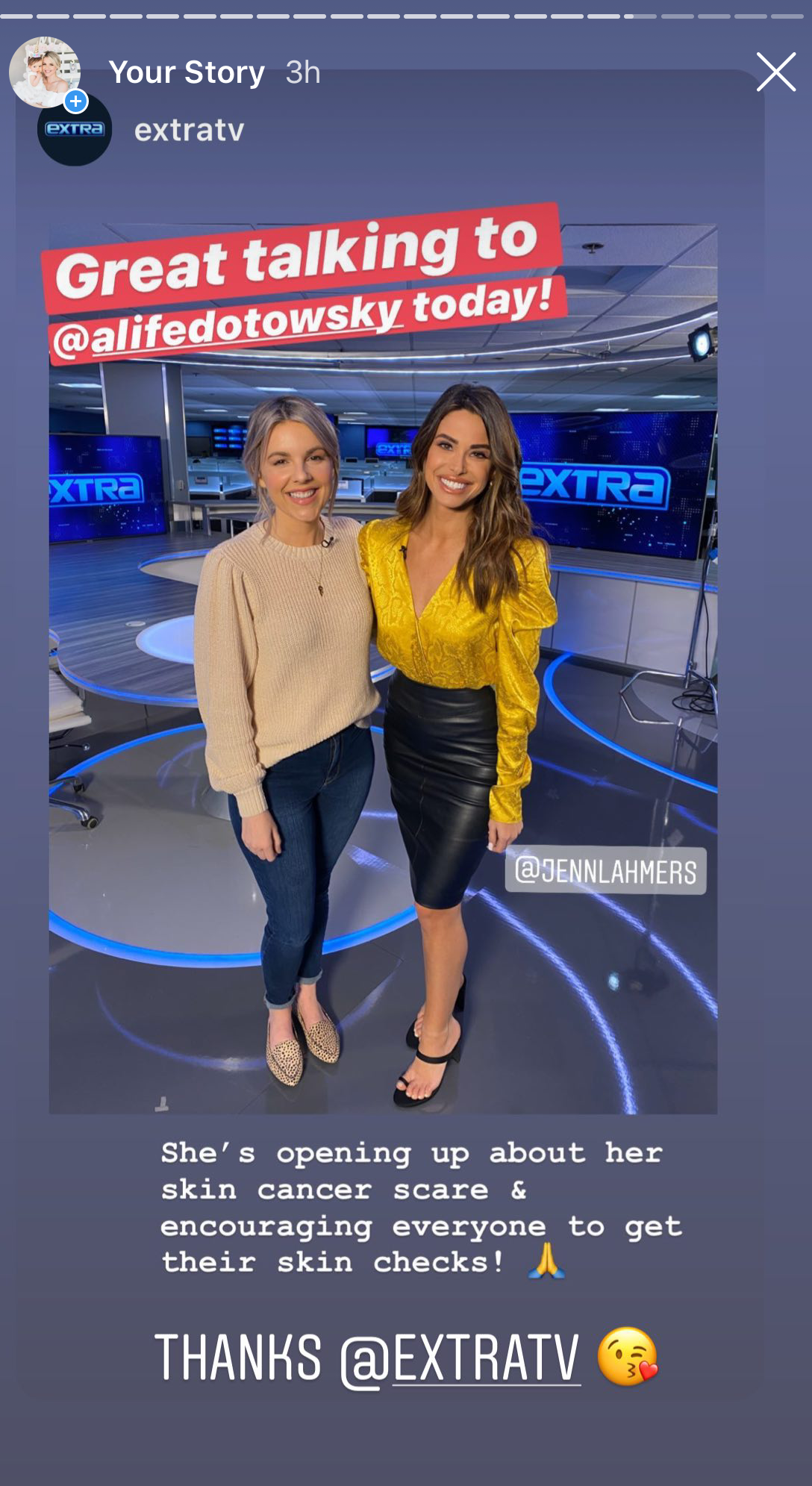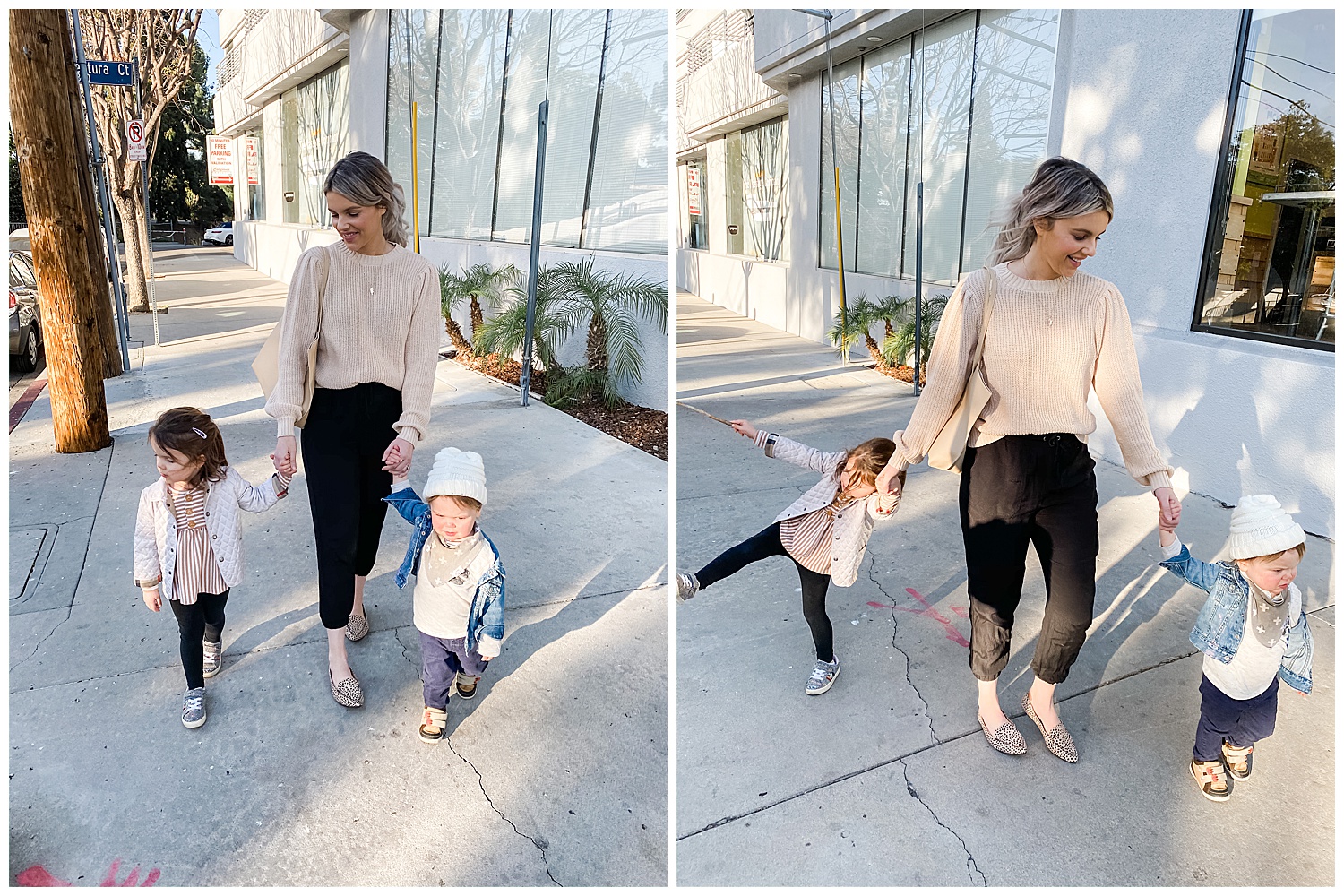 1. SWEATER | 2. LOAFERS | 3. TOTE BAG
I'm wearing a size medium which is my normal size so it's definitely true to size. And the best part? It's only $13! The last time I posted about a sweater like this that I was super obsessed with was a pink sweater (it's back in stock in black!) on an Affordable Friday a couple weeks ago and a checkered sweater and both of them sold out within an hour! I'll link that post here if you want to see some of the images. So if you love the sweater as much as I do, I'm telling you get it now! It also comes in a few other colors. I just ordered it in the navy blue color as well because I love the fit so much. I feel like the only reason it hasn't sold out on Walmart's website yet is because it doesn't look that cute on the model. But if you look at the reviews they're all stellar! People love the sweater and so do I!

 1. SWEATER | 2. CHEETAH LOAFERS | 3. TOTE BAG | 4. SIMILAR JOGGERS
And don't you LOVE these loafers?! I have these loafers in both the cheetah print and the leopard print. I got both of them because they are only $14! In the leopard print I got the wide width because I have a wider foot. But in the cheetah print I have the regular with and honestly fits absolutely fine! I don't even think I really needed the wide width. Trust me you'll be so happy you got these! And they break in super fast! I find them incredibly comfortable. And I'll link my tote bag that's just a really beautiful tan color and only $14.
The joggers I am wearing are sold out, but I found some pretty similar ones for only $11 if you wanna try them out. They seem to have pretty good reviews!
Striped Top
If you haven't realized yet, everything in this post is from Walmart. Walmart has just blown my expectations out of the water these past couple years. I have found the absolute cutest stuff from them at the best prices! And quality stuff that's affordable. Like this neutral colored striped top. When I got this shirt in the mail and put it on I felt like it could've come from a designer department store. The quality is insanely good! And it is beautiful!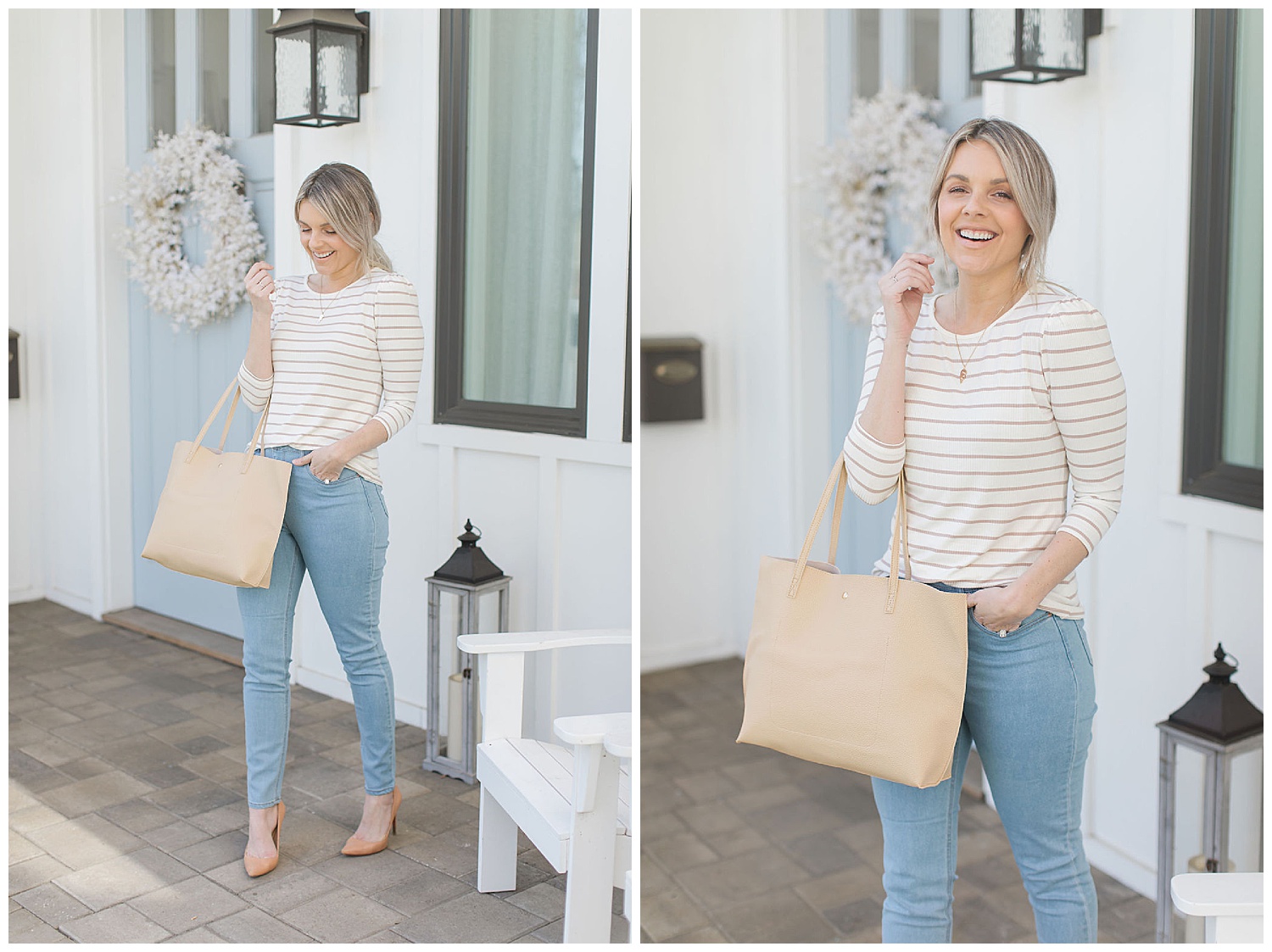 1. STRIPED TOP | 2. $10 JEANS | 3. TOTE | 4. NUDE PUMPS
I really feel like these photos don't do the top justice so I almost wanted to completely re-shoot them all. Just because I love this top that much. I'm gonna wear in my Instagram stories later today so you guys can see it in video just to see how pretty it is. Like the tan sweater I just wrote about above, it also has a beautiful little rouge detail on the shoulder that makes it extra feminine and pretty. I got it in the white with neutral stripes because I'm obsessed with neutrals and always think they look chic. But it also comes in white and pink and I am in love! The best part is that it's only $11. That's right you heard me, $11! I decided to get one of the pink tops as well because I feel like it will look so cute this spring and summer with a pair of white jeans and white sneakers.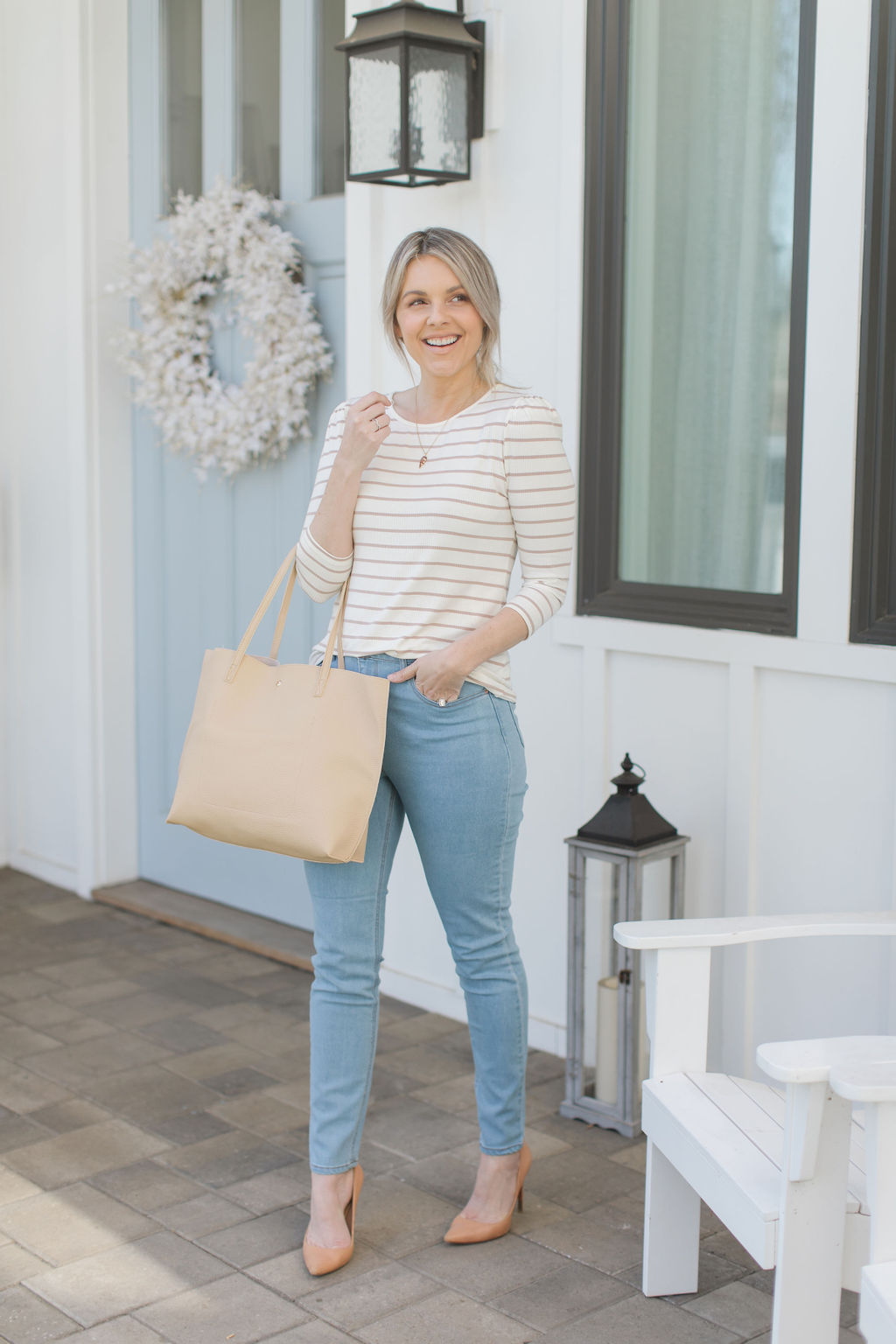 1. STRIPED TOP | 2. $10 JEANS | 3. TOTE | 4. NUDE PUMPS
This top is also true to size. I got a medium my normal size. I think it's cute to wear with jeans but you could also dress it up with dress pants.
And once again I left the best part for last! Well, not only are these jeans under $10 but I was so happy when I got them and saw a sticker on them saying that they were made from recycled plastic bottles! I'm really really really trying to find more sustainable products in terms of fashion and when I find items like these that are not only affordable but also better for our planet I have to share!
This pair of jeans is under $10. That's right $9.88! They're a great high-waisted jean, or really, more of a jegging. And they also have great reviews. I would just say size up on these guys! I normally would get a size 11 in these jeans based off the size chart. But I sized up to a size 13 in these and I'm so glad I did because they fit perfectly! I might have thought to get a size 9 if I was going off the small medium large sizes on the size chart. And if you read the reviews everyone says to size up. I got the light wash but if you're looking for something even more flattering get the dark wash or even the black jeans.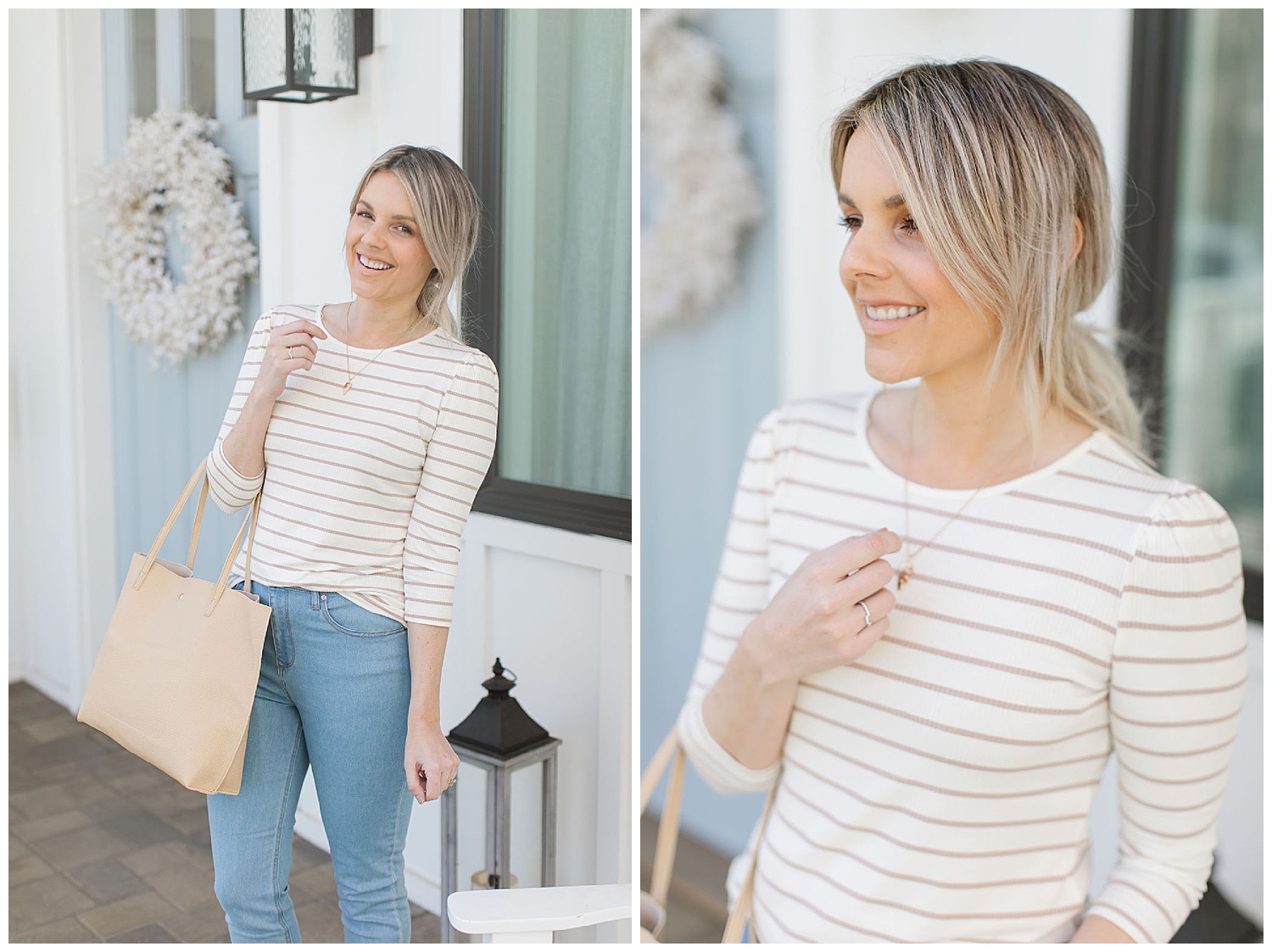 1. STRIPED TOP | 2. $10 JEANS | 3. TOTE | 4. NUDE PUMPS
Because I'm Happy
If you're looking for a top to wear that will make people literally smile ear to ear then when they see you, then get this sweater! It's only $15 and it will bring a smile to every person's face that walks by you. I think that's why I love wearing it so much. I wore it out the other day to go get coffee and literally it just made me feel happy so I had a smile on my face. And then when people saw me I think between the top actually saying happy in the bright colors and a huge smile on my face, it made other people smile too!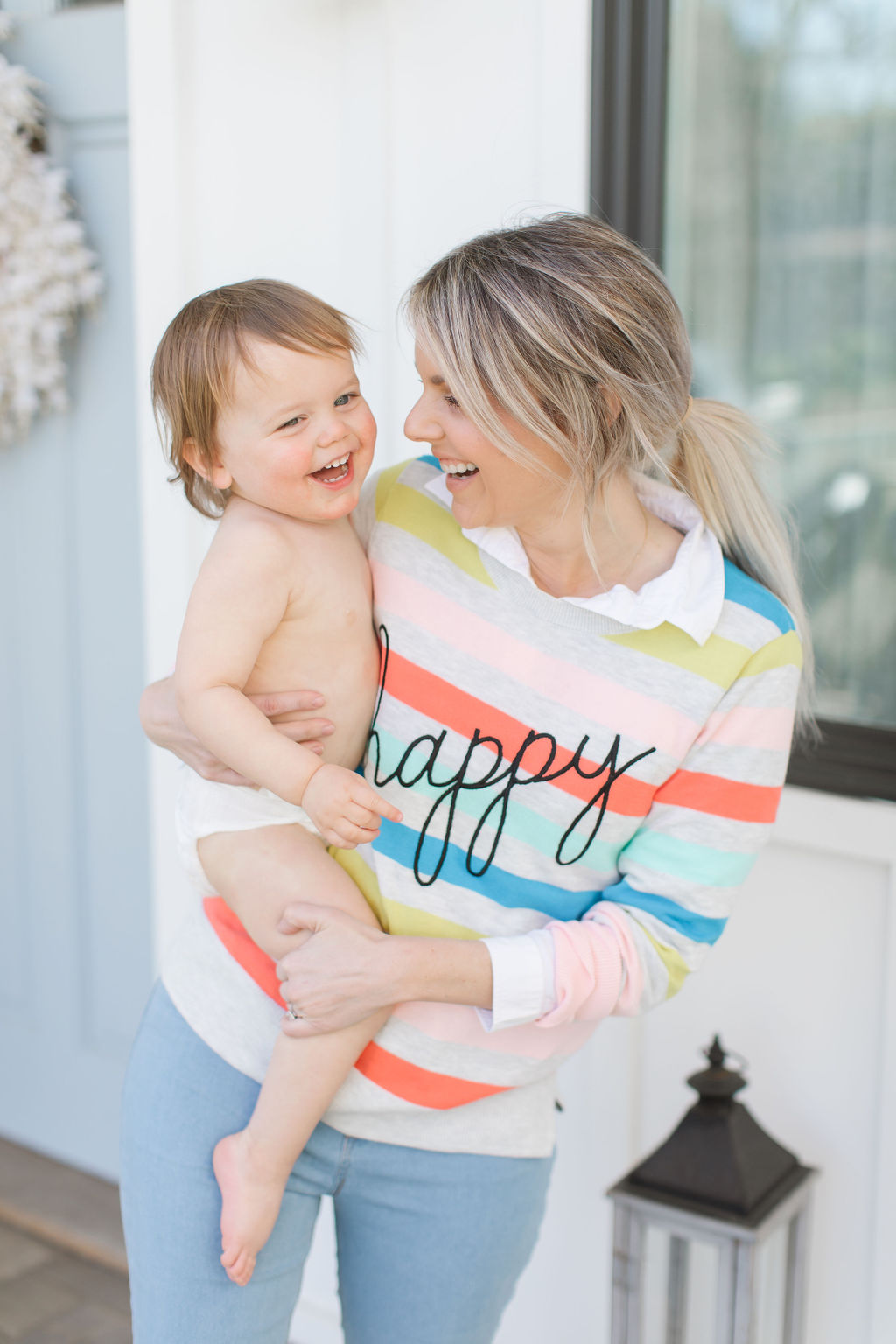 1. HAPPY TOP | 2. JEANS | 3. SNEAKERS
Again I'm wearing a size medium which is my normal size and I even layered a white collared shirt underneath it for these photos. But I think it looks really cute on its own as well. I also want to mention my sneakers real quick. Because they're under $20 and from Ellen DeGeneres's line at Walmart. With the rainbow on the side, I also just think they are bright and happy shoes!
I feel like this outfit is my ultimate cozy mom outfit! So comfortable and easy for me to wrangle my kiddos in! And they honestly just love it because of all the bright colors as well. I mean do you see the smile on Riley's face?! Plus, sometimes when Riley is sitting on my lap I go all over the letters with him so I feel like I'm kind of teaching him at the same time. Ha!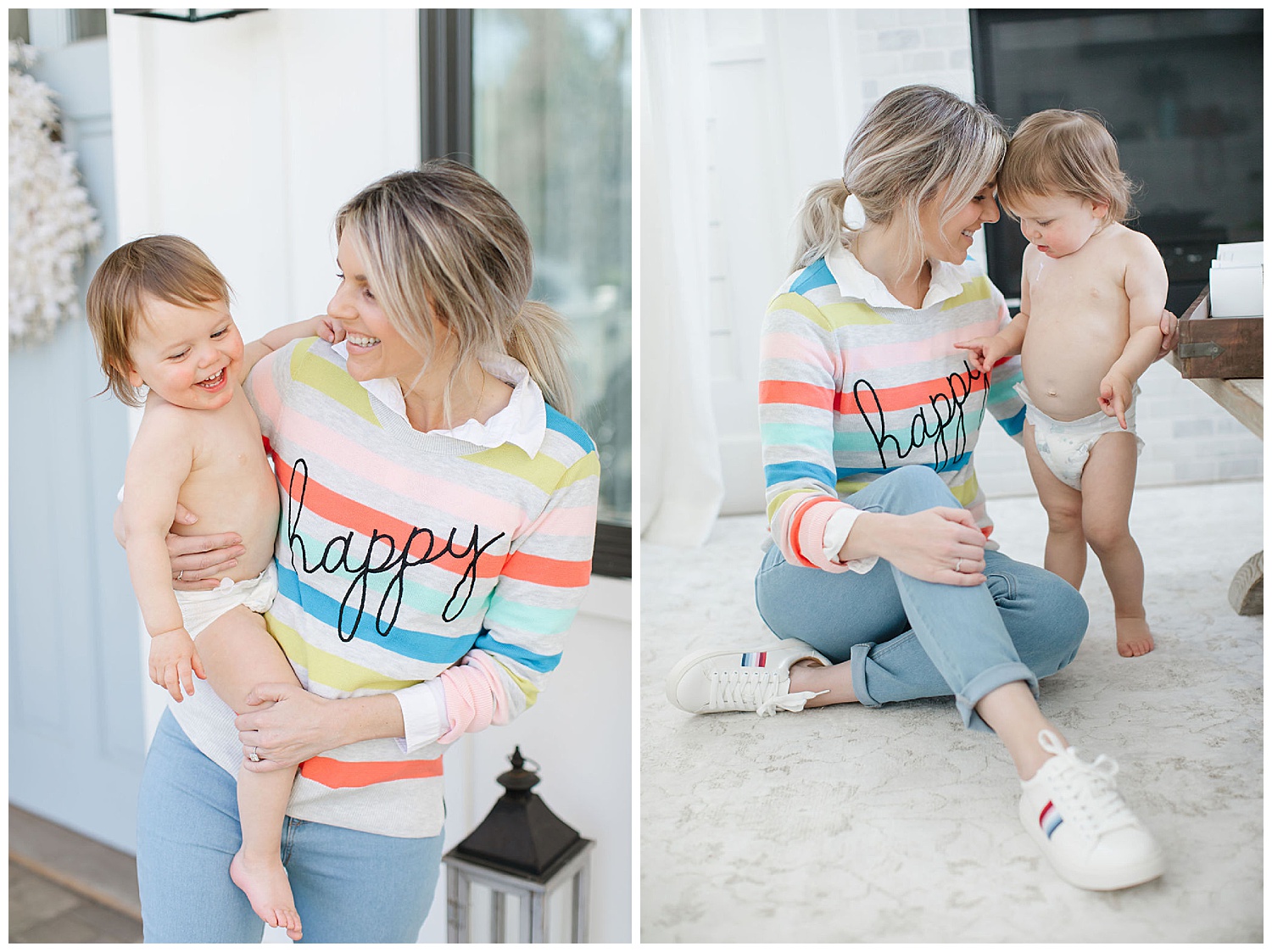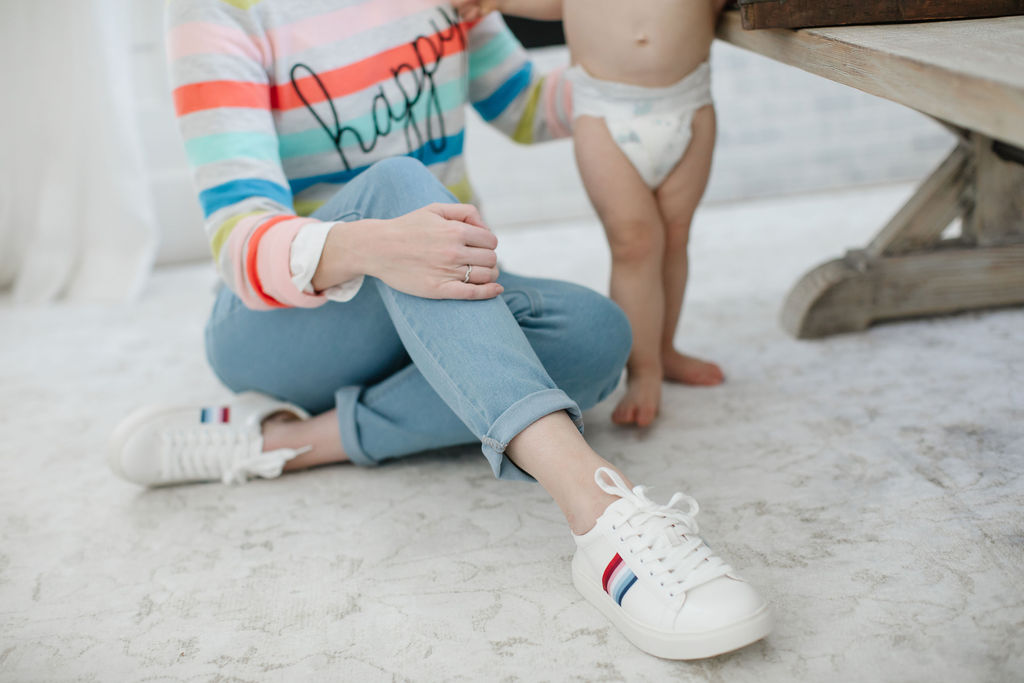 1. HAPPY TOP | 2. JEANS | 3. SNEAKERS
Bonus Look
OK I had to add this dress as a bonus look at the end of this post because the dress is only $14 and I feel like it's going to be flattering on so many body types! If you're in between sizes I definitely think you can size down with this one. But your normal size will be fine as well. If you have a bigger chest I'd say go with your normal size.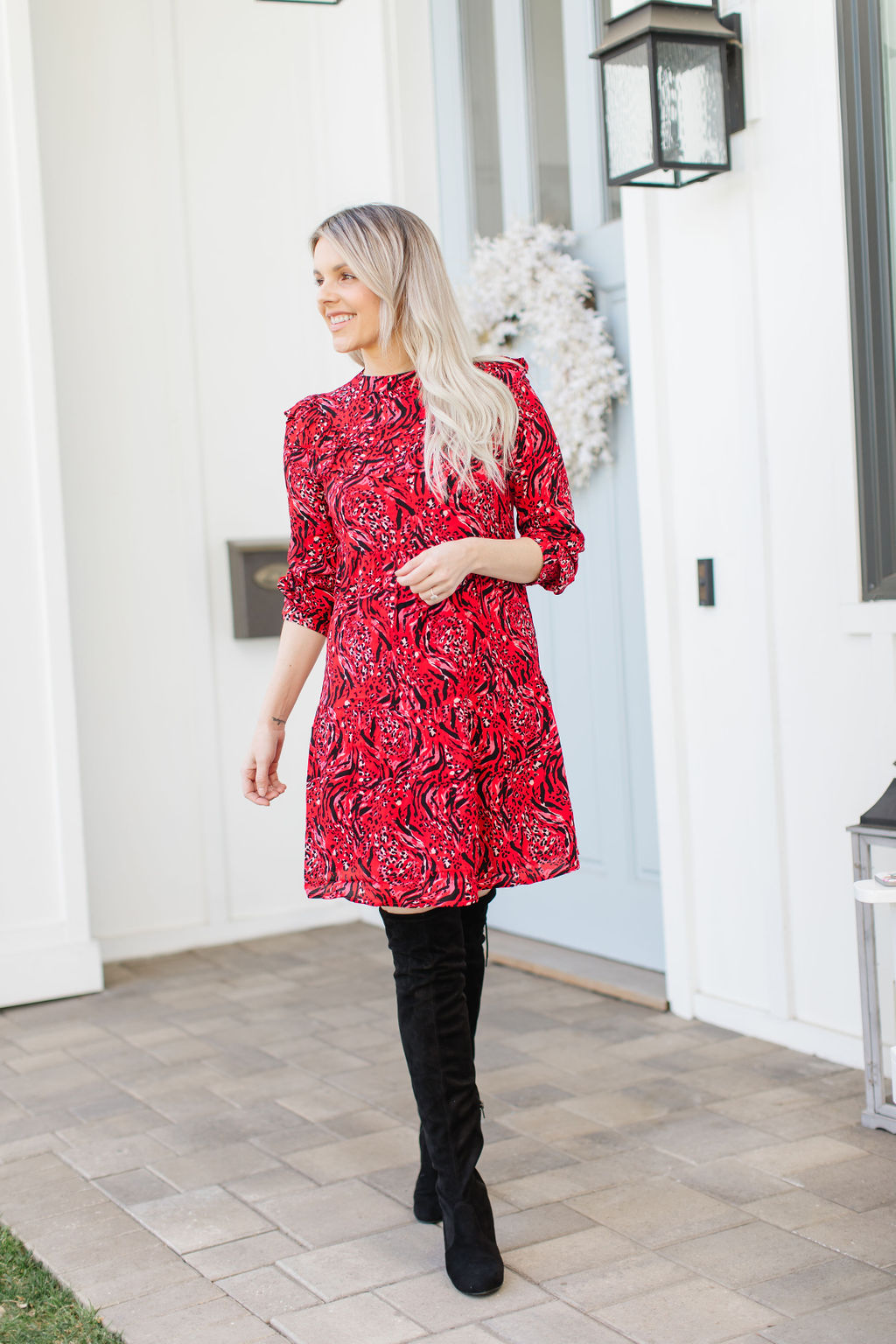 1. RED DRESS | 2. SIMILAR FLAT OTK BOOTS
My only criticism of the dress at all is that it's slightly sheer. I'm not wearing a slip underneath in these photos and as you can see you can't see anything underneath. But if I was in the sunlight at the right angle I feel like it might look a little too sheer. You wouldn't see anything underneath, but you would just see sunlight going through. So if that something that bothers you, you can easily put a slip on underneath. But at the $14 price tag I totally think it's worth getting! I got it in the floral print as well and I'll show you guys that dress at some point later to because it's really really really stunning.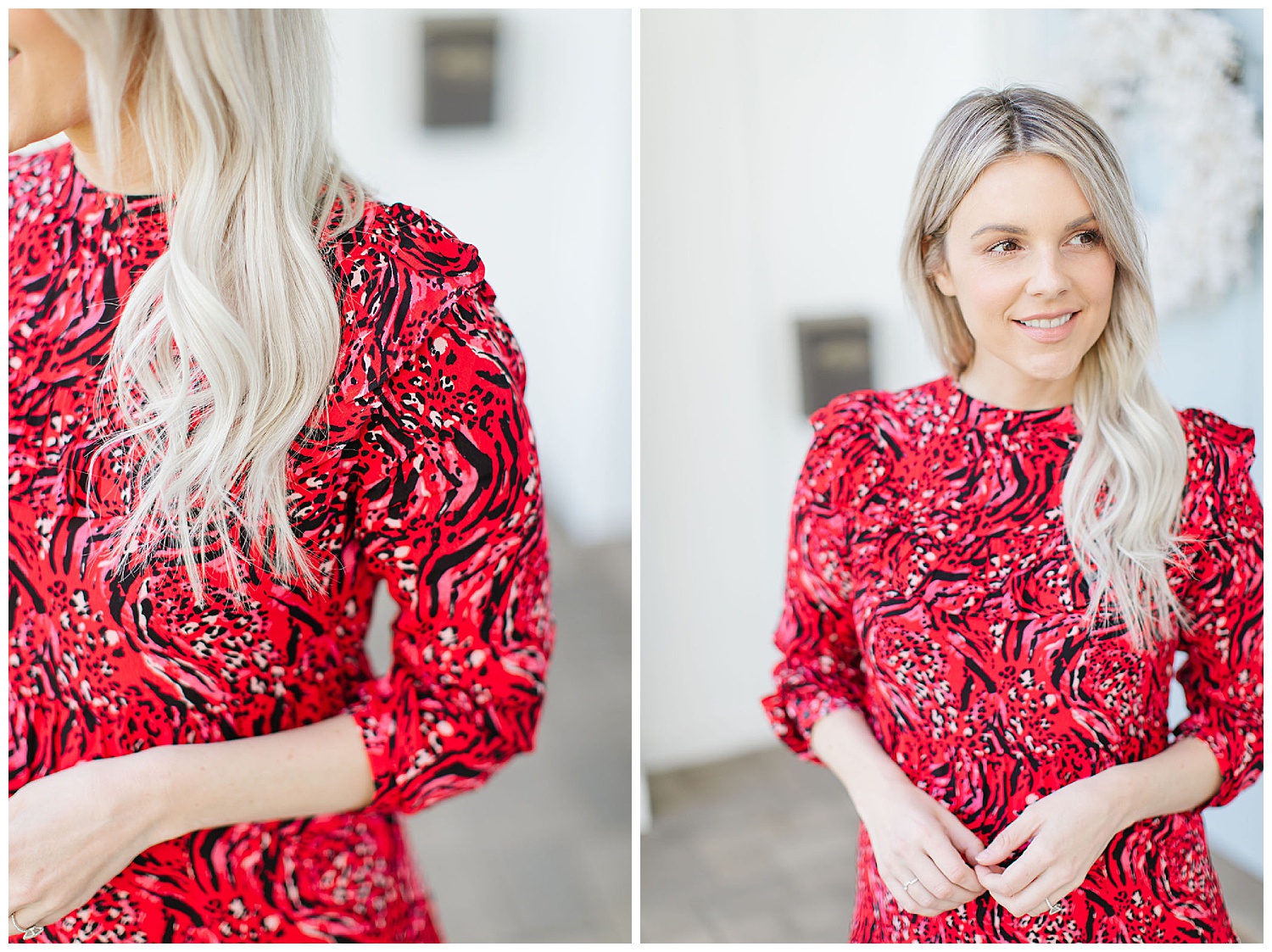 1. RED DRESS | 2. SIMILAR FLAT OTK BOOTS
Well that's it for today's Affordable Friday! If you love neutrals like I do, then you have to get the first two neutral tops I talked about! Get both of them and then throw in some shampoo and conditioner or diapers from Walmart as well to get you over $35 so you get free shipping! That's one thing I love about affordable clothes on Walmart site. I can buy just one thing and then throw in other items that are essential that I need like shampoo and conditioner or toilet paper or even diapers to get myself over $35 to get the free shipping. Whereas the other clothing stores if I find something that's really affordable I have to buy a bunch of other pieces of clothes to get to the point where I get free shipping. And usually end up picking up clothes that I never really wanted in the first place. And then have to pay to return things. But Walmart not only has so many essentials that make it easy getting the free shipping, but they also have free returns! I'm just so happy with my experience with them and I know you guys will be too!
What do you think about these looks?! Have you shopped any of my past Affordable Friday's and what were your thoughts on those items! I'd love feedback from you guys and I hope you're loving these looks as much as I am!
And as always, thank you Walmart for being a sponsor!!!