Hi guys! Welcome to today's Affordable Friday post! You guys know either these are some of my absolute favorite blog posts. It's funny, the other day one of my coworkers asked me if I actually wear the clothes that I write about in these Affordable Friday posts. My reaction to her was of course I do! I love these clothes and I love a good deal! So I want you guys to know that the clothes that I write about are absolutely things that I have and that I love. I can't even tell you how many things I order and end up sending back just to find the absolute best items to write about for you guys on here. I'll never recommend something that I don't think is great. And that's no different in today's post. I'm going to be sharing 3 sweaters and 3 dresses from Walmart that I absolutely love that are all under $25!
Also, I just wanna note real quick (thanks Emily in the comments for the idea!) that if you want to buy one or two of these things from this post but want free shipping, just add something you need to your cart (like Emily did with diapers) to get your order to $35 then you get free shipping! And Walmart has EVERYTHING, so you could add face wash, toilet paper, batteries, etc. Whatever you need to get the free shipping. Such  great idea Emily! Thank you!
And I'm adding a bonus Affordable Friday look at the end of this post. I'm sharing a puffer jacket and boots that are super affordable if you still need some winter gear. If you're an avid reader of my blog, then you know that I absolutely love searching for great clothes on Walmart's website. I feel like they really stepped up their game over the years and I'm just continually blown away by the amazing fines I discover on their site. Let's get into it.
3 Sweaters
Usually when I write about 3 similar items, I always have a favorite but it's really hard for me to pick a favorite between the three sweaters. I like them all for different reasons. So no matter which one you choose, or if you choose all of them, I think you'll be really happy! Let's start with this checkered cardigan.
Checkered Cardigan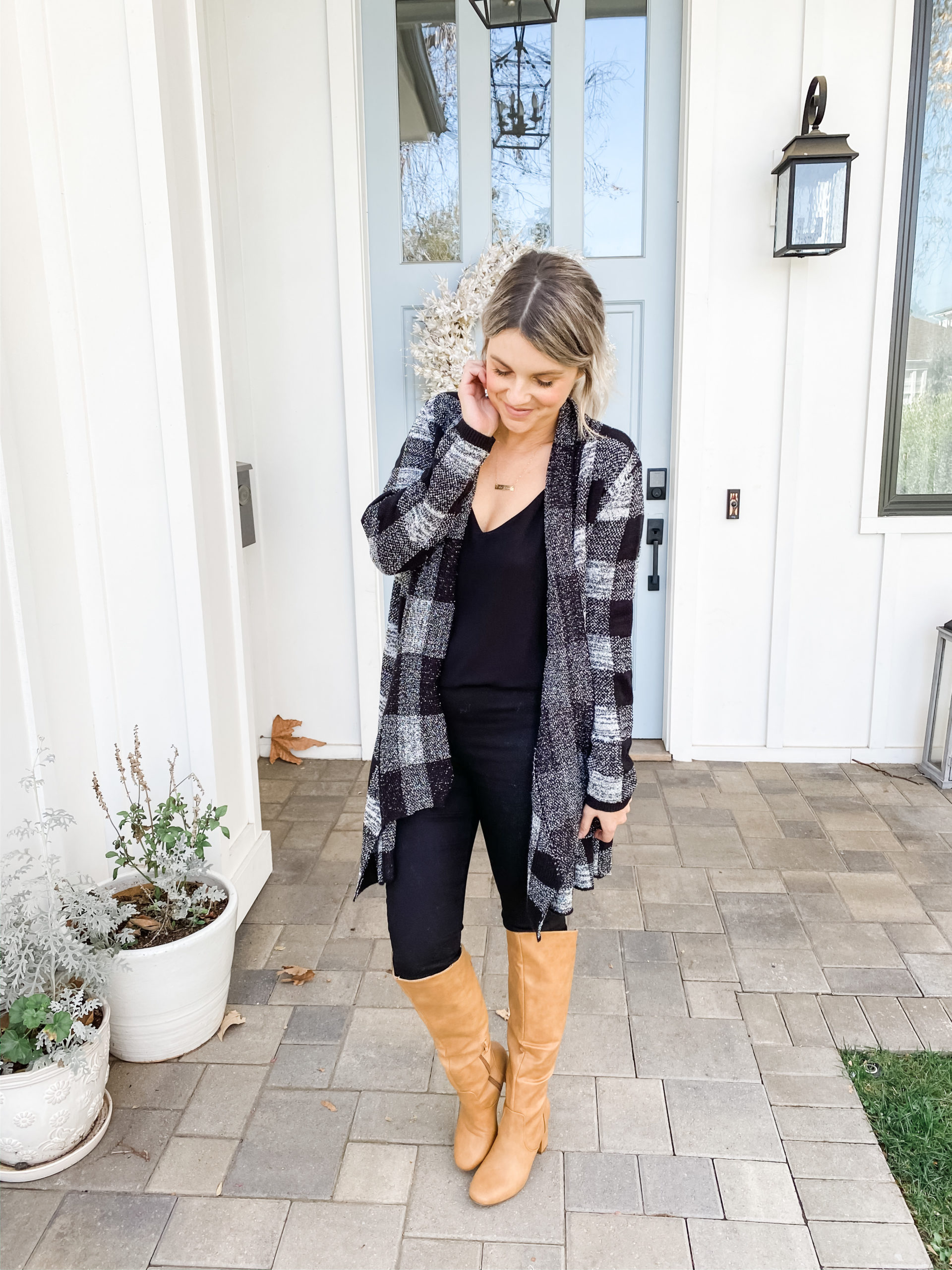 1. CHECKERED CARDIGAN SWEATER | 2. CAMISOLE | 3. BLACK PANTS
I wore the cardigan out to dinner with my girlfriends the other night and legit they all thought it was super expensive. And that's because it looks really expensive! I kind of feel like these photos don't do it justice because it honestly is so beautiful! And it is ridiculously comfy! It's really, really soft and cozy. And it's under $20. If you only get one thing from this blog post, I might say that this sweater should be it! Either this cardigan or the pink sweater I'm about to talk about. Both are absolutely amazing especially for the price!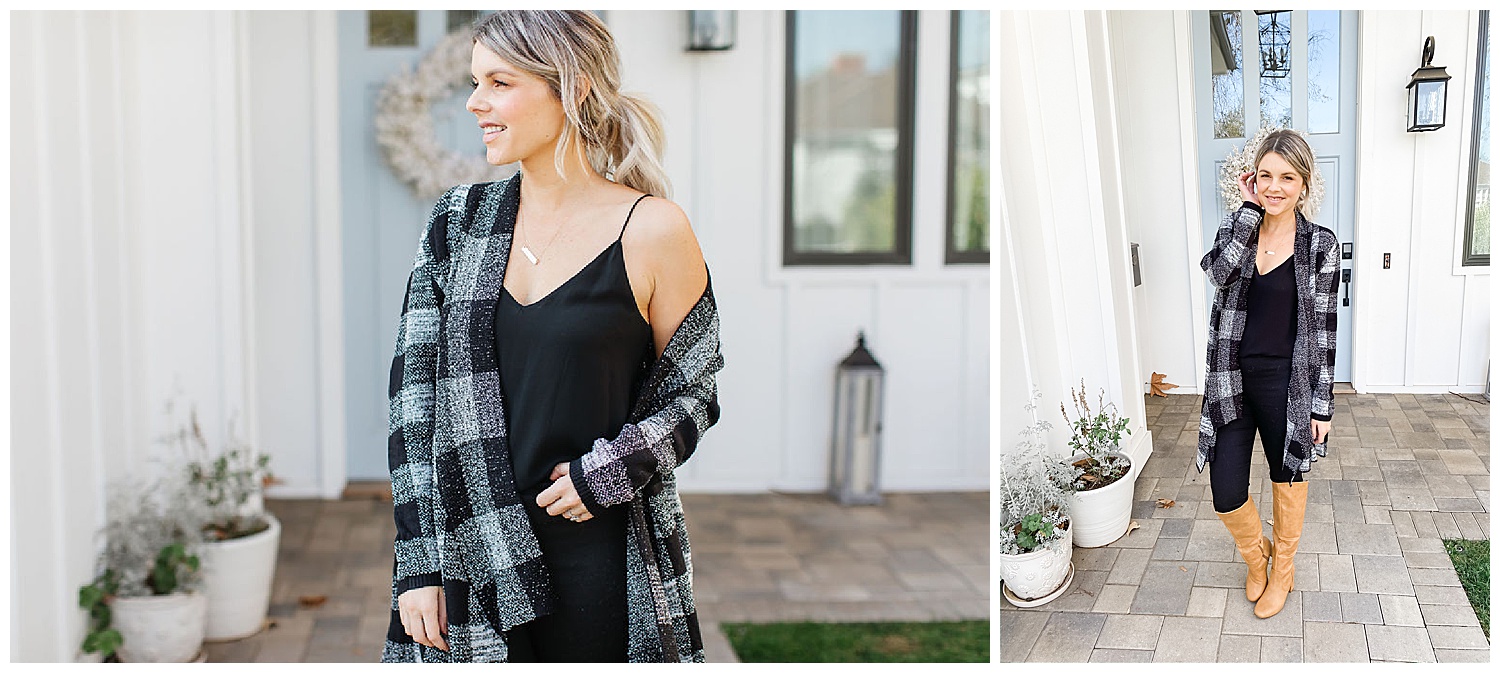 I paired the sweater with a black cami and black skinny pants. You could easily wear black leggings or whatever you have in your closet. But I'm linking a few similar things here to complete the look. A black boot would work but I really liked the contrast of these cognac boots. Unfortunately they are sold out, but they have cognac colored boots from most stores – again, black is great too!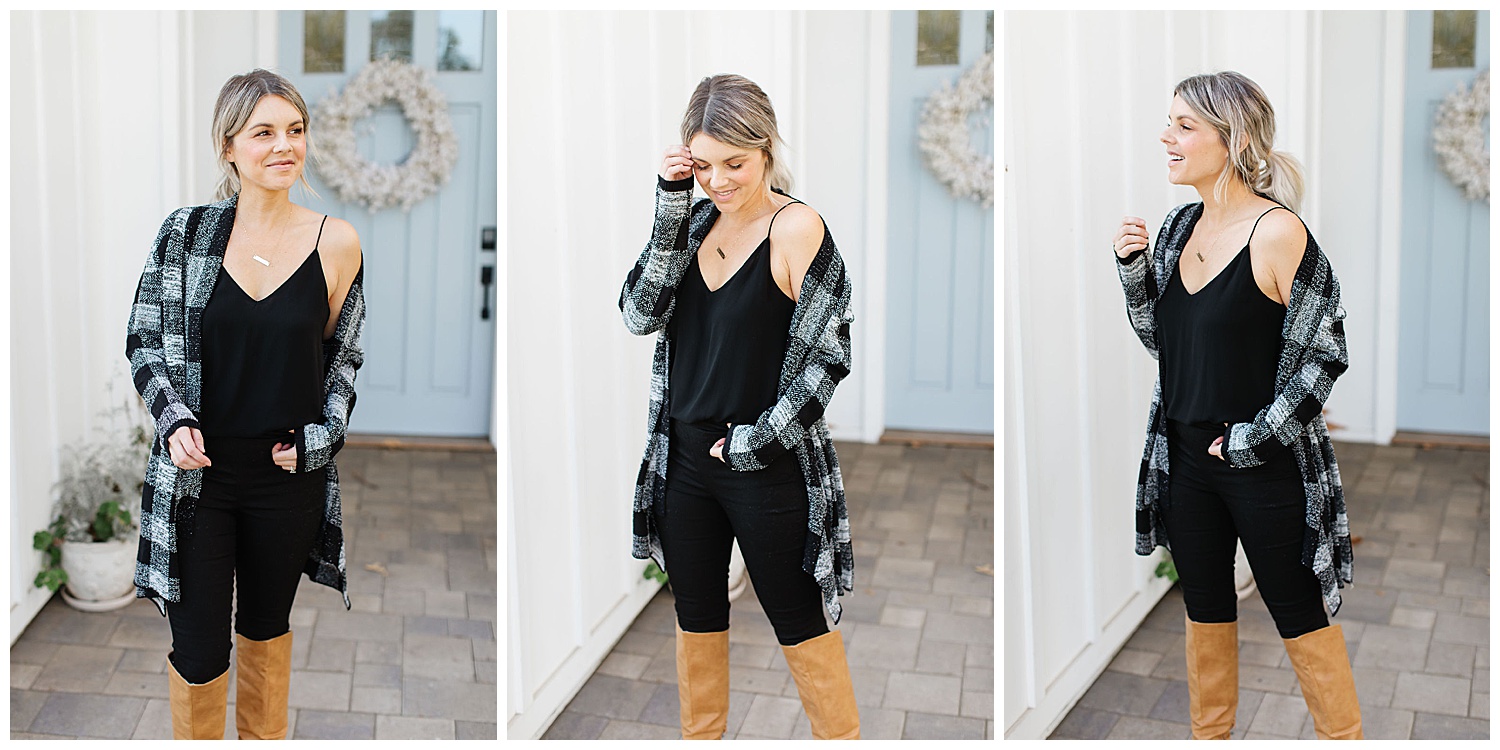 1. CHECKERED CARDIGAN SWEATER | 2. CAMISOLE | 3. BLACK PANTS
Pink Sweater
Like I said above, it's hard for me to choose what sweater is my favorite in this post – especially because this pink sweater is absolutely amazing! If you followed along on my Instagram stories on Wednesday then you know that I wore this $10 sweater to a Fab Fit Fun photo shoot that I filmed that day. All of the girls at the shoot were obsessed with it! I told all of them to come to my blog today for the link to it! Ha! It is similar to the white slouchy sweater that I have and have written about before, and I feel like the fit of it is just so flattering and in style.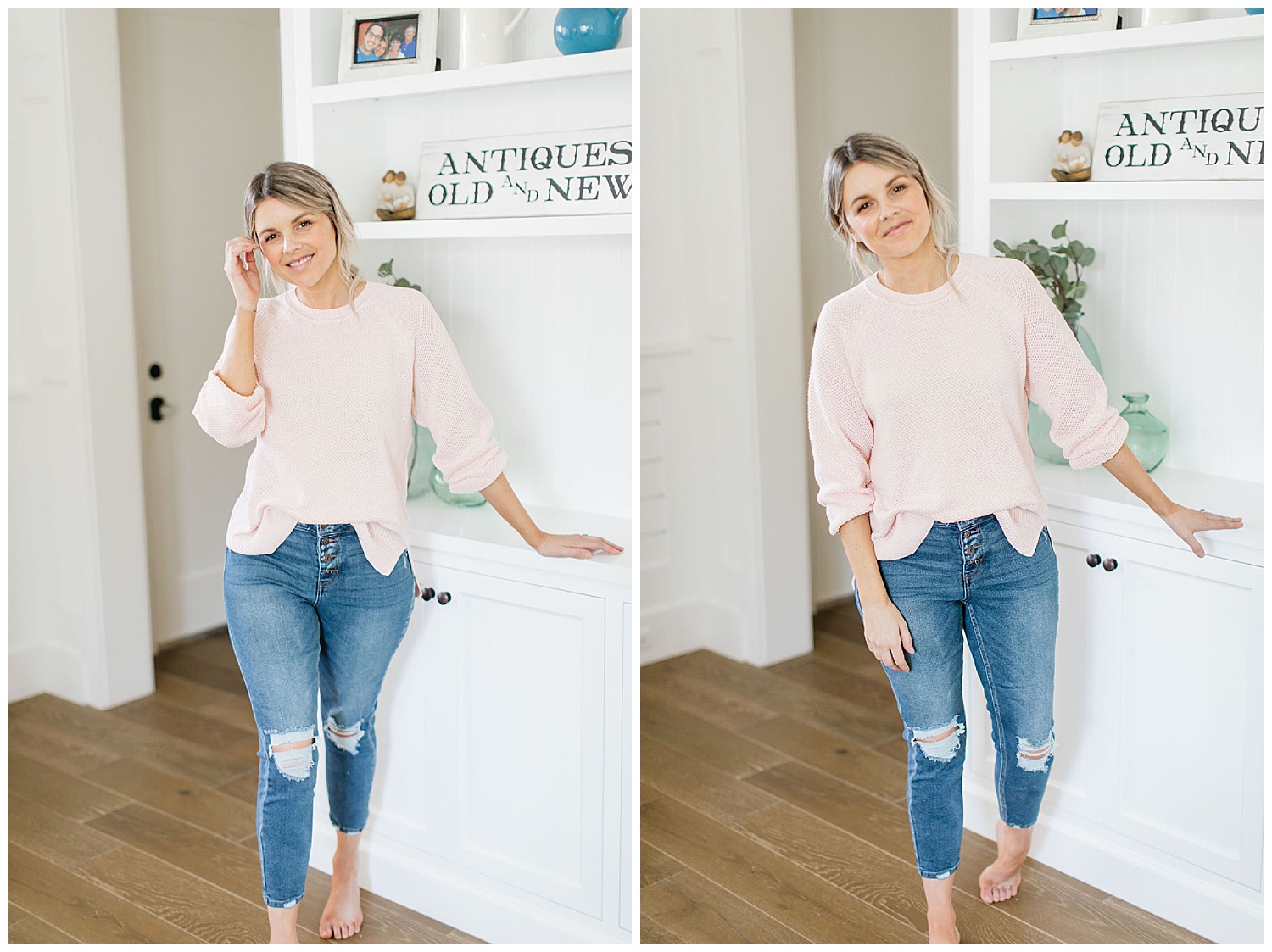 1. PINK SWEATER | 2. $17 JEANS
Honestly, I don't really feel like these photos capture how awesome the sweater is either. It's just so incredibly beautiful and I will show it to you guys on Instagram stories today so you can see it better in action. The photos of me wearing it below are actually from my Fab Fit Fun shoot that I took quickly because I knew I'd be writing about it today. That way you can see iPhone photos of me wearing it and then the professional photos that my photographer took as well. You guys know I like to show professional photos and iPhone photos so you can get a real feel of the clothing when I write about things.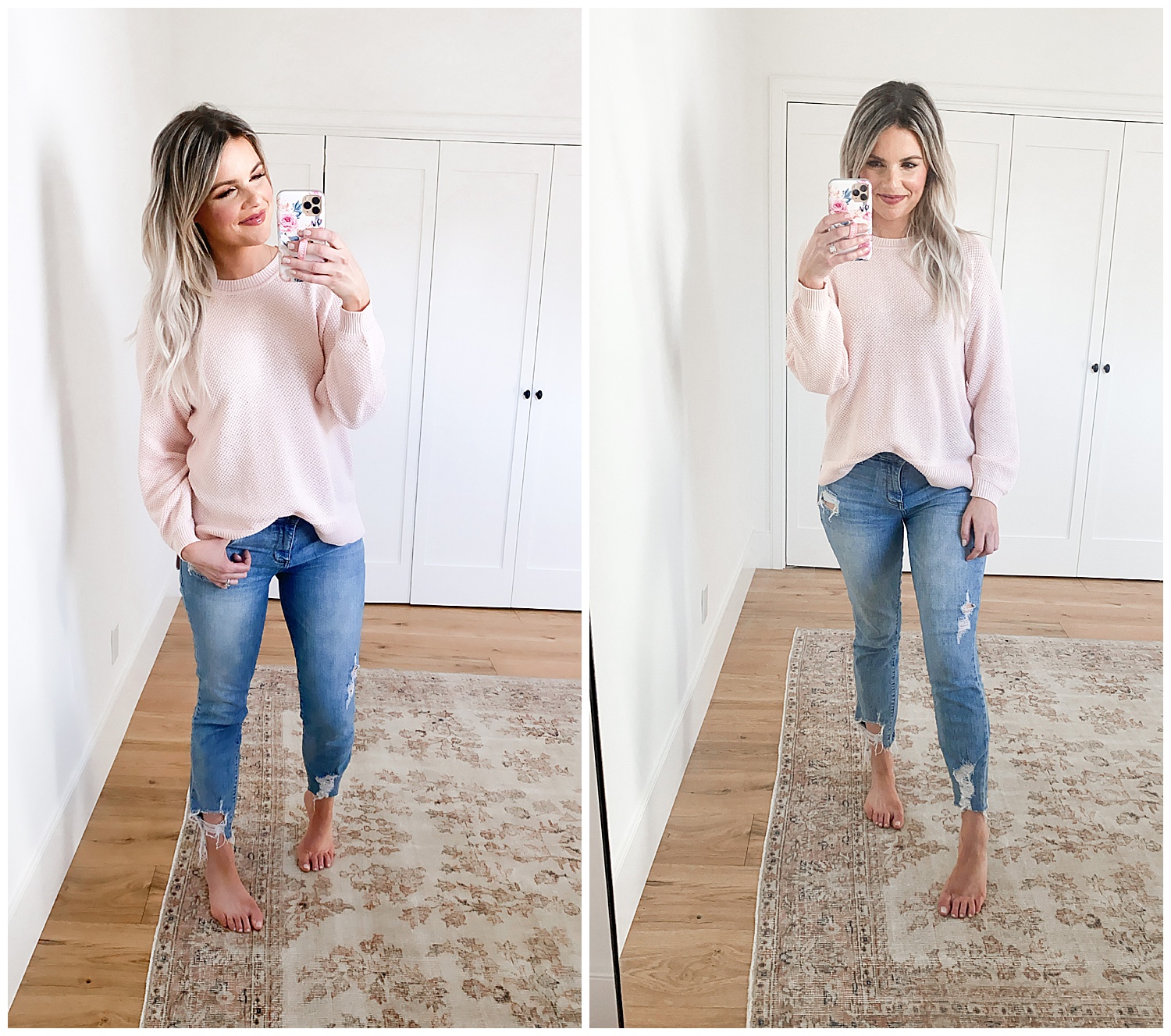 1. PINK SWEATER | 2. $17 JEANS
Gray Chenille Sweater
If comfort is super important to you and your clothing, then this gray sweater is perfect for you! It's hard to tell from these photos because it just looks like a normal sweater but the material is the softest thing to ever touch my skin! Ha! I'm not even kidding. But I love that it still just has that beautiful sweater look. I'm wearing it with black pants and black boots in these photos, but really you could wear this with absolutely anything. Jeans, a skirt, really anything in your closet that you wear on the bottom half of your body. The boots are sold out, but any black boot would look great!! Oh, and I'm wearing a size medium in all of the sweaters (and the dresses below). I'm 5'7 and about 145 pounds for reference. Medium is my normal size so I would say everything in this post is true to size.

 1. CHENILLE SWEATER | 2. BLACK PANTS 
3 Dresses
Knit Dress in Black + Purple
I'm counting this dress is two separate dresses since I got it in two colors. And you're not gonna believe it when I tell you the price. $6.99! Is your mind absolutely blown?! Mine was when I looked it up and saw the price. When I bought them a couple weeks ago they were $20 and I thought that was a steal! I have no idea why the price dropped so much, but it did and I'm so psyched for all of you to reap the benefits! And it's got great reviews. If you look at the website it has 55 reviews and they're all pretty good! Again, I'm wearing a medium and it fits perfectly.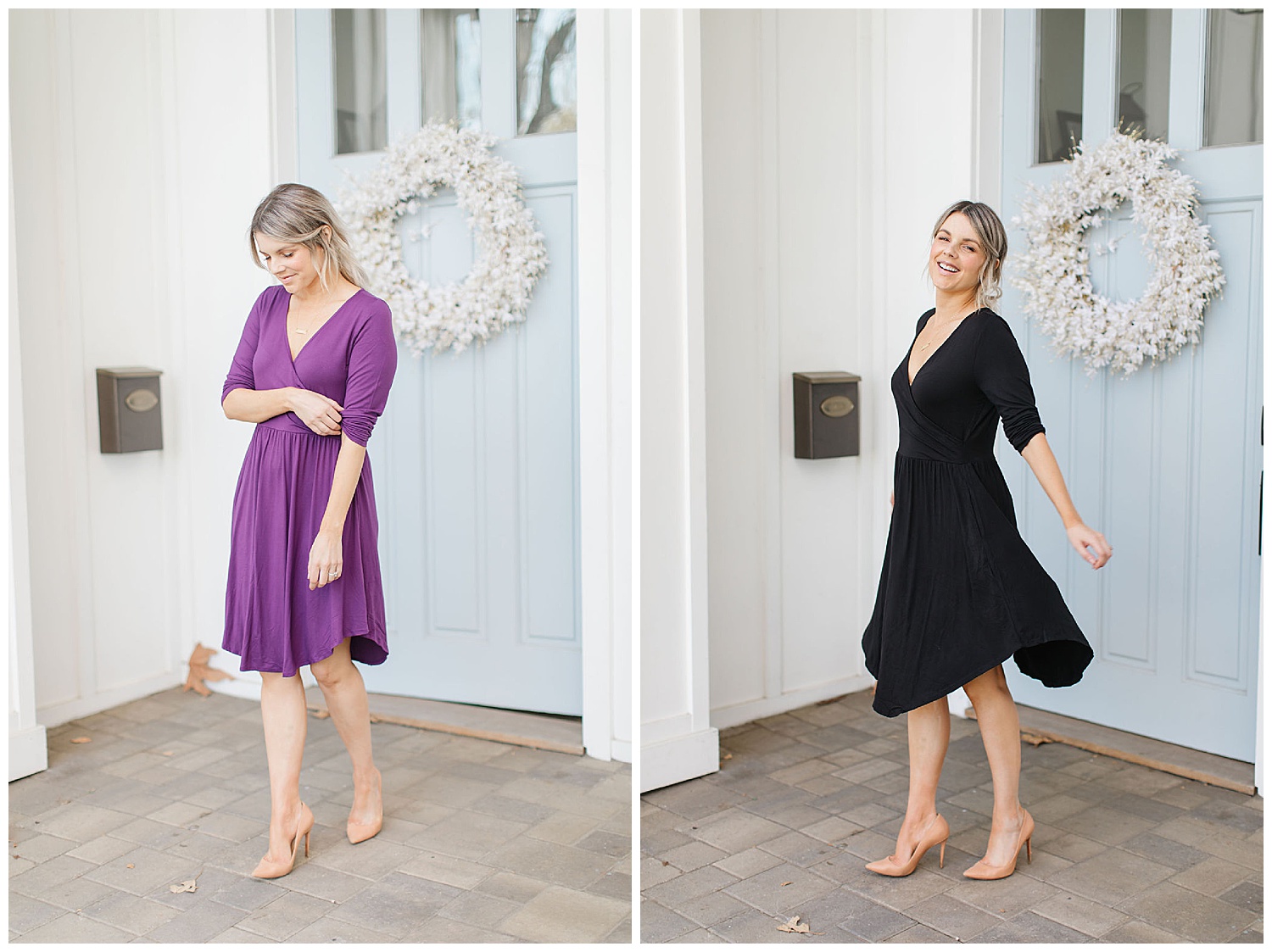 1. PURPLE DRESS | 2. BLACK DRESS | 3. NUDE PUMPS
I always want to tell you guys the good and the bad about any clothing that I have. And I wouldn't really say this is bad, but if I had one criticism about the dress it would be that the waistband is an elastic. So when you pull over your head you have to be careful not to stretch it out. And when it's against your body, it's not super fitted around the waist. But to be completely honest, I think that's why it's so flattering! And for the price of a large latte in Los Angeles, it's definitely worth getting this dress to see for yourself if you love it or not! And if you don't, you can always return it! Walmart has an insanely good return policy.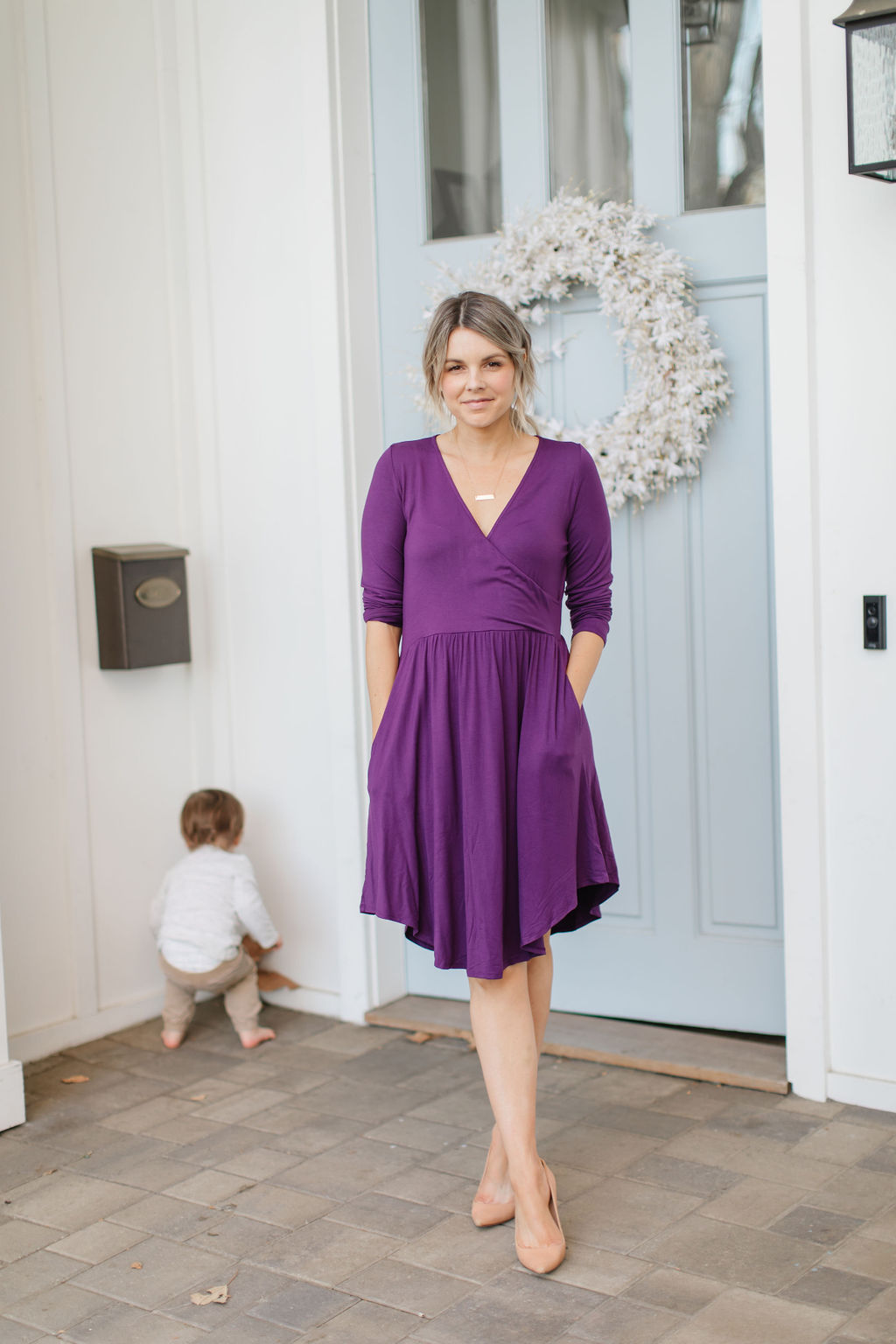 1. PURPLE DRESS | 2. BLACK DRESS | 3. NUDE PUMPS
Another thing I really love about the dress is the length. And the way it flows. On Instagram stories I'll show a boomerang of me twirling in the dress so you can see how beautifully it flows. If you check out the reviews people seem to really love the length. But if you're on the shorter side it might be a little long for you. Try it, who knows! And some people suggest sizing down. But I think it might be hard to get the waistband over your head unless you're very thin if you size down. But again, because Walmart has such a great return policy you could always order both sizes and just send back whichever one doesn't work for you.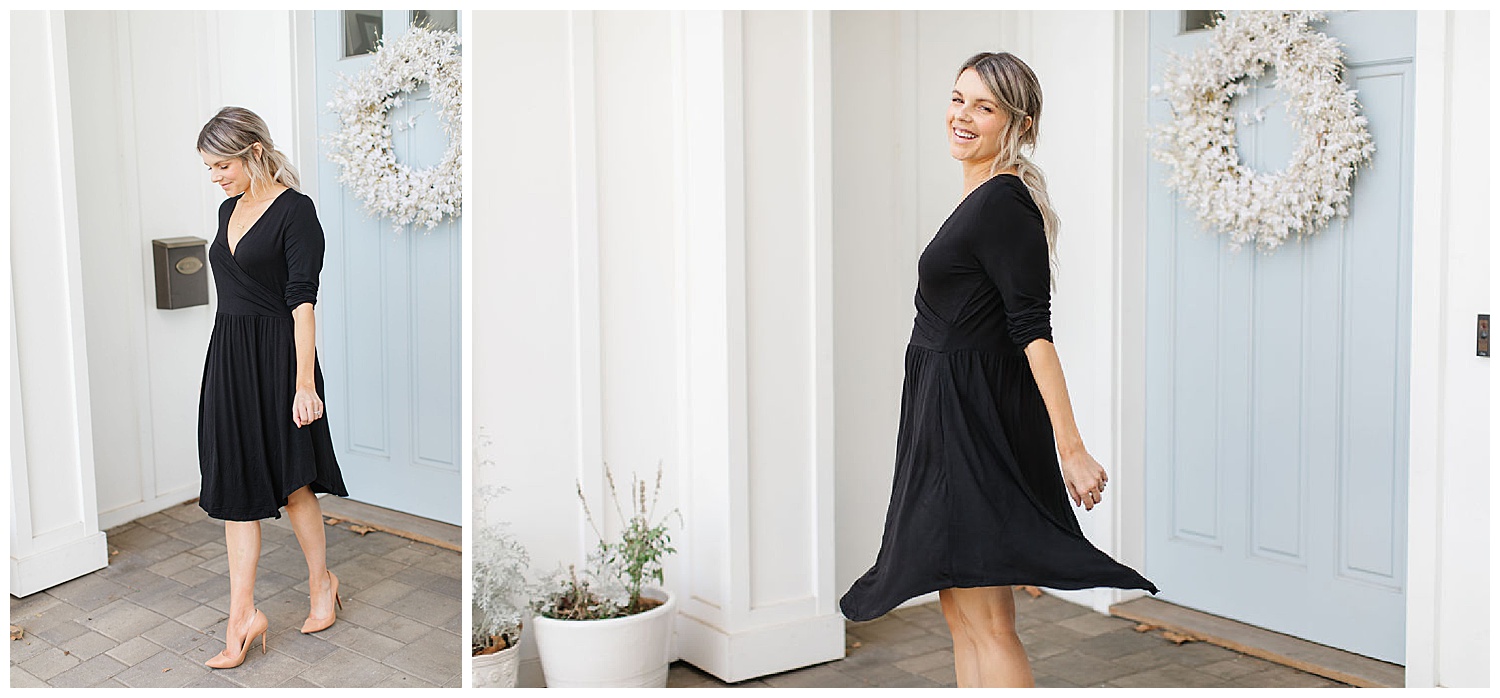 1. PURPLE DRESS | 2. BLACK DRESS | 3. NUDE PUMPS
Champagne Dress
And I can't go without telling you about the champagne dress. This is another one of those items that I feel like is not captured as beautifully in photos! It is absolutely stunning! It comes in a few different colors, but I went with the champagne because I feel like when you wear neutrals it just looks very expensive! Don't you think so? I feel like I read something once, it said the people that dress in all neutral colors are geniuses. Ha! I might be making that up, but I know I read something about it. Ha! When I walked out wearing this dress during my blog shoot with my photographer Ashley, she immediately asked me where it was from and her jaw absolutely dropped when I told her it was under $25 and from Walmart. It just looks so beautiful and expensive.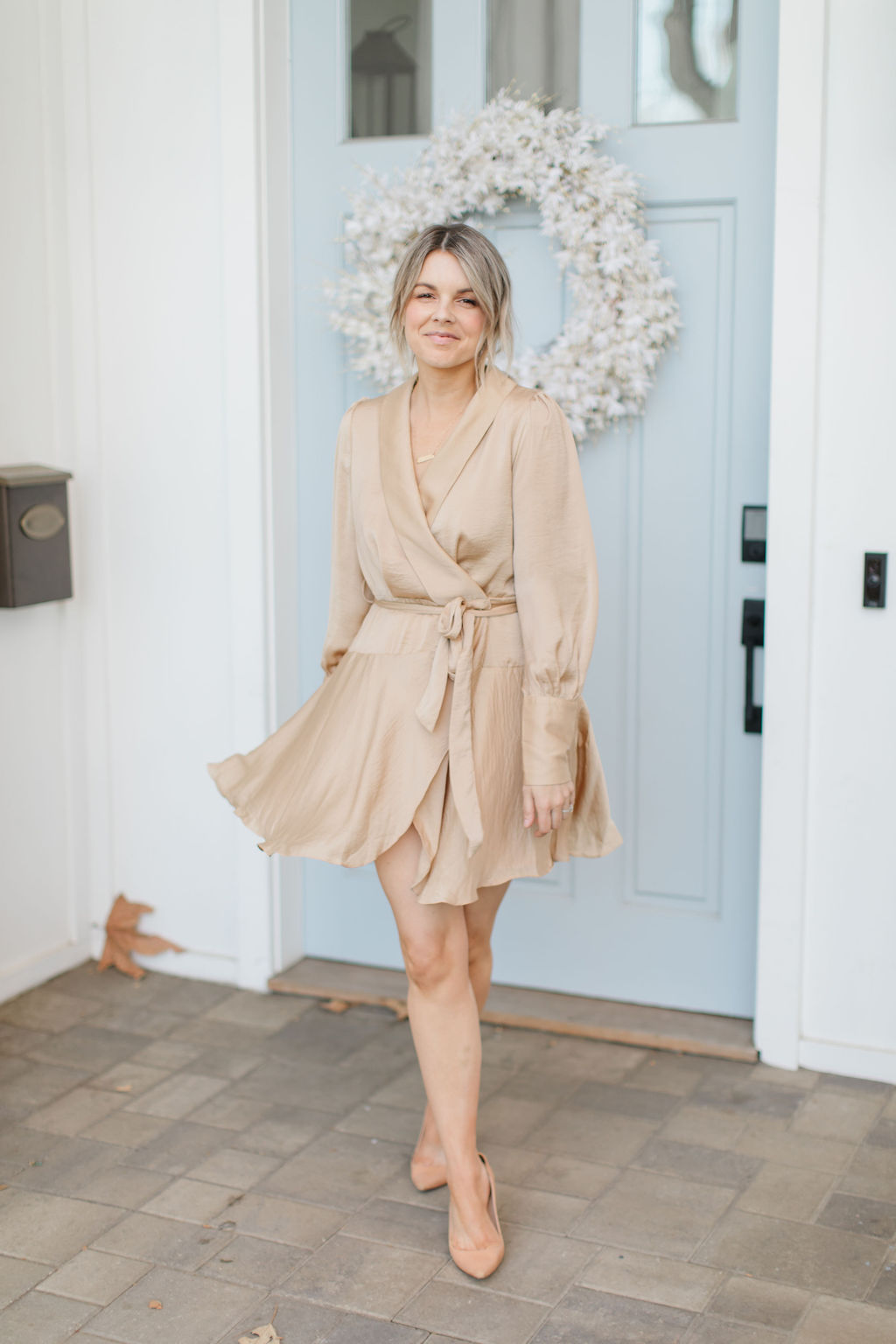 1. CHAMPAGNE DRESS | 2. NUDE PUMPS
Another thing I really love about the dress is that it has buttons on the inside to close the wrap in the front. I just like that because I feel like it makes it easier to get dressed and have a nice fit. Rather than pulling something over your head. If you guys get this dress please tell me what you think because I think you're going to be absolutely floored by how amazing it is.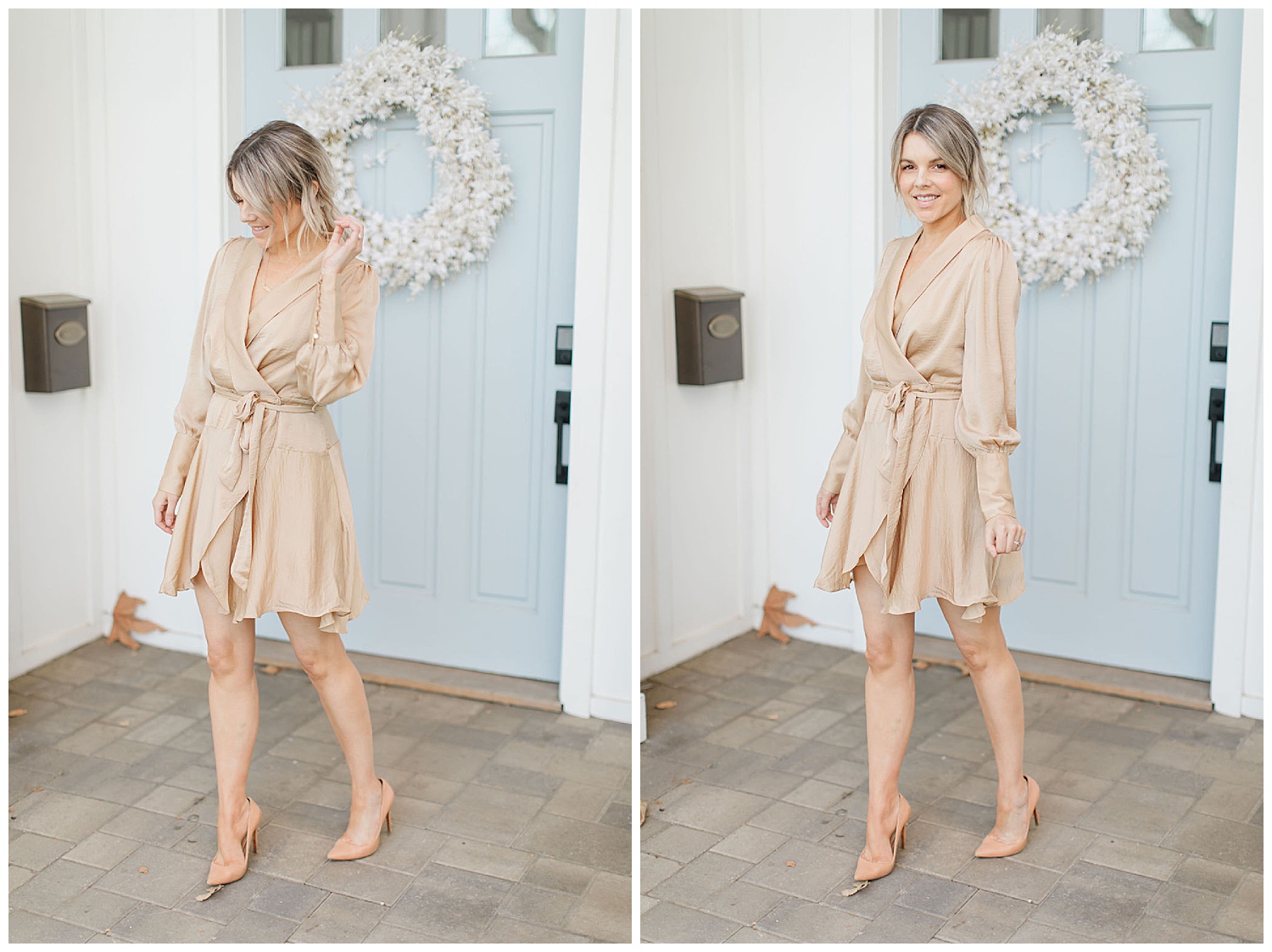 1. CHAMPAGNE DRESS | 2. NUDE PUMPS
Bonus! Jacket + Boots
I thought I'd add a little bonus look in case anybody is looking for some last-minute winter gear and wants it at a great price! The jacket is only $40 and really, really, really warm! The only thing that's a bummer is that it's sold out in black right now, but it's still available in gray and all sizes! I also love the faux fur trim around the hood.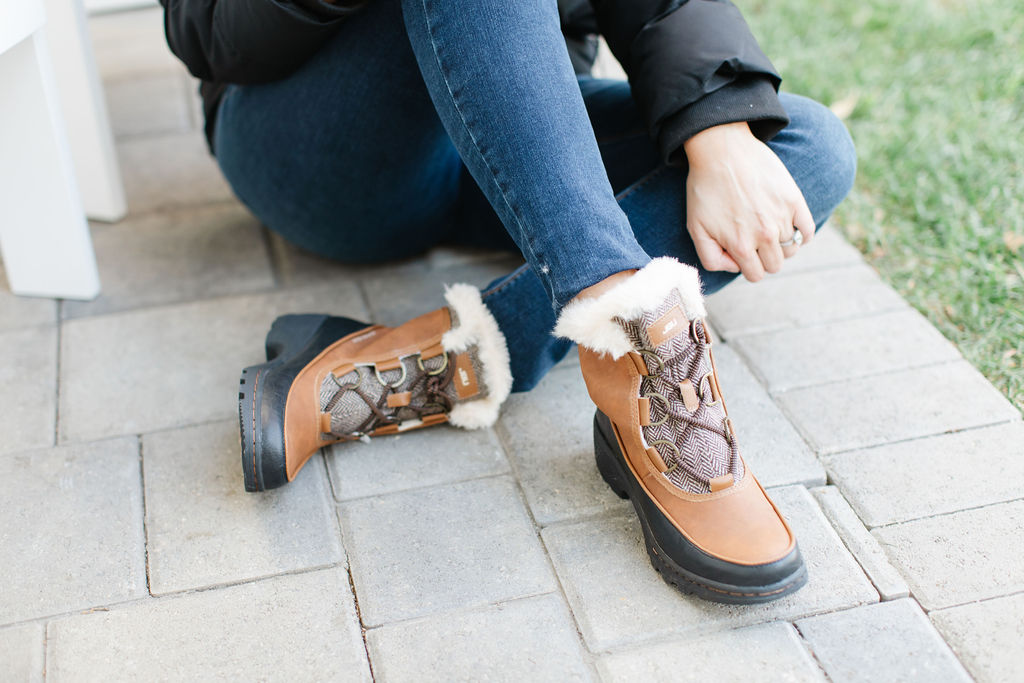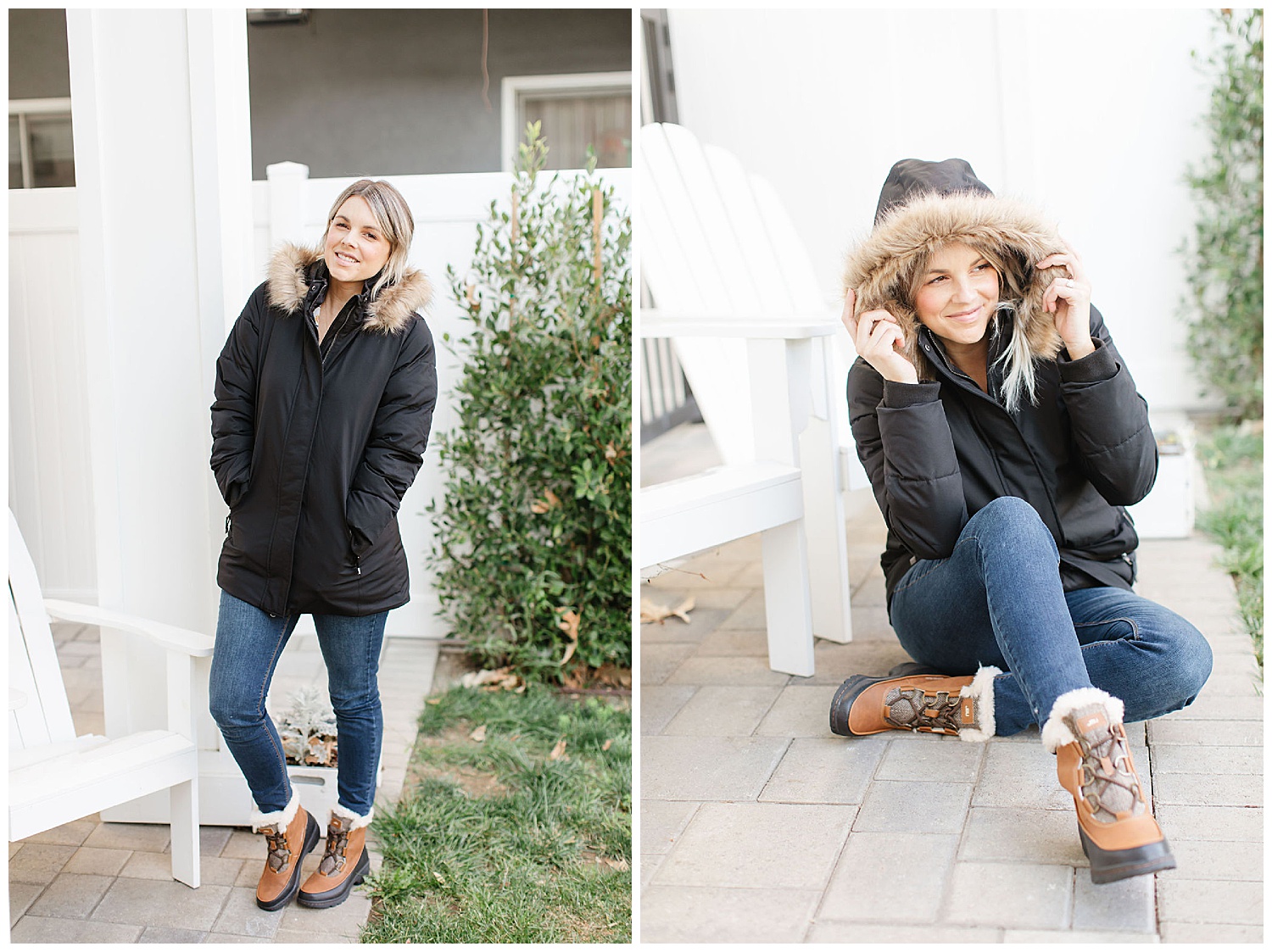 1. JACKET | 2. BOOTS | 3. JEANS
And lastly I just wanted to share the boots because they're really sturdy pair for a great price. So if you don't have any and I don't want to break your bank I highly recommend these! They're true to size, really comfy, and really keep your feet warm! And they are under $40!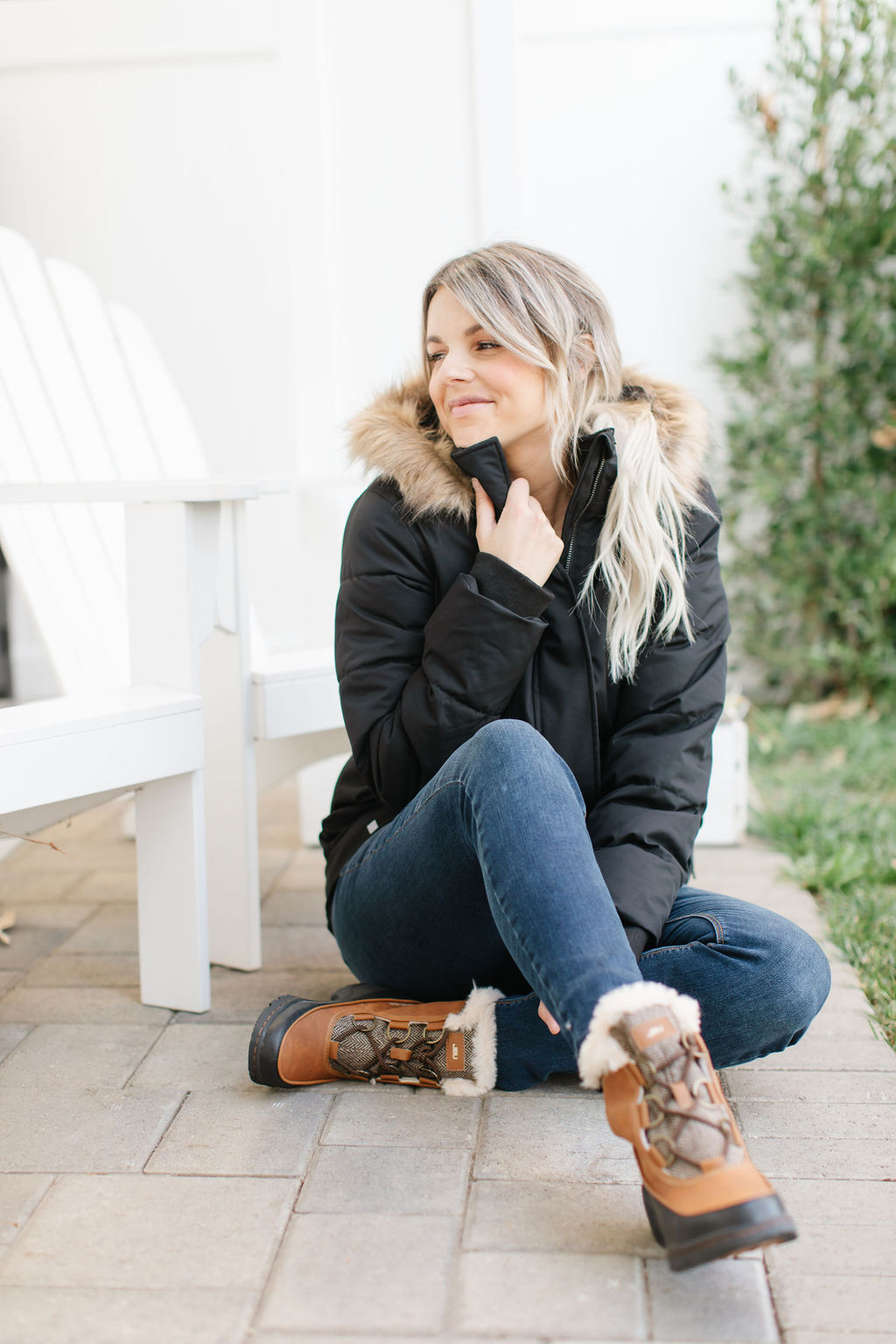 1. JACKET | 2. BOOTS | 3. JEANS
Until Next Time…
Anyway, that's all I've got for today's Affordable Friday post! I'm so excited about this post because there's so many great options and you can get them all at Walmart so it makes it easy to order and get free shipping when you spend over $35! And HUGE thank you to Walmart for being a sponsor of my website! I couldn't do all of this without you! I hope you guys loved the 3 sweaters and 3 dresses! Please please please let me know if you get anything that I write about because I always love to hear feedback from you guys even if it's constructive criticism. And of course when you buy something I talk about and love it, it just makes my heart so happy to hear about it! Love you guys! And have a great weekend!