Happy Wednesday!!! Hope you all are staying dry and warm, our weather has been fluctuating a ton this past week, from days with highs of 40s (which I know isn't that cold!), to days in the 70s. Today I thought I would share a quick post about this beautiful green dress, because I feel like it's a great color and style for the current season!
The Dress
I think what I like the most about this gorgeous dress is that it is really flattering and flowy! It cinches at the waist in the perfect spot, and isn't too tight, so it allows for movement while you are wearing it. This is definitely a dress that Molly would refer to as a "twirling dress" – something about it just makes you want to spin around! The chiffon-like material feels so delicate and expensive. It has a geometric patterning on it, which I really think makes the dress pop. Oh, and did I mention that this beautiful green dress is under $60 from Nordstrom?! Such a bargain!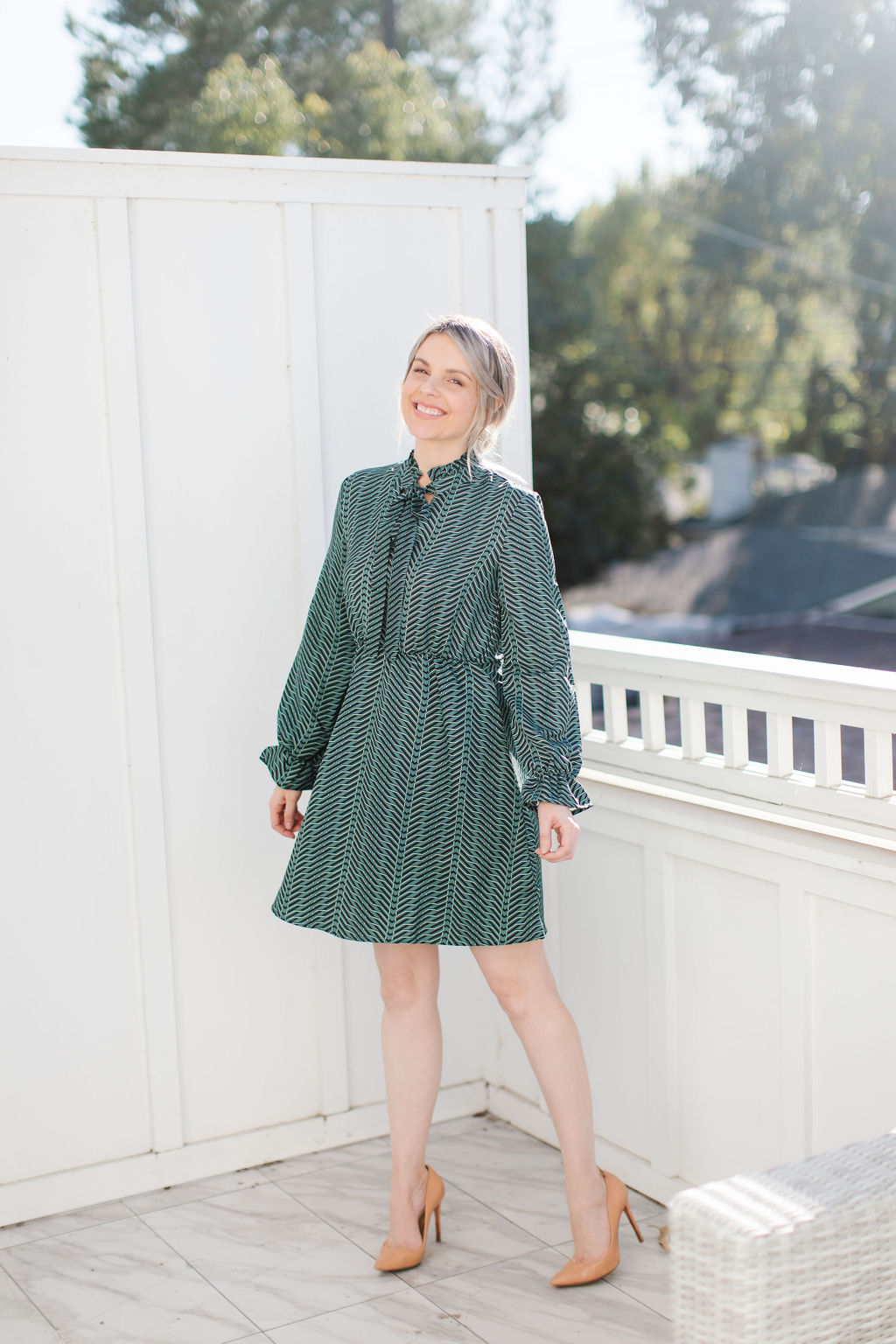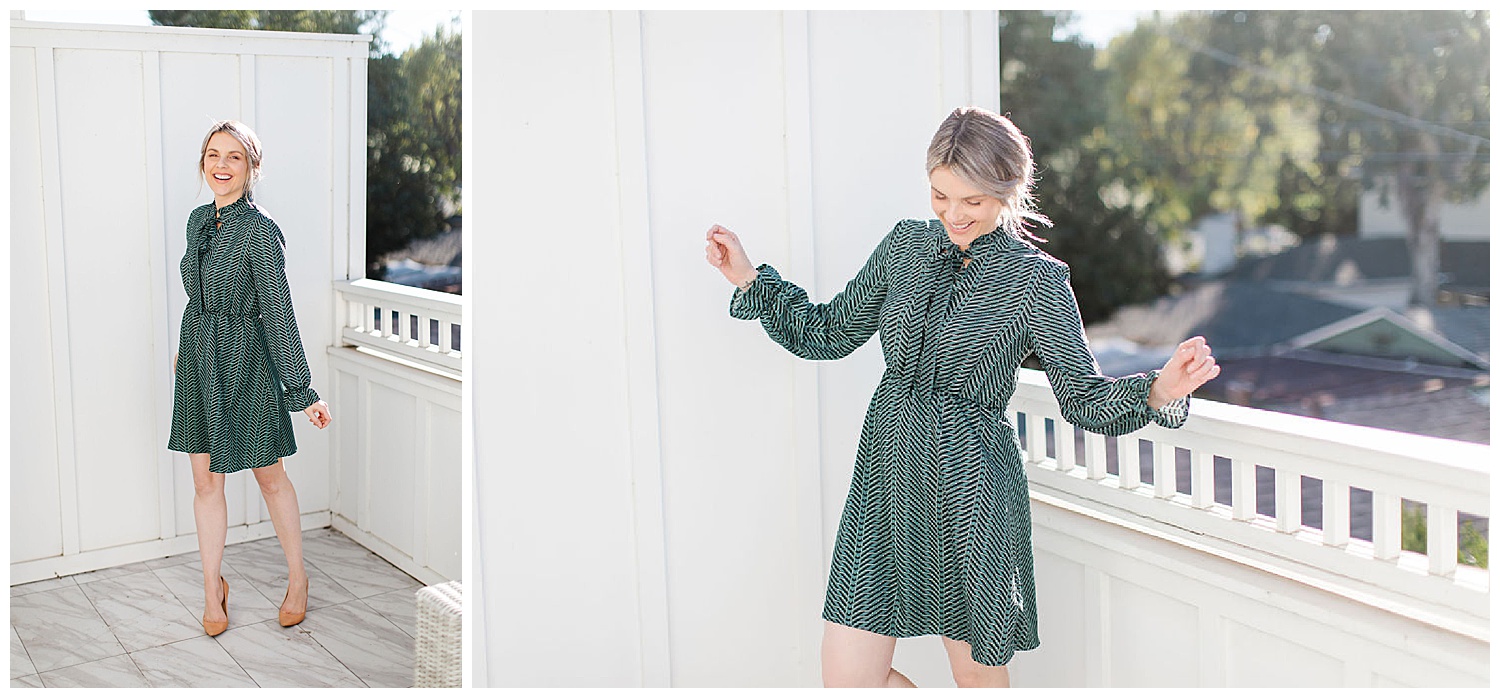 1. DRESS | 2. NUDE PUMPS
I want to say that the dress is pretty true to size. I am a medium, and that's what I am wearing in these photos! I'd recommend ordering your true size. Because the dress has a bit of structure, you don't want to end up with too much fabric, or have it be too tight in the shoulders. If your sizing is no longer available, I would say definitely size up though!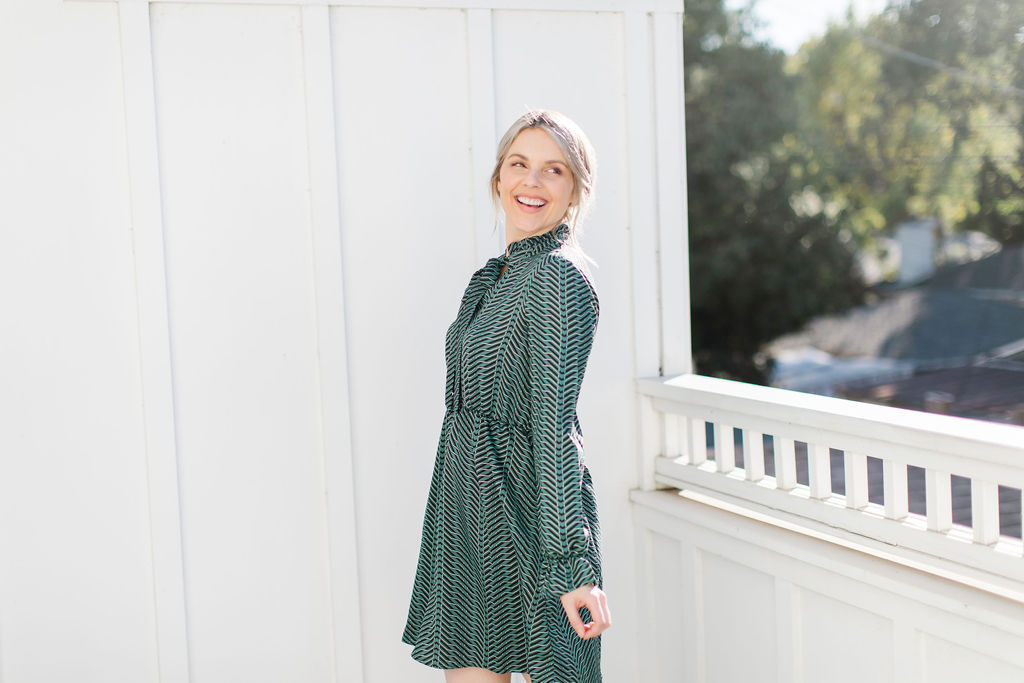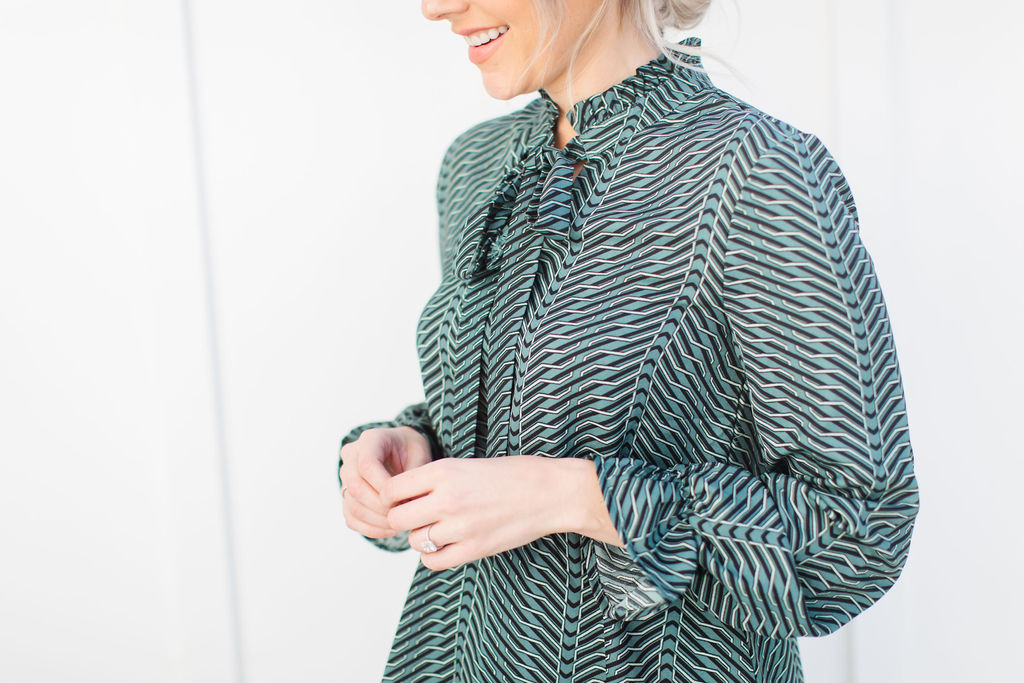 1. DRESS | 2. NUDE PUMPS
If I had to choose my very favorite part of this dress, it would be how it ties around the neck. I absolutely love it!!! I feel like every shirt or dress I have that has the tie around the neck always looks very sophisticated and classy. They just add something extra to the outfit. I feel like because of the neck and other detailing, this dress really could be worn to the office, lunch meeting, brunch with friends… the options are endless!
We haven't even talked about the sleeves yet – aren't they beautiful? I love the way that they cinch at the wrist with some elastic. It really elevates the sleeves, while keeping them super comfortable. The entire sleeve is meant to be more flowy and I love that the cinched wrist gives it more structure.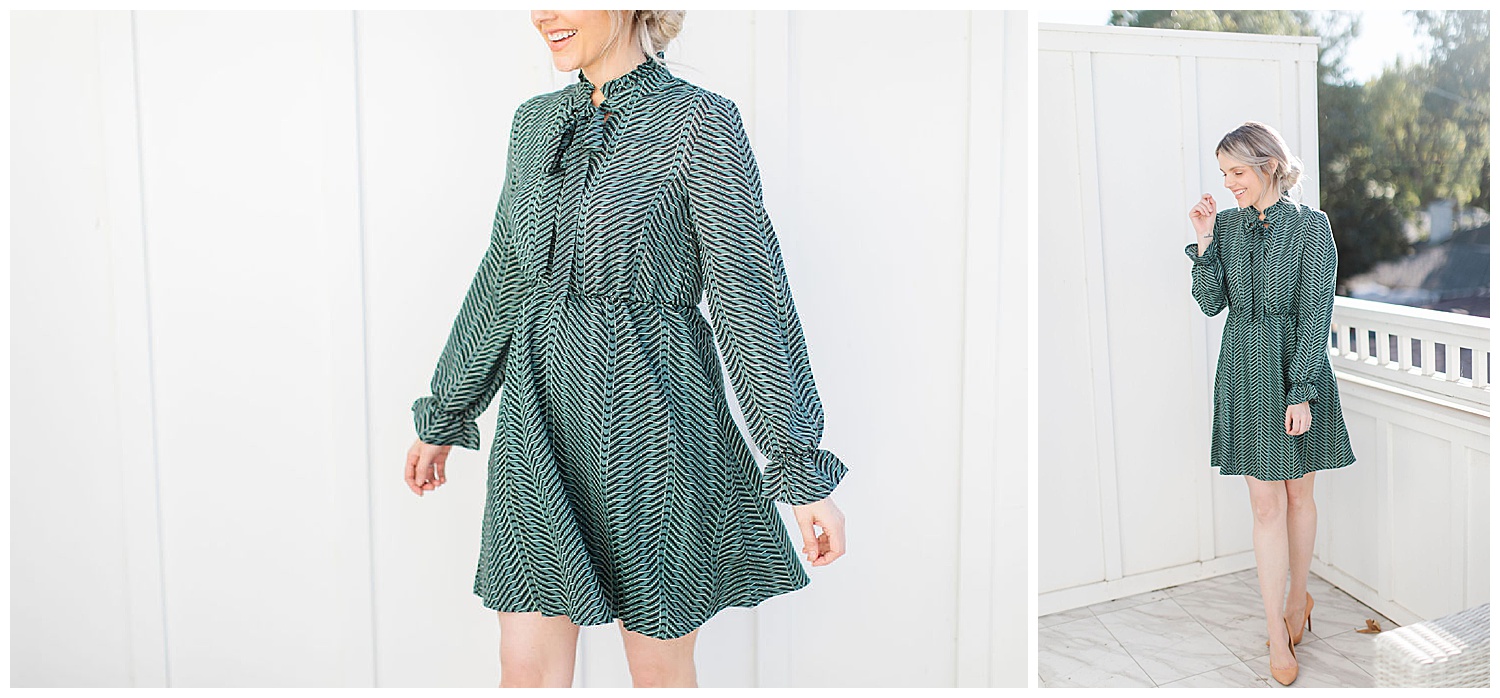 1. DRESS | 2. NUDE PUMPS
I know that where some of you live, it might seem crazy to get a dress like this right now. If it is a bit cooler where you are, you could wear this would some tights and booties, or throw a black blazer over top. It would still be so gorgeous and you could easily transition it to warmer months! Even a white faux fur jacket could be beautiful over this if you are going to somewhere slightly more fancy. Oh, and if you need some inspiration for which blazers I love, check out this post.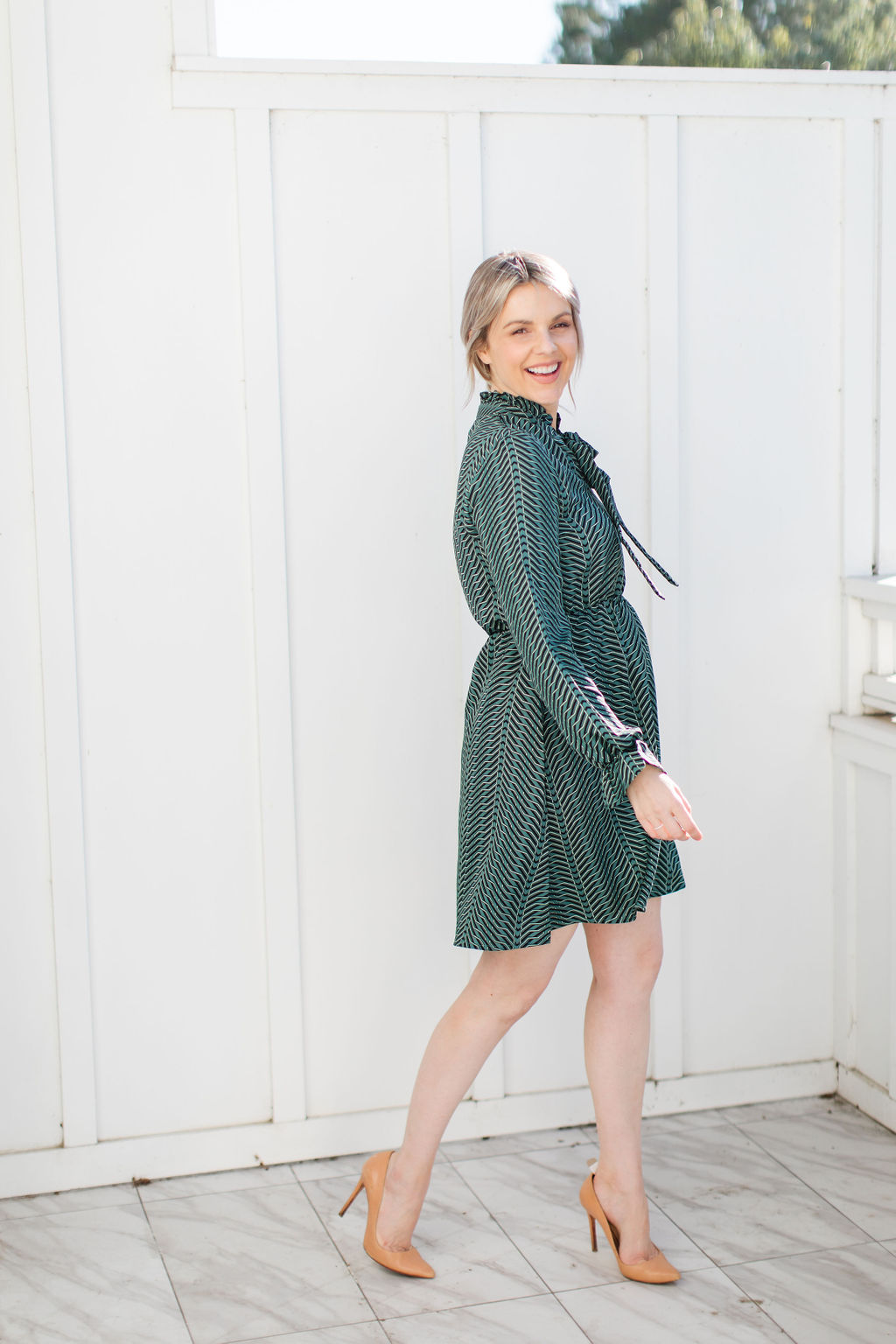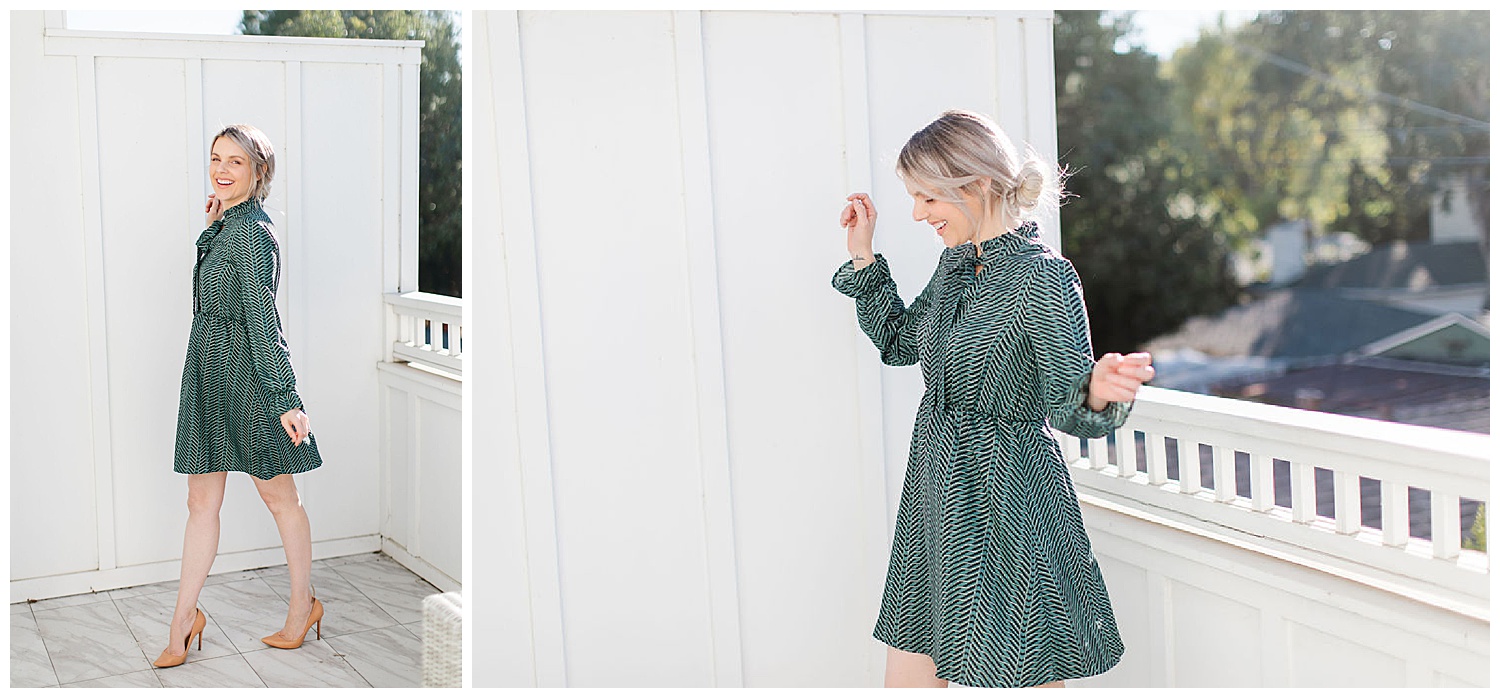 That's all for today! I hope you all love this geometric green dress as much as I do! As you all know, I love chatting about your feedback on any pieces that you order, and would love to discuss below. Do any of you have this dress? What do you think of it? Oh! Now that I have you hear, if there's anything that you would really like to see on my blog, please let me know in the comments below!