Anyone else having trouble watching the show right now? I can't even believe that I'm saying this, but there's just too much drama. And look, I have never been one to really say that! Every season when other people on social media say that they want to stop watching because there's too much drama, I always say that the drama is what keeps us watching! With no drama there'd be no show! And I still believe that. But it's just too much right now. I find it really hard to watch. I don't know if it's me just getting older and becoming lame, Ha! But I find myself tuning out a lot. Anybody else?
If you were able to stick with the show tonight, here are my thoughts on what went down…
Alayah Goes Home…Again
I don't know how I feel about him sending Alayah home. I definitely think it was the right choice and he should never of had her back in the first place, but I guess I just don't agree with the things he said to her before he sent her home. He said things like he had a super strong connection with her from the get-go and that he just couldn't do this anymore. Like way to leave a girl hanging?! Don't you think?!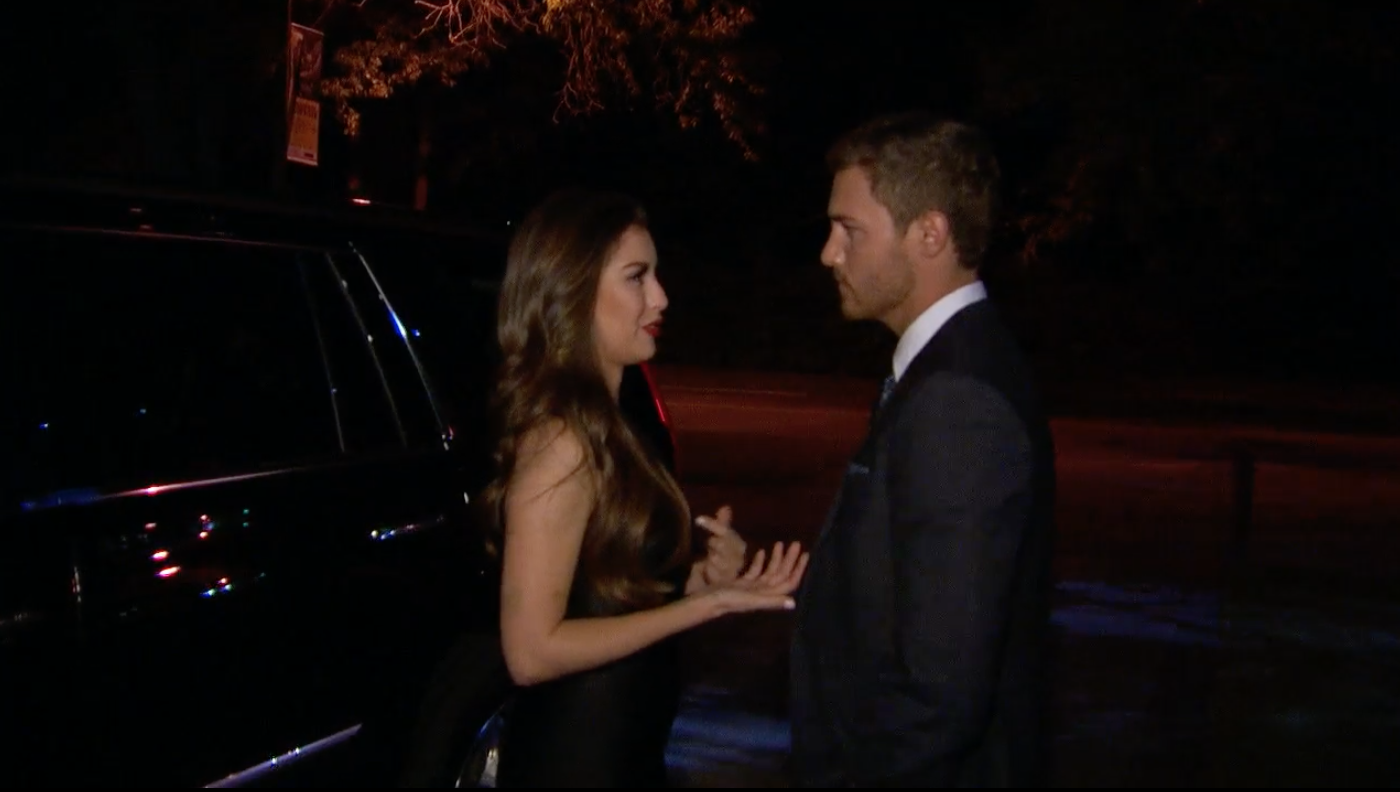 I wish he said what he told the other girls when he came back from saying goodbye to her. Which was that he knew she wasn't the girl for him. I wish he  said that to Alayah to give her closure. I feel like the poor girl's going to go home and wonder 'what if' for the longest time! Do you guys agree? I know Alayah didn't do some of the greatest things over the past few episodes, but I think she's a good person. I truly don't feel like she meant to get caught up in all of this drama. It just kind of happened and I truly feel bad for her.
Golf Cart Injury
The golf cart incident is beyond ridiculous. If they didn't have the actual footage of it, I would've sworn it was a lie. Even seeing the footage of it I don't see how it's possible. What a ridiculously strange and freak accident. I hope his head has been healing okay!
Sydney Date
The first part of his date with Sydney was really boring. I honestly don't remember what they talked about other than him thinking she was the best kisser in the house. Which also seemed kind of inappropriate to say. Hopefully she doesn't go back and tell any of the girls he said that – I doubt she will.
There's a lot more to say about the second portion of their date. Firstly, it makes me so sad and sick that we live in a world where an interracial couple is treated that way. I find it extremely sad and infuriating. My heart goes out to Sydney for having to be subject to that for so much of her youth. And to any of you that have had to endure that type of hatred!
Of course we can't not talk about their steamy make-out session at the end. It was intense to watch. I felt WEIRD watching. Do you guys think they slept together? I'm wondering if that is the thing Peter is referring to in the previews when later on he tells the girls that he's been intimate. For some reason I feel like there was a reference to a hot spring. Is that what they were in?! We must discuss in the comments below. You guys might know something I don't.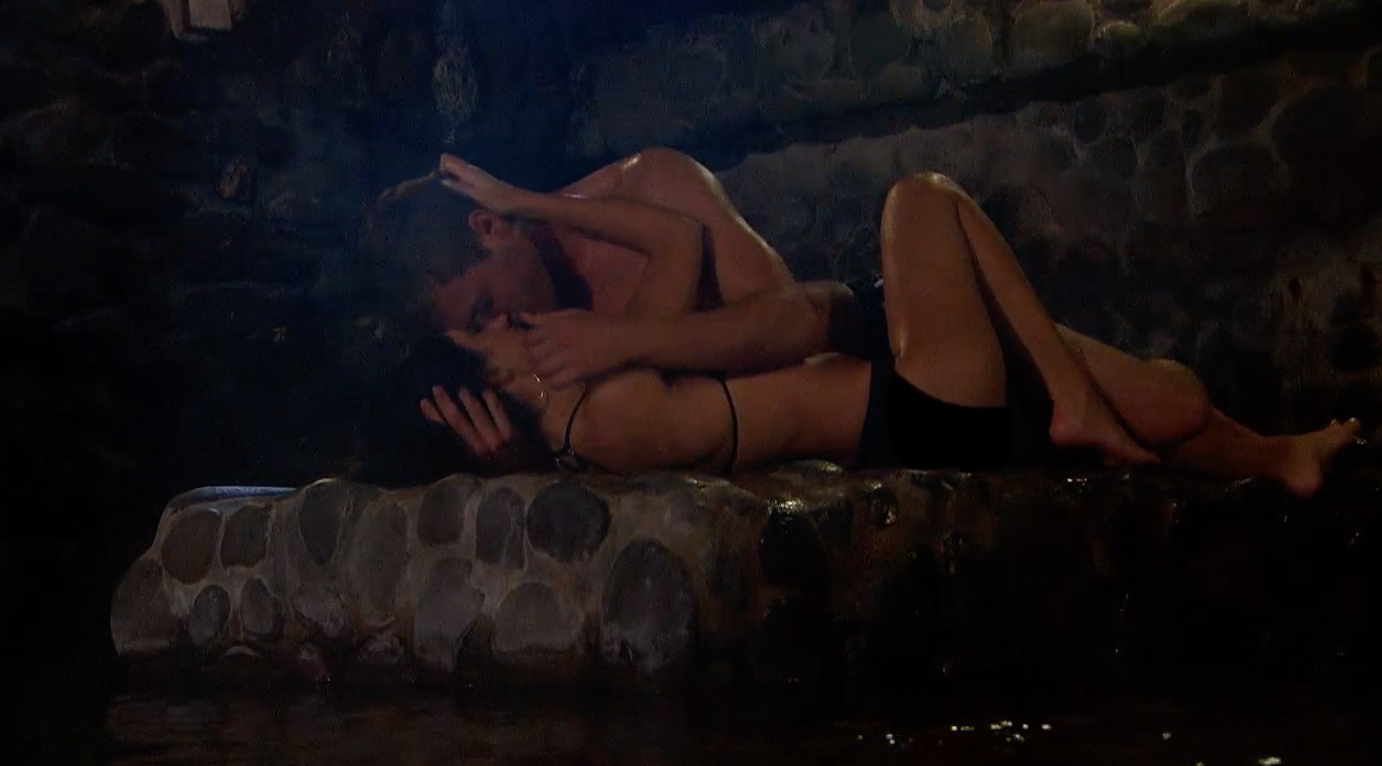 Group Date
I'm going to get on Peter about this again and I do every week. But it's just so not okay that he kisses the girls in front of the other girls. It's one thing to kiss a girl and have the girls be looking on from a far. Which I also think is not okay – just for the record. But to be kissing girls while the other girls are standing right next to you in swimsuits or even to have your arm around one girl and then the kissing the girl on your other arm. It felt so disgusting to me. And so disrespectful. Peter get it together! I was going to put a picture here, but I think you can imagine it without me even doing that!!
Kelly's Date
It's no wonder Peter feels like there's no passion or emotion out of Kelly. I feel absolutely zero myself. So much so that I have pretty much nothing to say about the date. I think Peter figured it out on his own. He's holding onto the idea that fate brought them together before the show started. So who knows how long he will hold onto that. But I definitely don't think they're going to end up together at the end of this.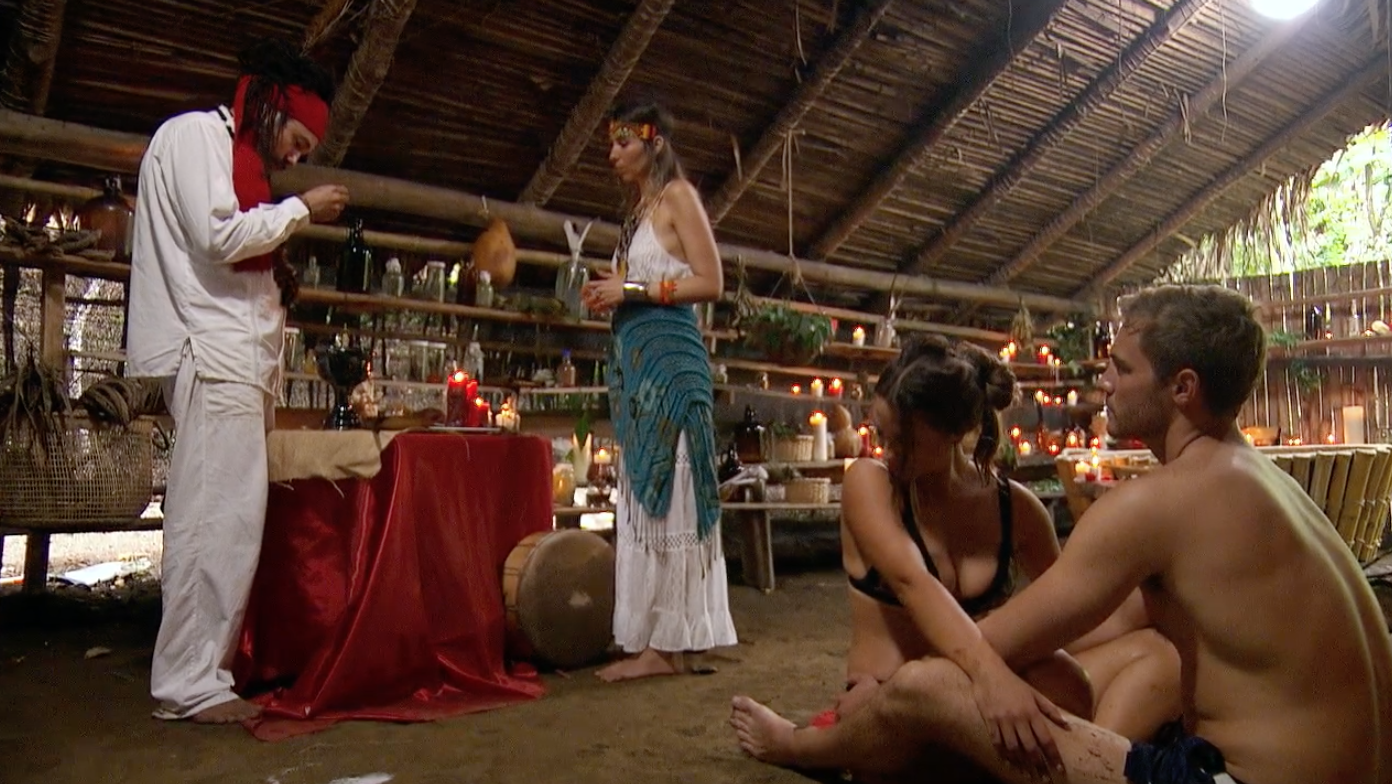 Kelsey and Tammy
I'm so bummed because I really liked Tammy this entire season so far. I just think she's really cool, confident, and both a girl's girl and guy's girl… but she really was bullying Kelsey. I don't care how much someone is terrible, you don't call them an emotional wreck and then tell them to go drink four bottles of wine when they're breaking down in tears because you've told him you think they're an alcoholic. I just think it was nasty.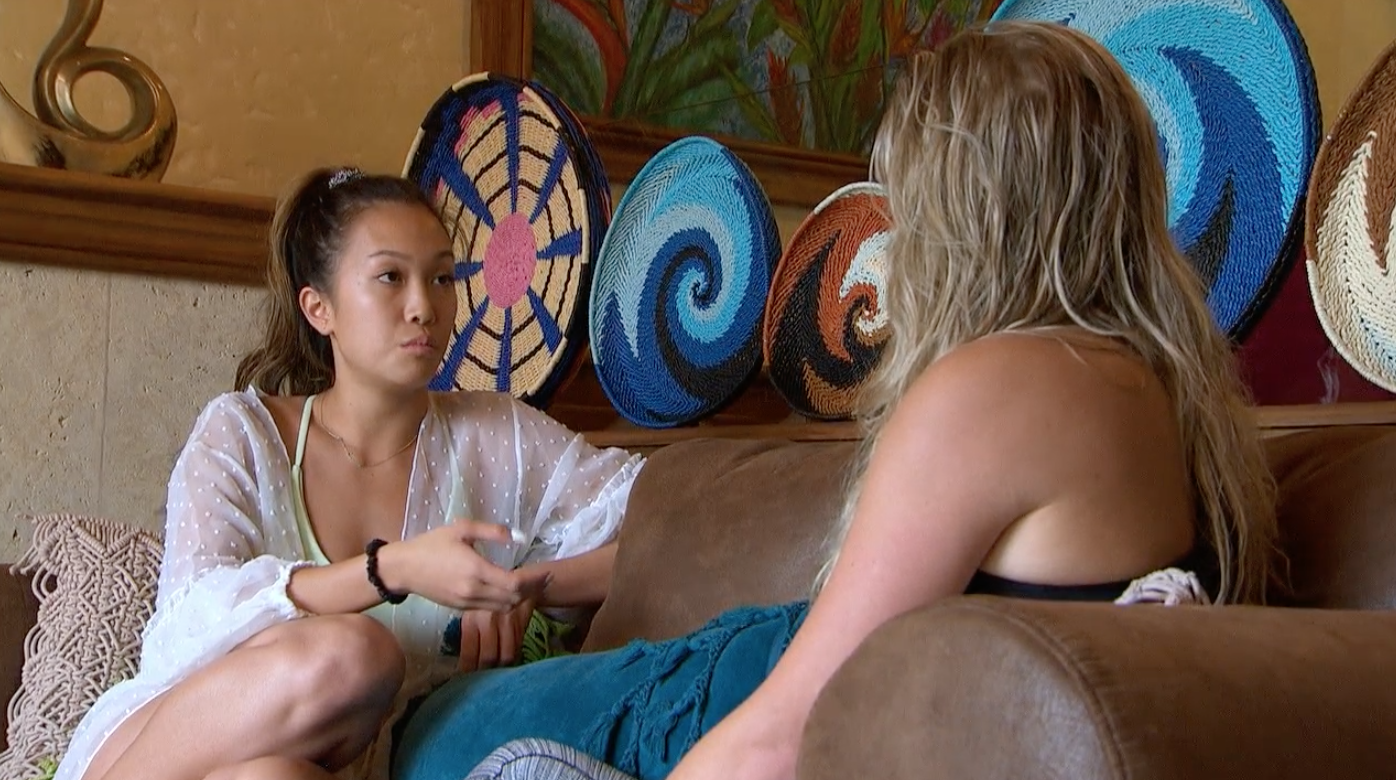 Look, when I was 24 years old and on the show over 10 years ago, I was nasty sometimes too. I can't remember if I said anything mean like that, but I'm pretty sure I didn't. I think I said things like I don't understand how he's into you if he's into me too. Which is hurtful. And if I did say things like Timmy is saying. I think that she is a testament to how a lot of the times the girls that go on the show aren't emotionally ready for this. I was still learning so much about myself when I was on the show. I'm a completely different person now that I was then.
You guys know just from reading my blog that's hard for me to ever say anything even remotely negative about somebody because I worry that there's a chance they could see it and their feelings could be hurt and I just don't think that's ever a right thing to do in any situation. So I always try to talk about peoples actions rather than who they are as human beings.
No Cocktail Party
I don't even know where to begin with the cocktail party/no cocktail party. First, I guess I'll say this. If I could've canceled 75% of the cocktail parties when I was the Bachelorette, I would have! You know who you want to send home because it's so obvious who you're connecting with and who we are not, specially at this point in the process. And while I know it's upsetting to these girls that they don't get the time with him that they wanted, at this point the chemistry is there or it's not.
Spending five more minutes with him telling him something about yourself might keep you around another week, but it definitely isn't going result in them ending up with Peter in the end. Peter knows at least his top five at this point. I would even argue top three or even number one! It's just going through the motions right now. And while some of the conversations he had with the girls at the nonexistent cocktail party maybe swayed him into keeping somebody one extra week, it really means nothing in the big picture.
Tammy and Sydney
I was really disappointed in both girls. Tammy was trying to talk her way out of the mean things she said about Kelsey. And then Sydney was just being a huge bully. To sit there and tell someone they're crazy over and over to their face and in such a hateful way is just not okay. But, that's just what girls do sometimes in their early 20s. You're so focused on defending yourself that you can't see the big picture of hurting somebody else. And obviously that's a generalization it doesn't apply to all women in their early 20s. But I'd argue so to say that it applies to many women in their early 20s. It applied to me. I just see the world so much more clearly and differently now that I'm older.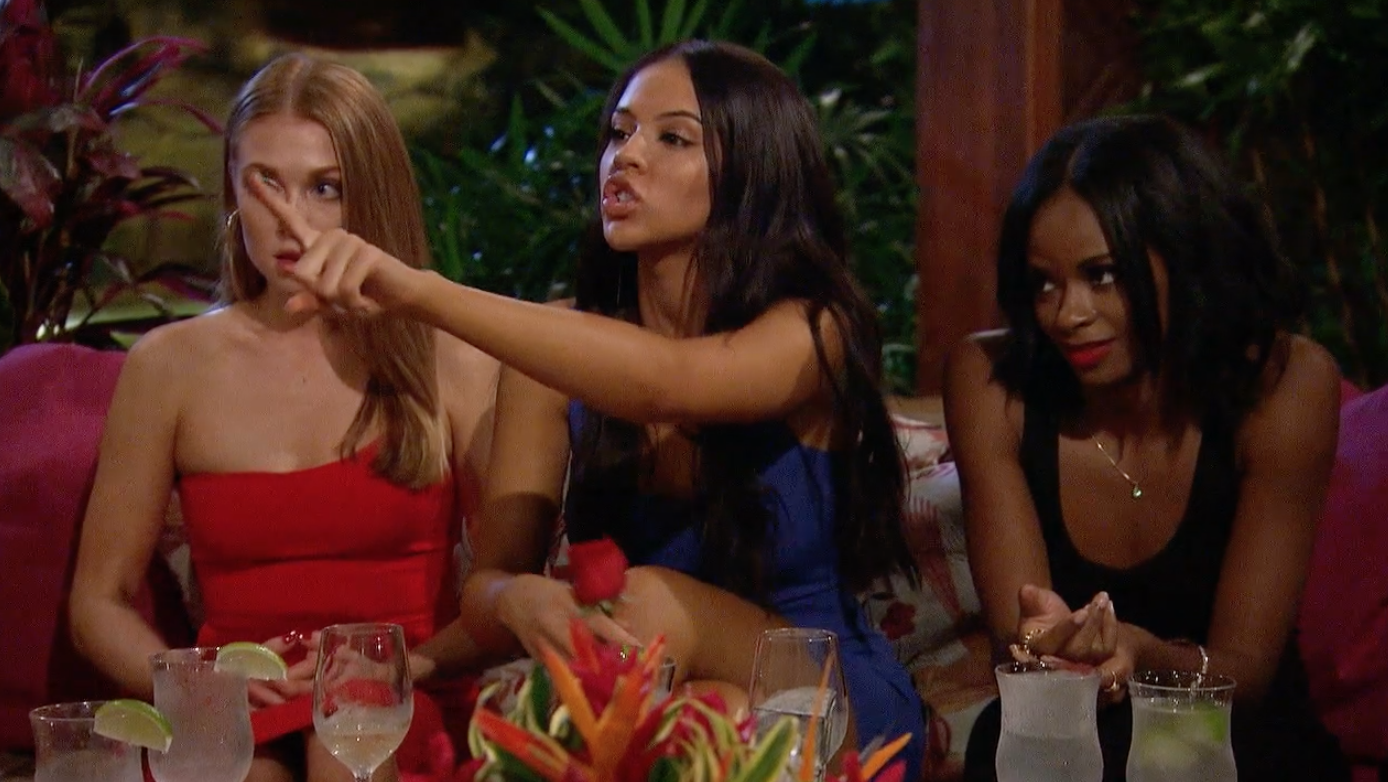 I'm not trying to talk down and women in their 20s let's be clear about that! I'm just saying that it's a growing part of your life. If anything I'm just trying to acknowledge that these women aren't bad people or mean people. They're just growing and learning about themselves and defending themselves and maybe not doing it in the best way. And for anybody reading this right now that is in their early 20s please don't take offense. If you're reading this blog you're obviously awesome. Ha! But know when you're in your early 30s and I'm sure even when I'm in my early 40s you'll look back and I'll look back and realize there was still so much more learning and growing to do.
Overall the situation just makes me sad. I feel like the drama between the women in this season is one of the worst we've ever seen. And I hate that. I hate that for all the women watching this all over the world. Especially the young women who are more impressionable. This is not how women should treat each other! We should lift each other up and told each other up! That said, this is the Bachelor world and it's absolutely bizarre for a dozen women to all be dating the same guy.
This Week's Outfit Recap
A break from the drama… ha! I've posted a handful of blogs since last week's Bachelor episode, so I wanted to show off two of my favorite outfits here! Jump over to the front page to see more!
"Molly" and Me Matching
I cannot even begin to tell you guys how much fun it was for Molly and I to dress up like each other! Honestly, I don't know why I don't do this more often. It brings the biggest smile to her face and let's face it, it makes for the most adorable photos ever!
LACE DRESSES
I was actually planning on posting about this outfit a few weeks ago, but life just got crazy. And at that point the dresses were full price. So I'm super pumped to say today that both of the dresses are on sale for under $40! Maybe there is a reason that life got crazy and I didn't post about it a couple weeks ago. Because now you guys get a better deal! I feel like at these prices these could sell out quickly, but they're fully in stock right now so definitely snatch them up!
I think these dresses could be really cute for you and your daughter to wear for any sort of BoHo style birthday party or event. Or quite honestly just out and about this spring! The little girls dress comes in a bunch of sizes too! So this isn't just for toddlers. It comes in sizes to all the way up to a girls size 14. Same with the boots. They come in size 6T all the way up to 13T.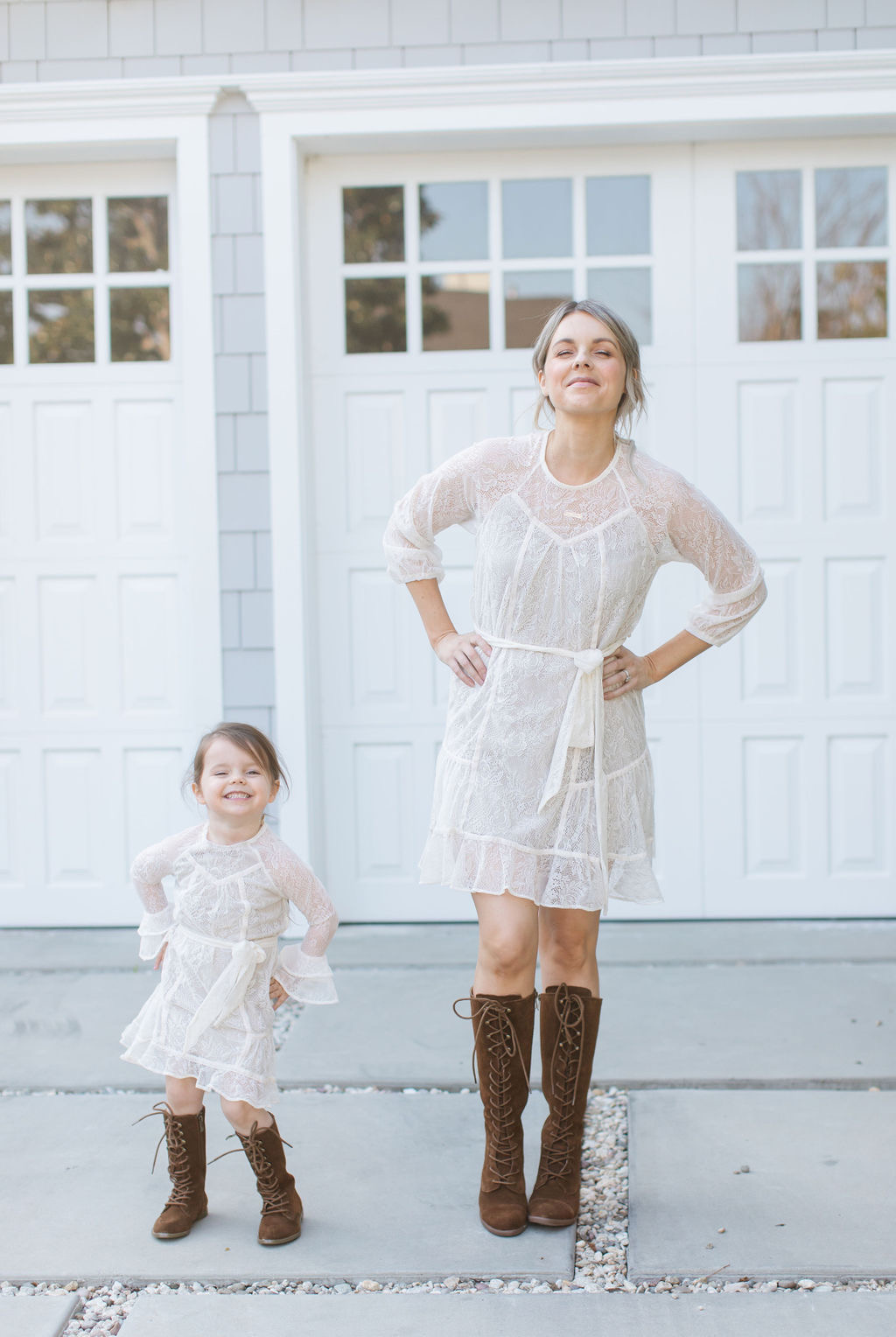 1. MY DRESS | 2. MOLLY'S DRESS | 3. MY BOOTS | 3. MOLLY'S BOOTS
KNEE HIGH MATCHING BOOTS
Can we talk about these boots?! Besides a cute white sneaker, these might be my favorite mommy and me matching shoes ever! I think they are so different and just absolutely stunning! They would be cute to wear with jeans, shorts, and definitely dresses! If you look at the boots on the website and see how they're photographed with the cutest dresses you'll see what I mean. I feel like if you have any sort of photo shoot with your child coming up definitely get these because they photograph so beautifully!
I also share 2 more Mommy and Me outfits in that post, including an outfit you can match with your son!

 1. MY DRESS | 2. MOLLY'S DRESS | 3. MY BOOTS | 3. MOLLY'S BOOTS
Sweater Dress
Not only is this sweater dress super cute, but it's always super warm and cozy! The material is so so soft and is basically a mix between a sweater and a sweatshirt, which I feel like helps to hold in some heat to your body. It has a beautiful mock neck that goes up just high enough without being a full on turtleneck. You guys know I love a good neckline! This one is so stunning and I just feel like something about them is so slimming!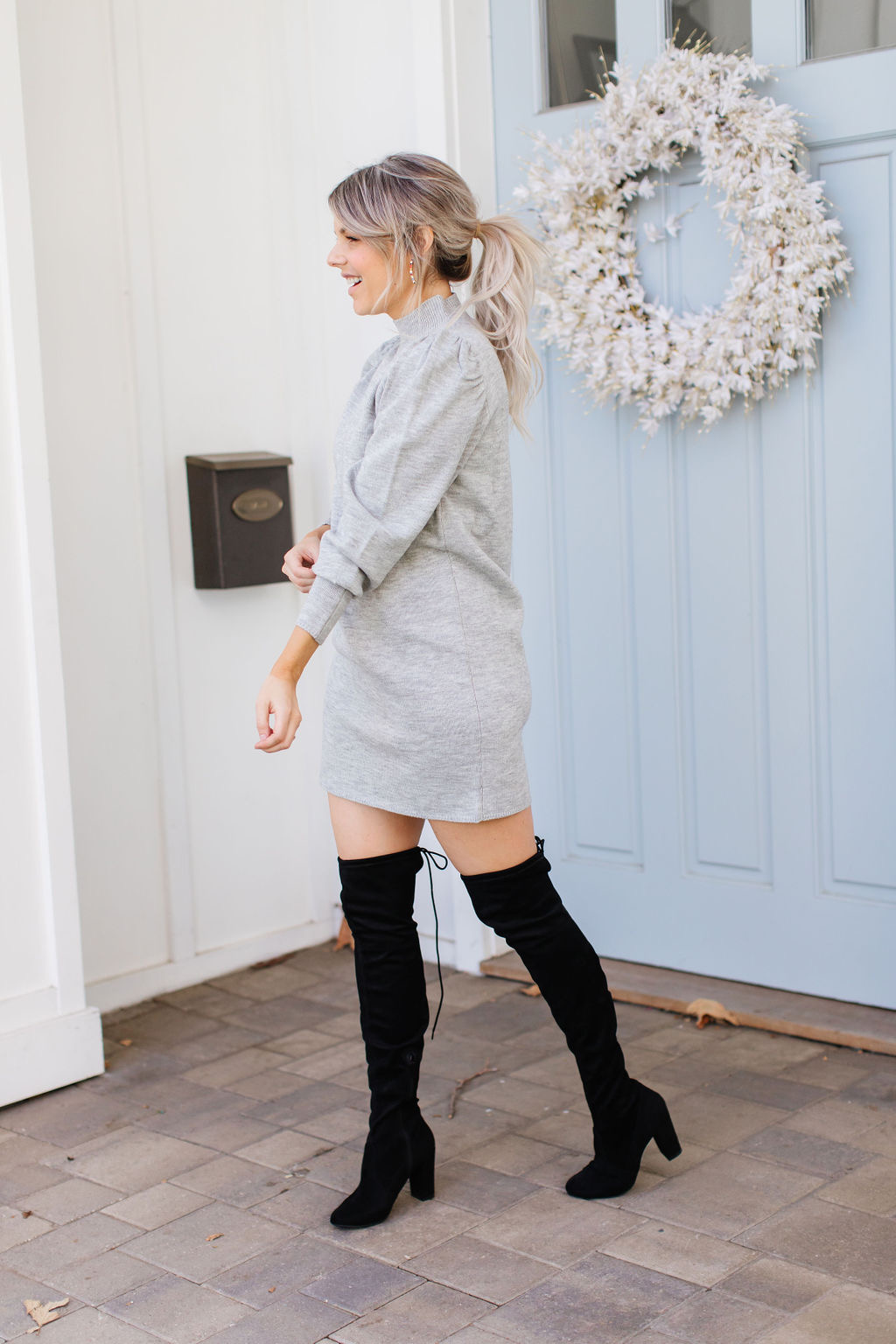 1. GRAY SWEATER DRESS | 2. BLACK OTK BOOTS | 3. SHORT HEELED BLACK OTK BOOT
I feel like sweater dresses can be either flattering or very unflattering, and there isn't usually any middleground. But I will say that this is one of the most flattering sweater dresses I've ever worn. Normally when I get a sweater dress, if they're even remotely fitted I feel like it shows off every flaw I have! But I feel like this one would be flattering on many different body types. It's true to size. I'm wearing a medium and that's my normal size.
I also can't forget to talk about these beautiful puff sleeves. Aren't they so pretty? I feel like they give the shoulders of the sweater dress the perfect amount of volume. You can either wear the dress with the sleeves full-length if it is colder outside, or you can scrunch them up a bit so that they are 3/4 length. I think both look incredible on this dress!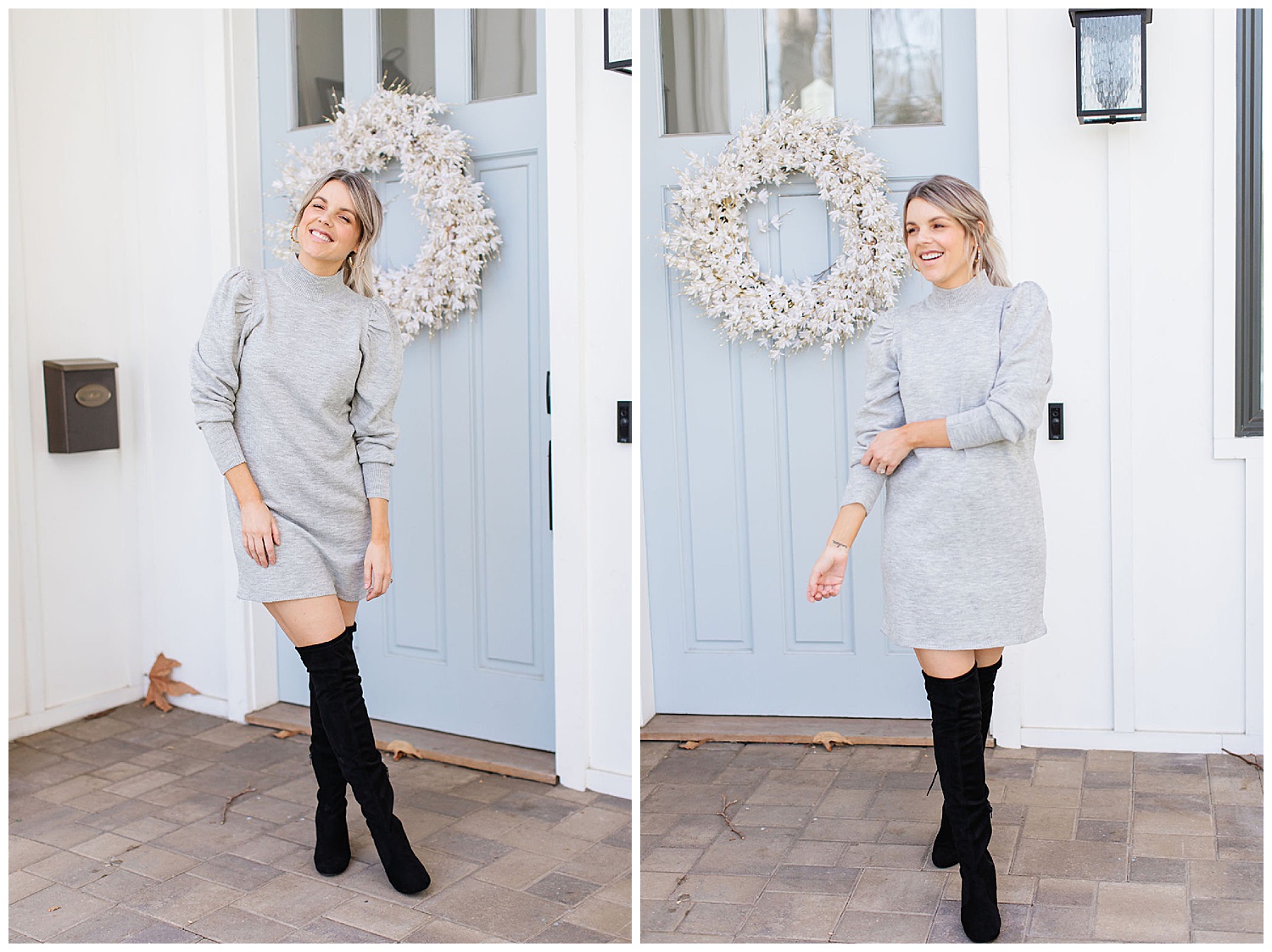 1. GRAY SWEATER DRESS | 2. BLACK OTK BOOTS | 3. SHORT HEELED BLACK OTK BOOT
This sweater dress also comes in a handful of different colors from the same brand. The link for the other colors can be found here! They are by the same brand, the only thing that I think might be slightly different is that they are slightly more of a bishop sleeve, which has a bit more drastic cuff around the sleeve, and the neck of the dress doesn't go up quite so high. I think I am going to be ordering either the charcoal or cream today because they both look so beautiful. Which do you think I should get?
Thanks again for coming by my Bachelor blog today! What are your thoughts on all the drama? Let's chat!
UPDATE
Victoria F's Cosmo Cover Has Been Pulled
It was announced this week by Cosmopolitan that they are no longer releasing the cover with Victoria F and Peter due to images that surfaced that show her in photos for a  "White Lives Matter" campaign.  I'll link you right to their letter from Cosmopolitan here. What are your thoughts on this? I'm wondering if they will instead do a cover with all the ladies or just Peter.
Sydney's High School Yearbook
Last night via Twitter, someone that went to high school with Sydney (and Hannah B) posted images from the yearbook that have caused quite a stir. They showed Sydney winning pageants and what I believe is a homecoming queen/court spot. Sydney has come forward with her response to this. I don't want to say a lot about this because I clearly wasn't there for Sydney's experience. But I wanted to give you this information and hear your thoughts. I am going to link to an article discusses this, as well as Sydney's twitter account. She also shared the types of hate messages she gets from Bachelor fans. I soooo feel for her and anyone who has ever been a victim to discrimination. It is absolutely horrible and no one should have to endure that.